This keto microwave cookie is perfect for those moments when you feel like a quick sugar free treat. It tastes delicious and is super easy to make! There are plenty of variation ideas in the post.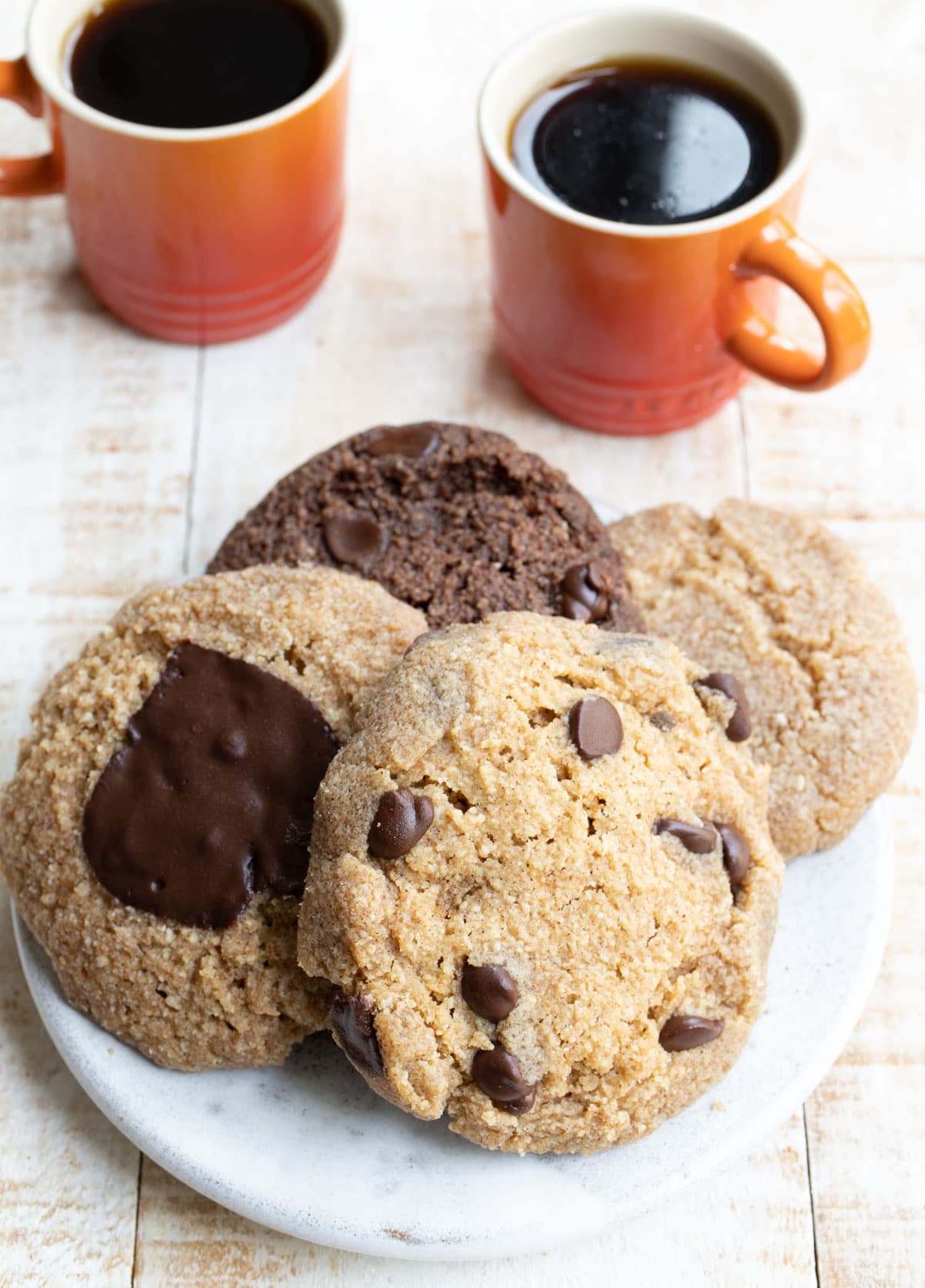 I regularly make mug cakes in the microwave, like this keto chocolate mug cake or my vanilla keto mug cake. Which made me think - how about a keto mug cookie? Can you make cookies in the microwave?
The answer is yes!
It took a bit of experimenting, but in the end I have come up with a recipe that is super easy and actually very delicious. You only need 4 essential ingredients. From there, you can add optional add-ins to create countless variations.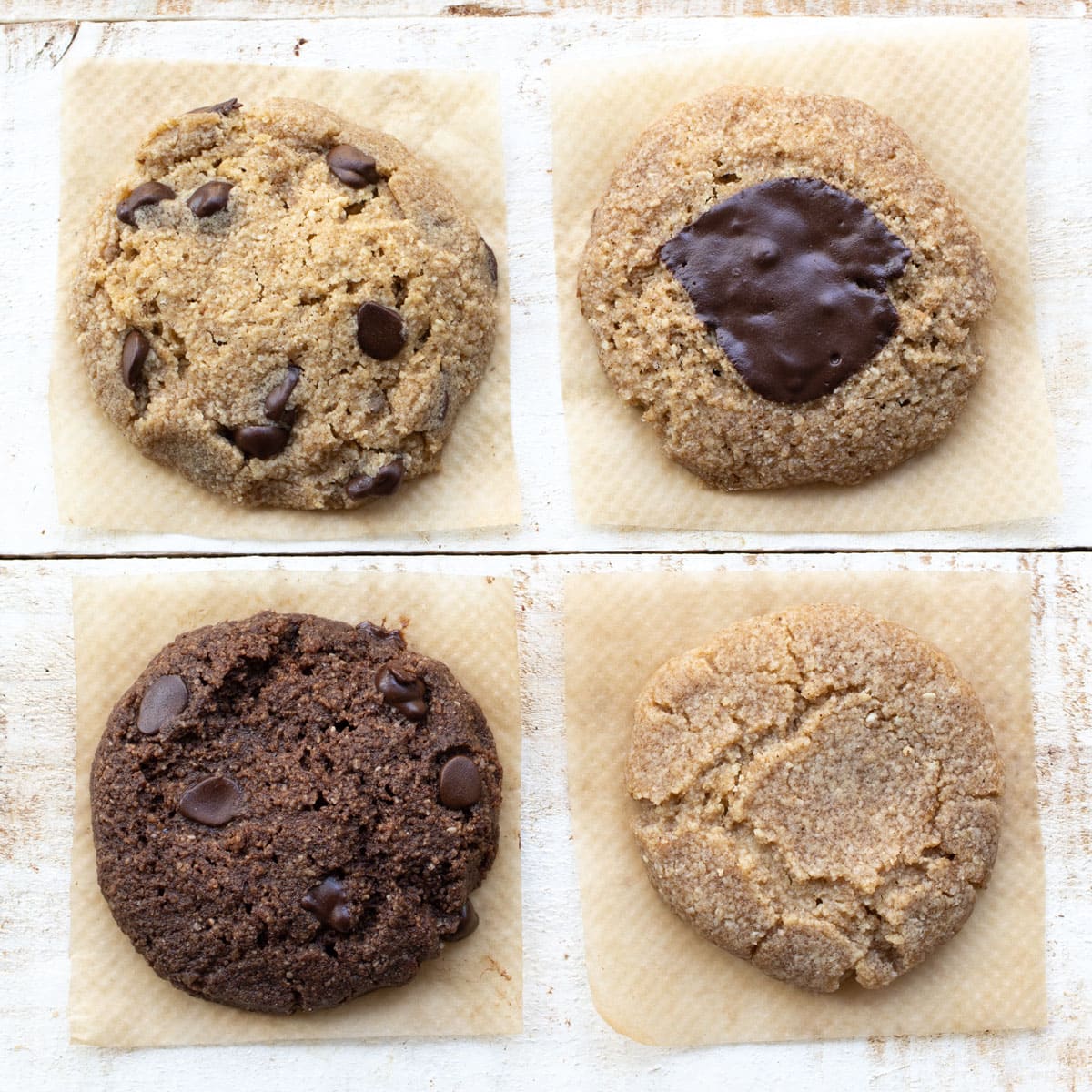 As you can see in the image above, I tested 4 different variations:
Chocolate Chip: Add ½ tablespoon sugar free chocolate chips (top left)
Nutella Thumbprint: Press down the middle and add 1 teaspoon of sugar free Nutella (top right)
Double Chocolate: Add 1 teaspoon cocoa powder and ½ tablespoon chocolate chips (bottom left)
Gingerbread: Add ¼ teaspoon ginger, ¼ teaspoon cinnamon, ⅛ teaspoon nutmeg and ⅛ teaspoon allspice (bottom right)
Jump to:
Ingredients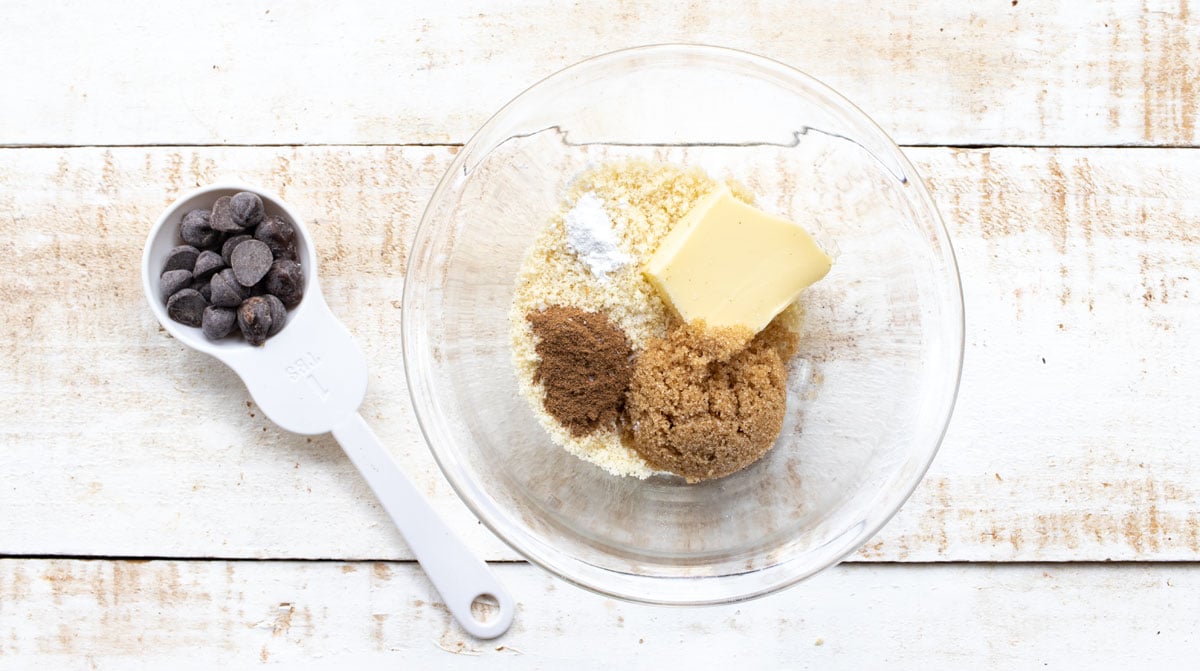 Keto mug cookie basics:
Almond flour - I use ground almonds, which is equivalent to regular almond flour in the US. Super-fine almond flour should also work well here.
Butter - Unsalted, room temperature butter. For a dairy free keto cookie, replace the butter with coconut oil.
Sweetener - My go-to sugar alternative is an erythritol monk fruit sweetener blend. Lakanto and So Nourished are good options.
Note: A golden erythritol tastes great in this recipe for that brown sugar flavour, but a regular (white) sweetener works well too. I recommend using erythritol over xylitol or allulose since it will result in a crunchier cookie.
Xanthan gum or gelatin - Both help with giving the cookie a stronger structure. I used a pinch of xanthan gum, about ⅛ teaspoon. If you prefer to use gelatin, use ¼ teaspoon. Another option could be ground chia seeds. I would also recommend using ¼ teaspoon.
Optional add-ins:
Cinnamon, vanilla extract and salt - I think cinnamon and vanilla extract make every cookie taste better! I also added a tiny pinch of salt.
Sugar free chocolate chips - Lily's is a popular choice in the US, or make your own sugar free chocolate chips with my easy kitchen hack. When I don't have any to hand, I use the 90% dark chocolate by Lindt.
Instructions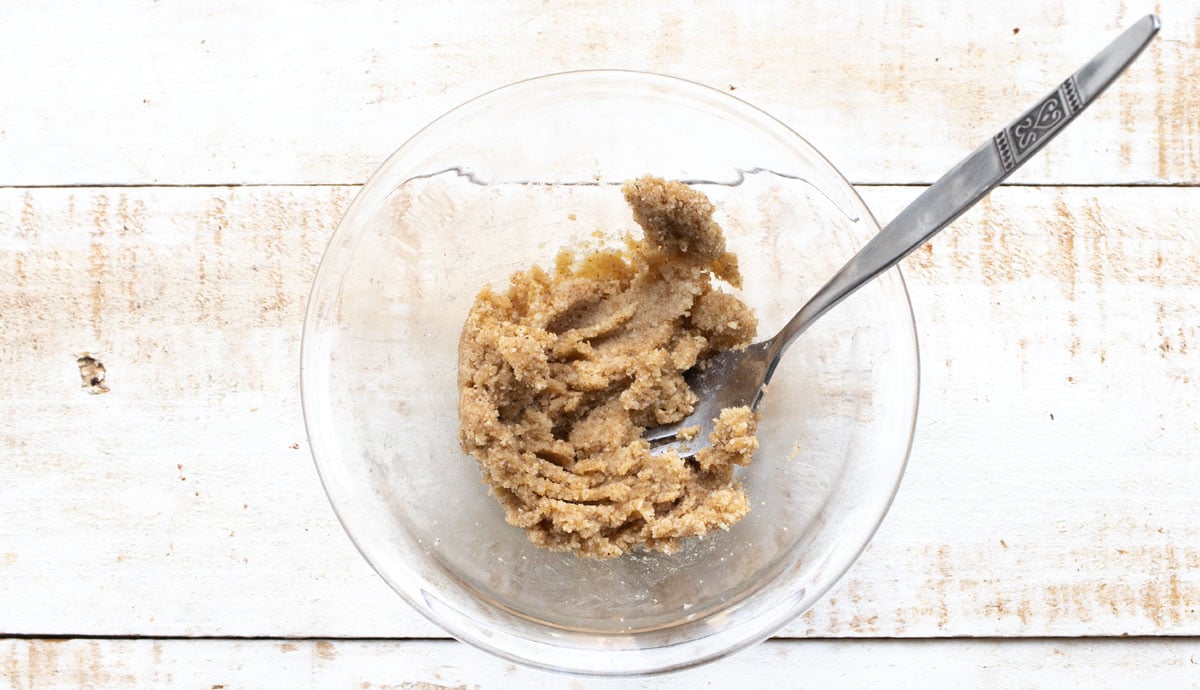 It's super simple: Mix together all ingredients with a fork and form a ball.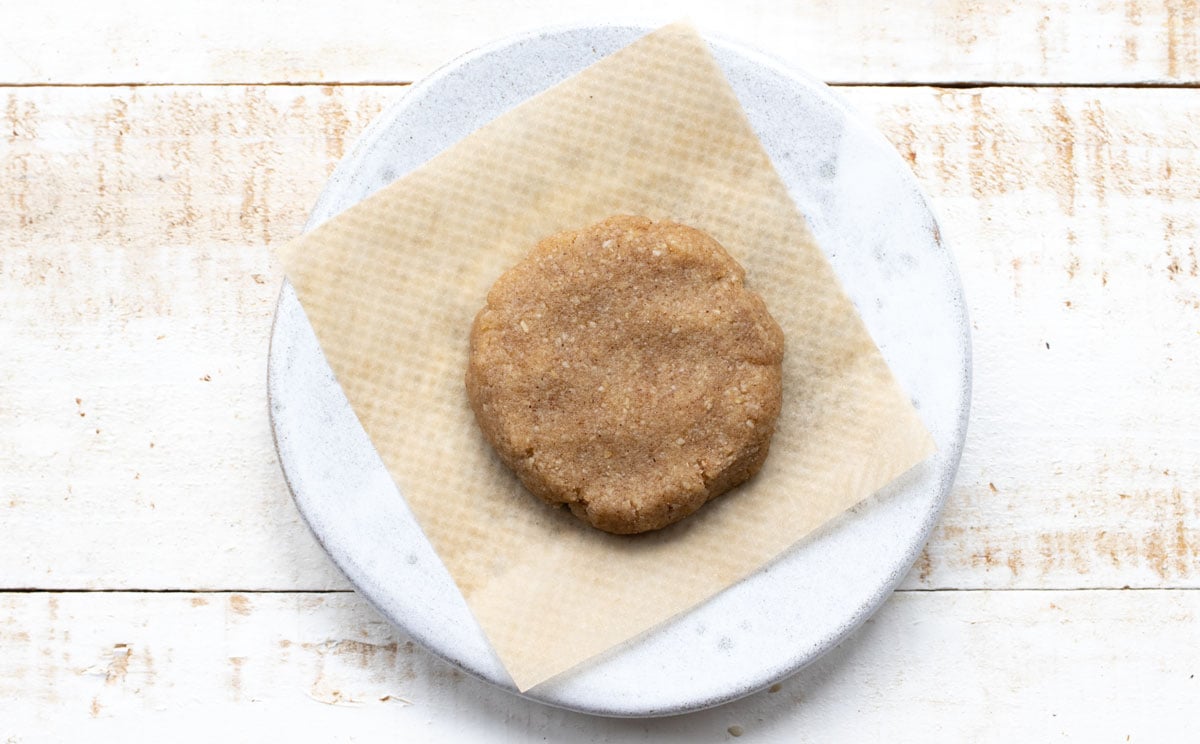 Flatten the cookie onto a plate lined with parchment paper and cook on high until it's done!
Your single serve cookie will be VERY soft and fragile straight after baking. Don't even think about touching it for at least 5 minutes. It will firm up once it cools.
Microwave timings
Microwaves cook at different strengths, so cooking times will vary.
My microwave cooks at 900 Watts. I found that 1 minute was the perfect length. When I tested cooking a cookie for 90 seconds, the inside ended up burned.
Yes, microwaves will cook your food from the inside out!
For 1200 Watt microwaves 45 seconds is probably sufficient.
FAQ
How do I know when the cookie is done?
Your biggest clue is that the cookie dough will start to dry and crack open. The cookie will also take on a slightly golden colour. This means you can remove it from the microwave and start the cooling process!
Can I make this without almond flour?
For a nut free keto microwave cookie, replace the almond flour with an equal amount of sesame seed flour and sunflower seed flour. Or use 1 tablespoon sesame seed flour, 1 tablespoon sunflower seed flour and 1 teaspoon coconut flour.
How can I add more fibre to the recipe?
Use 2 tablespoons almond flour and 1 teaspoon ground flax. This makes a more rustic cookie that tastes a little more like a digestive biscuit.
Can I double the recipe?
You can easily scale up the recipe and make more than one cookie. I would recommend microwaving them one at a time. It's also possible separate the dough and make two smaller cookies.
Oven and air fryer option
It's possible to make this single serve cookie in the oven. I toasted one in the oven under the grill (broiler) in about 5 minutes. This worked well, although you should keep it on a lower rack and watch it closely because almond flour burns quickly.
You could also air fry the cookie for about 5 minutes at 180 C / 350 F or bake it in a conventional oven at 180 C / 160 Fan (350 Fahrenheit) for about 8-10 minutes.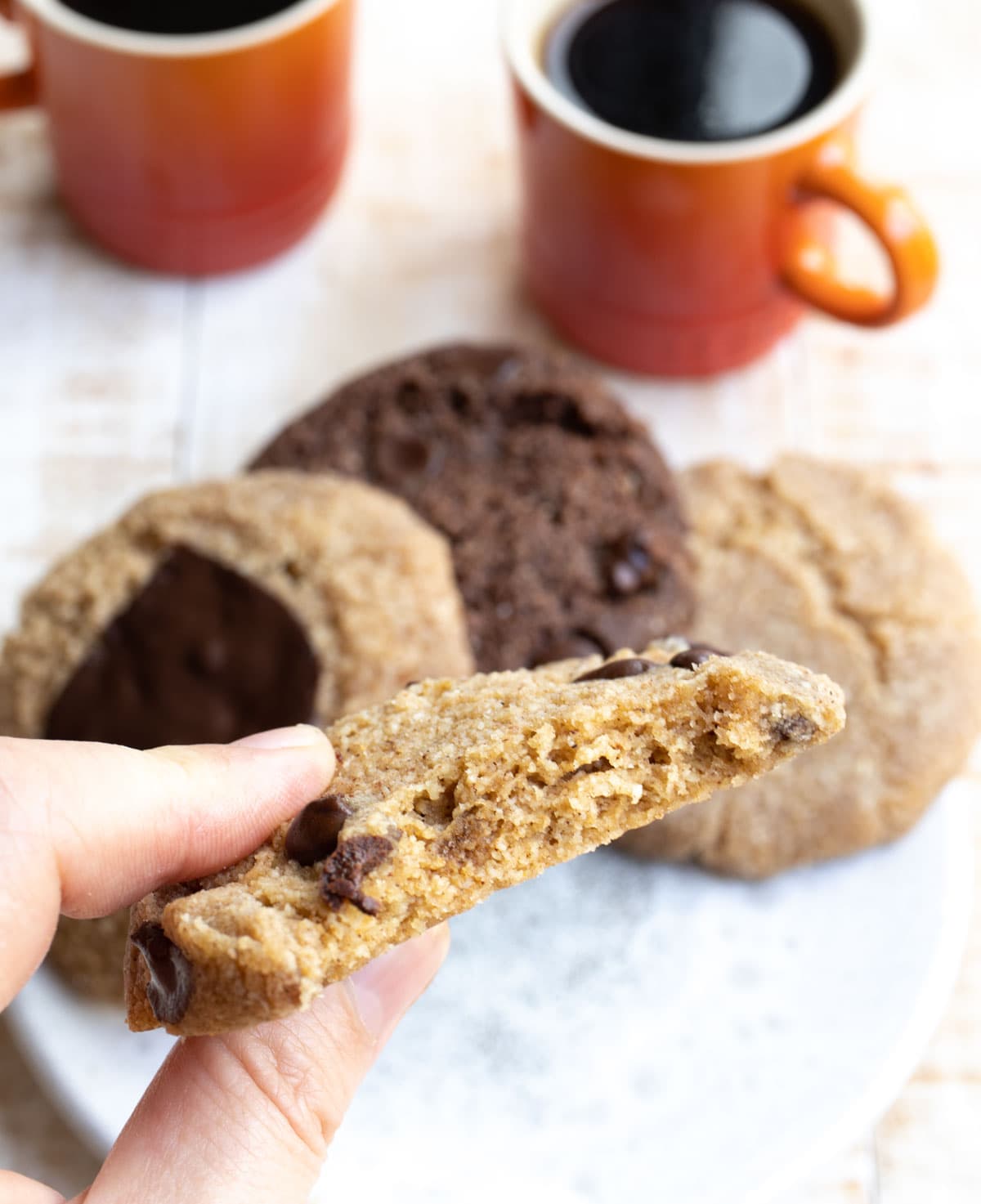 Add-ins
There are many ways to jazz up the basic single serve cookie recipe if you don't want to use sugar free chocolate chips. Here are a few ideas:
a squeeze of lemon juice and grated lemon zest
orange extract and orange zest
almond extract
pumpkin spice
ginger, cardamom, mace, nutmeg and allspice
sugar free dried cranberries or freeze-dried berries
crushed nuts (pecans, walnuts, slivered almonds etc)
Related recipes
I love cookies so much I've even written an entire cookbook called Keto Cookies. If you're a fellow cookie monster you should definitely check it out.
Feel like a larger batch of cookies? Try these sugar free cookie recipes:
Tried this recipe? Give it a star rating below!
★ STAY IN TOUCH on FACEBOOK, PINTEREST and INSTAGRAM  for more great food and join my NEWSLETTER for the latest updates and a FREE EBOOK.★ 
Recipe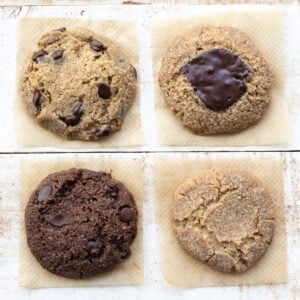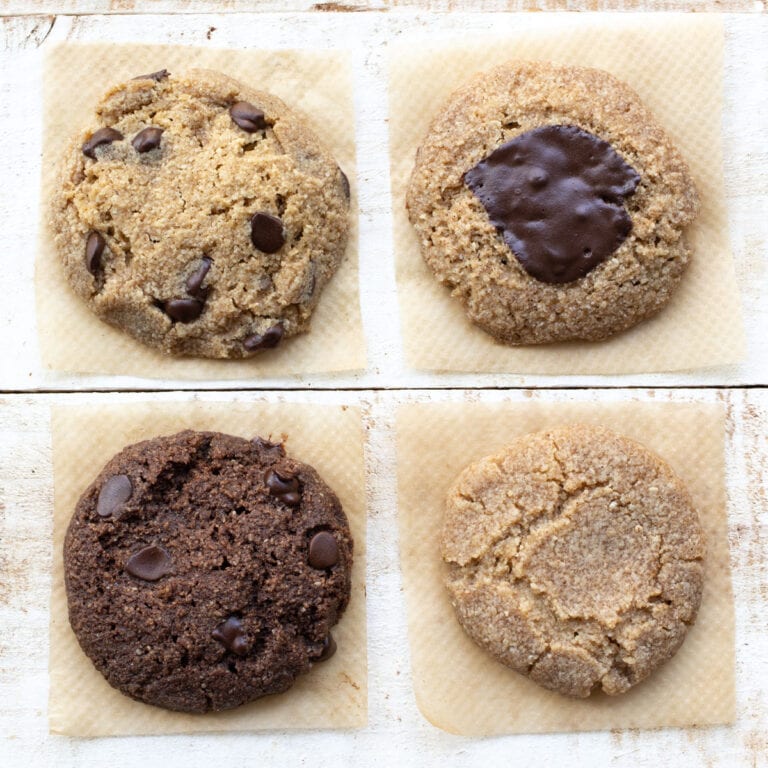 Single Serve Keto Microwave Cookie
from Sugar Free Londoner
Make this single serve cookie when you feel like just one cookie. There's no need to turn on the oven and no need to wait. Yes, this keto cookie cooks in just 1 minute - in the microwave!
Note: The servings slider only changes the first amount in each line and not any subsequent amounts. Please make your own calculations where necessary.
Instructions
Mix together all ingredients with a fork, then form a ball.

Put on a plate lined with parchment paper and press into a thick cookie.

Microwave on high for 45-60 seconds. My microwave cooks at 900W and 1 minute was perfect.

Let cool fully before eating. Cookie will firm up as it cools. To speed up the cooling process, place in the freezer.
Notes
Net carbs: 1.8g (basic cookie recipe)
Net carbs including chocolate chips: 2.6g, 207 calories
Makes 1 single serve cookie. See ideas for variations in the post!
Could be stored in a cookie jar for up to 1 week, but best enjoyed straight away. 
Nutrition
Calories:
185
kcal
Total Carbohydrates:
4.1
g
Protein:
4
g
Fat:
18.1
g
Saturated Fat:
6.1
g
Fiber:
2.4
g
Sugar:
0.9
g