Raspberry thumbprint cookies are easy gluten free and low carb cookies with a fruity raspberry jam filling. They are perfect for low carb, Keto and sugar free diets.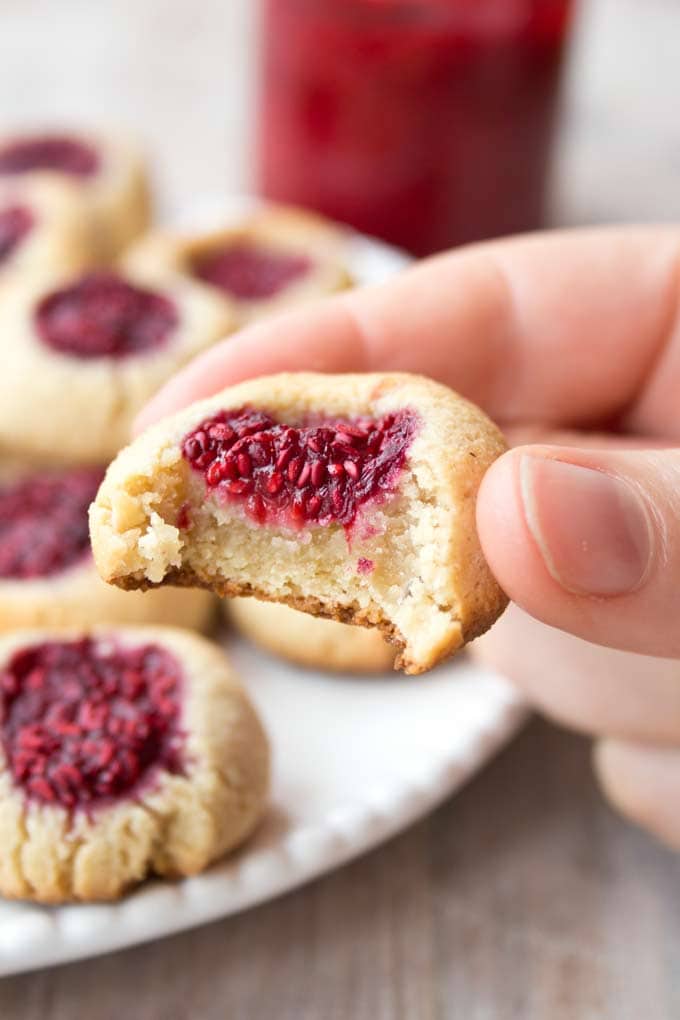 Are you a cookie monster?
It's easy to be one. In my opinion, cookies - and in my case, low carb cookies - are just irresistible. Firstly, they are easy to make. They're a lot less daunting than a cake, for example. Secondly, they are portable and keep well. Then, they look all cute and petite. And last but not least, they go well with coffee!
I am a serial cookie baker. A couple of highlights I have shared recently include my low carb peanut butter cookies and these low carb coconut shortbread cookies.
This recipe for raspberry thumbprint cookies is a new arrival in the low carb cookies hall of fame.
Seriously, someone should roll out a red carpet!
I am always amazed at how you can achieve a new taste and texture by changing just a small detail in a recipe.
To make basic low carb cookies, you need nut flour, butter, egg and a natural sweetener such as stevia or erythritol. This time, I decided to add cream cheese for a "fresher" taste.
I made these thumbprint cookies in 3 different ways before I arrived at the PERFECT recipe.
I baked one batch with no filling at all. For the purists among you, this is a great pared-down version that ends up deliciously crunchy. Just be patient and wait until they have cooled down. Low carb cookies contain grain free flours such as almond and coconut flour and these tend to be crumbly when hot due to their lack of gluten.
Next, I decided to mix things up a bit and made my thumbprint cookies with two different fillings: a mix of melted butter, cinnamon and sweetener for one half of the batch and a cream cheese filling with cream cheese, cinnamon and sweetener for the other.
Also, both delicious!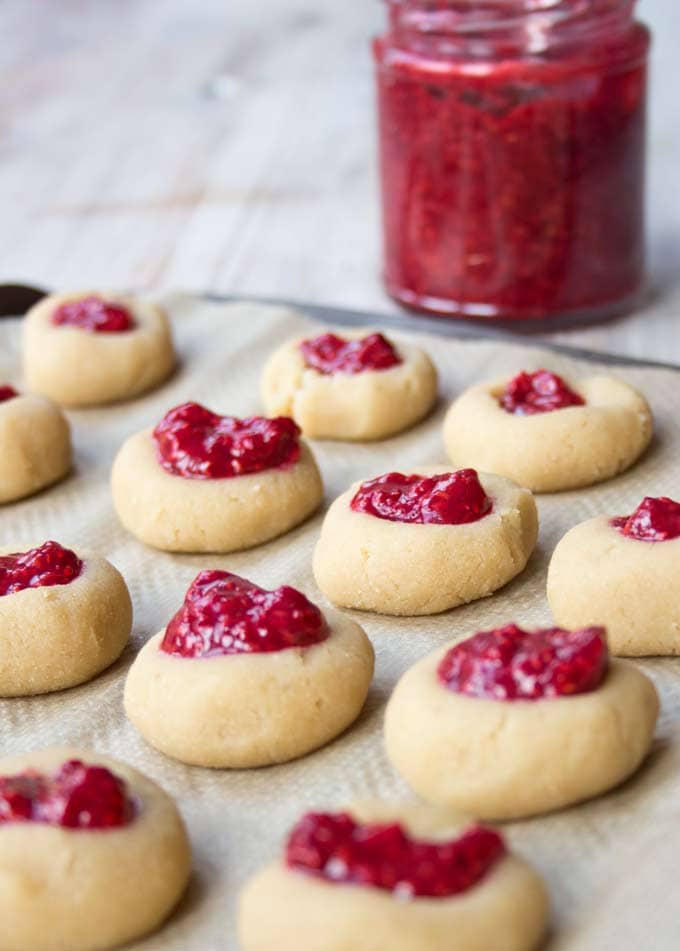 For my next cookie batch, I dropped a dollop of easy no-cook sugar free raspberry jam into each thumbprint. This time they were PERFECT!
Baker's Top Tip
If you don't happen to have a jar with raspberry jam in the fridge, you could simply mash a handful of raspberries with a touch of sweetener and a sprinkle of chia of xanthan gum and use that instead.
Alternatively, any shop-bought sugar free jam would work. Just make sure it is sweetened with stevia or erythritol and NOT with concentrated grape juice - brands tend to conveniently label products as "sugar free" even though they still contain sugar from other sources. Always check the ingredients and the nutrition label! The sugars in a truly sugar free jam should only be derived from the fruit itself.
I really hope you'll love these raspberry thumbprint cookies as much as we did.
As you can see in the picture where I've taken a bite, the outside of the cookie is browned and crunchy, but the inside below the raspberry filling remains soft and tastes a bit like marzipan. The tartness of the raspberries is the perfect counterpart for the subtle sweetness of the base.
And in case you wonder what I did with three batches of thumbprint cookies? A small selection went into a cookie tin for immediate consumption and the rest is in the freezer, ready for small moments of pleasure in the future 🙂
Check out these sugar free cookie posts: 
★ Made this recipe? Give it a star rating below!★
★ STAY IN TOUCH on FACEBOOK, PINTEREST and INSTAGRAM  for more great food and join my NEWSLETTER for the latest updates and a FREE EBOOK.★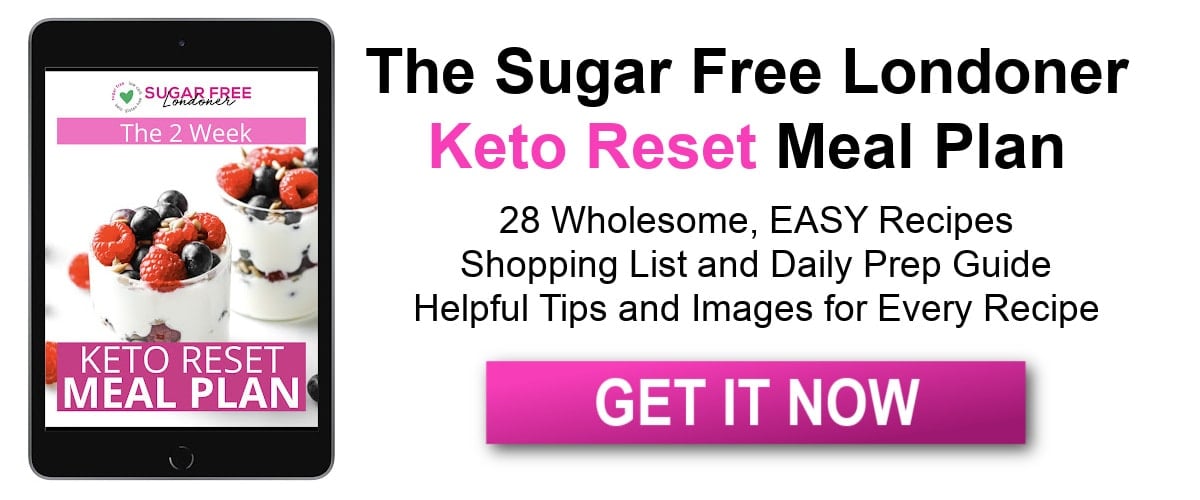 Low Carb Raspberry Thumbprint Cookies
from Sugar Free Londoner
Raspberry thumbprint cookies are easy gluten free and low carb cookies with a fruity raspberry jam filling. They are perfect for low carb, Keto and sugar free diets.
Note: The servings slider only changes the first amount in each line and not any subsequent amounts. Please make your own calculations where necessary. ***As an Amazon Associate I earn from qualifying purchases.
Instructions
Heat your oven to 180 Celsius / 356 Fahrenheit.

Mix the cream cheese, softened butter, vanilla extract and erythritol in a food processor or with a hand blender until smooth.

Add the almond flour and mix.

If your dough feels too soft to handle, simply form a ball, wrap it in clingfilm and cool it in the fridge for 20 minutes (or in the freezer for 10).

Form small balls in your hands and place on a baking sheet lined with baking paper.

Press your thumb into the middle of each ball to form an indentation.

Fill each indentation with sugar free raspberry jam

Bake for 15 minutes or until lightly browned.
Notes
The cookies are VERY SOFT when they come out of the oven. Let them cool down completely and they will firm up. 
You can use any sugar free jam in this recipe. For a super-quick version, you could even simply mash a handful of fresh raspberries with a sprinkle of chia seeds or xanthan gum. 
I calculated the nutrition for 1 cookie. My batch made 20 in total. Depending on how big a treat you feel, I'd say 1-2 cookies should do the trick. 
Nutrition
Serving:
15
g
Calories:
81
kcal
Total Carbohydrates:
2.1
g
Protein:
2.3
g
Fat:
7.6
g
Cholesterol:
17
mg
Sodium:
11
mg
Potassium:
9
mg
Fiber:
1
g
Sugar:
0.5
g
This post contains affiliate links. If you click on one of these links and purchase a product as a result, I may make a small commission, at no extra cost to you. This money helps with the running costs of my website. Thank you for supporting Sugar Free Londoner.