Tangy, zesty and gently sweet: these Keto lemon cookies are easy to make, delightfully soft and moist and simply perfect with a cup of tea or as an after-dinner treat. We think they taste of summer! Sugar free, gluten free and low carb.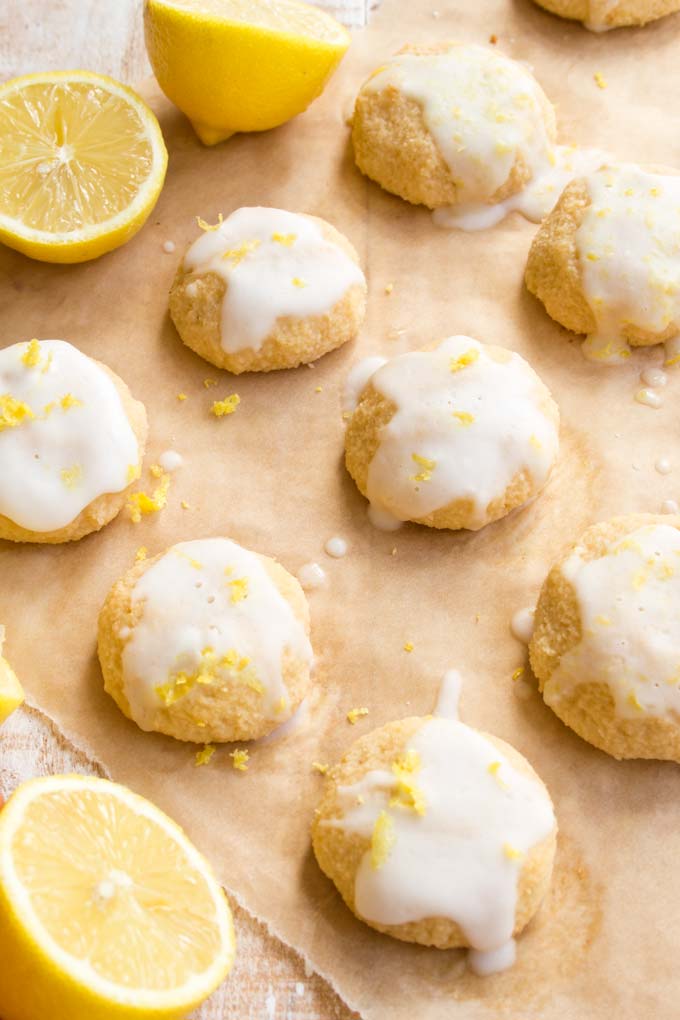 I'm a big fan of all things lemon. You may have come across some of the lemon recipes on my blog - there are quite a few! There's the sugar free lemon mug cake which is ready in minutes, an incredibly creamy Sugar Free Lemon Curd, this zingy low carb Lemon Cheesecake a sugar free lemon sorbet and, of course, my (very popular) Keto Lemon Bars. All worth making if you like lemons!
Basically, it was time to add keto lemon cookies to my repertoire.
These very delicious, incredibly moreish sugar free cookies have evolved from my raspberry thumbprint cookies, which are essentially almond flour cream cheese cookies with a raspberry topping. I tweaked the recipe and added PLENTY of lemon juice and zest to turn them into wonderful little bites of summer.
What I love about this recipe - apart from the lemon taste - is the face that the cookies are soft and crumbly. They're really moist in the centre, almost like a tiny cake.
The size of these cookies is rather generous. I made 12 large cookies. If you prefer smaller cookies, the recipe could easily be stretched to 20 small bitesized ones.
How to make Keto lemon cookies - step by step:
1.) Cream the butter, cream cheese, 4 tablespoon lemon juice and the zest of one lemon together with the powdered erythritol until smooth. Use a food processor or an electric mixer.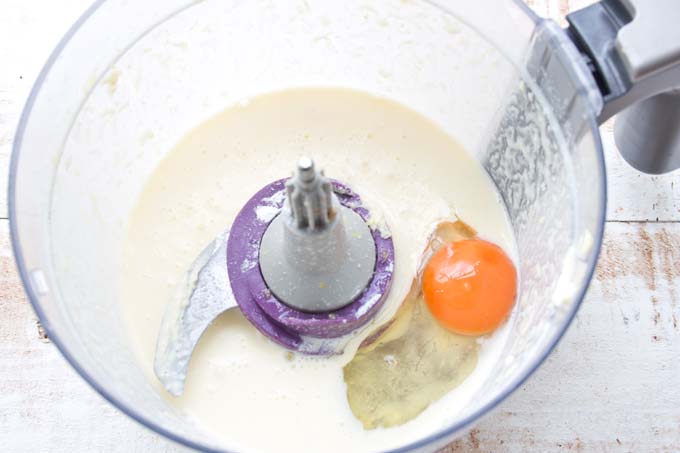 2.) Now add the egg and blend until well-combined. Your mix will be very liquid.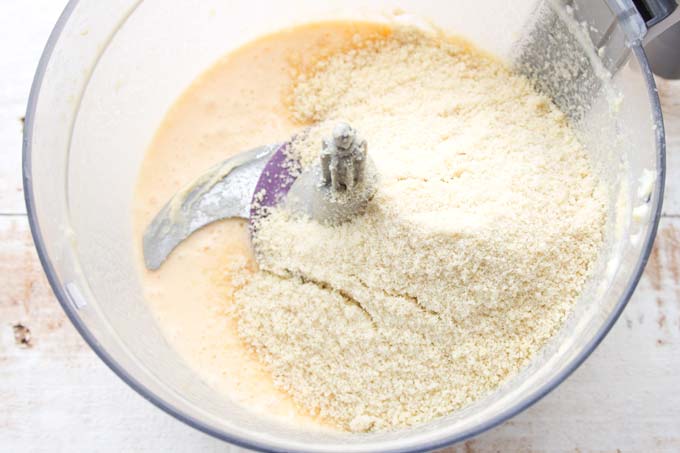 3.) Add the almond flour and blend...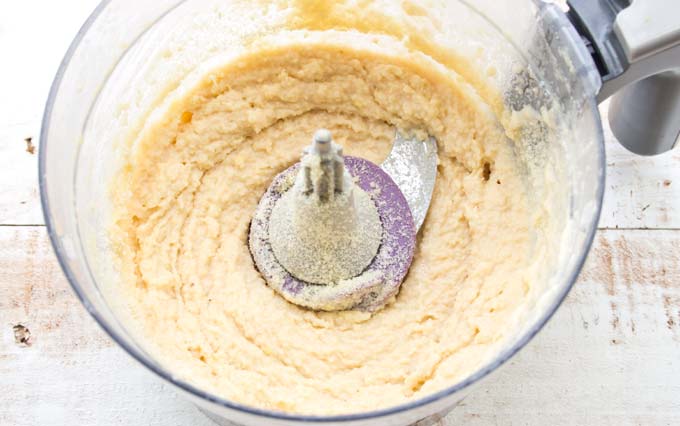 4.) ...until you have a dough.
The cookie dough will be quite soft at this stage. Simply chill it either in the fridge for 20 - 30 minutes or in the freezer for about 10 minutes to make it easy to handle.
5.) Form 12 cookie dough balls and place them on a baking sheet lined with parchment paper. Flatten them with your hands to form thick discs. Then bake them for about 15 minutes until they are firm on top (and ever so slightly browned).
6.) Time for the glaze! It's simply lemon juice mixed with powdered sweetener and lemon zest. Stir it together and spoon or drizzle over the cooled cookies.
Recipe tips and variations:
I don't like my cookies too sweet. If you have a sweet tooth, feel free to increase the amount of sweetener in the dough by one or more tablespoons. However, keep in mind that the glaze is VERY sweet.
Definitely don't miss out the lemon zest. It takes these cookies from Keto lemon cookies to Keto LEMON cookies. It adds a fragrant note that is simply irresistible.
I used ground almonds in this recipe. This is equivalent to regular (coarser) blanched almond flour in the US or almond meal. I think it works really well for soft cookies like these and gives them a moist, grainy, rustic texture.
If you wanted to use super-fine almond flour (that's the type that looks just like white wheat flour), you'd DEFINITELY need to use less of it as it's way more absorbent. I'd go for no more than 1 ½ cups or 150 grams.
With a few simple tweaks, you can make these cookies crunchy - more in the style of a shortbread. Simply double the amount of butter, leave out the cream cheese and use an egg white only instead of the entire egg. Also, make sure your cookies are flatter. Bake until browned.
If you only have granulated sweetener, you can simply blitz it in a food processor to powder it.
Store in an air-tight container in the fridge for up to a week. Suitable for freezing.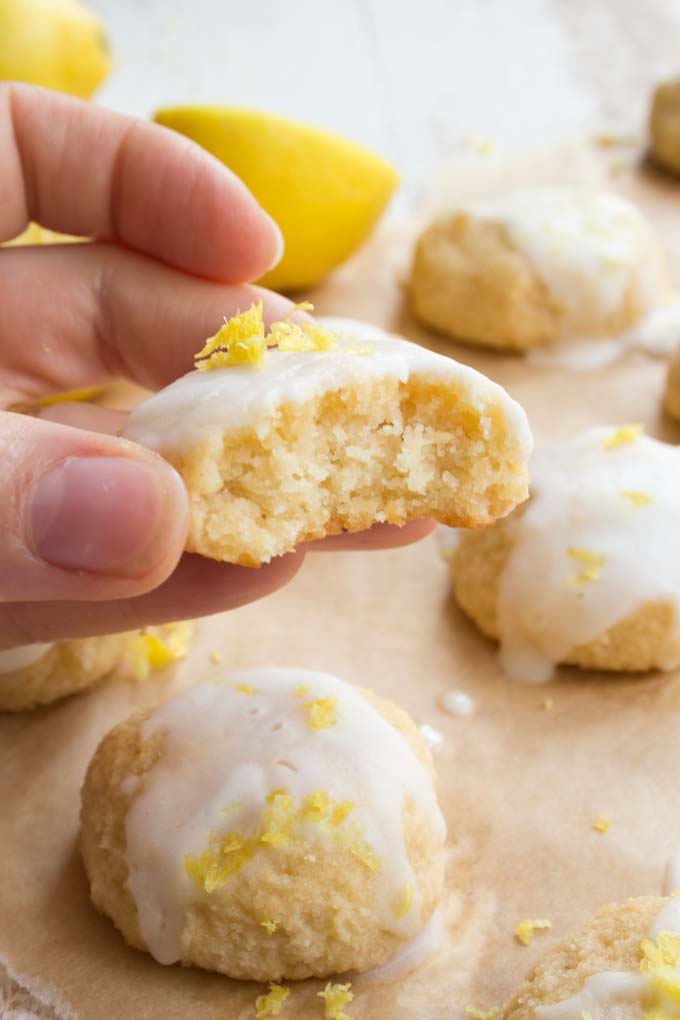 Try my other Keto cookies: 
Tried this recipe? Give it a star rating below!
★ STAY IN TOUCH on FACEBOOK, PINTEREST and INSTAGRAM  for more great food and join my NEWSLETTER for the latest updates and a FREE EBOOK.★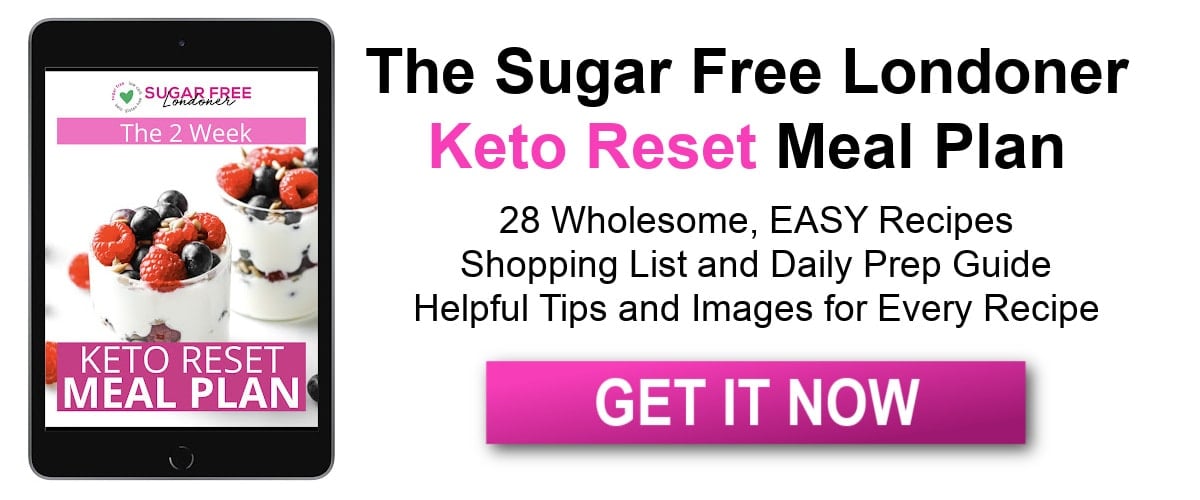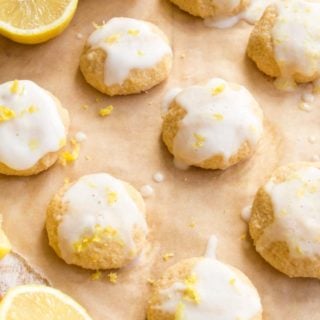 Keto Lemon Cookies
from Sugar Free Londoner
Who would have thought that cookies can taste REFRESHING? These easy Keto lemon cookies are the perfect combination of tart, zesty and sweet. A must make for lovers of summer and of all things lemon!
Note: The servings slider only changes the first amount in each line and not any subsequent amounts. Please make your own calculations where necessary. ***As an Amazon Associate I earn from qualifying purchases.
Ingredients
Lemon Cookies
¼

cup / 55g / 2 oz

cream cheese

full fat

¼

cup / 55g / 2 oz

butter

unsalted

5

tablespoon

powdered erythritol (So Nourished)

(6 tablespoon if you like a sweet cookie)

1

egg

medium

2

cup / 200g

almond flour

NOT super-fine. Ground almonds / almond meal works well

4

tbsp

lemon juice

(circa 1 large lemon)

zest

of 1 lemon
Instructions
Cream the butter, cream cheese, 4 tablespoon lemon juice and lemon zest together with the powdered erythritol until smooth. Use a food processor or an electric mixer.

Add the egg and mix until well-combined. Last, add the almond flour and mix.

The dough is fairly soft at this stage. Wrap it in cling film and place either in the fridge for 20 - 30 minutes or in the freezer for about 10 minutes.

Pre-heat the oven to 180 Celsius / 356 Fahrenheit.

Line a baking tray with parchment paper. Form 12 cookie dough balls and place them on the tray, flattening them slightly with your hand.

Bake for 15 minutes or until lightly browned at the bottom (and ever so slightly browned on top).

Remove from the oven and let cool completely.

Stir together the lemon juice, powdered erythritol and lemon zest for the glaze and spread over the cooled cookies.
Notes
One cookie weighed on average 30 grams and has 2 g net carbs. The cookies are generous in size and I think one cookie makes a good portion.  
The cookies are very fragile when hot. They firm up once they cool down. Avoid handling them wile they are still warm.
Nutrition
Serving:
30
g
Calories:
150
kcal
Total Carbohydrates:
3.6
g
Protein:
4.4
g
Fat:
14.3
g
Saturated Fat:
4
g
Sodium:
23
mg
Fiber:
1.7
g
Sugar:
1.1
g
This post contains affiliate links. If you click on one of these links and purchase a product, I may earn a small commission, at no extra cost to you. Thank you for supporting Sugar Free Londoner.