Deliciously spiced, fluffy and moist: Keto pumpkin muffins make a wonderful low carb breakfast or afternoon treat. These healthy, high fiber muffins are made with coconut flour and contain only 2.7g net carbs per portion.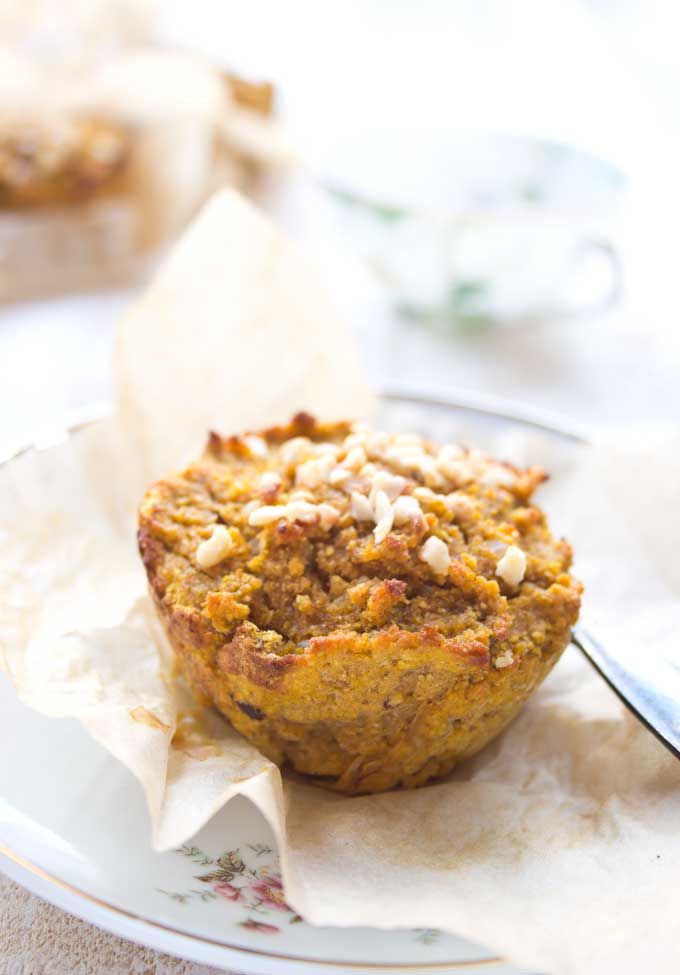 It's pumpkin season and I'm loving every minute of it! I've just bought a bumper pack of canned pumpkin and have been busy making pumpkin-based dishes all week.
Did you know that pumpkin puree tastes delicious mixed with yoghurt? It's been my go-to breakfast, mixed with nuts, seeds and plenty of cinnamon.
But of course, pumpkin puree really comes into its own when making sugar free and Keto desserts. Have you seen my fudgy pumpkin brownies or the sugar free pumpkin pie? It's so good that we had to divide the last slice into four so everyone could have some.
I tested these keto pumpkin muffins a few times using the same ingredients in different amounts - and after 3 gos the muffins came out perfect. They're crunchy on the top and delightfully moist (but not heavy) on the inside. Best of all, it's a seriously easy ketogenic recipe that comes together in minutes!
These low carb pumpkin muffins are sweetened with granulated erythritol and taste of all the wonderful flavours autumn has to offer - warm spices such as cinnamon and nutmeg, the gentle, earthy sweetness of pumpkin and roasted hazelnuts.
Pumpkin coconut flour muffins
Many pumpkin muffins in the health food space use ingredients such as applesauce to sweeten and wholewheat or spelt flour or oatmeal as flours. These work well, but of course, they are not low carb flours. I've been baking grain free for a few years now, and in this recipe I'm using coconut flour. It's my go-to gluten free flour of the moment.
Coconut flour is very nutrient-dense, low in carbs and cheaper than almond flour. A pack lasts forever because coconut flour absorbs a lot of liquid. As a rule of thumb, you only need between ⅓ to maximum half the amount of coconut flour instead of almond flour, depending on the recipe.
I think the the subtle sweetness of coconut flour works really well in this recipe. But now let's jump straight in and let me show you how simple it is to make these sugar free muffins:
How to make Keto pumpkin muffins from scratch: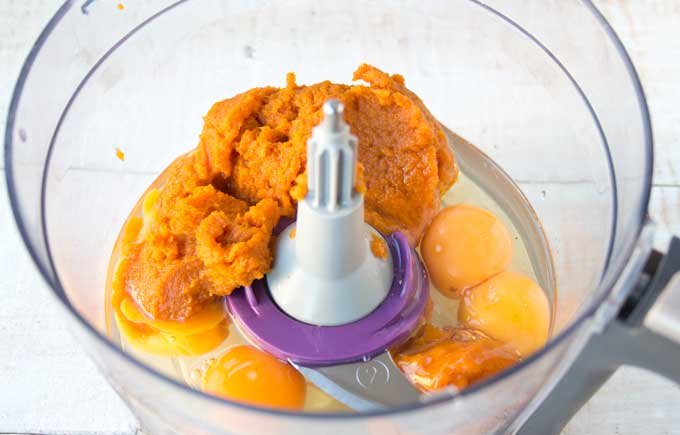 First, you blend the pumpkin puree and your eggs. You can do this in a food processor or in a bowl with an electric mixer.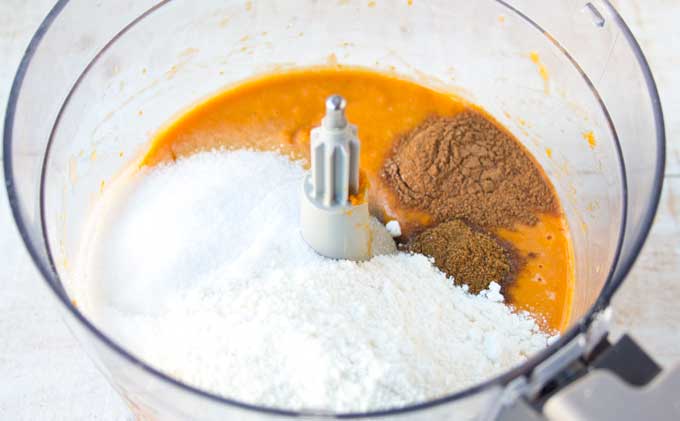 Next, you add all other ingredients apart from the hazelnuts and mix until you have a smooth batter. I don't have much of a sweet tooth so make sure you taste the batter and add more sweetener if you feel it needs it.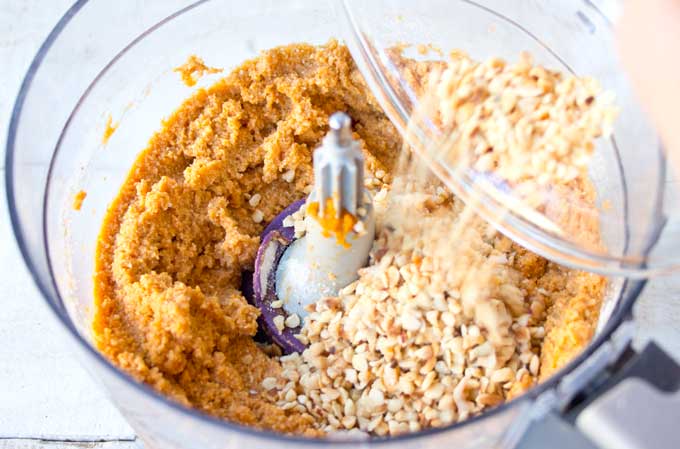 See how the coconut flour has absorbed all the liquid? I always let my batter stand a couple of minutes while the coconut flour does its magic. Then you add the optional nuts. (You can leave them out - they are not essential to the recipe).
I bought ready-made roasted and chopped hazelnuts, but if you can't source them you could make your own by blitzing blanched hazelnuts and then dry-roasting them in a pan.
Baker's Top Tip: You could also use crushed pecans or walnuts here.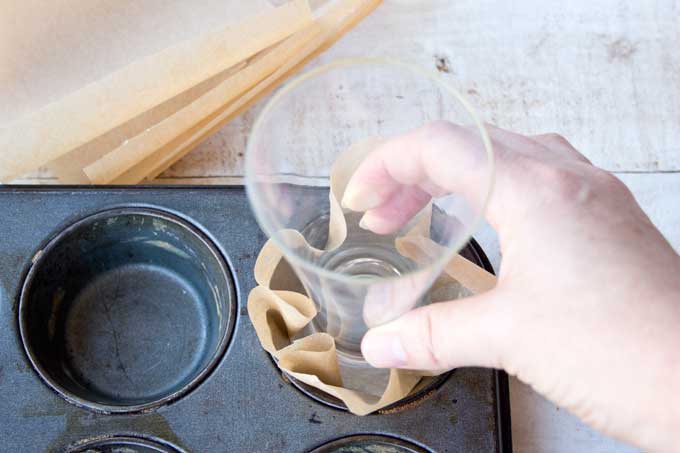 Time to organise some paper cases for your keto pumpkin muffins! Of course, you can use store-bought muffin cup liners or a silicone muffin pan. But if you have neither, you can make your own paper cups out of parchment paper!
I simply cut 5 inch squares of baking paper and pressed them into my well-used muffin pan with a glass. 
Don't these home-made paper cases look so much prettier than the regular paper cups? Needless to say, they are super cheap.
I used around 2 heaped tablespoons of muffin batter for each muffin. As you can see, the batter is firm and needs to be spooned rather than poured.
Then you flatten the tops and scatter over some more hazelnuts (or pumpkin seeds, if you prefer a nut free option). Bake the muffins for about 25 minutes or until a knife inserted comes out clean and the tops are golden.
Note: The muffins do not rise very much. Therefore, be sure to fill the batter to the top of the muffin cases. My batter made 7 muffins.
Canned pumpkin is available all year round in the US and you can get it in UK supermarkets such as Waitrose and Tesco. Unfortunately, in some parts of the world it's hard to get hold of. So what to do if you want to whip up some low carb pumpkin muffins and you can't get your hands on a can of Libby's? Well, you make your own!
How to make homemade pumpkin puree:
Heat the oven to 200 Celsius / 400 Fahrenheit.
Cut the pumpkin in half, scoop out the seeds and lay the halves flesh-side down on a baking sheet lined with baking paper.
Roast the pumpkin for 30-45 minutes (time will depend on the pumpkin size).
Wait until the pumpkin has cooled. Then scoop out the flesh, discard the skins and blend to a smooth puree.
How to make homemade pumpkin spice mix:
If you want to make your own pumpkin spice mix, use this recipe - and store the rest for another time:
1 Tbs ground allspice
1 Tbs cinnamon
1 Tbs nutmeg
2 tsp mace
1 tsp cloves
1 tsp coriander
1 tsp ginger.
The most important ones are cinnamon, nutmeg and ginger – basically, that autumn/Christmas flavour combo.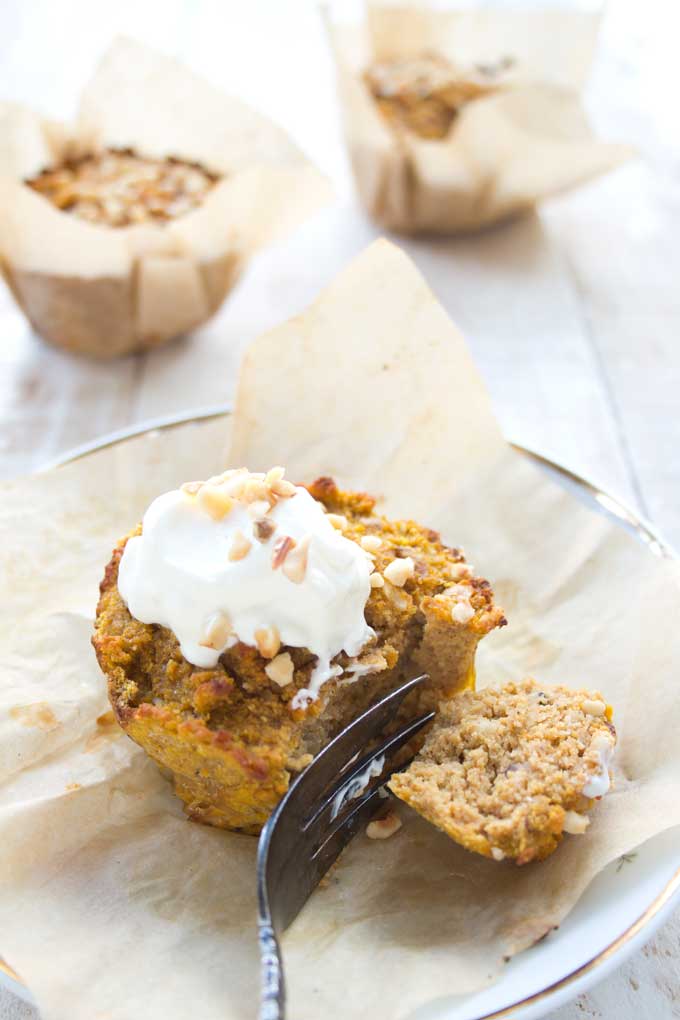 Low carb sweeteners
I used this granulated erythritol to sweeten my keto pumpkin muffins. You could use powdered sweetener instead. Or even go for a brown sugar substitute like this one - this would also work well with the autumn flavours.
Next, I want to try this recipe with allulose. It produces softer baked goods than erythritol, because it does not re-crystallise as it cools. Allulose is widely available in the US, and in the UK and Europe you can get it on mydiet-shop.co.uk.
If you wanted more sweetness, you can also add 4-8 drops of liquid stevia, which is the equivalent of 2 teaspoons of sugar. You can get caramel or cinnamon flavours!
Tip: Always taste the batter before baking and decide if you need to add more sweetness. These muffins are gently sweet because I don't have much of a sweet tooth. Use up to 2 additional tablespoons of erythritol or your sweetener of choice if you prefer a sweeter muffin.
Keto almond flour muffins
Ran out of coconut flour or prefer almond flour? You can replace the coconut flour with 1 ½ cups of almond flour. 
It's also possible to use a combination of seed flours. Sunflower seed flour and sesame seed flour work well together. I would use 1 cup of sunflower seed flour and top it up with ¼ cup of sesame seed flour.
Dairy free or paleo pumpkin muffins
It's easy to make these muffins dairy free. All you need to do is use coconut oil in place of the butter. And if you would like to make this recipe paleo as well, you could replace the erythritol with a paleo friendly sweetener such as maple syrup or coconut sugar. Of course, this would increase the net carbs.
Toppings for Keto Pumpkin Muffins
I topped my muffin with sour cream, which tasted so good together. You could also whip up some heavy / double cream or make whipped coconut cream. Or, top them with a cream cheese frosting  (¼ cup cream cheese and 1 tsp-1 tbsp powdered sweetener). All this is optional, of course - they taste delicious all on their own, too 🙂
And if you want pull out all the stops, try these Keto Pumpkin Cheesecake Muffins, which uses this same recipe as a base.
Storage
Store your sugar free pumpkin muffins in the fridge for up to 5 days. You can also freeze them for up to 3 months. Simply defrost on the counter or in the microwave.
More delicious Keto pumpkin recipes to try: 
Tried this recipe? Give it a star rating below!
★ STAY IN TOUCH on FACEBOOK, PINTEREST and INSTAGRAM  for more great food and join my NEWSLETTER for the latest updates and a FREE EBOOK.★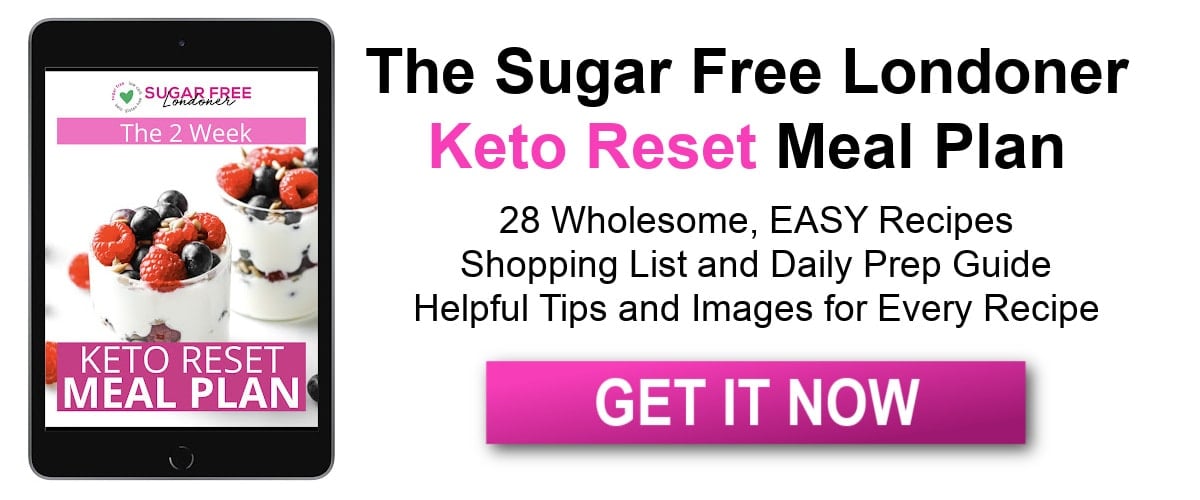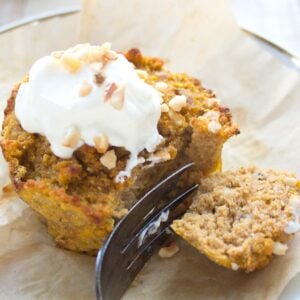 Keto Pumpkin Muffins with Coconut Flour
from
Sugar Free Londoner
Keto pumpkin muffins taste of spice and all things nice! These moist muffins are a wonderful grab & go breakfast or sugar free sweet treat. Only 5 minutes prep and ready in 30 minutes!
Note: The servings slider only changes the first amount in each line and not any subsequent amounts. Please make your own calculations where necessary. ***As an Amazon Associate I earn from qualifying purchases.
Instructions
Preheat your oven to 175 Celsius / 350 Fahrenheit.

In a food processor or in a bowl with a hand-held electric blender, mix your pumpkin and eggs until smooth.

Add the all other ingredients except the hazelnuts and blend until smooth. 

Last, add the hazelnuts, if using, and blend briefly. The hazelnuts are optional and not essential for the recipe, but add a lovely crunch.

Let the batter sit for a couple of minutes so the coconut flour can absorb the moisture. Then scoop into a muffin pan lined with paper cups and sprinkle with hazelnuts.

Bake around 25 minutes or until lightly browned on top and a knife inserted comes out clean.
Notes
2.7g net carbs per muffin (without hazelnuts). 3.1g net carbs including hazelnuts. Makes 7 muffins. 
See the post how you can make your own cafe-style paper cups. 
Can't get hold of pumpkin puree? Instructions on how to make your own are in the post. 
Serve on its own or with either whipped cream or sour cream. 
Nutrition
Calories:
167
kcal
Total Carbohydrates:
5.5
g
Protein:
5.8
g
Fat:
13.2
g
Fiber:
2.8
g
Sugar:
1.6
g
This post was first published in September 2018. It was re-published in September 2020 with more information and a recipe change to reflect how we make this recipe now.
This post contains affiliate links. If you click on one of these links and purchase a product, I may earn a small commission, at no extra cost to you. Thank you for supporting Sugar Free Londoner.