This low carb keto pumpkin mousse is dreamy-creamy and incredibly easy to make. It tastes just like a pumpkin cheesecake that's served in a bowl. Only 5 minutes prep!
I'm in love with pumpkin at the moment. In my opinion, it's one of the best things about autumn - and I can tell you, the constant rain we're having here at the moment is NOT one it it.
That gently sweet pumpkin flavour and soft texture is just what I need when it's getting chilly outside!
I've just posted a super-comforting Keto Coconut Pumpkin Porridge, and of course I've got a whole bunch of other pumpkin recipes on my site, including this drool-worthy Low Carb Sugar Free Pumpkin Pie.
Keto pumpkin cheesecake mousse
The above describes this dessert in a nutshell. It is cheesecake in mousse form - all the pleasure without the oven action.
Basically, I was dreaming of pumpkin cheesecake and didn't want to put the hours in (know that feeling??). So, I just made a SUPER SIMPLE keto pumpkin fluff version of it, using my keto cheesecake fluff as a guide.
You may be wondering....
Is pumpkin keto?
The answer is yes, absolutely! Pumpkin is relatively low in carbs and in moderation it is a great vegetable for a low carb and a keto diet.
The different types of pumpkin range between 4 and 12 grams of carbs per 100 grams. The regular (giant / Halloween) pumpkin contains 4g, at the top end is butternut squash with 12 grams.
How to make keto pumpkin mousse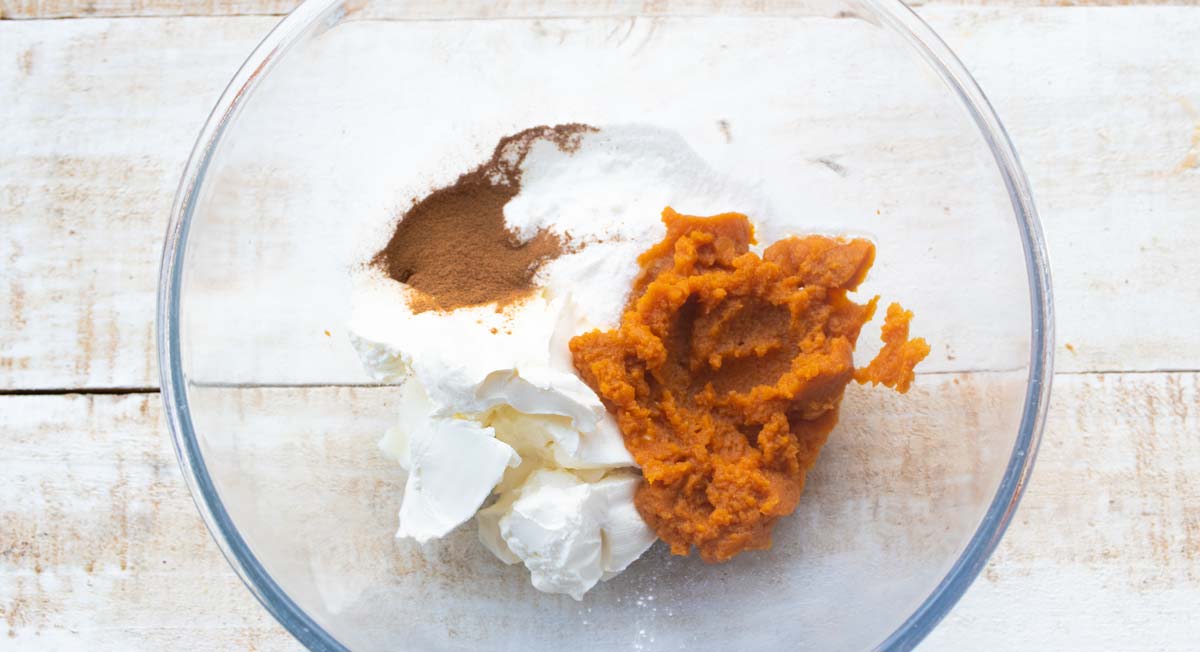 It's so easy!!!! First, whisk all ingredients except for the cream until smooth.
Make sure you use cold cream cheese and a chilled can of pumpkin!
Also, don't miss out on the spices. They are very important for taste, especially the ginger and nutmeg. You could use 1 ½ tsp pumpkin spice mix if you don't have them separate.
Beat the cream
In a separate bowl, whip the (fridge cold) cream until nice and thick. Find that point just BEFORE it goes super stiff. It should be just under the texture of stiff peaks.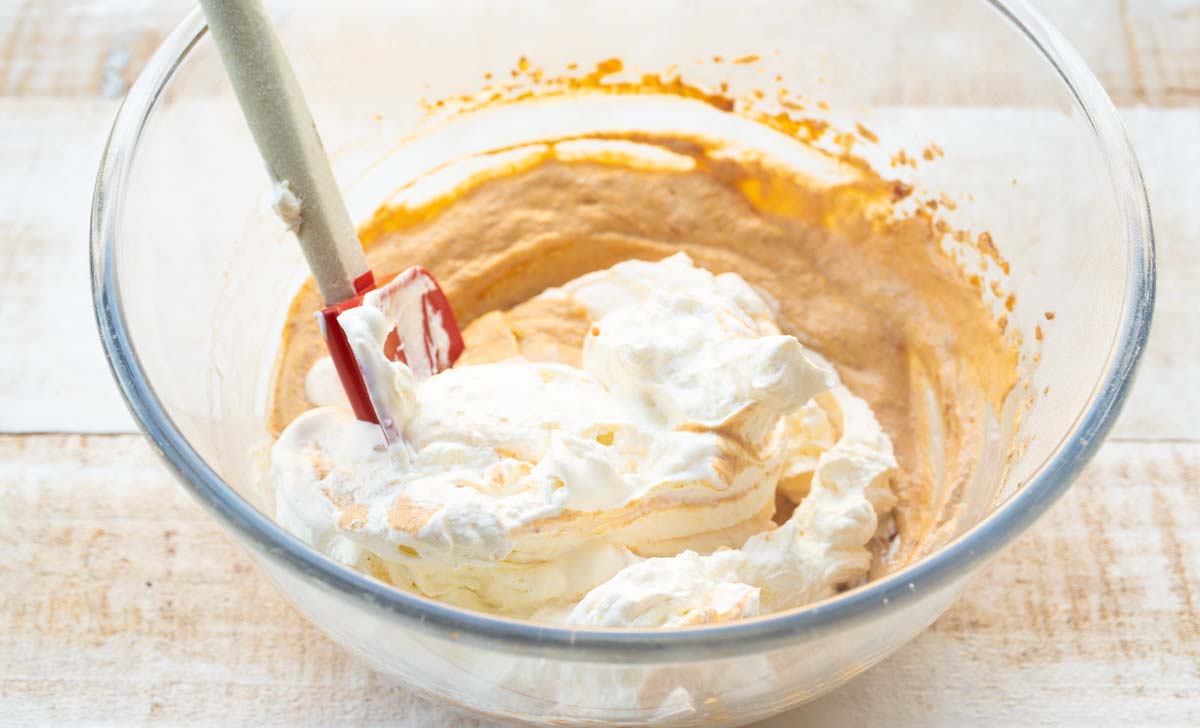 Fold together
Fold the cream into the pumpkin mix until combined.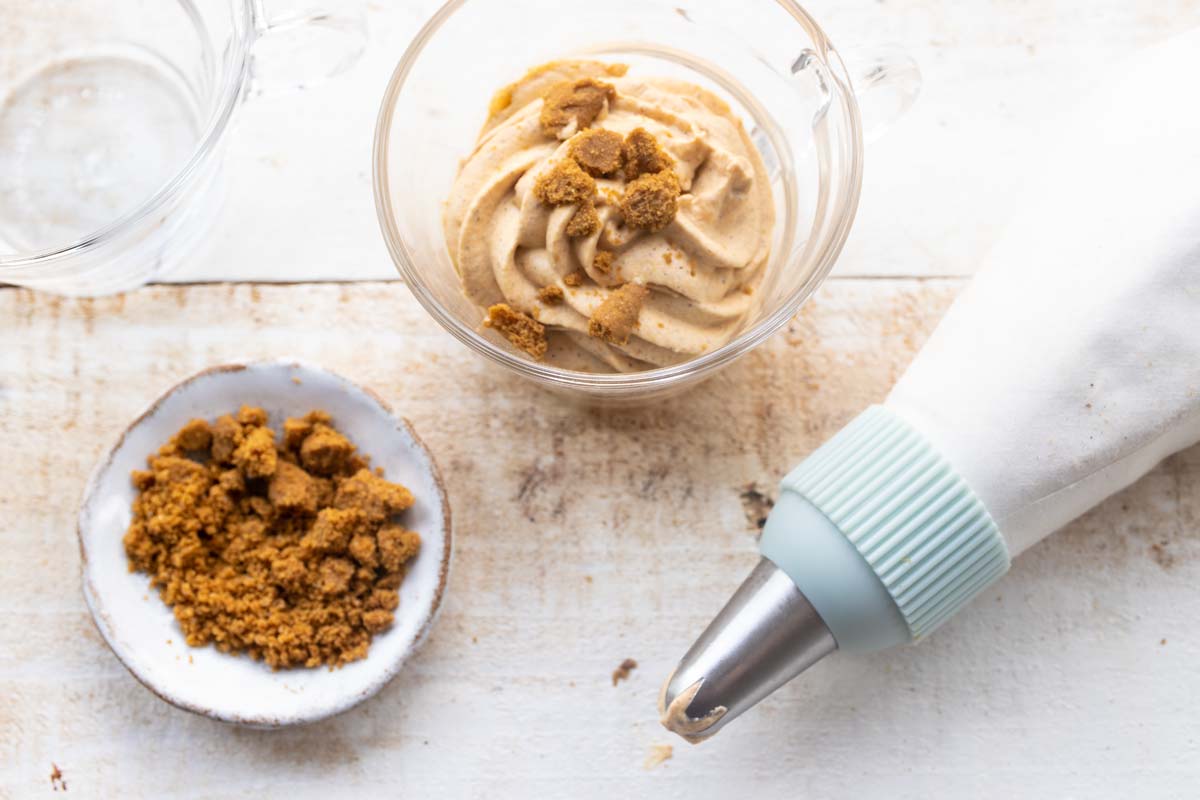 Then, scoop the mix into a piping bag (I used a large flower nozzle) and pipe into dessert bowls. Or simply spoon and serve - up to you!
I was able to pipe the keto pumpkin fluff straight away. If it's too soft, place it in the fridge for 30 minutes to firm up.
Toppings
Drizzle over melted sugar free chocolate.
Add dry roasted pecans or walnuts.
Top with sour cream and crumbled keto ginger cookies.
Which sweetener to use
I used a powdered erythritol and monk fruit mix. But any low carb sweetener will work, from Swerve to xylitol to allulose. Just make sure it is powdered so the mousse is smooth.
You can make powdered sweetener from granulated by simply grinding it in a blender.
Recipe variations
Use 1 tsp of pumpkin spice in place of the cinnamon, nutmeg and ginger.
Dairy free low carb pumpkin mousse
It's possible to use coconut cream instead of the whipping cream. This makes the recipe a little lighter as coconut cream has only half the amount of fat of double / heavy cream.
Be sure to use coconut cream straight from the fridge so it is cold and firm.
For a completely dairy free low carb pumpkin mousse, replace the cream cheese with coconut yoghurt. 
If you're using canned coconut milk, only use the firm part, which is the cream.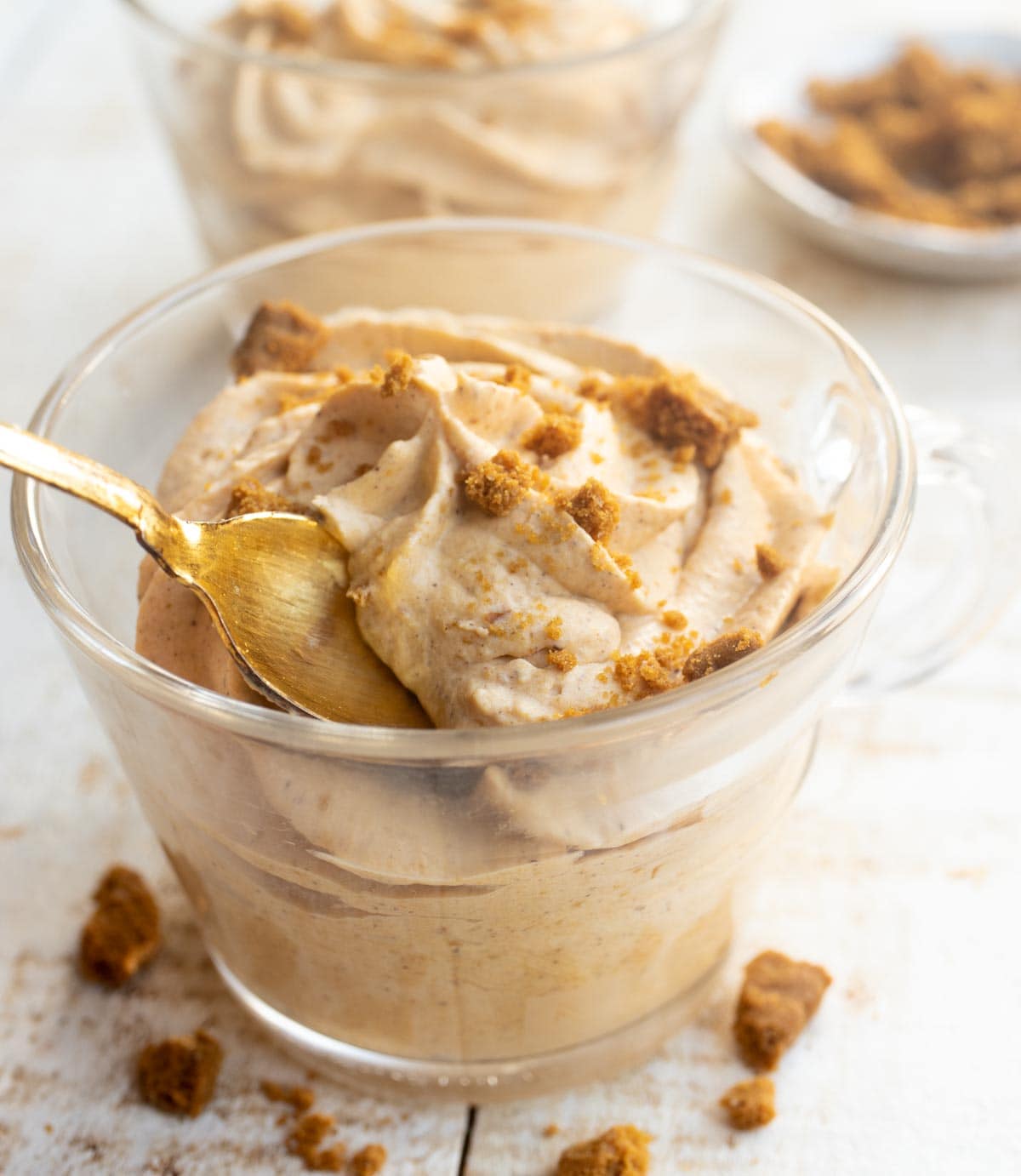 Storage
Store in the fridge for up to 3 days.
It should be possible to freeze it for up to 3 months, but I have not tried this myself. If you freeze in an ice cube tray you can make pumpkin fat bombs with this recipe.
More keto pumpkin desserts
Keto Pumpkin Cheesecake Muffins
Healthy Pumpkin Bars with Cream Cheese Frosting
Low Carb Chocolate Pumpkin Mug Cake
Fudgy Sugar Free Pumpkin Brownies
Tried this recipe? Give it a star rating below!
★ STAY IN TOUCH on FACEBOOK, PINTEREST and INSTAGRAM  for more great food and join my NEWSLETTER for the latest updates and a FREE EBOOK.★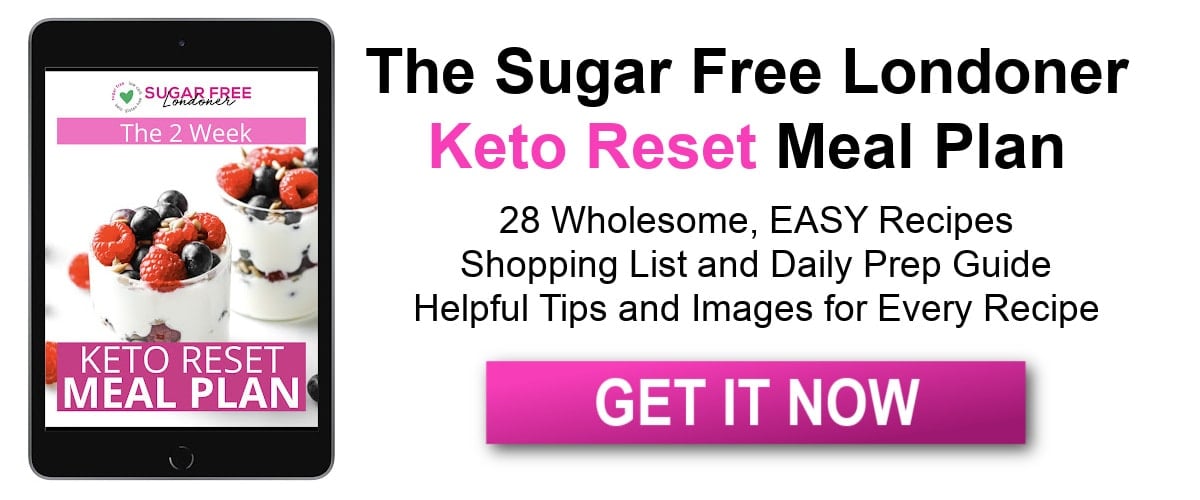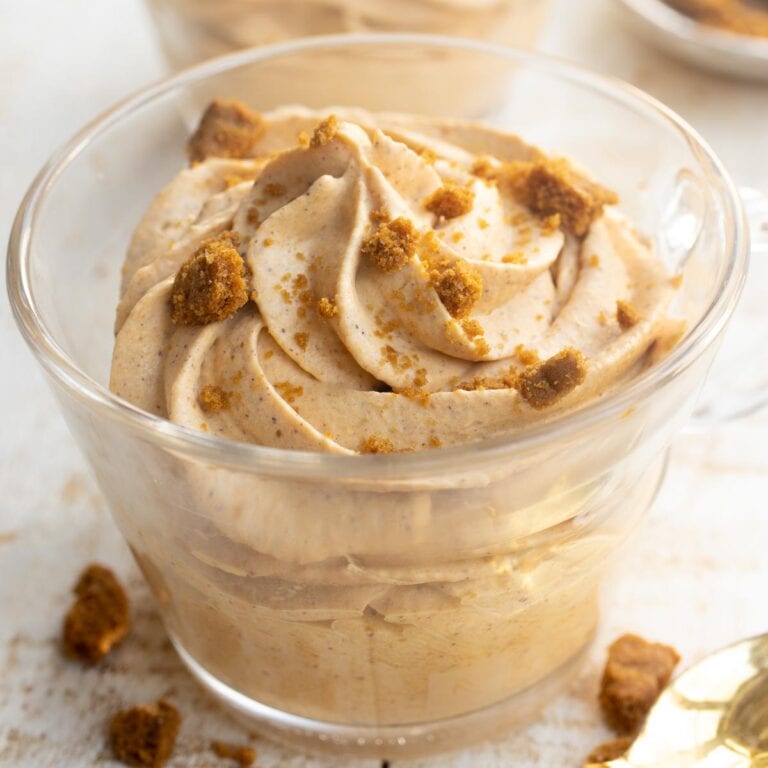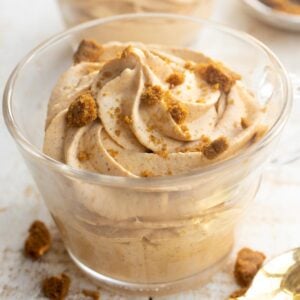 Fluffy Low Carb Keto Pumpkin Cheesecake Mousse
from
Sugar Free Londoner
This super simple keto pumpkin mousse is rich, creamy and utterly delicious. A low carb dessert favourite.
Note: The servings slider only changes the first amount in each line and not any subsequent amounts. Please make your own calculations where necessary. ***As an Amazon Associate I earn from qualifying purchases.
Instructions
Place all ingredients except for the cream into a bowl and whisk until smooth.

In a separate bowl, whip the cream until nice and thick.

Fold the cream into the pumpkin mix.

Scoop the mix into a piping bag and pipe into glass ramekins. (If necessary, cool in the fridge before piping).
Notes
3.6g net carbs per generous serving. 
Serving size is 100 grams. This dessert could easily be split between 6 people, making it 2.4g net carbs / 20.8g fat / 198 calories each.
Because all my ingredients came straight from the fridge, my mousse did not need cooling before piping. If yours is soft, simply cool for 30 minutes before piping.
Store in the fridge until serving.  
I topped the mousse with crumbled keto ginger cookies. 
Use 100% canned puree without any sweeteners or make your own by roasting or steaming pumpkin.
In the UK, you can get canned pumpkin puree from Ocado and Waitrose all year round. Tesco, Sainsbury's and others carry it during autumn and winter.   
Stays fresh in the fridge for circa 3 days. 
Nutrition
Serving:
100
g
Calories:
297
kcal
Total Carbohydrates:
5
g
Protein:
3.2
g
Fat:
31.2
g
Saturated Fat:
19.6
g
Fiber:
1.4
g
Sugar:
2.8
g
This post contains affiliate links. If you click on one of these links and purchase a product, I may earn a small commission, at no extra cost to you. Thank you for supporting Sugar Free Londoner.