This keto pumpkin mousse is dreamy-creamy and incredibly easy to make. It tastes just like a fluffy pumpkin cheesecake served in a bowl. Only 5 minutes prep.
I'm in love with pumpkin at the moment. In my opinion, it is one of the best things about fall. That gently sweet flavor and soft texture is just what I need when it's getting chilly outside!
Let me tell you how this recipe came about. Basically, I was dreaming of pumpkin cheesecake and didn't want to put the hours in (know that feeling?).
So, I just made a SUPER SIMPLE keto pumpkin fluff version of it, using my keto fluff as a guide.
Jump to:
🌟 Why You'll Love This Recipe
So quick. This recipe is ready in just 5 minutes. An almost instant dessert.
Really easy. Even a beginner will find this mousse simple to make - it's just 4 steps.
Seriously flavourful. You'll love the spices in combination with the mellow pumpkin flavour.
Low in carbs. Since we are using a zero carb sugar substitute, this mousse is just 3.6g net carbs per generous portion.
Impressive enough even for a dinner party. While you can simply spoon it into bowls for an everyday treat, it looks super pretty when piped and decorated with cookie crumbles. Even better, you can prep it hours ahead and store in the fridge.
Ingredients
Below you can see an image of the ingredients for keto pumpkin mousse: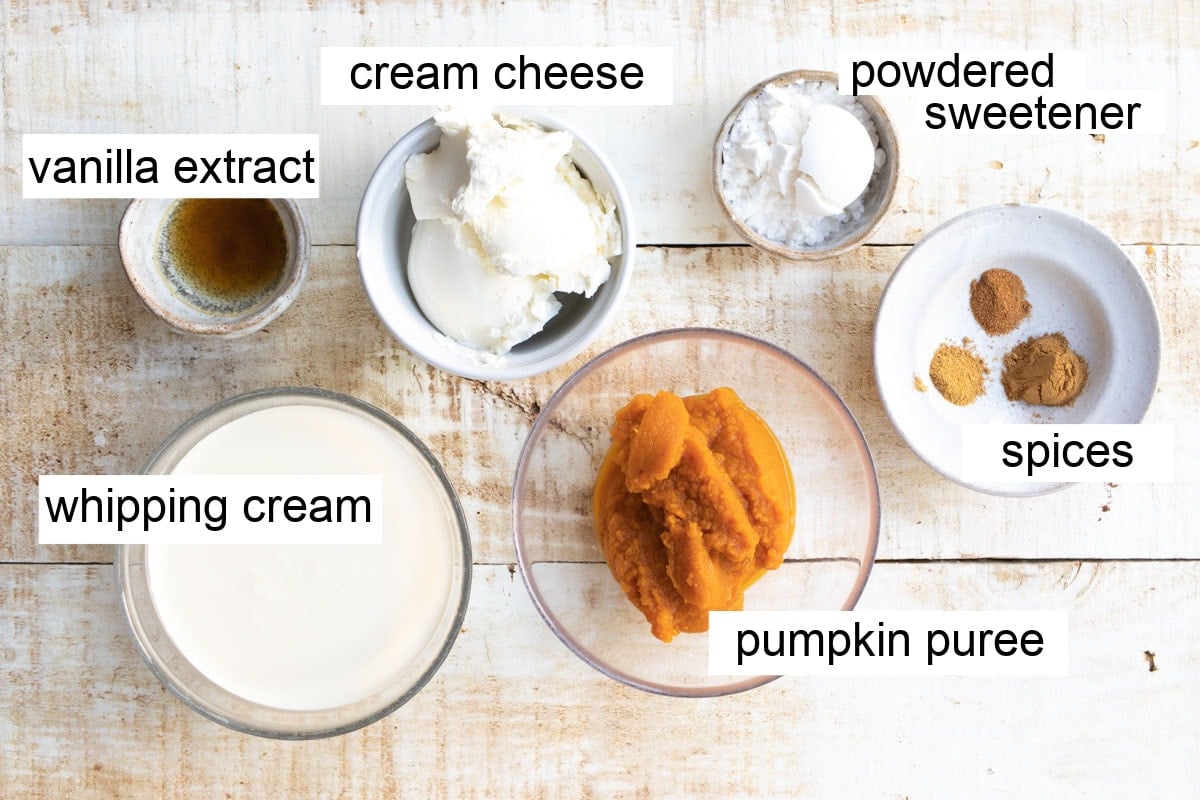 Pumpkin puree. I used unsweetened canned pumpkin. I chill it in the fridge before using, so the mousse is ready to serve straight away.
Cream cheese. This should be full fat and fridge cold. I like Philadelphia, because it is creamier than most supermarket brands.
Heavy cream. Also called double cream. Again, straight from the fridge.
Powdered sweetener. Any 1:1 sugar substitute works here, as long as it is powdered. I like erythritol monk fruit blends, or use pure erythritol, xylitol, allulose or Bocha sweet.
Vanilla extract. Check that it is sugar free.
Spices. I used a blend of cinnamon, ginger and nutmeg. You can also use a pumpkin pie spice blend.
Instructions
(This section contains step by step instructions and photos that show how to make this recipe. Find the recipe card with ingredient amounts and nutritional information at the bottom of the post.)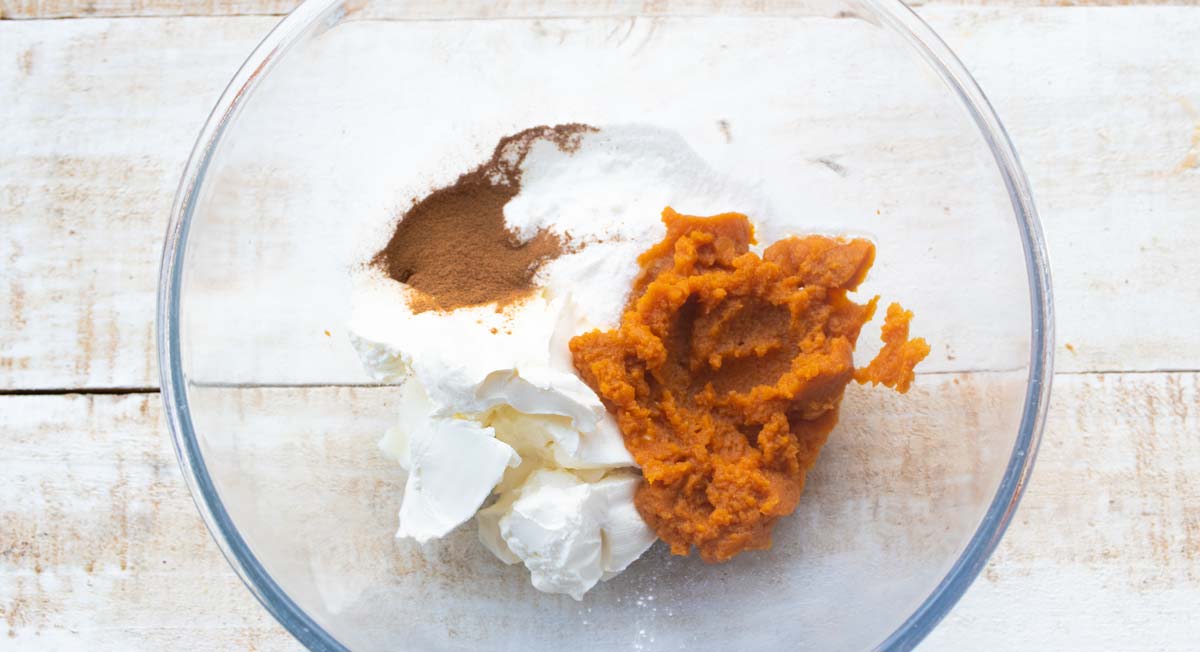 Step1: Put all ingredients except for the cream into a large mixing bowl and whisk until smooth.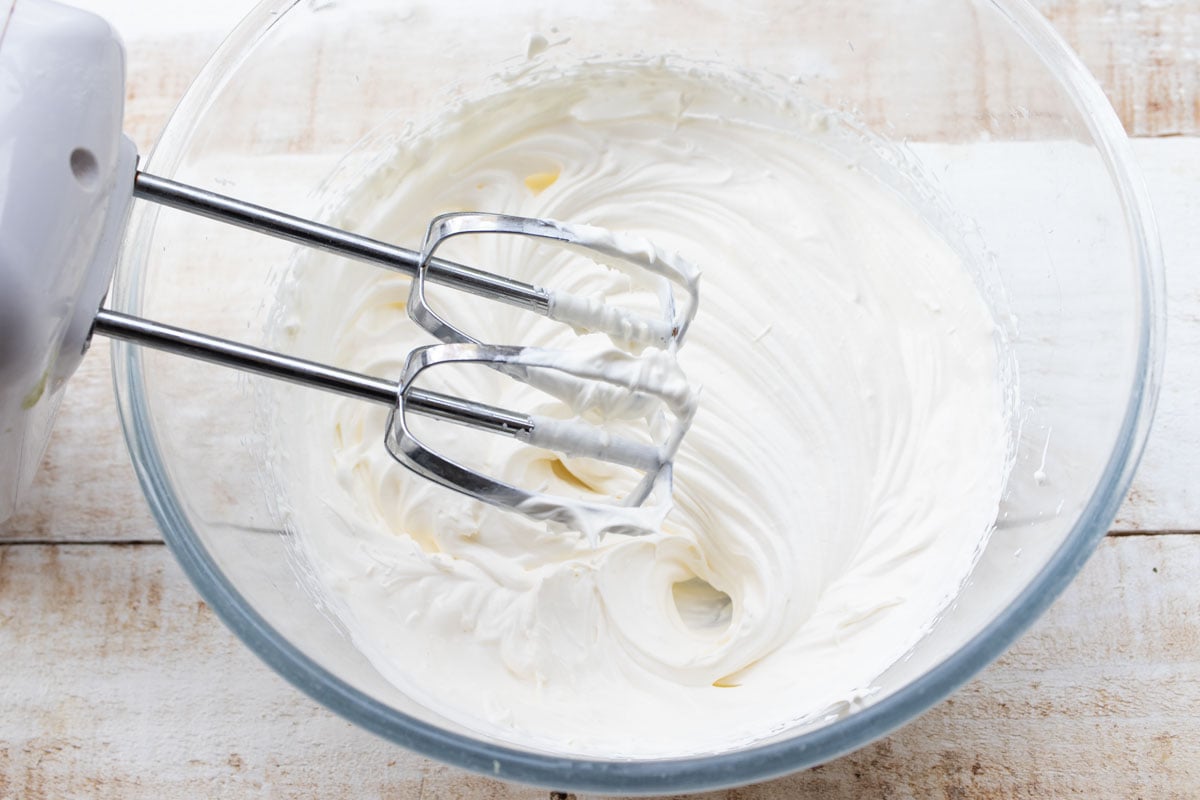 Step 2: Whip the cream in a separate bowl until nice and thick.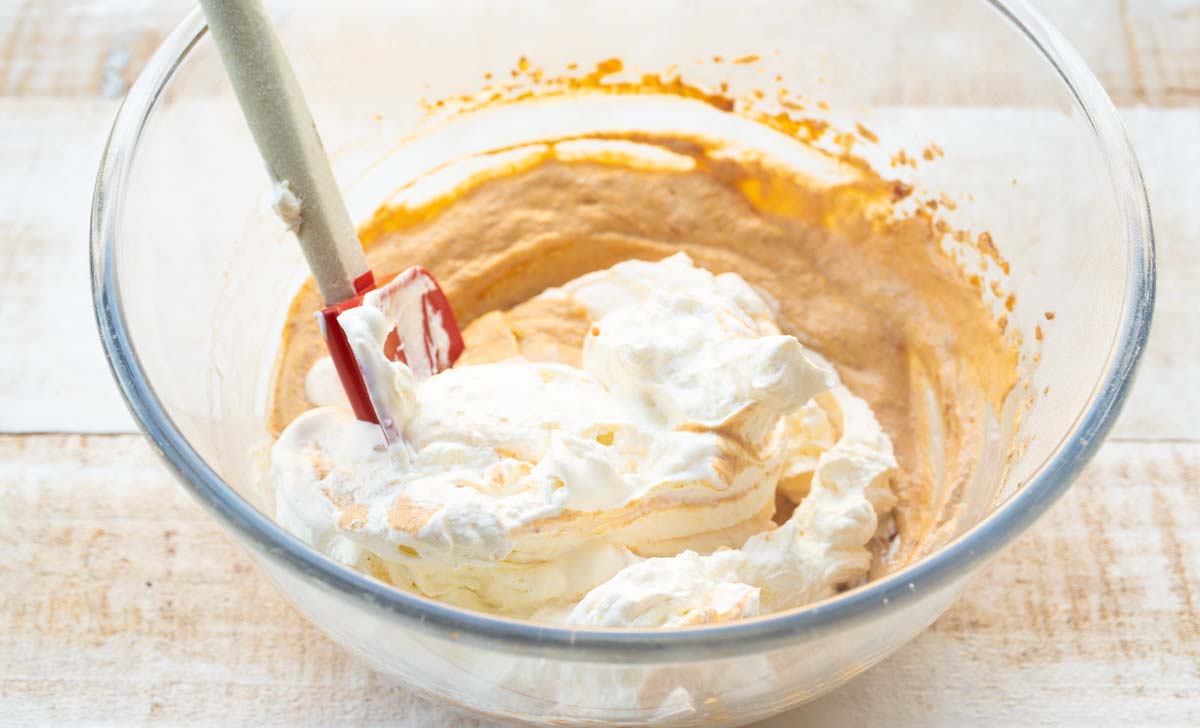 Step 3: Fold the cream into the pumpkin mixture.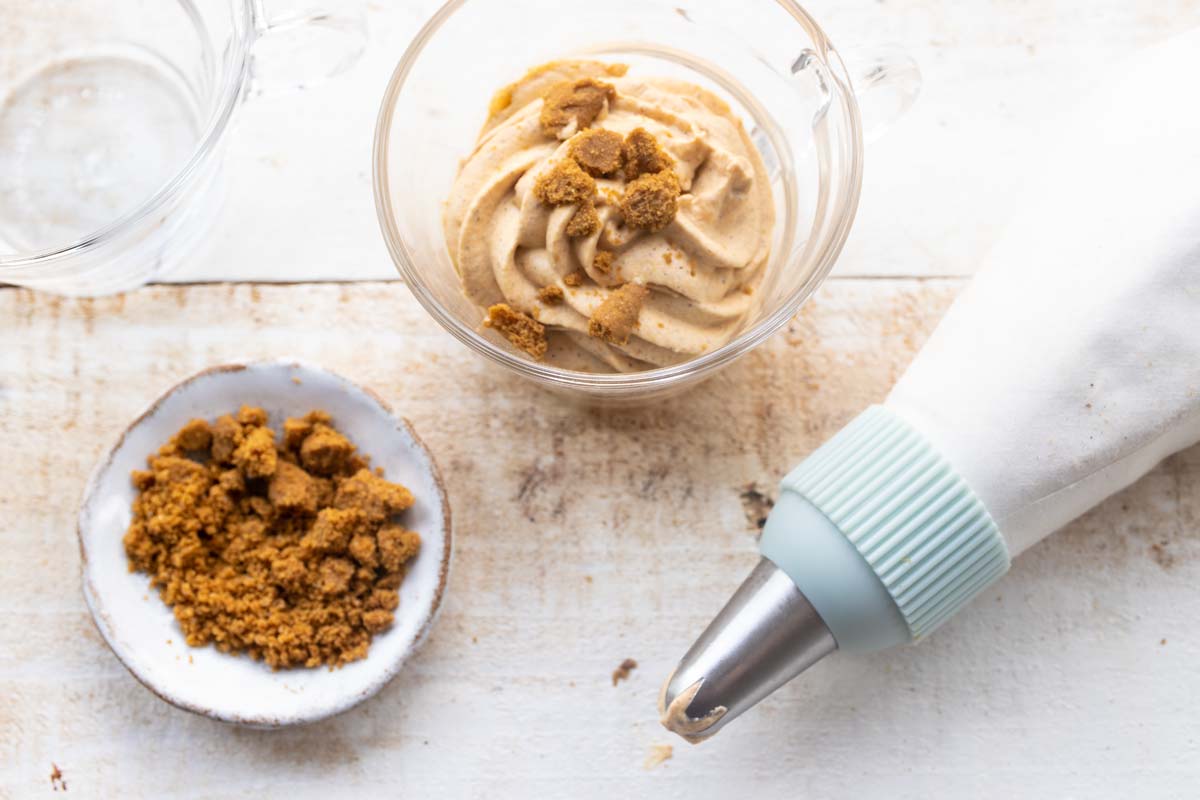 Step 4: Scoop the mix into a piping bag and pipe into dessert bowls (I used a large flower nozzle). Or, simply fill into bowls with a spoon.
Toppings
Top tips
Here are some useful tips to make sure your keto pumpkin mousse turns out perfectly:
Don't over-whip the cream. Find that point just BEFORE it goes super stiff. The whipped cream should be just under the texture of stiff peaks. That way, you can fold it into the pumpkin mix easily.
Cold ingredients. I've said it above, but want to mention it again here: Cold pumpkin puree, cold cream cheese and cold whipping cream. That way, you can pipe the mixture easily and enjoy it straight away.
Spice it up. Don't miss out on the spices. They are very important for taste, especially the ginger and nutmeg. You could use 1 ½ teaspoon pumpkin spice mix if you don't have them separate.
Variations
Dairy-free pumpkin mousse: My son prefers to eat dairy free, so sometimes I make a dairy free version of this recipe. I simply whip coconut cream instead of the heavy whipping cream and use coconut yoghurt in place of the cream cheese.
Pumpkin pie filling: This recipe can be used as a no bake filling for pies, sugar-free cannoli or crepes.
Make your own pumpkin puree: In some countries it's tricky to get canned pumpkin puree. From October onwards, you can generally get it via Amazon, on Ocado, at Waitrose or Tesco. It's also worth checking in health food stores. Just make sure it's unsweetened pumpkin puree and not pumpkin pie mix, which contains sugar.
If you can't source any, simply make your own.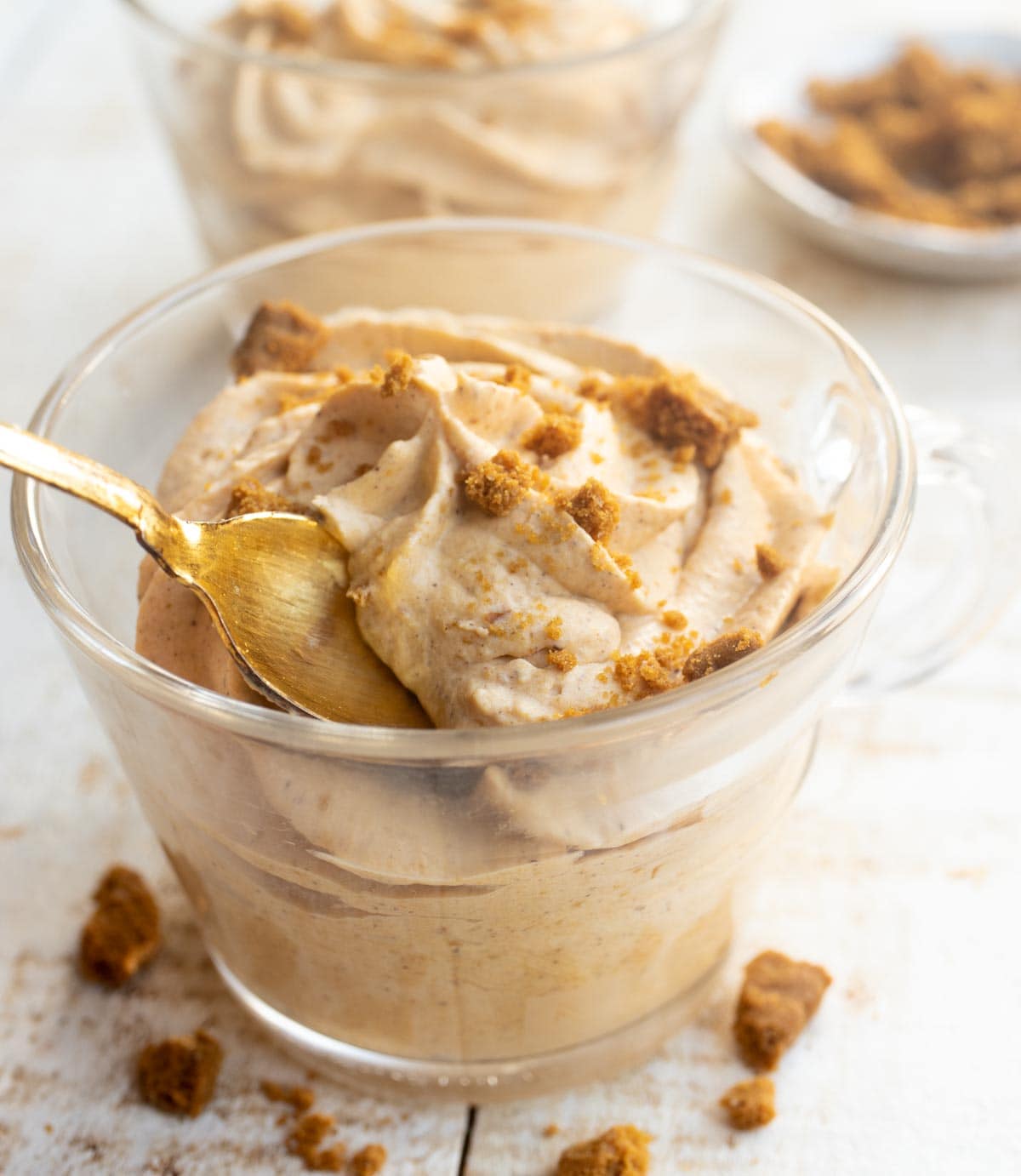 Storage
Refrigerator: Store in the fridge for up to 5 days.
Freezer: You can freeze leftovers in an ice cube tray as individual keto pumpkin cheesecake fat bombs. Enjoy straight from frozen.
FAQ
Is pumpkin keto?
Yes! Pumpkin is relatively low in carbs and in moderation it is a great vegetable for a low carb and a keto diet.
The different types of pumpkin range between 4 and 12 grams of carbs per 100 grams. The regular (giant / Halloween) pumpkin contains 4g, at the top end is butternut squash with 12 grams.
My mousse is too soft to pipe. What should I do?
Simply put it in the fridge for 30 minutes to let it firm up.
Which sweetener can I use?
I used a powdered erythritol and monk fruit sweetener blend. But any low carb sweetener will work, from Swerve to xylitol to allulose. Just make sure it is powdered so the mousse is smooth. You can make powdered sweetener from granulated by simply grinding it in a blender.
Can I make this recipe ahead?
Yes, this mousse is perfect for meal prepping. Simply store it in the fridge for up to 5 days until ready to serve.
More pumpkin recipes
Tried this recipe? Give it a star rating below!
★ STAY IN TOUCH on FACEBOOK, PINTEREST and INSTAGRAM for more great food and join my NEWSLETTER for the latest updates and a FREE EBOOK.★
Recipe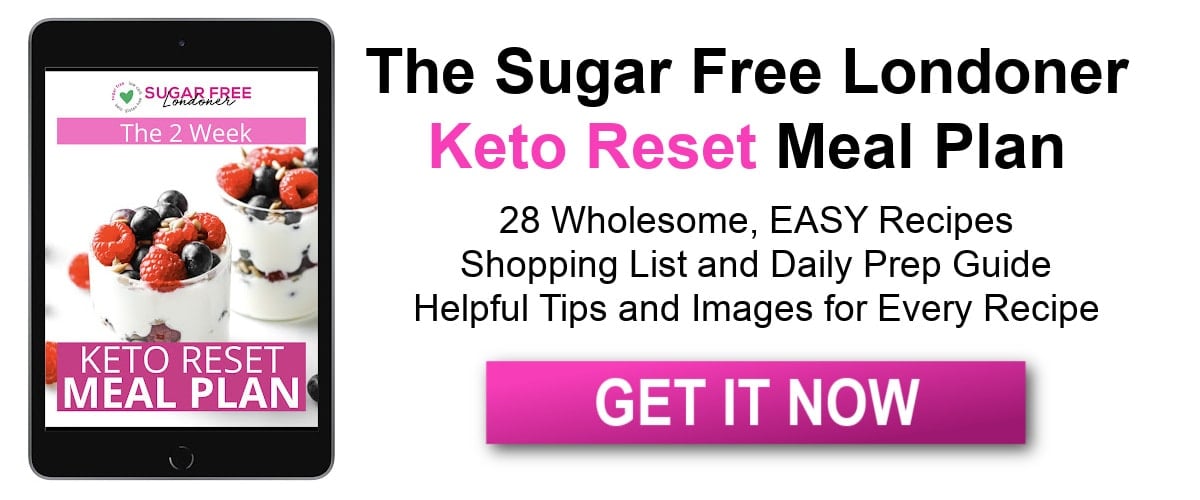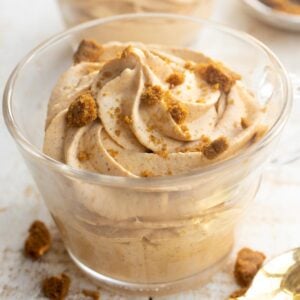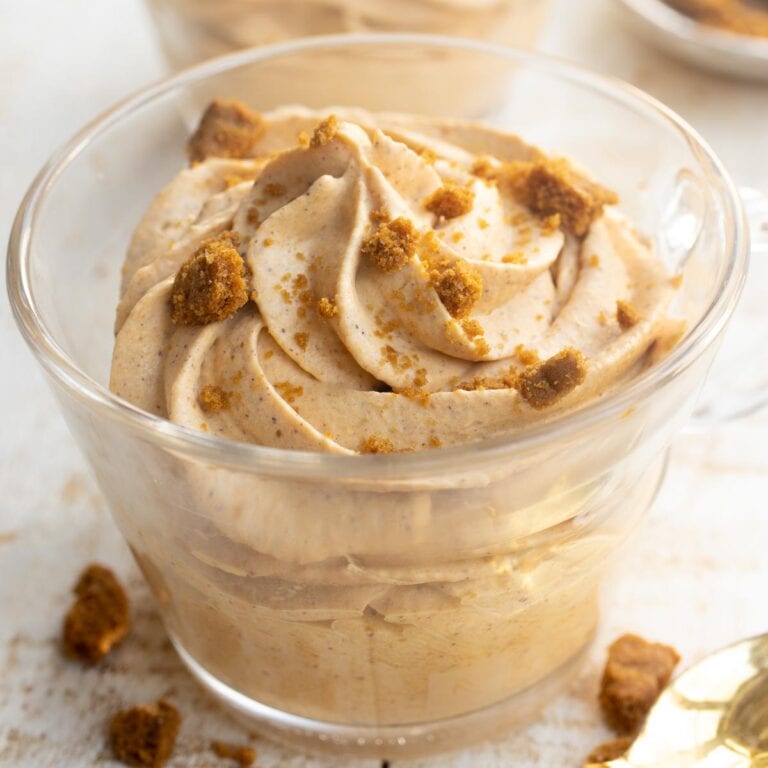 Keto Pumpkin Mousse
from Sugar Free Londoner
This super simple keto pumpkin mousse is rich, creamy and utterly delicious. A low carb dessert favourite.
Note: The servings slider only changes the first amount in each line and not any subsequent amounts. Please make your own calculations where necessary. ***As an Amazon Associate I earn from qualifying purchases.
Instructions
Place all ingredients except for the cream into a bowl and whisk with an electric mixer until smooth.

In a separate bowl, whip the cream until nice and thick.

Fold the whipped cream into the pumpkin mix.

Spoon into dessert cups or scoop the mix into a piping bag and pipe.
Notes
3.6g net carbs per generous serving. Makes 4 servings.
Serving size is 100 grams. This dessert could easily be split between 6 people, making it 2.4g net carbs / 20.8g fat / 198 calories each.
Because all my ingredients came straight from the fridge, my mousse did not need cooling before piping. If yours is soft, simply cool for 30 minutes before piping.
Store in the fridge until serving. Stays fresh in the fridge for up to 5 days.  
Don't over-whip the cream. Find that point just BEFORE it goes super stiff. The whipped cream should be just under the texture of stiff peaks. That way, you can fold it into the pumpkin mix easily.
I topped the mousse with crumbled keto ginger cookies. 
Use 100% canned pumpkin puree without any sweeteners or make your own by roasting or steaming pumpkin.
Nutrition
Serving:
100
g
Calories:
297
kcal
Total Carbohydrates:
5
g
Protein:
3.2
g
Fat:
31.2
g
Saturated Fat:
19.6
g
Fiber:
1.4
g
Sugar:
2.8
g
This post contains affiliate links. If you click on one of these links and purchase a product, I may earn a small commission, at no extra cost to you. Thank you for supporting Sugar Free Londoner.