Tangy, beautifully creamy and just on the right side of sweet - this zingy sugar free lemon curd tastes delicious! Learn how to make lemon curd at home in only ten minutes, you won't believe how simple it is.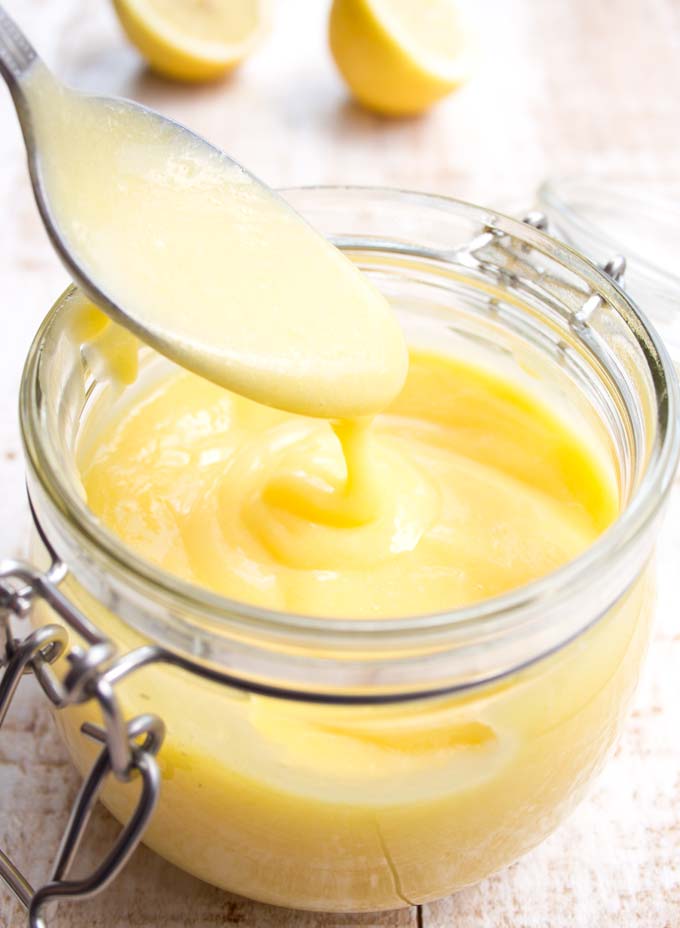 I've never come across a sugar free lemon curd brand in the shops. But I have to admit, even the full-on sugar versions I have tasted have not knocked my socks off. Too sickly sweet, not tangy enough - just not fresh-tasting, if you know what I mean.
We all know that all homemade breakfast spreads tastes miles better - just try my simple sugar free nutella, my sugar free strawberry jam or this sugar free blueberry jam. Once you've tried this recipe, you can add lemon curd to your personal list. It's like a ray of sunshine on your table!
Traditionally, lemon curd is made with only four ingredients: lemon, sugar, butter and eggs. We're replacing the sugar with powdered erythritol, which instantly makes the recipe Keto and low carb.
Some people like to add lemon zest to the curd. I've left it as an option in this recipe - in my opinion it's not necessary, but it certainly won't do any harm either. Butter lends creamy richness, with the added benefit that you won't need to butter your toast before spreading your curd. The beauty of all-in-one food!
There are two schools of thought in terms of the eggs. Recipe use either the entire egg or only the egg yolk. If you use the yolk and the white, you're running the risk that the egg white curdles if the temperature is too high. Then you have no choice but to strain out the congealed whites. If it all works out though, the resulting curd is lighter in texture.
I like my lemon curd with yolks only because it's far creamier and sumptuous. I love it's rich and jiggly texture, similar to a wonderfully wobbly mayonnaise.
How to make lemon curd - step by step:
1.) Melt the butter over a low heat.
2.) Take the saucepan off the heat and whisk in the freshly squeezed lemon juice, egg yolks and powdered sweetener.
3.) Return the pot to the stove - make sure it's a low heat again. Whisk continuously until the mixture starts to thicken and has the consistency of a mayo. This takes a few minutes.
Fill into a jar and store in the fridge!
Sugar Free Lemon Curd Recipe Tips
It's essential that you use powdered and not granulated sweetener. Unlike sugar, erythritol has a tendency to re-crystallise once it cools down. You don't want any crunchy bits in your lemon curd when you're taking it out of the fridge the next day! Any powdered sugar replacement works - you could use Swerve or xylitol in place of the erythritol, too.
The acid in the lemon preserves the curd. I have had mine in the fridge for two weeks and it still tastes great.
It's best to use sterilised jars to store the lemon curd. Wash your glass jar in the dishwasher or with soapy water. Rinse with boiling water. Then place in the oven on a baking sheet at 140 Celsius / 280 Fahrenheit to dry completely.
This recipe makes about 350 ml / 1 ½ cups of lemon curd. I calculated a generous 2 tablespoons per portion.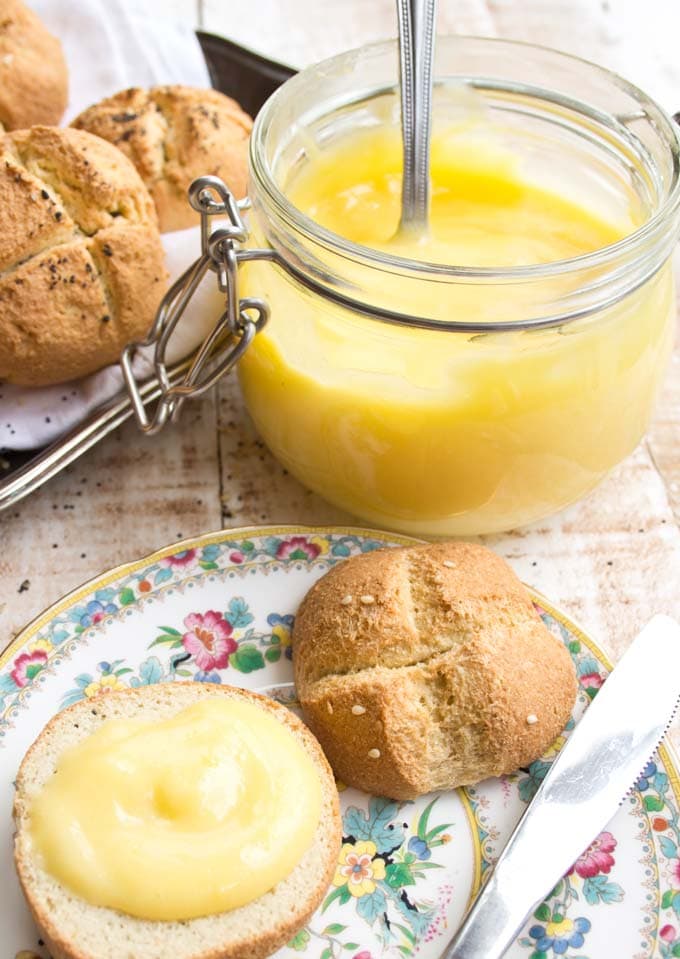 How to enjoy your lemon curd
We have been eating this lemon curd on my easy Keto Buns. If you don't have much time, you could also spread it on a slice of Keto microwave bread, which you can make in minutes!
Try it on this sugar free vanilla ice cream. I think a ripple of lemon curd would take it to the next level!
Have you tried my Keto lemon bars? It's a really popular and super simple cake recipe. You could top it off with a frosting made from sugar free lemon curd and whipped cream!
Last but not least, you can use this recipe as a filling for a sugar free lemon pie. Simply use the crust of my low carb chocolate tart!
Tried this recipe? Give it a star rating below!
★ STAY IN TOUCH on FACEBOOK, PINTEREST and INSTAGRAM  for more great food and join my NEWSLETTER for the latest updates and a FREE EBOOK.★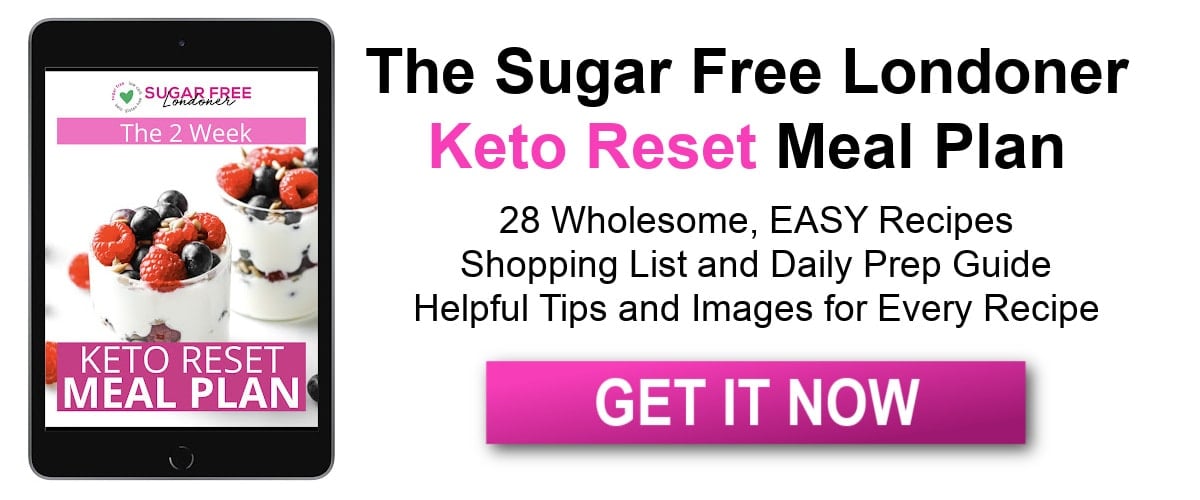 How to Make Sugar Free Lemon Curd
from Sugar Free Londoner
Spread on low carb bread for a sumptuous breakfast, ripple through Keto vanilla ice cream or use as a filling for pies and cakes! Sugar free lemon curd has many wonderful uses. If you're like me, you can even sneak a quick spoonful for a satisfying quick sweet treat.
Note: The servings slider only changes the first amount in each line and not any subsequent amounts. Please make your own calculations where necessary. ***As an Amazon Associate I earn from qualifying purchases.
Instructions
Melt the butter over a low heat in a saucepan.

Take the pot off the stove and add the lemon juice, powdered sweetener and egg yolks.

Return the saucepan to the stove (low heat). Whisk the mixture continuously for a few minutes until it thickens.

Fill into an airtight jar and store in the fridge.
Notes
Nutrition is based on 12 generous servings of 2 tablespoon each. This means you can enjoy 2 slices of bread with sugar free lemon curd for breakfast!
You can add the zest of 1 lemon to the recipe for additional zing.  Simply grate it into the mixture when you add the lemon juice. 
Nutrition
Calories:
101
kcal
Total Carbohydrates:
1.2
g
Protein:
1.5
g
Fat:
10.4
g
Sugar:
0.3
g
This post contains affiliate links. If you click on one of these links and purchase a product, I may earn a small commission, at no extra cost to you. Thank you for supporting Sugar Free Londoner.