This chocolate mascarpone mousse will satisfy your most urgent chocolate cravings. The recipe is Keto, sugar free and deliciously creamy.
Friends, I've gotta tell you. We all need to #BeMoreSwiss.
Why?
Well, according to the World Happiness Report, Switzerland has been ranked one of the happiest countries on the planet for the past SEVEN years. And the lovely people at Ricola kindly decided to share the secrets of Swiss happiness during a Swisstification Masterclass which I attended last week.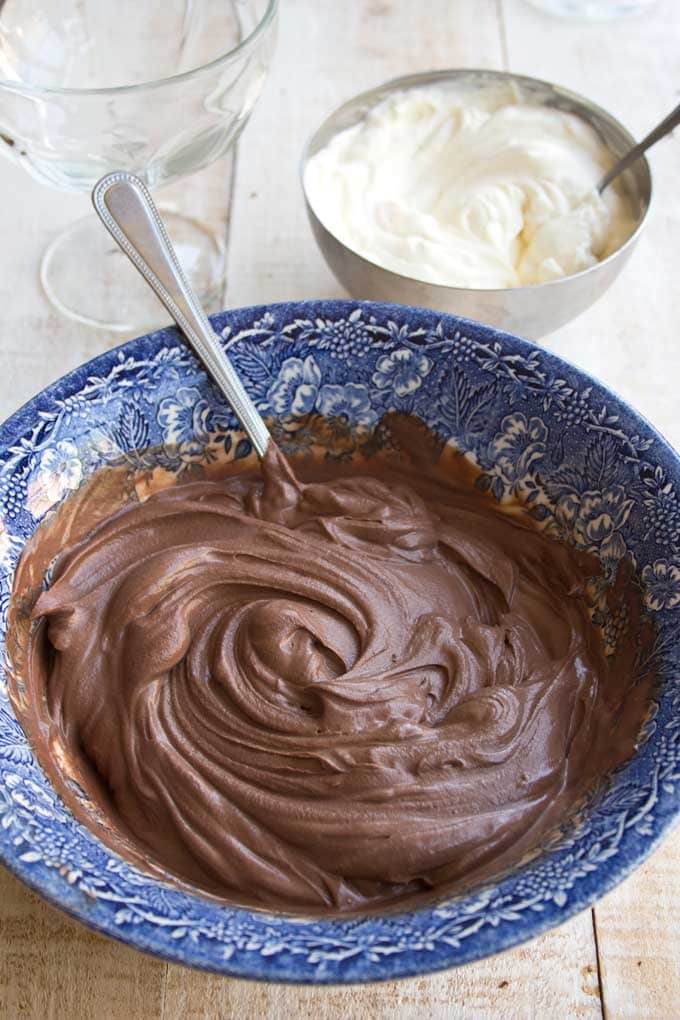 First, a quick background explanation.
Ricola, as you might know, has been making sugar free herbal sweets in the fresh air of the Swiss Alps for over 80 years. The brand has a popular stevia-sweetened range.
The masterclass took place over lunch at the fine dining club Mosimann's in London. Anton Mosimann, of course, is a world-famous Michelin-starred chef, creator of Prince Harry's wedding feast and .... you guessed it, a very happy Swiss citizen.
Whilst we worked ourselves through a remarkable lunch, we got the lowdown on Swiss etiquette, wellbeing and cuisine, including these top tips on how to be more Swiss.
Here it goes:
1. Make the most of your surroundings, regardless of the weather! Yup, that means going outside to get some fresh air and new impressions. If there are no mountains nearby, your local park or high street should do 🙂
2. Take to the slopes. I decided that this can be interpreted in a slightly wider sense. I haven't skied since I was a kid and now, in my forties, I'd probably break a leg on the first day. So - to me, this means exercise. Personally, I'm having a yoga phase right now. Namaste.
3. Practice punctuality. Seriously. We don't need the stress of being late and having to rush. Stress is ageing!!!
4. Find your work-life balance. Did you know life expectancy in Switzerland is 83 years?? Hardly anyone in Switzerland claims to be overworked and flexible working hours are the norm. I am prescribing no more overtime, as of right now.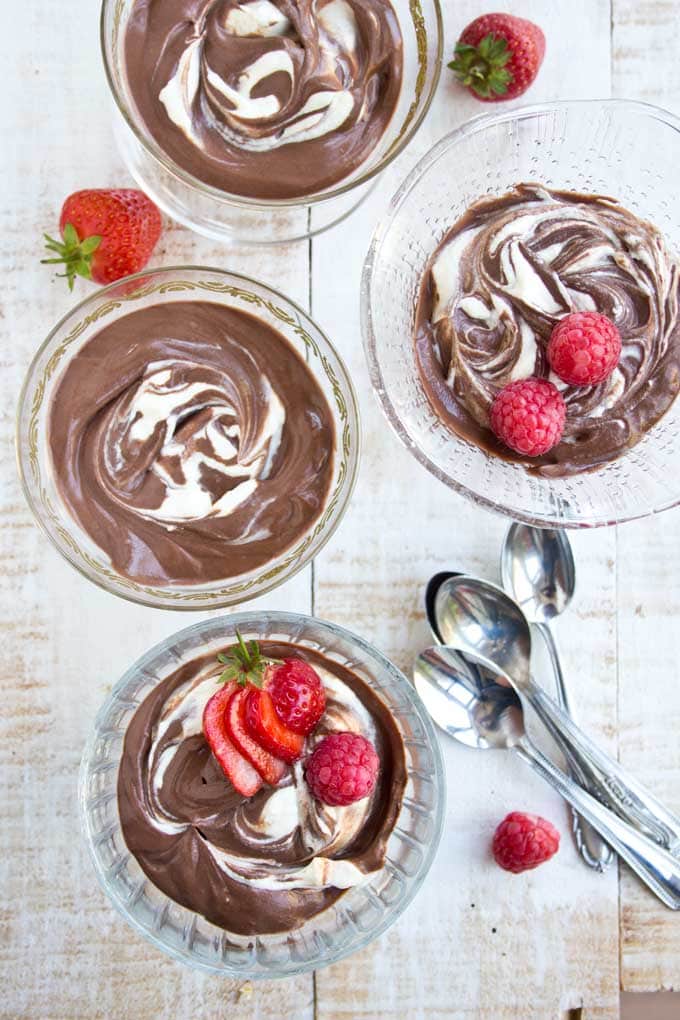 5. Take time to switch off. In Switzerland, the government stipulates that the Swiss must take two weeks of their annual holiday entitlement back to back so that they get a quality break. Incidentally, I'm taking 3 weeks off this summer, so I'm definitely on the right path, ha!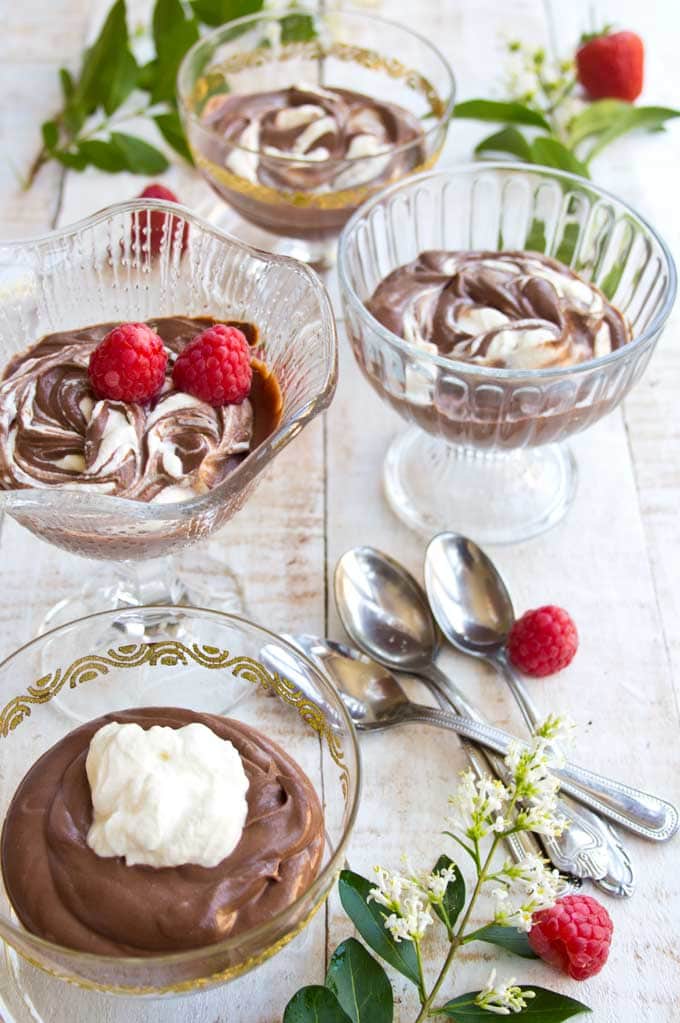 Time to talk food. Time to talk Swiss chocolate mascarpone mousse!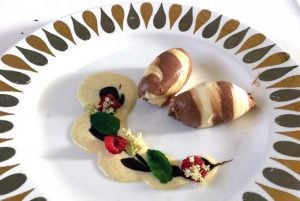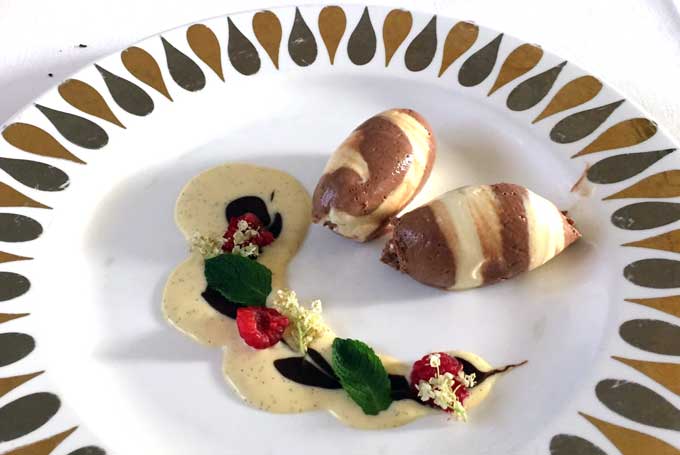 This recipe is inspired by Anton Mosimann's dessert - a duo of chocolate mousse. Which was not sugar free, but certainly heavenly fluffy, chocolatey and beautifully presented. Check it out in the picture on the right - THAT kind of decoration you've got to leave to the experts!
Since I have already shared with you a low carb chocolate mousse recipe made with egg whites (the classic way), I wanted to try an egg-free mousse version this time.
Mascarpone, an Italian soft cheese, is perfect for making mousse. It has a high fat content, which makes it incredibly creamy. On top of that, it is low in carbs. I'm also using it in these scrumptious and easy Keto tiramisu jars. For this mousse, I simply added whipping cream until I had just the right consistency.
For the vanilla portion, I used a mixture of cream cheese and whipping cream. I'll be honest with you - I had planned on using more mascarpone, but accidentally added chocolate to the whole lot.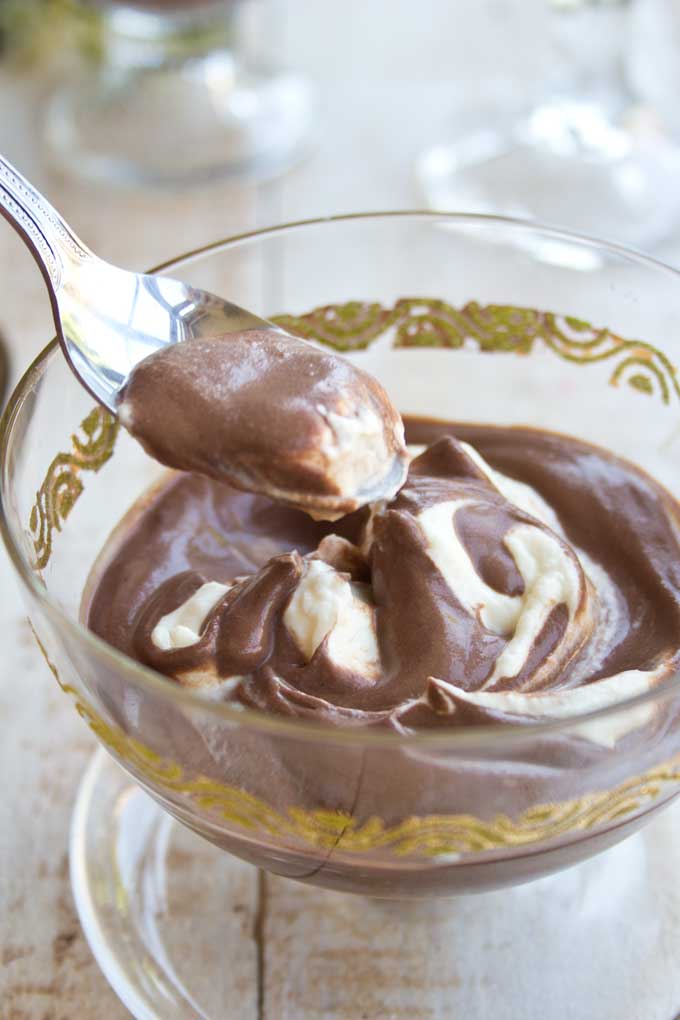 Sometimes, having to wing it yields surprisingly positive results. I can report that mascarpone and cream cheese are interchangeable in this recipe. However, mascarpone, due to its higher fat content, stays firm, while cream cheese (half the fat of mascarpone) softens when you whip it. If you cannot source mascarpone, just use cream cheese for the whole lot and make sure you fold the whipped cream in last and do not over-blend.
This mascarpone mousse recipe is very rich and makes 8 heavenly creamy portions.
Because there weren't enough people in the house on the day to eat it all, I ended up turning the leftovers into frozen fat bombs. I just filled the mousse into a couple of ice cube trays - equally delicious!
★ Tried this recipe? Give it a star rating below! ★
★ STAY IN TOUCH on FACEBOOK, PINTEREST and INSTAGRAM for more great food and join my NEWSLETTER for the latest updates.★
Recipe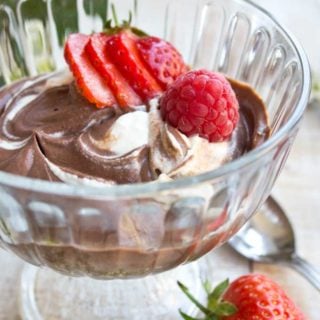 Swiss chocolate mascarpone mousse
from Sugar Free Londoner
This chocolate mascarpone mousse will satisfy your most urgent chocolate cravings. The recipe is Keto, sugar free and deliciously creamy.
Note: The servings slider only changes the first amount in each line and not any subsequent amounts. Please make your own calculations where necessary.
Ingredients
For the chocolate mascarpone mousse
250

g / 8.8 oz

mascarpone

250

g / 8.8 oz

double/heavy cream

4

tablespoon

unsweetened cocoa powder

4

tablespoon

powdered erythritol
Instructions
Put all ingredients for the chocolate mascarpone mousse in a blender or bowl. Blend or whisk with an electric mixer until well combined and the whipping cream starts to thicken. Stop when you have a creamy consistency. Do not over-mix!

Now whisk the whipping cream for the vanilla mousse, adding the cream cheese, vanilla extract and powdered sweetener last.

Fill chocolate mousse into serving glasses, dolloping the vanilla mousse on top. Swirl with a knife until you have a marble effect.

Serve straight away or refrigerate until serving
Notes
This recipe makes 8 smaller servings or 6 large ones. It's VERY filling, so I think 8 servings is perfect. 
If you wish, you could add 1 teaspoon of coffee extract or 1 teaspoon of cinnamon to the chocolate mascarpone mousse mix. Even a teaspoon pf brandy would work well. 
Decorate with berries and/or mint leaves for a bit of colour and wow. 
You could use stevia drops instead of the the powdered erythritol. Normally, 4 drops are equivalent to 1 teaspoon of sweetness. 
As always, taste and adjust the sweetener to how you prefer it. 
Nutrition
Calories:
338
kcal
Total Carbohydrates:
4.3
g
Fat:
34.9
g
Fiber:
1.1
g
Sugar:
2.9
g
This post contains affiliate links. If you click on one of these links and purchase a product, I may earn a small commission, at no extra cost to you. Thank you for supporting Sugar Free Londoner.