Here is my fail-safe recipe for a tender and juicy roasted turkey. We're all in need for a stress-free Thanksgiving or Christmas dinner. With this easy keto turkey recipe you'll be able to serve up a wonderful low carb meal and enjoy every moment of it (even the cooking part!).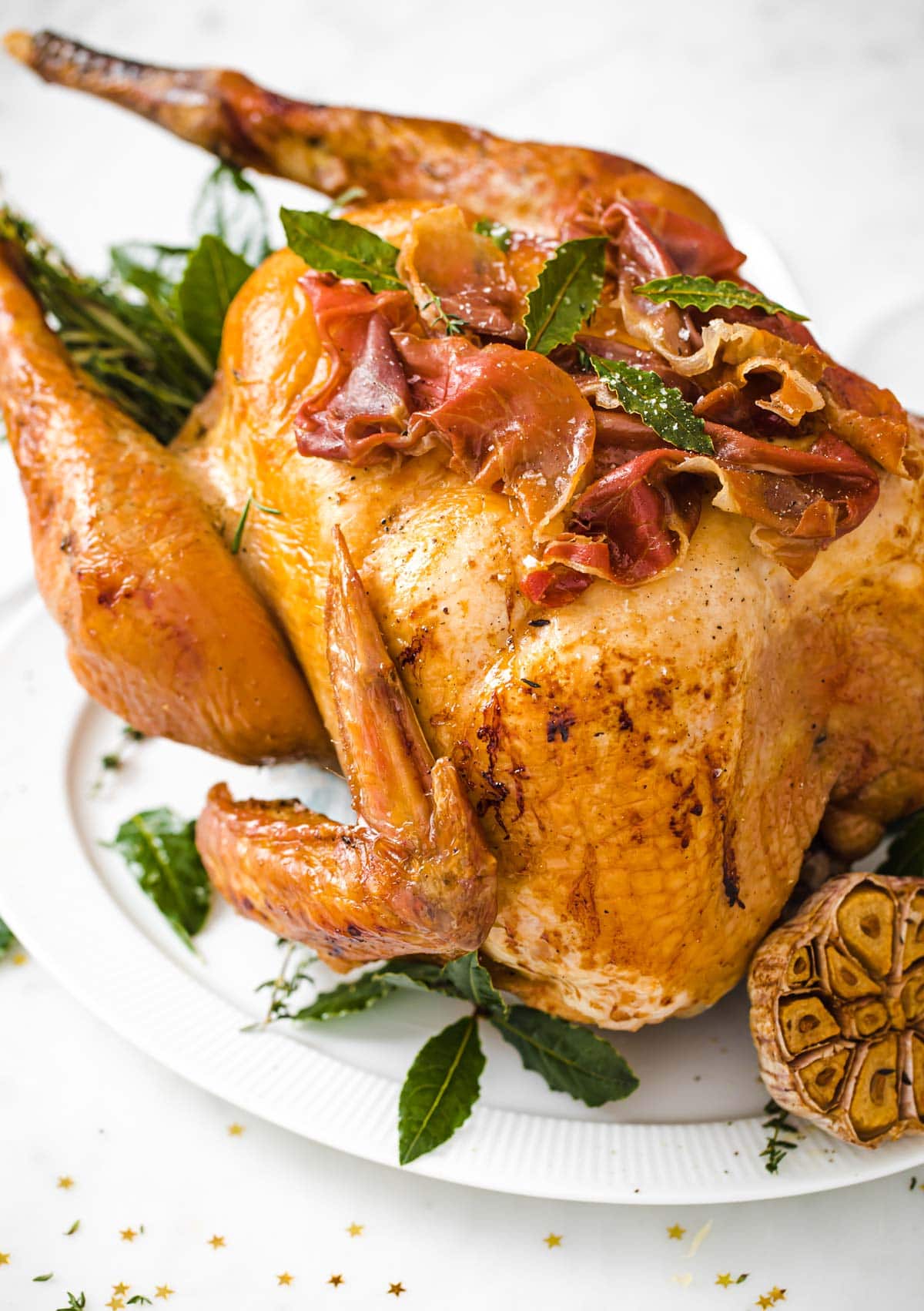 At some point in the year, most of us will put a turkey in the oven. In the US, this will probably happen for Thanksgiving. Here in the UK, it's most definitely Christmas.
What are your immediate feelings when you think of THAT meal? Yum, for sure. But is there also a little bit of stress that rises? Wanting to get it right for everyone? Not serving up a dried-up blackened birdie and get the feared raised eyebrow from Auntie Anneliese?
I get it. Roasting an entire turkey is an expensive business - a free range bird does not come cheap. Plus, a proper Thanksgiving or Christmas turkey has to be served with all the trimmings: Brussels sprouts, stuffing, gravy, the lot. You need to set aside a few hours, roll up your sleeves and embrace the journey.
The good news is, making a keto turkey dinner does not have to be stressful. Because with this recipe you'll serve up the juiciest bird ever! Even better, with my recipe tricks there's no need for brining the turkey. 
And I'm not stopping there. Over the next couple of weeks I'm going to share with you my recipes for a proper low carb Christmas (or Thanksgiving, if you live across the pond). There is the tastiest keto gravy made with the juices from your magnificent bird, a low carb cauliflower and sausage stuffing and the best ever roasted brussels sprouts. I might even throw in keto Yorkshire puddings... watch this space!

Is turkey good for keto?
The answer is - of course! Turkey does not contain any carbs, but it is rich in proteins and nutrients (1). It is a source of minerals such as selenium and zinc and high in B vitamins. Read more about turkey meat here. As a rule of thumb, the dark meat is higher in fat and calories, while the breast is higher in protein.
Buying turkey
Buy the best turkey you can afford. It's the same as with most dishes - a high quality meat will taste better. Interestingly, high welfare, free range turkeys cook faster than standard ones.
How to thaw turkey
If you are not able to buy a fresh turkey, ensure that your frozen turkey is defrosted thoroughly before cooking.
It's safest to defrost a turkey in the fridge. This will take around 24 hours for every 1.5-2 kg (or 3–4 pounds). Most frozen turkeys will need at least 2, if not 3 days to completely defrost.
On the day of cooking, allow the turkey to come to room temperature before it goes into the oven - fresh or frozen. This way it can cook more evenly. Be sure to take it out of the fridge about 2 hours before roasting.

Stuffing the turkey
Add the herbs to the turkey cavity but leave enough space for air to circulate. 
You can also add optional halved garlic heads and lemon slices. 
The vegetables in the trivet are essential for the gravy. I'll post the recipe this weekend!
How to cook a turkey
Cook a high welfare bird for 25 - 30 mins per kilo and a standard turkey 35 - 40 mins per kilo. Mine was 5.6kg and took about 3hrs 10 mins.
Turn the turkey upside down for the first hour in the oven. This allows all the fat to season and tenderise the breast.
I used a trivet for this keto turkey recipe. However, a roasting rack will leave small indentions in the turkey breast. If you cover these with parma ham like I did this is not an issue.
OPTION!! To avoid the indentation stripes on the breast, don't use the rack or trivet. In this case, build a "rack" with the vegetables and rest the turkey on top. Also, DO NOT add water to the bottom of the pan or the turkey breast skin will loosen and tear. You can add water after cooking to loosen the pan juices for the gravy.
However, I still recommend to decorate the breasts with parma ham. I prefer it to the classic pancetta or bacon that is often used. The saltiness of the ham tastes great together with the breast meat and just looks pretty.

Cover the turkey in tin foil for the first couple of hours in the oven so the bird stays juicy. Remove the foil for the last hour of cooking and baste it with pan juices for a crispy skin.
How to tell when a turkey is done
To check it's done, pierce into the thick part of the turkey breast or thigh with a knife or skewer. If the juices run clear and not pink, it's done.
Even better, use a meat thermometer. Insert it between the breast and the leg. If the temperature is 75 Celsius (165 F), the turkey is done.
Let it rest
Resting the turkey is an important step. Don't skip it! It makes the meat more succulent and tender because the juices have time to distribute throughout.
I rested mine for 1 hour and covered it with a tea towel so it stayed warm (you can also use aluminium foil). The absolute minimum resting time is 30 minutes.
Keto gravy
While the turkey is resting, make the gravy. I have posted all details here. And I'm showing you my trick how I make the gravy thick without any flour or unnecessary carbs.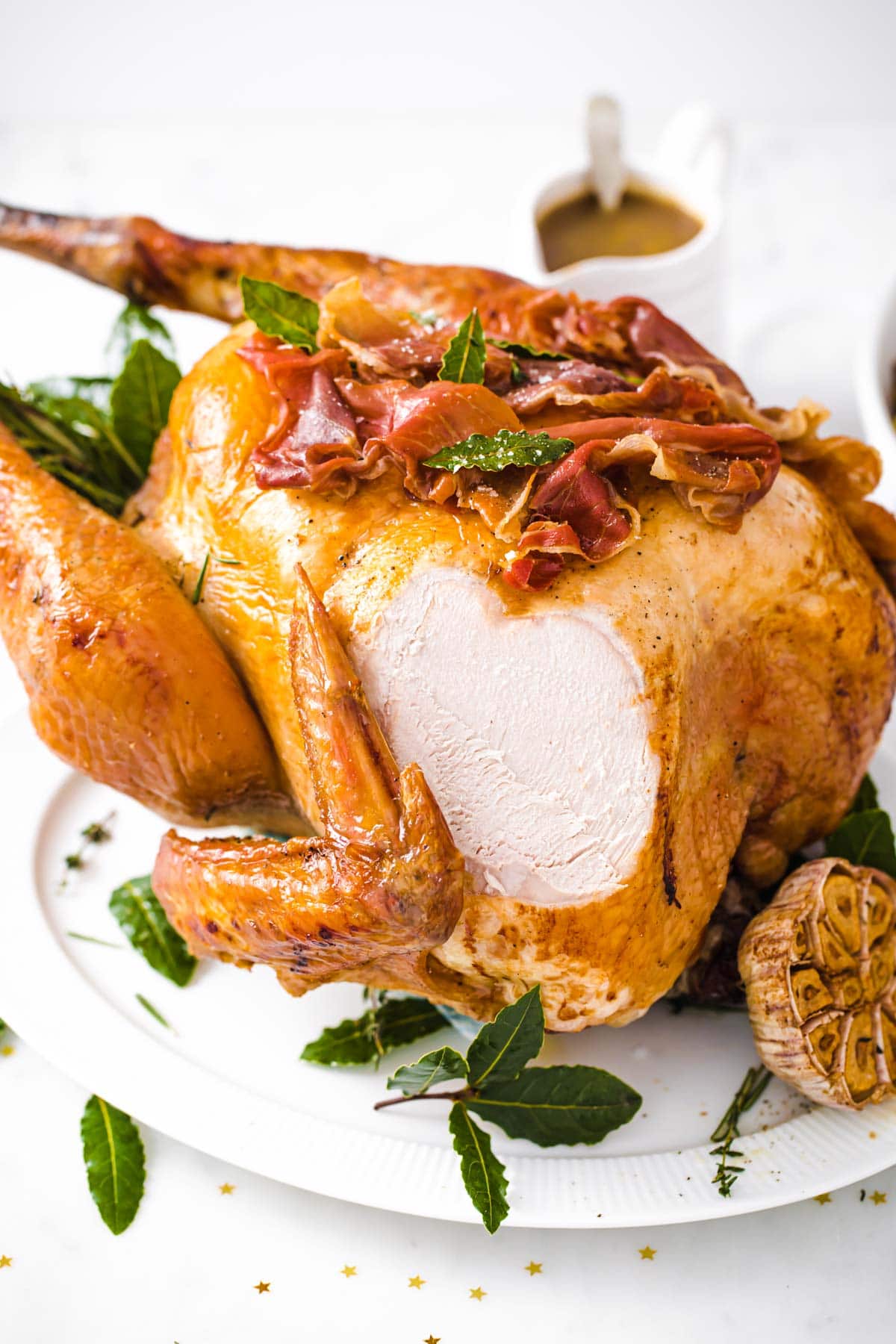 Low carb turkey side dishes
Here are some low carb dishes that go well with a turkey:
Keto Stuffing (or check out these 15 Fabulous Keto Stuffing Recipes!)
Creamy Keto Mashed Cauliflower
Green beans & broccoli
... and for dessert, make this Low Carb Christmas Pudding or this Spiced Chocolate Christmas Cake! If you're preparing a keto Thanksgiving, whip up a Sugar Free Pumpkin Pie or this Low Carb Pumpkin Cheesecake.
And after dinner - how about a glass of Sugar Free Keto Eggnog?
How to store keto turkey
Leftover turkey meat stays more tender and juicy on the bone. If you have plenty of leftovers, wrap the turkey carcass in a damp kitchen towel and cling film. Then, store in the fridge.
The next day, I cooked the carcass to make a bone broth and made a rich and creamy keto turkey soup! It was soooo good guys.
Tried this recipe? Give it a star rating below!
★ STAY IN TOUCH on FACEBOOK, PINTEREST and INSTAGRAM  for more great food and join my NEWSLETTER for the latest updates and a FREE EBOOK.★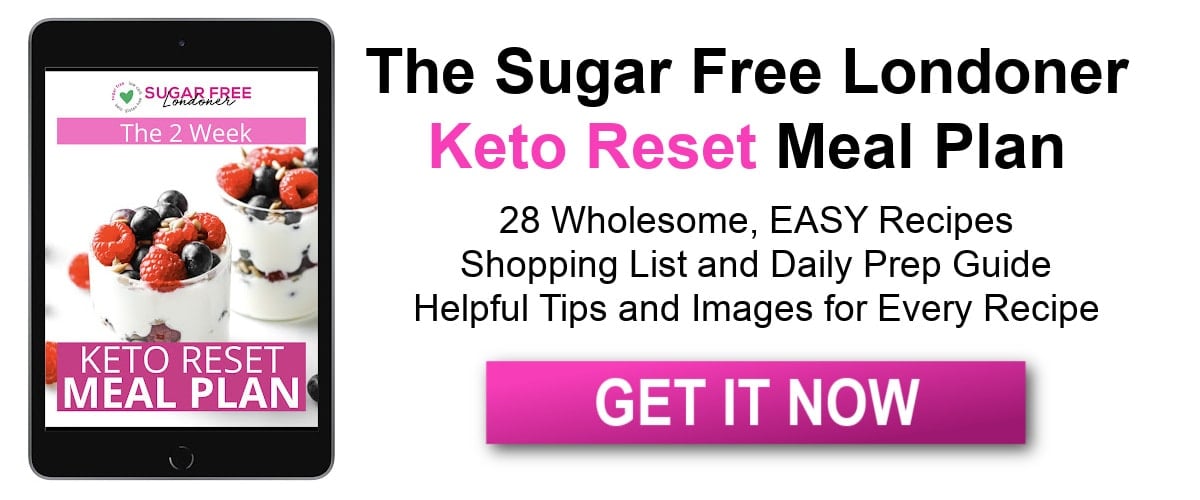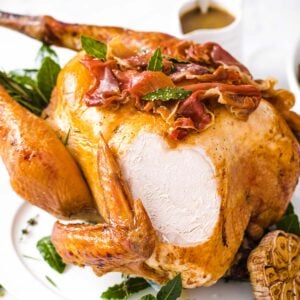 Keto Turkey Recipe for Thanksgiving and Christmas
from
Sugar Free Londoner
Make this succulent keto turkey recipe the centrepiece for your low carb Christmas or Thanksgiving feast. This post includes detailed steps and all the tips you need to serve a deliciously tasty bird.
Note: The servings slider only changes the first amount in each line and not any subsequent amounts. Please make your own calculations where necessary. ***As an Amazon Associate I earn from qualifying purchases.
Ingredients
1

x 5.6 kg / 12 pounds high welfare turkey

roughly 2kg meat

1

bunch rosemary 15g

1

bunch thyme 15g

1

bunch sage 15g

5

bay leaves 1g

1 - 2

tbsp

olive oil to baste

78

g

parma ham

approx. 6 thin slices
Gravy Trivet
Optional turkey giblets

1

small onion

60g

1

carrot

peeled and quartered

2

sticks celery

chopped in half

1

bulb garlic

halved

1

cup / 240 ml

water
Instructions
Preheat oven to 180 C / 160 fan / 350 F.

Check the cavity for giblets. If they are there, remove. Option to put in the roasting tray (minus the bag) for tasty gravy.

Add the onion, carrot, celery and garlic to your tray plus water.

Add the herbs to the cavity but leave enough space for air to circulate.

Rub olive oil all over the turkey and into the nooks and crannies. Sprinkle the top and bottom with salt and pepper. Place the turkey on top of the trivet (upside down for the juiciest bird) and cover with tin foil.

COOKING TIMES

Cook a high welfare bird for 25 - 30 mins per kilo, standard 35 - 40 mins per kilo. Mine was 5.6kg and took about 3hrs 10 mins.

If cooking upside down, cook for 1 hour and then turn the right way (breast up) and cover with foil again.

About 1 hour before the end of cooking, remove the foil and baste the turkey with the pan juices. 15 - 20 minutes before the end of cooking add the parma ham.

To check it's done, pierce into the thick part of the turkey breast or thigh with a knife or skewer. If the juices run clear, it's done.

Lift the turkey from the trivet using a big carving fork. Cover the turkey with a clean tea towel or foil and rest for around 1 hr before carving.
Notes
0g net carbs per portion. Makes 10 servings. 
Tips:
Allow the turkey to come to room temperature before baking. Take it out of the fridge at least 2 hours before roasting. 
Turn the turkey upside down for the first hour in the oven. This allows all the fat from the bottom to season the breast.
Just remember if using a trivet this will leave small indentions in the breasts. If covering with parma ham you won't notice them (plus it looks pretty & tastes great). 
Cover in tin foil for the first couple of hours so the bird stays juicy. For the same reason, allow to rest with a clean tea towel over it for an hour before carving. 
Make the gravy using the pan juices and the vegetables while the turkey is resting. Here's the full recipe for keto gravy
Nutrition
Calories:
286
kcal
Protein:
43.3
g
Fat:
11.3
g
Saturated Fat:
2.9
g
This post contains affiliate links. If you click on one of these links and purchase a product, I may earn a small commission, at no extra cost to you. Thank you for supporting Sugar Free Londoner.