I've given an all-American favourite a low carb makeover - try this fluffy and moist Keto cornbread! It's perfect for dunking into soup or mopping up gravy and works as a quick snack if you're on the go. I love a bit of Mexican flavour, so I've added cheese, bacon and jalapeños. But the recipe works just as well without - you're the boss!
Cornbread is one of the cornerstones of American cuisine, and I came to love it when I was living in the US as a teenager. I always preferred the savoury over the sweet version and adored its moist, crumbly butteriness.
Can I have cornflour on Keto?
Here's the crux. Cornmeal will kick you out of ketosis instantly. Even if you're not doing Keto, it's a high carb food. Cornflour and cornmeal - ground dried maize - contain 79g carbohydrates per 100g and very little fibre. Add the fact that corn is often genetically modified and can contain mycotoxins (a fungus), the thought of "real" cornbread might become a little less appealing.
That's why I want to share this Keto cornbread with you today. It's a gluten free "no corn cornbread" - basically, you're getting the cornbread texture and feel without the drawbacks.
I've used ground almonds (equivalent to almond meal or coarse almond flour in the US) as opposed to fine almond flour. Its texture is closer to the rustic feel of cornmeal. Obviously, almond meal does not taste EXACTLY like cornmeal. But this bread is soft and fluffy, with a moist, buttery crumb - a really good substitution!
How to make Keto cornbread - step by step: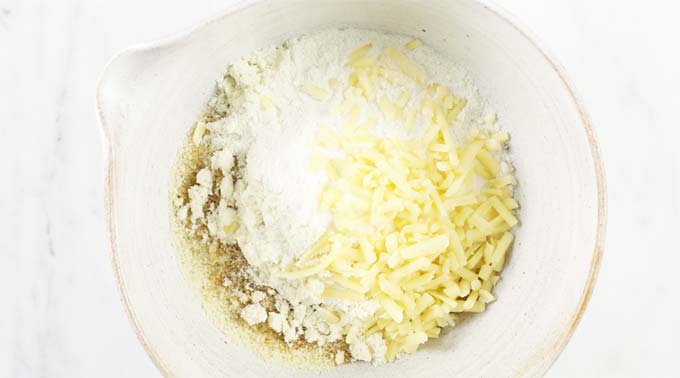 1.) Combine the dry ingredients in a bowl. Then grill the bacon until crisp.
TIP: For a cheesier bread, add an additional ¼ cup of shredded cheddar.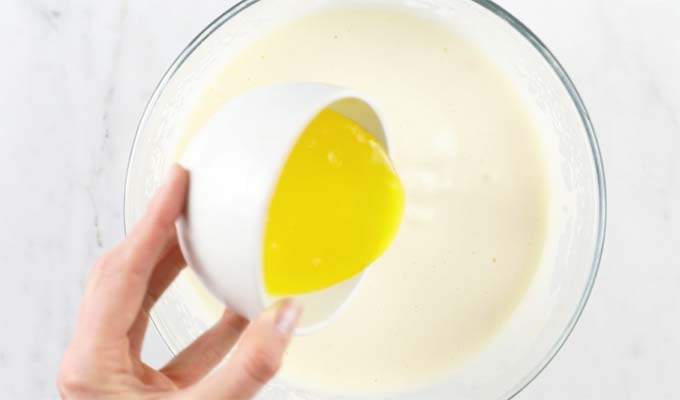 2.) Whisk the eggs until they are frothy and have doubled in size. Then add the cream, melted butter and apple cider vinegar (if using) and blend briefly.
TIP: Don't over-whisk when adding the butter and cream to the eggs or they will deflate and the bread will be a little denser.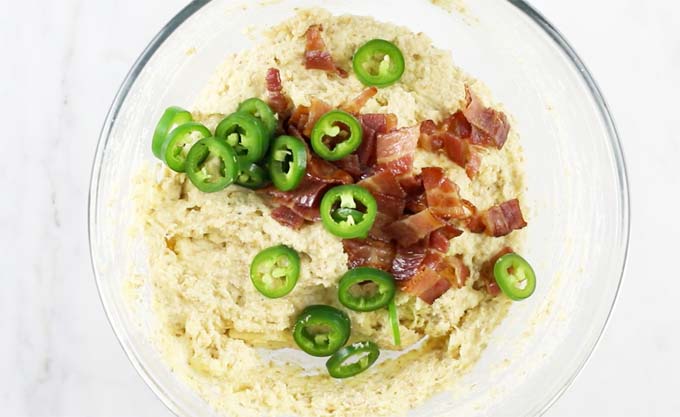 3.) Combine the egg mixture with the dry ingredients and stir with a fork or spatula. The dough will thicken quickly. Last, fold in the bacon pieces and jalapeños.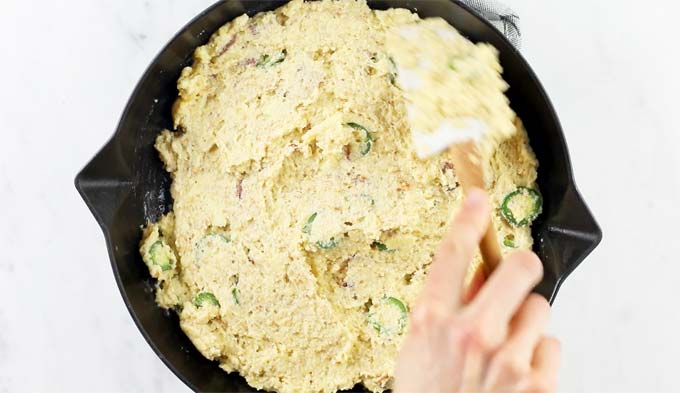 4.) Transfer into a WELL-GREASED cast iron skillet or 9 x 5 inch casserole dish (lined with parchment) and bake for circa 30 minutes.
Tips and tricks for your "no-corn" Keto cornbread: 
The recipe is very versatile. You can add the cheese, bacon and jalapeños on top of the cornbread instead of stirring them into the dough. Purists can leave them out altogether and even add a tablespoon of erythritol if you're after a sweet cornbread.
The apple cider vinegar helps give the cornbread a better rise - but it's optional - leave it out if you don't have it.
This recipe high in fibre (= grrrreat for your digestion) because of the flax. I chose golden flaxmeal as opposed to brown flaxmeal. The taste is similar, but I wanted the end result to look like "proper" cornbread. If you cannot source ground flaxseed, you can blitz whole golden flaxseeds in a food processor and make your own flaxmeal.
The whey protein powder helps with the crumb structure. If you don't have whey, you can replace it with more almond meal / ground almonds (and if available, use ½ teaspoon of xanthan gum as well).
Top Tip: If you live in the US, check out this zero carb corn extract on Amazon. It's got some good reviews and would add that extra corn flavour!
Don't have a cast iron skillet? No problem! I've made this recipe using a 9 x 5 inch pyrex casserole dish. Line the dish with parchment paper to prevent the bread from sticking. You could even make cornbread muffins using a muffin pan.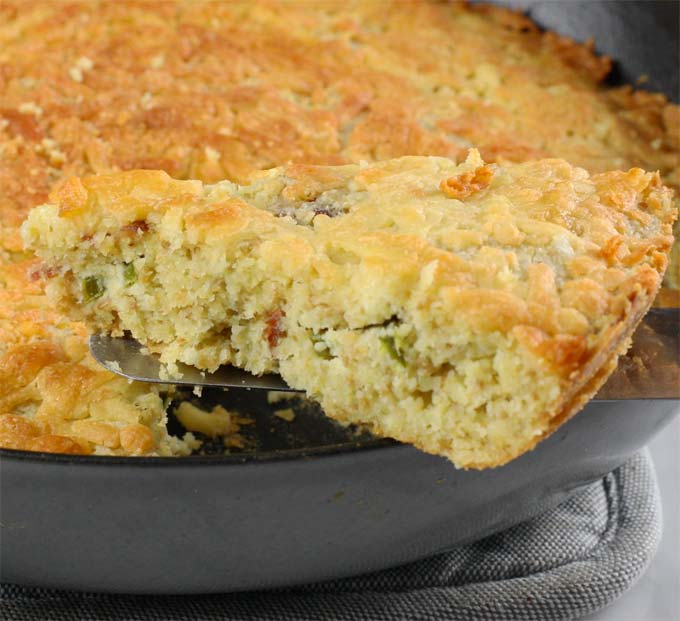 Love Mexican? Then you'll love these recipes: 
Tried this recipe? Give it a star rating below!
★ STAY IN TOUCH on FACEBOOK, PINTEREST and INSTAGRAM  for more great food and join my NEWSLETTER for the latest updates and a FREE EBOOK.★ 
Recipe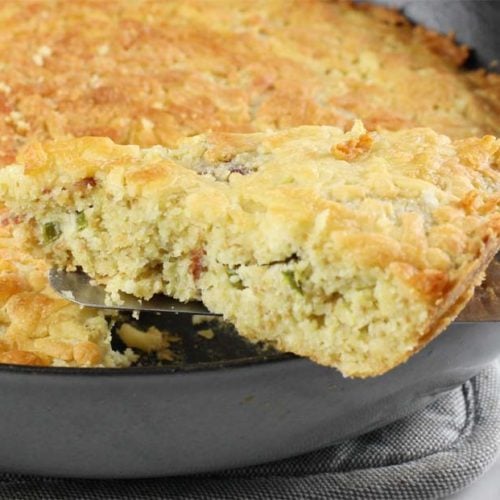 Keto Cornbread
from Sugar Free Londoner
My low carb take on an American classic - Keto cornbread. Crumbly, rich and buttery, just like a good cornbread should be. I added cheese, jalapeños and bacon to this one for extra flavour because we all love Mexican food, right?
Note: The servings slider only changes the first amount in each line and not any subsequent amounts. Please make your own calculations where necessary.
Ingredients
1

cup / 100g

almond meal / ground almonds / coarse almond flour

NOT super-fine

¼

cup / 25g

golden flaxseed meal

3

tablespoon

whey protein powder

unflavoured

3

tablespoon

coconut flour

2

teaspoon

baking powder

⅓

teaspoon

sea salt

optional

4

eggs

⅓

cup / 65g

butter

melted

⅓

cup / 70g

heavy / double cream

1.5

teaspoon

apple cider vinegar

optional

4

slices

streaky bacon

2

jalapenos

¾

cup plus ¼ cup

shredded cheese

I used medium cheddar
Instructions
Preheat the oven to 350° F / 180C / 160C fan. 

Place the bacon on a greaseproof lined baking tray and bake for 20 minutes until crisp. Flip half way through cooking for even crispness! Allow to cool and chop into small bits.

In a medium bowl mix all dry ingredients - almond and coconut flour, flaxseed meal, whey protein, baking powder, salt. Last, add ¼ cup of grated cheese, bacon and jalapenos and stir.

In a different bowl, beat the eggs with an electric mixer for about 3 minutes until airy and lighter in colour. Add the butter, cream and apple cider vinegar and briefly whisk again until just combined. (Don't over-whisk!!)

Add the dry ingredients and fold until fully incorporated.

Pour the batter into a well-greased 10 inch skillet or 9 x 5 inch casserole dish and top with ¾ cup of cheese.

Bake for circa 30 minutes until you can insert and remove a skewer without any crumbs sticking and golden on top.

Allow to cool slightly before removing from the pan. Place on a wire rack to cool before slicing.
Notes
If you're using a cast iron skillet, don't leave the bread in the pan for to long as it will continue cooking. 
Store in an airtight container in the fridge for 2 - 3 days. Suitable for freezing.  
For a cheesier bread, add an additional ¼ cup of shredded cheddar to the dough.
If you wish, you can also sprinkle the jalapenos and bacon on top as opposed to stirring them directly into the dough. Add the jalapenos at the beginning of baking and the bacon during the last few minutes.  
Nutrition
Calories:
201
kcal
Total Carbohydrates:
2.8
g
Protein:
9
g
Fat:
17.3
g
Saturated Fat:
6.9
g
Polyunsaturated Fat:
0.5
g
Monounsaturated Fat:
2.3
g
Fiber:
2
g
Sugar:
0.7
g
This post contains affiliate links. If you click on one of these links and purchase a product, I may earn a small commission, at no extra cost to you. Thank you for supporting Sugar Free Londoner.