A low carb and sugar free take on the traditional English Christmas pudding. This easy gluten free, diabetic-friendly Christmas cake is ready in just over 10 minutes!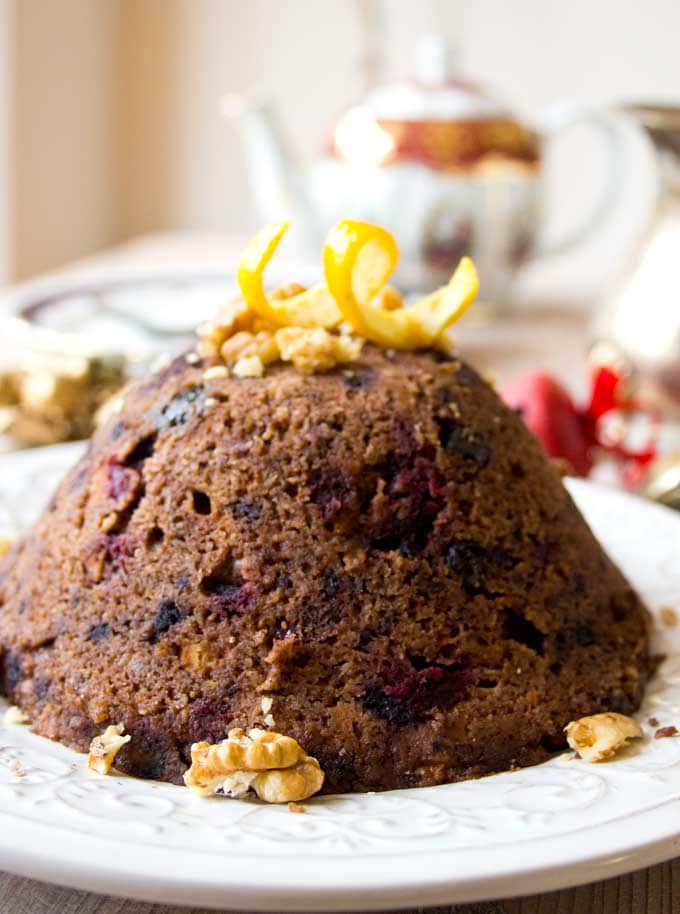 Friends, after much trial and error I've finally done it. Here it is - an actually delicious low carb Christmas pudding!
This low carb Christmas pudding recipe weighs in at 8 net carbs per person and comes together in just over 10 minutes.
What? 10 minutes?
Yes! I made it in the microwave. We're talking instant Christmas gratification here!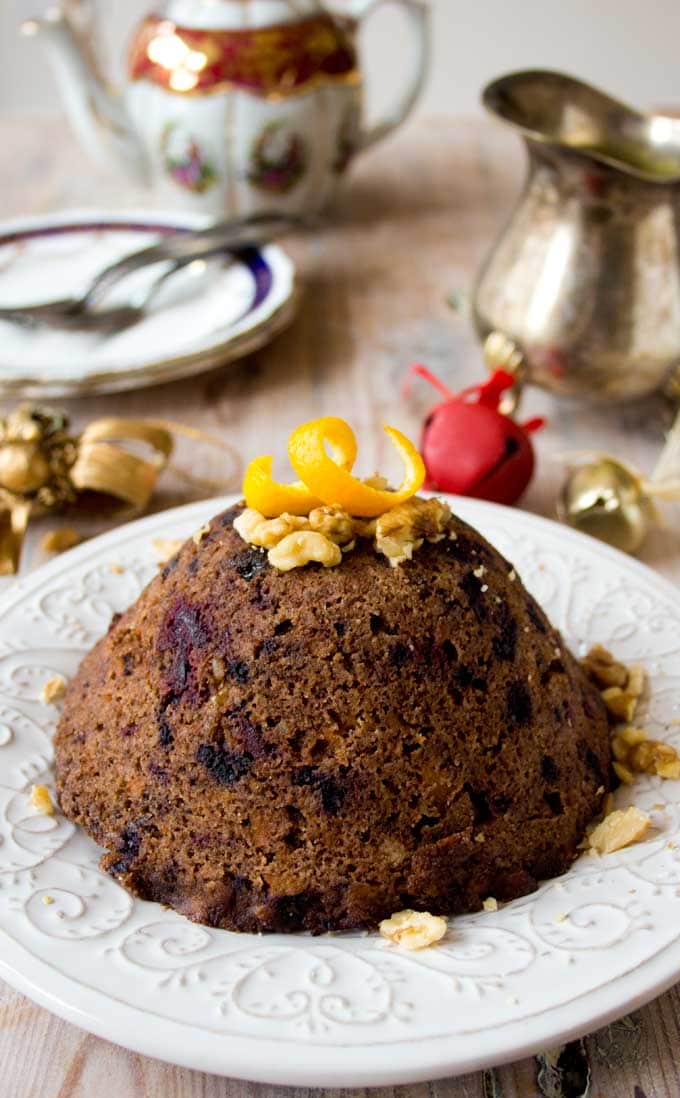 The single main ingredient of a Christmas or plum pudding is, as we all know, mincemeat. Dried fruit and candied peel is a tricky ingredient for people on a sugar free and low carb diet, as it's, well, high in sugar and carbs and basically off the menu.
This easy Christmas pudding uses some clever substitutions.  Are you ready?
Here's the lowdown:
First of all, I replaced the flour with almond flour. This was the obvious one - I've made LOADS of desserts low carb by making this simple swap.
Sweetener - simples. Instead of sugar, I used my go-to sweetener erythritol.
Mincemeat. I subbed with frozen blueberries and cherries. Both have plenty of natural sweetness and we're keeping close to the traditional Xmas pud colour scheme.
To bulk up the recipe, I added come carrot, which I shredded into small pieces in my food processor. Lower in carbs and sugar than apple, which is often used in traditional recipes.
Stroke of genius - I threw in a spoonful of cacao powder to make the pud nice and dark. In hindsight, coffee would work nicely here, too. In one of my earlier attempts I had added double the amount of cacao, but found the result too chocolate-cakey.
We want Christmas, not Cocoa, right?
This cake is brimming with Christmas flavours! All the usual suspects are featured. Orange peel (real grated orange peel, not the candied version), cinnamon, mixed spice, walnuts, you name it.
Brandy. A glug of brandy takes the recipe to the next level. A tiny word of wisdom here: I made this particular specimen late morning and basically had a slice for breakfast. This might NOT be a good idea depending what you have planned on doing after eating your Christmas pudding.
I am a lightweight when it comes to alcohol and felt wonderfully warm and fizzy for a while. I cannot rule out that I imagined this, but MAYBE 6 minutes in the microwave is not enough to burn off the booze.
Here is the disclaimer: This low carb Christmas pudding does not taste EXACTLY like a traditional Christmas pudding, but it does come pretty close.
If you want, you CAN add dried fruit to the recipe. Prunes would be a good choice here. They are lower in carbs than dates, sultanas or currants. I think if you would add 1 prune per person you could probably taste a difference without sending your blood sugar sky-high.
As a new microwave owner, I'm seriously pleased how this pud comes together in all but 6 minutes.
I'm sure you could bake it, too - I'd try 180 Celsius and around 20 minutes.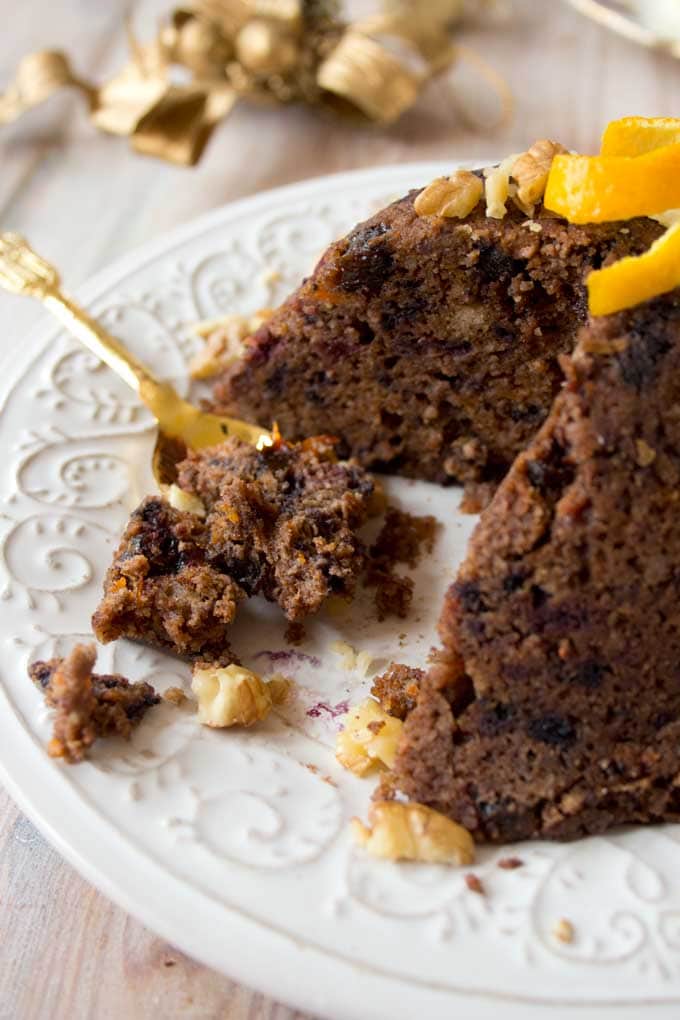 I ate my low carb luxury Christmas pudding with some extra-thick double cream.
On Christmas day I'll swirl some extra Brandy into it. Because it definitely won't be morning then. And there definitely won't be any blog posts to write that day either 🙂
In the Christmas mood? Check out these festive recipes:
★ Tried this recipe? Give it a star rating below!★
STAY IN TOUCH on FACEBOOK, PINTEREST and INSTAGRAM  for more great food and join my NEWSLETTER for the latest updates and a FREE EBOOK.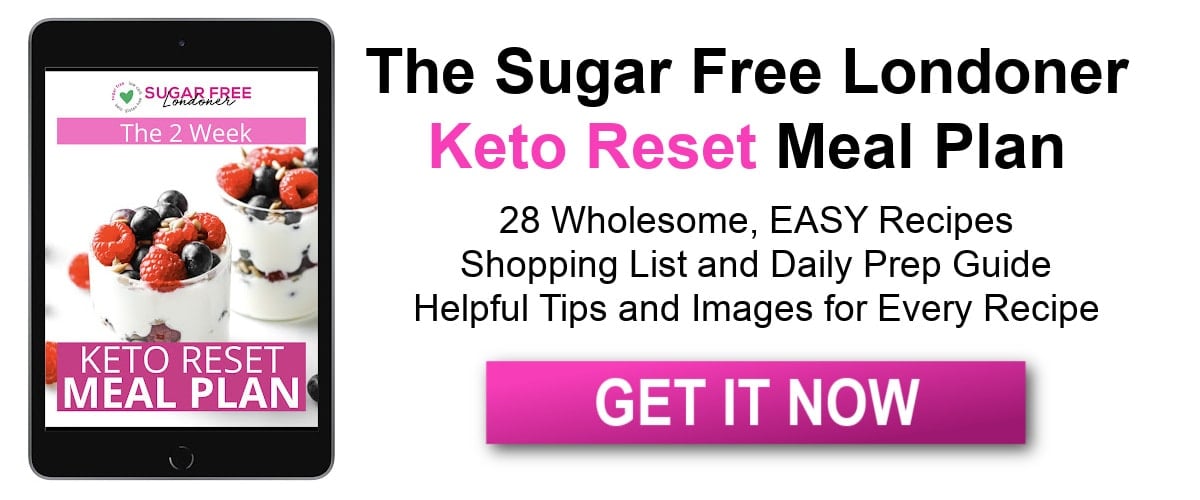 Low Carb Christmas Pudding
from
Sugar Free Londoner
Enjoy this low carb Christmas pudding as the crowning glory of your festive meal. It's sugar free, gluten free and suitable for diabetics. Even better, it's ready in just over 10 minutes!
Note: The servings slider only changes the first amount in each line and not any subsequent amounts. Please make your own calculations where necessary. ***As an Amazon Associate I earn from qualifying purchases.
Ingredients
100

g / 1 cup

almond flour

1

egg

100

g / ½ cup

shredded carrot

50

g / ¼ cup

blueberries, frozen

50

g / ¼ cup

cherries

frozen

10

g

small handful crushed walnuts

2

tbsp

butter

melted

1

tbsp

double

heavy cream

1

tsp

baking powder

1

tsp

cacao powder

unsweetened

2

tbsp

powdered sweetener

or more to taste

2

tsp

mixed spice

pumpkin spice

2

tsp

cinnamon

orange zest from ½ orange

optional: glug of brandy

double

heavy cream, to serve
Instructions
Blitz the carrot in a food processor or grate them. Add the fruit (I used frozen blueberries and cherries) and chop. Your chopped carrots and fruit combined should fill 1 US measuring cup.

Mix the dry ingredients in a bowl.

Melt the butter.

Add the melted butter and all remaining ingredients to the bowl and stir until combined. If you wish, add a glug of Brandy. Adjust sweetener if needed.

Grease a pyrex glass bowl with butter and fill in the Christmas pudding batter. Microwave at 700W for 6 minutes.

Turn out upside down onto a plate and serve with thick cream.
Notes
I have tried to keep this pudding as low carb as possible and avoided dried fruit, which arguably are the essence of a Christmas pudding. If you do wish to add dried fruit because it's Christmas and all that, I'd recommend prunes over sultanas - they are much lower in carbs.
Nutrition
Calories:
271
kcal
Total Carbohydrates:
12.5
g
Protein:
8.4
g
Fat:
22
g
Cholesterol:
59
mg
Sodium:
36
mg
Fiber:
4.5
g
Sugar:
5.2
g
This post contains Amazon Affiliate links. If you click on one of these links, I may earn a small commission which helps me with the running costs of the site. Thank you for supporting Sugar Free Londoner.