A creamy and silky sugar free pumpkin cheesecake featuring delicious autumn flavours. The perfect keto dessert for your Thanksgiving feast - and just as irresistible the rest of the year! This easy recipe is gluten-free and diabetic-friendly.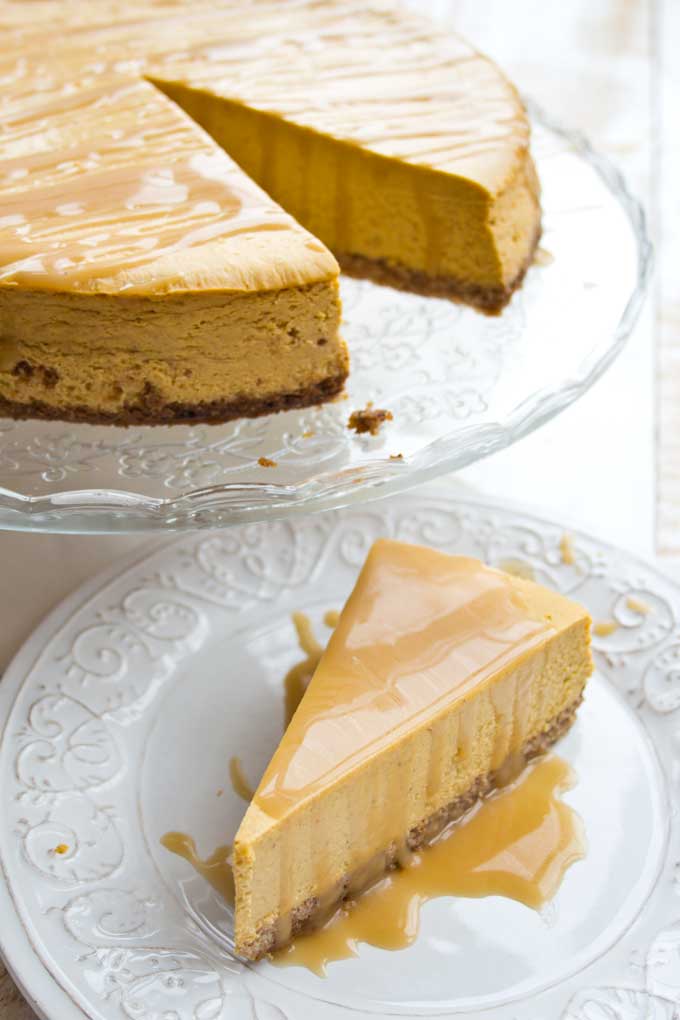 This keto pumpkin cheesecake is an impressive looking dessert that uses simple ingedients. I've served it many times at fall time gatherings and no-one will ever believe me it's sugar free!
Jump to:
Why you'll love it
Crunchy, buttery crust. The base for this cake is a baked crust made with nuts and plenty of ground ginger. It tastes as if it's made from gingerbread cookies! 
Luxuriously creamy filling. This is a spin on a classic cheesecake filling, with the addition of pumpkin puree and warm spices. The texture is wonderfully silky.
Easy recipe. Even though the recipe takes a little longer, the steps are really simple. Suitable for baking beginners!
Low in carbs. One generous slice contains only 6 grams of net carbs.
Perfect for celebrations. This is a great cake for any festive gathering during autumn and winter, and of course for Thanksgiving or Christmas.
Ingredients
Below are the ingredients you'll need for a simple sugar-free pumpkin cheesecake recipe. I have split them into 2 images, one for the crust and one of the filling.
Crust
Filling
Pumpkin puree: I used a canned unsweetened pumpkin puree. During fall and winter this is available in the UK in most supermarkets. You can also order it via Amazon. Don't mix this up with pumpkin pie filling, which contains lots of added sugar.
Almond Flour: I used ground almonds. Super-fine almond flour will also work well.
Powdered sweetener: My go to sweetener is an erythritol monkfruit blend. However, any 1:1 sugar substitute of your choice works well, from allulose to Swerve to Bocha Sweet and stevia. Be sure that it is powdered though, or the end result may taste gritty.
Spices: I used a combination of pumpkin pie spice mix (similar to mixed spice in the UK) and separate spices such as ginger and nutmeg. You can replace the single spices with the same amount of additional pumpkin pie spice or cinnamon.
Instructions
This section contains step-by-step instructions and photos that show how to make this recipe. See the recipe card for full information on ingredients and quantities.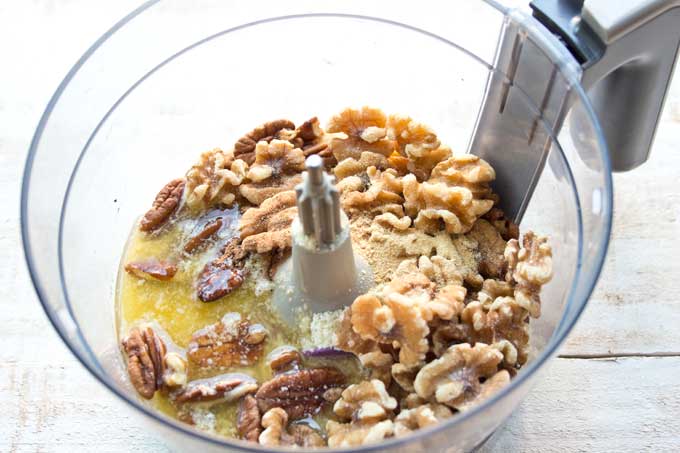 1.)  Blend the nuts, sweetener and melted butter in a food processor until a crumbly dough forms. I did this in a food processor, but you can also use a stick blender plus attachment.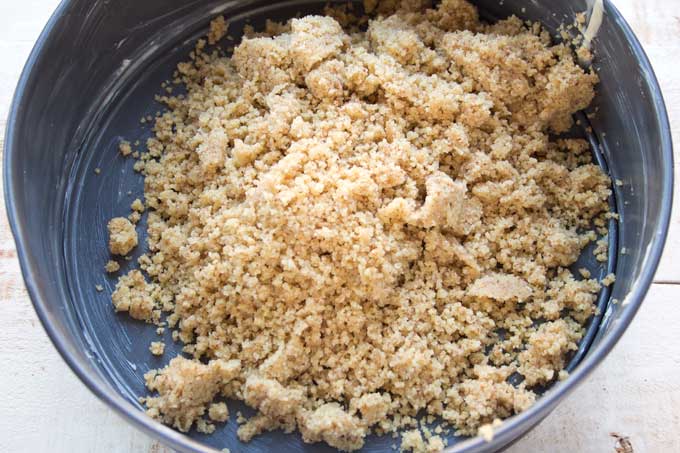 2.) Fill the crust mix into a well-greased 9 inch springform pan.
If you're worried about the crust sticking, you can also line the base with parchment paper.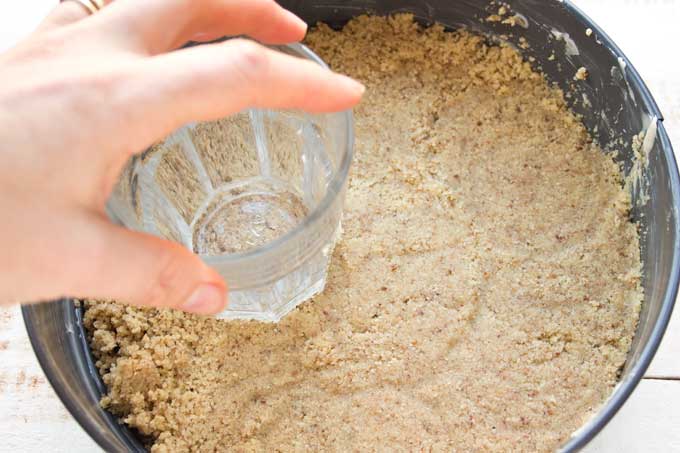 3.) Press the crust firmly into the cake pan, then bake until golden.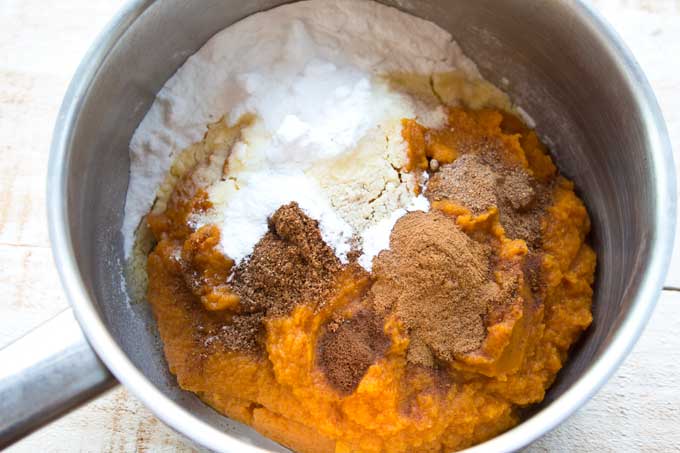 4.) Simmer the pumpkin puree with spices and powdered sweetener until it's silky and thickened. Cool.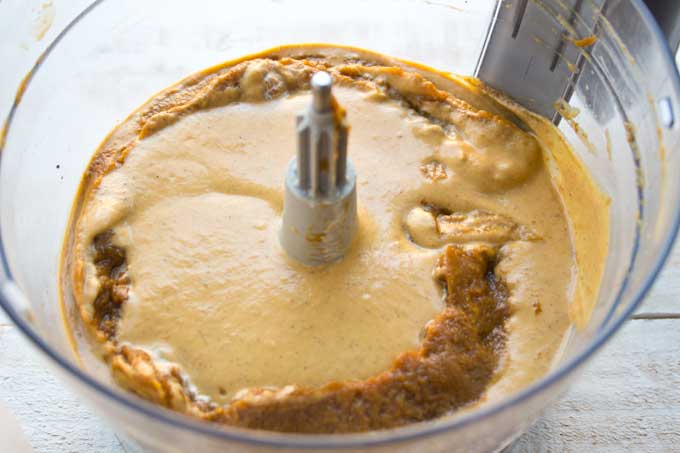 5.) Blend the cooled pumpkin puree with the cream in an electric mixer.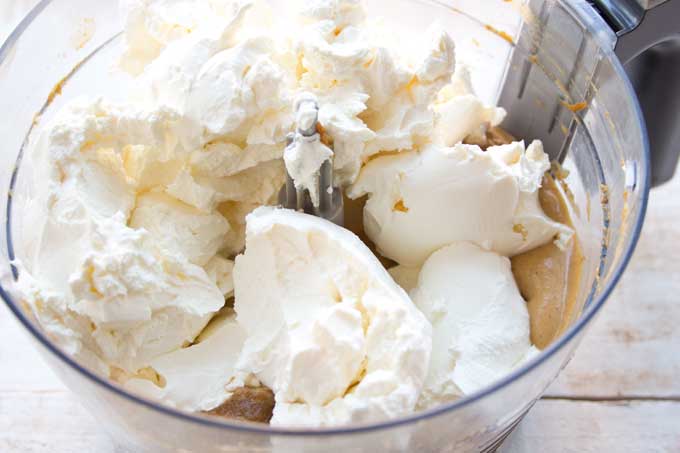 6.) Add the cream cheese and blend until smooth.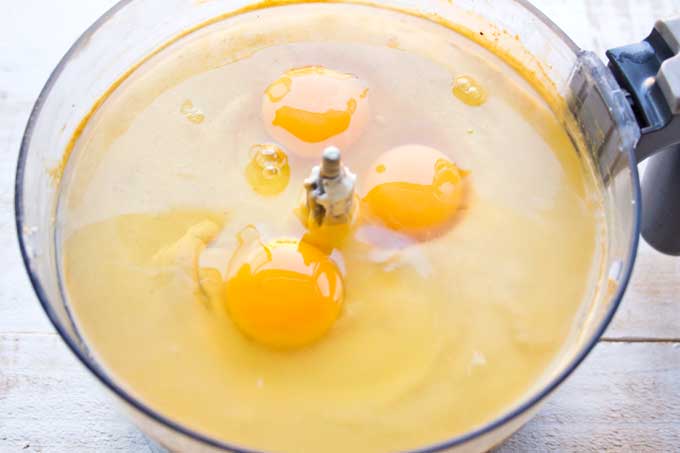 7.) Add the eggs. You should mix only until just combined - you want as little air in the filling as possible.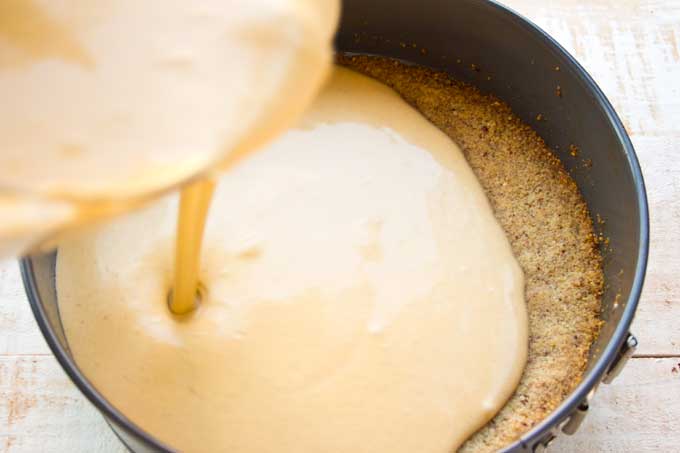 8.) Pour the cheesecake mixture onto the cooled crust and bake until done.
Serving Suggestion
I added a quick low carb maple caramel sauce, but you can also decorate the cake with sugar free whipped cream.
Recipe tips
These tips will help you make a perfect keto pumpkin cheesecake!
Compact the crust ingredients well. The firmer you press, the less crumbly your crust will be.
Cook the pumpkin puree. Don't skip this step! It reduces the amount of liquid in the pumpkin and intensifies the pumpkin taste!
Room temperature ingredients. This makes it easier to blend the ingredients together and ensures the mix does not split. Also, it ensures the cheesecake cooks evenly.
Taste and adjust sweetness. Always taste the batter and add more sweetener if necessary!
Put water in a tray below the cake. This increases the moisture in the oven. It is the ultimate hack to ensure that cheesecakes do not split during baking. ALWAYS place a pan with boiled water inside the oven, right below the baking cheesecake. So much safer than putting the cake pan directly into a water bath!
Don't over-bake! The top of the cake should be set, but the inside needs to be jiggly like jello.
Let the cake cool fully before serving. First let it come to room temperature. Don't put it in the fridge straight away or it could crack. Then, cool it in the fridge before serving, best overnight.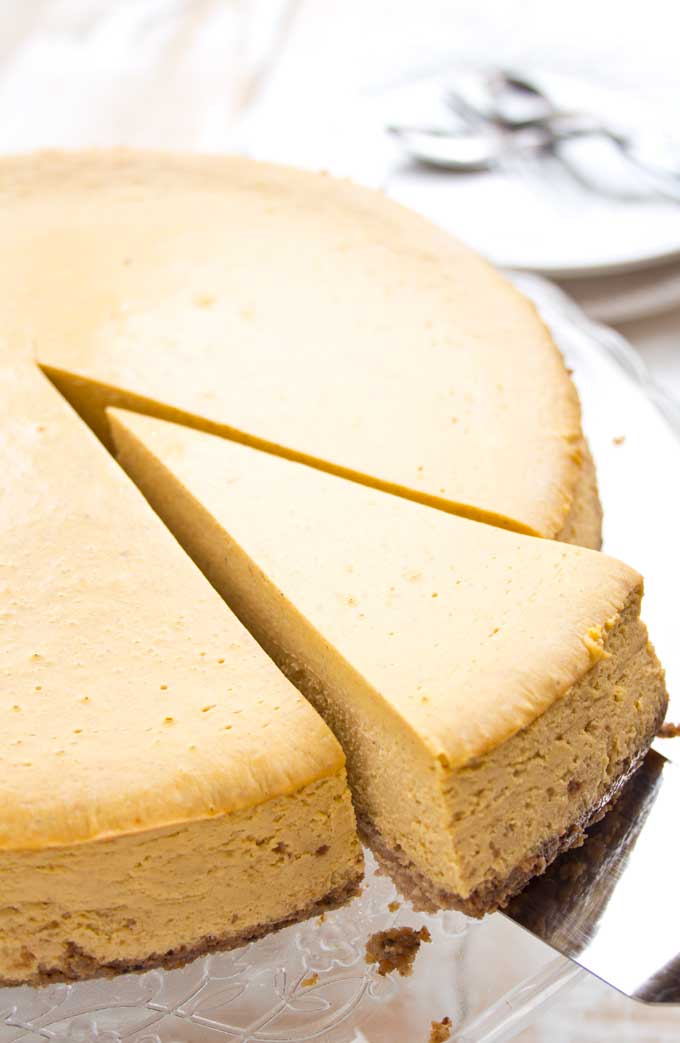 Variations
Below are ideas how you can adapt the recipe ingredients to suit your dietary needs and preferences.
Use different nuts. You can vary the type of nuts you use for the crust, as long as the amount stays the same. Both pecans and walnuts work well with pumpkin, as would hazelnuts.
Nut free crust. Simply swap out the nuts for a combination of sunflower seeds and pumpkin seeds. Or make a coconut flour crust.
Storage
Refrigerator: Store your sugar free pumpkin cheesecake in the fridge for up to 5 days.
Freezer: Slice and freeze for up to 3 months. Defrost in the fridge overnight.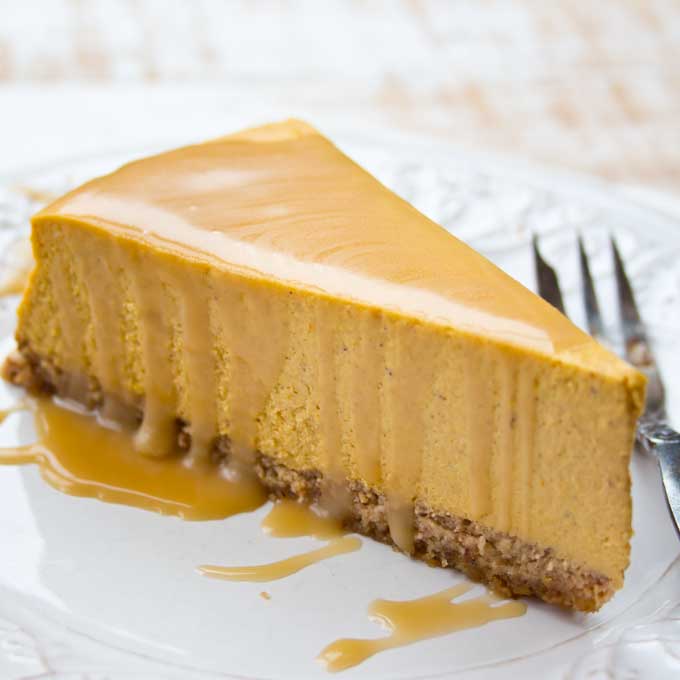 FAQ
Is pumpkin keto?

Yes, pumpkin is a keto friendly vegetable. It contains 7.8g of carbohydrates per 100 grams (source: USDA).
How do I make pumpkin puree at home?
It's tricky to get canned pumpkin in some countries. Here is a simple recipe to make homemade pumpkin puree: Cut a pumpkin in half and scoop out the seeds. Lay the halves flesh-side down on a baking sheet lined with parchment paper. Roast at 200 C / 400 F for 30-45 minutes (time will depend on the pumpkin size). Let cool, then scoop out the flesh and puree.
Can I make this recipe ahead?
Yes, keto pumpkin cheesecake is actually best when it is prepared a day ahead. This gives it plenty of time set fully as it cools in the fridge overnight.
Which sweetener can I use?
Choose a 1:1 sugar substitute such as erythritol, allulose, xylitol or a stevia sweetener blend. It's important that the sweetener is powdered. Blend granulated sweetener in a food processor to powder it at home. Coconut sugar is not a sugar free sweetener.
More keto pumpkin recipes
Tried this recipe? Give it a star rating below!
★ STAY IN TOUCH on FACEBOOK, PINTEREST and INSTAGRAM for more great food and join my NEWSLETTER for the latest updates and a FREE EBOOK.★
Recipe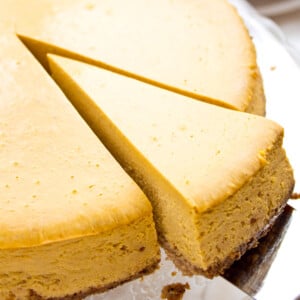 Sugar Free Keto Pumpkin Cheesecake
from Sugar Free Londoner
You'll love this creamy keto pumpkin cheesecake topped with a sugar free maple caramel sauce! It's perfect for Thanksgiving - and any other day you feel like a celebration. 
Note: The servings slider only changes the first amount in each line and not any subsequent amounts. Please make your own calculations where necessary.
Equipment
9 inch springform pan or loose bottom cake pan
Ingredients
Pumpkin Cheesecake Crust
1

cup

almond flour

100g

5.3

oz

walnut & pecan halves

150g, around 1 ½ cup

3

tablespoon

unsalted butter

melted, 50g

¼

teaspoon

ginger

pinch

nutmeg

2

tablespoon

powdered sweetener

or more, to taste
Pumpkin Cheesecake Filling
15

oz

pumpkin puree

unsweetened, 425g

1

teaspoon

pumpkin pie spice

or mixed spice

1

teaspoon

cinnamon

¼

teaspoon

nutmeg

¼

teaspoon

ginger

pinch

cloves

¾

cup

powdered sweetener

120 g, use up to 1 cup / 160 g for a sweeter filling

1

cup

double / heavy cream

240g

24

oz

cream cheese

675g

3

eggs

large, room temperature

2

egg whites

room temperature
Sugar Free Maple Caramel Sauce (optional)
Instructions
Crust
Preheat the oven to 160 Celsius / 320 Fahrenheit (electric). Line a 9 inch springform pan with parchment paper and grease the sides with butte or cooking spray.

Blend all ingredients for the crust in a food processor or with an electric mixer. 

Press the nut mixture into the cake pan. You can do this with your fingers or use the bottom of a glass. 

Bake for 15 minutes or until golden. Let cool to room temperature.
Pumpkin Cheesecake Filling
While the crust is baking, heat the pumpkin puree, all spices and half the sweetener in a saucepan over medium heat. Simmer for 5 minutes, stirring frequently. This way the pumpkin becomes less watery. Once the pumpkin mix is brown and silky, remove from the stove and let cool. 

Blend the cooled pumpkin mix with the cream and the remaining powdered sweetener. 

Now add the cream cheese and blend until smooth.

Last, add the eggs - 3 eggs plus 2 egg whites. Blend only briefly to combine and avoid getting air bubbles into the mix. 

Fill a baking tray with 2 fingers high with just boiled water and place in the bottom of the oven. Place the springform with your pumpkin cheesecake on a rack above the tray. Bake for 90 minutes or until the top is set and golden. The top should be set, but the inside slightly jiggly.

Remove from the oven and let cool to room temperature (this takes around 3 hours). Then chill in the fridge for at least another 4 hours or overnight until serving.  
Sugar Free Maple Caramel Sauce
Melt all ingredients for the caramel sauce in a small saucepan and cook on a medium heat for 3 minutes. Let cool and spoon over the cheesecake. The sauce thickens as it cools.
Notes
6g net carbs per slice. Makes 12 slices.
This keto pumpkin cheesecake can easily yield 16 portions - it is filling! Per 1 of 16 servings the nutritional breakdown is as follows: 341 calories, 4.5g net carbs, 3.6g sugar, 8.2g protein. 
The caramel sauce is not included in the nutrition calculation.
If you don't have ginger, nutmeg and cloves to hand, you can use a pumpkin spice mix (mixed spice) instead. 
You don't have to use pecans AND walnuts in this recipe - you can use one or the other, as long as the total amount stays the same.
Don't miss out the step about the baking tray filled with boiling water! This prevents the cake from cracking.
Don't over-bake! The top of the cake should be set, but the inside needs to be jiggly like jello.
Let the cake cool fully before serving. First let it come to room temperature. Don't put it in the fridge straight away or it could crack. Then, cool it in the fridge before serving, best overnight.
Store in the fridge for up to 5 days or freeze for up to 3 months.
Nutrition
Calories:
455
kcal
Total Carbohydrates:
8.7
g
Protein:
10.9
g
Fat:
44
g
Fiber:
2.7
g
Sugar:
4.8
g
This post contains affiliate links. If you click on one of these links and purchase a product, I may earn a small commission, at no extra cost to you. Thank you for supporting Sugar Free Londoner.