This easy low carb pizza recipe has a simple mozzarella dough crust with coconut flour and psyllium husk. Unlike in the original Fat Head recipe, there's no need to heat and melt the mozzarella!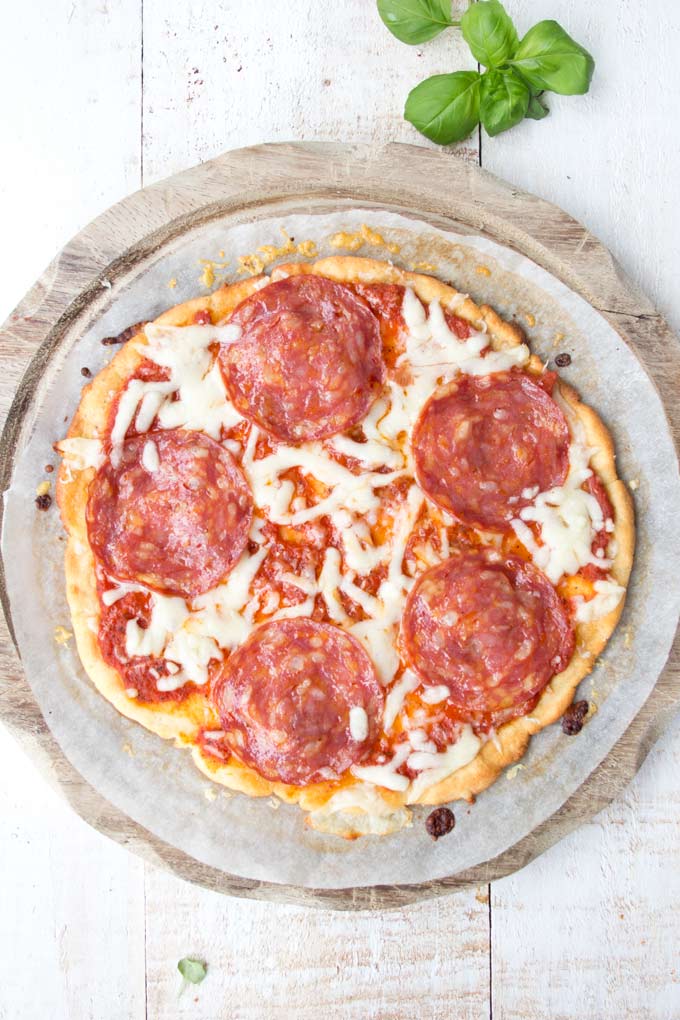 FIND THE RECIPE CARD WITH INGREDIENTS AND INSTRUCTIONS AT THE BOTTOM OF THE PAGE. DON'T MISS THE EXTRA TIPS IN THE POST! 
Have you ever had Fat Head Dough? It's a low carb dough made with mozzarella, cream cheese, almond flour and egg. The recipe was first mentioned on the blog Cookyscreations, in June 2012. The idea was later re-named and made famous by the guys from the Fat Head Movie – see here.
Fat Head dough is a brilliant substitution for dough made with wheat and tastes surprisingly similar and rather delicious. I've used it in sweet and savoury dishes such as my Genius Grain Free Pretzels and these Keto Cinnamon Rolls.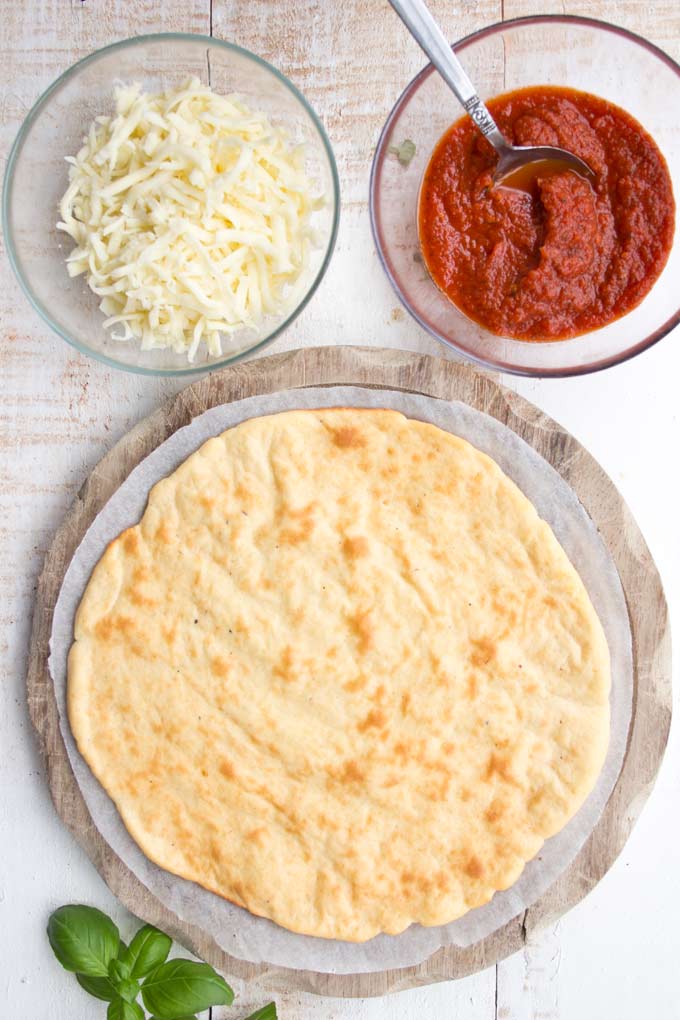 The one thing about Fat Head dough is that many people find it difficult to handle. This is because you need to melt the mozzarella and then stir in the almond flour, cream cheese and egg. It's almost impossible not to get your fingers sticky and there is that moment when you think it will never come together.
I have been experimenting with mozzarella dough and came up with this recipe that omits this step.
It works brilliantly for low carb pizza recipe and you do not need to knead the dough.
The one essential equipment you need to make this easy mozzarella dough is a food processor or stand mixer. You simply put in all your dough ingredients and wait until the machine has turned them into a smooth dough. This can take a couple of minutes, so be patient! What happens is that the blades of the food processor end up heating the mozzarella slightly and make it very pliable. You might be able to get the same result with a stick blender plus attachment, though you might have to mix the dough in two batches.
Instead of almond flour, I decided to use a mixture of coconut flour and psyllium husk to help get that soft and doughy texture. Please note that I used whole psyllium husk and NOT psyllium husk powder – I have linked to the product I used in the ingredients. Psyllium powder is much finer and will absorb way more liquid, so if you want to use that I'd recommend to halve the amount.
My 2 dough balls weighed 130g each and the pizza bases had a diameter of 20 centimetres each. If you wanted an even spongier dough, you could add 1/2 tsp of baking powder.
I don't think it's a good idea to spread the Marinara sauce and add any additional toppings before the base has been baked – you want to ensure that the dough is nice and crisp and won't get soggy.
Despite being fairly small, one pizza makes for a generous meal.
Mozzarella dough is filling! I'd say if you're not particularly ravenous, half a pizza plus a side salad would certainly fill you up. I have, however, calculated the nutrition for one whole pizza.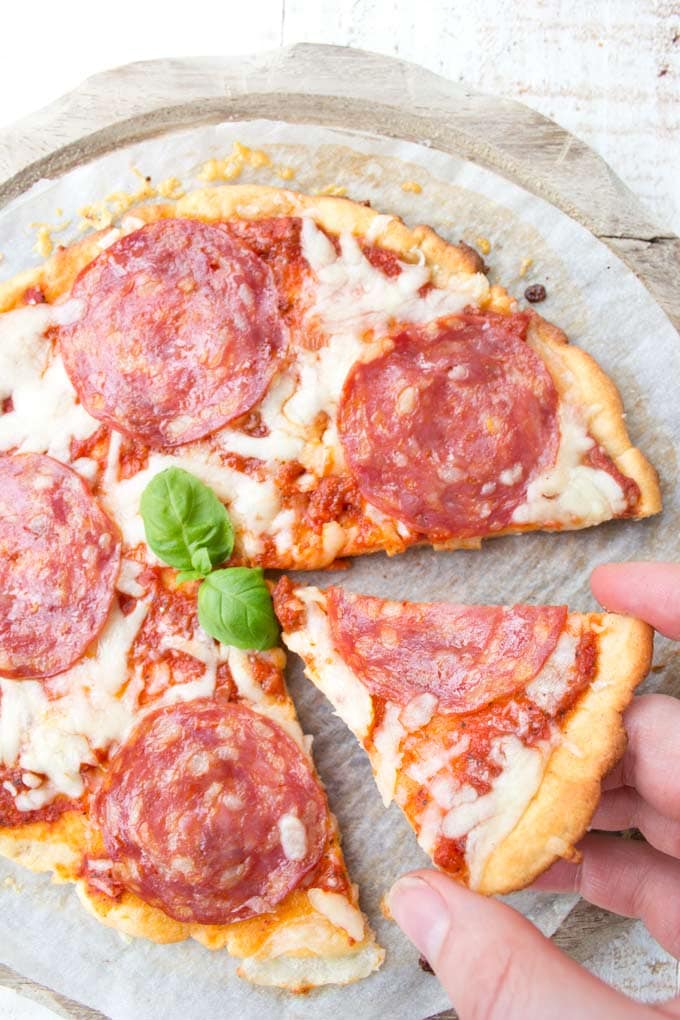 And last but not least – this low carb pizza recipe got the thumbs-up by my two carb-loving teenagers. Because the crusts contain only a small amount of coconut flour, you cannot detect it at all. My kids enjoyed the "cheesy taste", so this recipe will definitely go into the regular dinner rotation.
Next time I'll make a big batch of the dough and pre-bake and freeze a few crusts. I think it would be great to have a few of these ready to go for those days when I want to produce a speedy meal.
(This post may contain affiliate links. When you click on a link like this and purchase a product, I receive a small commission – at no extra cost to you. This money helps me with the running costs of my site.)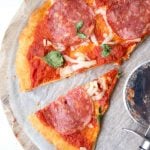 Easy Low Carb Pizza Recipe
This easy low carb pizza recipe has a simple mozzarella dough crust with coconut flour and psyllium husk. Unlike in the original Fat Head recipe, there's no need to heat the mozzarella!
Ingredients
For the Topping
1/2

cup

Marinara Sauce

10

slices

pepperoni

handful

of

basil leaves
Instructions
Preheat the oven to 200 Celsius / 392 Fahrenheit.

Put the mozzarella, coconut flour, psyllium husk, egg and salt in a blender/food processor. Blend until you have a smooth dough.

Grease your hands with olive oil and form 2 dough balls.

Roll out the dough between 2 sheets of baking paper.

Bake your pizza crust for 7 minutes until slightly browned.

Remove from the oven and spread with Marinara Sauce. (see notes)

Decorate with a bit of mozzarella (parmesan would work here too), pepperoni slices and some fresh basil. Return to the oven for another 6 minutes.
Recipe Notes
I used psyllium husks, NOT psyllium husk powder. If you want to use fine psyllium husk powder, halve the amount as it's much more absorbent. 
To make your own quick Marinara, simply blend 1 can of good quality plum tomatoes with 1 garlic clove (or garlic puree), salt, pepper and Italian herbs such as basil. You can cook it on the stove for 5 minutes to reduce the liquid or just use it as is. 
The nutrition is calculated for 1 pizza. The crust alone contains 1.7 net carbs per portion.
Nutrition Facts
Easy Low Carb Pizza Recipe
Amount Per Serving
Calories 471
Calories from Fat 266
% Daily Value*
Total Fat 29.5g 45%
Total Carbohydrates 8.9g 3%
Protein 39.3g 79%
* Percent Daily Values are based on a 2000 calorie diet.