These easy almond flour biscuits are great for any bread basket. They also taste delicious as a breakfast roll. Only 4 ingredients and ready in 20 minutes.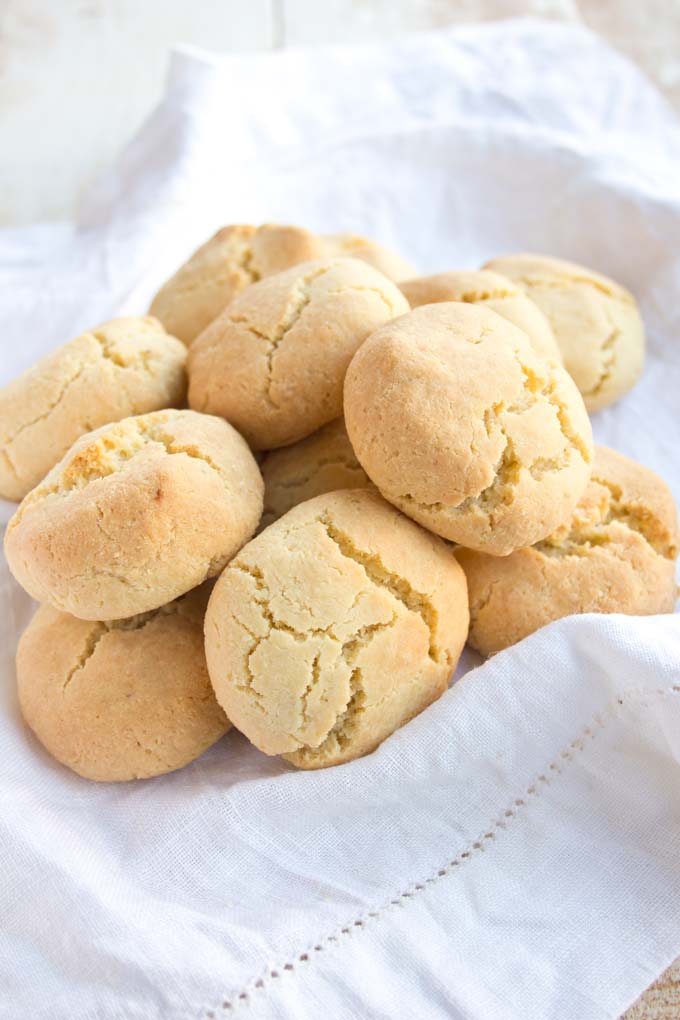 I have always loved a bread roll with my dinner. And since I started following a low carb diet, these keto biscuits are a regular in our bread basket.
They are made with almond flour instead of regular flour, which makes them gluten-free. Of course, they taste different from regular biscuits - they have a gently nutty flavor. I think they are very good!
The texture is perfectly soft, tender and very fluffy, with a nice crust. I also love how buttery they taste.
When they bake, your whole kitchen will smell amazing.
Plus, one biscuit is only 1.7 grams of net carbs - this recipe is naturally keto.
Jump to:
Ingredients
This is such a simple recipe. In fact, you only need 4 main ingredients. You might already have these in your kitchen as they are low carb essentials.
Here is what you'll need:
Almond flour. I used ground blanched almonds, which is the equivalent to regular almond flour in the US. I think this is more suitable for the recipe than extra fine almond flour. If you have super-fine almond flour, reduce the amount to 2 ¼ cups or 225 grams. You could also use almond meal (which includes the skins). However, this would make the biscuits taste more rustic.
Eggs. I always use room temperature, large eggs. Room-temperature ingredients help the biscuits rise better.
Butter. This should be melted. You can use salted or unsalted butter.
Baking powder. It's a good idea to check that it is fresh.
Salt. Optional. Don't use extra salt if the butter is salted already.
It's not necessary to add xanthan gum to the recipe. I have made these biscuits many, many times. You do not need it. They are fluffier and more tender without xanthan.
Instructions
This section contains step-by-step instructions and photos that show how to make this recipe. See the recipe card for full information on ingredients and quantities
The great thing about this low carb biscuits recipe is that you don't even need an electric blender. I simply mix the ingredients with a fork. Here are the basic steps: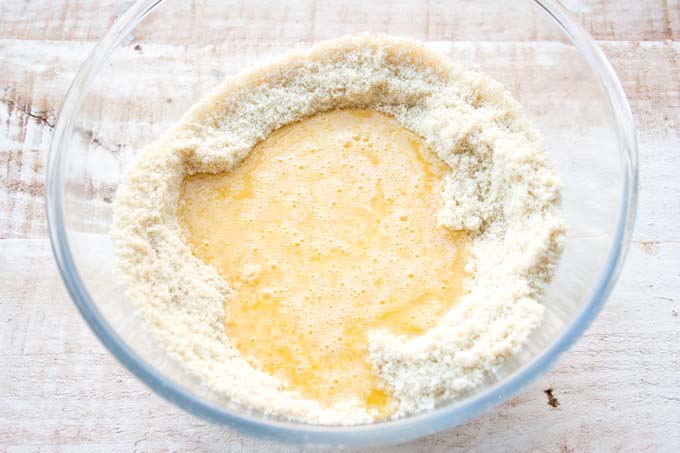 Step 1: Combine the ground almonds, baking powder and salt, if using, in a large mixing bowl.
Step 2: In a separate bowl, whisk the eggs. Then stir in the melted butter.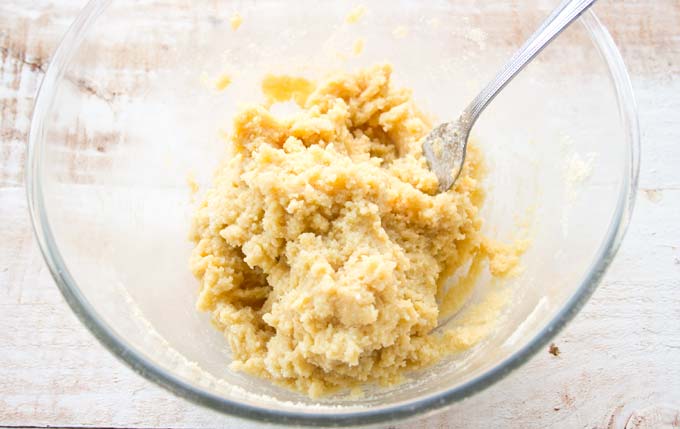 Step 3: Add the eggs and butter mix to the bowl with the dry ingredients and stir with a fork until a dough forms.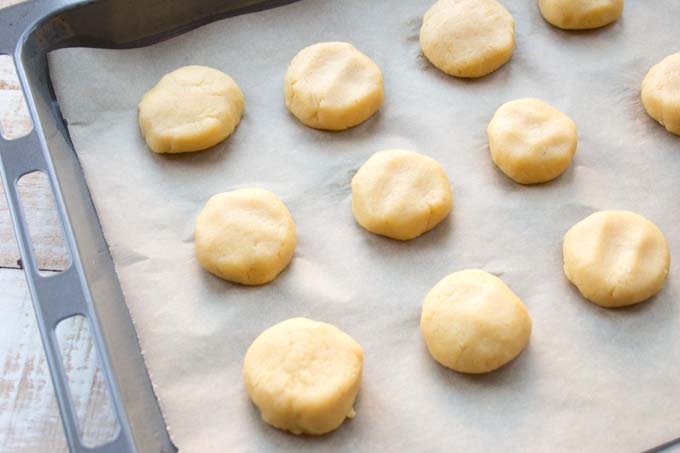 Step 4: Roll the dough into balls and flatten onto a baking sheet lined with parchment paper.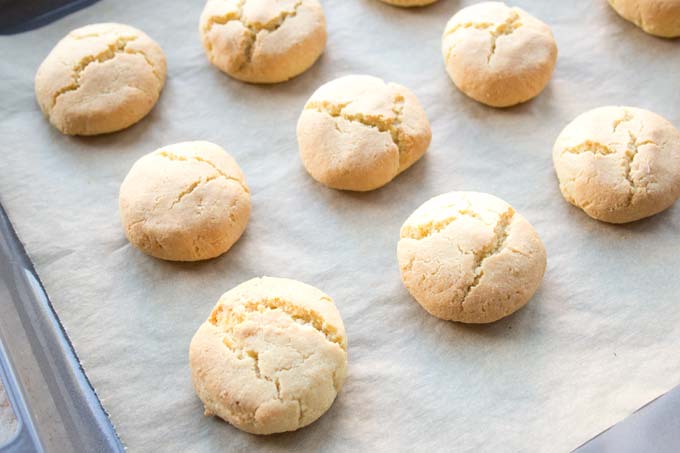 Step 5: Bake in the oven until gently browned and the tops are beginning to crack.
Top Tip
Don't handle almond flour biscuits while hot. They are very fragile then and might crumble. Wait until they are cooled down a little and have firmed up.
Variations
Below are a few ideas how you can change the recipe.
Keto cheese biscuits. Add ¾ cup of grated parmesan or mature cheddar for cheesy keto biscuits.
Sour cream and chive biscuits. Swap out 2 tablespoons of the butter for sour cream and add 1 tablespoon of chopped chives to the batter.
Italian keto biscuits. Add an Italian twist by adding 1-2 teaspoons of tomato paste, garlic powder, a pinch of rosemary and chopped black olives.
Dairy-free. Swap the butter with coconut oil or a dairy-free butter.
Recipe FAQs
How do I make sweet almond flour biscuits?
This almond flour biscuits recipe is an alternative to the typical American style biscuits, which are a type of dinner roll. To make a sweet version, simply add 2-3 tablespoons of sugar substitute or honey. If you want to make sweet biscuits that are crunchy, try these keto sugar cookies.
Can I make drop biscuits with this recipe?
Since I am using butter, the dough can be easily shaped by hand. If you wanted to make drop biscuits, replace the butter with sour cream. This makes a stickier dough. Scoop mounds onto the baking sheet with a tablespoon or a cookie scoop.
Can I use coconut flour instead?
I have not yet tried to make coconut flour biscuits. Use ⅔ cup of coconut flour and take it from there. But you may need to change the recipe more to make it work.
Serve With
Sugar free biscuits are really versatile and over the years, we have enjoyed them for breakfast, lunch and dinner. Here are a few pairing suggestions for this recipe:
Breakfast: Spread with butter and lemon curd or sugar free nutella.
Lunch: Dip into keto mushroom soup or keto cauliflower soup. Serve alongside keto lemon chicken or with a crisp caesar salad.
Dinner: Try with keto chili or as a side dish to a hearty keto beef stew.
One reader told me she likes to top them with sausage gravy to make biscuits and gravy.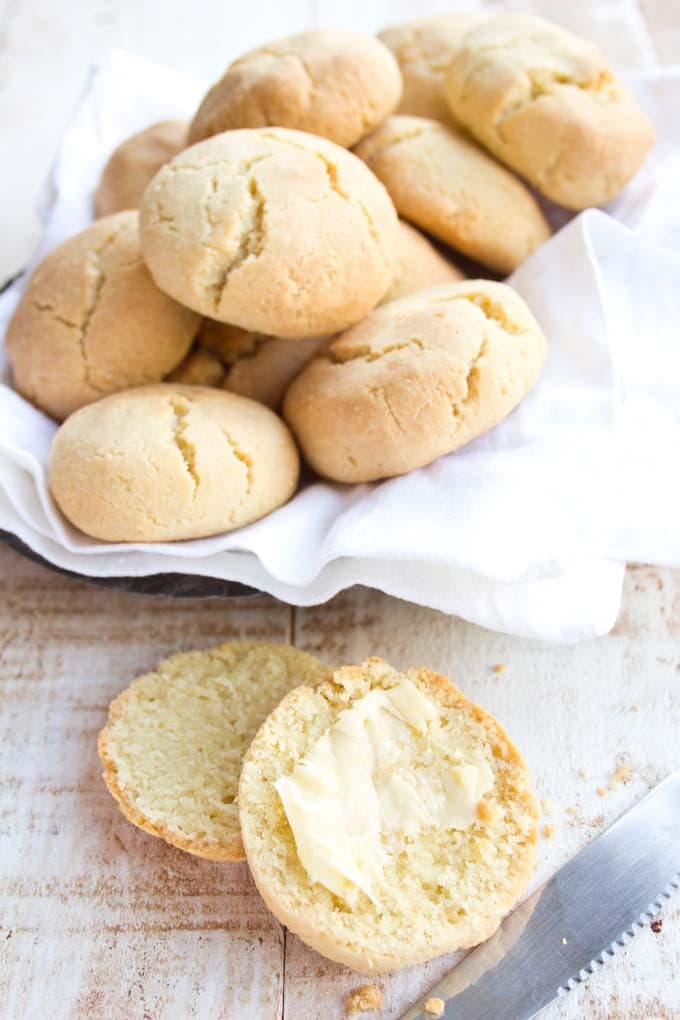 Storage
Almond flour biscuits are great for making ahead. You can store them in the fridge or even freeze them.
Refrigerator: Store in an airtight container for up to 5 days.
Freezer: Put into freezer bags and freeze for 3 months.
Reheating: If frozen, thaw overnight in the fridge.
Reheat individual biscuits in the microwave for 15 seconds. A whole batch of biscuits can be reheated in the oven at 180C / 350F for 5 minutes.
You can also slice and toast them.
More Keto Bread Recipes
Tried this recipe? Give it a star rating below!
★ STAY IN TOUCH on FACEBOOK, PINTEREST and INSTAGRAM for more great food and join my NEWSLETTER for the latest updates and a FREE EBOOK.★
Recipe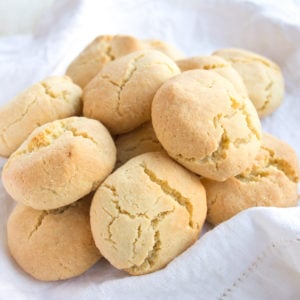 Almond Flour Biscuits
from Sugar Free Londoner
Almond flour biscuits are great as a side with a meal and even work as a breakfast roll with sweet or savoury toppings.
Note: The servings slider only changes the first amount in each line and not any subsequent amounts. Please make your own calculations where necessary.
Ingredients
2 ½

cups

ground almonds / almond meal

250g, Use 2 ¼ cup or 225 grams if using super-fine almond flour

2

eggs

large

5

tablespoon

melted butter

70g

1 ¾

teaspoon

baking powder

¼

teaspoon

salt

optional
Instructions
Pre-heat the oven to 180 Celsius / 350 Fahrenheit electric or 160C / 320 fan.

Mix the dry ingredients in a large bowl - almond flour, baking powder and salt, if using.

Whisk the eggs and stir in the melted butter. Then add to the dry ingredients and combine into a dough with a fork.

With your hands, roll balls of circa 30 grams each. Flatten into a disk with a thickness of about 1 inch and place on a baking sheet lined with parchment paper.

Bake for around 15 minutes or until lightly browned.
Notes
1.7 g net carbs per biscuit. Makes 12.
These biscuits are fragile when hot. This is because of the lack of gluten. Wait until they are cool before handling! They will firm up as they cool down.
Nutrition
Serving:
30
g
Calories:
186
kcal
Total Carbohydrates:
3.2
g
Protein:
5.5
g
Fat:
17.1
g
Saturated Fat:
10
g
Fiber:
1.5
g
Sugar:
0.9
g