These super easy and quick savoury scones are the perfect side for a soup or a salad. They are essentially almond flour biscuits - light yet deliciously buttery. Suitable for low carb and Keto diets.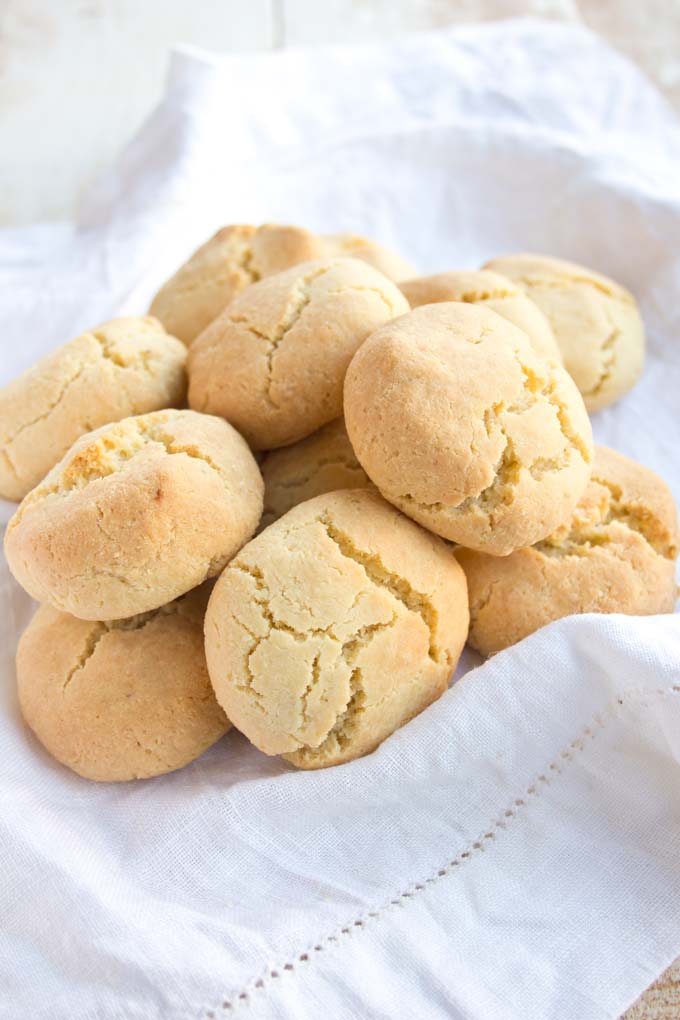 What is the difference between a scone and a biscuit? It depends on which continent you live on.
Here in the UK, a biscuit is what Americans call a cookie - a crispy, sweet morsel you enjoy with a nice cuppa. Only when you add chocolate chips, it becomes a chocolate chip cookie - don't ask me why.
Across the pond, a biscuit is what we over here might call a savoury scone. It's soft and buttery, slightly crumbly (yet never sweetened) and eaten with a meal. US biscuits, and by extension keto biscuits, are particularly useful for mopping up gravy or dipping into soup. They are also quite wonderful with a generous lathering of butter.
You could argue that almond flour scones are drier and flakier in texture than almond flour biscuits. In fact, I have a recipe for grain free English scones on this website which is an absolute treat served with fresh strawberries and cream (or clotted cream and sugar free strawberry jam, whichever rocks your boat). I used the traditional method of kneading cold butter into the almond flour for supreme flakiness and only used one egg.
The method in this recipe is MUCH quicker and actually tastes quite similar to the classic scones, maybe a little richer and moist. You simply melt the butter and stir the ingredients together with a fork - no kneading required! To get the same rise, I added an additional egg, which worked a treat.
How to make speedy savoury scones AKA almond flour biscuits: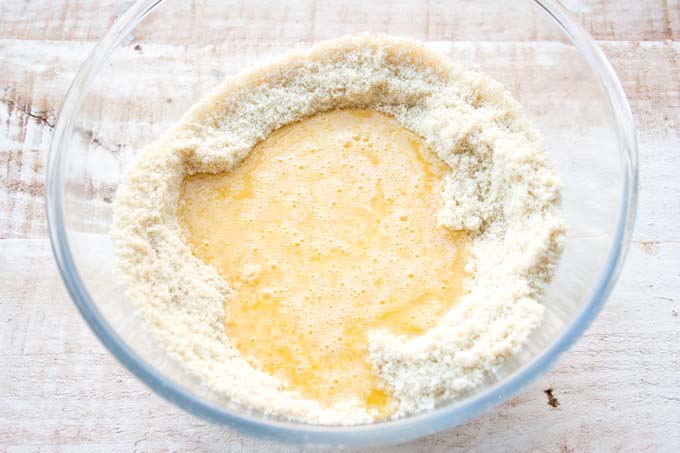 1.) Combine the ground almonds, baking powder and salt, if using, in a bowl. In a separate bowl, beat the eggs, then stir in the melted butter. Add the eggs and butter mix to the bowl with the dry ingredients.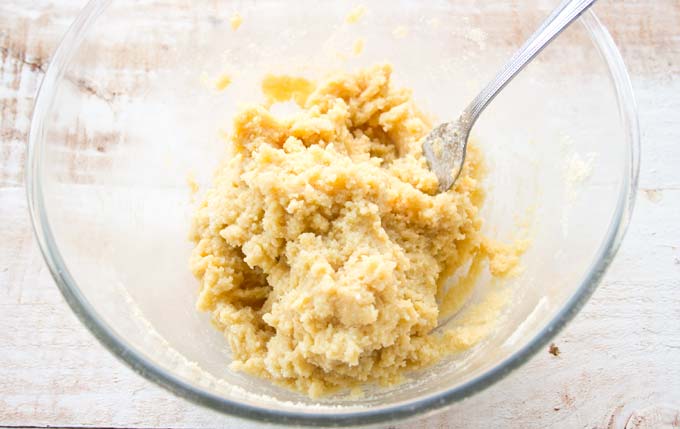 2.) Stir with a fork until a dough forms.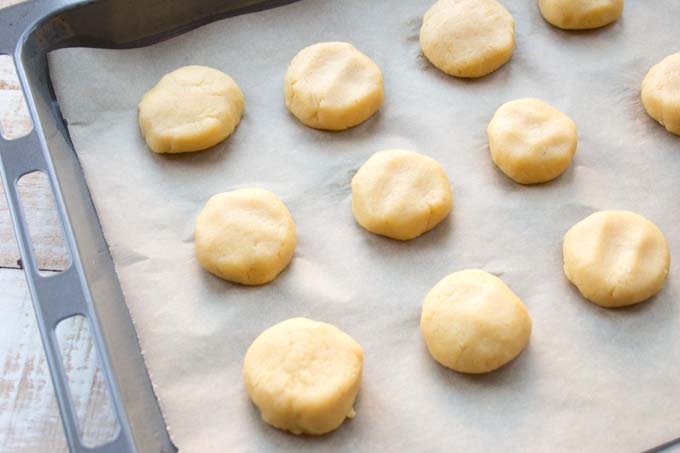 3.) Roll the dough into balls (weight: around 30g each) and flatten into fat disks, about 1 inch thick.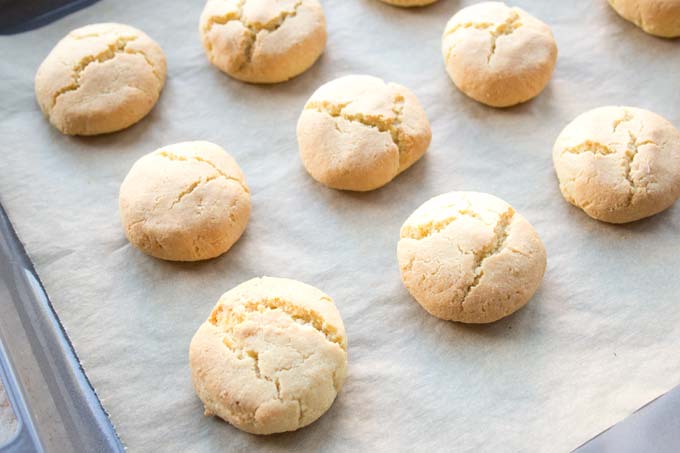 4.) Place on a baking tray lined with parchment paper and bake at 180 Celsius / 356 Fahrenheit for about 15 minutes until gently browned on the top.
Recipe tips and variations
I used ground almonds in this recipe. This is equivalent to regular / coarser almond flour in the US. Don't use super-fine almond flour to make these low carb biscuits - it is more absorbent than ground almonds and the end result would be too dry. If you INSIST on using super-fine almond flour, I'd use less - 200 g or 2 cups is probably enough - maximal 225g / 2 ¼ cup.
For those of you who don't like baking with almond flour - I have not yet tried to substitute it with coconut flour in this recipe. If I were to attempt a coconut flour version, I'd probably go with 1 cup and take it from there. Coconut flour is more absorbent than almond flour, that's why you need less.
I get a lot of questions about xanthan gum. It acts as a binder and helps with crumb structure, but always at the expense of crunch. We enjoyed the gentle crunch on the outside of these scones. If you use xanthan gum, you may get less cracking over the top, but they will less crispy.
Definitely don't attempt to handle the scones while hot - they'll be too fragile. Wait until they are cooled down and have firmed up.
These almond flour biscuits are a great starting point for flavour experiments. Here's a few ideas: 
Add ¾ cup of grated parmesan or mature cheddar for easy cheesy keto biscuits (click the link to head over to the full recipe, it's so good I have written an entire post about it!)
Swap out 2 tablespoon of the butter for sour cream and add 1 tablespoon of chopped chives to the batter
Add an Italian twist by adding 1-2 teaspoon of tomato paste, a pinch of rosemary and chopped black olives.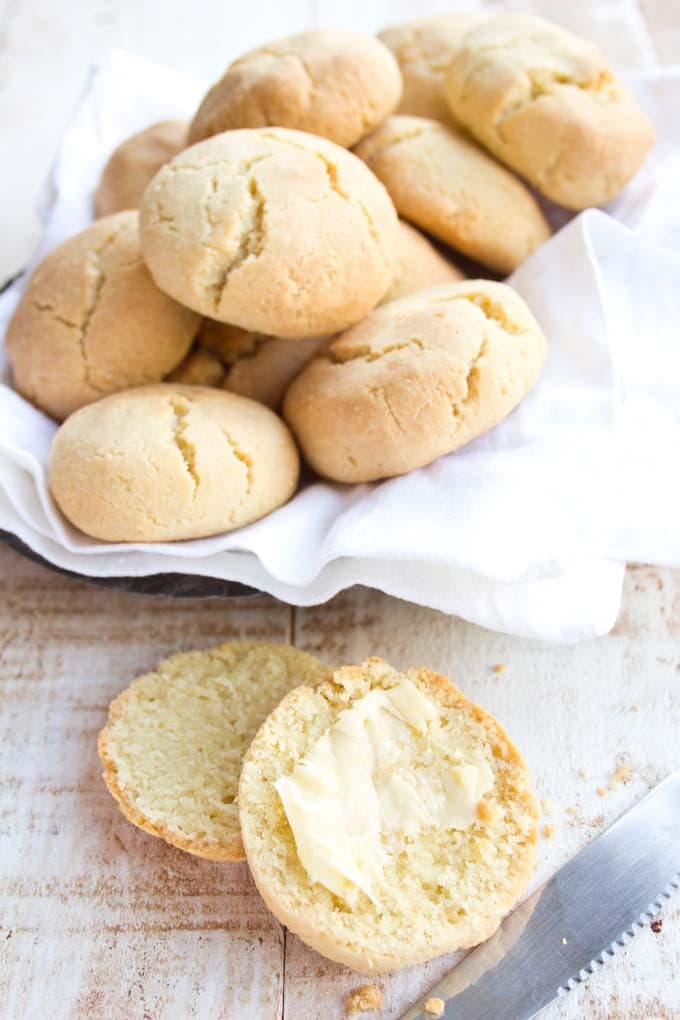 Store in the fridge in an airtight container for up to 5 days or in the freezer for 3 months.
Tried this recipe? Give it a star rating below!
★ STAY IN TOUCH on FACEBOOK, PINTEREST and INSTAGRAM  for more great food and join my NEWSLETTER for the latest updates and a FREE EBOOK.★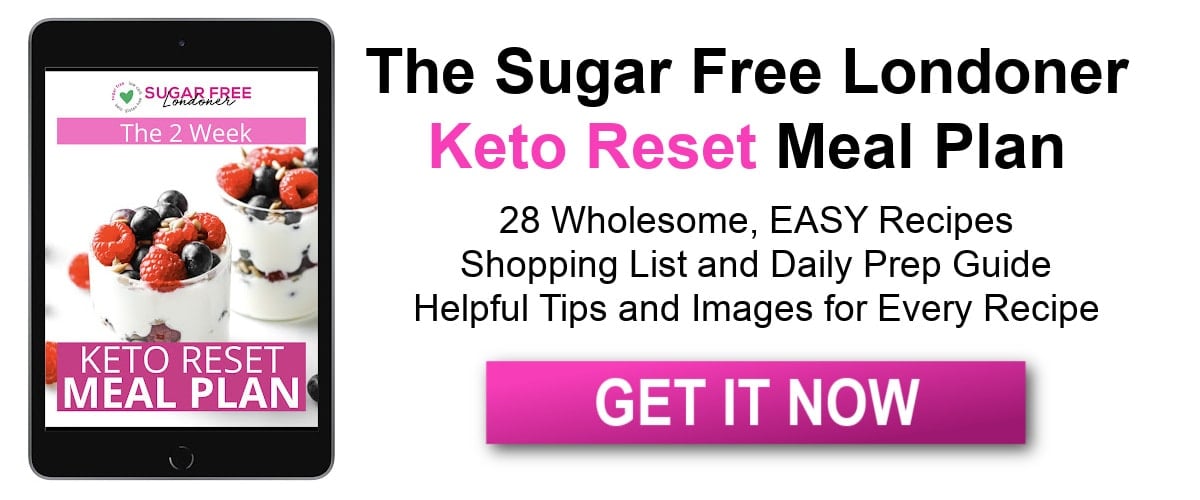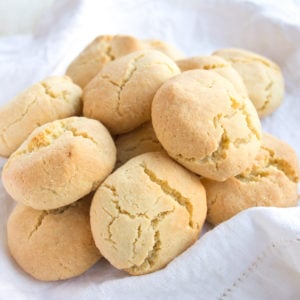 Speedy Savoury Scones (Almond Flour Biscuits)
from Sugar Free Londoner
If you're from the UK, you might call them low carb savoury scones. If you're in the US, these are almond flour biscuits. Wherever you are, I heartily recommend to give them a try. They are great as a side with a meal and even work as a breakfast roll with sweet or savoury toppings.
Note: The servings slider only changes the first amount in each line and not any subsequent amounts. Please make your own calculations where necessary. ***As an Amazon Associate I earn from qualifying purchases.
Equipment
Mixing Bowl

oven

Fork

Baking Paper
Instructions
Pre-heat the oven to 180 Celsius / 356 Fahrenheit.

Mix the dry ingredients in a large bowl - almond flour, baking powder and salt, if using.

Whisk the eggs and stir in the melted butter. Then add to the dry ingredients and combine into a dough with a fork.

With your hands, roll balls of circa 30g each. Flatten into a disk with a thickness of about 1 inch and place on a baking sheet lined with parchment paper.

Bake for around 15 minutes or until lightly browned.
Notes
These biscuits are fragile when hot. This is because of the lack of gluten. Wait until they are cool before handling! They will firm up as they cool down.
1.7 g net carbs per biscuit. 
Nutrition
Serving:
30
g
Calories:
186
kcal
Total Carbohydrates:
3.2
g
Protein:
5.5
g
Fat:
17.1
g
Saturated Fat:
10
g
Fiber:
1.5
g
Sugar:
0.9
g
This post contains Amazon affiliate links. If you click on one of these links and purchase a product, I may earn a small commission, at no extra cost to you. Thank you for supporting Sugar Free Londoner.