You'll love these homemade cheese puffs - they're a great Keto popcorn alternative! All you need is cheese - and a bit of patience. A super easy low carb snack idea.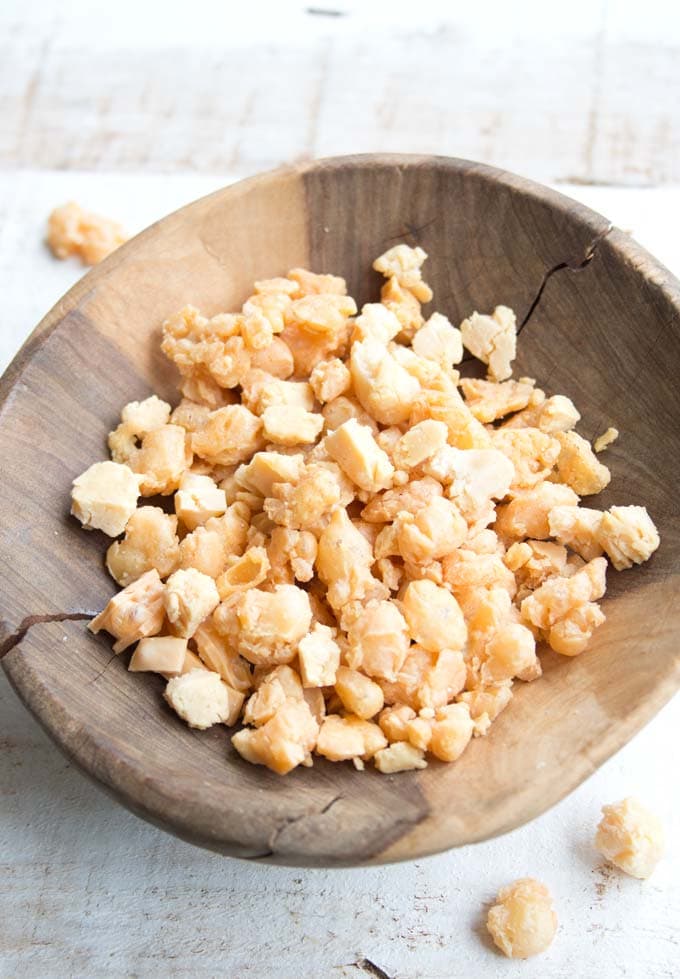 This is not much of a recipe, as it only contains one ingredient - cheese. Nevertheless, it's a snack I like to make regularly, and I love to think of it as my "Keto popcorn".
Full disclosure here - I do eat a bit of "real" popcorn now and then. My daughter has a popcorn machine, which she puts to use for movie night. We like our corn well-buttered and salted.
Can you eat popcorn on a low carb diet?
In the scheme of things, maize popcorn is not the worst choice of snack. One cup of air-popped corn contains just under 5 net carbs, which is fairly low. The issue, of course, is the amount. A typical serving of popcorn is 24 grams (3 cups) and contains 18 grams of carbs and 4 grams of fibre. And we all know what happens once you get started on a bowl of popcorn... life happens.
How to make Keto popcorn
1.) You can make these cute little cheese puffs with different types of cheeses and using different methods. I used parmesan and two different types of cheddar.
PARMESAN.
On the left in the image above. I blitzed it in the food processor. I then used a sieve to separate the smaller bits and only used the larger ones. (The small bits can be used for your next Italian cooking session).
MATURE CHEDDAR.
Top right in the image. Using my hands, I crumbled a block of cheddar. This way, you get rounded pieces (pop-corny even before popping!) that are more equally sized. It is a little salty, which means you're satisfied quickly. It's my personal fave.
MILD PRE-SLICED CHEDDAR.
On the grey plate. This delivers airy bubbles and does not taste of much. I normally don't buy this kind of cheese, because I find it quite bland. It's a bit of a faff slicing it into tiny squares. But it's the closest experience to eating real popcorn.
2.) Depending on the amount of space you have at home, you can either put your sliced / crumbled cheese on a plate or directly on the parchment-covered baking tray you'll eventually bake it on.
Cover it with a kitchen towel or muslin (so it does not gather dust) and leave it in a dry, warm place for 3 days so it drys out COMPLETELY. Your Keto popcorn will only pop if it's totally dry and hard. If it's not, it will just melt. Still yum, but not what we're after here.
3.) After 3 days (if your cheese was dry to begin with, you might get away with 2 days) heat your oven to 200 Celsius / 390 Fahrenheit and bake the cheese for 4-5 minutes. To prevent the pieces popping all over the place, place a second baking tray above your cheese tray.
This low carb popcorn substitute is super crunchy and crispy and I think it makes a VERY satisfying snack. Experiment with different cheeses and find your personal favourite!
Here are some other savoury low carb and Keto snacks we like:
Veggies and veggie sticks (celery, fennel, peppers, carrots, radishes, cauliflower florets) with dips
Low Carb Pizza Bites - like pizza, but without the carbs
Slices of raw sweet potato (whilst the potato is uncooked, the majority of the carbs are resistant starches and not absorbed) with cream cheese / almond butter
Genius Grain Free Pretzels - made with Fathead dough
Olives
Nuts and seeds (you can roast them with a little olive oil and spices or herbs such as cumin, paprika, garlic salt, rosemary, thyme
Kale chips - the only way my children will eat kale. They love it (and I do too). Find the recipe here.
Paleo Almond Low Carb Crackers
Ham rollups - ham filled with cucumber, cream cheese or mashed avocado. Or use nori seaweed sheets instead.
I could go on, but think this list is long enough. And I did not even get started on the sweet snacks! 🙂
Store your Keto popcorn in an airtight container in the fridge for up to a week. It's not only great as a snack - you can also sprinkle it on soups or over salads.
Tried this recipe? Give it a star rating below!
★ STAY IN TOUCH on FACEBOOK, PINTEREST and INSTAGRAM for more great food and join my NEWSLETTER for the latest updates and a FREE EBOOK.★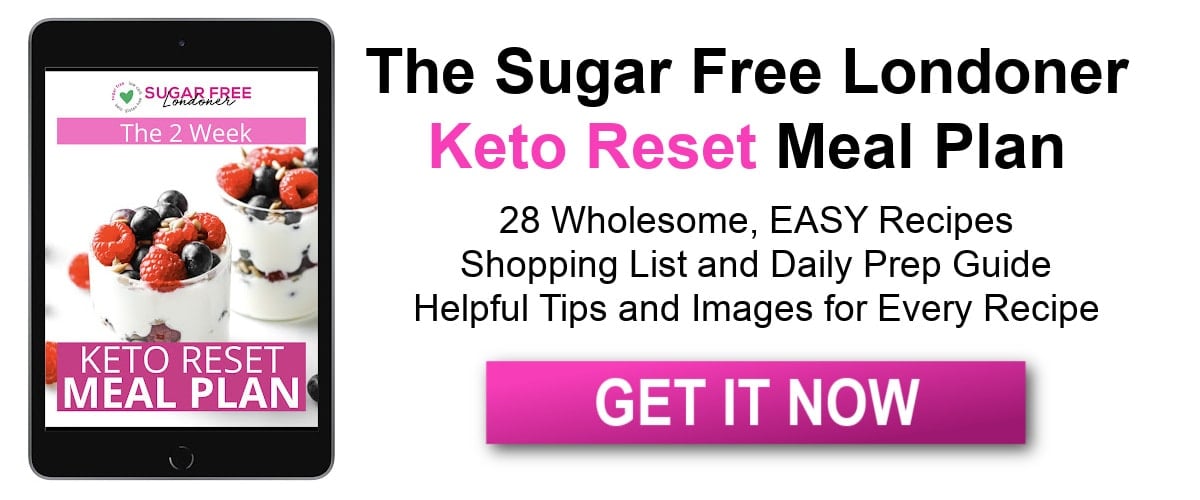 Keto Popcorn - Puffed Cheese
from Sugar Free Londoner
Did you know that dried cheese pops in the oven just like corn? Try out this Keto popcorn hack and see for yourself!
Note: The servings slider only changes the first amount in each line and not any subsequent amounts. Please make your own calculations where necessary. ***As an Amazon Associate I earn from qualifying purchases.
Instructions
If you use sliced cheddar, cut it into 0.5 inch / 1 cm squares. If you are using a cheddar block, crumble it with your hands to the same size.

Cover the cheese with a muslin / kitchen towel to prevent it getting dusty and let it sit in a warm, dry place for up to 3 days. You want the cheese to be completely hard and dry.

Heat your oven to 200 Celsius / 390 Fahrenheit. Scatter the cheese on a baking tray lined with parchment paper and bake for 4-5 minutes until the cheese pops. To prevent it from popping all over your oven, place a second baking tray closely above the tray.
Notes
I calculated 1 portion to be approximately 1 handful of cheese popcorn. 
Sharp cheddar and parmesan will satisfy you quicker than mild, pre-sliced cheddar. The latter, however, tastes more like "real" popcorn - i.e. it has a more neutral flavour. Use whichever you think you'd prefer!
If the cheese is not TOTALLY dried out or if the pieces are too large, it will melt rather than pop. Patience is the key!
Nutrition
Serving:
20
g
Calories:
80
kcal
Total Carbohydrates:
0.3
g
Protein:
5
g
Fat:
6.6
g
Saturated Fat:
4.2
g
Sugar:
0.1
g