You'll love these homemade crispy cheese pops - also known as keto popcorn! All you need is cheese and a bit of patience. A super easy one-ingredient low-carb snack.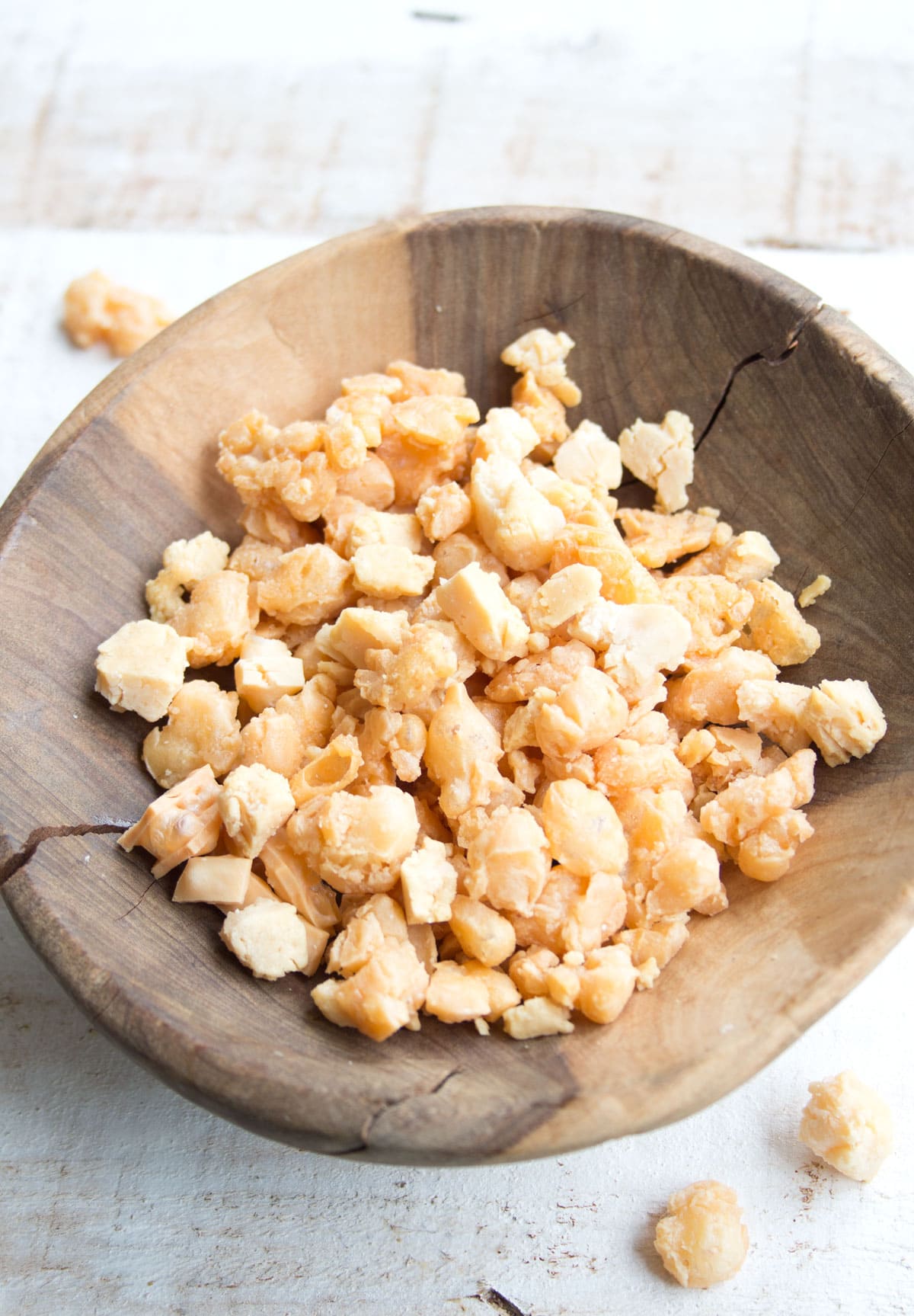 I am a savoury snacker. Some of my favourites include keto tortilla chips, my low carb pizza bites and keto seed crackers.
And this low carb popcorn!
Of course, it is not actual popcorn as it does not contain maize at all. Instead, it's made of 100 % cheese.
Sometimes we call this recipe "cheese pops". But I think it's more fun to think of it as popcorn - keto-friendly popcorn.
Jump to:
Is popcorn keto?
Real popcorn is not keto. It is low in calories. It is also delicious - the mixture of salty, crunchy and buttery is quite irresistible. And herein lies the problem.
One cup of air-popped popcorn contains just under 6 net carbs.
However, a typical serving of popcorn is more than 4-5 times that size - 30 grams of net carbs. We all know what happens once you get started on a bowl of popcorn... life happens.
For my Netflix movie nights I prepare a bowl of puffed cheese instead. Here is why I think you'll love the recipe:
🌟 Why You'll Love This Recipe
Light, crispy and crunchy texture
Salty popcorn flavor
Only one ingredient
Easy recipe
keto friendly - almost zero carbs
Ingredients
You can make these cute little cheese puffs with different types of cheeses and using different methods. I used parmesan and two different types of cheddar.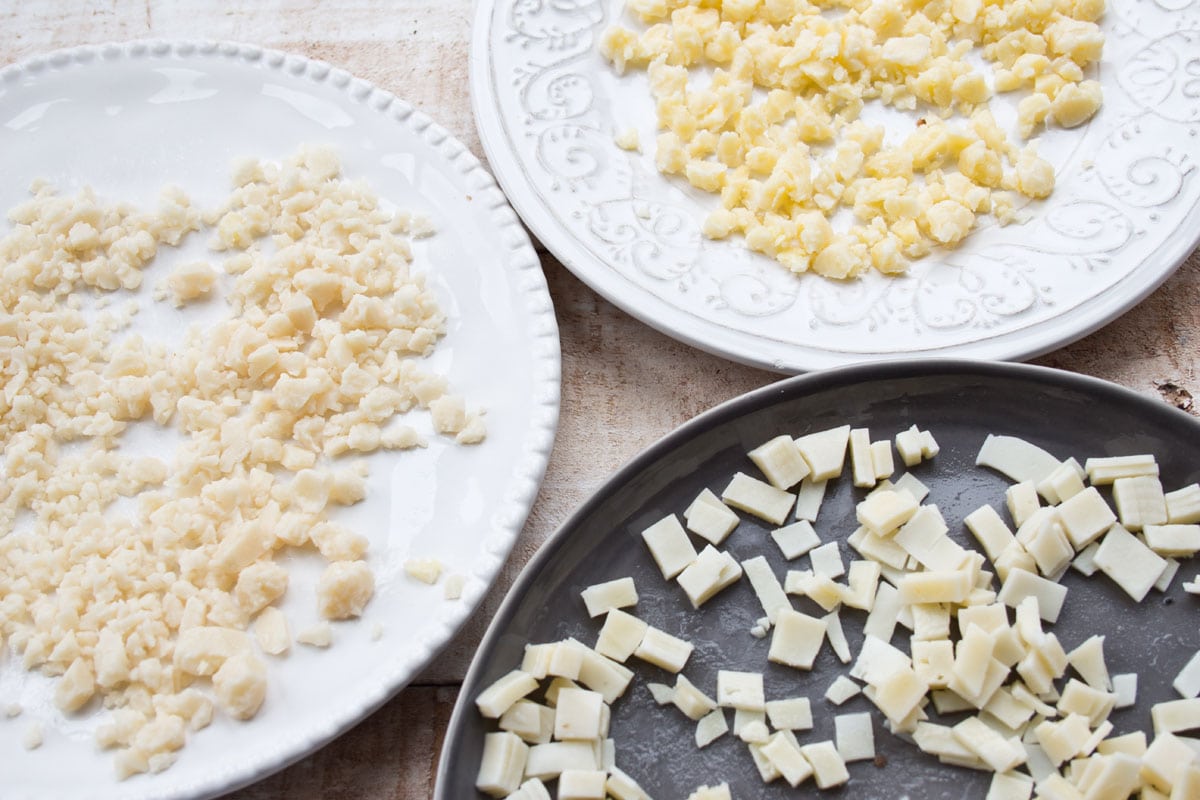 PARMESAN.
On the left in the image above. I blitzed it in the food processor. I then used a sieve to separate the smaller bits and only used the larger ones. (The small bits can be used for your next Italian cooking session).
MATURE CHEDDAR.
Top right in the image. Using my hands, I crumbled a block of cheddar. This way, you get rounded pieces (pop-corny even before popping!) that are more equally sized. It is a little salty, which means you're satisfied quickly. It's my personal fave.
MILD PRE-SLICED CHEDDAR.
On the grey plate. This delivers airy bubbles. It's the closest experience to eating real popcorn.
Instructions
Let's make cheese pops! It is so simple. The only thing you need to plan for is some time for the cheese to dry.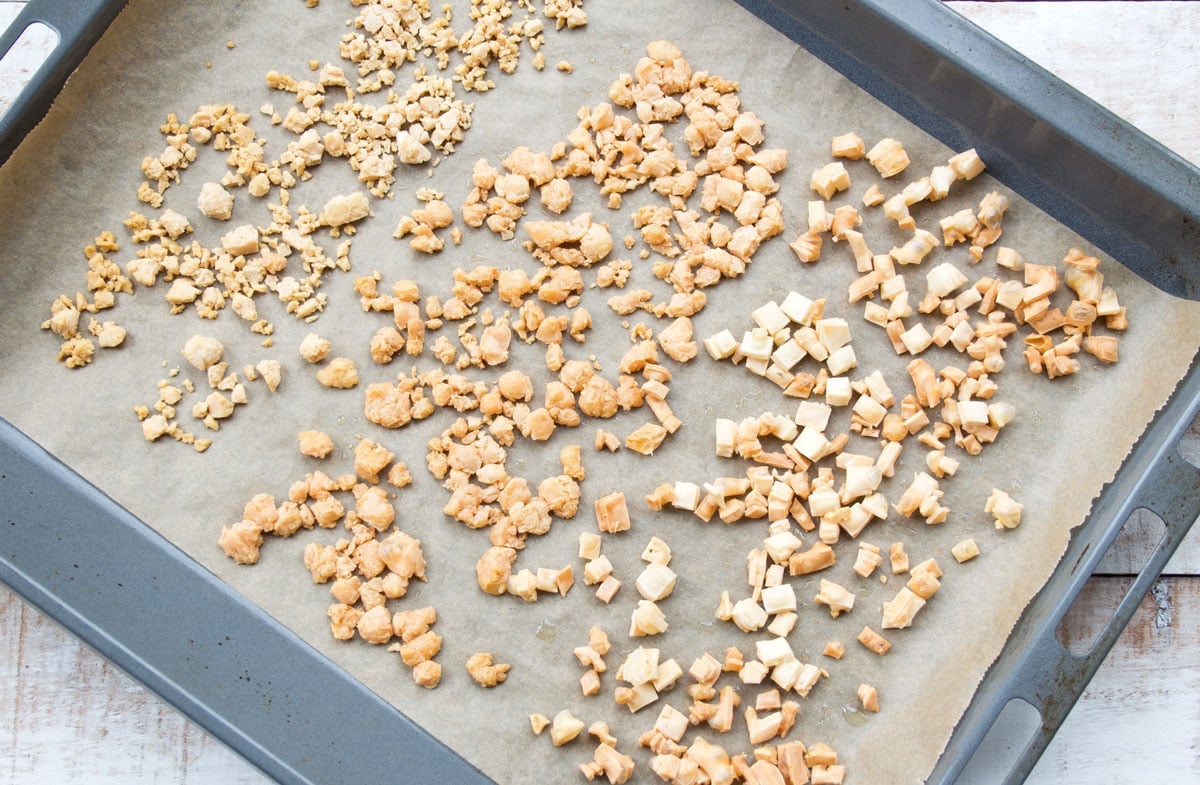 Step 1: Cut the cheese into ½ inch squares or crumble. Place on a parchment paper covered baking tray.
Step 2: Cover it with a kitchen towel or muslin (so it does not gather dust) and leave it at room temperature for up to 3 days so it drys out COMPLETELY.
Step 3: Bake the cheese in a hot oven for 4-5 minutes. To prevent the pieces popping all over the place, place a second baking tray above your cheese tray.
Cheese pops are super crunchy and crispy and I think it makes a VERY satisfying snack. Experiment with different cheeses and find your personal favourite!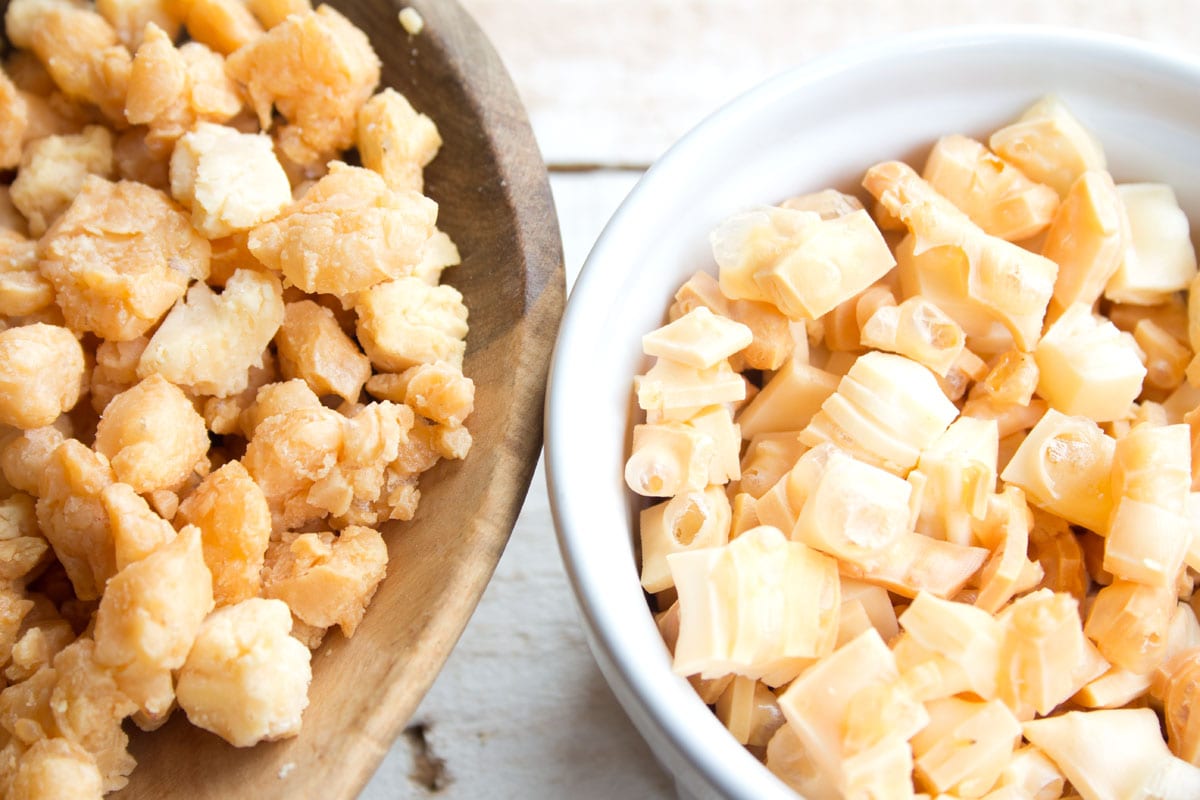 Top tips
Patience: Cheese will only puff up if it is dry and hard. If it is not, it will just melt. The longer you leave it out to dry the better. I recommend 72 hours. If the cubes are still rubbery, they are not ready!
Let cool fully: Wait until the cheese puffs have cooled fully. Then, pat them dry to remove any excess fat and toss them in seasoning if you like.
Jazz up your lunch: On top of being a great snack, you can also add them as a topper on keto caesar salad or on soups like this keto cauliflower soup.
Flavorings
There is no real need to add additional flavor as this recipe tastes delicious as it is. But if you use a mild pre-sliced cheese, consider the following options:
spices such as onion powder, garlic powder or paprika
herbs such as rosemary or thyme
toss in melted butter and sea salt
sweet and salty: as above, but also add a little granulated sweetener
corn extract - add ¼ teaspoon to melted butter
cheddar cheese powder (for mild cheddar popcorn)
FAQ
Does puffed cheese taste like popcorn?
Like with all keto substitutes, puffed cheese does not taste EXACTLY like real popcorn. But it has a similar texture and flavor.
Can I dry the cheese in the dehydrator?
Yes. You can use a dehydrator to speed up the drying process. Keep it at a low temperature.
Can I make puffed cheese in the microwave?
I have not tried making cheese popcorn the microwave. I am not sure whether it would puff up that way.
Why does my cheese not dry out?
It is likely that your pieces are too large and they need to dry out longer. The cubes must be between ¼ and ½ inch - no larger. Size is important.
What kind of cheeses work for popcorn?
I have tried the recipe with parmesan, a cheddar block and sliced cheddar. Readers have told me that Gouda, Edam and provolone also work well. You cannot use Mozzarella for the recipe, it is too soft.
Storage
Refrigerator: Cheese pops should be stored in an airtight container in the fridge for up to 3 weeks.
Freezer: Alternatively, freeze for up to 3 months.
Related recipes
Here are more keto snack ideas to try:
Tried this recipe? Give it a star rating below!
★ STAY IN TOUCH on FACEBOOK, PINTEREST and INSTAGRAM  for more great food and join my NEWSLETTER for the latest updates and a FREE EBOOK.★ 
Recipe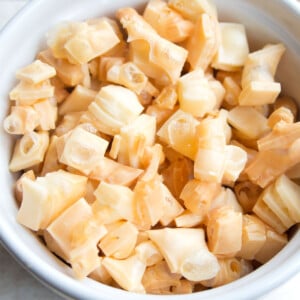 Cheese Pops - Puffed Cheese
from Sugar Free Londoner
Did you know that dried cheese pops in the oven just like corn? Try out this Keto popcorn hack and see for yourself!
Note: The servings slider only changes the first amount in each line and not any subsequent amounts. Please make your own calculations where necessary.
Ingredients
3.5

oz / 100g

cheddar

mild, in a block, or pre-sliced
Instructions
If you use sliced cheddar, cut it into 0.5 inch / 1 cm squares. If you are using a cheddar block, option to slice into squares or crumble it with your hands to the same size. Don't make the pieces any larger or they won't dry out.

Cover the cheese with a muslin / kitchen towel to prevent it getting dusty and let it sit in a warm, dry place for up to 3 days. You want the cheese to be completely hard and dry and not rubbery.   

Heat the oven to 200 Celsius / 400 Fahrenheit. Scatter the cheese on a baking tray lined with parchment paper and bake for 4-5 minutes until the cheese pops. To prevent it from popping all over your oven, place a second baking tray closely above the tray. 
Notes
0.3g net carbs per portion. Makes 5 portions.
I calculated 1 portion to be approximately 1 handful of cheese popcorn. 
Sharp cheddar and parmesan will satisfy you quicker than mild, pre-sliced cheddar. The latter, however, tastes more like "real" popcorn - i.e. it has a more neutral flavour. 
If the cheese is not TOTALLY dried out or if the pieces are too large, it will melt rather than pop. Patience is the key!
Option to add: 
melted butter and corn flavoring
sea salt
garlic powder
a sprinkle of granulated sweetener (for sweet & salty)
cheddar cheese powder
Store in the fridge for up to 3 weeks or freeze for up to 3 months. 
Nutrition
Serving:
20
g
Calories:
80
kcal
Total Carbohydrates:
0.3
g
Protein:
5
g
Fat:
6.6
g
Saturated Fat:
4.2
g
Sugar:
0.1
g