Do you like bread rolls for breakfast, but want to stay low carb? We all loved this recipe for Keto buns, which have a light and airy texture and a gently crunchy crust. They have no eggy taste and keep their shape nicely!
One of the things that people often say when I tell them I stay away from wheat and other grains is "No way - I could never give up bread". The thing is, you don't have to!
Of course, you'll never be able to mimic the exact texture and crunch of an artisan sourdough. (If I manage to do this one day despite all odds, I'll be sure to tell you). But you can create absolutely delicious low carb and keto bread using grain free flours.
Almond flour and coconut flour are by far the most commonly used low carb flours. You can make bread or rolls with either or with a combination of both. I have a popular recipe for almond flour bread on my blog. There's also a recipe for coconut flour bread which includes flaxseed meal that get lots of positive comments.
One of my favourite hacks for making low carb bread is adding psyllium husk. Psyllium is a plant that is mainly cultivated in Northern India. The ground husks are a dietary fibre that is not only beneficial for your bowels, but also works wonders as a food thickener. On top of that, it gives Keto bread a texture similar to whole-wheat bread. Here's an informative guide to psyllium husk.
This recipe for Keto buns is based on my low carb rolls. The rolls use both almond and coconut flour - the two work well in combo. They also use butter, which makes them wonderfully rich, almost like a brioche. This time, I wanted to create more of a wheat bread taste. That's why I replaced the butter with water and ditched most of the egg yolks (the eggy taste is in the yolks). Last but not least, I added psyllium husk powder, just like in my Keto dinner rolls. Boom!
How to make Keto buns - step by step: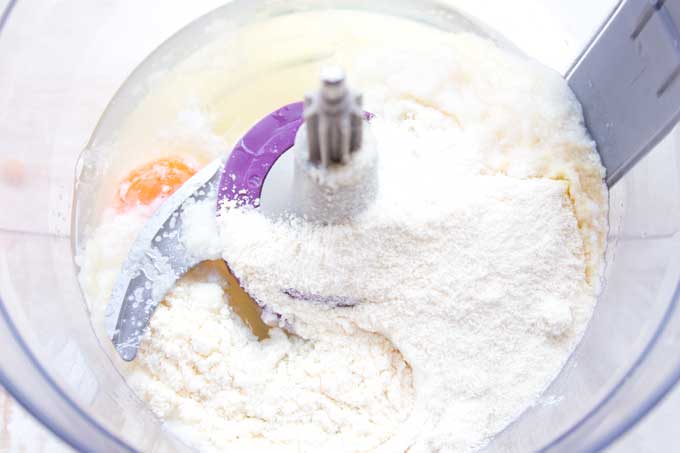 1.) Mix your dry ingredients. Then put all ingredients in a food processor and blend for about 20 - 30 seconds. Alternatively, use a bowl and an electric mixer.
Top Tip: It is REALLY important that your eggs are at room temperature. If you use them straight from the fridge, your buns will rise only very little or not at all. Trust me, this little hack makes all the difference.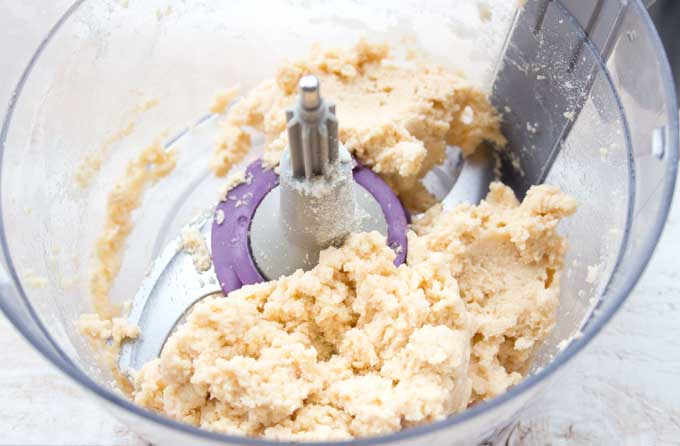 2.) After mixing, let the dough sit for a couple of minutes so the coconut flour and the psyllium husk powder can absorb the liquid.
This is what the dough should look like. It is soft, but it's easy to handle and can be shaped with your hands.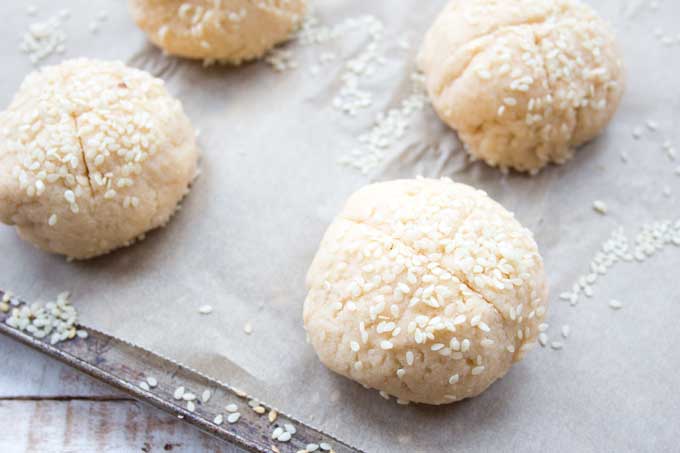 3.) To prevent the dough sticking to your hands, wet them. If you want 4 equally sized buns, form one large ball and cut it into quarters.
Form your low carb rolls and place them on a baking sheet lined with parchment paper. I sprinkled mine with sesame seeds, but poppy seeds, black sesame seeds or even sunflower seeds would work well too. Make a criss-cross cut on the top if you want the buns to split.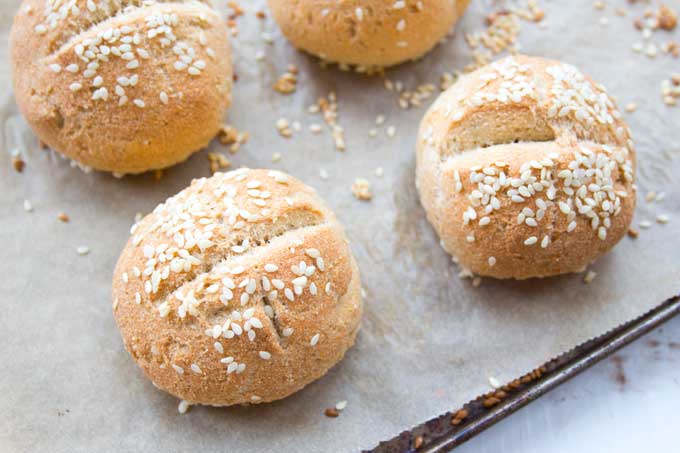 4.) Bake the buns for about 25 minutes in the middle of the oven. And breakfast can commence!
Tips and Tricks for perfect Keto buns
Eggs: The most all-important tip is to make sure your eggs are at room temperature. Trust me. I have made this recipe with cold eggs and whilst the rolls still tasted good, they hardly rose.
Baking powder: Another reason for bread not rising is out-of-date baking powder. You can test your baking powder by putting some in water. If it fizzes up it's fresh and you're good to go.
Water: Just boiled is the way to go!
Almond flour: I used ground almonds / regular almond flour in this recipe, not super-fine or fat reduced almond flour. If your almond flour is super-fine and you're finding your dough firm, I suggest to add a little more water.
Psyllium: I used psyllium husk powder and not the whole psyllium husks (which look like little sticks). If you want to use whole psyllium husks, you'd have to use 2 tbsp as opposed to just 1 tbsp.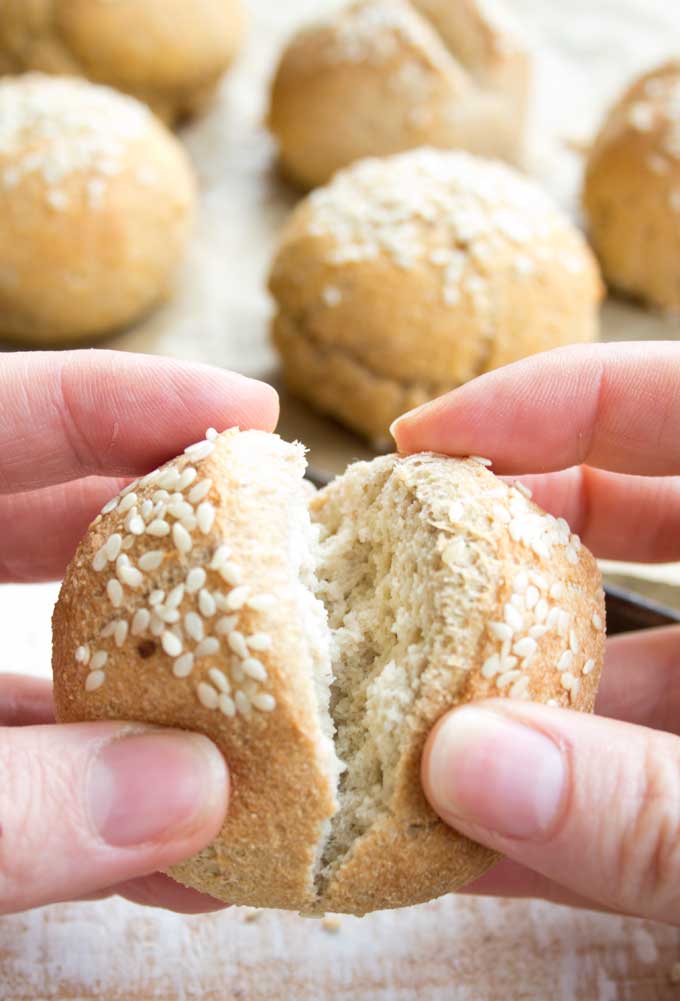 All ovens are different, and some can be temperamental. However, I recommend you bake your buns for at least 23 minutes. If you take them out earlier, you might find that the insider is not quite done. For me, 25 minutes gave a perfectly browned crust. If your buns start looking too dark bit the baking time is not yet up, place aluminium foil on the buns to prevent them from burning. You can also rotate the baking sheet so the buns brown more evenly - the back of the oven is always hotter than the front.
Note: Many low carb bread recipes use apple cider vinegar to help the bread rise. I have tried several of these recipes and have not yet found one that I love. I can always taste the vinegar, which I find off-putting. Using 1 teaspoon of baking powder gave my Keto buns a good rise and airy texture and they kept their shape. Next time I want to increase this to 1 ½ teaspoon to see whether the rolls would be even larger and the air bubbles even bigger.
The buns freeze and toast well. I sliced mine in half and toast them straight from the freezer.
Not much of a breakfast eater? These low carb rolls make a great burger bun too! There are a great alternative to my black burger buns.
From almond cream cheese pancakes to Keto cinnamon rolls or this tasty Keto Mexican Breakfast Casserole - check out all breakfast recipes on Sugar Free Londoner!
Tried this recipe? Give it a star rating below!
★ STAY IN TOUCH on FACEBOOK, PINTEREST and INSTAGRAM for more great food and join my NEWSLETTER for the latest updates and a FREE EBOOK.★
Recipe
Fluffy Keto Buns - Low Carb, Gluten Free, Dairy Free
from Sugar Free Londoner
These soft and pillowy Keto buns taste similar to whole wheat bread, but with a fraction of the carbs! They are easy to make and work with both sweet and savoury toppings. The recipe is gluten free, Paleo and dairy free.
Note: The servings slider only changes the first amount in each line and not any subsequent amounts. Please make your own calculations where necessary.
Ingredients
3

egg whites, medium

room temperature

1

egg, medium

room temperature

¼

cup / 60 ml

hot water

¼

cup / 25g

almond flour

¼

cup / 30g

coconut flour

1

tablespoon

psyllium husk powder

or 2 tablespoon whole psyllium husks

1

teaspoon

baking powder

pinch of

sea salt

sesame seeds, for sprinkling

optional
Instructions
Preheat the oven to 180 Celsius / 356 Fahrenheit.

Mix your dry ingredients. Then put all ingredients into a food processor or mix with an electric blender until smooth, about 20 seconds. Don't over-mix the dough.

Let the dough sit for a couple of minutes so the flours can absorb the moisture.

Separate the dough into 4 equal portions and form buns.

Place the buns on a baking sheet lined with parchment paper. Sprinkle with sesame seeds or seeds of choice. Make a criss-cross cut on the top and bake for around 25 minutes or until browned.
Notes
3.3g net carbs per bun.
It's always best to measure ingredients with a food scale.
I used medium eggs. If you use large eggs, increase the amount of almond flour by around 2 tablespoon (I have tested this).
As a general rule, if your batter is too liquid, add a little more almond and coconut flour until it's firm enough to roll into buns.  
Your buns will be lighter and fluffier if your eggs are room temperature. 
Wet your hands before handling the dough. This way it's less sticky.
As with all baked goods containing psyllium, make sure you drink plenty of water throughout the day so you don't get constipated.  
If the buns are browned before the 25 minutes are up, cover with aluminium foil to prevent them from burning.
If you want to double the recipe the oven time will increase (probably by around 5-10 minutes). 
Nutrition
Serving:
55
grams
Calories:
109
kcal
Total Carbohydrates:
8.3
g
Protein:
7.3
g
Fat:
5.5
g
Saturated Fat:
0.7
g
Fiber:
5
g
Sugar:
2
g
This post contains affiliate links. If you click on one of these links and purchase a product, I may earn a small commission, at no extra cost to you. Thank you for supporting Sugar Free Londoner.