You only need 2 ingredients for these easy low carb chips! Crispy and cheesy, this flavoursome Keto snack is ready in minutes.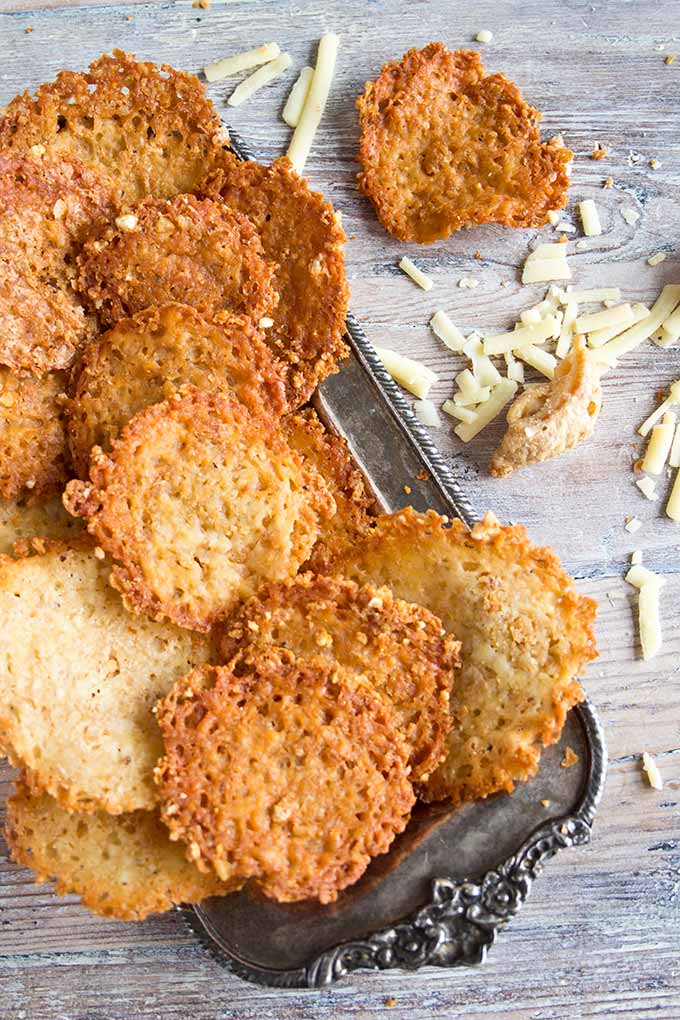 Do you get those days when you feel you NEED to relax?
Life has this habit of getting just so darn busy. I always seem to have a list of important tasks that need ticking off. Does this list ever get shorter? I think you know the answer. The list has got to be magical, it keeps on growing.
I wish I could swap it for that self-filling pot of gold from Jack and the Beanstalk. Or was that a hen that lays golden eggs? Whichever. I'll take them both and Jack can have my list.
The one thing we can definitely do is very, very simple. Ignore that list. Once in a while. And relax!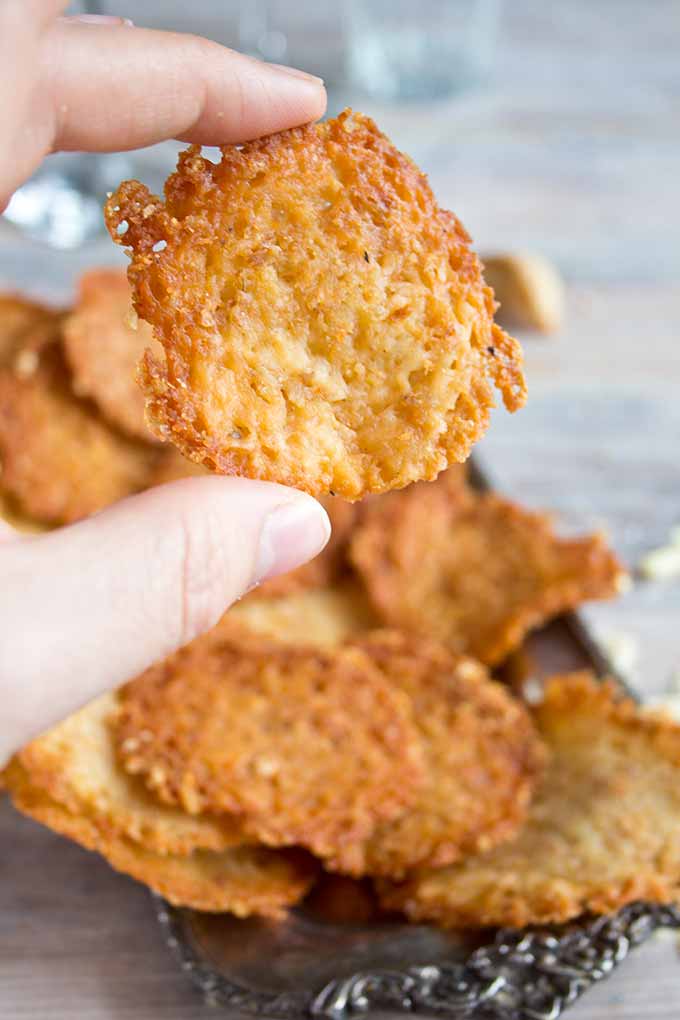 I've been on the lookout for a really easy savoury snack that goes well with a glass of red in the evenings. Until now, my 2 go-to recipes have been these cheese thyme crackers and my paleo almond crackers.  They use coconut and almond flour respectively, and are really very good.
But.
I wanted something easier.
And something naughtier.
These 2 ingredient low carb chips just fitted the bill!
All you need for this Keto crisps recipe are good quality cheddar and pork rinds. Really, it's that simple!
I've been wanting to make a recipe containing pork rinds for a while now. My friend Kim from Low Carb Maven has some awesome-looking tortilla wraps containing pork rinds as a secret ingredient and Georgina from Step Away From The Carbs has published a whole roundup of pork rind recipes on her site.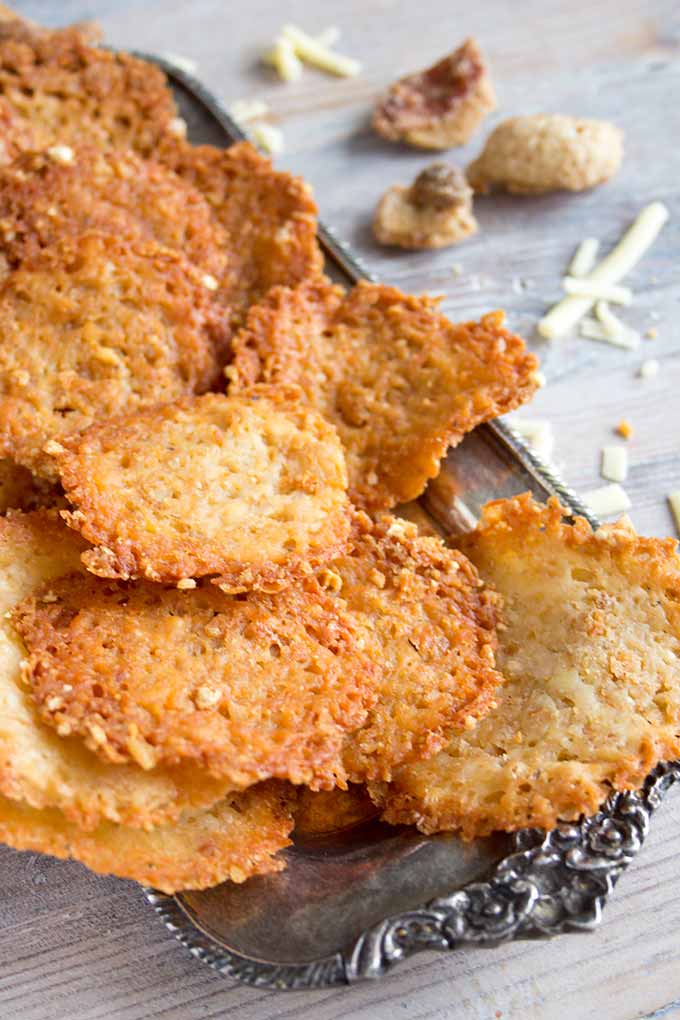 My frequent readers will know that I adore cheese.
Actually, one of my favourite low carb snack recipes on this website are these low carb pizza bites - which are essentially melted, crispy cheese with tomato passata and toppings such as salami or ham. That's why I naturally needed to combine them both!
Now. Here's the thing about pork rinds - aka pork scratchings aka pork crackling. If you buy them ready-made, you really have to make sure you are using a brand that has no hidden nasties. The majority of the pork scratchings in my local supermarket had so many e-numbers and flavour enhancers, they would make any kid bounce off the walls. Not to mention they contained hidden sugar (shudder, shock horror)!
If you use ready-made scratchings, try to choose a brand that uses as little nasties as possible.Luckily, there are a few sensible brands that use only absolutely necessary ingredients for pork rinds - namely, pork.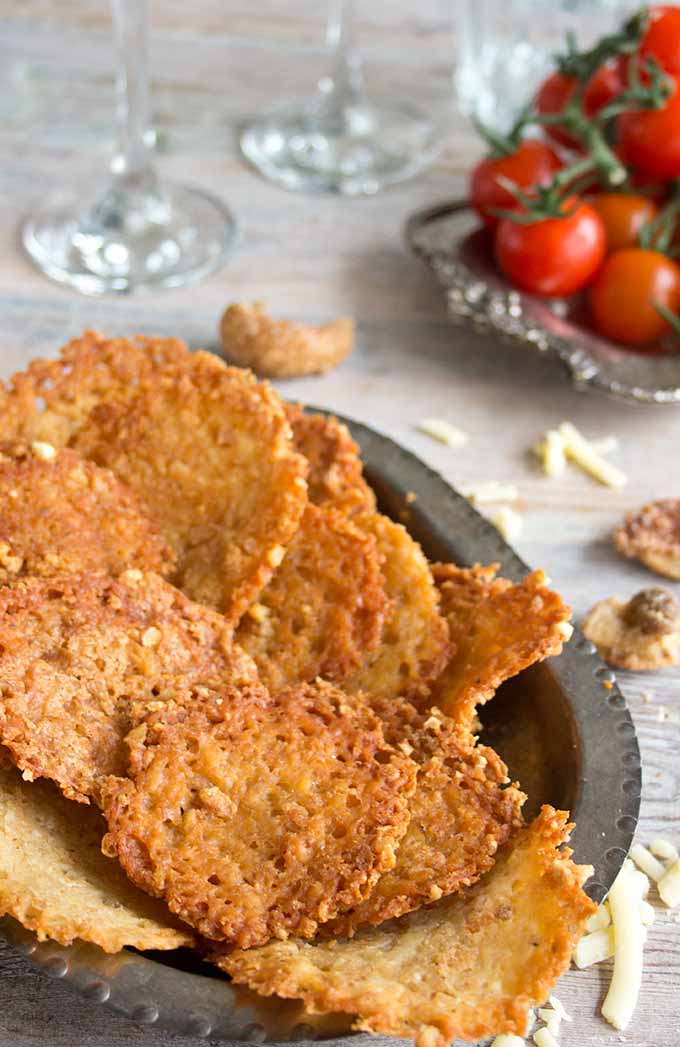 How to make your own pork rinds
You can ask your butcher for them - it's the kind of thing you might even get for free, preferably cut into finger-sized strips.
All you do is preheat your oven to 220 Celsius/430 Fahrenheit. You then pat the pork rind dry and rub it with a bit of salt and spices such as paprika or crushed fennel seeds.
Stick them in the oven for 20-25 minutes, preferably on a rack so the fat can drain off and turn them frequently so they do not burn. When they look crisp and bubbly, they are ready.
It is, naturally, easiest to have a pack of ready-made pork rinds ready for the moment when your relax-and-snack-craving hits.
Recipe Variations for low carb crisps
If you do not have cheddar, you could replace it with grated mozzarella and possibly a bit of parmesan for a more intense cheesy taste.
And naturally, if you do not mind your 2 ingredient low carb chips containing more than 2 ingredients, you could experiment by adding some spices. As I mentioned above, paprika or fennel would be nice, or even a bit of cumin.
After you have waited patiently for your low carb chips to cool down (this is the hardest bit, believe me), they will be irresistibly crisp and delicious.
Then it's time to pour that glass of wine, forget about that to-do-list and relax!
Tried this recipe? Give it a star rating below!
★ STAY IN TOUCH on FACEBOOK, PINTEREST and INSTAGRAM for more great food and join my NEWSLETTER for the latest updates and a FREE EBOOK.★ 
Recipe
2 Ingredient Low Carb Chips
from Sugar Free Londoner
You only need 2 ingredients for these easy low carb chips! Crispy and cheesy, this flavoursome Keto snack is ready in minutes.
Note: The servings slider only changes the first amount in each line and not any subsequent amounts. Please make your own calculations where necessary.
Instructions
Preheat your grill (aka broiler for my US readers)

Place pork scratchings into a food processor and blend.

Add cheese and pulse until combined.

Roll small balls in your hand and press them down on a baking sheet. Be sure to leave plenty of space in between them as they flatten out. I made 20 (and calculated the nutrition info for 20), but as the chips are very filling, you could also make them a little smaller than shown in the pictures above and get around 30.

Place under the grill and wait until they are browned.

At this stage the chips are VERY soft. Wait until they are cooled down and have firmed up. Then you can either brown them from the other side as well or enjoy straight away 🙂
Notes
If you use ready-made scratchings, try to choose a brand that uses as little nasties as possible. 
Nutrition
Calories:
69
kcal
Total Carbohydrates:
0.1
g
Protein:
1.7
g
Fat:
1.6
g
Saturated Fat:
0.6
g
Fiber:
0.1
g
This post contains affiliate links. If you click on one of these links and purchase a product, I may earn a small commission, at no extra cost to you. Thank you for supporting Sugar Free Londoner.