All the taste of pizza without the carb overload! These Keto low carb pizza bites have a crust entirely made out of mozzarella. Crispy, easy and ready in no time at all!!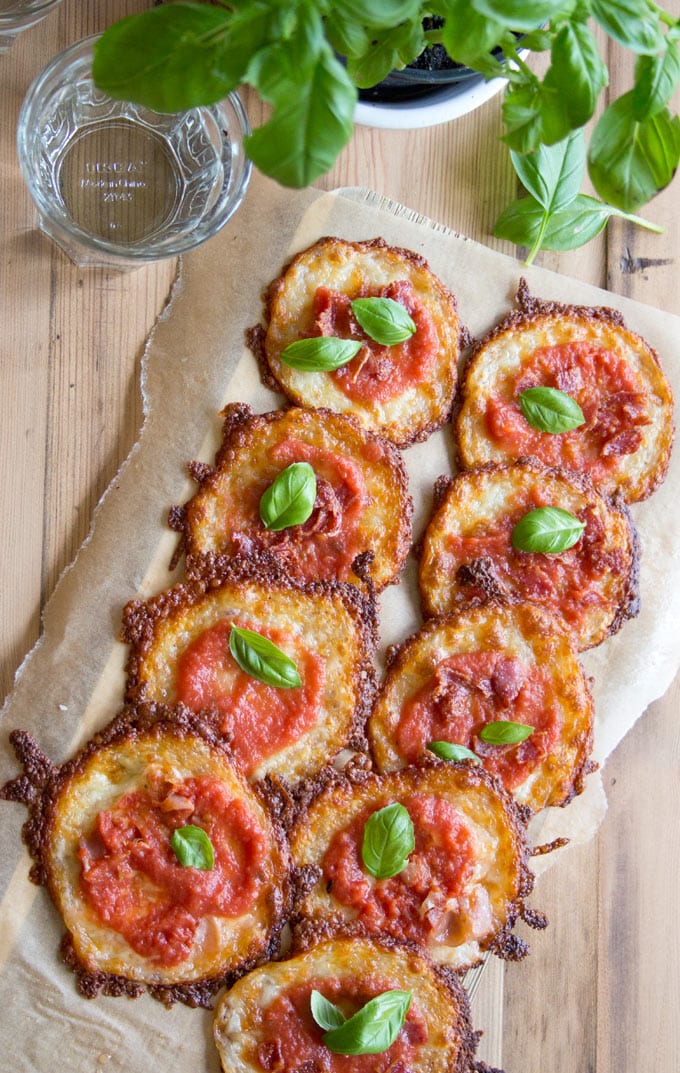 Pizza. You can't help but love it, right? Only. Even with the loveliest, tastiest wood fired pizza, you end up feeling heavy, sluggish and rather bloated afterwards. All that wheat dough comes with a price 😉
Friends, you can have your pizza crust and eat it: try these super-crispy Keto Low Carb Pizza Bites!
The genius thing about this super easy Keto snack recipe is that it does not contain any wheat whatsoever, but still tastes just like pizza. It's simply grated mozzarella that forms the base!
My carb-loving kids go absolutely crazy for them. When I told my daughter on the way home from school yesterday I had made twelve of them, she declared, "I'll have all. Two for snack and the rest for dinner."
There you go. It's not just me!
How to make Keto pizza bites - step by step: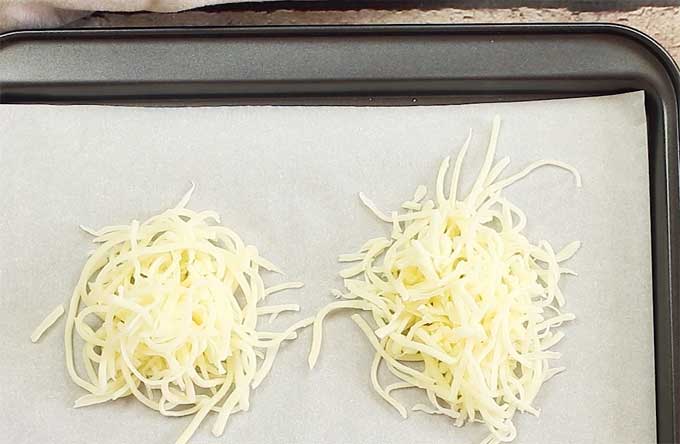 1.) First, you drop little mounds of mozzarella onto a baking tray lined with parchment paper and place them in the oven to grill / broil them.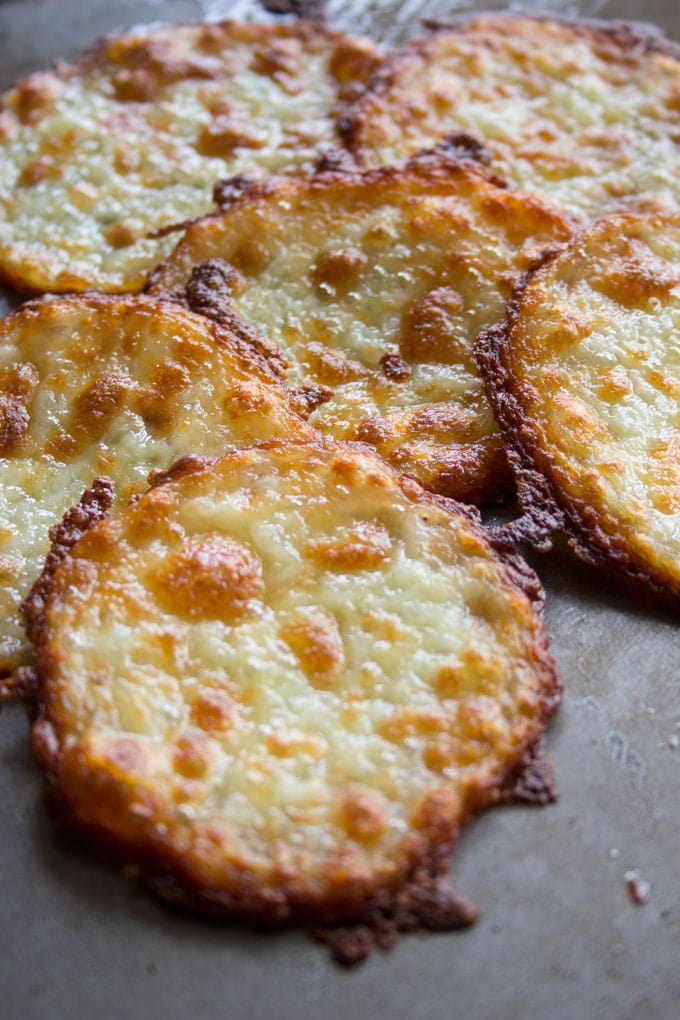 2.) When your mozzarella crusts are browned and look like this, take them out of the oven. They'll be soft at first, so make sure you let them cool down before you handle them! When they've cooled down a bit, they firm up nicely.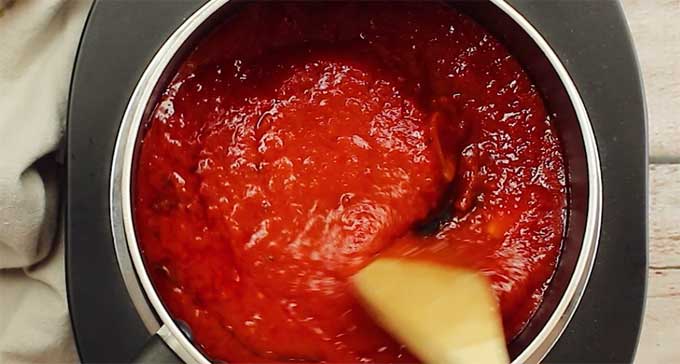 3.) Now make the Marinara sauce. You've got several options here. The super quick one is to simply get yourself a can of quality canned tomatoes (use only the tomatoes, not the sauce) or passata, add 1 garlic clove, a small handful of fresh basil leaves (or an Italian herb mix), pepper and salt and blend. You can use this sauce as is, without heating it up.
If you feel you can handle waiting another 5 minutes for your Keto low carb pizza bites, you can heat this sauce on the stove and let it simmer to reduce it. This way the flavours become even stronger and your marinara topping is thicker.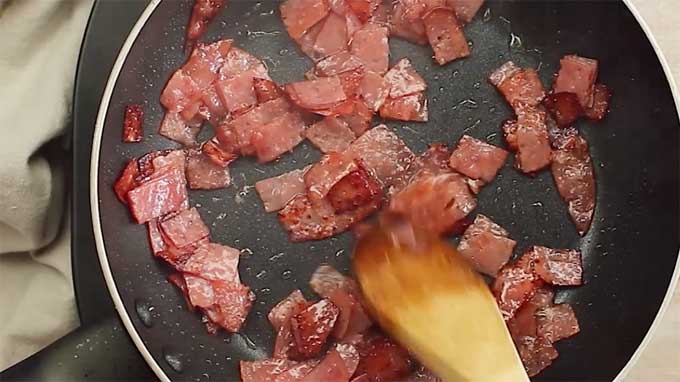 4.) Next, cut your salami or ham slices and fry them until they're nice and crisp. Even bacon would work well here - the choice is yours.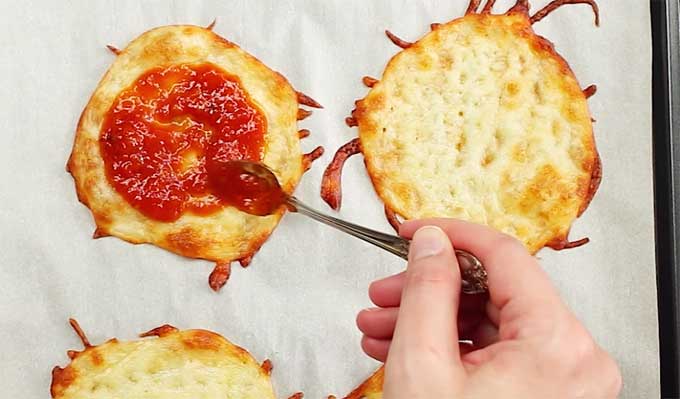 5.) And now it's time for the assembly! Your mozzarella bases have cooled down and have turned into crispy-crunchy bite-size Keto pizza crusts. You put a bit of Marinara sauce on each, top with salami or ham, if using. If you want to push the boat out, decorate with a basil leaf!
Here are some more tips and recipe variations
If you don't have a broiler or a grill, you can make your Keto pizza bites in a frying pan over medium heat. You don't need to oil the pan - simply drop your mozzarella mounds into the pan, leaving some space around the edges so they can spread, and let it melt.
I have experimented with making a large mozzarella base that looks just like a regular pizza, which I then cut into slices. The problem with this was that the tomato sauce weighs it down too much. Therefore - keep your pizza bites, well, bite-size. That way they can hold their shape even after you add the toppings.
For a cheesier base, you can add some parmesan to the mozzarella.
If you wish, you could also use half mozzarella and half cheddar to make the pizza base.
You need pre-grated, store-bought mozzarella for this recipe. Fresh mozzarella contains too much liquid.
Do you love low carb pizza? If you want to try a "proper" pizza without the carb load, check out this easy low carb pizza recipe. It has a fat head crust made with coconut flour and psyllium. It's one of our dinner favourites!
★ Made this recipe? Give it a star rating below!★
★ STAY IN TOUCH on FACEBOOK, PINTEREST and INSTAGRAM for more great food and join my NEWSLETTER for the latest updates.★
Recipe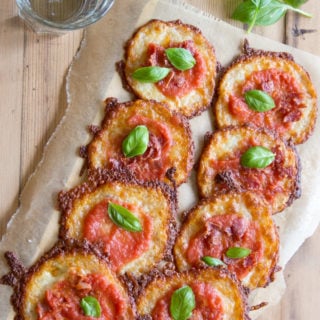 Low Carb Pizza Bites
from Sugar Free Londoner
This is the ultimate low carb pizza snack. Just the good bits of pizza and none of the bad stuff. No dough, no wheat, no bloated tummy. Super-satisfying and so yummy that you'll have to watch you get one before they're gone!
Note: The servings slider only changes the first amount in each line and not any subsequent amounts. Please make your own calculations where necessary.
Ingredients
300

g

pre-shredded mozzarella

12

teaspoon

superquick marinara: tomato passata, 1 garlic clove, salt, pepper, Italian herbs

few slices of salami and/or parma ham

cut into small pieces

handful of basil leaves
Instructions
Set your grill/broiler to a medium heat

Mix your marinara: 1 can of tomatoes or passata, 1 garlic clove, salt, pepper and some Italian herbs such as oregano or basil. Blend until combined. This mix does not need to be cooked and can be used as is. If you have cooked marinara sauce you could obviously use this as well.

Place small handfuls of the mozzarella on a baking tray, leaving some space around the edges so the cheese can spread when it melts. Keep an eye on it and remove from the oven once the tops are browned

In a pan, brown the diced salami/ham.

Once the mozzarella pizza bases have cooled a little, which makes them harden, remove from the tray

Add a teaspoon or marinara on every pizza and decorate with salami and ham pieces.

Scatter over the basil leaves and serve
Notes
You can make the mozzarella crusts in a pan as well. Make sure you melt/brown them over a medium heat so they do not burn! 
Nutrition
Serving:
40
g
Calories:
102
kcal
Total Carbohydrates:
1.3
g
Protein:
8.6
g
Fat:
7
g
Saturated Fat:
3.8
g
Cholesterol:
22
mg
Potassium:
31
mg
This post may contain affiliate links. If you click on one of these links and purchase a product, I may make a small commission. This money goes towards the running costs of the website. Thank you for supporting Sugar Free Londoner.