This is pizza without the drawbacks: Instead of dough, these crustless low carb pizza bites have a base entirely made out of mozzarella. All the taste, none of the carbs.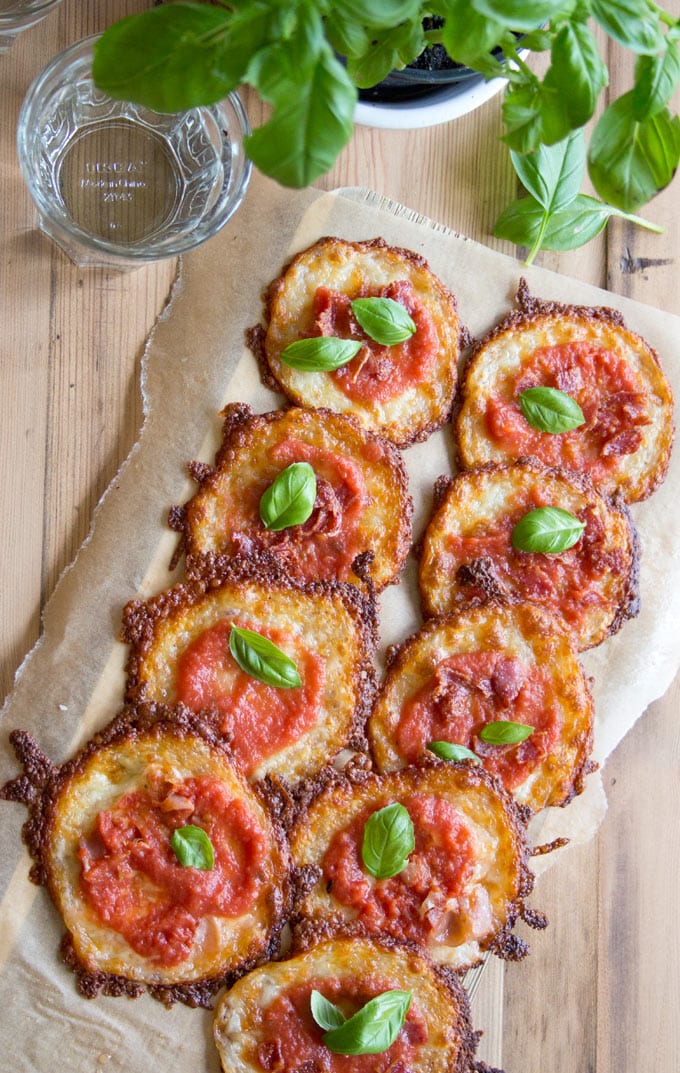 I have been cutting down on carbohydrates recently. One reason for this is pure vanity – the summer holidays are coming and it's time to work on the jiggle. The bikini always brings out the truth, and there is still some last minute work to be done!
The other reason is that eliminating grains, especially wheat, is the logical extension of a sugar free diet. As the cardiologist Dr William Davis explains in his book Wheat Belly, modern wheat has been genetically altered in such a way that it has little in common with the original.
It's no more than a cheap and quick glucose/sugar hit that will settle as a muffin top around your belly.
Here's the problem: Over the last 50 years, the Western world has been made to believe that wheat is a necessary part of any meal.
Before I started thinking about what I eat, a normal "healthy" day could look like this: wholemeal toast for breakfast, a wrap for lunch, a few crackers as a snack and pasta for dinner. Basically, a glucose fest. And that is before you treat yourself to a Snickers or get an easy microwave meal (processed foods, sweet and savoury, are usually laden with hidden sugars).
The morale of the story is: It's not enough to cut the sugar alone. Therefore, why not swap your pizza for some low carb pizza bites!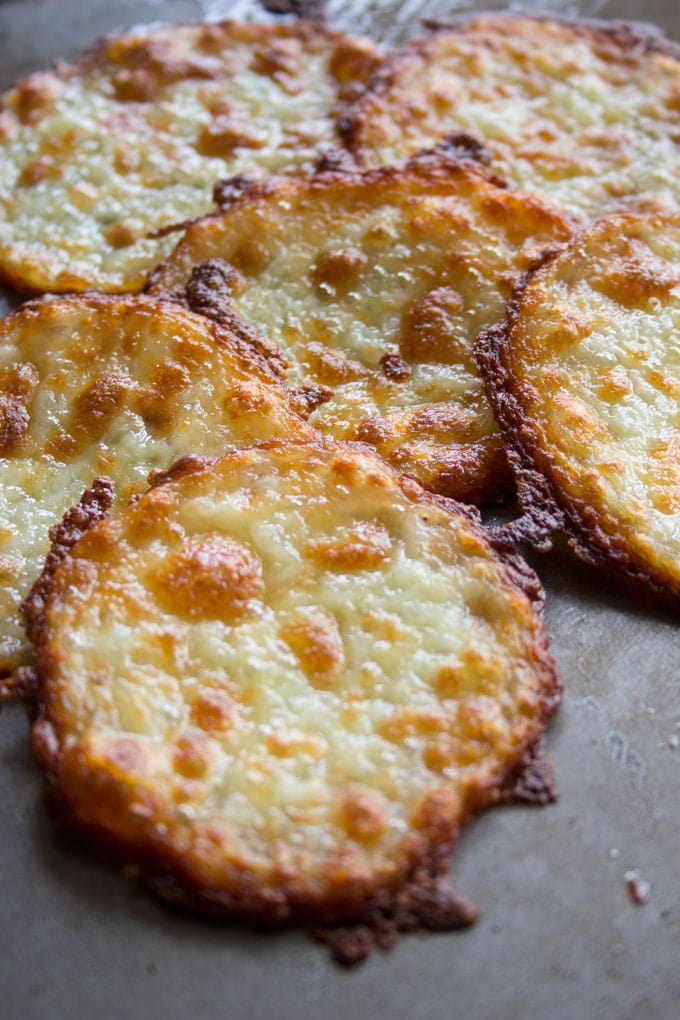 I will go into the benefits of a low carb diet in a separate post soon. What I can tell you now is that by eliminating grains from my diet and replacing it with mountains of vegetables and plenty of protein and fats, I have been feeling energised, alert and generally quite awesome.
My children, who do not need to lose any weight and have very active lifestyles, continue to eat whole grains such as spelt or rye bread as part of a varied diet. Wheat, and especially white flour, however, only makes rare appearances in our house. It has firmly been re-categorised as a treat.
Now, pizza.
You can't help but love it, right? I don't mean the supermarket stuff. I mean a wood-fired pizza straight out of the oven. That's heaven!
Only. Even with the loveliest, tastiest pizza, I always end up feeling heavy, sluggish and rather bloated afterwards. You might say that's because I should not have hoovered up the leftovers of my kids after finishing my own. Point taken. But isn't that the whole point I just made about the wheat thing? It makes you want MORE, just like sugar does.
Friends, I have a solution to the pizza issue: Super-crispy Low Carb Pizza Bites. Aren't they pretty?
The genius thing about Low Carb Pizza Bites are that they do not contain any wheat whatsoever, but still taste just like pizza. It's simply grated mozzarella that forms the base! My kids go crazy for them. When I told my daughter on the way home from school yesterday I had made twelve of them, she declared, "I'll have all. Two for snack and the rest for dinner."
There you go. It's not just me!
I have experimented quite a bit with this recipe. It is possible to make the mozzarella base in a small pan on a low heat and cut it into slices like a real pizza. I did find though that the tomato sauce weighs it down too much.
The great thing about the Low Carb Pizza Bites is that they are small enough to hold their shape even after you add the toppings. All you need to do is wait until the mozzarella has cooled a little, which lets it firm up.
I did not bother to heat the sauce, but of course that is something you could do if you wanted. However you prefer it, Low Carb Pizza Bites are a brilliant low carb, high fat snack that tastes great hot or cold and is very, very satisfying indeed.
Like a real pizza, just without the drawbacks.
Low Carb Pizza Bites
This is the ultimate low carb pizza snack. Just the good bits of pizza and none of the bad stuff. No dough, no wheat, no bloated tummy. Super-satisfying and so yummy that you'll have to watch you get one before they're gone
Ingredients
300

g

pre-shredded mozzarella

12

tsp

superquick marinara: tomato passata, 1 garlic clove, salt, pepper, Italian herbs

few slices of salami and/or parma ham

cut into small pieces

handful of basil leaves
Instructions
Set your grill/broiler to a medium heat

Mix your marinara: 1 can of tomatoes or passata, 1 garlic clove, salt, pepper and some Italian herbs such as oregano or basil. Blend until combined. This mix does not need to be cooked and can be used as is. If you have cooked marinara sauce you could obviously use this as well.

Place small handfuls of the mozzarella on a baking tray, leaving some space around the edges so the cheese can spread when it melts. Keep an eye on it and remove from the oven once the tops are browned

In a pan, brown the diced salami/ham.

Once the mozzarella pizza bases have cooled a little, which makes them harden, remove from the tray

Add a teaspoon or marinara on every pizza and decorate with salami and ham pieces.

Scatter over the basil leaves and serve
Nutrition Facts
Low Carb Pizza Bites
Amount Per Serving (40 g)
Calories 102
Calories from Fat 63
% Daily Value*
Total Fat 7g 11%
Cholesterol 22mg 7%
Potassium 31mg 1%
Total Carbohydrates 1.3g 0%
Protein 8.6g 17%
* Percent Daily Values are based on a 2000 calorie diet.