This easy 90 second keto bread is a life-saver for those moments when you NEED a sandwich and there's no low carb bread in the house. It toasts well and has NO EGGY TASTE!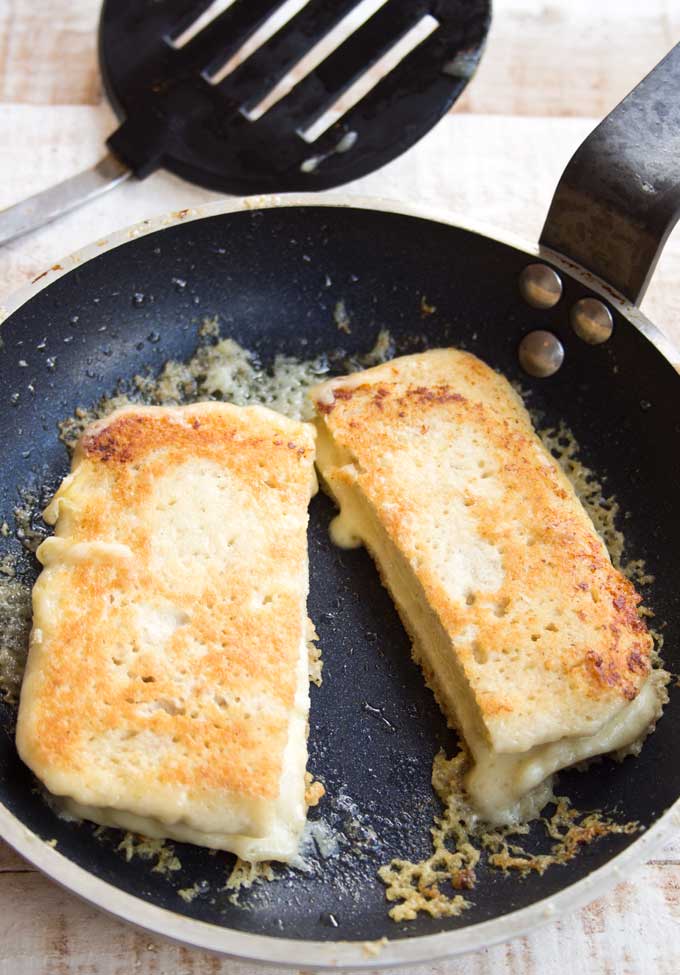 What do you do when you are on the keto diet and get a craving for cheese toasties? That desire to bite through a crusty sandwich filled with warm, gooey cheese?
I often have homemade low carb bread in the house, which I slice and freeze. There's this low carb bread, my flaxseed bread with coconut flour and this popular almond flour bread.
The thing is, we all like them here. So they disappear quickly.
So, what do you do when you want to sink your teeth into a comforting cheese toastie without having to bake a whole loaf of bread? Or if you just want ONE slice of crunchy, warm toast spread with melting butter and sugar free jam for breakfast?
Thankfully, if you have a microwave you can solve your dilemma double-quick. You can make the most delicious 90 second keto bread in minutes!
My friends, you will love this bread.
I adapted my low carb English muffins to create a Keto mug bread recipe using almond flour that tastes more like a whole-wheat toast.
I omitted the butter and used water instead, to make the recipe lighter. I also added psyllium husk powder for a better texture. Are you ready?
How to make 90 second keto bread
1.) Combine egg white, almond flour, psyllium husk powder, baking powder and water in a small bowl.
Note - By the time I had shot this picture, the baking powder had begun to fizz up (which is a good sign as it means it's fresh!). It might look like a lot, but it is the same amount as the psyllium powder.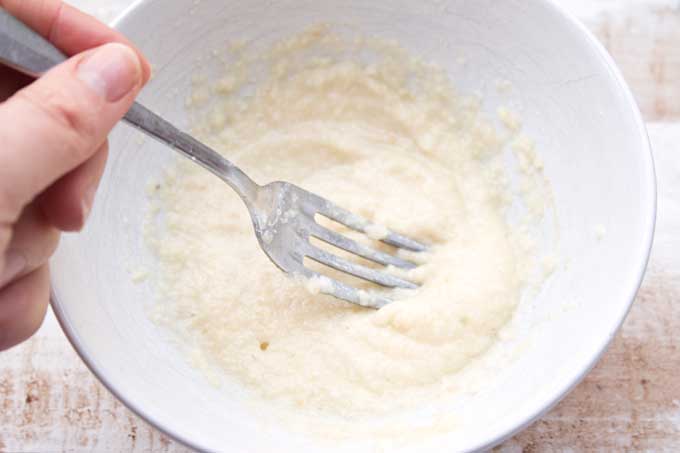 2.) Mix with a fork...
3.) ...and fill the dough into a well-greased microwavable container. Spread well to ensure there are no large air bubbles.
I used melted butter to grease mine, but you could use coconut oil, avocado oil or even olive oil.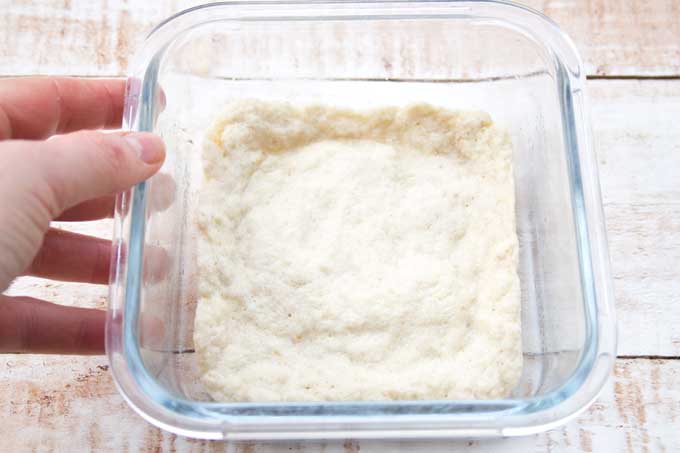 4.) After microwaving on high for 90 seconds, your single serving of "emergency toast" is done. As you can see, the bread shrinks a bit and comes off the edges so it's easy to release from the container.
5.) At this point, your 90 second bread is soft and looks a bit pale. Don't let this discourage you! Before we proceed, check out the other side: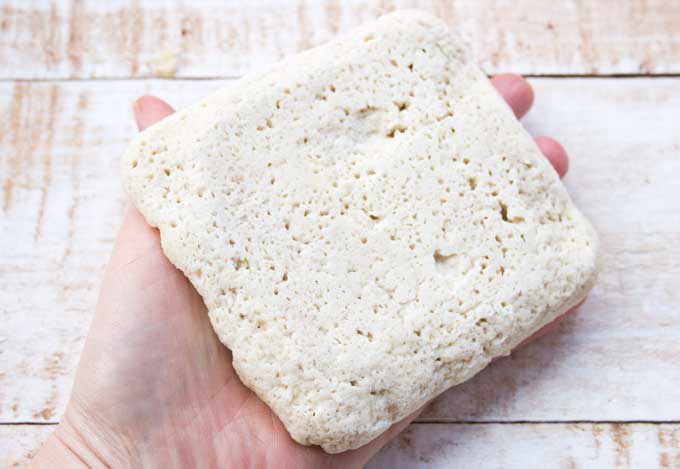 6.) See? It has a fluffy, light texture. And once you toast, grill or pan-fry your Keto toast, it looks pretty, too!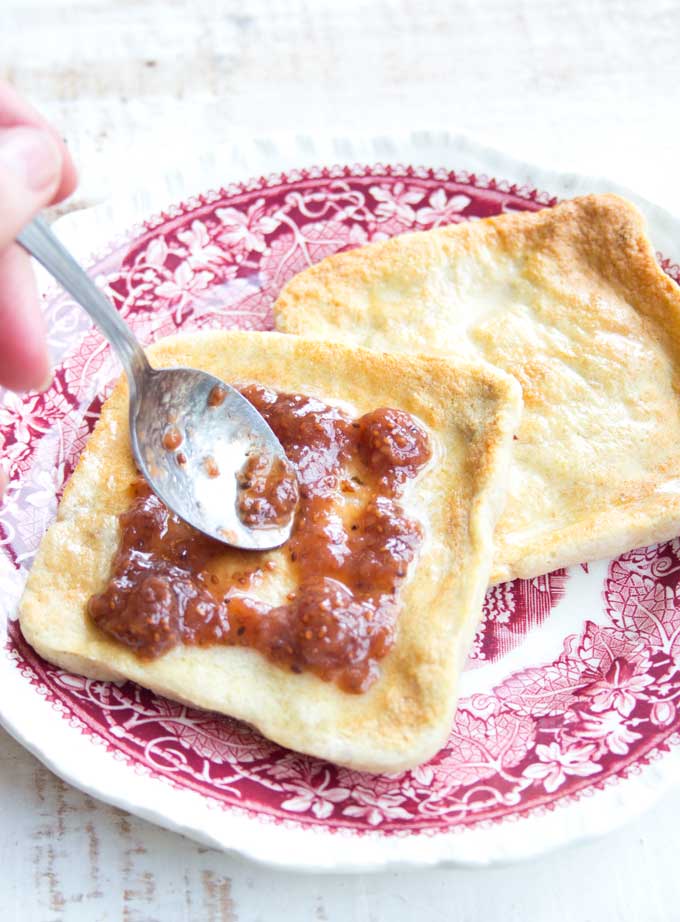 Tips and tricks to make the perfect Keto microwave bread:
This really is a super-easy recipe, and there are several variations that all taste equally great. It's simply how you prefer it:
SHAPE
I used a 5 x 5 inch glass dish, which produced 1 large slice of Keto toast. I made another portion using a 4 x 3 tupperware container, which I then sliced in two. You could even use a mug and cut your bread into 3 smaller, round slices.
ALMOND FLOUR
I love baking with almond flour and ground almonds, but some people cannot tolerate tree nuts. If you prefer to try this recipe with coconut flour, use 1 ½ tablespoon instead of the 3 tbsp. Coconut flour absorbs more liquid than almond flour. Fo the same reason, I also recommend to increase the amount of water to 1 tbsp.
It's worth mentioning that I used ground almonds for this recipe, which is what we call regular almond flour here in the UK. If you want to use SUPER FINE almond flour such as Bob's Red Mill, you should definitely increase the amount of water to 1 tablespoon as well.
EGG
I decided to go for egg white only as the "eggy" taste some people dislike is in the egg yolks.
I personally don't mind it and you CAN make this recipe with a whole egg if you prefer. This way you get a healthy golden colour even before toasting.
PSYLLIUM
The psyllium husk powder gives the bread a stronger texture, similar to whole-wheat bread. You can use flaxseed if you don't have psyllium or a pinch of xanthan gum.
In my many test runs to get the recipe just right, I have also made a version omitting the psyllium altogether. As you can see, this bread is quite versatile!
To satisfy my cheese toastie craving, I gently fried the bread in butter over a low heat. I added some garlic powder - but paprika would also give extra flavour.
Almond flour burns quicker than regular wheat flour. Take your time and keep the lid on so the cheese can melt without the bread burning!
You could also serve this toast as a quick and easy breakfast sandwich with a fried egg 🙂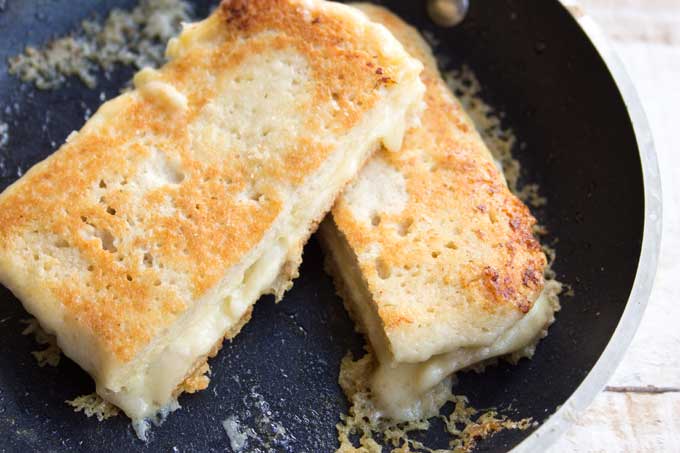 You'll also love these keto microwave recipes
Tried this 90 second keto bread? Give it a star rating below!
★ STAY IN TOUCH on FACEBOOK, PINTEREST and INSTAGRAM for more great food and join my NEWSLETTER for the latest updates and a FREE EBOOK.★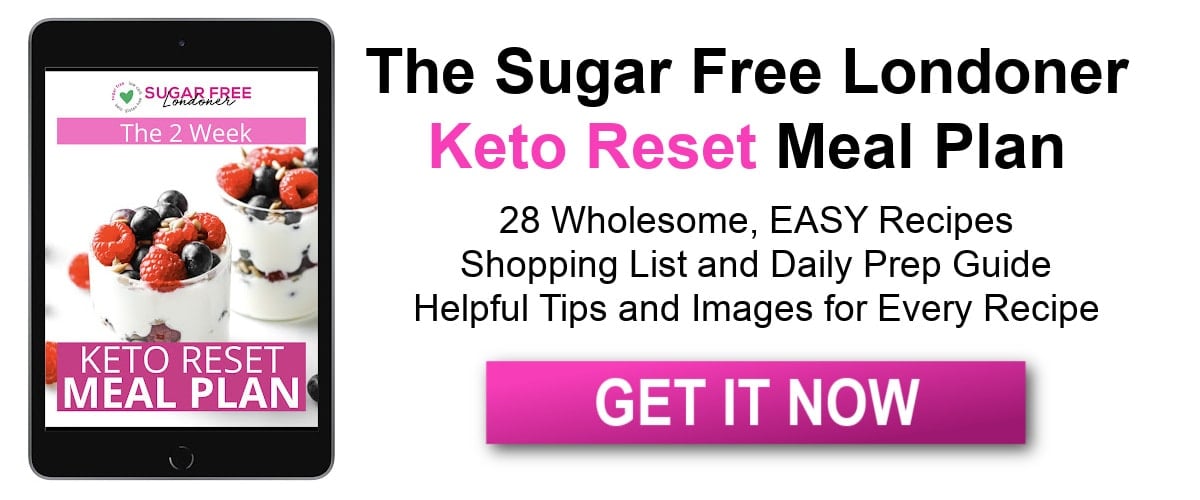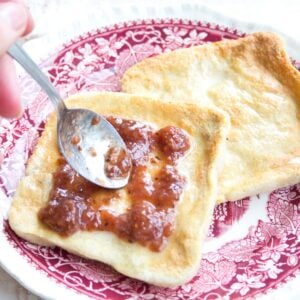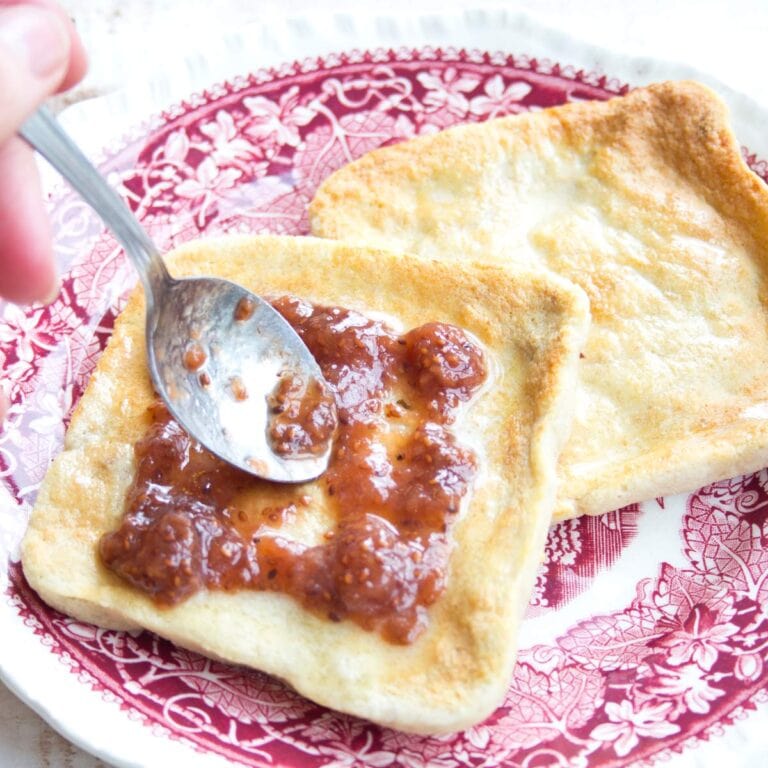 90 Second Keto Bread
from Sugar Free Londoner
A 90 second Keto bread that will fulfil all your low carb toast cravings! This mug bread recipe is perfect for crunchy grilled cheese toasties as well as any sandwiches with your favourite sweet or savoury toppings. Tastes like wholemeal bread, grain free, gluten free and contains only 4 ingredients.     
Note: The servings slider only changes the first amount in each line and not any subsequent amounts. Please make your own calculations where necessary. ***As an Amazon Associate I earn from qualifying purchases.
Instructions
Combine all ingredients in a bowl and mix with a fork.

Grease a 5 x 5 inch container with butter (olive oil or coconut oil also work) and fill in the bread dough.

Microwave 90 seconds on high.

Release from the container and toast, grill or pan-fry until golden brown.
Notes
The 5x5 inch container makes one large bread, about the size of a piece of toast. You can use a smaller container or even a mug and slice the bread afterwards.
This recipe makes 1 portion of bread. Because of the almond flour, my one slice of Keto toast was satiating snack. Two slices (as a cheese toastie plus side salad) would make a filling main meal.
Nutrition
Calories:
139
kcal
Total Carbohydrates:
4.7
g
Protein:
8.1
g
Fat:
10.6
g
Saturated Fat:
0.8
g
Fiber:
3.1
g
Sugar:
1
g
This post contains affiliate links. If you click on one of these links and purchase a product, I may earn a small commission, at no extra cost to you. Thank you for supporting Sugar Free Londoner.