A hamburger with extra wow! These eye-catching black burger buns are keto friendly, egg free and dairy free. Plus, they taste delicious.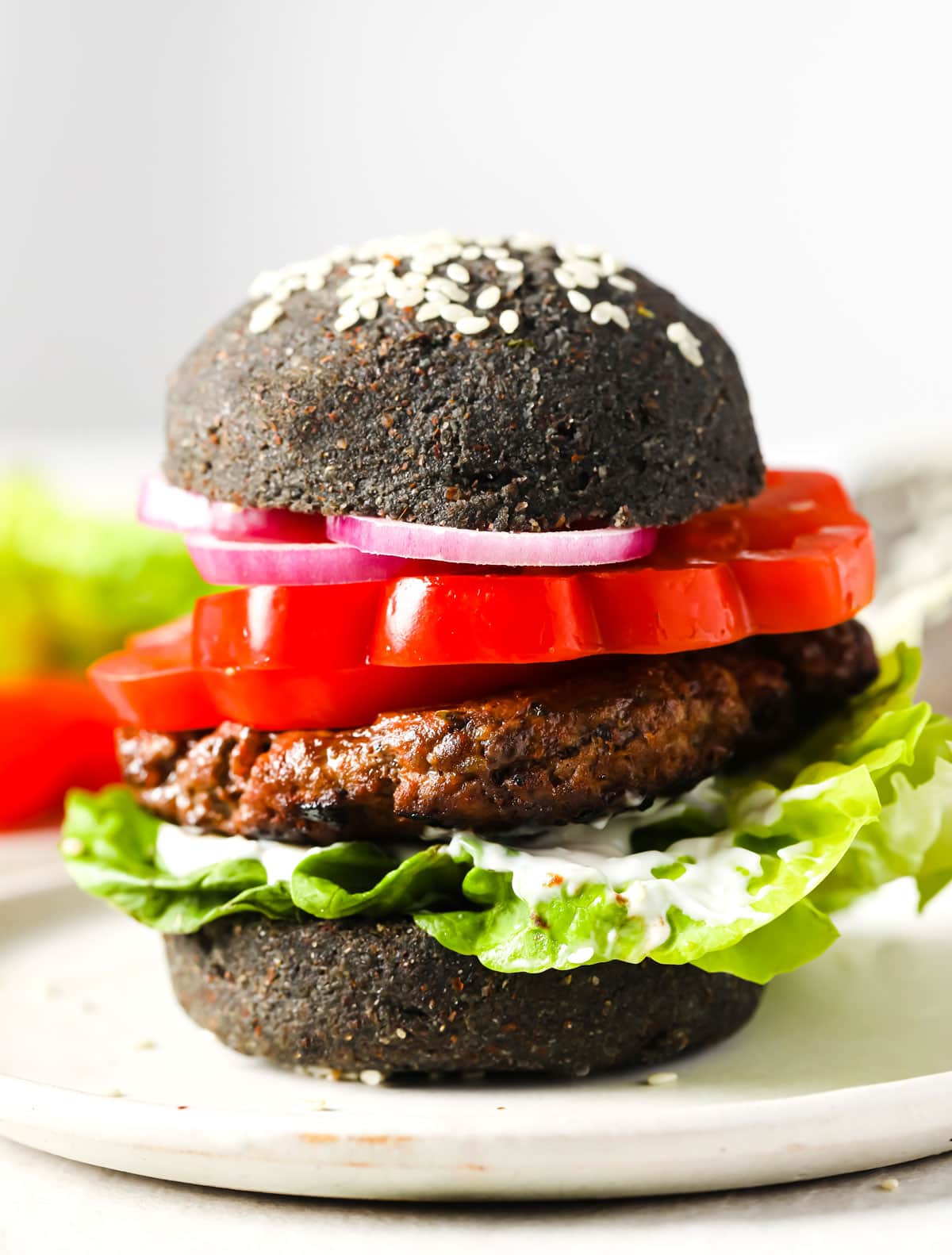 You should have seen the eyes of my teenagers when I served these burgers with a side of keto onion rings for dinner the other night! So much fun.
I'm normally not one for food trends, but when I saw black burger buns on Instagram recently, I just had to find out how to make them. The black makes the colors of the filling pop so beautifully.
In case you are wondering, black buns taste exactly the same as regular burger buns. There is no difference in flavor or in texture.
Eating black burgers was definitely a memorable experience and a great talking point. As they say, the eye eats first.
Jump to:
What Makes The Buns Black
There are two ways to achieve the black colour: Squid ink or activated charcoal.
I decided on a charcoal burger bun because I already had some charcoal in my supplements box. However, both work equally well.
Squid Ink
Squid ink is often used in Mediterranean dishes, such as black pasta or black seafood paella. The taste of squid ink is slightly salty and fishy - as you would expect. However, when used in small amounts, you cannot detect a seafood taste.
Activated Charcoal
Activated charcoal is a very fine flavourless powder. It's made from charcoal that has been treated with oxygen. It was not actually designed as a food colouring but as a supplement.
As a supplement, it is used to trap toxins and gases. Doctors also use it in cases of food poisoning and with drug overdoses - although, I suspect, in much higher doses.
IMPORTANT: Before we get started with the recipe, I would like to share with you that activated charcoal can prevent some medications from being properly absorbed. Therefore, do check with your doctor if it is safe to use for you.
Ingredients
We all know that regular brioche burger buns are made with milk, yeast and of course bread flour. Surely delicious, but wheat flour is not low carb!
I do have this recipe for keto bread rolls which contains yeast and COULD be used to make black buns. However, I did not want to wait hours for the buns to rise in a warm place.
Therefore, I decided to use a version of my vegan keto bread. It is not only low carb and gluten-free, but also does not contain eggs.
It turned out to be perfect for a fluffy black bun burger!
You'll need the following ingredients:
Super fine almond flour - Regular almond flour or ground almonds are too coarse for this recipe. I used Bob's Red Mill super fine natural almond flour for this recipe, which contains the skins and has a "wholemeal", rustic taste. Blanched super fine almond flour will also work.
Flax meal - I like to re-grind this to make it as fine as possible.
Psyllium husk powder - This is what makes the buns fluffy in the absence of eggs. Again, I prefer to make my own by blending whole psyllium husks.
Baking powder - Check that it's fresh.
Salt
Olive oil - This really helps to make the dough elastic. Alternatively, use melted butter.
Apple cider vinegar or lemon juice - I'm adding this because it assists with the rise.
Warm water
Activated charcoal
Instructions
This section contains step-by-step instructions and photos that show how to make this recipe. See the recipe card for full information on ingredients and quantities.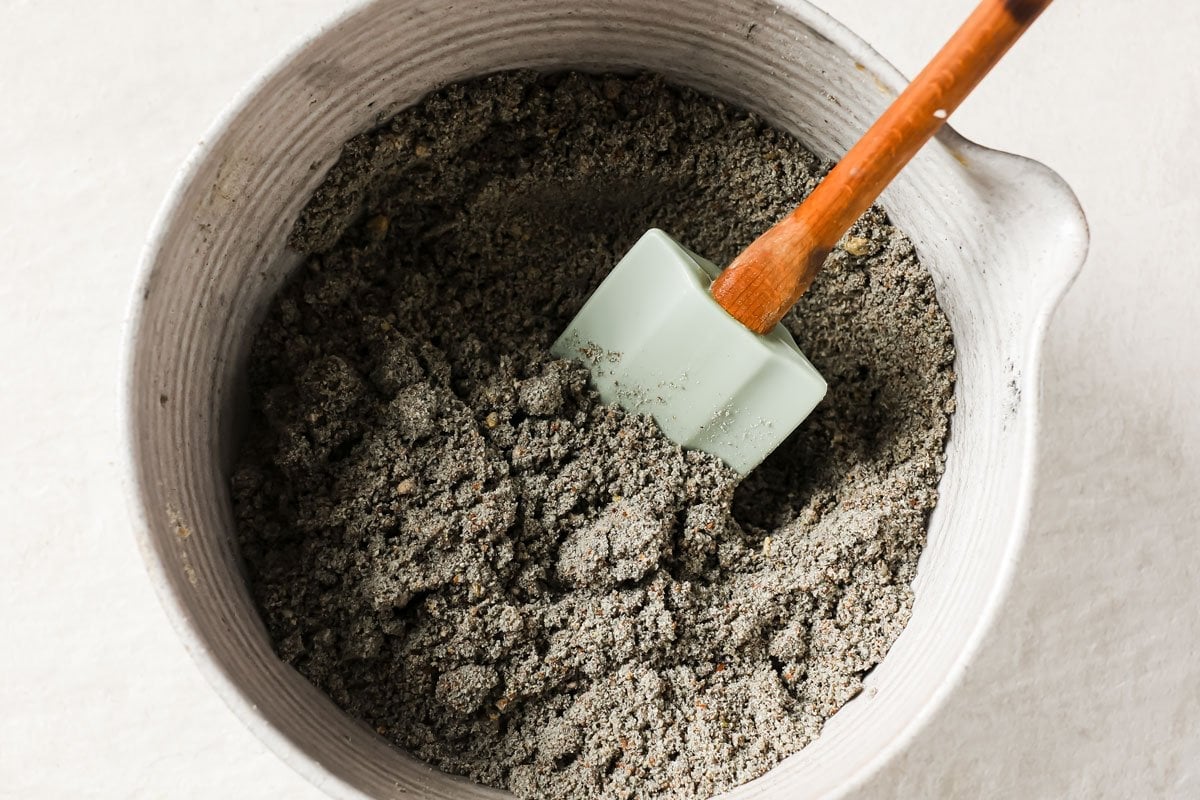 Step 1: Stir all dry ingredients together in a mixing bowl, breaking up any clumps.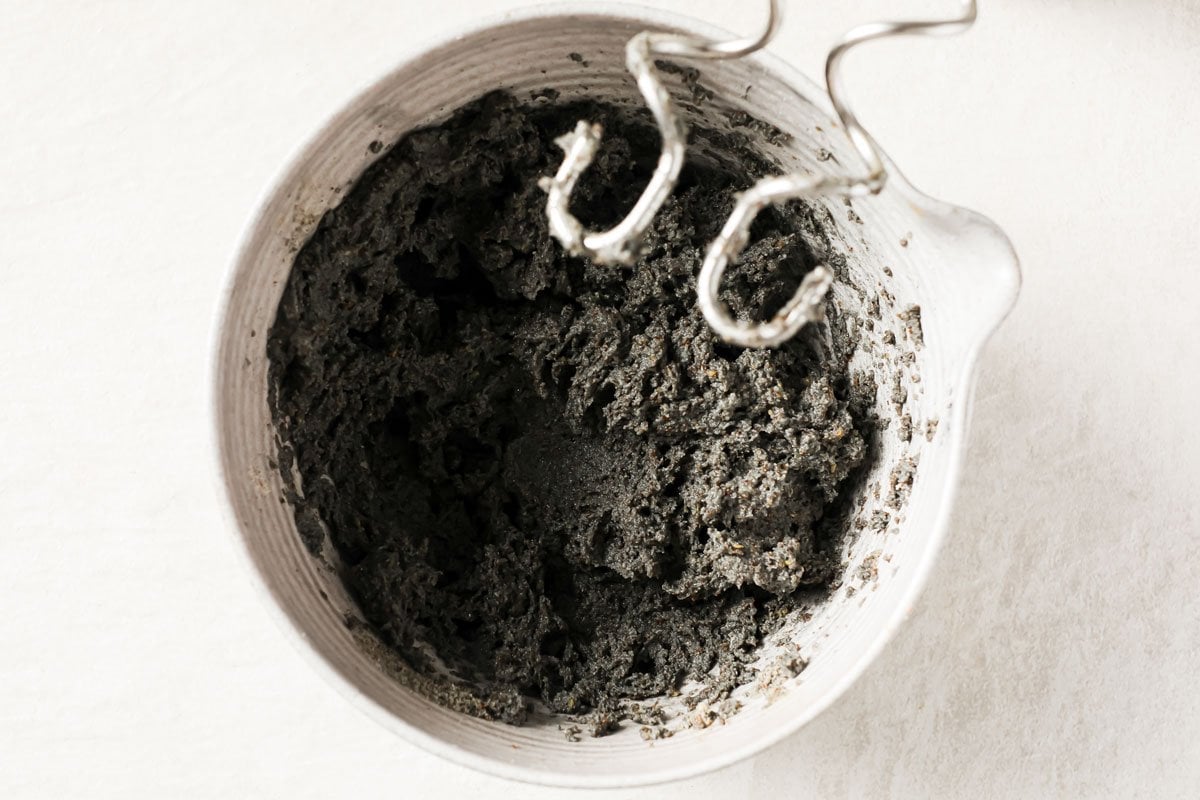 Step 2: Add all wet ingredients. Slowly pour in the water while you blend with a dough blade. The charcoal powder makes the mixture look... interesting!
Step 3: Leave the dough to stand to let the psyllium husk powder absorb all the water. A sticky dough will form.
Step 4: Here is my trick: I lightly oil my hands to shape the dough into 4 buns. This makes handling the dough so much easier!
Make sure you line your baking sheet with parchment paper so the buns do not stick.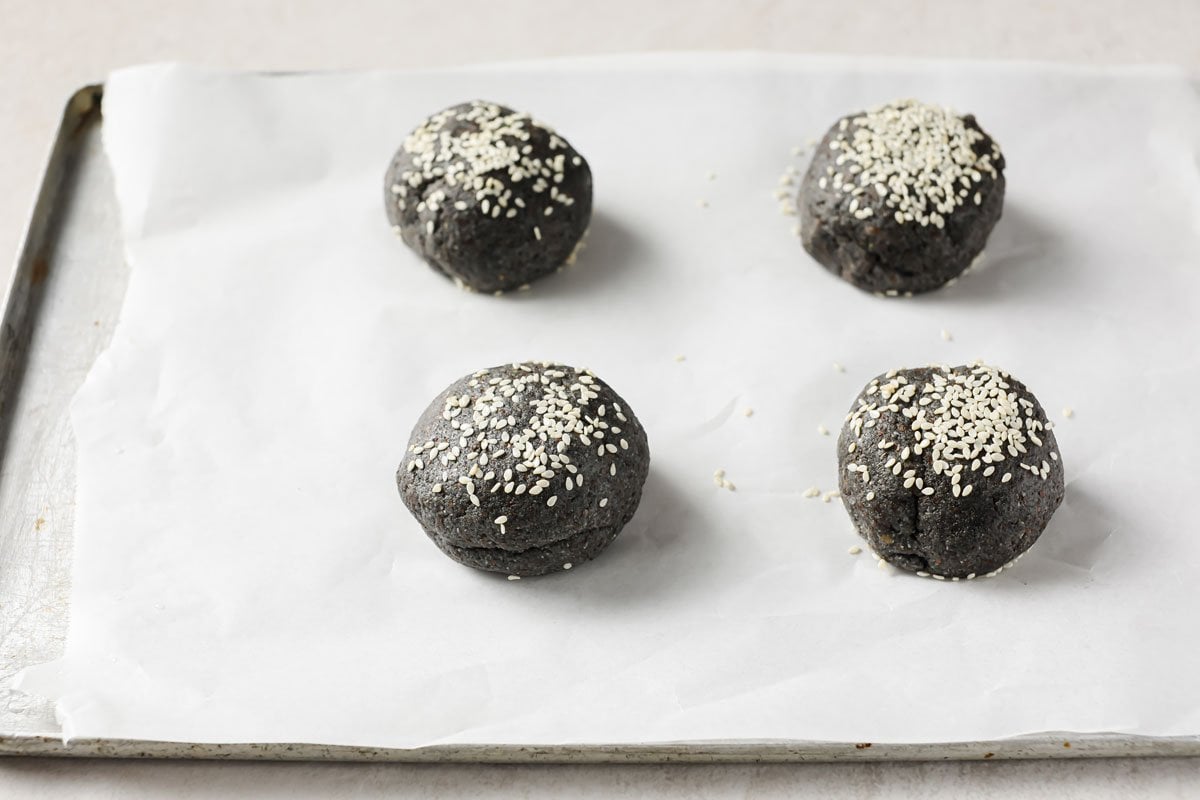 Step 5: Sprinkle the buns with sesame seeds and bake in the oven until you can insert and remove a skewer or toothpick without crumbs sticking.
As with all keto buns and bread, allow to cool before slicing. These buns are fragile when hot, but they firm up as they cool.
Serving Suggestion
I filled the black buns with homemade hamburger patties, sugar free ketchup and keto mayonnaise, lettuce, tomato slices and red onions.
My sugar free BBQ sauce would also go so well here! And of course, don't forget to serve with a side of air fryer turnip fries.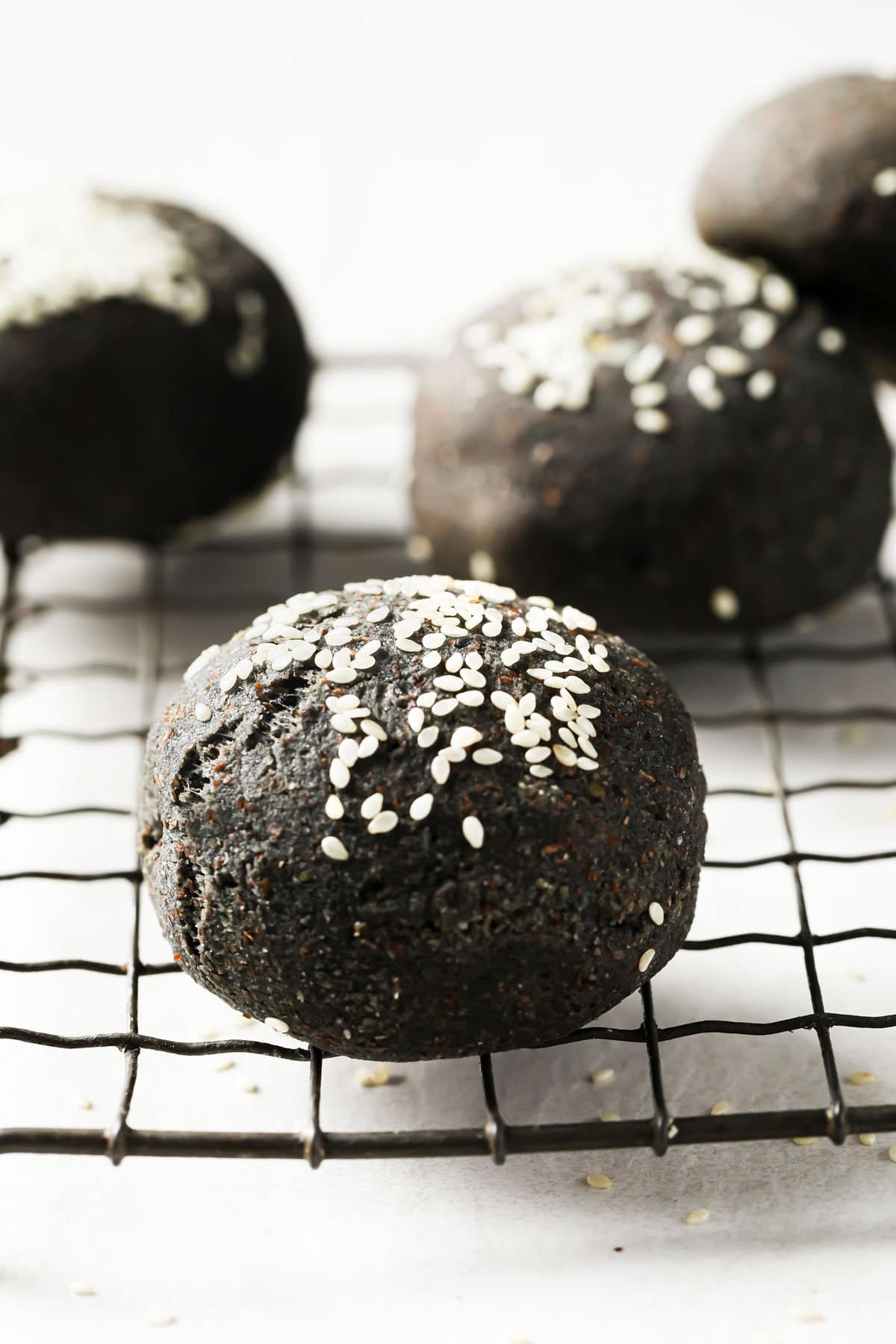 Variations
I urge you not to experiment with this recipe until you have tried it once exactly as written.
Please follow all steps to ensure a good rise - the warm water, the extra fine flour, the home-milled flax and psyllium husk. Also, do check that your baking powder is fresh. It should fizz when you put it in water.
But of course, you can use black sesame seeds instead of white sesame as a topping!
As mentioned above, you can also replace the olive oil in the recipe with melted butter.
To make the tops shiny, add an egg wash before baking.
You could try using an egg in the recipe as well, which would help with a good rise. Be sure to separate the egg white from the egg yolk. Beat the egg whites until very stiff and fold them in last. Reduce the amount of water to 120ml / ½ cup.
Recipe FAQs
Can I use squid ink instead?
Yes. Use 1 teaspoon of squid ink if you prefer trying this rather than activated charcoal. Squid ink is heat stable, which means the buns will be nice and black. Of course, by adding the ink the burger buns won't be vegan any more.
Can I make these buns without charcoal?
Of course! You can absolutely make the rolls WITHOUT the charcoal. It is not essential for the texture of the recipe and since it is flavourless, the buns will taste exactly the same.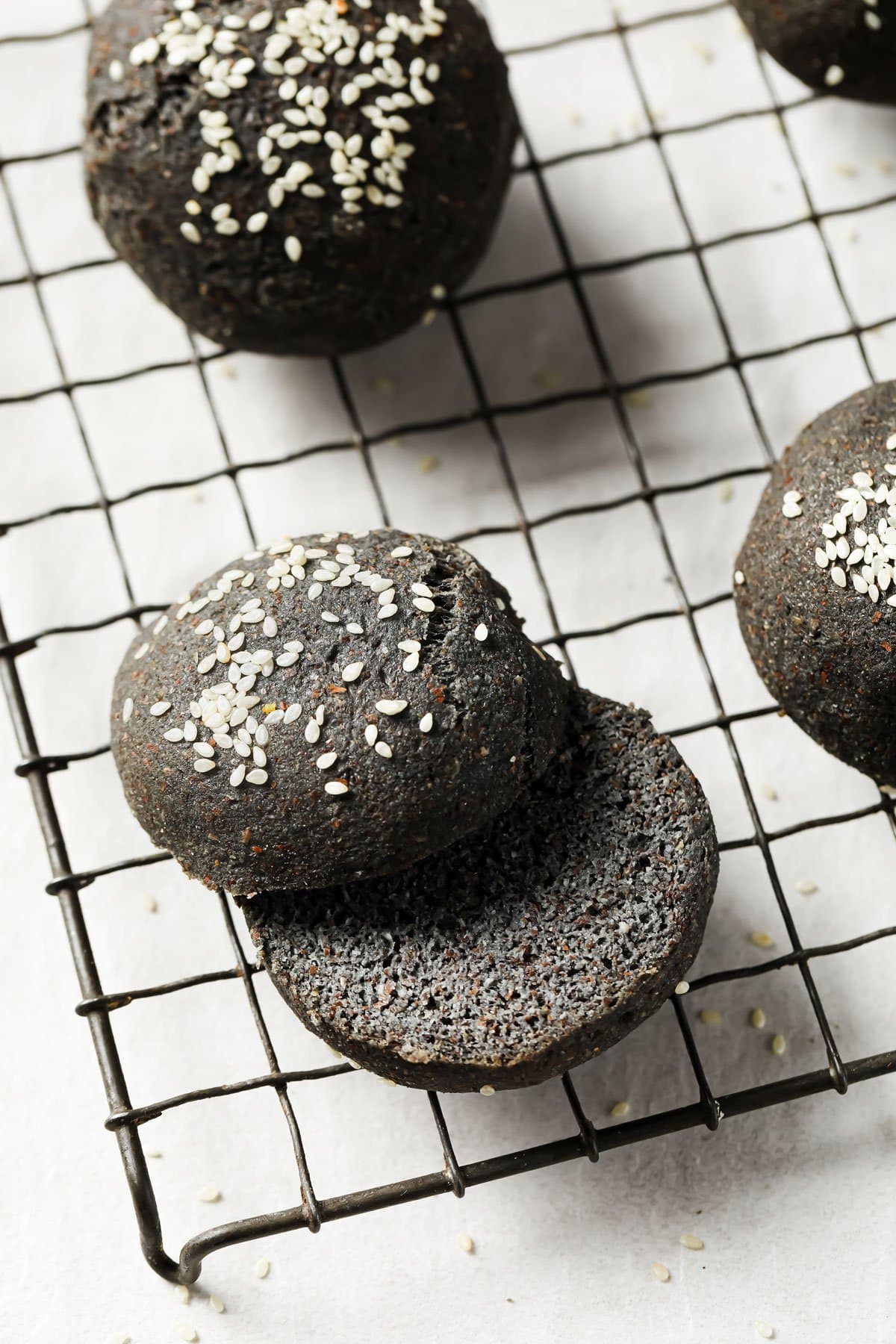 Storage
We ate our black hamburger buns on the same day. However, they will stay fresh for up to 4 days at room temperature or wrapped in foil in the fridge.
Alternatively, freeze them in an airtight container for up to 3 months.
More Burger Buns and Rolls
Tried this recipe? Give it a star rating below!
★ STAY IN TOUCH on FACEBOOK, PINTEREST and INSTAGRAM  for more great food and join my NEWSLETTER for the latest updates and a FREE EBOOK.★ 
Recipe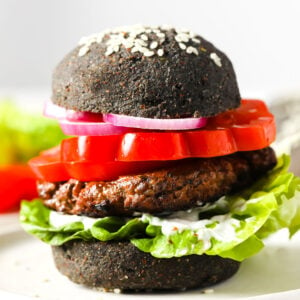 Black Burger Buns
from Sugar Free Londoner
Ever seen black burger buns before? They're quite distinctive! Here's my gluten free and keto version of the latest foodie trend.
Note: The servings slider only changes the first amount in each line and not any subsequent amounts. Please make your own calculations where necessary.
Instructions
Preheat the oven to 190C / 170C fan or 375F / 340F fan.

Mix all dry ingredients in a bowl, breaking up any clumps.

Add the wet ingredients (slowly pouring in the water) and mix using a hand whisk with a dough blade. Leave to stand for 10 - 15 minutes to let the psyllium husk powder absorb all the water. The dough will still be a little sticky.

Lightly oil your hands and shape into 4 buns. Place on a baking sheet lined with parchment paper and sprinkle the tops with optional sesame seeds.

Bake for about 35 minutes until you can insert and remove a skewer without crumbs sticking. Start checking at about 30 minutes.

Allow to cool before slicing. Note, they will firm up as they cool.
Notes
3.3g net carbs per burger bun. Makes 4 buns. 
Nutrition is calculated per bun without fillings. 
Storage: 3-4 days in an airtight container or freezer for 3 months.
Please follow all steps to ensure a good rise - the warm water, the extra fine flour, the home-milled flax and psyllium husk. Also, do check that your baking powder is fresh. It should fizz when you put it in water.
Option to use 1 teaspoon of squid ink instead of the charcoal. 
Nutrition
Calories:
204
kcal
Total Carbohydrates:
3.3
g
Protein:
20.9
g
Fat:
9.4
g
Saturated Fat:
0.9
g
Fiber:
5.8
g
Sugar:
2.7
g