Keto pizza rolls are my new favourite no-junk food! They combine all the wonderful flavours of a deep dish pizza in a roll: a fluffy pizza bread base stuffed with tomato sauce, fiery pepperoni and plenty of gooey cheese!
The inspiration
When I lived in South Carolina as an exchange student in the 80s, I had my first Pizza Hut Deep Dish pizza. Man, was it good! We did not have Pizza Hut over in Europe back then, and to my 16-year old palate it was heaven.
It's been a long time since I've last been in a Pizza Hut, and I'd say my taste in food has changed considerably (apart from the fact that it's not exactly suitable for a sugar free low carb diet).
But I still love the IDEA of their pizzas: a fluffy, doughy pizza crust topped with tomato sauce, plenty of cheese and pepperoni - perfection! This is exactly what I wanted to re-create with these keto pepperoni rolls. And, my friends, I'm happy to let you know that I have succeeded 🙂
The right low carb dough
I had considered making them with a fathead dough like my keto cinnamon rolls. Mozzarella dough is really popular for low carb pizza and tastes delicious.
But to re-create that extra fluffy deep dish dough, I settled on a variation of my keto dinner rolls. It's an almond flour bread dough with psyllium husk and much lighter than the fathead dough.
Here's a pic of the dinner rolls!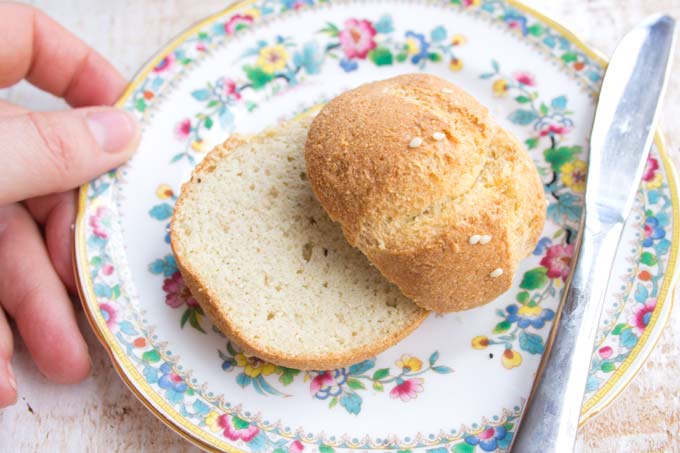 My easy keto pizza rolls stay soft and fluffy even once it's fully cooled (and still tastes awesome then, too!)
Basically, we're talking a low carb roll that's dressed up as a deep dish pizza!
When to eat low carb pizza rolls
I've made them the size of a bread roll, so you can have them either as a simple lunch or dinner together with a salad. Or you enjoy them as a yummy keto snack.
They would also be great as part of a buffet for a larger gathering - I'm thinking parties, barbecues, game day (it will all happen again - writing this in January 2021).
And of course, these gluten free pizza rolls make an INCREDIBLE keto appetizer! I would probably make them smaller (half the size) if you're planning to serve them as before a substantial meal. They are filling!
Shall we get to the recipe? It's super simple:
How to make keto pizza rolls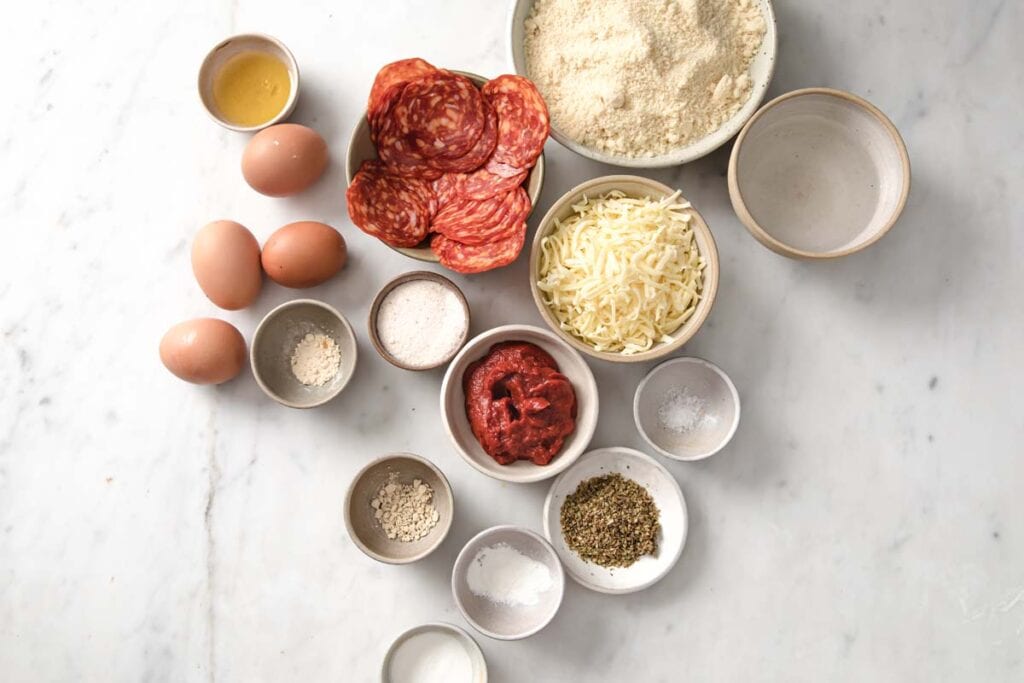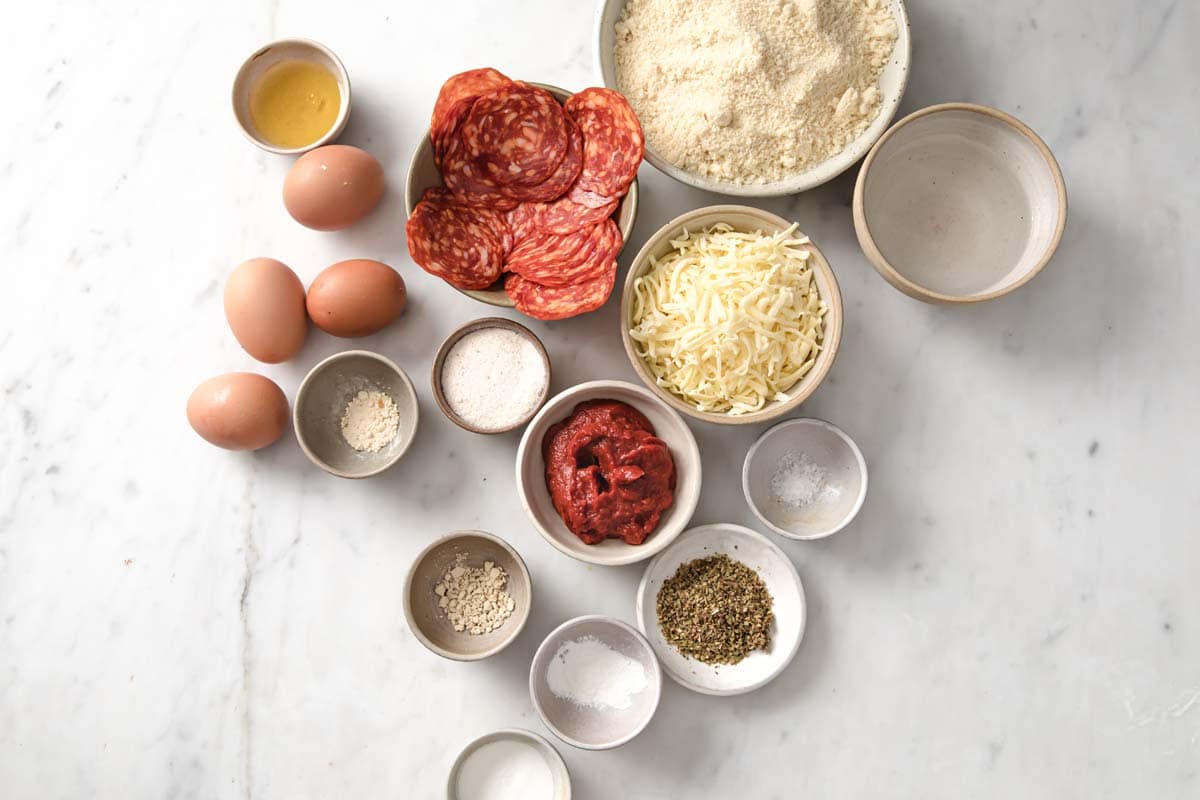 Here are our ingredients! The mozzarella, tomato paste and pepperoni are the filling, the rest goes straight into the bread roll dough.
Note: You need to use psyllium husk powder, which is very finely ground. If you use whole psyllium husks, you need to double the amount. Psyllium is a great source of fibre and a prebiotic.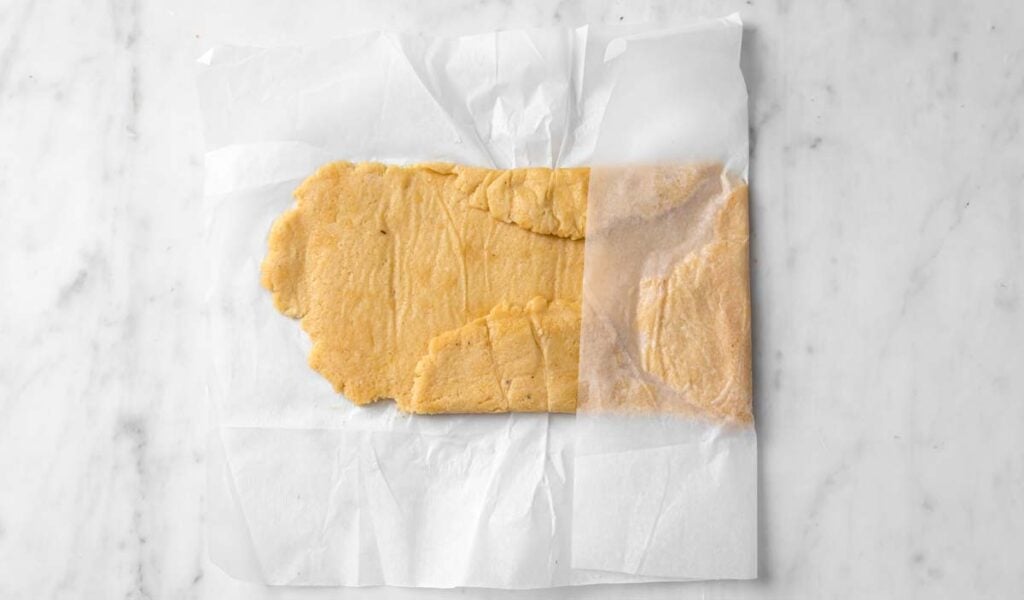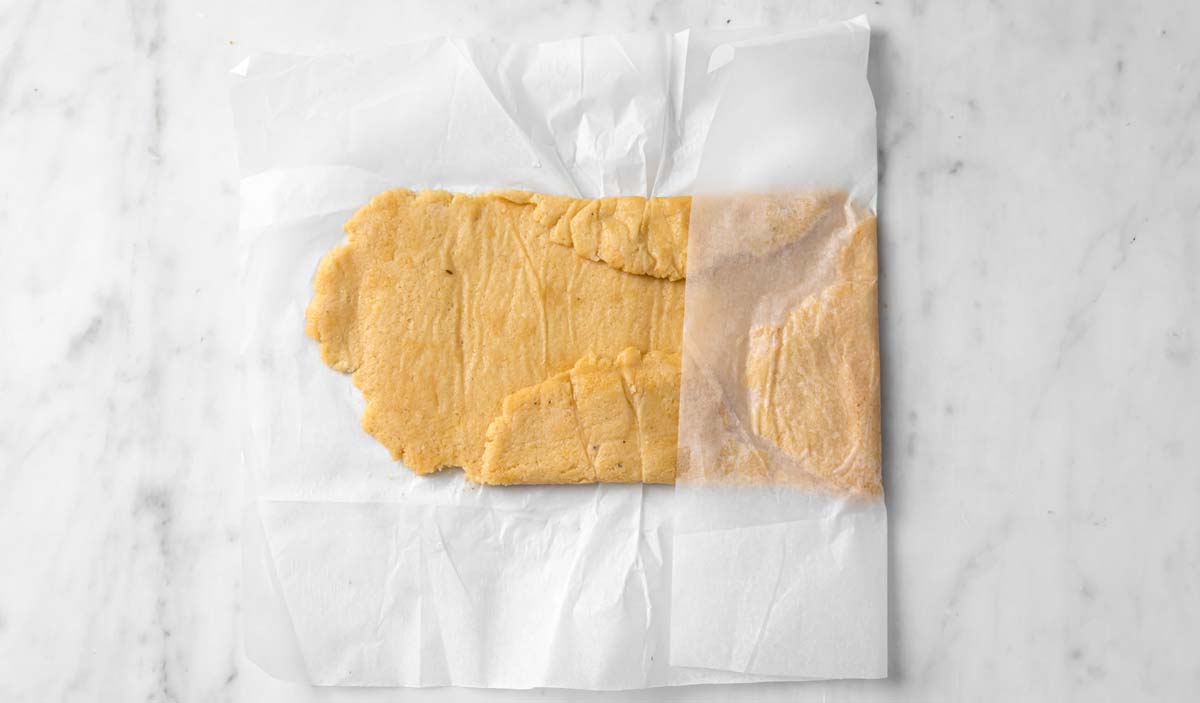 Once you've mixed the ingredients for the dough, you need to chill it. This is an essential step because it makes the dough less sticky and easier to handle.
We want to roll out the dough into 2 rectangles between 2 sheets of parchment paper. See in the image above how I do this - you simply fold over the edges and re-roll!
After that, the dough needs to chill in the freezer again.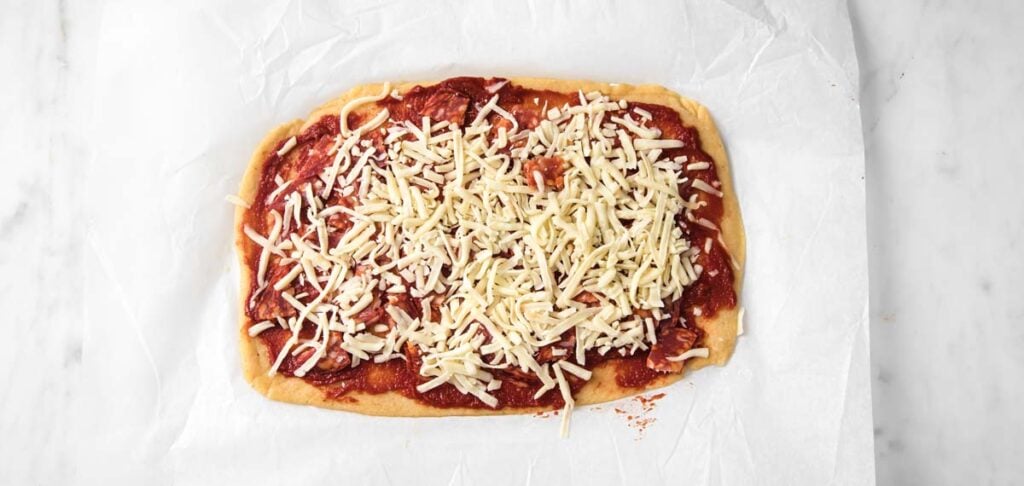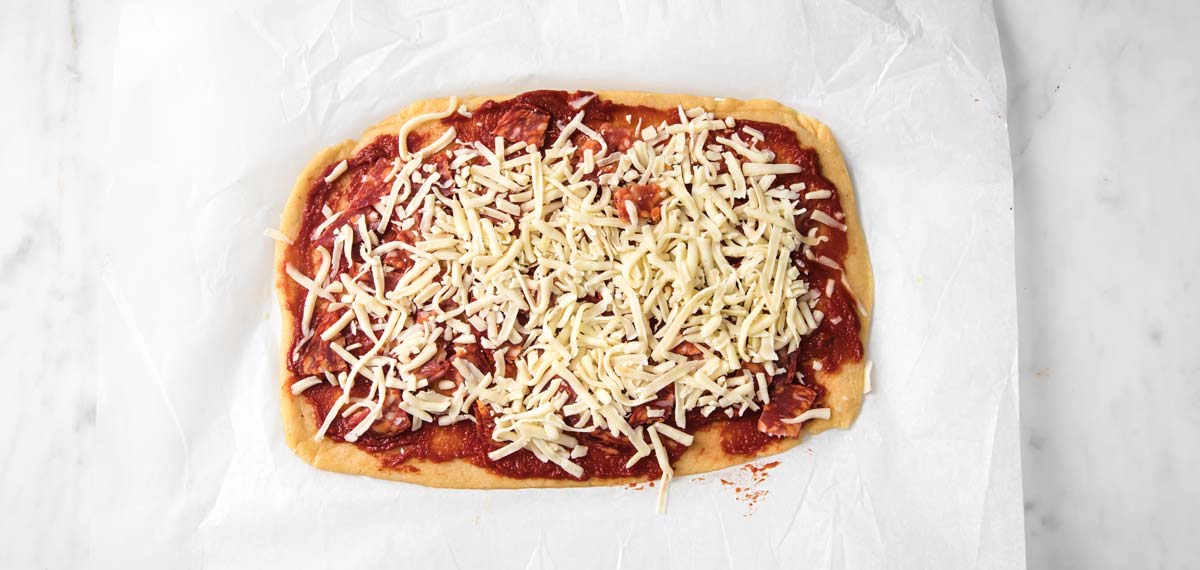 Now we're adding the toppings - tomato puree (or pizza sauce of your choice) and mozzarella!
I had first planned to make keto pizza roll ups, but wanted to keep the recipe simple. Therefore, I just cut the rectangle into 4 smaller rectangles.


Then I rolled each rectangle into a sausage and then into a roll. The dough may slightly break but just pinch it back together with your fingers.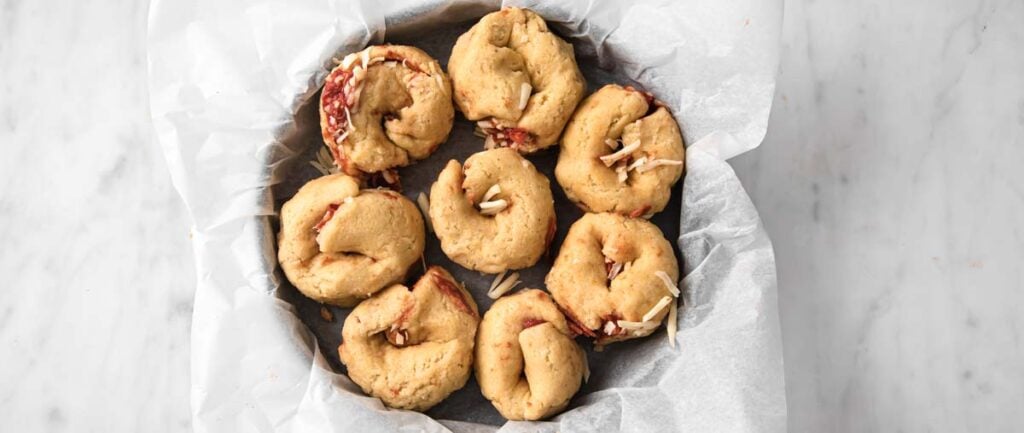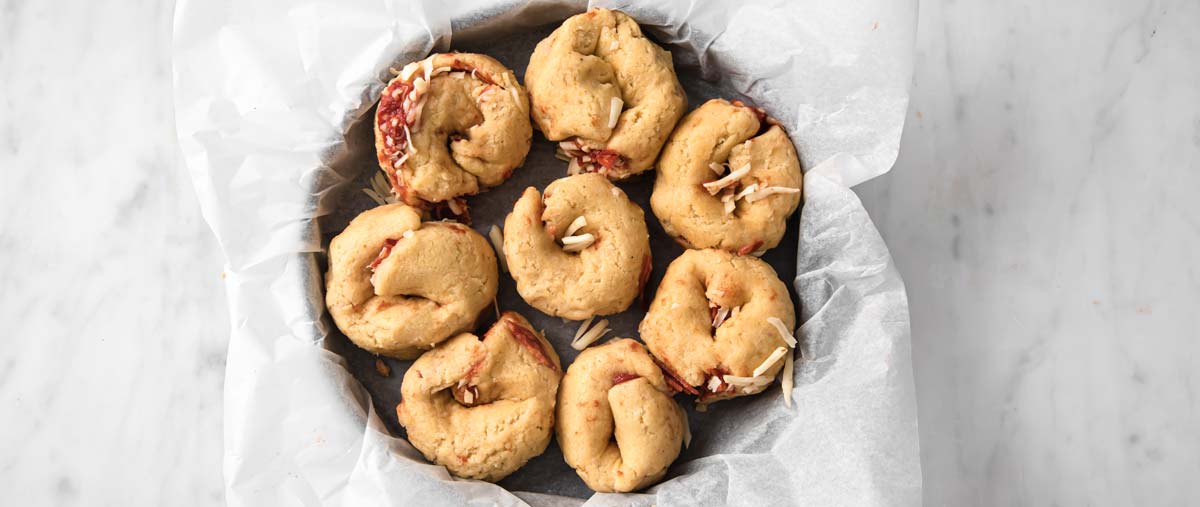 Now we put all out keto pizza rolls into a round baking pan lined with parchment paper (or a cookie sheet)...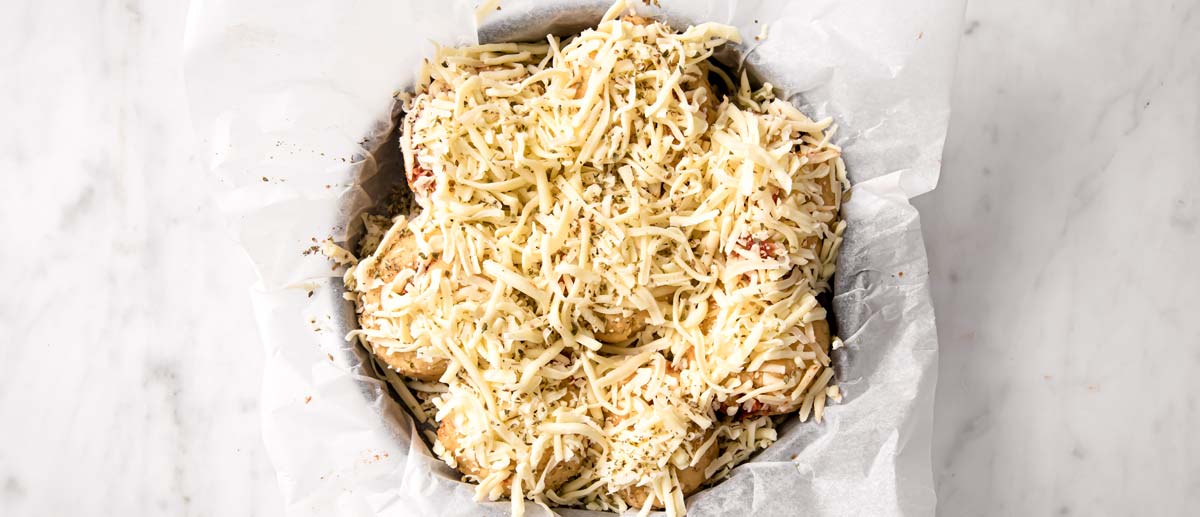 ...and generously top them with the remaining mozzarella and Italian seasoning.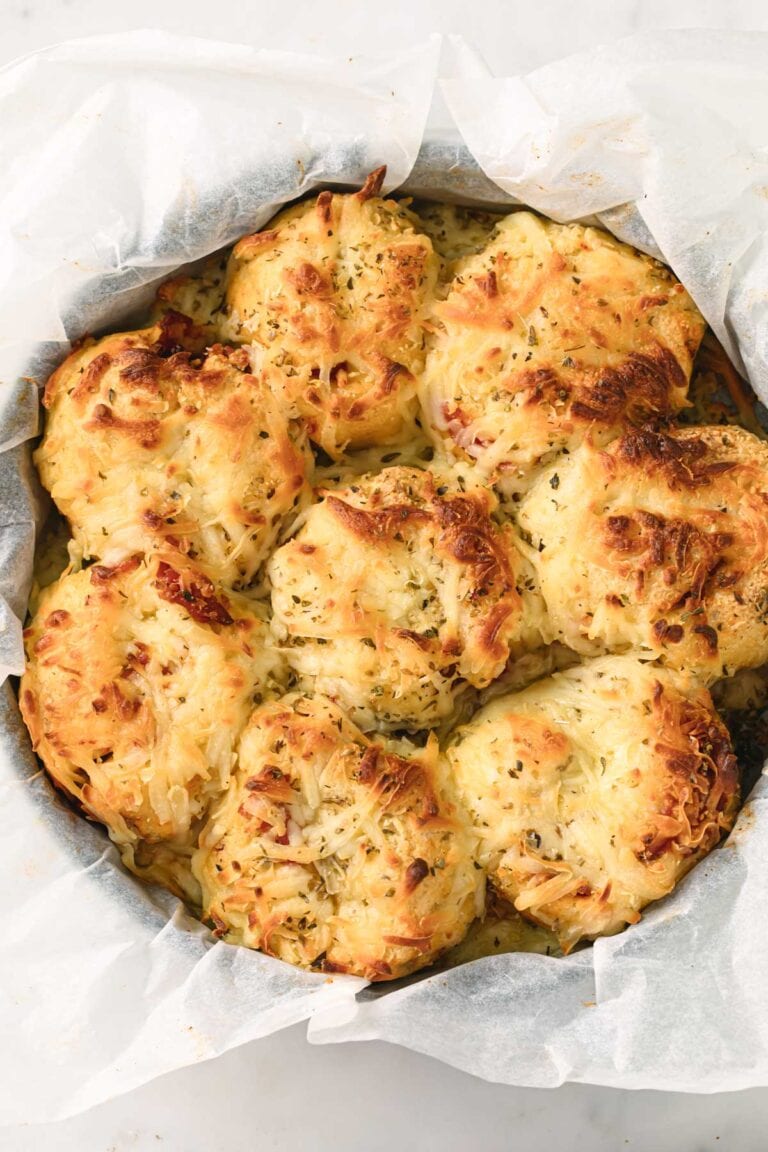 Preheat the oven and bake After about 35 minutes the rolls will look like this!
TIP: Check the rolls at minute 30. If the mozzarella has browned enough, put aluminium foil over the top for the remainder of the time.
Recipe variations
More fillings
This keto pizza roll recipe works with any filling you'd top a regular pizza with! Here are some ideas:
Margherita - tomato sauce, mozzarella cheese, basil
Capricciosa - ham, artichokes, mushrooms, black olives
Salsiccia - swap the pepperoni for Italian sausage meat
Diavola - add chili peppers to my recipe if you like a bit of heat!
Of course, I'm only scratching the surface here. In terms of cheese, you can jazz up the mozzarella by adding cheddar, Monterey Jack or parmesan / pecorino.
Bacon or pancetta lardons would be great as a filling (fry them first though!), as would sausage meat (again, pre-cook it), cured or cooked ham and pretty much any vegetable.
Nut free base
If you have a nut intolerance, you can replace the almond flour with a mix of sesame flour and sunflower seed flour. I simply grind these at home in a food processor.
You can also sub the almond flour for coconut flour. I haven't tried this myself, but I would go for about ½ cup plus 1 tablespoon coconut flour. You need only about ⅓ the amount because coconut flour is more absorbent than almond flour.
If you don't have psyllium husks, replace it with 6 tablespoon ground flax. This will make the dough taste more rustic, but it works well.
How to store keto pizza rolls
Store these rolls in the fridge for up to 4 days. Re-heat in the microwave or enjoy cold.
Freeze for up to 3 months. Defrost, then re-heat in the oven to crisp up the top again.
More low carb pizza recipes
Easy Low Carb Pizza Recipe - This easy pizza has a coconut flour dough. It's one of my most popular keto recipes!
Crispy Keto Low Carb Pizza Bites - A crispy base of melted mozzarella topped with pizza faves!
Keto Zucchini Grilled Cheese Sandwich - Not exactly a pizza, but similar keto comfort food: crispy zucchini "bread" and oodles of melted cheese slices!
Tried this recipe? Give it a star rating below!
★ STAY IN TOUCH on FACEBOOK, PINTEREST and INSTAGRAM for more great food and join my NEWSLETTER for the latest updates and a FREE EBOOK.★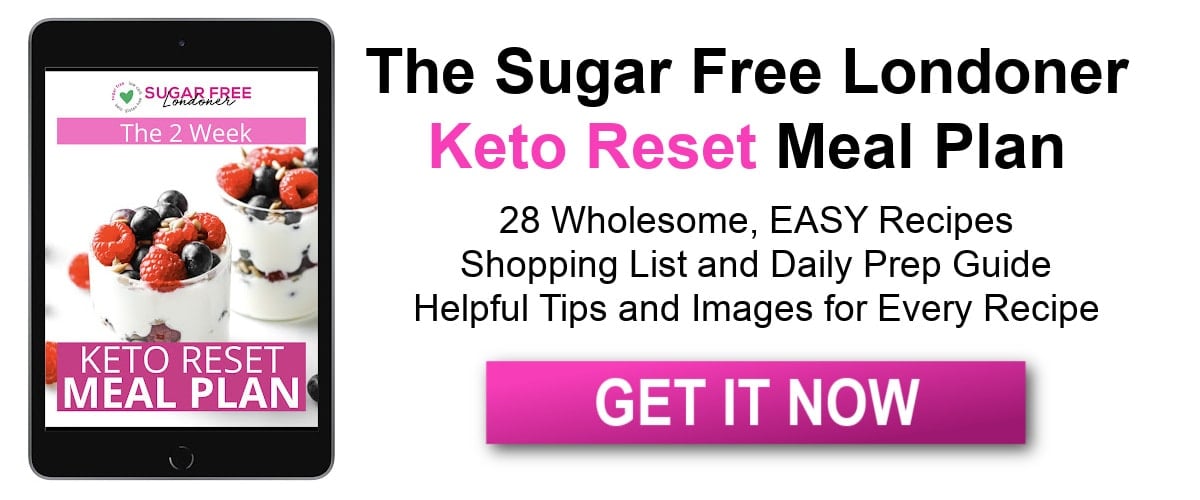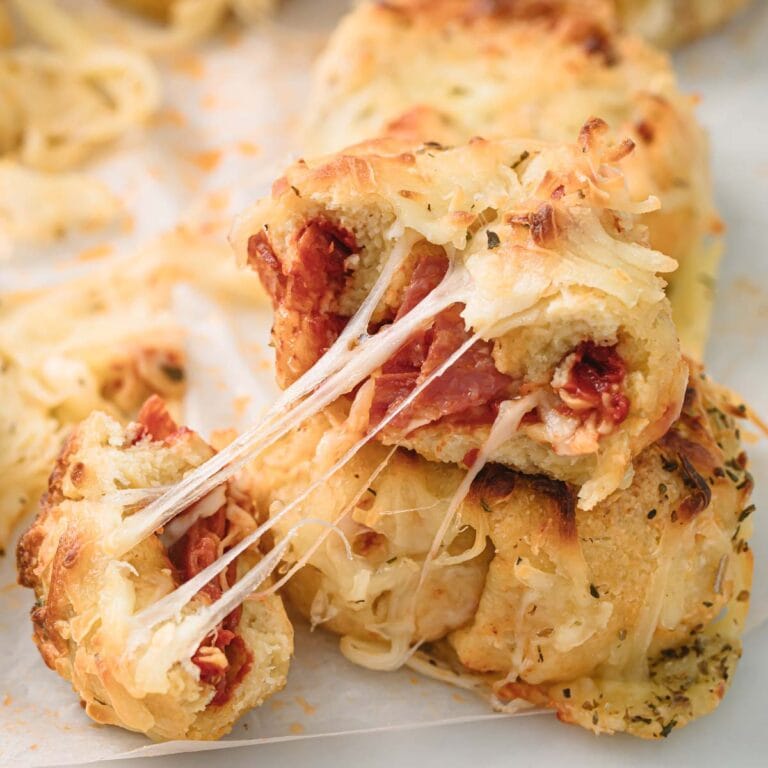 Low Carb Keto Pizza Rolls
from Sugar Free Londoner
Keto comfort food at its best! Keto pizza rolls are a fun way to enjoy all the great things we love about pizza - while keeping it low carb. Only 10 minutes prep and 4.8g net carbs per roll!
Note: The servings slider only changes the first amount in each line and not any subsequent amounts. Please make your own calculations where necessary. ***As an Amazon Associate I earn from qualifying purchases.
Instructions
Preheat the oven to 180 Celsius / 356 Fahrenheit.

Separate the eggs. Beat all 4 egg whites until stiff peaks form. In a separate bowl, whisk the 2 egg yolks until they have doubled in size and are pale in colour.

Mix the almond flour, psyllium husk powder, xanthan gum, baking powder, salt, garlic and onion powder together. Then add to the egg white and egg yolk, together with the hot water and olive oil. Blend until combined using a dough whisk - don't over-blend!

Wet your hands with water or oil them slightly, so the dough does not stick to your hands. Form a large dough ball and place in the freezer for 15 minutes. Then split the dough in two and roll between two sheets of greaseproof paper, folding over the edges of the dough and re-roll to form a rectangle. Place back in the freezer for another 15 minutes.

Add half of the tomato puree, half of the chopped pepperoni and ¼ cup shredded mozzarella. Cut into 4 and roll each small rectangle into a sausage and then into a roll. The dough may slightly break but just pinch it back together with your fingers.

Repeat for the remaining dough and ingredients.

Line a 21 inch loose base springform pan with baking paper and grease with olive oil. Add the keto pizza rolls so they fit snugly. Top with the remaining mozzarella and Italian herbs.

Bake for 35 minutes until the cheese is melted and golden and the dough cooked.
Notes
Net carbs per roll: 4.8g. Makes 8 keto pizza rolls. 
Make sure you put the dough in the freezer before rolling. This helps firm the dough and stops it sticking. 
Place the dough back into the freezer once you've made the flat pizzas to help with rolling. 
TIP: Check the rolls at minute 30. If the mozzarella has browned enough, put aluminium foil over the top for the remainder of the time. 
Storage: Best fresh but can be stored in a tupperware in the fridge for up to 4 days. Freeze for up to 3 months. 
Nutrition
Calories:
289
kcal
Total Carbohydrates:
9.7
g
Protein:
14.4
g
Fat:
23.5
g
Saturated Fat:
5
g
Fiber:
4.9
g
Sugar:
2.1
g
This post contains affiliate links. If you click on one of these links and purchase a product, I may earn a small commission, at no extra cost to you. Thank you for supporting Sugar Free Londoner.