There's no need ditch the bread basket when you're on a low carb diet! These Keto dinner rolls are soft and fluffy on the inside with a deliciously crunchy crust.  The recipe is gluten free and grain free.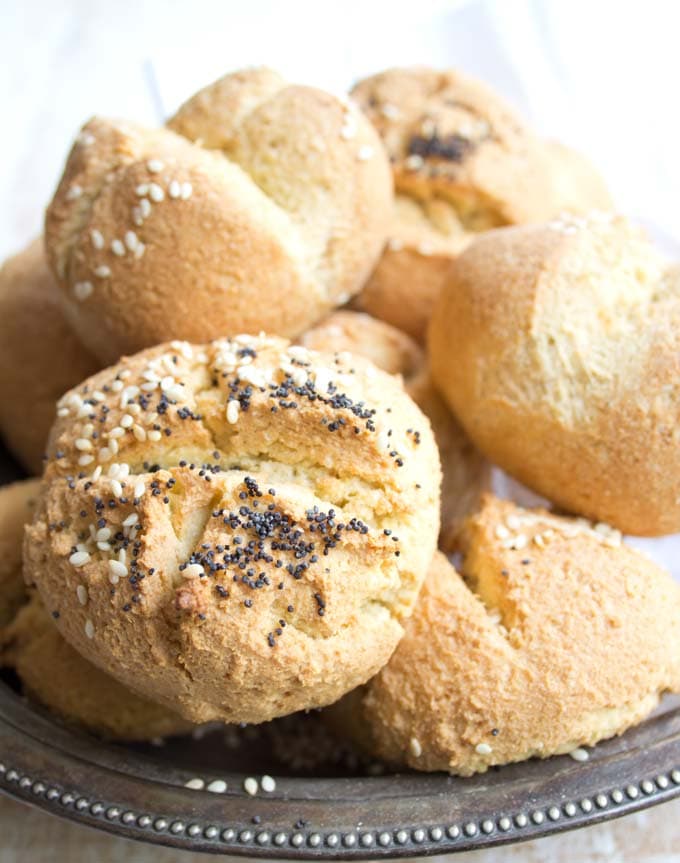 Bread - "real" bread made with wheat - used to be a HUGE part of my diet. A slice of toast for breakfast, a sandwich on the go, a roll with supper - it made for an easy meal.
When I went low carb a few years ago, I stopped eating bread altogether for a good three months. Let me tell you, I missed it like hell!
I had to find an alternative. First, I tried to buy grain free bread. But here's the thing: Shop-bought low carb bread tastes like cardboard and often has questionable ingredients. That's when I decided there was no other way than to make it myself. 
The great news is: making low carb bread is simple - just like these Keto dinner rolls!
Most grain free bread recipes use either almond flour or coconut flour (or a mix of both). These rolls call for almond flour (or ground almonds) and psyllium husk powder, which lends texture and an additional fibre boost.
I like making rolls with yeast such as my pull-apart keto bread rolls, but these Keto rolls are yeast-free. Quicker, easier and fail-safe!
The recipe is a variation on my popular almond flour bread. The bread also contains butter, but I decided to leave it out this time and make the rolls a touch lighter.
These rolls are great for scooping up gravy, as a side for soup and salad (I like to butter them or dunk them in olive oil). And of course, you can have them for breakfast, too!
How to make Keto dinner rolls - step by step:

1.) Separate the eggs. In a large bow, beat all 4 egg whites until stiff peaks form. In another bowl, beat the 2 egg yolks until they are pale in colour and have doubled in size. Pour the egg yolk mix into the bowl with the egg whites.
Tip: Use the two leftover egg yolks to make a mayonnaise!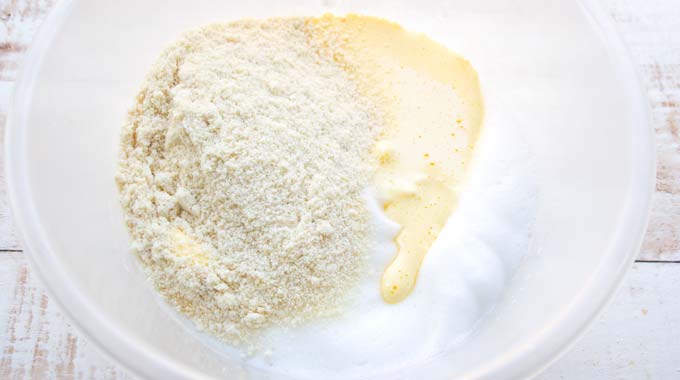 2.) Stir together all the dry ingredients - almond flour, psyllium husk powder, baking powder and xanthan gum (plus a pinch of salt, if using). Then pour the dry ingredients into the bowl with the beaten egg and add the hot water.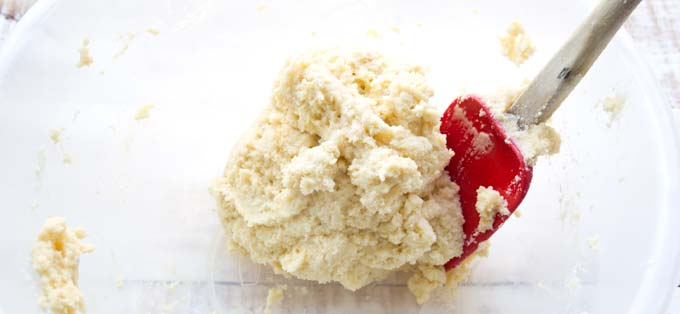 3.) Blend until a dough forms. Don't over-blend - you want to keep as much air in the dough as possible.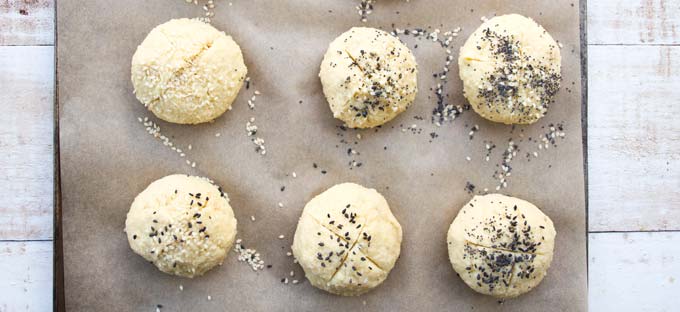 4.) Scoop up the dough and form a large ball. Cut into 8 equal-sized pieces and form rolls.
TIP: The dough is slightly sticky, so I like to wet my hands slightly - it makes the dough much easier to work with.
Place the rolls on a baking sheet lined with parchment paper. If you wish, cut a cross into the top and sprinkle with seeds of your choice. Poppy, nigella, sesame - even sunflower or pumpkin seeds would work.
Bake at 180 Celsius / 356 Fahrenheit for about 25-30 minutes!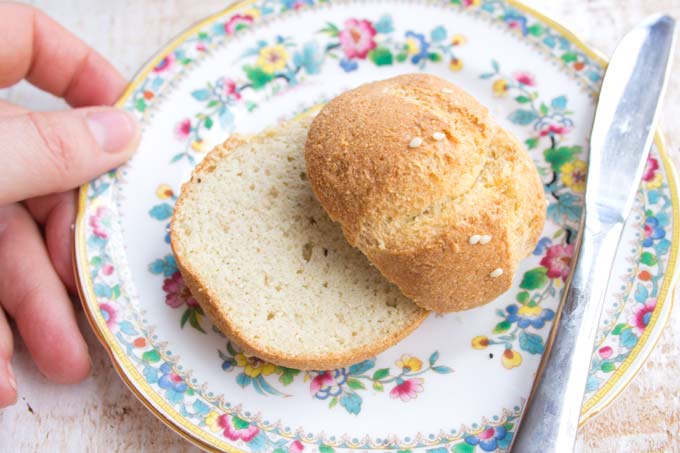 Recipe Tips 
To ensure your low carb rolls rise nicely, use room temperature eggs and hot water. This way, the dough is not cold when it goes into the oven and the baking powder can do its job properly.
I separated the eggs and whisked air into both the egg whites and egg yolks. This makes the rolls lighter and fluffier. Don't over-mix the dough when you add the dry ingredients! We want as much air in the dough as possible.
The dough is a little sticky. I find that wetting my hands LIGHTLY with water helps a lot. You could also grease them with oil such as walnut oil.
I have not tried this yet, but if you cannot have almond flour, you could try to replace it with ¾ - 1 cup of coconut flour.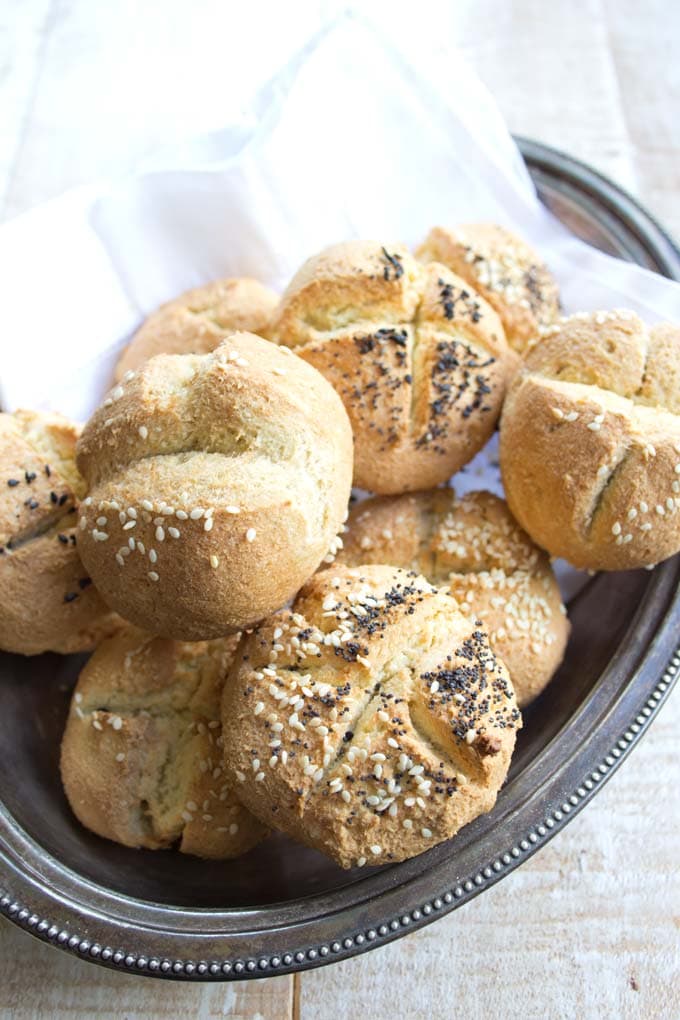 I used psyllium husk powder in this recipe. If you have WHOLE psyllium husks (they look like little sticks), you have to double the amount.
It should be possible to replace the psyllium husk with ground flaxseed. 
Try my other Keto bread rolls:
Made this recipe? Give it a star rating below!
★ STAY IN TOUCH on FACEBOOK, PINTEREST and INSTAGRAM  for more great food and join my NEWSLETTER for the latest updates and a FREE EBOOK.★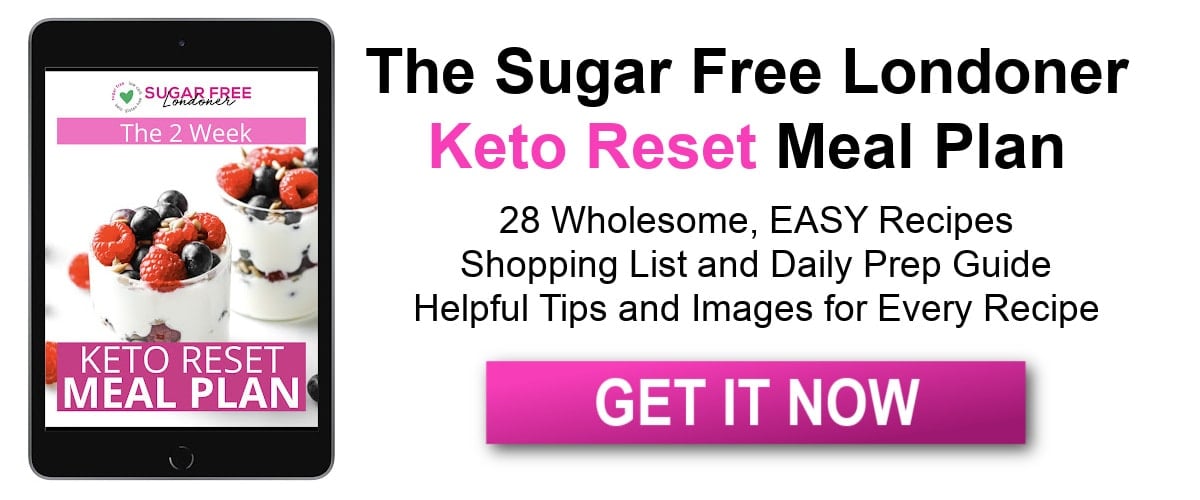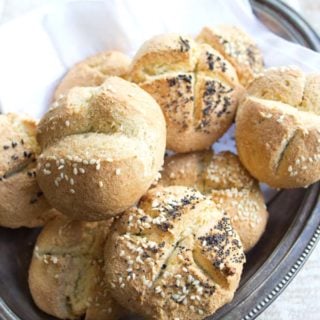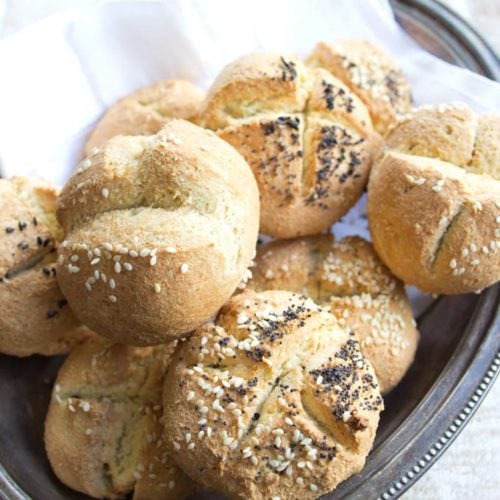 Keto Dinner Rolls
from Sugar Free Londoner
These Keto dinner rolls are fluffy on the inside and have a crunchy crust. Made with almond flour, they are a wonderful low carb and grain free replacement for wheat rolls. High in protein and fibre!
Note: The servings slider only changes the first amount in each line and not any subsequent amounts. Please make your own calculations where necessary. ***As an Amazon Associate I earn from qualifying purchases.
Instructions
Preheat the oven to 180 Celsius / 356 Fahrenheit.

Separate the eggs. Beat all 4 egg whites until stiff peaks form. In a separate bowl, whisk the 2 egg yolks until they have doubled in size and are pale in colour.

Mix the almond flour, psyllium husk powder, xanthan gum and baking powder together. Then add to the egg white and egg yolk , together with the hot water. Blend until combined - don't over-blend!

Wet your hands with water or oil them slightly, so the dough does not stick to your hands. Form a large dough ball and cut into 8 pieces. Form 8 rolls and place them on a baking sheet lined with parchment paper.

Optional: Cut a cross on the tops of your rolls and sprinkle with poppy/sesame/nigella seeds

Bake for circa 25 - 30 minutes on the middle shelf until browned on top.
Notes
As with all recipes containing psyllium husk, make sure you drink plenty of water. 
Nutrition
Serving:
50
grams
Calories:
190
kcal
Total Carbohydrates:
6.5
g
Protein:
9
g
Fat:
14.5
g
Saturated Fat:
1.5
g
Fiber:
4.5
g
Sugar:
1.2
g
This post contains affiliate links. If you click on one of these links and purchase a product, I may earn a small commission, at no extra cost to you. Thank you for supporting Sugar Free Londoner.