A flavourful homemade sugar-free bbq sauce that comes together in only 5 minutes! It's spicy, smoky, sweet and tangy at the same time - perfect for grilling meat and dipping. The recipe is low in carbs, gluten-free and made with common kitchen cupboard ingredients.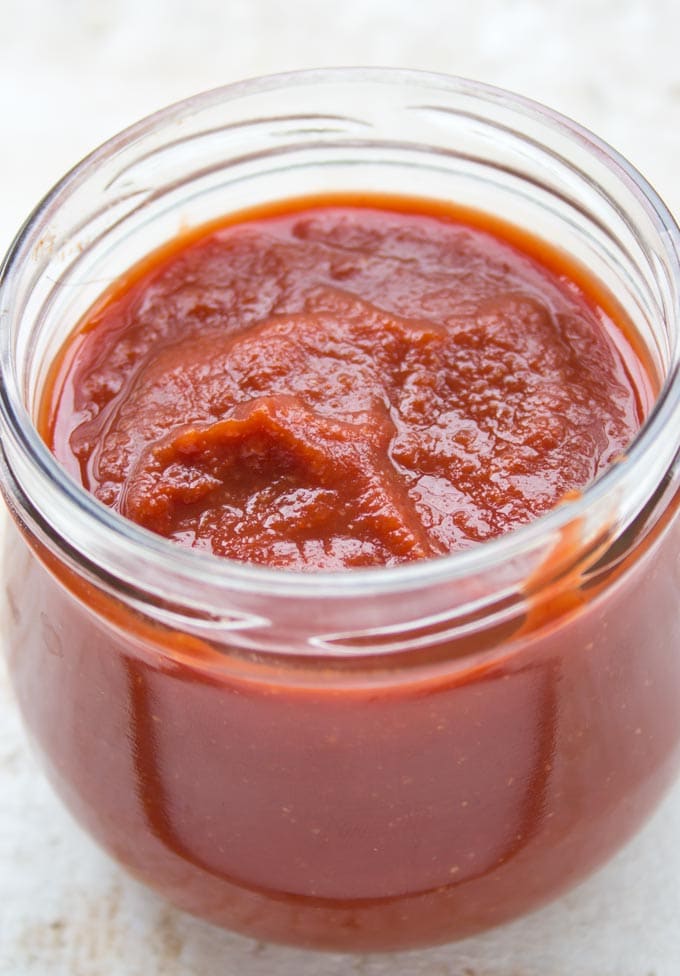 "I love the thickness of this sauce, and the gorgeous deep red color! The Worcestershire is the perfect addition for depth of flavor!" (Faith)
Jump to:
Is regular barbecue sauce sugar free?
No! Buying condiments in the supermarket and staying sugar free (aka healthy) is a tricky business. Ready-made sauces are usually laden with added sugar, as well as large amounts of additives straight out of the chemistry textbook.
Sugar acts as a preservative. It extends the shelf life of products. It is cheap. It enhances taste. People love sugar because it triggers the release of dopamine in the reward centre of the brain. Eating sugar makes us want to eat more sugar.
All of this is GREAT for business - and bad for our health.
I don't want to bang on about how evil food manufacturers are. They're in it for the profit, not for charity. What we can do is read labels and make informed decisions about what we put into our bodies.
4 grams of sugar is equivalent to 1 teaspoon of table sugar. When you read that 100g of Heinz Sweet and Spicy Barbecue Sauce contains 34g of sugar, for example, you know what you're in for.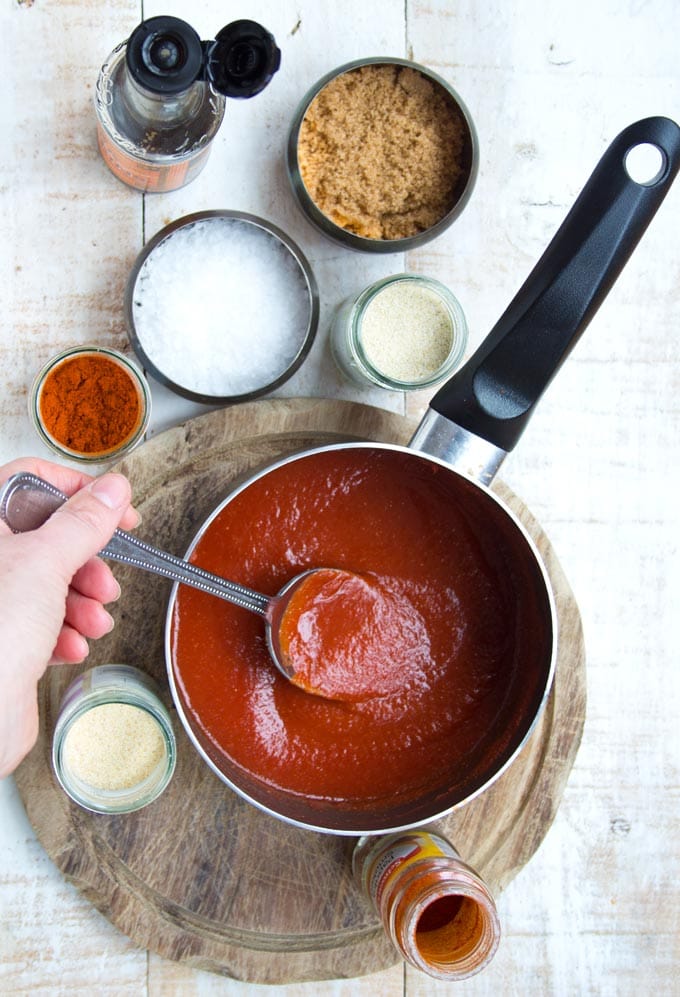 Ingredients for sugar-free bbq sauce
This no sugar bbq sauce or "no sugar added bbq sauce" uses common ingredients most of which you probably have in your kitchen right now:
Tomato Passata (tinned blended tomatoes)
Worcestershire Sauce
Apple Cider Vinegar
Onion Powder
Garlic Powder
Smoked Paprika
Sweetener
Cayenne pepper and cloves (both optional)
When I made my sugar free ketchup, I used tinned tomatoes. This meant I needed to reduce liquid to get the right consistency.
Here, I decided to use tomato passata. It's already quite thick so your sauce is literally ready in 5 minutes.
Note - this is NOT the thick double concentrated tomato paste but tinned blended tomatoes.
Barbecue Sauce Essential Flavors
Barbecue sauce needs to be 4 wonderful things at the same time.
1. SWEET
I used Sukrin Gold, which is a brown sugar substitute made with erythritol and stevia. You can replace it with your sweetener of choice. Allulose, monk fruit sweetener, xylitol or Splenda all work.
As always, do increase the sweetener if you prefer a sweeter sauce.
Some of the sweetness also comes from the tomatoes, so it's worth buying a quality brand of passata. If you wish, you could even use fresh tomatoes. In this case choose a sweet variety, make sure they're really ripe.
Blanch them so you can remove the skins and cook them with a little olive oil on a low heat until you have the desired consistency (my guess - this would take about 30 minutes), then puree.
2. TANGY
Vinegar is essential to the barbecue sauce taste. My vinegar of choice is apple cider vinegar, which has a host of health benefits. I know people who drink a glass of water with a spoonful of apple cider vinegar every morning to support their immune system.
Again, any mild white vinegar would work here.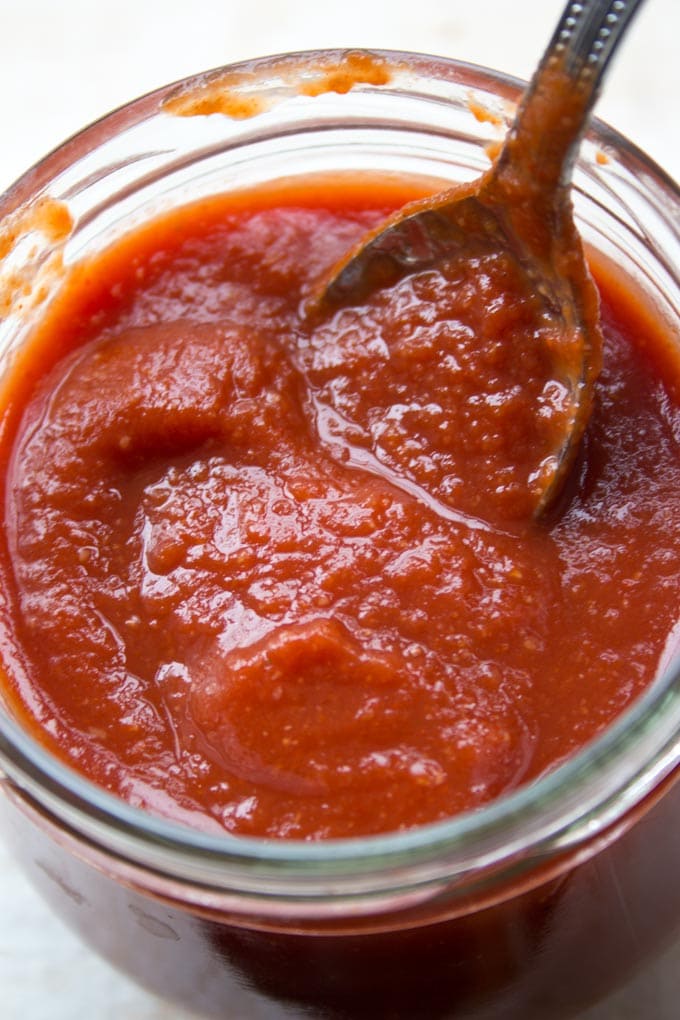 3. SMOKY
Simple. Get yourself some smoked paprika powder. It will totally transform this sauce and it's not expensive.
Other options to add smokey flavor are hickory smoked sea salt or liquid smoke. These are pricier, so if you're on a budget, smoked paprika will do the trick.
Last but not least, I read somewhere that you can even blend smoked bacon rashers into the sauce to add that smokey taste. I thought this was an interesting idea and do want to try it out one day. If you want to try this out, omit the salt in the recipe as bacon is very salty.
4. SPICY
You can go as little or as much as you want. Personally, I love spices, but I've got kids in the house so I have to restrain myself. Either cayenne pepper or plain old chilli work. Mustard or mustard powder are also an option.
Start off with just a pinch and work your way up from there until you have reached your very own happy place.
Last but not least, I consider onion and garlic powder to be absolutely essential for this recipe. I used the powdered version for convenience and time-saving reasons.
It is, of course, possible to use fresh onion and garlic - if you don't mind the chopping and 30 minutes of cooking.
Note - Worcestershire sauce does contain a little sugar - but it's only 1g per 1 teaspoon. With only 2 teaspoons for the entire recipe, it does not increase the sugar content by much at all.
How to make low carb bbq sauce
The instructions are very straight forward:
Put all ingredients in a pot.
Cook for 5 minutes to reduce the liquid.
Adjust seasoning to taste and let cool.
Where to use this sauce
BEEF. It's a condiment I like to use in beef recipes, for example when marinating steaks or for ground beef. The tangy/sweet notes of the tamarind in the sauce works really well in this recipe.
PORK: We have used this homemade sugar free bbq sauce recipe in place of ketchup with sausages and I've marinated pork belly with it.
I grilled the pork belly strips for 30 minutes, then added the barbecue sauce and returned them to the oven for another 25 minutes. Delicious.
SPARE RIBS: I bet it would also be good for bbq ribs and as a topping for burgers (take a look at my Black Burger Buns!).
DIPPING: Use it as a dipping sauce for these awesomely crispy keto chicken wings or my Low Carb Keto Chicken Nuggets!
Storage
Fridge: Store in an airtight container in the fridge for up to 1 week.
Freezer: If you make a big batch, store in freezer bags or freeze in ice cube trays for up to 3 months.
More Sugar Free Sauce Recipes
Tried this recipe? Give it a star rating below!
★ STAY IN TOUCH on FACEBOOK, PINTEREST and INSTAGRAM  for more great food and join my NEWSLETTER for the latest updates and a FREE EBOOK.★ 
Recipe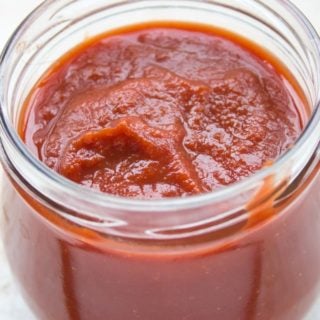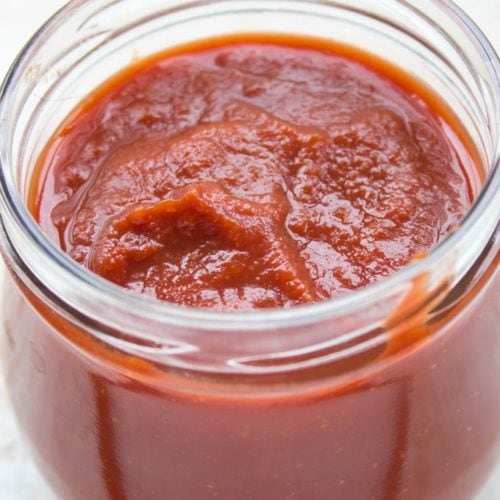 Homemade Sugar Free BBQ Sauce Recipe (Low Carb)
from Sugar Free Londoner
A flavourful sugar free bbq sauce that comes together in minutes. Made with simple everyday ingredients that you'll probably have in your larder right now!
Note: The servings slider only changes the first amount in each line and not any subsequent amounts. Please make your own calculations where necessary.
Ingredients
250

ml / 8.8 oz

tomato passata

1 cup

1

tablespoon

apple cider vinegar

or white wine vinegar

salt and pepper

to taste

2

tsp

Worcestershire Sauce

1

teaspoon

onion powder

1

tsp

garlic powder

1

tsp

smoked paprika

1

tablespoon

Sukrin Gold

or more, to taste

⅛

teaspoon

cayenne pepper

or more, to taste

pinch

ground cloves

optional
Instructions
Put all ingredients in a pot. Bring to the boil, then simmer for 5 minutes. 

Let the sauce cool down before using. Adjust seasoning to taste.
Notes
1g net carbs per serving of 2 tablespoons. Makes 10 servings.
Store the sauce in the fridge in an airtight container. It will keep for around a week. 
Alternatively, freeze for up to 3 months. 
Tomato Passata is the stuff you'd use on a pizza. It's uncooked tomato puree that has been strained of skins and seeds and NOT the double concentrated tomato paste. 
Alternatively, you can also take regular tinned tomatoes, remove the liquid and blen until smdooth. 
Nutrition
Serving:
25
g
Calories:
8
kcal
Total Carbohydrates:
1.3
g
Fat:
0.1
g
Fiber:
0.3
g
Sugar:
1.3
g