Making your own sugar free ketchup is super-easy. This recipe is delicious, healthy and tastes surprisingly sweet. Move over, Heinz - keto ketchup is taking your place!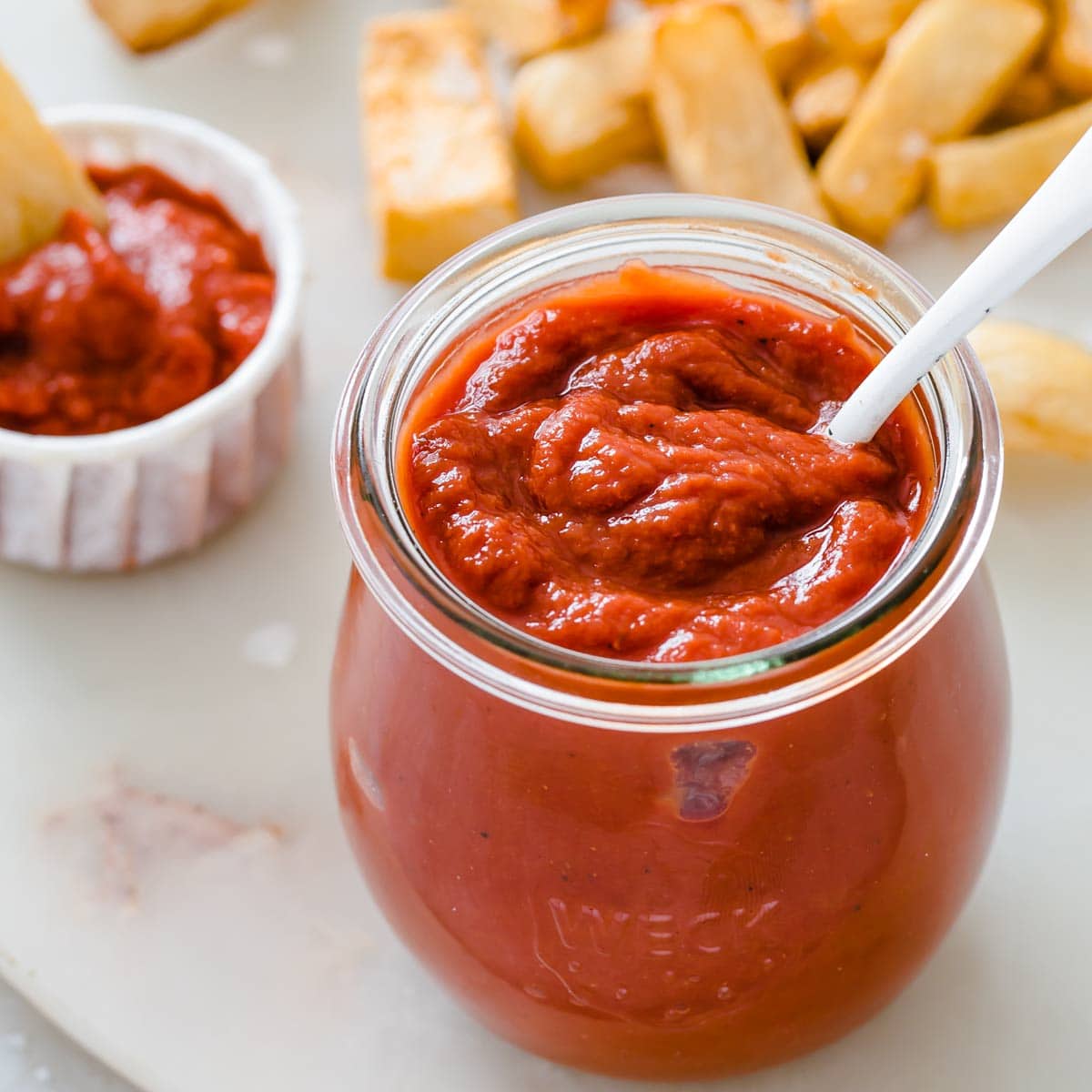 Darling, would you like a spoonful of sugar with your chips?
Yes, seriously.
Shop-bought ketchup. Friends, most varieties contain a full teaspoon of sugar per serving!
And do you ever eat your burger, hot dog or french fries with just one serving of ketchup? On goes another dollop half way through, then one more on the plate for the chips. Once you're at it...
Of course, you can buy low carb sugar free ketchup in the shops. However, many brands use artificial sweeteners, so be sure to check the labels. And even amongst the stevia sweetened varieties I have not yet found a single brand where I truly enjoyed the taste. There's always that strange aftertaste.
The solution is simple: Make your own homemade ketchup!
My keto ketchup recipe is so easy and tastes much better than your old Heinz. I'm sure you'll love it!
As tomatoes already have lots of natural sugar in them, home-made ketchup tastes sweet even without adding anything other than spices.
All truly great restaurants make their own ketchup, by the way. They don't just fill it into a pretty jar. You know that moment when you take the first bite and think, wow, that tastes kind of different, special, amazing, actually? The tell-tale sign of home-made ketchup.
Does sugar free ketchup have carbs?
Tomatoes contain between 1.6 and 2.7 grams of net carbs per 100 grams, depending on the variety. Nearly all of these carbs come from the natural sugar in the tomatoes. Therefore, there is no such thing as tomato ketchup without carbs.
However, my homemade ketchup recipe is very low in carbs and totally suitable for a low carb diet or a keto diet. 1 tablespoon contains only 0.7g net carbs. In comparison, 1 tablespoon of Heinz comes in at 3.5g net carbs.
In the picture below you can see all my ingredients!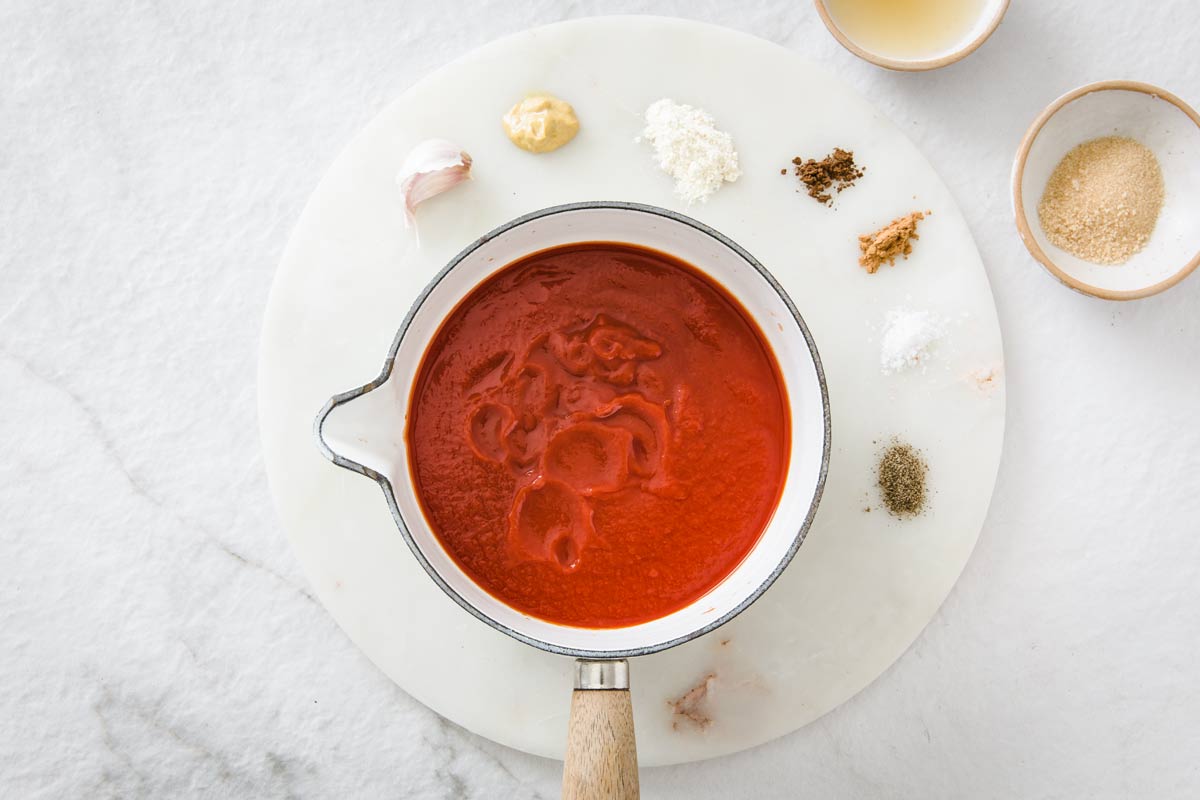 How to make sugar free ketchup - step by step: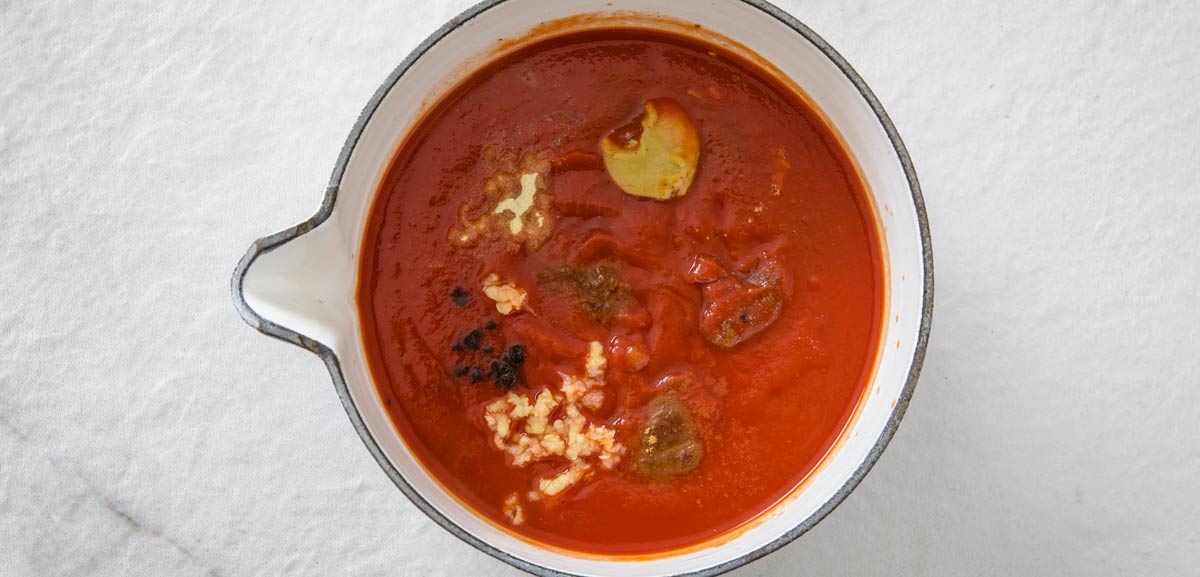 1.) Combine all ingredients in a saucepan. Put the lid on and cook on a low heat for 30 minutes, stirring regularly.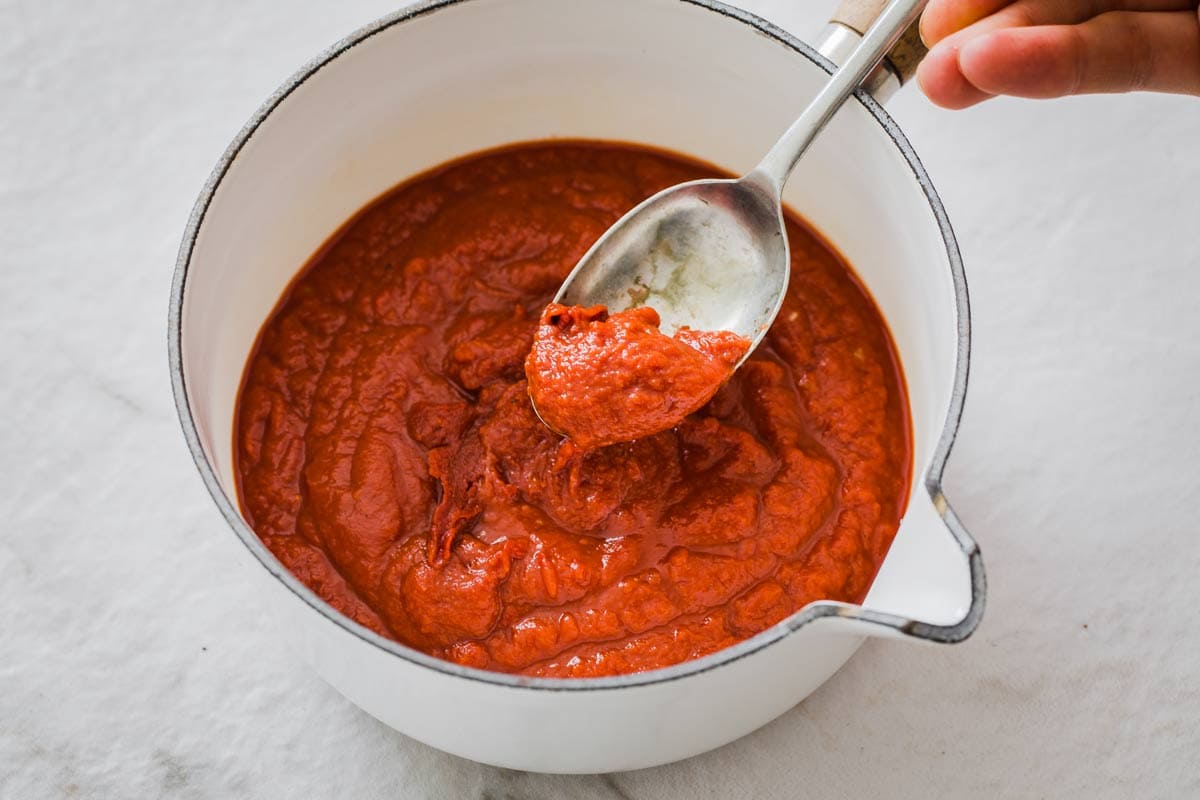 2.) Puree with an immersion blender for a smooth consistency.
That's it!
The Tomatoes
I recommend that you use good quality tinned chopped tomatoes or passata (blended tomatoes). My favourite is an Italian brand called "Mutti" and I get it from Ocado.
The budget brands often have a sour taste and you'll definitely have to add additional sweetener to balance this.
It's possible to use tinned whole tomatoes. Simply blend them before using.
You can even use fresh tomatoes for this recipe if you wish. It adds a little extra work, but would taste great if you use a sweet variety of tomatoes. The ones one the vine are normally quite good.
If you use fresh tomatoes, you may want to add some double concentrated tomato paste to enhance the flavour.
Make sure you blanch them first by pouring boiling water over them. Then remove the skins plus the hard green bit at the top. Cube them and proceed with the recipe as above.
Turnip Fries
Not a vital part of this recipe, but I'm sure you'd like to know. The fries in the picture are NOT potato, but turnip.
Simply peel and chop the turnip into thick potato fry shapes. Toss in a few tablespoon olive oil and sprinkle with salt and paprika (and a little cayenne pepper if you like). Turnip is paler in colour than potato, so the paprika gives it just the right hue.
Roast in the oven at 200 C / 400F for around 20 minutes or until browned. The oven time will depend on how many fries you're roasting and how thick you've cut them.
Recipe Variations
See this recipe as a starting point for your own flavour experiments.
First of all, you must decide how SWEET you like your sugar free ketchup. I think it's great without sweetener. But if you prefer a sweeter finish, do add 1 - 2 tablespoons of golden erythritol. It's most similar to brown sugar, which works really well here.
I like to use Lakanto, which is an erythritol / monk fruit mix.
Instead of the apple cider vinegar, you can also use white wine vinegar or red wine vinegar.
Here are some other spices and ingredients that you can use in this sugar free ketchup recipe:
- ginger
- coriander / cilantro
- chili powder
- celery salt
- fresh onions (in place of the onion powder)
- garlic powder (in place of the fresh garlic)
- Worcestershire sauce
- Sriracha
- roasted red pepper
- smoked paprika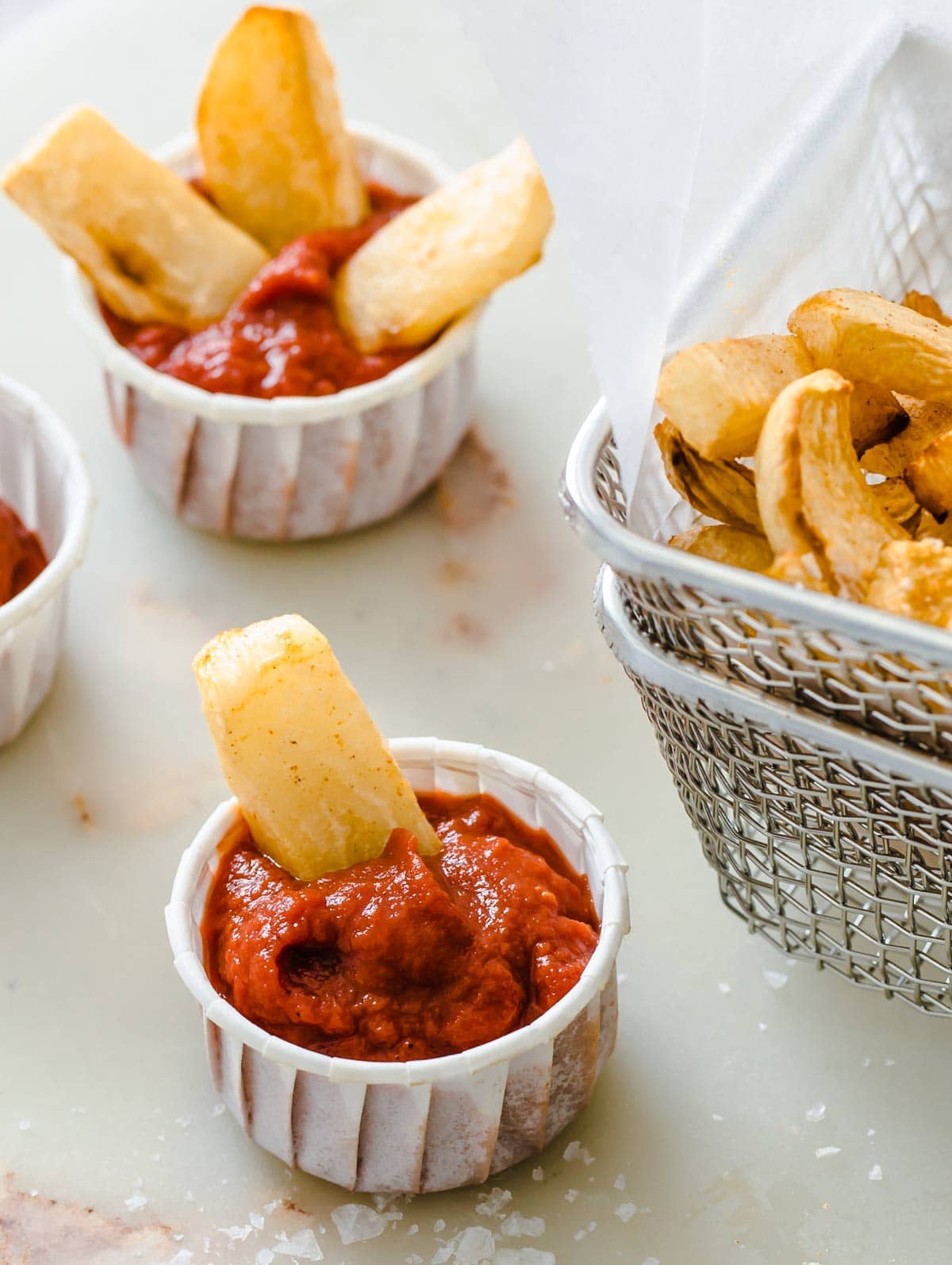 How to store sugar free ketchup
The vinegar in the ketchup helps preserve it. Mine stayed fresh in a closed jar in the fridge for two weeks (then it was gone). My guess is that it would probably last even longer.
Should your easy keto ketchup separate during storage, simply give it a stir so the water on top gets incorporated again.
Just a thought - if you wanted to make a big batch you could freeze it in ice cube trays and store for 3 months or longer.
Fun ketchup facts
- The first recorded ke-tchup recipe was from China in 544 A.D. It called for the bladder, stomach and intestines of a yellow fish, shark and mullet to be mixed in a jar with plenty of salt and put out into the sun for 20 days.
- By the time British settlers in Fuji discovered ketchup, the recipe had been simplified into a pungent liquid made out of salted and fermented anchovies. Basically, it was fish sauce. A far cry from this keto ketchup recipe!!!!
- Early versions of western ketchup were made out of shallots, oysters, walnuts (Jane Austen's favourite) or even mushrooms, famously found in Beeton's Book of Household Management that first reached the open public in 1861. The recipe requires mushrooms, salt, pepper, allspice and brandy.
- The first known written recipe for ketchup involving tomatoes was created by the horticulturist James Mease of Philadelphia in 1812. He called tomatoes "love apples".
- Because of its acidity, ketchup can be used to actually polish metal or silverware.
Take a look at my other sugar free sauces!
Tried this recipe? Give it a star rating below!
★ STAY IN TOUCH on FACEBOOK, PINTEREST and INSTAGRAM for more great food and join my NEWSLETTER for the latest updates and a FREE EBOOK.★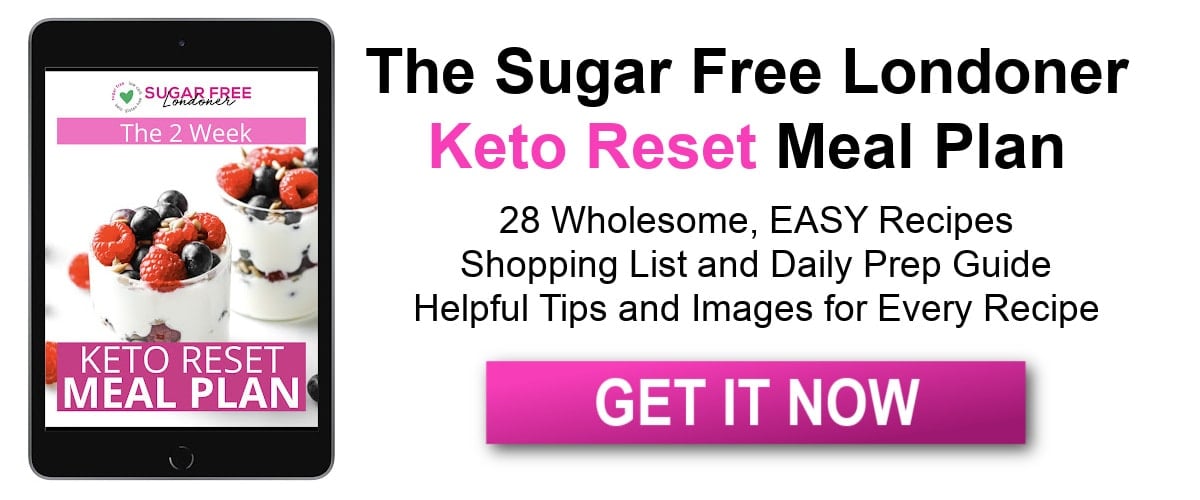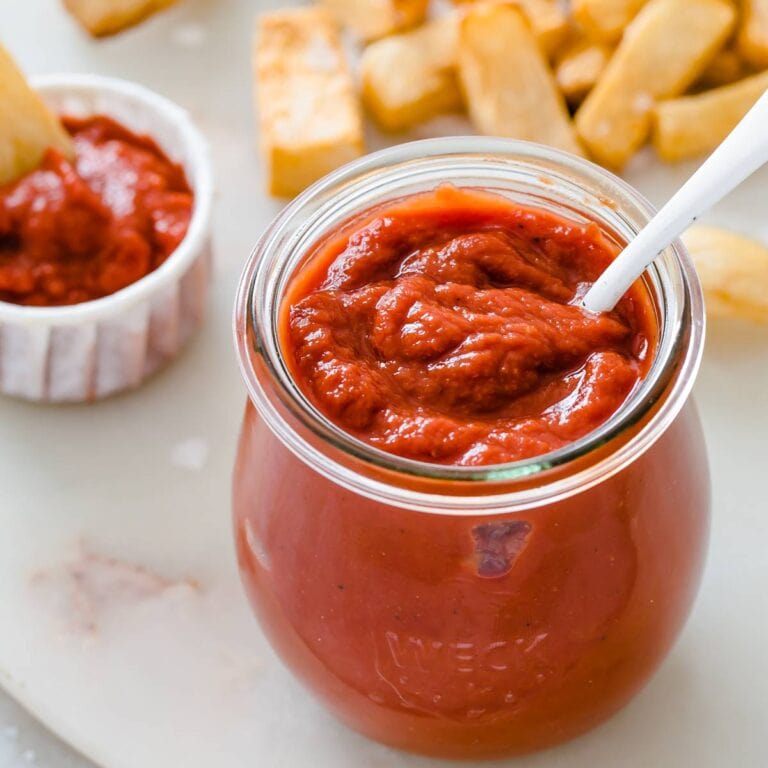 Sugar Free Ketchup
from Sugar Free Londoner
It only takes 30 minutes to make your own homemade sugar free ketchup using tinned tomatoes, vinegar and a handful of spices. Enjoy your burgers, hot dogs and low carb chips without loading up on carbs! This keto ketchup recipe is super simple and tastes so much better than anything you can buy in the shops.
Note: The servings slider only changes the first amount in each line and not any subsequent amounts. Please make your own calculations where necessary. ***As an Amazon Associate I earn from qualifying purchases.
Ingredients
14

oz / 400g

tin good quality chopped tomatoes or passata

just tomatoes!

2

tablespoon

apple cider vinegar

1

garlic clove

mashed

¼

teaspoon

Dijon mustard

¼

teaspoon

onion powder

1

pinch

ground allspice

1

pinch

cinnamon

salt and pepper

to taste

1

tablespoon

golden erythritol

optional ***see notes
Instructions
Combine all ingredients, cook on a low heat for 30 minutes.

Stir frequently until sauce thickens.

Blend with an immersion blender until smooth.

Can be stored in an airtight container in the fridge for circa 2 weeks.
Notes
0.7g net carbs per portion of 1 tablespoon (15 grams)
12 - 14 tablespoon per entire recipe. 
**The golden erythritol is optional, but it does enhance the taste. You can replace it with other sweeteners.
***UK/Europe/worldwide readers can get Lakanto from iherb.com or luckyvitamin.com. Sukrin Gold or NKDLiving are available on Amazon UK.  
You can use fresh tomatoes for this recipe if you wish. It adds a little extra work, but would taste great if you use a sweet variety of tomatoes. The ones one the vine are normally quite good. Make sure you blanch them (pour boiling water over them) and remove the skins plus the hard green bit at the top. Then cube them and proceed with the recipe as above.
Nutrition
Serving:
15
g
Calories:
6
kcal
Total Carbohydrates:
1.3
g
Protein:
0.3
g
Fat:
0.1
g
Sodium:
0.1
mg
Potassium:
4.2
mg
Fiber:
0.7
g
Sugar:
0.9
g
This post contains affiliate links. If you click on one of these links and purchase a product, I may earn a small commission, at no extra cost to you. Thank you for supporting Sugar Free Londoner.