If you like the idea of comfort food made healthy, you've gotta try these keto hot dogs. I'm using high quality sausages and a quick slaw in homemade keto hot dog buns, topped with mustard and sugar free ketchup. Ready in 40 minutes and super easy!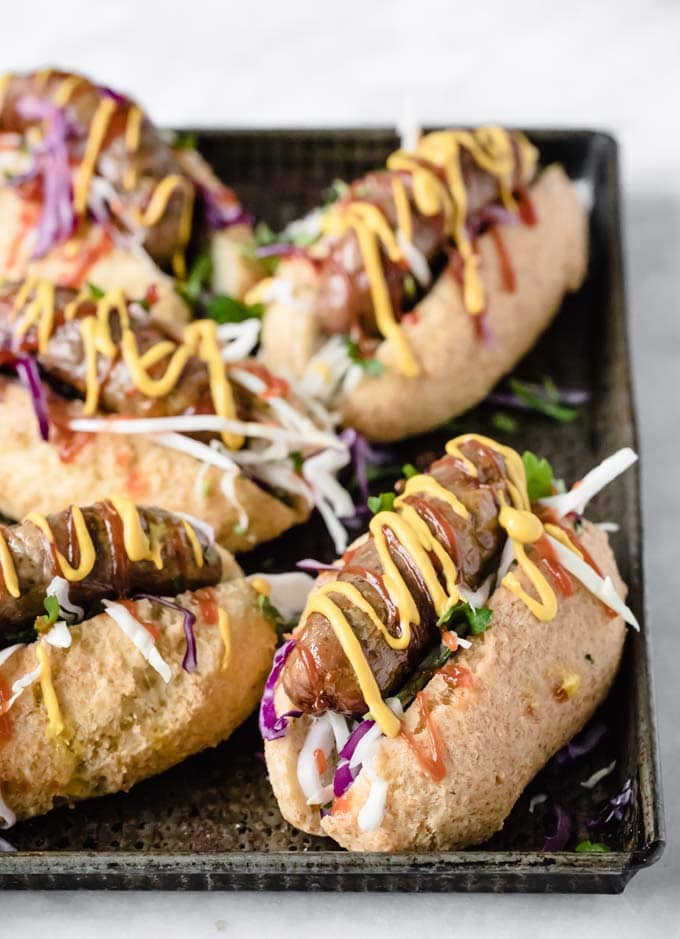 Hot dogs are the ultimate comfort food and perfect for a weekday dinner or a party, from bonfire night to super bowl night. Alas, more often than not they're not the healthiest. A lot of the store bought ones are made either using cheap bread or sausages full of processed meat. Well guys, this is my healthy, low carb and keto version and they're good… like really good!
The buns are a modification of my popular almond flour bread and stuffed today with a good quality gluten free pork sausage and a simple keto slaw. I've never liked the highly processed supermarket junk buns that taste like cotton wool when you bite in them. These Keto hot dog buns are more substantial in texture, with a slight crunch in the crust yet lovely and soft on the inside. They remind me of the buns I used to eat as a kid in Germany.
Feel free to fill with whatever sausage flavour you like so long as it doesn't contain any binders or fillers! In terms of extras, you could go classic and simply top with homemade keto mayonnaise, mustard and sugar free ketchup. My Sugar Free BBQ Sauce Recipe would also work well. As a side, make a batch of these Air Fryer Turnip Fries or my keto onion rings.
But I liked the idea of adding a bit of colour and crunch, which is why I went for a slaw.
Of course, you could use rocket or shredded baby gem lettuce if you prefer, or even a few slices of tomato and cucumber. I think the slaw gives a beautiful colour and refreshing crispness though. In fact, I almost called them party hotdogs because they look so fun. They're colourful enough for a children's party!
How to make Keto hot dogs with homemade low carb hot dog buns: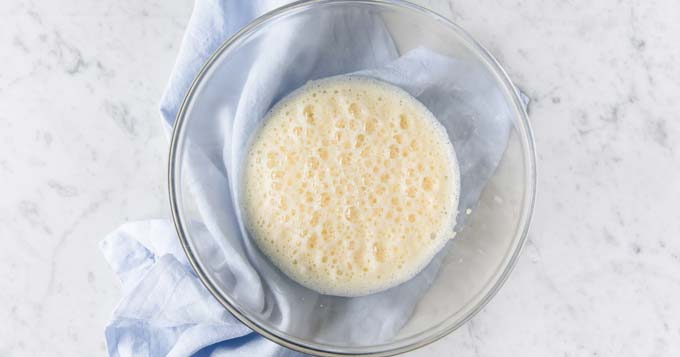 1.) Beat the 2 eggs and the 2 additional egg whites. (You can reserve the 2 leftover yolks for mayonnaise)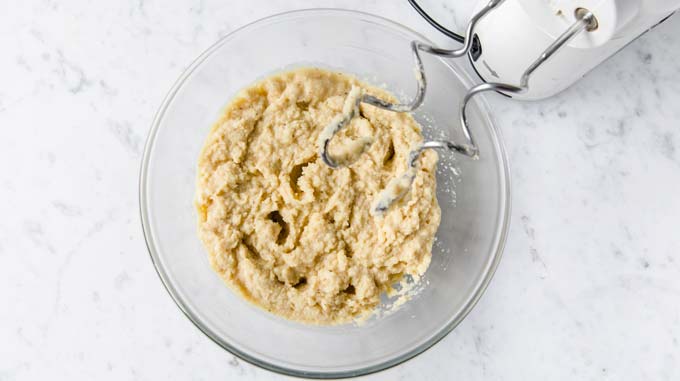 2.) Add the rest of the ingredients (almond flour, butter, psyllium, water, baking powder and xanthan gum) and blend until you have a smooth dough. Don't over-mix.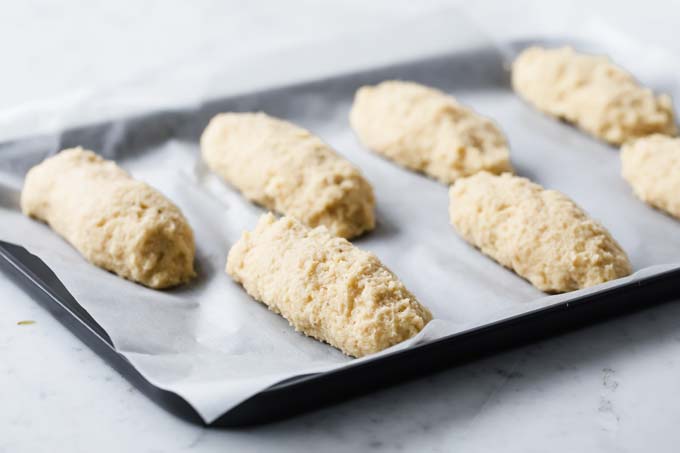 3.) Split the dough into 6 and shape into small hot dog rolls. Place on a baking tray and bake for about 35 minutes until golden and cooked through.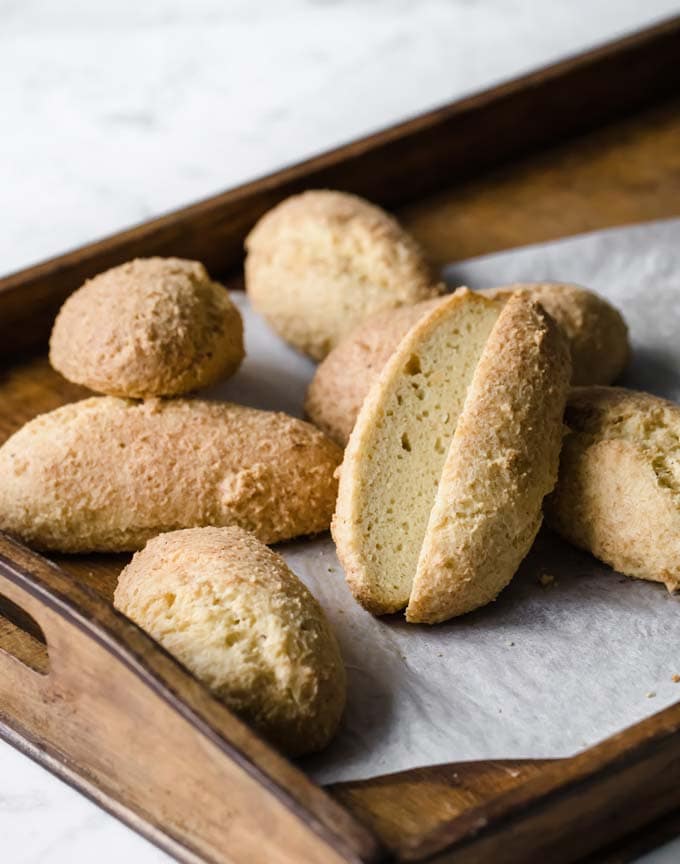 4.) Remove from the oven and allow to cool.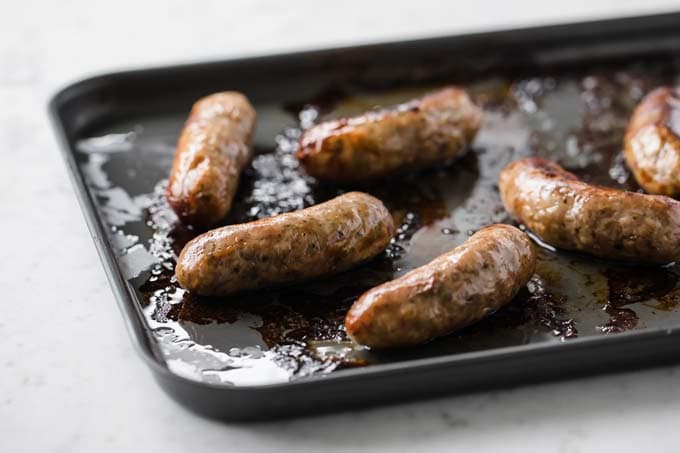 Whilst the buns are cooking, place the sausages on a baking tray. See this post on how to cook sausage in the oven.
After that, all you need to do is make the quick slaw and stuff your keto hot dog buns with the lot!
Tips for perfectly fluffy keto buns
1.) The almond flour bread recipe has been made by tons of people by now and it gets VERY good reviews. Please make sure you follow the tips below so your buns turn out light and fluffy:
2.) Use fresh baking powder! You can test the use-by date or test it by putting a little in a glass with warm or hot water (cold water does not work). If it fizzes, it's fresh.
3.) Beat your eggs! You want them super frothy with plenty of air bubbles. When you add the almond flour do not over-beat so the dough stays "airy". Dense dough will make dense bread.
4.) Eggs should be at room temperature. Cold eggs make cold dough and the buns will take longer in the oven to heat up. This can inhibit a proper rise.
5.) For the same reason, use warm water and not cold water.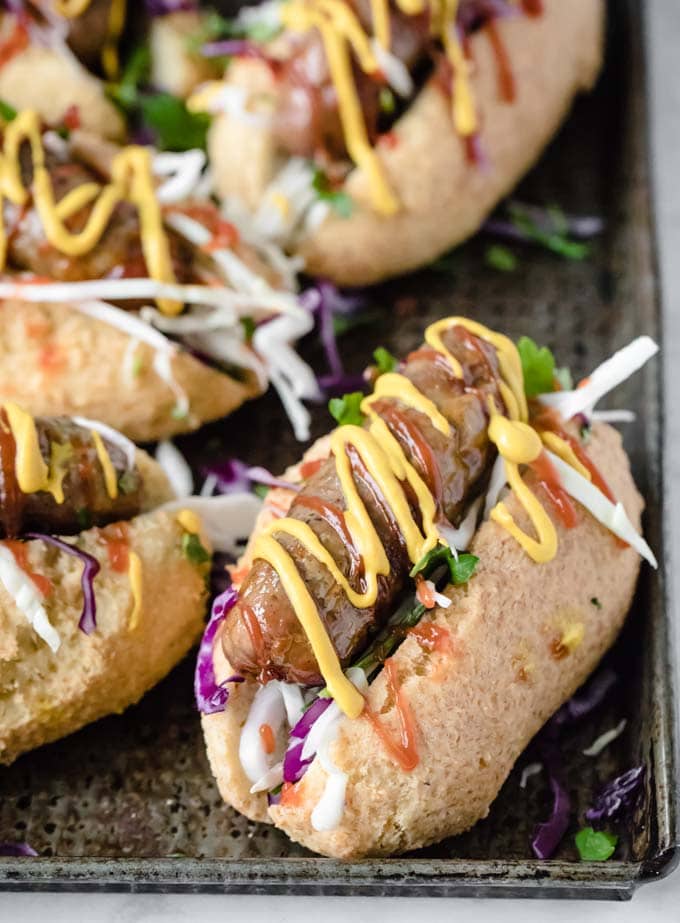 One last thing - check your psyllium as brands can label it somewhat confusingly. Psyllium husk POWDER is a proper finely ground powder. Psyllium husks LOOK like powder at first glance, but if you check closely, they resemble tiny sticks. Amounts for each are given in the recipe card.
Some people report that their psyllium husk brands make bread turn purple. I have never had this problem and I have used the BonPom and the Green Origins brand. Some of my blogger friends in the US use the NOW brand without problem. I recently heard the colour change may be a chemical reaction between psyllium and baking powder that contains aluminium. So check your baking powder is aluminium free!
More keto buns and rolls
Tried this keto hot dog recipe? Give it a star rating below!
★ STAY IN TOUCH on FACEBOOK, PINTEREST and INSTAGRAM  for more great food and join my NEWSLETTER for the latest updates and a FREE EBOOK.★ 
Recipe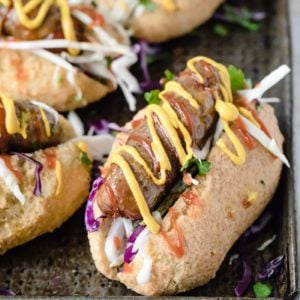 Keto Hot Dogs
from Sugar Free Londoner
Fast food does not have to be junky! We all love a good hot dog now and then, and with homemade keto hot dog buns, a decent sausage and crunchy veggies this recipe ticks all the boxes AND it's low carb!
Note: The servings slider only changes the first amount in each line and not any subsequent amounts. Please make your own calculations where necessary.
Ingredients
BUNS
2

egg whites

at room temperature

2

eggs

(white and yolk) at room temperature

2

cups / 200g

almond flour

¼

cup / 60g

butter melted

4

tbsp / 20g

psyllium husks

or 2 tablespoon psyllium husk powder

1 ½

teaspoon

baking powder

½

teaspoon

xanthan gum

pinch

of salt

½

cup / 120ml

warm water
HOT DOG FILLING
6

medium gluten free good quality sausages

300g

¼

cup

red cabbage

shredded (18g)

¼

cup

white cabbage

shredded (18g)

¾

tablespoon

extra virgin olive oil

3

tablespoon

parsley

chopped (11g)

1

tablespoon

sugar free tomato ketchup

2

teaspoon

sugar free dijon mustard
Instructions
Preheat your oven to 180 Celsius / 160 Fan / 350 Fahrenheit.

Make the Low Carb Hot Dog Rolls as per my almond flour bread recipe up to step 4. Split the dough into 6 and shape into small hot dog rolls. Place on a baking tray lined with parchment paper and bake for about 35 minutes until golden and cooked through. Remove from the oven and allow to cool.

Whilst the rolls are cooking, place the sausages on a baking tray and bake as per the cooking instructions on the packet, depending on the thickness of your sausages this will be about 20-30 minutes.

To make the slaw, simply combine the cabbage and parsley with a little olive oil.

Stuff the Low Carb Hot Dog Rolls with slaw and top with a gluten free sausage and a drizzle of sugar free ketchup and mustard.
Notes
Net Carbs: 4.4g for the bun including the sausage, slaw and condiments.
Here is the nutrition breakdown for the hot dog bun only (per bun): 3.6g net carbs, 9g total carbs, 5.4g fibre, 1.7g sugar, 10.6g protein, 26.8g fat, 297 calories.
Storage: Best served fresh. Buns can be stored at room temperature, covered with a cloth, for up to 3 days. They can also be frozen for up to 2 months. Sausages should be stored in the fridge for up to 3 days.
Nutrition
Calories:
431
kcal
Total Carbohydrates:
10.4
g
Protein:
19.1
g
Fat:
37.5
g
Saturated Fat:
10.2
g
Sodium:
453
mg
Potassium:
427
mg
Fiber:
5.9
g
Sugar:
2.3
g
This post contains affiliate links. If you click on one of these links and purchase a product, I may earn a small commission, at no extra cost to you. Thank you for supporting Sugar Free Londoner.