Big flavour, light texture: Try this easy sugar free lemon mug cake with a deliciously zingy lemon glaze. Low carb, gluten free and keto-friendly.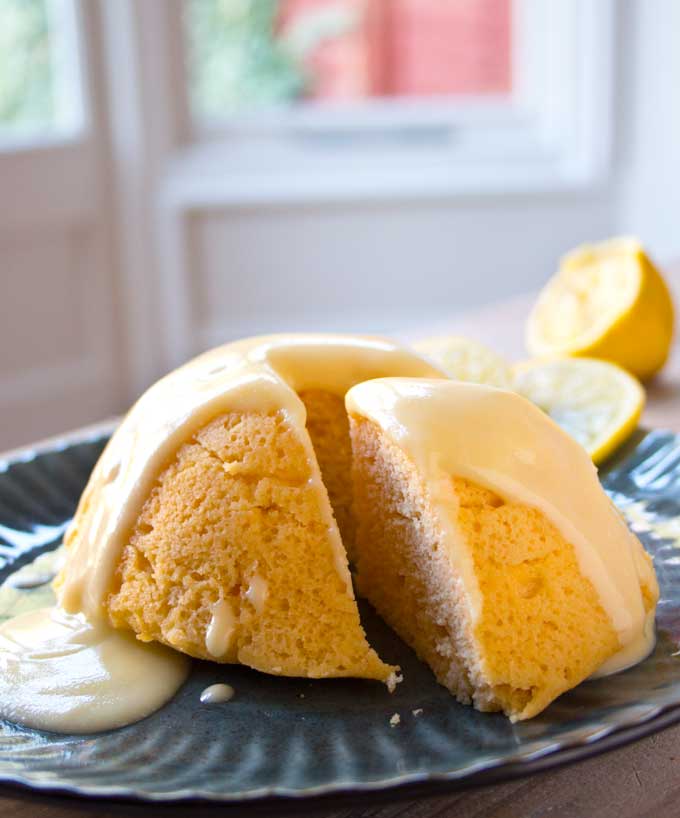 Find the recipe card with ingredients and instructions at the bottom of the page. Don't miss the extra tips in the post! 
I've got to admit it. I can be a bit of a smug fraud.
For years I've been walking around telling people how we don't own a microwave and how much better that is for everyone. I declared we were against exposing our precious offspring to its harmful effects and we didn't mind at all heating our leftovers on the stove. Scrubbing crusty pans was no problem for us, if it protected us all from poisoning our system with whatever evilness microwaves produce.
Well. I'm going to come clean right here and now.
The only reason why we did not own a microwave for years was
1.) because my kids blew up the old one
2.) because we were too lazy to replace it and
3.) we then got used to not having one.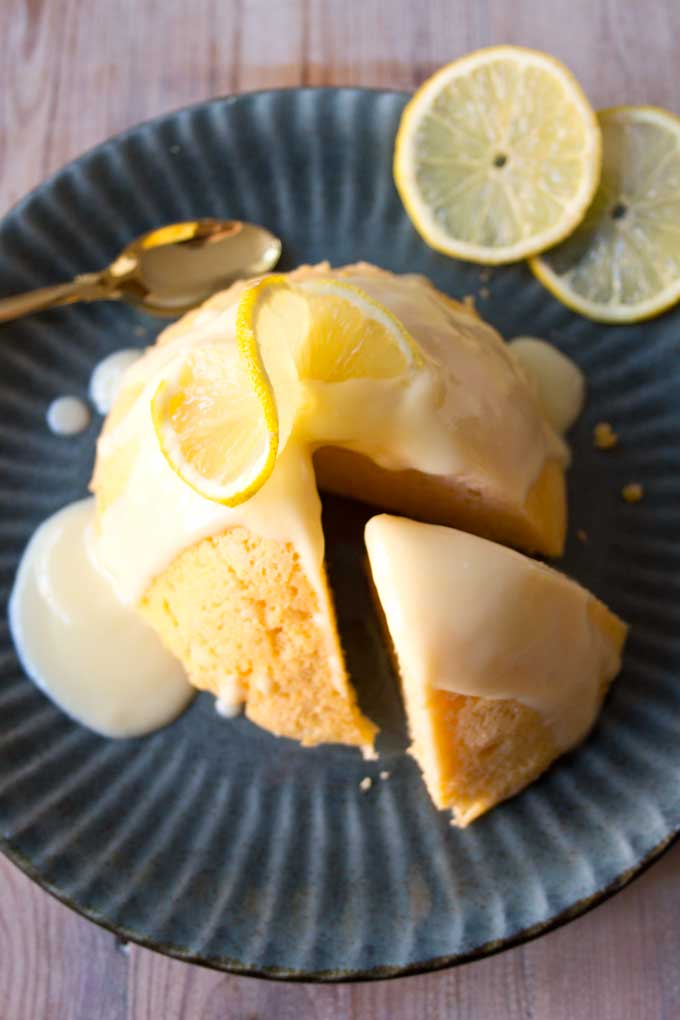 We moved house a couple of months ago, and our new kitchen came with a fitted microwave. We've been using it every day. Sod the rays. Microwaves are so practical! We're living with our mobile phones permanently attached to our ears. We're breathing in the fumes of London. I drink wine. In the scheme of things, how much more damage are a few microwave rays really going to cause?
In life, you've got to set priorities. And in this case, EASY LIFE wins over PERFECT LIFE.
Especially when a microwave can produce such a wonderful thing as a sugar free lemon mug cake!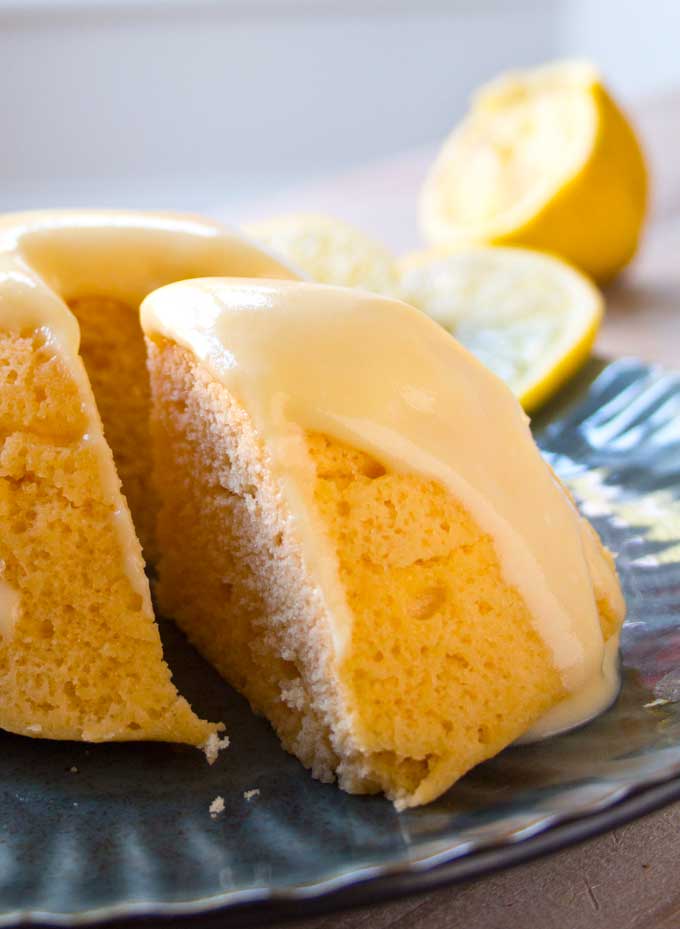 This cake, my friends, is a revelation. To think that you can make a perfectly delicious cake that's ready in 3 minutes! It's almost magic.
My first attempt at making a cake in the microwave was this Low Carb Christmas Pudding. All true Brits know that a Christmas pudding is not actually a pudding but a cake. It's divine, moist and full of festive flavours, so do give it a try if you're reading this at a fitting time of year.
This sugar free lemon mug cake is a logical follow-up, because one cannot eat Christmas food in, say, July without it feeling a bit odd. Lemon cake, on the other hand, is an all-rounder and generally a crowd-pleaser. Be it summer or winter, it just works. If you're adventurous, you can even add some poppy seeds.
It is actually not strictly a mug cake because I've made it in a small glass bowl, but you could divide the mixture into two mugs if you wanted.
I think the portion size is quite generous. If you're not ravenous, you could easily share this mug cake between 4 people, especially if you're making it with the glaze. In my humble opinion you should definitely NOT skip the glaze, because it propels the cake from a delicious dessert into a decadently delicious dessert. If you wanted, you could even poke little holes into the cake after you take it out of the microwave. That way, when you pour over the glaze it sinks into the holes and makes the cake even more moist and yum.
Mug cakes have been invented for busy people with busy lives.
And especially for busy people like you and me, with a realistic outlook on life (see above – PERFECT is a pipe dream) who deserve instant gratification involving minimal effort.
I want to hug the person who invented the mug cake. There is no blending and hardly any washing up involved. To make your sugar free lemon mug cake, you need just a handful of ingredients, a bowl, a fork and your trusted microwave.
Ah, the microwave. Long may it last. Under no circumstances let your kids play with it.
This post contains Amazon Affiliate links. If you click on one of these links, I may earn a small commission which helps me with the running costs of the site. Thank you for supporting Sugar Free Londoner.
Starting out on low carb? Find out all about my top 10 essential low carb kitchen gadgets!
Sugar Free Lemon Mug Cake (Low Carb Recipe)
Big flavour, light texture and ready in 3 minutes: Try this easy sugar free lemon mug cake with a deliciously zingy lemon glaze.
Ingredients
For the glaze
1

tbsp

unsalted butter

1

tbsp

double/heavy cream

squeeze of lemon juice

1

tbsp

powdered sweetener
Instructions
Grease the inside of a ramekin/2 mugs or microwave-safe bowl with melted butter. I used a glass dessert bowl.

For the cake: Mix all dry ingredients - almond flour, sweetener and baking powder - in a separate bowl.

Add all wet ingredients and mix thoroughly with a fork. If you find your dough is too liquid add a bit more almond flour.

Transfer batter into your ramekin/small bowl and level the top.

Microwave on high for ca 90 seconds. You can also bake the cake at 180 Celsius/360 Fahrenheit for ca 15 minutes.

Remove from microwave and turn upside down onto a plate.

For the glaze, melt the butter, then stir in the cream, lemon juice and sweetener.

Let it cool until the glaze begins to thicken but can still be poured. Then spoon/pour over cake and serve.
Recipe Notes
If you wish, you could add 1 tsp of poppy seeds.
For my UK readers: If you want to use ground almonds, you need to add 1-2 additional tablespoons as ground almonds are coarser than almond flour.
Nutrition Facts
Sugar Free Lemon Mug Cake (Low Carb Recipe)
Amount Per Serving
Calories 249
Calories from Fat 212
% Daily Value*
Total Fat 23.5g 36%
Cholesterol 139mg 46%
Sodium 49mg 2%
Potassium 76mg 2%
Total Carbohydrates 5.3g 2%
Protein 6.8g 14%
* Percent Daily Values are based on a 2000 calorie diet.