Big flavor, light texture: Try this easy, moist and sugar free lemon mug cake with a deliciously zingy lemon glaze. Low carb, gluten free, keto and suitable for diabetics.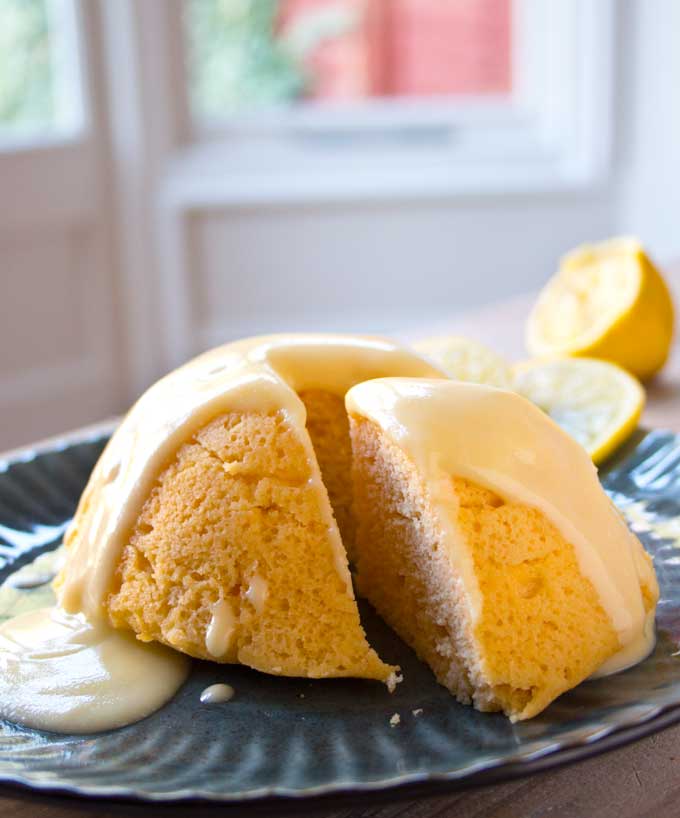 We moved house a couple of months ago, and our new kitchen came with a fitted microwave. We've been using it every day. Sod the rays. Microwaves are so practical! We're living with our mobile phones permanently attached to our ears. We're breathing in the fumes of London. I drink wine. In the scheme of things, how much more damage are a few microwave rays really going to cause?
Especially when a microwave can produce such a wonderful thing as a sugar free lemon mug cake!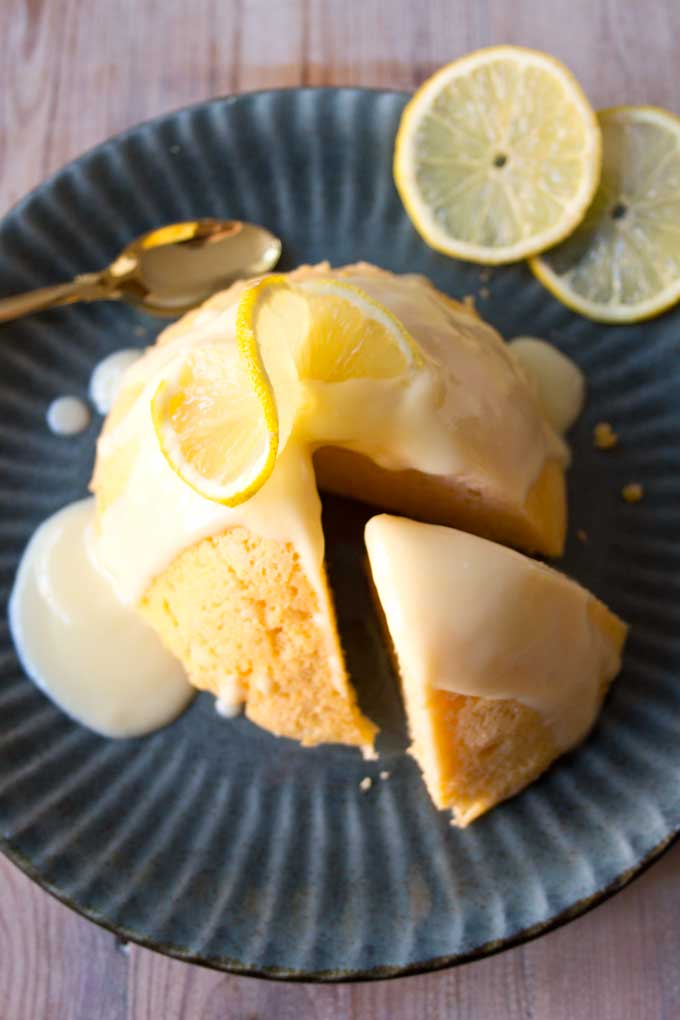 Why you'll love this sugar-free mug cake
This mug cake, my friends, is a revelation. It is such a treat. To think that you can make a perfectly delicious, super easy lemon cake that's ready in 3 minutes! It's like the super-speedy cheat's version of this Keto Lemon Pound Cake.
By the way, my first attempt at making a cake in the microwave was this divine Low Carb Christmas Pudding.
A sugar free lemon mug cake was a logical follow-up, because one cannot eat Christmas food in, say, July without it feeling a bit odd. Lemon cake, on the other hand, is an all-rounder.
I have a bunch of keto mug cake recipes on my website. Try this keto triple chocolate mug cake, which is a must for chocolate lovers, my Keto Vanilla Mug Cake or this divine Keto Peanut Butter Mug Cake.
How to make a keto lemon mug cake
1.) Mix your dry ingredients - almond flour, powdered sweetener and baking powder.
Powdered sweetener works better than granulated sweetener in this recipe. You can make your own powdered sweetener by blending your granulated sweetener in a food processor or in the attachment of your stick blender.
2.) Add your wet ingredients - lemon juice, cream and an egg and mix with a fork.
3.) If you want to turn your lemon mug cake out onto a plate later, transfer the mixture into a bowl or ramekin which you have greased with melted butter. Or separate the mix into 2 mugs.
4.) This is how your cake looks after it's been microwaved on high for 90 seconds! It's moist and spongy - perfect 🙂
5.) Now you turn your lemon cake out onto a plate and top with your lemon drizzle glaze, which you have made with melted butter, cream, a squeeze of lemon juice and powdered sweetener.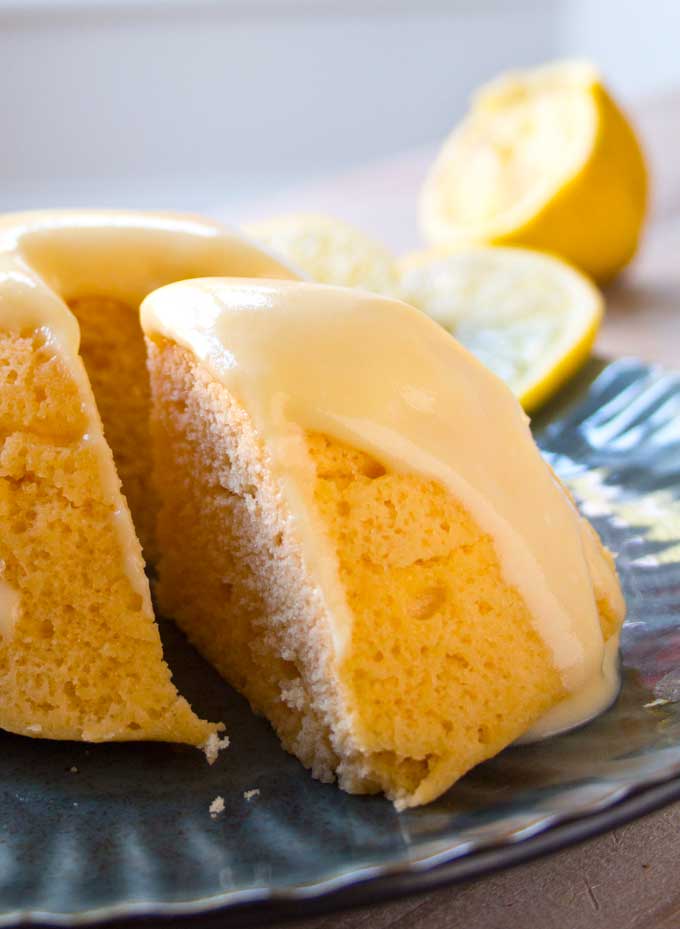 6.) Serve and enjoy! Hard to believe this is a sugar free cake, right??? My kids, who are by default brutally honest, absolutely loved it.
The cake I shot the recipe video of I shared with a diabetic neighbour who popped by. She also gave it a thumbs up 🙂 I think this is proof enough - lemon mug cake is officially a THING!
Baker's notes
I think the portion size is quite generous. If you're not ravenous, you could easily share this mug cake between 4 people, especially if you're making it with the glaze. I have, however, calculated the nutrition for 2 servings.
You should definitely NOT skip the glaze, because it propels the cake from a delicious dessert into a decadently delicious dessert. If you wanted, you could even poke little holes into your lemon cake after you take it out of the microwave. That way, when you pour over the glaze it sinks into the holes and makes the cake even more moist and yum.
If you're adventurous, you can even add some poppy seeds or grate some lemon zest into the batter.
I've made this cake with both fine almond flour and with ground almonds. If you use almond meal or ground almonds, which are coarser than fine almond flour, add 1-2 additional tablespoons of it so your batter isn't too liquid.
Microwave timings
My microwave operates at 900 watts and my cake took 90 seconds to cook. Here's a quick overview of recommended baking times for this low carb lemon mug cake recipe: 
600W = low power. 110+ seconds. 
800W = 100 seconds.
900W = 90 seconds. 
1000W = 80 seconds
1200W = 60-70 seconds. 
Oven instructions
To make this sugar-free mug cake in the oven, bake for circa 15 minutes at 180 Celsius (160C fan) or 350 F (320F fan assisted).
Made this recipe? Give it a star rating below!
Love lemon? Try these zingy recipes:
★ STAY IN TOUCH on FACEBOOK, PINTEREST and INSTAGRAM for more great food and join my NEWSLETTER for the latest updates.★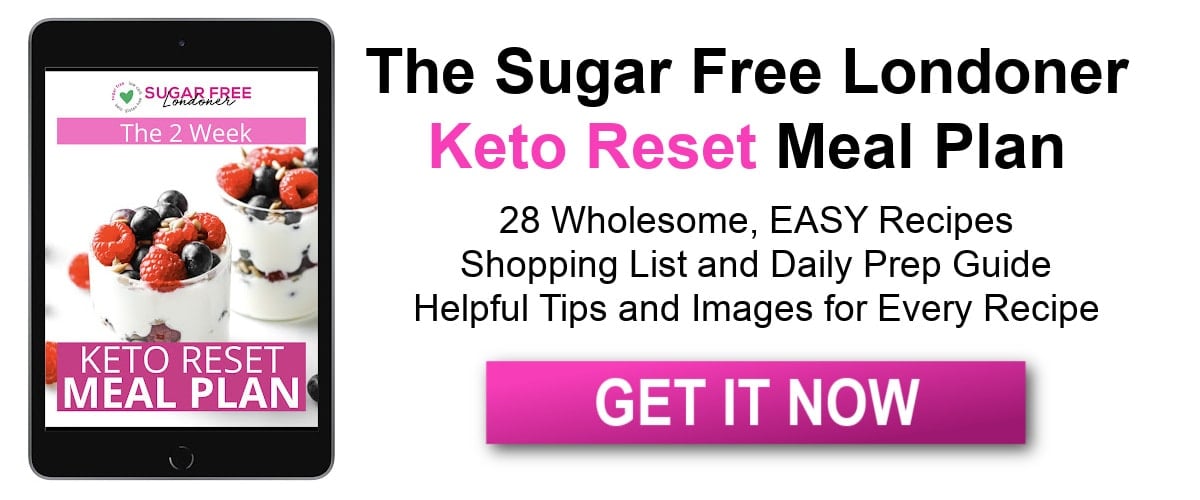 Sugar Free Lemon Mug Cake (Low Carb Recipe)
from Sugar Free Londoner
Big flavour, light texture and ready in 3 minutes: Try this easy sugar free lemon mug cake with a deliciously zingy lemon glaze.
Note: The servings slider only changes the first amount in each line and not any subsequent amounts. Please make your own calculations where necessary. ***As an Amazon Associate I earn from qualifying purchases.
Ingredients
For the glaze
1

tablespoon

unsalted butter

1

tablespoon

double/heavy cream

squeeze of lemon juice

1

tablespoon

powdered sweetener
Instructions
Grease the inside of a ramekin/2 mugs or microwave-safe bowl with melted butter. I used a glass dessert bowl.

For the cake: Mix all dry ingredients - almond flour, sweetener and baking powder - in a separate bowl.

Add all wet ingredients and mix thoroughly with a fork. If you find your dough is too liquid add a bit more almond flour.

Transfer batter into your ramekin/small bowl and level the top.

Microwave on high for circa 90 seconds. You can also bake the cake at 180 Celsius/360 Fahrenheit for circa 15 minutes.

Remove from microwave and turn upside down onto a plate.

For the glaze, melt the butter, then stir in the cream, lemon juice and sweetener.

Let it cool until the glaze begins to thicken but can still be poured. Then spoon/pour over cake and serve.
Notes
2.7g net carbs per serving. Makes 2 servings.
Net carbs without the glaze: 2.4g. 164 calories without the glaze. 
If you wish, you could add 1 teaspoon of poppy seeds.
For my UK readers: If you want to use ground almonds, you need to add 1-2 additional tablespoons as ground almonds are coarser than almond flour.
My microwave operates at 900W. See post for baking time at different power levels. 
Nutrition
Calories:
243
kcal
Total Carbohydrates:
4
g
Protein:
6.2
g
Fat:
23
g
Saturated Fat:
10.3
g
Polyunsaturated Fat:
1
g
Monounsaturated Fat:
5
g
Sodium:
47
mg
Fiber:
1.2
g
Sugar:
1.6
g
This post contains Amazon Affiliate links. If you click on one of these links, I may earn a small commission which helps me with the running costs of the site. Thank you for supporting Sugar Free Londoner.
Starting out on low carb? Find out all about my top 10 essential low carb kitchen gadgets!