Zingy and refreshing, this low carb lemon cheesecake tart is a heavenly creamy highlight to any meal. Your family will never guess it's sugar free! Keto, gluten free and diabetic-friendly.
FIND THE RECIPE CARD WITH INGREDIENTS AND INSTRUCTIONS AT THE BOTTOM OF THE PAGE. DON'T MISS THE EXTRA TIPS IN THE POST! 
Cheesecake is a bit of an enigma. How can it be velvety-rich and curiously light at the same time? Dreamy-creamy yet fresh and cleansing?
Basically, cheesecake is a dessert unicorn. It's the chocolate mousse of the non-chocolate desserts – inexplicably delicious and happiness-inducing right from the first bite.
I have yet to meet a person that does not like cheesecake. Maybe that's because I weirdly attract only people who like it. More likely, it's because cheesecake is so easy on the palate.
By now you've probably guessed that I adore cheesecake (especially if it's low carb and sugar free!).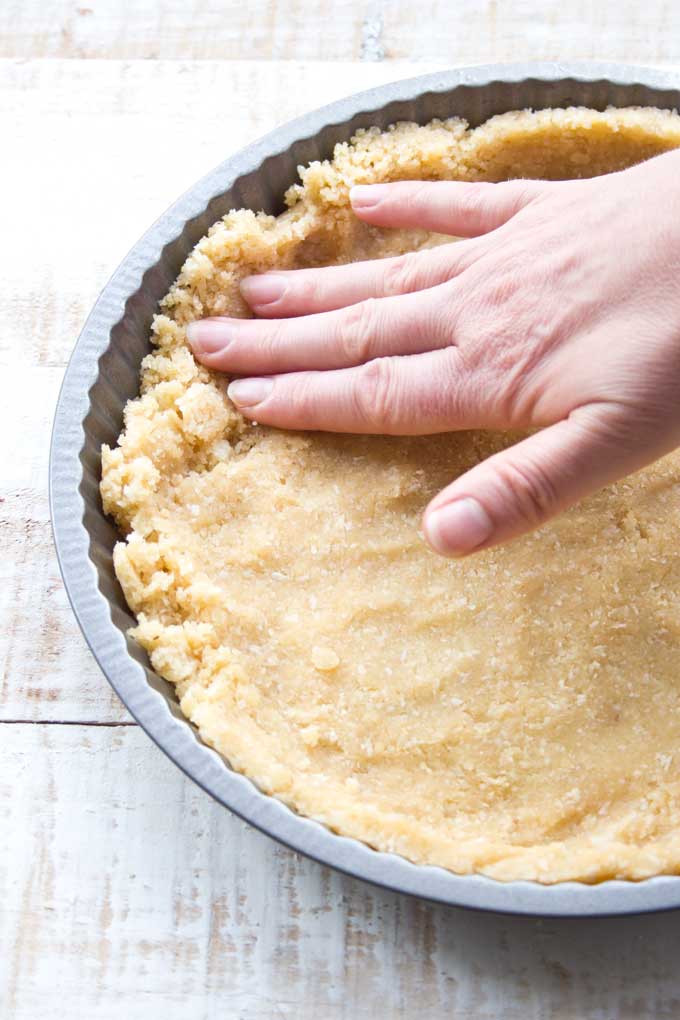 And what's not to like? Cheesecake is a most versatile sweet treat. You can either bake it like this orange brandy cheesecake or just chill it in the fridge like this sugar free low carb strawberry cheesecake. On top of that, it's equally amazing in so many flavour combinations, from fruity – check out my mini low carb raspberry cheesecakes – to chocolatey, like this popular Keto chocolate cheesecake by my blogger friend Mira over at My PCOS Kitchen.
How do you like your cheesecake best? Are you Camp Oven or Camp No-Bake?
Well, I'm happy to say this low carb lemon cheesecake is the best of both worlds.
It has a crispy baked crust made with almond flour and desiccated coconut. If you feel adventurous, you could add teaspoon of ground ginger to the mix – ginger and lemon are flavour buddies. I personally do not think the crust needs additional sweetener as the coconut has some natural sweetness to it. However, we're all different and you know yourself best. Do add a teaspoon of granulated or powdered erythritol if you feel it would work better for you.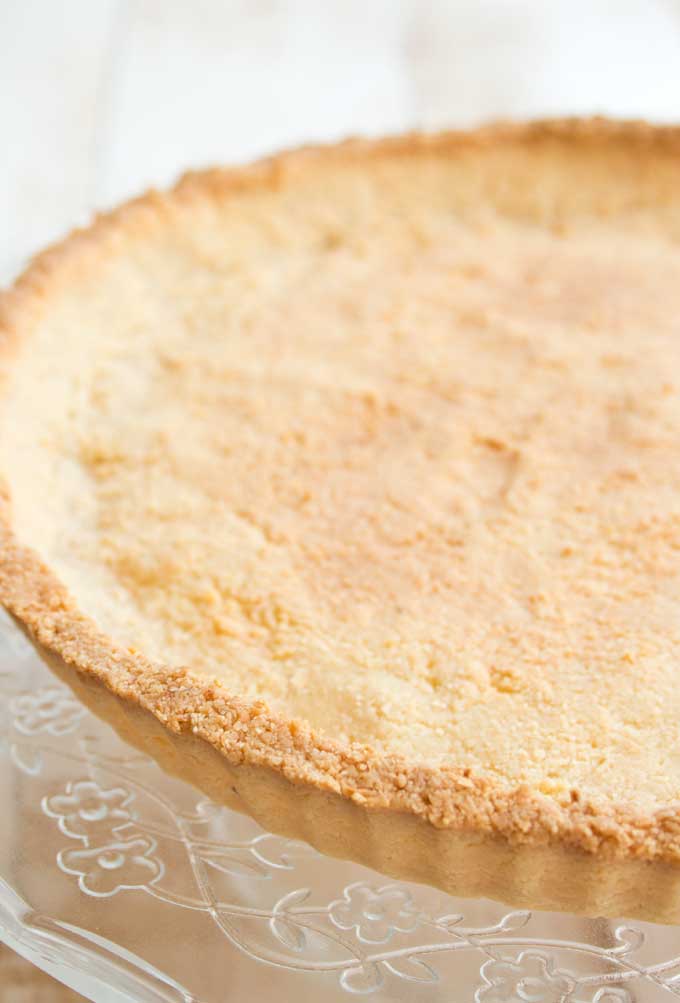 One more tip concerning the crust: If you have beans for blind baking, throw them on top of the crust before you put it in the oven. They prevent the bottom of the tart from rising up. Another alternative is to get yourself a fork and poke holes in the unbaked crust. I have to admit – I did neither. Probably because my head was full with images of myself eating sugar free lemon cheese in the very near future and being extremely happy at the same time. That's why the bottom of my base did rise. A simple solution here is to place a bowl in the middle of the base. If you do this while the tart base is still hot, it won't break and will gracefully sink back down where it firms up perfectly straight.
The filling is a zingy lemony wonder that holds together with the help of gelatine. Let the gelatine cool down a bit before you mix it into the cream cheese/sour cream. If the temperature difference is too great it might end up lumpy. Don't omit the lemon zest – it really makes the recipe. And as with the crust, adjust your sweetener to taste.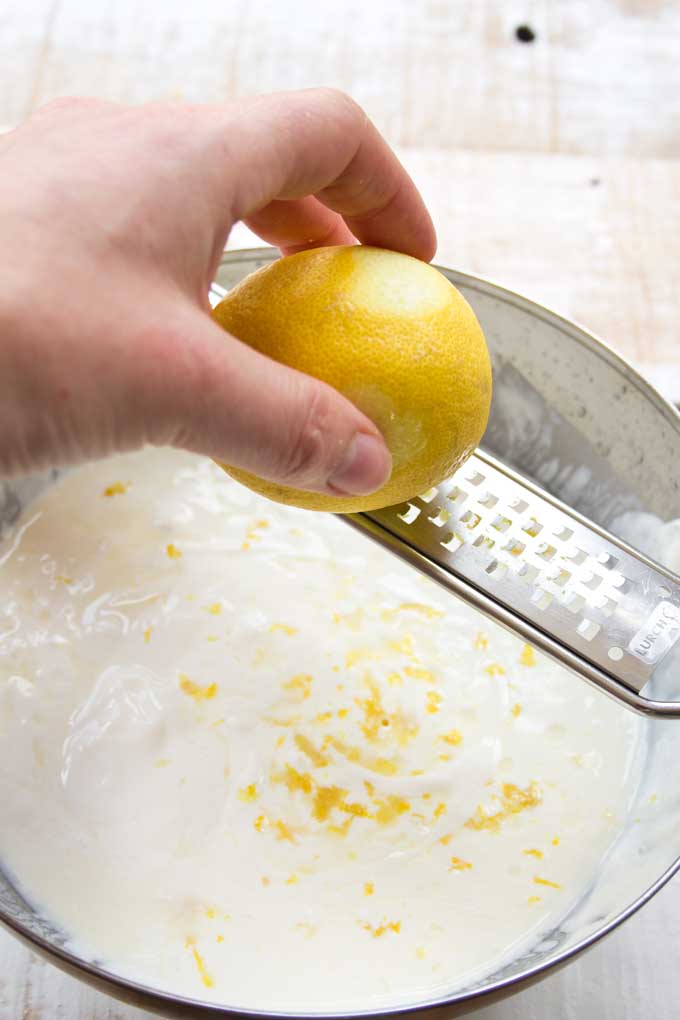 Here's how you can customise your low carb lemon cheesecake:
You could use a muffin tin to make individual mini cakes
Replace the lemon with lime and have yourself a sugar free key lime pie
Skip the baking. Use the same amounts of almond flour and coconut, but replace the egg with 1/4 cup of coconut oil.
If you try the step above, you can either make a low carb lemon cheesecake by using a springform (line it with baking paper, spread the crust mix only on the bottom and not the sides)….
….or make individual mini cheesecakes in a muffin tin. To release those out of the tin with ease, use paper cups or freeze them for a couple of hours so they are nice and firm and pop out of the tin without you denting them.
As mentioned above, you can add a tsp of ginger to the crust to jazz it up
If you don't like the idea of gelatine, you can use whipped double cream or whipped coconut cream (use only the firm parts from your can of coconut milk) instead of the sour cream.
This post contains affiliate links. If you click on one of these links and purchase a product as a result, I may earn a small commission. This money goes towards the running costs of this website. Thank you for supporting Sugar Free Londoner. 
Low Carb Lemon Cheesecake Tart
Zingy and refreshing, this low carb lemon cheesecake tart is a heavenly creamy highlight to any meal. Your family will never guess it's sugar free! Keto, gluten free and diabetic-friendly.
Ingredients
For the base
150

g / 1 1/2 cup

almond flour

or ground almonds

70

g / 3/4 cup

desiccated coconut

unsweetened

1

egg

large
For the filling
300

g / 10.5 oz

cream cheese

300

g / 10.5 oz

sour cream

1

lemon, zest and juice

2

tbsp

powdered sweetener

(or more, to taste)

12 g / 1 pack

gelatine
Instructions
Preheat your oven to 180 Celsius / 356 Fahrenheit. Line the bottom of a tart/pie dish with baking paper and grease the sides.

In a blender or with a hand mixer (use a tall jug), blend the ingredients for the tart base until they resemble sticky crumbles and the coconut is starting to release its oils.

Press the dough into a tart or pie dish with your fingers. My dish measured 22 cm at the bottom and 26 cm at the top.

Bake for around 20 minutes until the tart crust is lightly browned.

Remove from the oven and let it cool down. Then remove tart base from the pan.

Mix the cream cheese, sour cream, sweetener, lemon juice and zest in a bowl until smooth.

Dissolve your gelatine according to your manufacturer's instructions (I dissolved mine in a few tablespoons of hot water) and add to the filling mix. Blend and fill into the tart base.

Cool the tart in the fridge until set, a minimum of 2 hours or overnight. Decorate with more lemon zest or to your liking.
Recipe Notes
I calculated the nutrition on the basis of 12 generous slices. The tart can yield 16 slices which would still be a good dessert portion. 
If you wish, you could top the tart with a layer of whipped cream or whipped coconut cream. 
I used a tart pan with a removable bottom. This way it's really simple to get your tart base out.
Want to know which equipment I cannot live without? Read this post about all my top 10 low carb kitchen gadgets! 
Nutrition Facts
Low Carb Lemon Cheesecake Tart
Amount Per Serving
Calories 263
Calories from Fat 224
% Daily Value*
Total Fat 24.9g 38%
Total Carbohydrates 5.8g 2%
Protein 7g 14%
* Percent Daily Values are based on a 2000 calorie diet.