This creamy keto mug cheesecake cooks in the microwave for just over 1 minute! It's perfect if you want a quick and easy sugar free dessert. It is crustless and has only 2.6g net carbs per portion. Serves 2.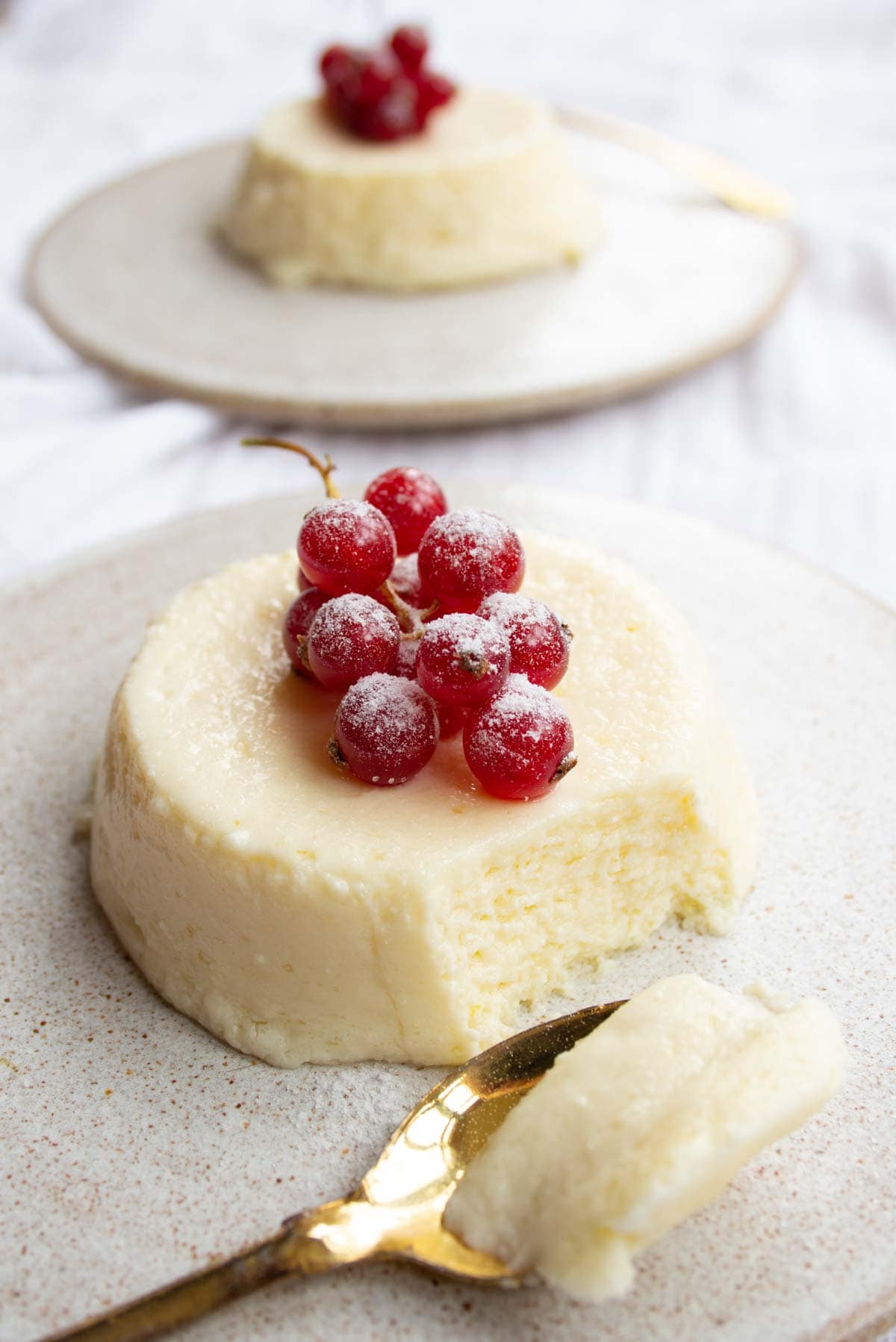 I just cannot get enough of cheesecakes in all shapes and forms! I recently posted this keto cheesecake fluff, and I have a bunch of "proper" cheesecakes on the blog, from a classic Sugar Free Cheesecake to this decadent Keto Double Chocolate Cheesecake. It was time for a microwave version.
It took me a few attempts to get this keto mug cheesecake cake just right. The first time, I overcooked the cakes and they became gummy. Note - 2 minutes is definitely too long, guys! The second time, I added a full tablespoon of lemon juice, which caused the batter to separate. I'm making all the mistakes so you don't have to 🙂
The third time, these beauties came out and they do not only look pretty, the taste was great, too. My daughter has requested that they go on the regular dessert rotation. Result!
Of course, a mug cheesecake does not QUITE have the same ultra-silky texture as a baked cheesecake. I guess it's because we're using more egg than in a large cheesecake. Maybe it's also to do with the rather intense way a microwave cooks things.
But, that's the small trade-off you make for saving time and effort. I thought that overall it made a wonderful quick dessert. The other plus is that you're not left with 10 more portions of cheesecake you feel compelled to eat over the next few days!
Jump to:
Ingredients
You only need 5 ingredients:
Cream cheese
Egg
Powdered sweetener
Vanilla extract
Lemon juice and zest.
Instructions
This section contains step-by-step instructions and photos that show how to make this recipe. See the recipe card for full information on ingredients and quantities.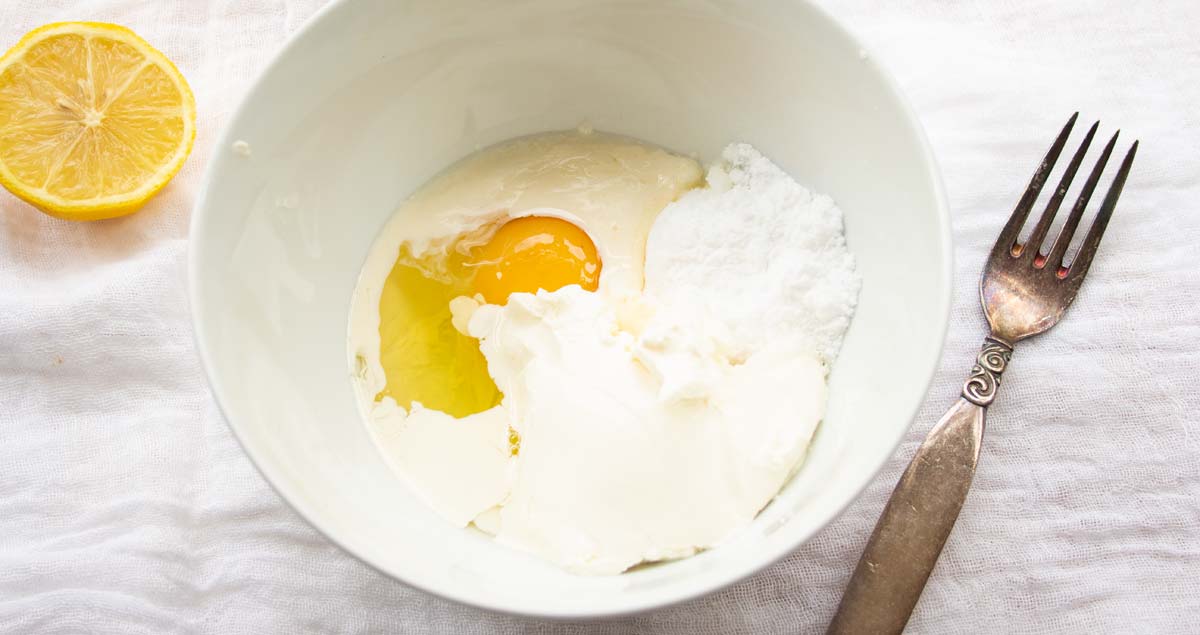 WHISK INGREDIENTS
Put all ingredients in a bowl and mix with a spoon or a balloon whisk until there are no lumps. This may take a couple of minutes as some cream cheese brands are firmer than others.
I used the Sainsbury's own brand and had no issues. But if you don't want to risk any hiccups, use a whipped cream cheese brand such as Philadelphia. Or, carefully warm your cream cheese in the microwave before using. Don't zap it for longer than 15 seconds though!
(Note: in the image above I had tested a version that included heavy cream / double cream. I changed the recipe because I thought the taste was "fresher" without the cream).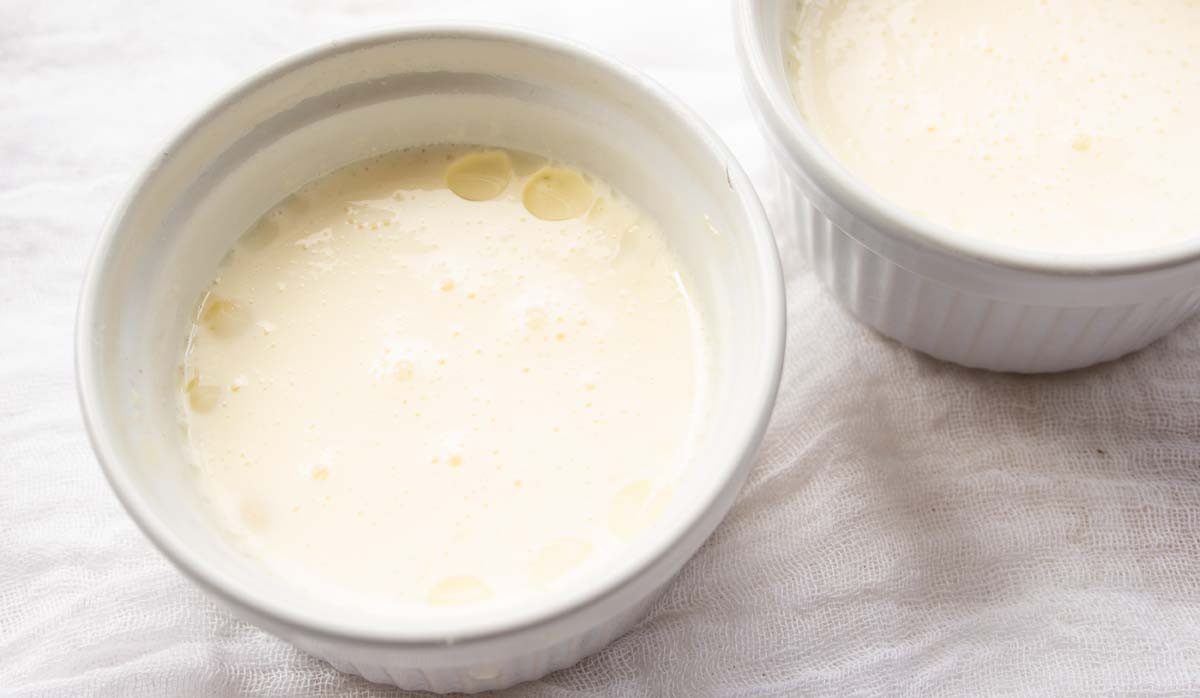 2. GREASE RAMEKINS
I decided to make 2 single serve keto mug cheesecakes as opposed to one larger one.
Lightly grease 2 ramekins so it's easy to release the cakes after microwaving. I used a light olive oil because it has very little flavour and does not overshadow the dessert. Melted butter would also work well here, or use coconut oil.
TOP TIP: I chose 6 ounce ramekins. As you can see, the batter does not reach all the way to the top. The cheesecake rises as it cooks and this way, there is no overflowing and no mess.
You can also use 2 small cups if you wish. Just don't choose a vessel that is tall and narrow, because it would be tricky to release the cheesecakes.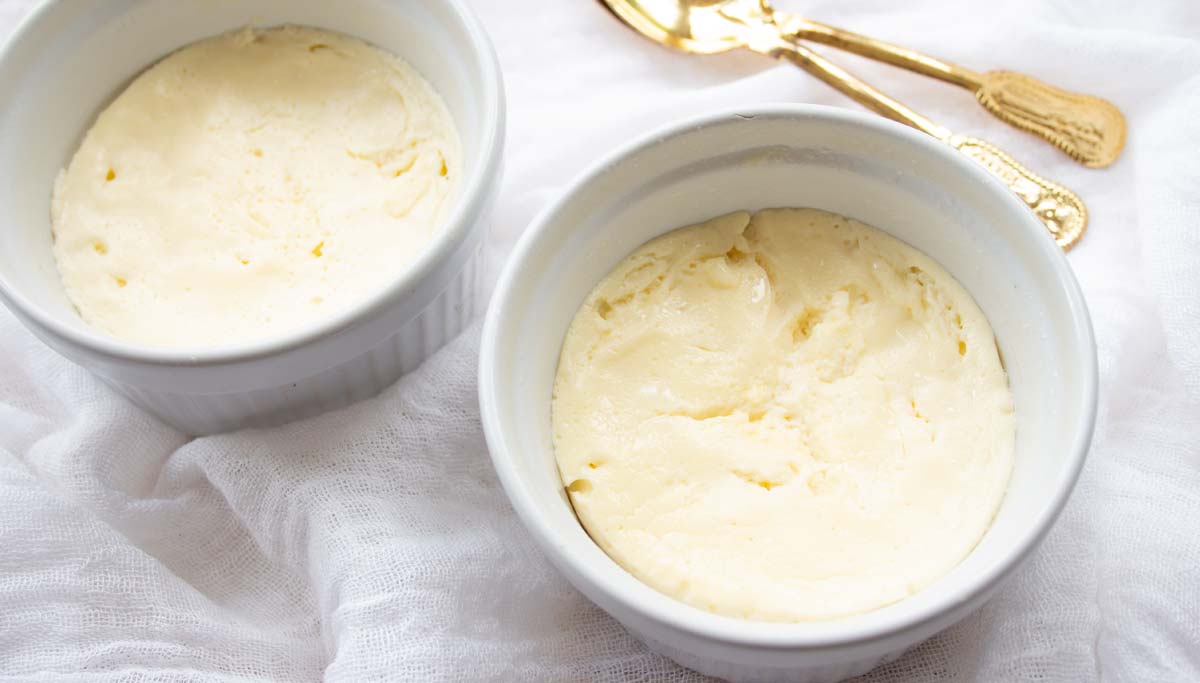 3. MICROWAVE
This is what the keto microwave cheesecake looks like when they are done! I microwave them separately, one after the other. First, each ramekin goes in for 1 minute. After that, the cake should be set on the outside and still liquid in the centre.
Then, I microwaved each for a further 15 seconds.
Now, let the cakes cool on the counter for 5-10 minutes, then transfer to the fridge or freezer and chill until you're ready to eat them.
Simply enjoy the mug cheesecakes straight from the ramekin or run a knife around the edges so you can invert them onto a plate.
Microwave Timings
If you overcook the cakes, they will take on a gummy texture. Therefore, it is important to pay attention to the power of your microwave.
My microwave cooks at 900 Watts, so if your microwave is stronger (they can be up to 1200 Watts), you will need to reduce the cooking time.
Also, do not cook the cakes in one go. The reason why I cook the cakes in stages and alternate the cooking is because I don't want the batter to overheat and splatter.
To be completely on the safe side, you an also opt to cook the cakes at 50% power and cook 45 seconds at a time (this should take about 2 ½ - 3 minutes per cake).
The mug cheesecake is done when the sides are set, the top is glossy and the centre is still jiggly. 
Recipe Tips 
The golden rule for all keto cheesecakes is: use powdered sweetener. Granulated erythritol will produce a gritty result. We want this cake to be smooth!
I thought the lemon zest really took the cake to the next level. Since adding more lemon juice did not work as I mentioned earlier on, this increased the flavour by about 100%.
I used regular vanilla essence, which worked fine. Vanilla bean powder would definitely take it up a notch. It's more expensive, but has a more intense aroma.
As with all cheesecakes, the resting time improves the flavour. Hot microwave cheesecake can taste a little eggy. This disappears once it has chilled in the fridge!
You can replace 2 ounces of the cream cheese with sour cream or even Greek yoghurt for a tangier flavour.
Cheesecake crust
I've posted the crustless version because it's lighter. But it's easy to add a simple almond flour base to this cake - see the image below.
I used:
5 tablespoon almond flour
1 teaspoon of sweetener
1 teaspoon of melted butter.
Simply stir until you have a crumbly mix, divide it in two and then press it into the well-greased ramekins. Add the cheesecake mix on top and continue with the recipe as described.
Adding the crust increases the net carbs to 3.9g per portion.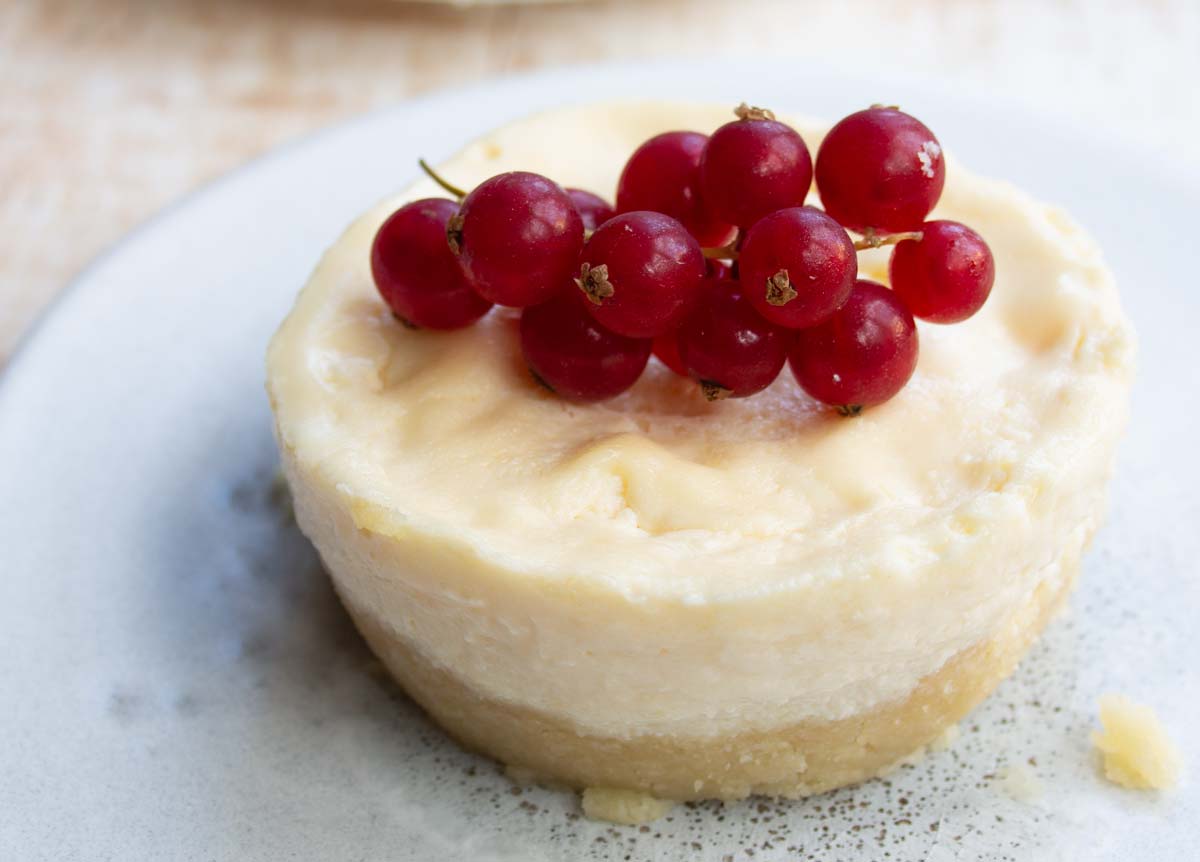 Toppings
We've got options here!
Dust with powdered sweetener and decorate with berries (blueberries, raspberries and strawberries or use redcurrants like I did).
Top with whipped cream.
Drizzle with sugar free chocolate sauce (in this case, omit the lemon zest in the cake and double up on the vanilla).
Make a quick raspberry coulis - mash raspberries with a fork, add ½ teaspoon ground chia seeds and sweetener to taste.
Oven timings
You can make this recipe in the oven. Go for 160 Celsius / 325 Fahrenheit. 10-12 minutes should do the trick. The outsides and the top should be set, but the centre should still be jiggly. It will firm up as it cools down.
Mug cheesecake without egg
You can make an egg free microwave cheesecake by simply using cream cheese and sweetener. It needs microwaving for longer at 50% strength.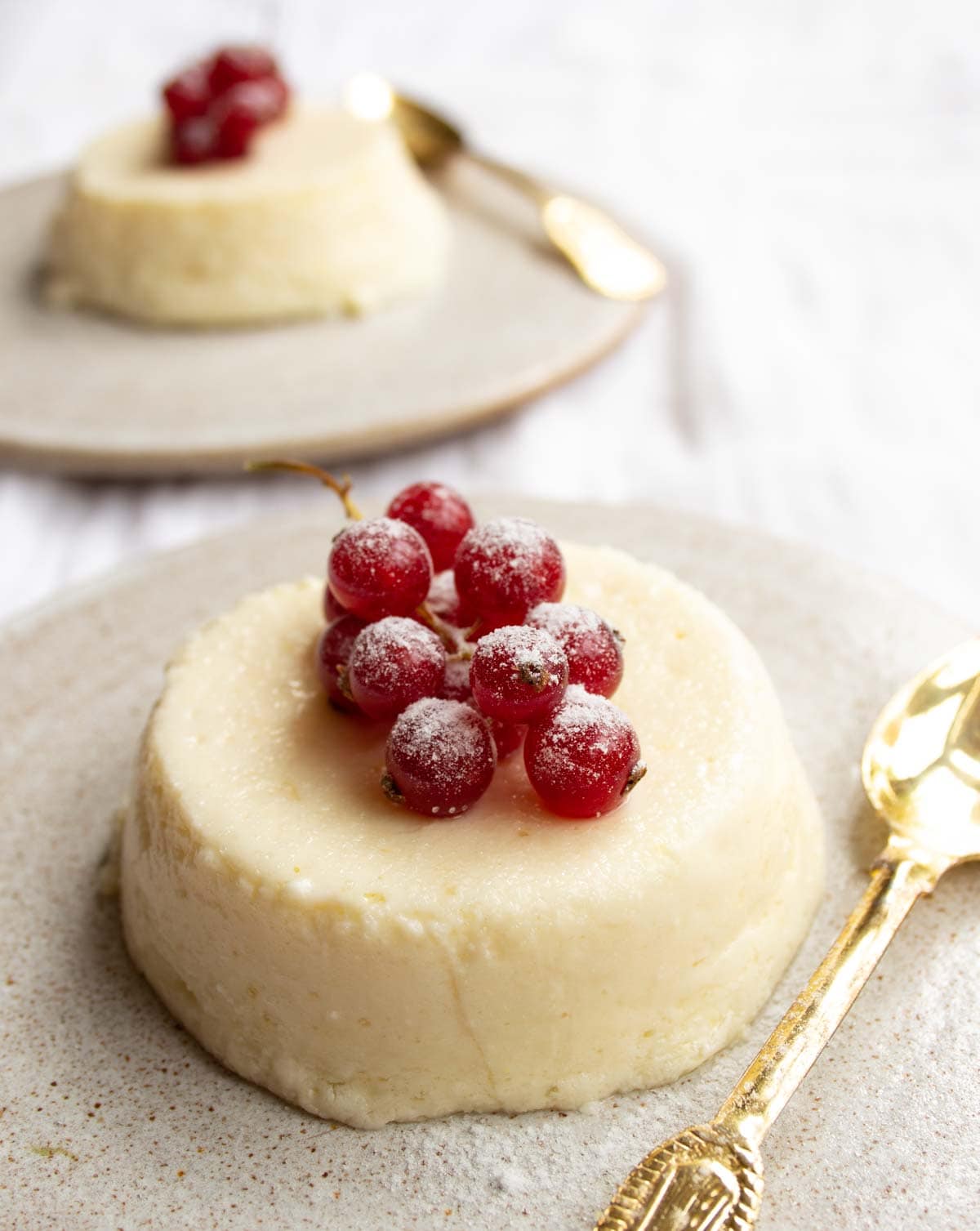 Note: To speed up the cooling time, you can also place the cakes in the freezer for 30 minutes.
Storage
In the unlikely event of leftovers, store the cakes in the fridge for up to 3 days.
Before I go... for a unbaked version of a super quick cheesecake, try my keto cheesecake fluff.
Related recipes
Tried this recipe? Give it a star rating below!
★ STAY IN TOUCH on FACEBOOK, PINTEREST and INSTAGRAM  for more great food and join my NEWSLETTER for the latest updates and a FREE EBOOK.★ 
Recipe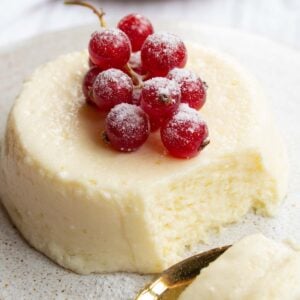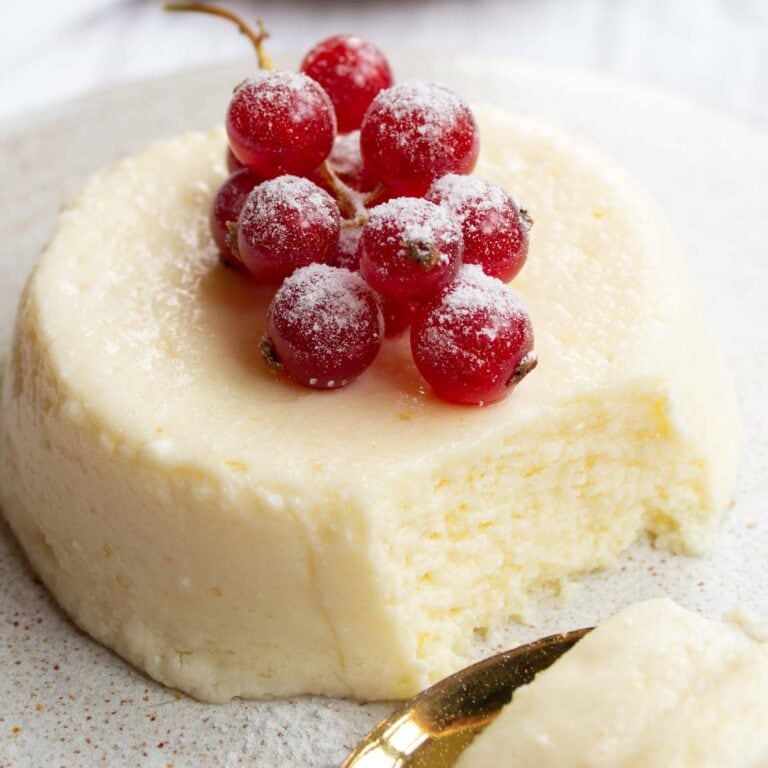 Keto Microwave Mug Cheesecake
from Sugar Free Londoner
A crustless keto mug cheesecake that ticks all the boxes! It cooks in less than 90 seconds and requires only 5 minutes prep. The perfect sugar free dessert if you crave cheesecake but don't want to make a large cake.
Note: The servings slider only changes the first amount in each line and not any subsequent amounts. Please make your own calculations where necessary.
Instructions
In a bowl, mix all ingredients with a fork or a balloon whisk. Whisk until there are no lumps.

Lightly grease 2 ramekins with oil or melted butter (I used light olive oil, but coconut oil also works).

Divide the batter between the ramekins. Microwave one ramekin at a time for 1 minute each on high. The tops should be glossy and the centre still jiggly. Then microwave each ramekin for a further 20 seconds.

Cool on the counter for 10 minutes, then cool in the fridge for circa 1 hour or until cool.

Eat straight from the ramekin or invert onto a plate and decorate with berries / whipped cream / a quick berry coulis.
Notes
Net carbs: 2.6g per portion.
My microwave is 900 W. Adjust the cooking time according to the power of your microwave. 
My ramekins had a capacity of 6 ounces and had a diameter of 7 cm at the bottom and 9 cm at the top. 
This is a gently sweet dessert. Add an additional tablespoon of erythritol or a few drops of vanilla or lemon stevia if you prefer a sweeter cheesecake.
To add a cheesecake crust, mix 5-6 tablespoon almond flour, 1 teaspoon sweetener and 1 teaspoon melted butter until you have a crumbly mix. Press into the bottom of the greased ramekins and proceed as per recipe.  This increases the net carbs to 3.9g / 318 calories per serving.
To make these cheesecakes in the oven, try 160 C / 325F for 10-12 minutes. 
Nutrition
Calories:
213
kcal
Total Carbohydrates:
2.8
g
Protein:
8.1
g
Fat:
22.2
g
Saturated Fat:
13.5
g
Fiber:
0.3
g
Sugar:
2.4
g
This post contains affiliate links. If you click on one of these links and purchase a product, I may earn a small commission, at no extra cost to you. Thank you for supporting Sugar Free Londoner.