Healthy Carrot Cake Muffins. Sensationally moist, light and simply mouthwatering! They are 100 % grain free, refined sugar free and packed with carrots.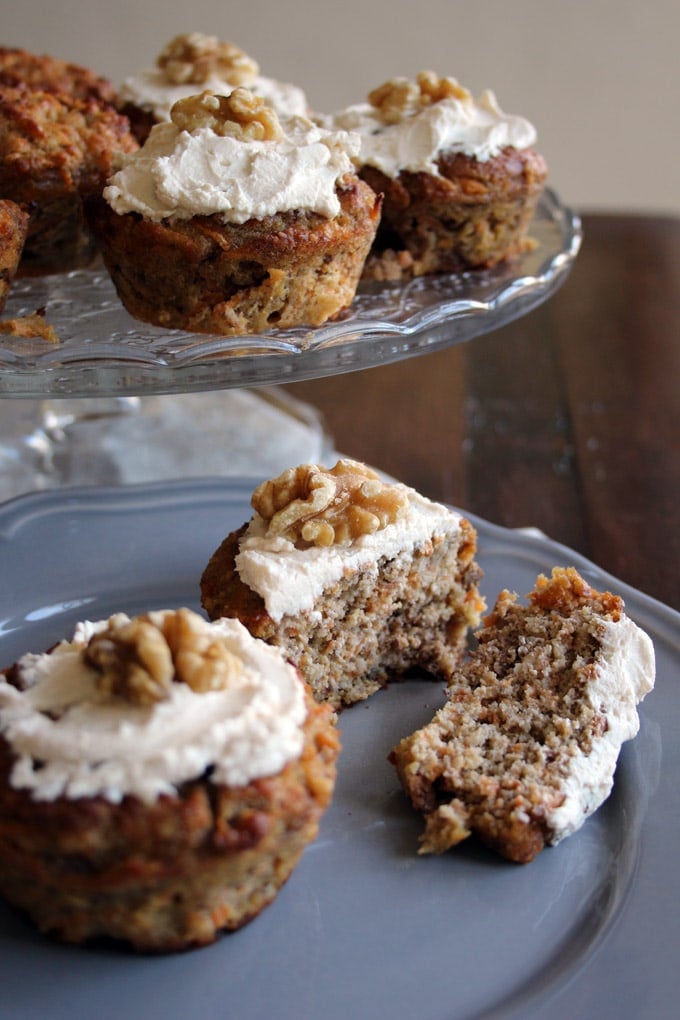 You should not believe everything you read online.
The last time I had a bunch of carrots clogging up my fridge I decided to make soup, adding cloves to it because that's what I had read in a blog. The result was edible, but seriously underwhelming. I actually still cringe at the thought of it. Why did I not stick with a tried-and-tested-combo such as coriander and ginger?
Well people, I am doing the hard work for you here. Don't make carrot soup with cloves. Unless you really, really like cloves.
When I checked my fridge today and saw the three bags of carrots in the vegetable compartment (why did I think I needed three bags?!), I could still taste that darn carrot soup. It had to be something else. Something un-soupy.
It could only be... healthy carrot cake muffins!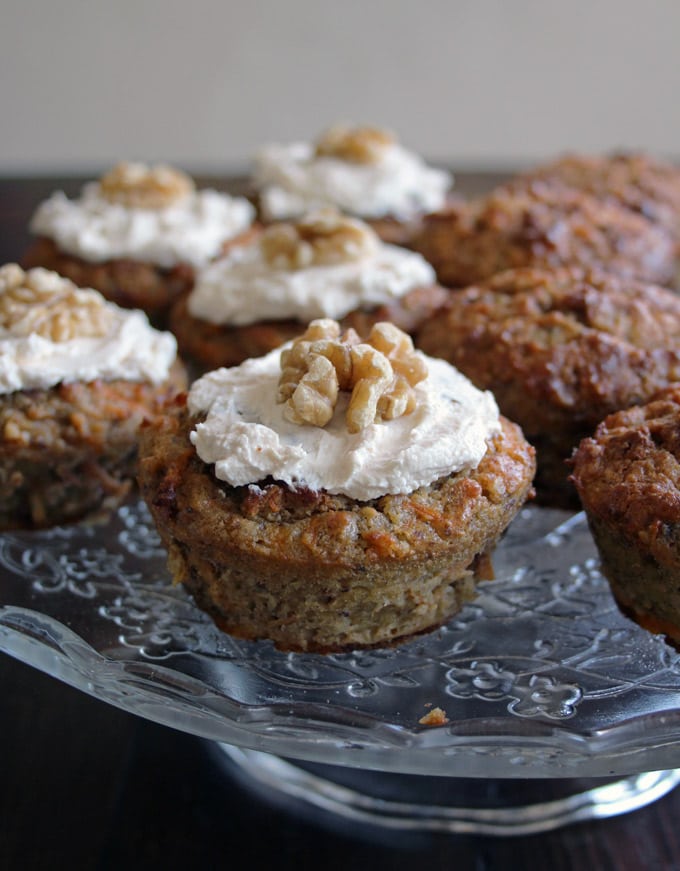 Now, friends. You've got to take a leap of faith here. For I am telling you, while this recipe is on a blog and online, it is tried and tested. Three times now. By ten people in total, different age groups. At different times of day. Thumbs-up all around!
And what's not to love about these babies? These healthy carrot cake muffins have been, as the name cleverly suggests, stripped of anything you could possibly feel guilty about.
They are gluten free, grain free, refined sugar free and packed with carrots and nuts and would therefore make a legitimate breakfast option! I can vouch they go very well with a cup of coffee. And, in fact, a glass of milk.
I have added cinnamon-flavoured cream cheese frosting, but if frosting is not your kind of thing, the muffins taste just as good without. If you like to bake big, this recipe can obviously also be made into a carrot cake - you might have to keep it in the oven a little longer.
Tried this recipe? Give it a star rating below!
★ STAY IN TOUCH on FACEBOOK, PINTEREST and INSTAGRAM for more great food and join my NEWSLETTER for the latest updates and a FREE EBOOK.★
Recipe
Healthy Carrot Cake Muffins
from Sugar Free Londoner
Sensationally moist and nutty: These healthy carrot cake muffins are grain free, sugar free and packed with carrots. An absolutely guilt-free dessert.
Note: The servings slider only changes the first amount in each line and not any subsequent amounts. Please make your own calculations where necessary.
Ingredients
300

g / 3 cups

grated carrot

5

eggs

180

g / ¾ cup

butter, softened

2

very ripe medium bananas

150

g / 1 ¼ cup

almond flour

or ground almonds

30

g / scant ¼ cup

flaxseed

ground

50

g / ½ cup

walnuts, chopped

2

teaspoon

baking powder

2

teaspoon

cinnamon

1

teaspoon

mixed spice

2

teaspoon

vanilla essence

1 ½

teaspoon

granulated stevia

100

g / ½ cup

cream cheese, full fat
Instructions
Heat your oven to 180 Celsius.

Blend your eggs, softened butter and bananas until thoroughly combined.

Mix in the ground almonds, flaxseed, spices, vanilla, 1 teaspoon stevia and baking powder.

Lastly, gently stir in the grated carrot and the walnuts. Make sure the carrots are grated and not ground to a pulp, which essentially separates the liquid from the fibre. This was the mistake I made in my first attempt!

Pour the dough into a well-greased muffin tin or line your muffin tin with paper cups. I use a silicone mould as I find they are the most helpful at getting muffins out in one piece.

Bake at 180 Celsius for circa 30 minutes or until nicely browned.

For the icing, beat the cream cheese (should have room temperature) with ½ teaspoon of stevia and couple of dashes of cinnamon. Spread the mixture onto to the muffins once they are cooled
Nutrition
Serving:
108
g
Calories:
301
kcal
Total Carbohydrates:
11.6
g
Protein:
7.2
g
Fat:
26.4
g
Fiber:
3.5
g
Sugar:
4.6
g
This post contains affiliate links. If you click on one of these links and purchase a product, I may earn a small commission, at no extra cost to you. Thank you for supporting Sugar Free Londoner.