A moist and chocolatey keto mug cake made with coconut flour. Enjoy this cake straight out of the mug or transfer onto a plate and smother it with sugar free chocolate sauce! Low carb and gluten free.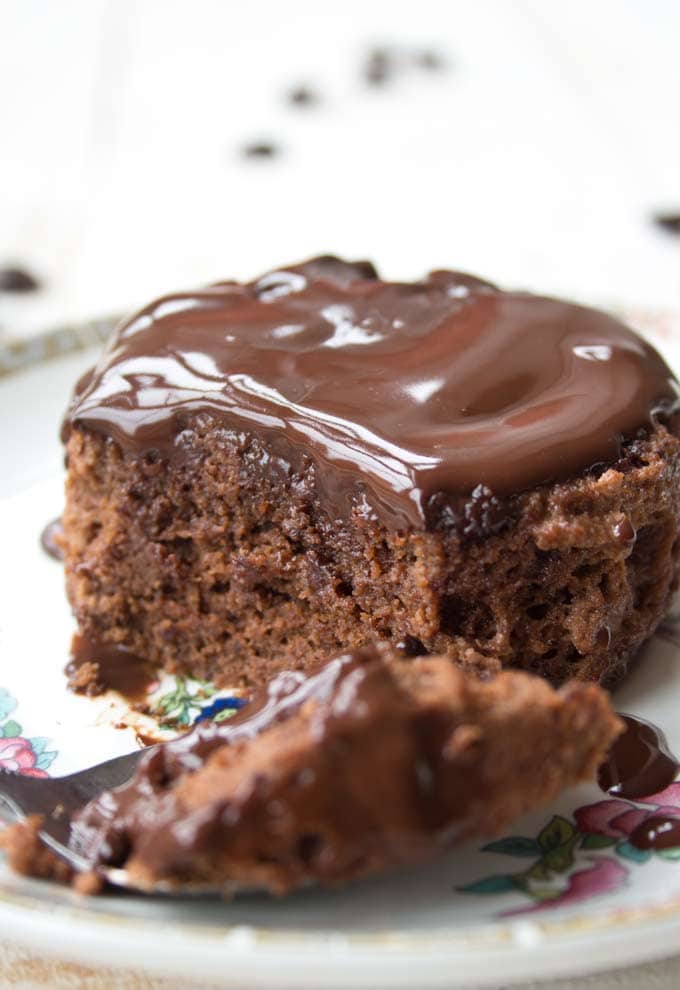 Sometimes you just have to sleep on it. And then suddenly, the solution is obvious.
This is exactly what happened with this chocolatey Keto mug cake recipe!
After making this rather delicious sugar free lemon mug cake, I decided I needed a chocolate counterpart. Firstly, because mug cakes are my new passion, and secondly, because chocolate is one of my oldest, dearest friends.
I used the recipe for the lemon mug cake as a starting point and began to experiment, swapping out lemon juice with cream and almond flour with coconut flour. A bit of vanilla extract here, another teaspoonful of cacao powder there…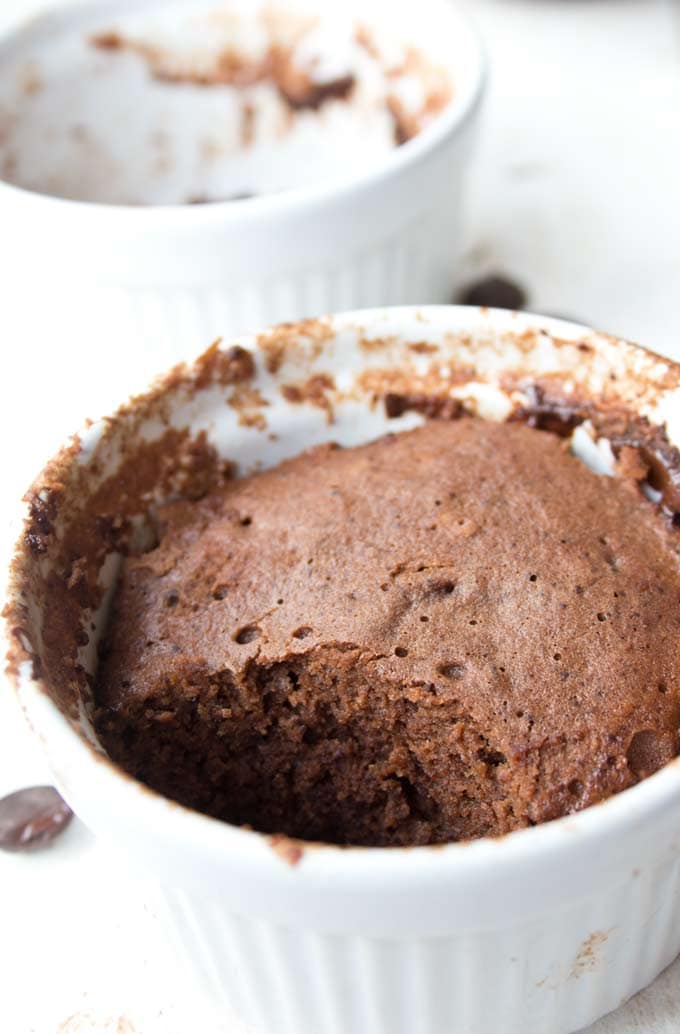 At the end of the afternoon I had produced no less than five versions of a chocolate chip Keto mug cake, all of which were kind of delicious. I had even shot a video.
My family was quite happy that dessert was ready before dinner had begun and insisted that all cakes were great.
But. I knew they could be better.
Friends, you know I am a food nerd. There I was lying in bed last night pondering which ingredient I could add to make my chocolate mug cake AWESOME.
And then, at roughly 5:29 am I knew what it was: I didn't have to add anything. I had to take something away!
Let me give you full disclosure here. In my original recipe I had settled on 2 tbsp coconut flour. It produced a pretty-looking cake which stayed soft and delightfully spongy while warm, but firmed up too much for my liking when cold. Whilst still yum and certainly nourishing, I was after a moister specimen.
Simply by reducing the amount of coconut flour to 1 1/2 tbsp, the cake came out just perfect!
Tips and tricks for the perfect chocolate keto mug cake:
The cake looks a bit soft when straight out of the microwave. Resist the urge to blitz it for another 30 seconds. It dries out easily!
If you want to turn it out onto a plate, wait until it has cooled a little so it does not fall apart.
Make sure you level your tablespoons of coconut flour to use the correct amount. Coconut flour is terribly absorbent, that's why it took me so many tries to get the ratio right.
Stir your dry ingredients really well, to ensure there are no lumps. I couldn't find a sieve, so simply pressed it with my fingers, which was kind of fun.
My batter was way softer using only 1 1/2 tbsp of coconut flour than the one you see in the video. There is a photo of it in the recipe instructions!
The chocolate sauce is optional, but yum. I haven't included it in the recipe calculation. Alternatively, you could eat this cake with sugar free ice cream or some whipped cream and berries.
If you don't have a microwave you could try the recipe in the oven at 180 Celsius / 356 Fahrenheit for 10-15 minutes. Alternatively, try out my sugar free chocolate cupcakes, they've got rave reviews 🙂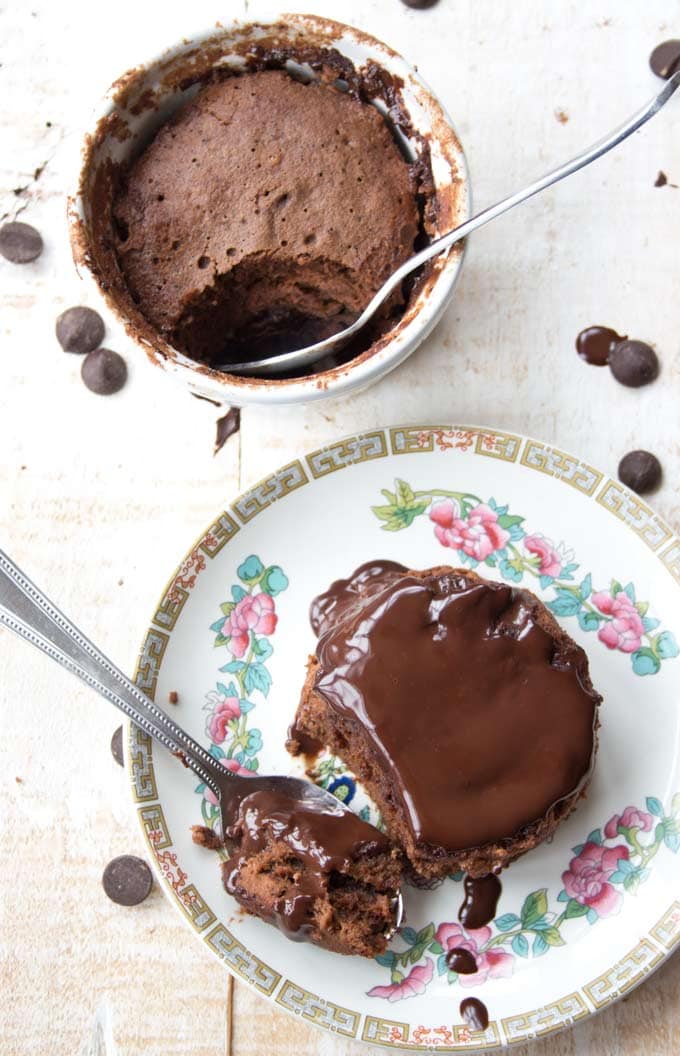 You can either use ready-made sugar free chips like Lily's or simply break 90% chocolate such as Lindt into small pieces.
Alternatively, make your own sugar free chocolate chips! As you can see in the post I linked to, it's really simple and they taste absolutely delicious 🙂
Starting out on low carb? Find out all about my top 10 essential low carb kitchen gadgets!
Try my other Keto mug cakes: 
 ★ STAY IN TOUCH on FACEBOOK, PINTEREST and INSTAGRAM for more great food and join my NEWSLETTER for the latest updates.★ 
Chocolate Chip Keto Mug Cake
A moist and chocolatey keto mug cake made with coconut flour. Enjoy this cake straight out of the mug or transfer onto a plate and smother it with chocolate sauce! Sugar free, low carb, gluten free.
As an Amazon Associate I earn from qualifying purchases.
Instructions
In a bowl, combine your dry ingredients - coconut flour, baking powder, cacao powder, sweetener. Make sure there are no lumps.

Add your wet ingredients - the egg, cream and vanilla extract. Mix well.

Stir in the chocolate chips and let the batter rest for a minute.

Melt 1/2 tsp butter each in 2 mugs or ramekins (30 seconds) and grease the insides. This is an important step if you want to turn your mug cakes out onto a plate. Divide the batter between the mugs/ramekins.

Microwave on high for 1 1/2 minutes. Don't microwave any longer or your cakes will become dry.

Enjoy straight out of the ramekin or turn out onto a plate. See notes for an optional chocolate sauce!
Notes
For an optional chocolate sauce, melt 2 tbsp sugar free chocolate chips and 1 tbsp butter. I like to start them off in the microwave (30 seconds, no more) and then put them  in a water bath (place a small bowl with the chocolate chips into a larger bowl filled with boiling water). Stir until liquid. Add 2-3 tbsp cream or milk and stir until smooth and pourable.
If you cannot get hold of sugar free chocolate chips, you can use very dark chocolate instead, with a minimum of 85% cocoa solids and break it into small pieces. I've done that for my chocolate chip cookies and it worked well.  
Even better, make your own sugar free chocolate chips!
I like to use cacao powder instead of cocoa powder. Cacao powder is unprocessed, which means it retains important nutrients and antioxidants. If you are using cocoa powder, which is stronger in taste and darker in colour, you may have to halve the amount stated in the recipe. 
I used classic ramekins just like these. They are great for making little cakes and they're perfect for my Low Carb English Muffins, too.  
Nutrition
Calories:
250
kcal
|
Carbohydrates:
9.7
g
|
Protein:
6
g
|
Fat:
22
g
|
Saturated Fat:
9.9
g
|
Polyunsaturated Fat:
1
g
|
Monounsaturated Fat:
5.2
g
|
Cholesterol:
144
mg
|
Sodium:
50
mg
|
Potassium:
144
mg
|
Fiber:
5.3
g
|
Sugar:
1.3
g
This post contains affiliate links. If you click on one of these links and purchase a product as a result, I may make a small commission, at no extra cost to you. This money helps with the running costs of my website. Thank you for supporting Sugar Free Londoner.