A showstopper cake to crown a festive meal or mark a special occasion: This rich and creamy spiced orange cheesecake with brandy is sugar free, low carb and gluten free. Guilt free dessert heaven.
What does Christmas smell like?
To me, it's the scent of fresh pine, of course; and the wonderful aromas coming from the kitchen. The warm and spicy notes of cinnamon, cardamom, cloves, ginger and nutmeg and the fragrant aromatic scent of freshly grated orange zest are just irresistible - add one or more of these to a dessert and you have elevated it from delicious to deliciously festive.
I have a well-known weakness for chocolate (check out my sugar free chocolate feast muffins or this chocolate avocado mousse). When Vitamix asked me to create a dessert for their Vitamix Moments series, my first thought was to make this spiced chocolate torte. It is rich, dense, chocolatey and festive and so good you might just want to keep it for yourself. But I felt like making something fruitier and fresher, yet with a festive kick.
That's why I settled on an orange cheesecake instead.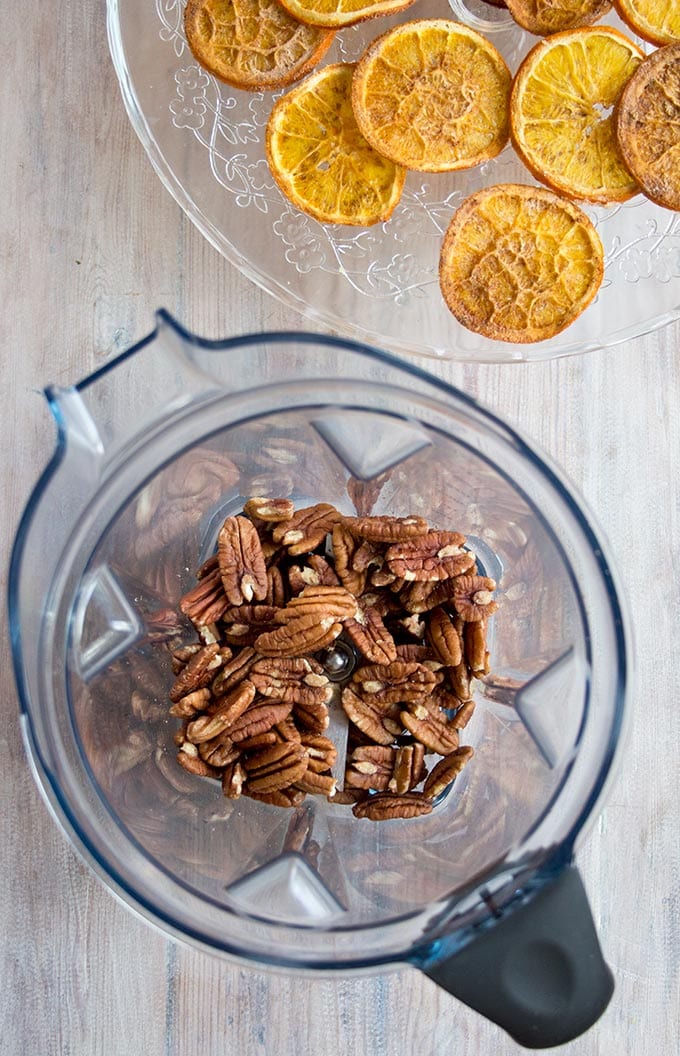 Regular cheesecakes often have a crust made out of crushed biscuits, which is certainly easy, but not exactly low carb. I made my crust sugar free by using granulated erythritol to sweeten and gluten free by going for ground almonds and pecans instead. All you need to do then is to mix in a bit of melted butter and add ginger, cinnamon and co to get the festive vibe going.
The instructions for this cake may be longer than for most of my other recipes. But be assured that this cake is really simple to put together and can be adapted easily. If you do not have all of the spices to hand, you can leave one out or sub with a spice mix such as mixed spice. I have chosen pecans and almonds for the base, but other nuts such as walnuts would taste good, too.
Even the brandy could be replaced with Grand Marnier, if you're happy to rename your cake.
There are many recipes out there that recommend to bake a cheesecake in a water bath so it won't split. The one time I wrapped my springform with aluminium foil and placed it in a tray filled with water, the water soaked through and made my cake base wet and soggy. I've since solved this problem by simply placing a bowl of water under the springform. This works just as well. And anyway, so what if your orange brandy cheesecake splits? It'll look a bit more homemade and will taste just as nice.
One last word about the dried orange slices. You can make them a day or 2 before and they taste incredible, including the peel. Trust me! Incidentally, they would make a nice table decoration as well. And they have the most wonderful fragrant scent. I really hope you'll give them a try.
Tried this recipe? Give it a star rating below!
★ STAY IN TOUCH on FACEBOOK, PINTEREST and INSTAGRAM  for more great food and join my NEWSLETTER for the latest updates and a FREE EBOOK.★ 
Recipe
Orange Cheesecake with brandy
from Sugar Free Londoner
A showstopper cake to crown a festive meal or mark a special occasion. This spiced orange cheesecake is sugar free, low carb and gluten free
Note: The servings slider only changes the first amount in each line and not any subsequent amounts. Please make your own calculations where necessary.
Ingredients
200

g / 1 ½ cup

pecans

100

g / 1 cup

almond flour

(to my UK readers - ground almonds work well here)

50

g / ¼ cup

butter

3

tablespoon

granulated erythritol

1

tablespoon

ground ginger

1

tablespoon

cinnamon

pinch

of ground cloves

½

teaspoon

nutmeg

3

cardamom seeds

husks removed

6

eggs

600

g / 21 oz

cream cheese

full fat

120

ml / ½ cup

double/heavy cream

2-3

tablespoon

brandy

zest of 1 ½ oranges

finely grated

1

tablespoon

orange essence

100

g / ½ cup

powdered erythritol

fresh orange slices

to decorate

dried orange slices

to decorate
Instructions
Optional: To make the dried orange slices, heat the oven to 90 degrees Celsius. Thinly slice 2 oranges, remove any seeds and lay out on a baking sheet. Sprinkle with 1 tablespoon granulated erythritol such as Sukrin Gold and 1 tablespoon cinnamon or mixed spice. Bake for ca 2 hours or until dried out and crisp. This can be done 1-2 days in advance.

For the cake: Preheat the oven to 160 degrees Celsius. Line the base of a springform tin (20-24 cm diameter) with baking paper and grease the sides.

Grind the pecans in a food processor. Melt the butter and mix the pecans, almond flour or ground almonds, butter, 3 tablespoon granulated erythritol and spices (ginger, cinnamon, cloves, nutmeg, cardamom seeds). If you do not have those exact spices, try using some pumpkin spice or mixed spice - they normally include ginger and cinnamon. This idea is to get a wintery vibe for the base.

Press firmly into the base of the springform. This can be done with your fingers or the back of a spoon. Refrigerate for 15 minutes.

Beat the eggs until creamy and fluffy. Add the cream cheese, double cream, sweetener, brandy, orange essence and orange zest and mix until combined.

Pour the mixture onto the cake base. Place in the oven over an oven proof bowl filled 2 cm high with just boiled water. Bake for 1 hour 15 minutes until just set and slightly browned on top.

Let the cake cool completely in the tin. Remove from the springform and store in the fridge until ready to serve.

Before serving, decorate with some more orange zest and the dried orange slices. This way they stay nice and crisp.
Notes
The dried oranges can be eaten including the peel and are well worth the effort. I can understand though that not everyone wants to spend the time. Alternatively you could top the cake with whipped cream, some orange zest and pomegranate seeds. Add some orange essence and a teaspoon of brandy to your whipped cream! I have not included the orange slices in the nutrition calculation.
Nutrition
Calories:
319
kcal
Total Carbohydrates:
6.4
g
Protein:
7.8
g
Fat:
29.7
g
Saturated Fat:
11.7
g
Cholesterol:
111
mg
Sodium:
154
mg
Potassium:
195
mg
Fiber:
2.7
g
Sugar:
2.2
g
This post contains affiliate links. If you click on one of these links and purchase a product, I may earn a small commission, at no extra cost to you. Thank you for supporting Sugar Free Londoner.