This Keto peanut butter mug cake is a super indulgent, super easy dessert. And it proves the well-known fact that life is just BETTER with peanut butter!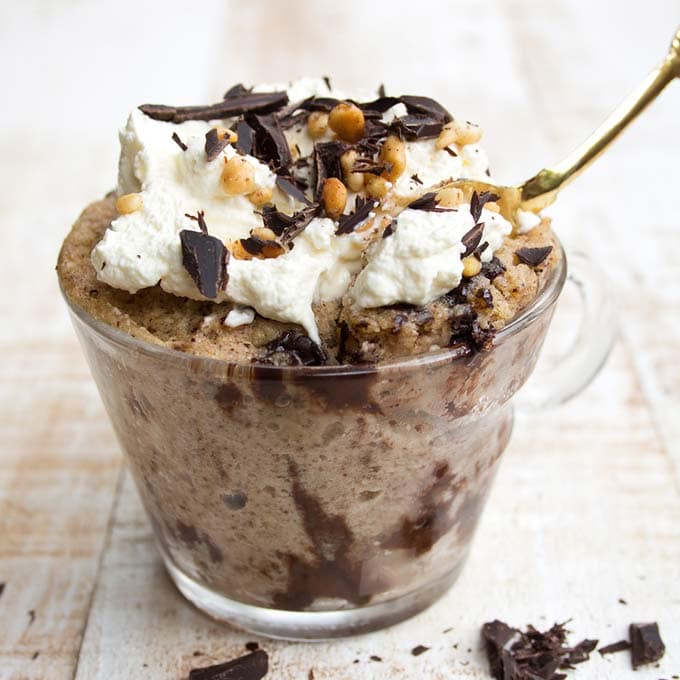 I love mug cakes, because they deliver almost instant gratification.
There you are, thinking: "Wouldn't it be lovely to eat something sweet right now?" So you stir up a few ingredients and stick it in the microwave.
And less than five minutes later you're tucking into a warm, comforting cake. Mug cakes are almost too good to be true!
I have a few delicious keto mug cake recipes on my website already – check out this lemon mug cake, my keto chocolate chip mug cake and this cinnamon swirl coconut flour mug cake.
All equally gorgeous, ridiculously simple and delightfully sugar-free. Take your pick according to your craving of the day!
This Keto mug cake satisfies even the most urgent peanut butter needs.
It is possible to make a totally flourless pb mug cake with only peanut butter, egg, sweetener and a little bit of baking powder. This combo was a bit firm for my taste, especially once cooled. (Incidentally, it makes incredibly crunchy peanut butter cookies).
To fluff it up, I added some coconut flour and a good measure of double cream. These additions make the mug cake taste like a REAL, moist cake. Yum.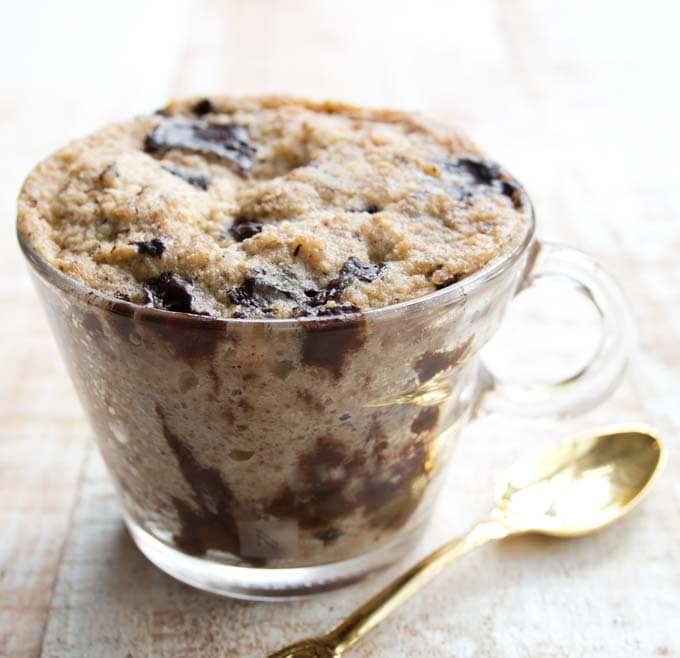 How to make a PERFECT peanut butter mug cake
Choose a tall vessel for microwaving. You want to have at least 3 fingers space at the top. Mug cakes have a habit of rising and can spill over the top.
To avoid a mess, you can also pause the microwave to check after about 50 seconds. If necessary, continue cooking the cake in 10 second bursts. This will prevent spillage as you're giving the cake time to sink back down in between.
The chocolate chips are optional – the cake tastes just as good without. However, we all know that chocolate and peanut butter are a dream team 🙂
I used a chocolate with 90% cocoa solids for my cake, which I chopped. If possible, your chocolate should contain at least 85% cocoa solids.
You can also use sugar free chocolate chips such as Lily's (available in the US). Or you make your own sugar free chocolate chips!
Tips and Recipe Variations
This PB mug cake is VERY FILLING. Personally, I think it's perfect for sharing. If you don't want to spoon from the same cup, simply divide the mix between 2 ramekins.
Possible add-ons for this cake: 1/2 tsp vanilla extract or 1 tsp cinnamon.
To make this cake dairy-free, simply use coconut cream in place of the double / heavy cream.
Try and source peanut butter that is unsweetened. Good peanut butter really only needs to contain 1 ingredient – peanuts.
Ran out of peanut butter? You can use almond butter or any other nut butter in this recipe.
Tried this recipe? Give it a star rating below!
★ STAY IN TOUCH on FACEBOOK, PINTEREST and INSTAGRAM  for more great food and join my NEWSLETTER for the latest updates and a FREE EBOOK.★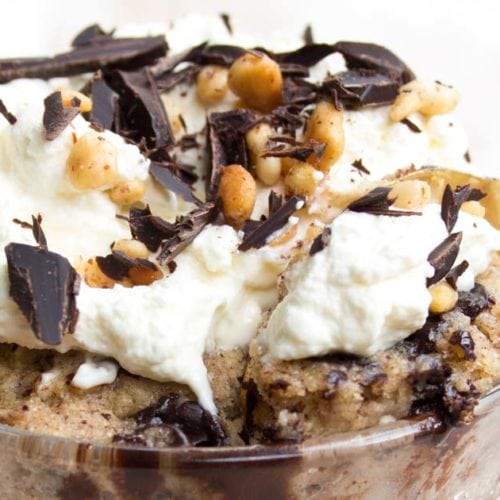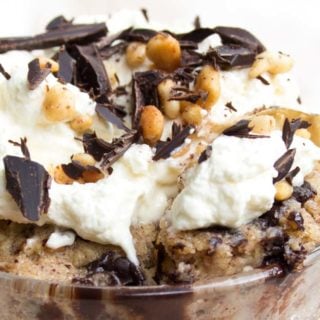 Keto Peanut Butter Mug Cake
Sometimes only a moist, fluffy Keto peanut butter mug cake will do! This sugar free, low carb microwave dessert recipe takes less than 5 minutes from start to finish. Dairy-free option!
As an Amazon Associate I earn from qualifying purchases.
Instructions
Mix all ingredients in a tall glass or cup, using a fork. Fold in the chocolate last, if using.

Microwave on high for about 90 seconds.
Notes
For best results, make sure your peanut butter is soft. Almond butter also works. 
See the tips in the post about the choice of vessel. It's also possible to use 2 ramekins. 
Optional tweaks: 1/2 tsp vanilla extract, 1 tsp cinnamon
Decorate with whipped cream or coconut cream and chocolate chips (decoration is not included in the nutrition details).
The cake is best enjoyed warm. 
Nutrition (3.6 net carbs p.p.) is calculated on the basis of 2 people sharing - this cake is VERY filling. 
Nutrition
Calories:
280
kcal
Total Carbohydrates:
7.2
g
Protein:
10.3
g
Fat:
22.9
g
Saturated Fat:
9
g
Polyunsaturated Fat:
5
g
Monounsaturated Fat:
6.1
g
Fiber:
3.6
g
Sugar:
3.4
g
This post was first published in May 2019. It was updated and republished in January 2020.
This post contains affiliate links. If you click on one of these links and purchase a product, I may earn a small commission, at no extra cost to you. Thank you for supporting Sugar Free Londoner.