Zingy, refreshing and packed with bold, bright flavours, this salmon ceviche dish teams salmon with lime, coriander and sesame seeds.
Anyone up for some serious omega 3? Friends, let's not kid ourselves. Those fish oil capsules are just not cutting it. They do terrible things to my breath and I always regret it if I have one. Instead, try out this salmon ceviche. I just can't get over how the lime "cooks" the raw salmon and makes it taste so fresh and zingy. You will LOVE it!
I always feel quite pleased with myself if I think I am looking after my health. No sugar? Tick. Sunscreen? Tick. Enough sleep? Working on it. Also on the coffee addiction, which I am trying to offset with matcha tea (amazing antioxidant levels, and also very tasty). I cannot give up on coffee. It is just too good.
Omega 3 fatty acids, found in oily fish, are another biggie. Nutritionists recommend to eat at least two portions a week. Oily fish really is a true superfood heavyweight: In addition to reducing the risk for heart disease, it may be helpful in preventing, treating, or improving virtually all inflammatory diseases (any illness ending with "itis"), rheumatoid arthritis, migraines, inflammatory bowel disorders such as Crohn's disease or ulcerative colitis, gingivitis, acne and asthma. Give me some salmon ceviche immediately, you say?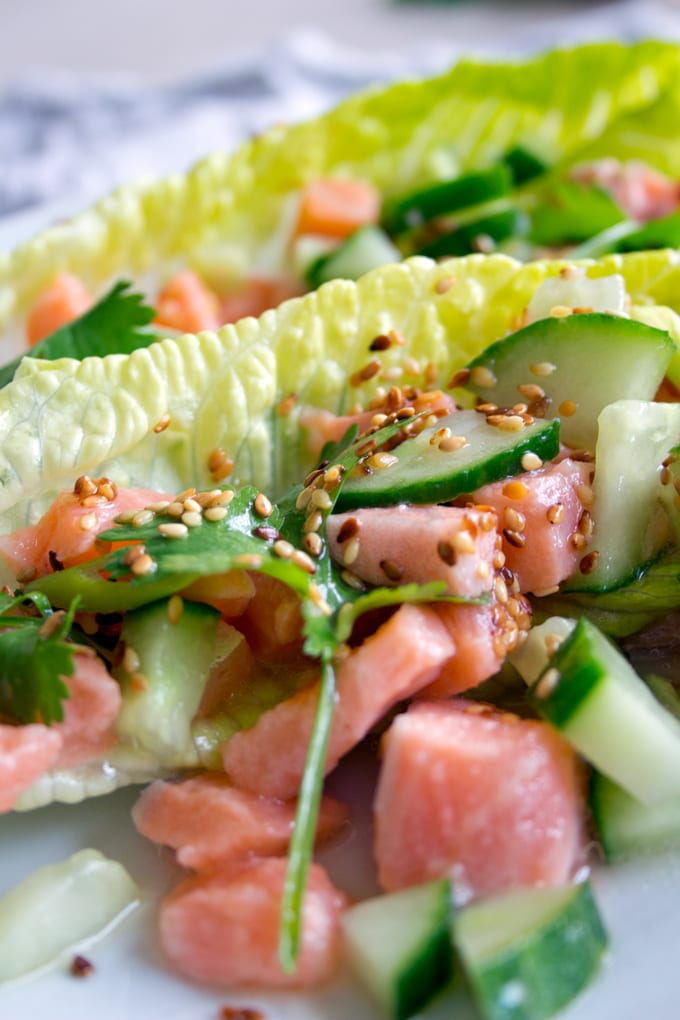 This is the kind of dish I would swoon over in a restaurant and probably try to take pictures of (I snap so many of pictures of food these days that I keep everyone from eating it). The good thing is, when you make it at home, you can have seconds.
Ceviche is considered to be Peru's national dish. Its birthplace is disputed between Peru and Ecuador, and as both countries have an amazing variety of fish and shellfish, it could easily have come from the ancient Inca civilisations of Peru and Ecuador. Every Latin American country has given the dish its own touch of individuality by adding particular garnishes. In Peru, it is served with slices of cold sweet potatoes or corn-on-the-cob. In Ecuador, it is accompanied by popcorn, nuts, or corn nuts. It is also served in a large crystal bowl with the guests helping themselves, either by spearing it with toothpicks or filling the pastry shells. In Mexico, ceviche is accompanied by slices of raw onions and is served on toasted tortillas. Speaking of Mexico, this ceviche would make a fantastic starter to my Mexican Bean Burgers!
Let me put a Japanese spin on this story though: Ceviche is the IDEAL alternative for anyone who loves sushi, but cannot be bothered to EVER make it at home because it is just too FIDDLY. It is raw but not raw, just the right side of spicy, and 100% low carb. Get out your sharpest knife, friends, and let's start slicing that salmon!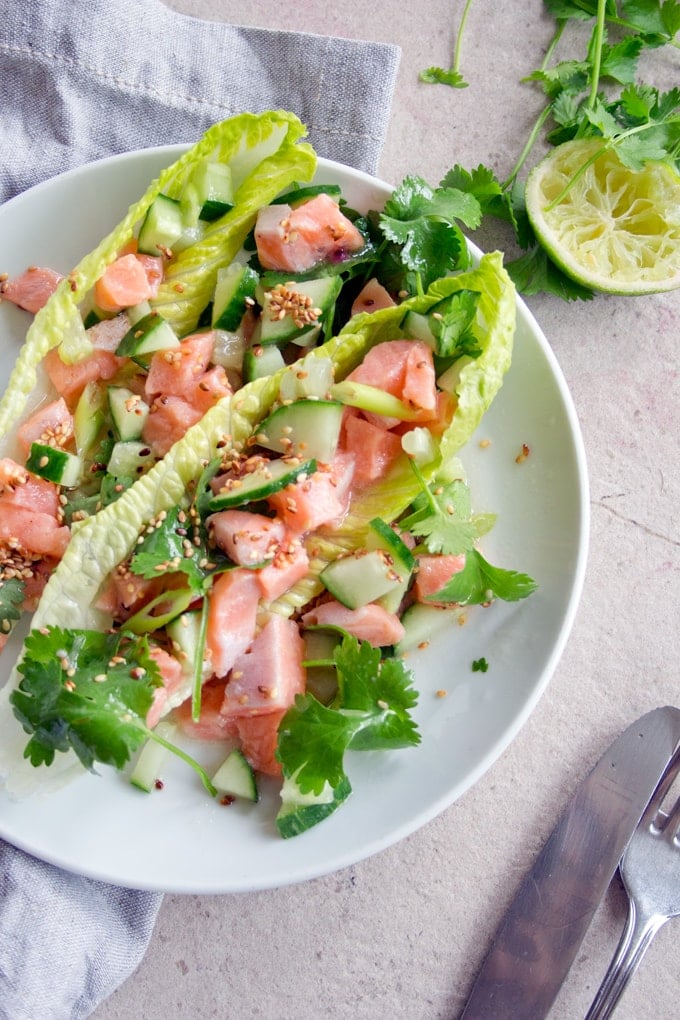 Sugar Free Londoner
Yields 4
Superb Salmon Ceviche
Zingy, refreshing and packed with bold, bright flavours, this ceviche dish teams salmon with lime, coriander and sesame seeds.
5 minPrep Time
30 minCook Time
35 minTotal Time
Ingredients
400 g salmon fillet, skinned
1/4 cucumber, finely cubed
2 spring onions, chopped diagonally so they look pretty
handful of coriander leaves
large lettuce leaves to serve in
handful of sesame seeds, toasted
juice of 1 lime
1 tsp finely grated ginger
1 tsp rapeseed oil
1 tsp sesame oil
salt and pepper
Instructions
Your salmon should be half frozen so you can cut it easier. I used completely frozen salmon fillets, which luckily were not too thick, otherwise it would have been very difficult to cube them. Ideally, stick them in the freezer for half an hour before cutting. Your cubes should be 0.5 cm square.
Grate the ginger.
Place the salmon cubes in a bowl and pour over the lime juice with the grated ginger. Make sure it is coated well. Chill for 1/2 hour before serving so the salmon can "cook" in the lime juice.
Roast your sesame seeds in a pan on a low heat, moving them around regularly so they brown, but do not burn
Cube your cucumber, slice your spring onions. After the salmon has been in the fridge for 1/2 hour, add the cucumber, onions, coriander and oil, season with salt and pepper and mix gently.
Serve on salad leaves and decorate with the roasted sesame seeds
7.6.6
221
https://sugarfreelondoner.com/superb-salmon-ceviche/