It's really easy to make sugar free dried cranberries - or sugar free craisins, if you prefer to call them that - at home. I sprinkle them over salads and use them in muffins, granola and cookies. They're also delicious as a fruity, juicy snack all on their own.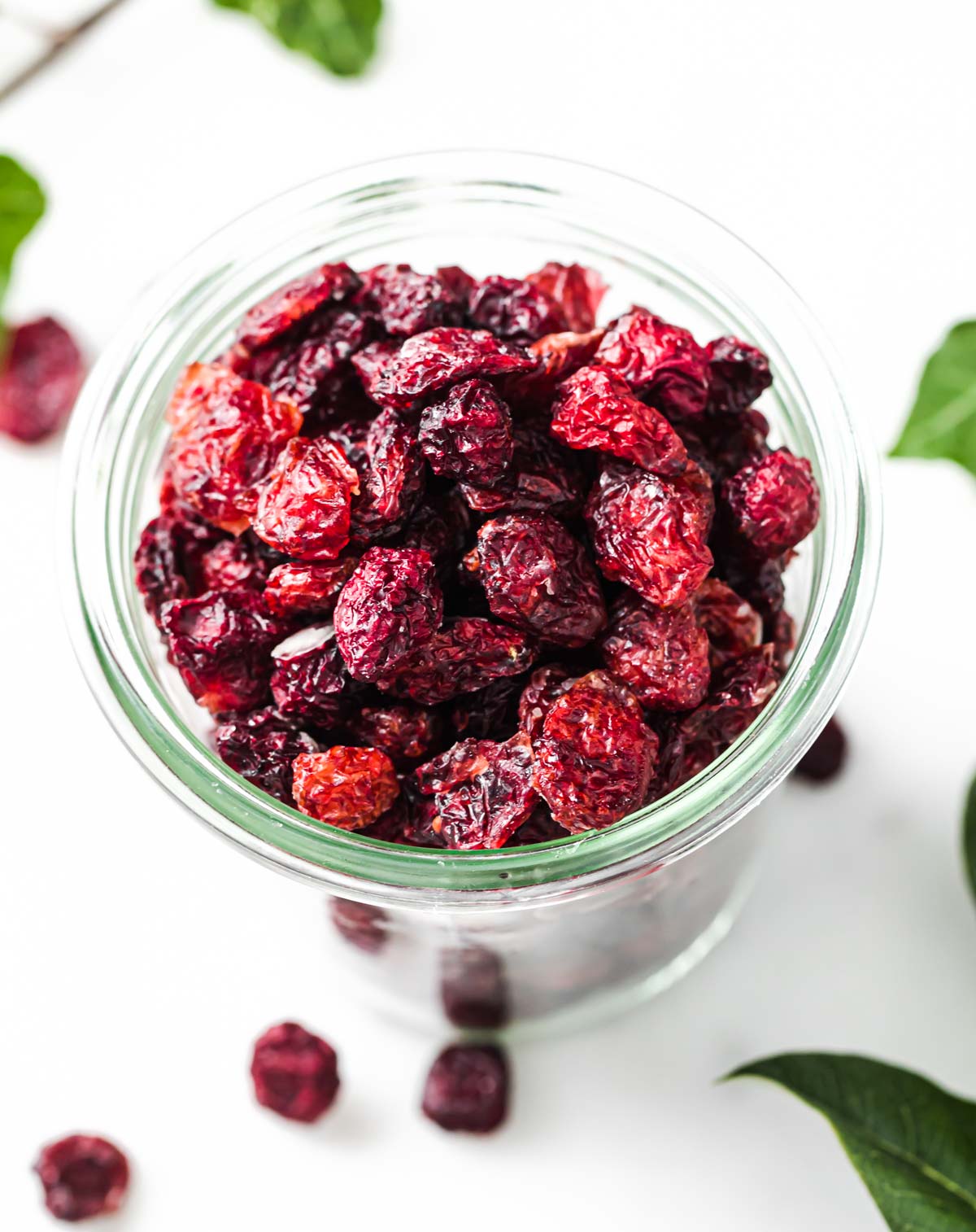 When you think of the holiday season, which berry springs to mind? Cranberries, of course.
Each year, I look forward to the moment cranberries pop up in the supermarket. Then, I make a batch of my sugar free cranberry sauce - and these sugar free dried cranberries.
Jump to:
Regular dried cranberries recipes are made with a sugar syrup or concentrated fruit juice. Really, they are no better than raisins or dates.
Instead of making a (sugar free) syrup, I simply coat the cranberries with a mix of coconut oil and powdered sweetener.
This recipe is a hit in our house every year. Here's why:
🌟 Why You'll Love This Recipe
Juicy, soft and chewy texture.
So much flavor! Tart and sweet taste.
Easy to make. 3 ingredients only.
Versatile. Use in muffins, cookies, granola and more
Healthy. Packed with vitamin C and minerals, high in antioxidants.
Keto friendly. 1 tablespoon is only 1.4g net carbs.
Ingredients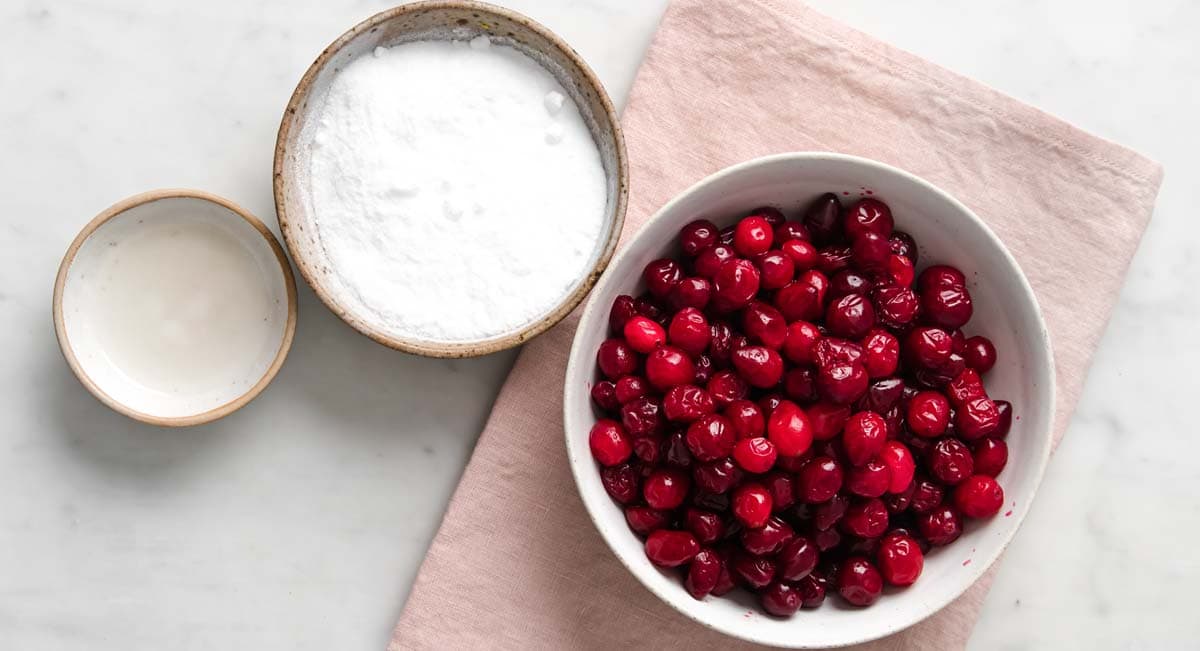 Cranberries: You can use fresh or frozen.
Powdered sweetener. I have made the recipe with both powdered erythritol and powdered allulose. I'd say that allulose is the better option if you can get hold of it. It melts like sugar and gives a smoother result.
Coconut oil. You need a little oil so the sweetener sticks better. Avocado oil or a light olive oil also works. Avoid vegetable or canola oil, they are not good for you.
Instructions
This section contains step-by-step instructions and photos that show how to make this recipe. See the recipe card for full information on ingredients and quantities.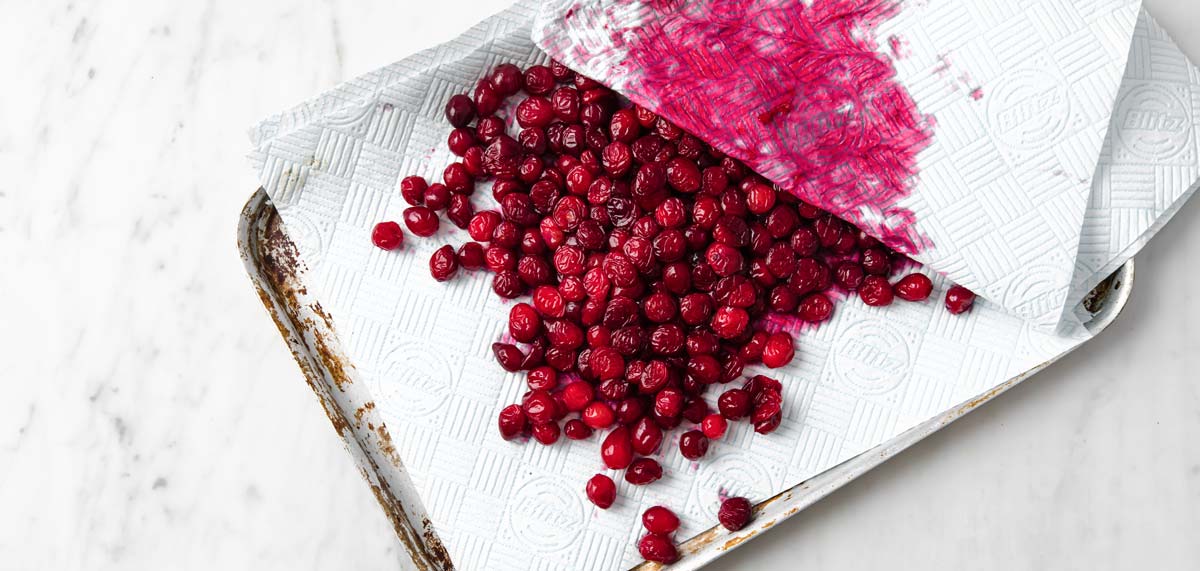 Step 1: Blanch the cranberries.
If using frozen cranberries - Pour boiling water over them and leave them to thaw. Drain and squeeze out the liquid with kitchen paper. They don't need to be bone dry, just the excess taken out.
If using fresh cranberries - Put them in a saucepan with boiling water and simmer until the cranberries start to soften and the skin splits open. Drain and then press between kitchen paper to remove any excess moisture.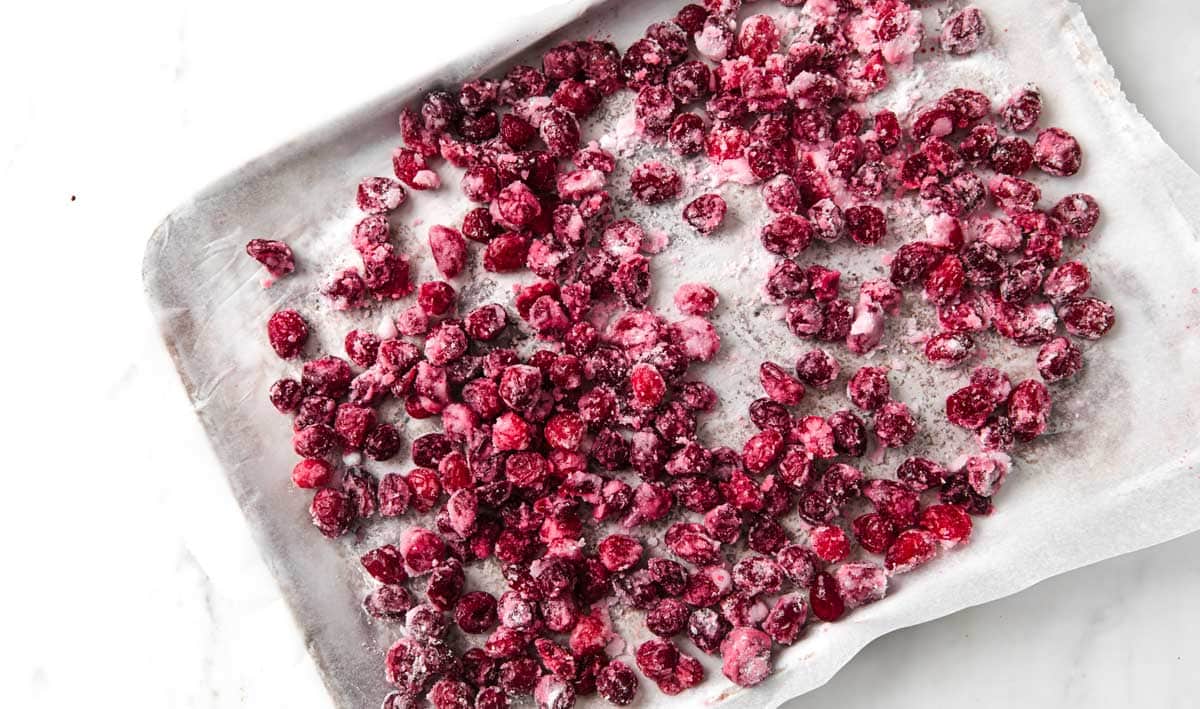 Step 2: Toss the berries in a bowl with coconut oil and low carb sweetener. Then spread them out in a single layer on a baking sheet lined with parchment paper.
Step 3: Let the cranberries slowly dehydrate in the oven. Check regularly to ensure they don't over-brown - all ovens are different.
Expert Tips
#1 If not all berries pop in the hot water, pierce the skins with a fork or a toothpick. If you pierce them or the skin has popped, they will dry quicker and the sweetener can enter the berries.
#2 You can make the sweetener stick even better by adding ¼ teaspoon xanthan gum or 1 teaspoon arrowroot powder. It's not essential to the recipe, but more similar to original (sugary) version which uses sugar syrups.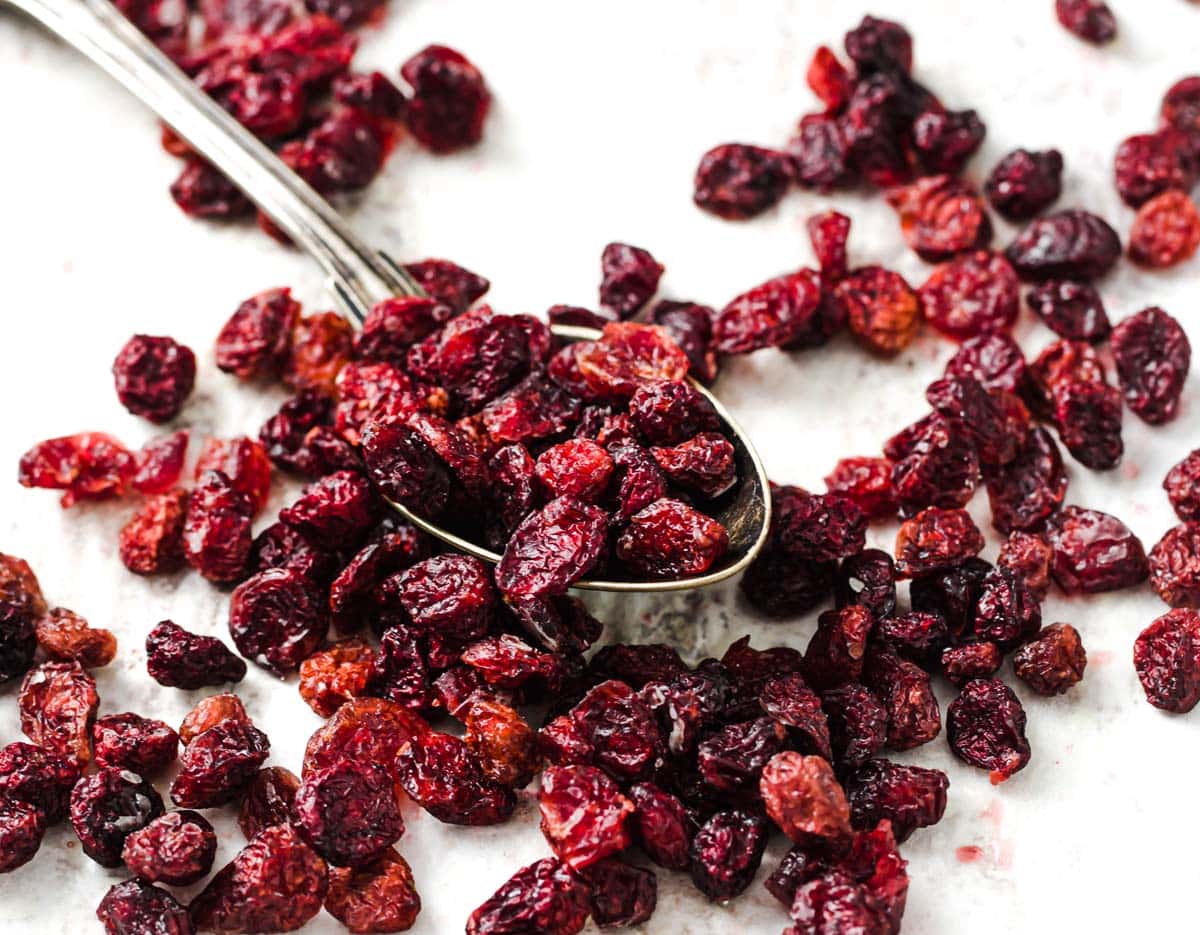 Recipe FAQs
What is the best oven temperature?
I set my oven to 100 Celsius / 210 Fahrenheit electric, which turned out to be the perfect temperature to speed up the drying process as much as possible without risking the cranberries to brown. For fan assisted ovens, set to 80C / 175F.
How long to dry cranberries?
4 ½ hours seems to be the perfect time. If your cranberries are VERY small (like red currants), about 4 hours may be sufficient. After this you NEED to turn off the oven and leave the berries inside overnight. Prop the door open with a wooden spoon. During this time they will dry out more and gain that raisin-like texture - juicy inside, but dry on the outside.
Do I need to blanch the fresh cranberries?
Yes. In my first try, I put them straight into the oven without blanching them first. This increased the oven time to 7 hours. I know you don't have time for that!
Can I make them without sweetener?
Yes, but they will be VERY tart. However, if you add unsweetened dried cranberries to muffins or other sweet dishes, you won't notice the difference. I used unsweetened cranberries in these orange cranberry scones and they worked really well.
Can I use a dehydrator?
Absolutely, but it will take much longer - between 12 and 14 hours. I don't own a food dehydrator, so please follow the manufacturer's instructions. The great thing about a dehydrator is that it uses less energy than an oven.
Uses
I love sugar-free dried cranberries as a simple juicy snack all on their own. Here are more ideas where they work:
Muffins. Add them into any muffin recipe to give them a festive, wintery flair. Try these keto blueberry muffins or these dairy-free coconut flour muffins and just replace the blueberries with cranberries.
Salads. Sprinkle over winter salads such as kale or chicory salad.
Granola. Add to keto granola, in low carb porridge or to keto granola bars.
Christmas baking. Use them in low carb Christmas pudding, stollen, mince pies or gluten-free panettone.
Storage
Kitchen cupboard: Store the cranberries in an airtight container at room temperature. If they are well-dried, you can keep them for a couple of months.
Fridge: If they are still very moist, you may prefer to store them in the fridge.
Freezer: It's possible to freeze them for up to 1 year.
More Keto Holiday Recipes
Tried this recipe? Give it a star rating below!
★ STAY IN TOUCH on FACEBOOK, PINTEREST and INSTAGRAM  for more great food and join my NEWSLETTER for the latest updates and a FREE EBOOK.★ 
Recipe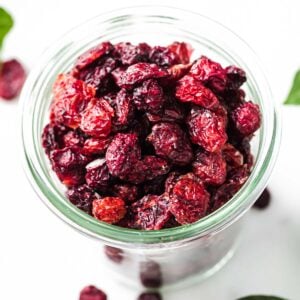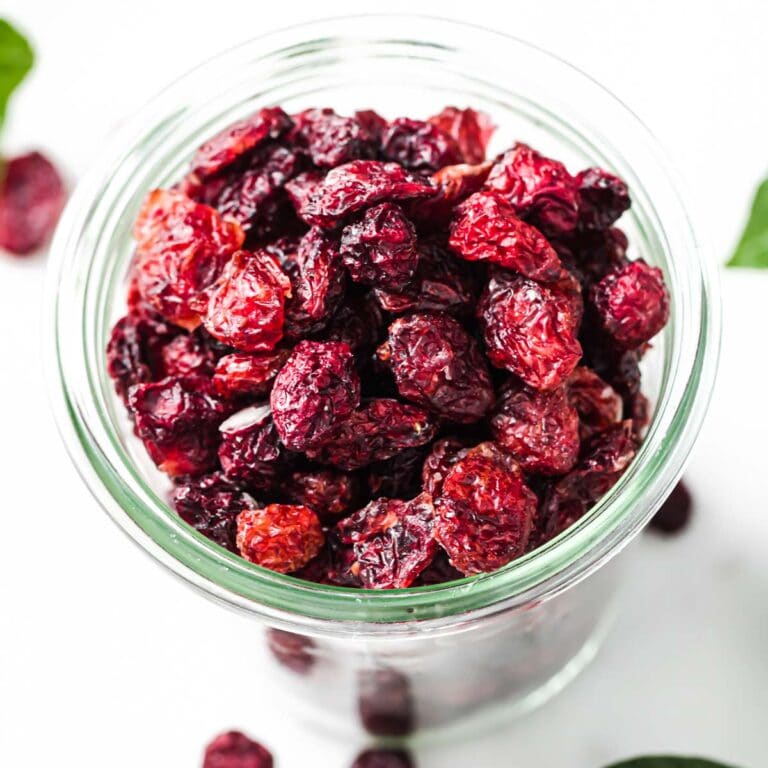 Sugar Free Dried Cranberries
from Sugar Free Londoner
Want juicy, fruity dried cranberries without all the added sugar? Try my easy recipe! These sugar free dried cranberries dehydrate in the oven and taste just incredible. Recipe works with fresh and frozen cranberries.
Note: The servings slider only changes the first amount in each line and not any subsequent amounts. Please make your own calculations where necessary.
Instructions
Preheat the oven to 100C / 210 F electric (or 80C fan).

If using frozen cranberries, place in a bowl of boiled water to defrost. If using fresh cranberries, place in a pan with a little boiling water and simmer for 2 - 4 minutes on a low heat or until they soften slightly and the skin pops open. Drain and place on kitchen paper and press to remove the moisture.

Pierce any berries that haven't popped with a fork. Put them in a bowl and toss them in the coconut oil and powdered sweetener.

Pour cranberries on a baking sheet lined with parchment paper and dehydrate in the oven for 4 ½ hours. Then, turn off the oven, prop the door open with a wooden spoon and leave the cranberries inside overnight.
Notes
Makes 1 cup of dried cranberries (100g).
1,4g net carbs per serving of 1 tablespoon. Makes 14 servings. 
Check during baking to ensure the cranberries do not over-brown. 
If your cranberries are more on the dried/crunchier side, they can be kept in the cupboard. If they have a slight softness to them and you prefer a little moister, you should keep them in the fridge.
Sweetener: You can use erythritol or allulose for this recipe. Allulose is my favourite as it absorbs into the cranberries and sits less on top.
Nutrition
Serving:
1
tablespoon
Calories:
18
kcal
Total Carbohydrates:
2.4
g
Fat:
0.9
g
Saturated Fat:
0.6
g
Fiber:
1
g
Sugar:
1
g