Light and golden coconut blueberry muffins – perfectly moist with fruity blueberry bursts. Enjoy as an on-the-go breakfast or as a satisfying snack. Gluten free and low carb.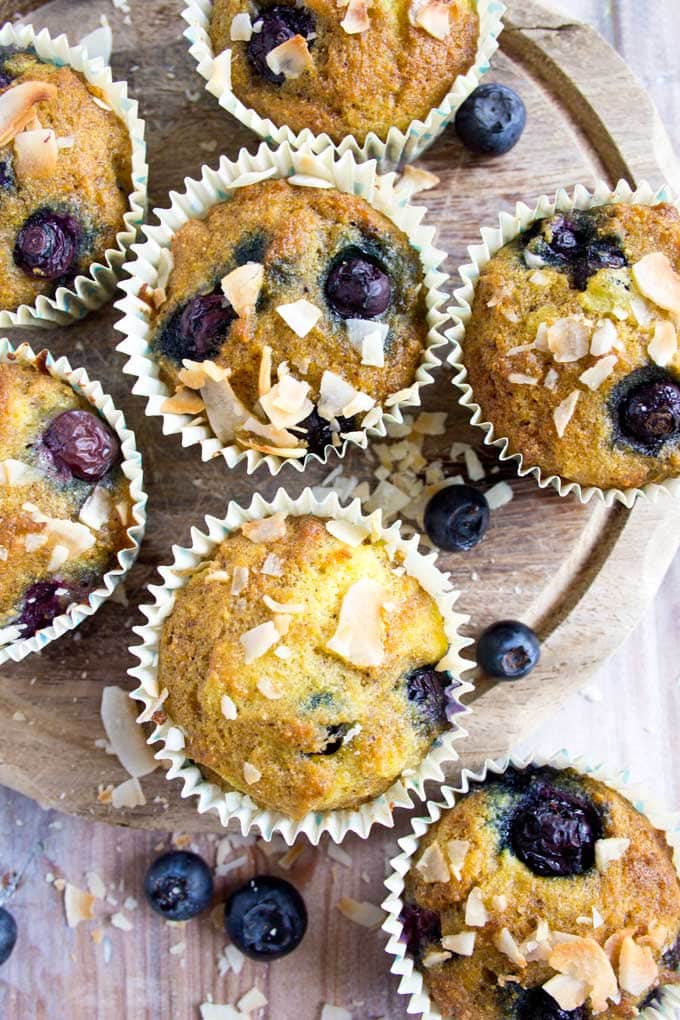 Find the recipe card with ingredients and instructions at the bottom of the page. Don't miss the extra tips in the post! 
Here's the thing about good intentions.
They often stay exactly that – good intentions. Nothing more, nothing less.
Because life gets in the way!
One of my very good intentions is starting hot yoga. Every time I walk past our local yoga temple, frequented by beautiful gazelle-like mavens with awe-inspiring six-packs, I renew my good intention to join. Can you imagine how fit I would get? How all that sweating would flush those bad boy toxins out of my body and leave me cleansed, revitalised and wrinkle-free?
The problem is this: Right now I just haven't got the time. Too busy, too tired, holidays coming up, already planned to go running on the weekend. The six-pack's gotta wait.
But do you know what? In a way, having good intentions is almost as good as executing them.
Thinking about doing hot yoga one day makes me feel lithe and flexible in spirit, without any of the sweaty hard work. That's the power of imagination!
Now.
Unfortunately, this theory does not quite apply in the kitchen.
The thought of being organised with your meal planning, for example, is just not satisfying at all when you're hungry and in a rush.
A good intention, friends, will not fill your tummy.
That's exactly where these coconut blueberry muffins come in.
They are not only sugar and grain free and therefore perfect for low carb diets, but they can be made ahead and whisked out when hunger strikes.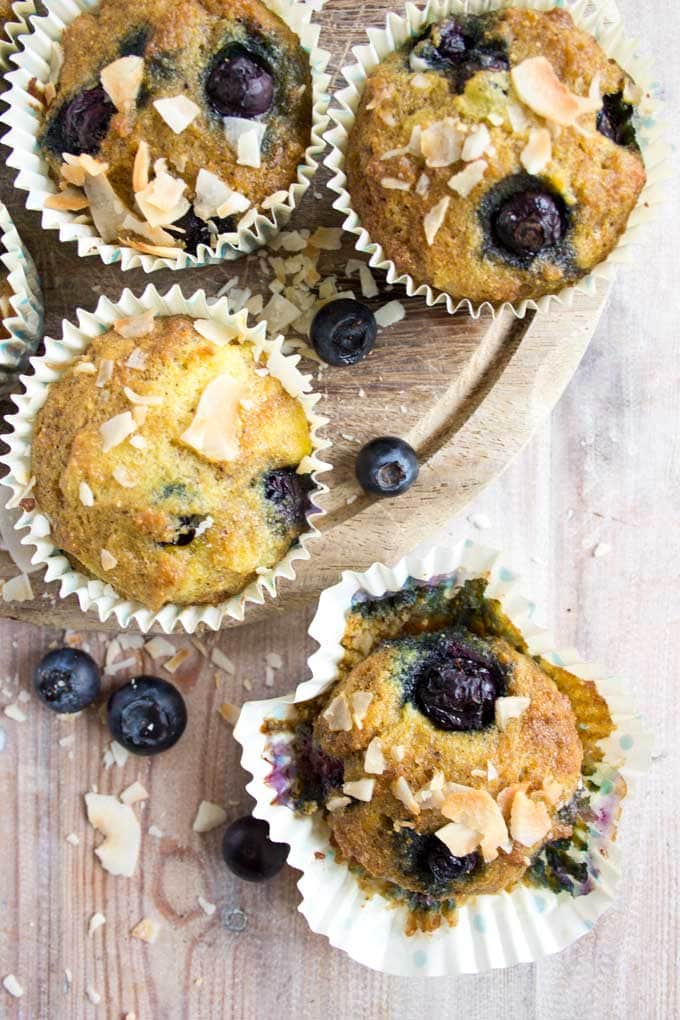 The recipe for these coconut blueberry muffins is so easy and quick – you only need 8 ingredients, which you can simply stir together in a bowl with a spoon.
I haven't waxed lyrical about the benefits of coconut flour for a while, so here we go: Coconut flour has high levels of healthy saturated fats, which balance blood sugar levels and aid the metabolism. It is nutrient-dense, high in fibre and low in sugar. And even though you might find it expensive, a little goes a long way – it is way more absorbent than almond flour, for example, and rather filling. Above all, I love the gentle coconutty taste! It works supremely well with the fruity blueberry bursts.
You might notice that I have used both erythritol and liquid stevia in this recipe. I find that this way neither the cooling taste of erythritol nor the sometimes perceived as metallic taste of stevia shines through – and the result is as close to table sugar as you can get.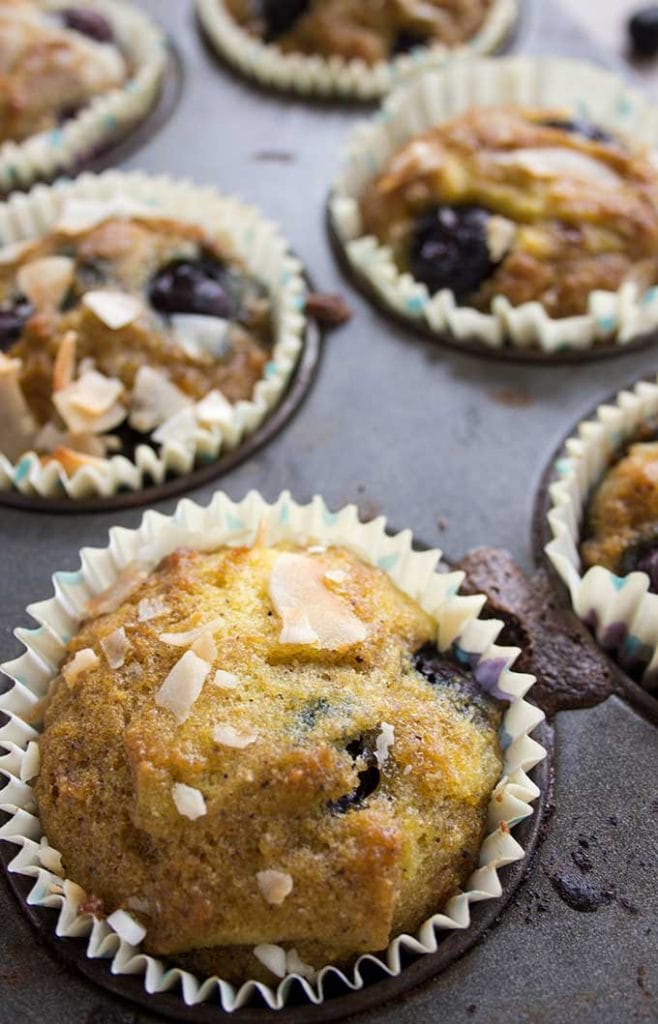 This mixture makes 8 muffins. They freeze well and you can keep them in an airtight container in the fridge for several days.
I cannot begin to tell you how good it felt when we decided to ignore the alarm clock the other morning and had around 10 minutes to get dressed and get out of the house ….. with a blueberry coconut muffin in the hand.
4 were eaten on Monday. 4 on Tuesday.
Do you know what my good intention was on Wednesday morning?
Next time I'll make a double batch.
Coconut Blueberry Muffins
Coconut blueberry muffins are perfectly light and moist with fruity blueberry bursts. Enjoy as an on-the-go breakfast or as a satisfying snack. Gluten free and low carb.
10 minPrep Time
25 minCook Time
35 minTotal Time
5 based on 5 review(s)
Ingredients
3/4 cup (75g) coconut flour
6 eggs
1/2 cup (100g) melted coconut oil
1/2 cup (75g) fresh blueberries
1/4 cup (30g) granulated erythritol or xylitol (I used Sukrin Gold)
8 drops liquid stevia (equivalent to the sweetness of 2 tsp table sugar)
1 tsp vanilla extract or vanilla bean powder
1/2 tsp baking soda
Instructions
Preheat your oven to 180 Celsius/356 Fahrenheit.
Sift coconut flour into a bowl.
Add all ingredients except for the blueberries and mix well.
Stir in the blueberries, keeping a few back for decorating.
Line a muffin pan with paper cups and half-fill each cup with the dough.
Place the remaining blueberries on top of the muffins.
Bake at 180 Celsius for ca 25 minutes or until golden brown on top.
Notes
For an even lighter dough, you can separate the eggs and whisk the egg whites until stiff peaks form. Fold in the egg whites after you have mixed the dough. Then add the blueberries last.
You can use frozen blueberries, however, fresh ones will hold together better and get less soggy
7.6.6
339
https://sugarfreelondoner.com/coconut-blueberry-muffins/