Soft, satisfying and subtly spiced: These sugar free Coconut Tahini Bliss Balls are bite-sized portions of...bliss.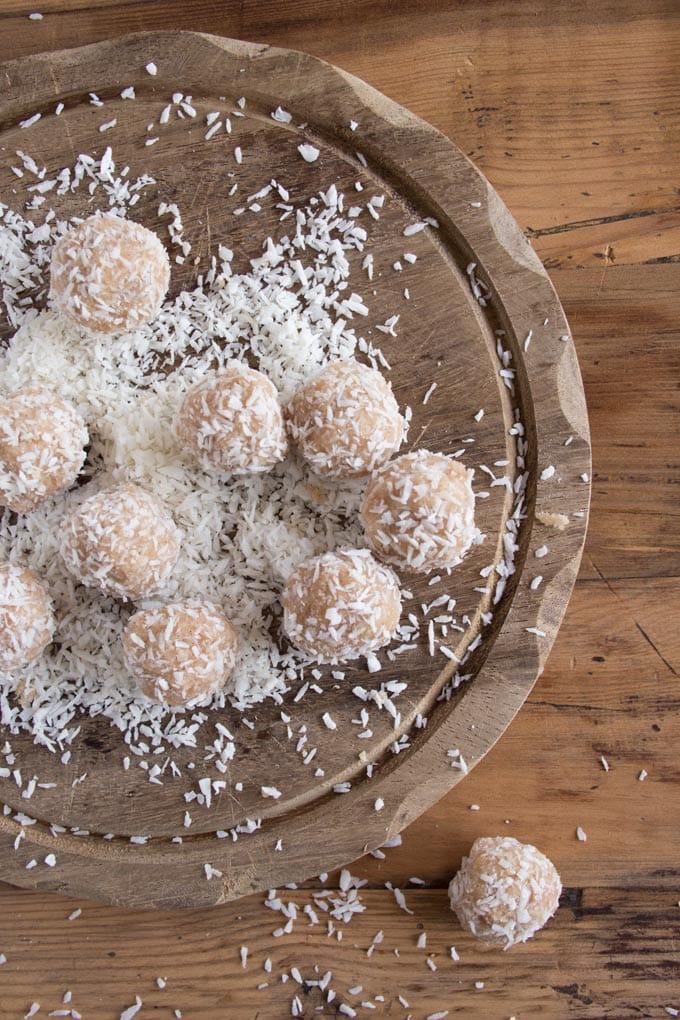 Bliss. It's way more than just happiness. Bliss is a biggie. It's that moment when things just can't get any better. Bliss is so big that people have written books about it, amongst them Sean Meshorer's inspirational book "The Bliss Experiment", which is filled with fundamental truths. So, how does Meshorer - author, yogi, philosopher and meditation instructor - sum up bliss?
Bliss is an innate state of inner joy. We all have the capacity for it. External circumstances, whether positive or negative, happy or sad, do not affect it.
Bliss is a state of unity, completeness and knowingness; it is a feeling of oneness and connection with all of creation. When bliss appears, you instantly recognise it as the most central of all truths.
Bliss is where happiness, meaning and truth converge. Everything boils down to our pursuit of bliss. We pursue money or relationships because we think they'll make us happy. We pursue our life's passions because we feel they are deeply meaningful to us. Bliss is the universal place where all questions are answered and fulfillment is reached.
With bliss comes an unshakeable joy, interconnectedness and a practical wisdom.
Bliss is like white light. Just as pure light is the totality of all colour, bliss is the sum of all positive qualities. The components of bliss are joy, unconditional love, inner peace, power, connectedness, awe and wisdom.
Sam Meshorer, you are making me feel all blissed out. Doesn't just reading this makes you feel like you're peacefully bathing in beautiful white light? Or at least, like you finally know how to get there? Totally worked for me. Inner joy, here I come!
I'd like to add just one more thing.
Bliss is making AND eating these Coconut Tahini Bliss Balls.
I had the inspiration for this recipe when I felt like baking something. But. No eggs in the house! I rummaged around in my cupboards and found shredded coconut and ground almonds. The fridge? Desperately empty, only the door stuffed with condiments. And there it was. Tahini! A big, half-forgotten jar that had not seen the kitchen counter for a while.
You all know I am a big lover of EASY. Friends, the stars aligned. Inspiration struck big time. This was not the time to bake. This was the time to make ... Coconut Tahini Bliss Balls! No bake, no sugar, no gluten, no wheat, no regrets. Just blissfully simple clean eating.
These little wonders take only minutes to assemble and are like a mini burst of sunshine on a rainy day. The delicate roasted sesame taste of the tahini, the sweetness of the coconut, the mellow nuances of vanilla and the warm flavour of cinnamon put together are simply sensational.
You want bliss happening in your kitchen, right now?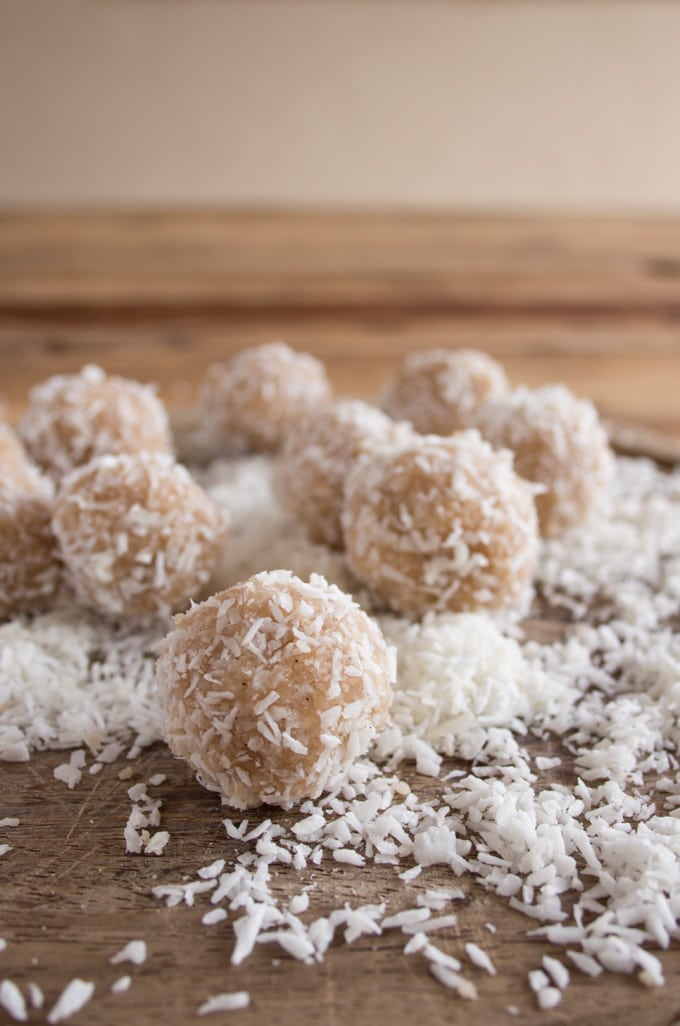 You are 5 minutes away from it. Just open your cupboard and get started
★ Tried this recipe? Give it a star rating below!★
★ STAY IN TOUCH on FACEBOOK, PINTEREST and INSTAGRAM for more great food and join my NEWSLETTER for the latest updates and a FREE EBOOK.★
Recipe
Coconut Tahini Bliss Balls
from Sugar Free Londoner
Soft, satisfying and subtly spiced: These sugar free Coconut Tahini Bliss Balls are bite-sized portions of...bliss.
Note: The servings slider only changes the first amount in each line and not any subsequent amounts. Please make your own calculations where necessary.
Ingredients
1

cup

80g shredded coconut plus more to roll the balls in

⅓

cup / 40g

almond flour

(to my UK readers - you can use regular ground almonds)

2

teaspoon

coconut oil

1

tablespoon

tahini paste

1

teaspoon

ground vanilla or vanilla paste

½

teaspoon

cinnamon

1 -2

teaspoon

granulated sweetener

or xylitol or sweetener of your choice, amount depends on how sweet you like it

1-2

tablespoon

almond or coconut milk to loosen things up a bit
Instructions
Blend the shredded coconut in a food processor with the coconut oil until it has formed a paste. A bit of crunch is fine.

Add the rest of the ingredients and combine. Try 1 tablespoon of nut milk first and test. Add more if necessary to soften the dough.

Roll into bite-size balls in your hands.

Cover the balls with the additional shredded coconut.
Nutrition
Serving:
12
g
Calories:
58
kcal
Total Carbohydrates:
2.1
g
Fat:
5.3
g
Fiber:
1.2
g
Sugar:
0.6
g