These light and fluffy Keto blueberry muffins are ready in just 30 minutes. They make a delicious breakfast or nutritious low-carb snack. Only 3.7g net carbs per muffin.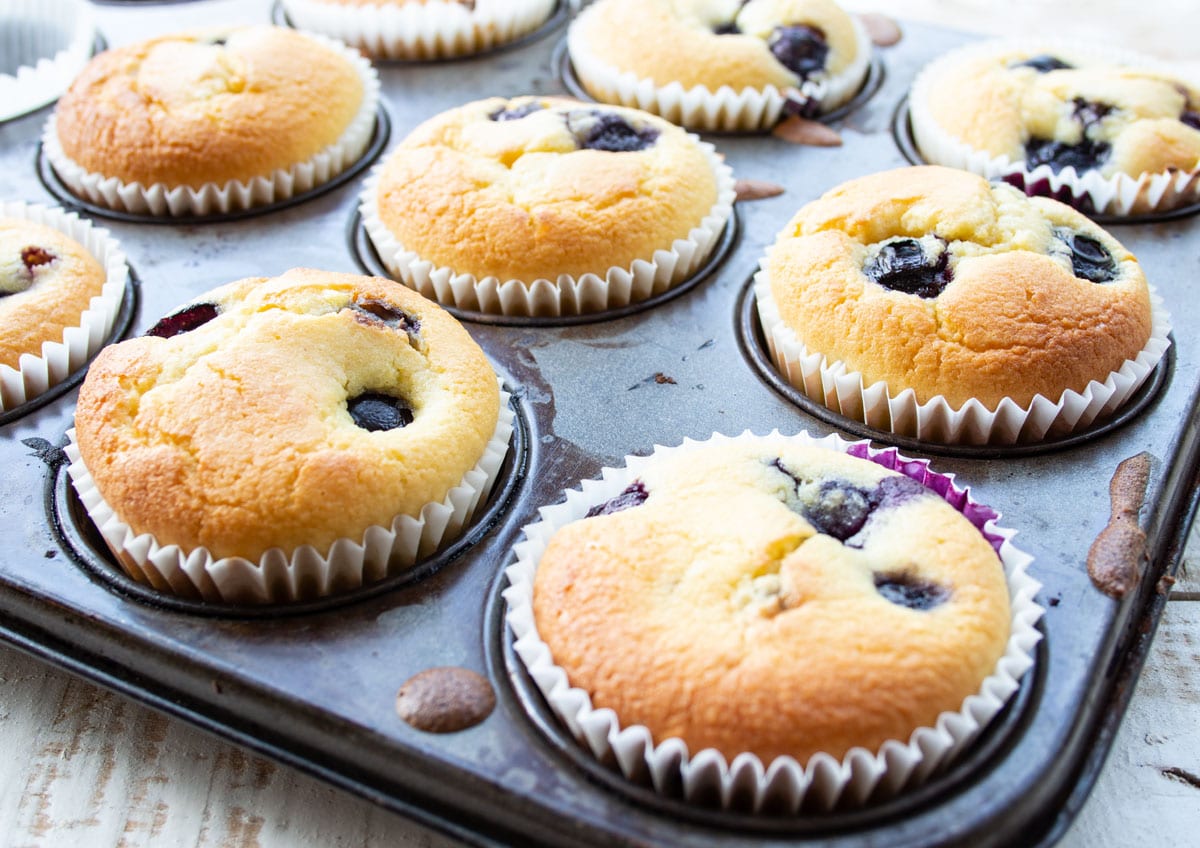 You guys, I'm so pleased with how these low carb blueberry muffins. They are unbelievably light and fluffy!
They got the thumbs up from my entire family, including the carb-loving teenagers, the first time I made them. And, they have been a staple in the Sugar Free Londoner household ever since, whether it is summer or winter.
Read the comment section and you'll find that plenty more people agree this is a 5-star keto blueberry muffin recipe. Cindy said: "This is the best muffin recipe! My go-to every week. My non-keto family members tear them up."
I have just republished the post with more details. The recipe has not changed - it was perfect all along!
Jump to:
Why This Recipe Works
Fresh flavor & fluffy texture: The tanginess of sour cream makes the muffins taste super fresh. The sour cream works exceedingly well with the fruity berry bursts and the additional flavor lift from the lemon. It also helps the muffins rise better in the oven.
Less is more: It took me 3 tries to perfect the recipe. The secret was to leave out an ingredient as opposed to adding another. Ever heard the wise words "less is more"? In my original recipe, I had added butter. But it did make these muffins a bit heavy and cakey. Leaving out the butter lightened the texture and achieved the perfect crumb.
In summary, this is an easy 1 bowl recipe that you can prep in only 5 minutes. My sour cream blueberry muffins are nutritious, filling and naturally gluten-free.
Ingredients
Here are the ingredients you'll need:
Dry Ingredients
Almond flour - I used ground almonds, which is the same as regular almond flour. Use 2 tablespoons less for super-fine almond flour as it absorbs more liquid. My almond flour is blanched, which means it does not include the skins. If you use almond meal, the muffins will taste more rustic and be darker in colour.
Sugar substitute - Any sweetener of your choice works here - from allulose to xylitol, Bocha Sweet or monk fruit sweetener blends. I used granulated erythritol.
Baking powder
Wet Ingredients
Eggs - I used 3 large eggs. You can also use 4 medium. They must be at room temperature to help the muffins rise well.
Sour cream - Again, room temperature is best.
Lemon - We need the juice and the zest. Use unwaxed lemons so the peel is edible.
Vanilla extract - Check the label and ensure it is sugar free.
Blueberries - Both frozen and fresh blueberries work. Don't thaw frozen blueberries. That makes them soggy.
See the recipe card for full information on ingredients and quantities.
Instructions
Let me show you how easy it is to make keto-friendly blueberry muffins. Here are the basic steps. For detailed instructions and nutrition information, scroll down to the recipe card.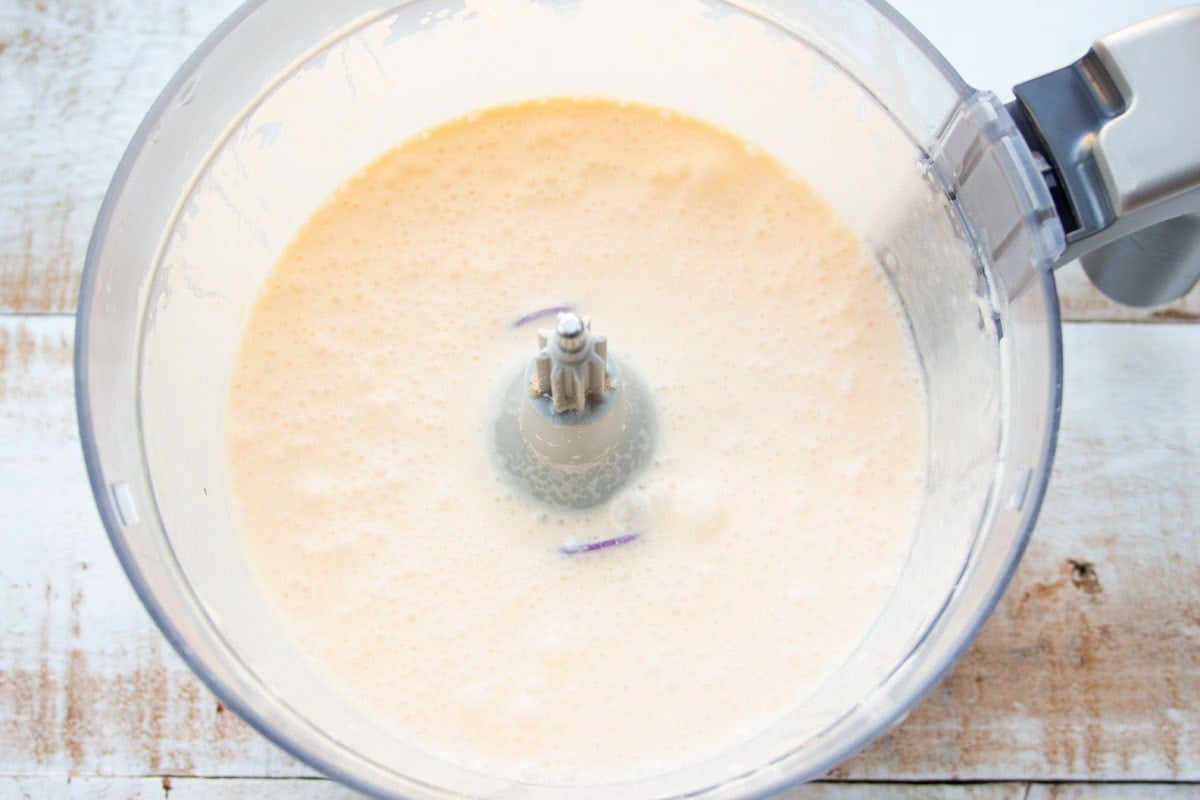 STEP 1
Blend the eggs in a large mixing bowl with an electric mixer or in a food processor until they are frothy and have increased in volume. Beating air bubbles into the mixture makes the crumb lighter.
STEP 2
Add the sour cream, vanilla extract, lemon zest and lemon juice. Continue to blend until smooth.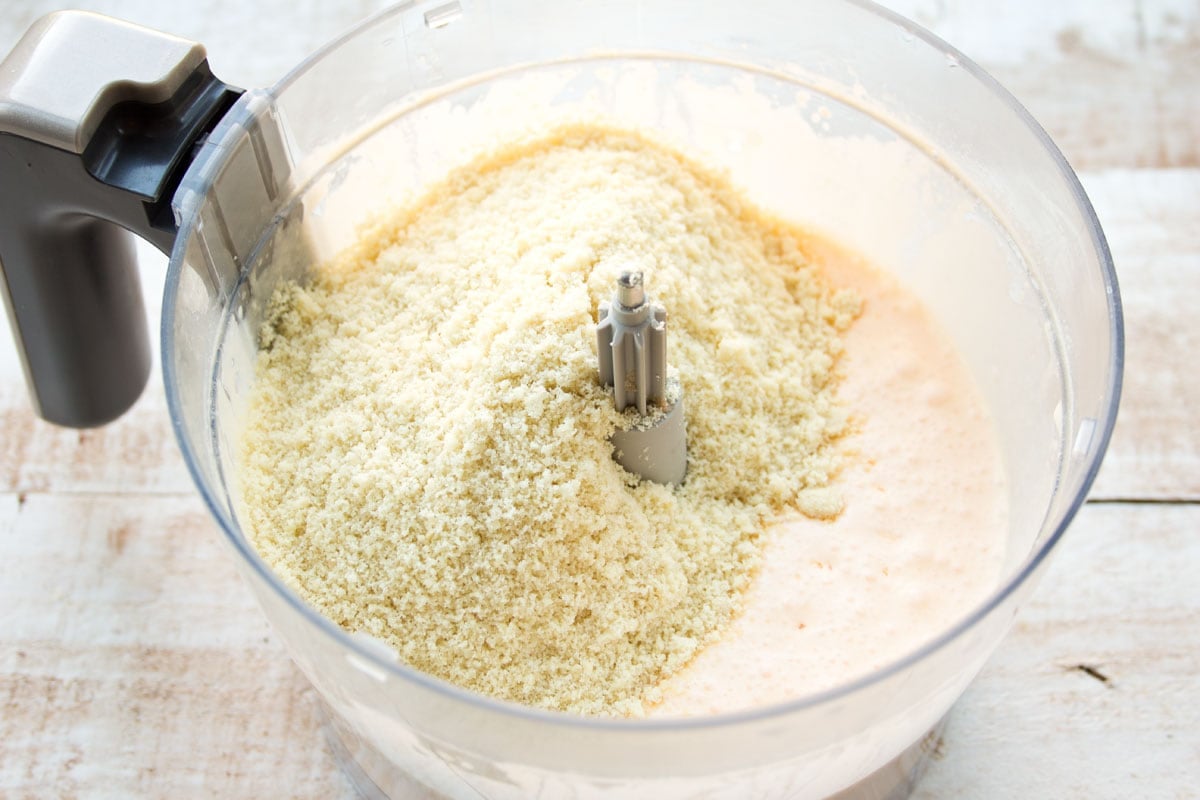 STEP 3
Now add the dry ingredients - the almond flour, baking powder and sweetener of choice. Blend until you have a smooth batter.
STEP 4
Spoon the muffin batter into a muffin pan lined with paper cups. Instead of paper cups, you can also use a well-greased silicone mould.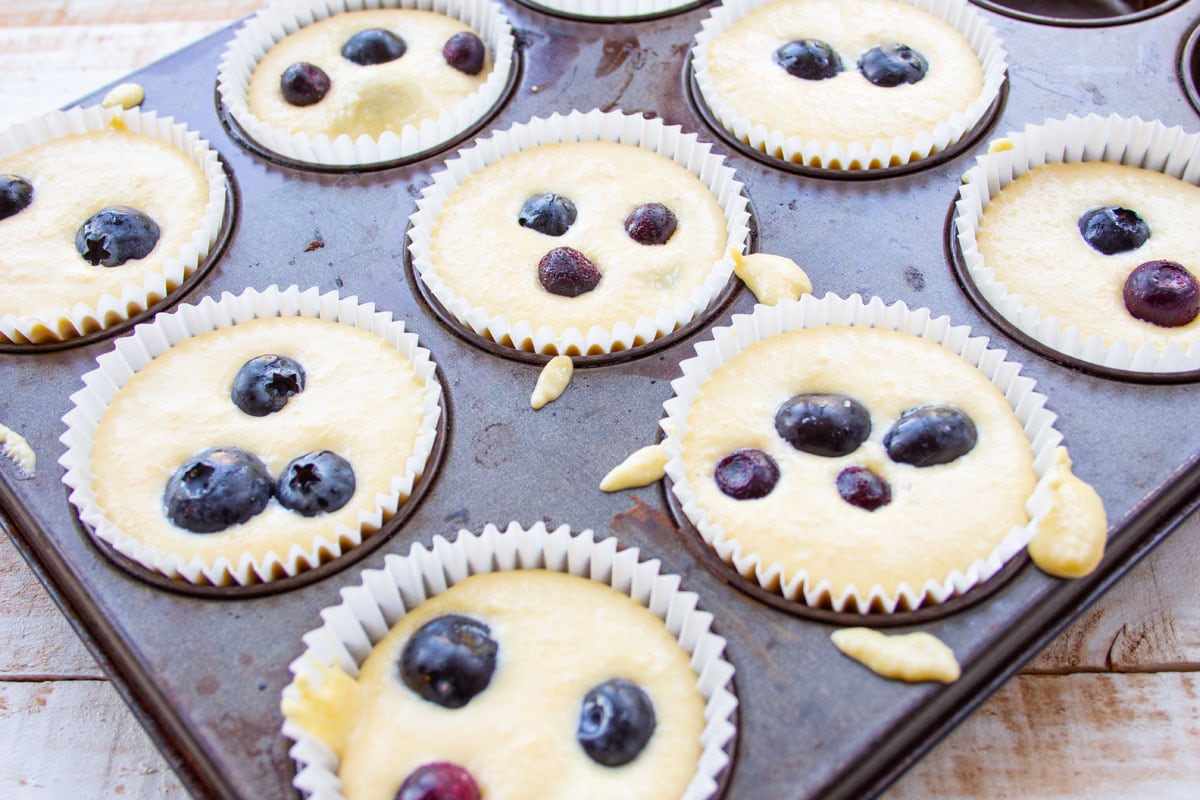 STEP 5
Last, add the blueberries, pressing some inside the batter and placing some on top.
STEP 6
Bake in the preheated oven for 35 minutes or until lightly browned and a toothpick inserted comes out without crumbs sticking.
My mix makes 8 large muffins, but you could stretch it to 9 muffins if you like.
Expert Tips
#1 Taste the batter and adjust the sweetener if necessary. I don't have much of a sweet tooth.
#2 Press the blueberries directly into the muffin cups. I found this prevents the blueberries from ending up at the bottom of the muffins. In my first attempt, I mixed the blueberries directly into the batter before filling the cups, and they were distributed less evenly.
#3 Roll frozen blueberries in almond flour first. This way, their juice does not bleed into the crumb.
#4 Leave a little space at the top of the muffin cups, as seen in the images. This prevents the batter from overflowing as the muffins rise during baking.
Variations
Here are ideas how you can tweak this almond flour muffin recipe:
To add a fruity-zingy note, add 1 tablespoon of grated orange zest.
Sprinkle a little granulated sweetener over the tops before baking.
Replace the blueberries with any other berries. Raspberries, cranberries and blackberries can be used whole. If you're using strawberries, cut them into smaller pieces first. You could even use freeze-dried berries!
Want to add sugar free chocolate chips or nuts? Leave out the lemon to make the flavors work.
Substitutions
No sour cream: You can substitute the sour cream for Greek yogurt. In this case, add 2 tablespoons of butter to achieve a similar fat content. Or, use cream cheese.
Dairy-free: Use coconut yogurt in place of the sour cream. This is a better choice than coconut cream because it retains the fresh and light taste. Swap the additional butter required for coconut oil.
Recipe FAQs
Can I use heavy cream instead of sour cream?
I don't recommend it. This adds too much fat to the recipe and makes the texture less light and fluffy.
Can I use coconut flour instead?
Coconut flour baked goods tend to be more fragile than their almond flour counterparts and generally require more eggs. As this recipe only uses 3 large eggs, I don't want you to try and end up with a muffin that falls apart. I have a very popular coconut flour blueberry muffins recipe that you should try instead.
How do I make nut-free keto blueberry muffins?
My favourite nut free substitute for almond flour is a 50 - 50 mixture of sunflower seed flour and sesame seed flour. You can use the same amount as stated for almond flour. Other than that, try the coconut flour muffin recipe mentioned above.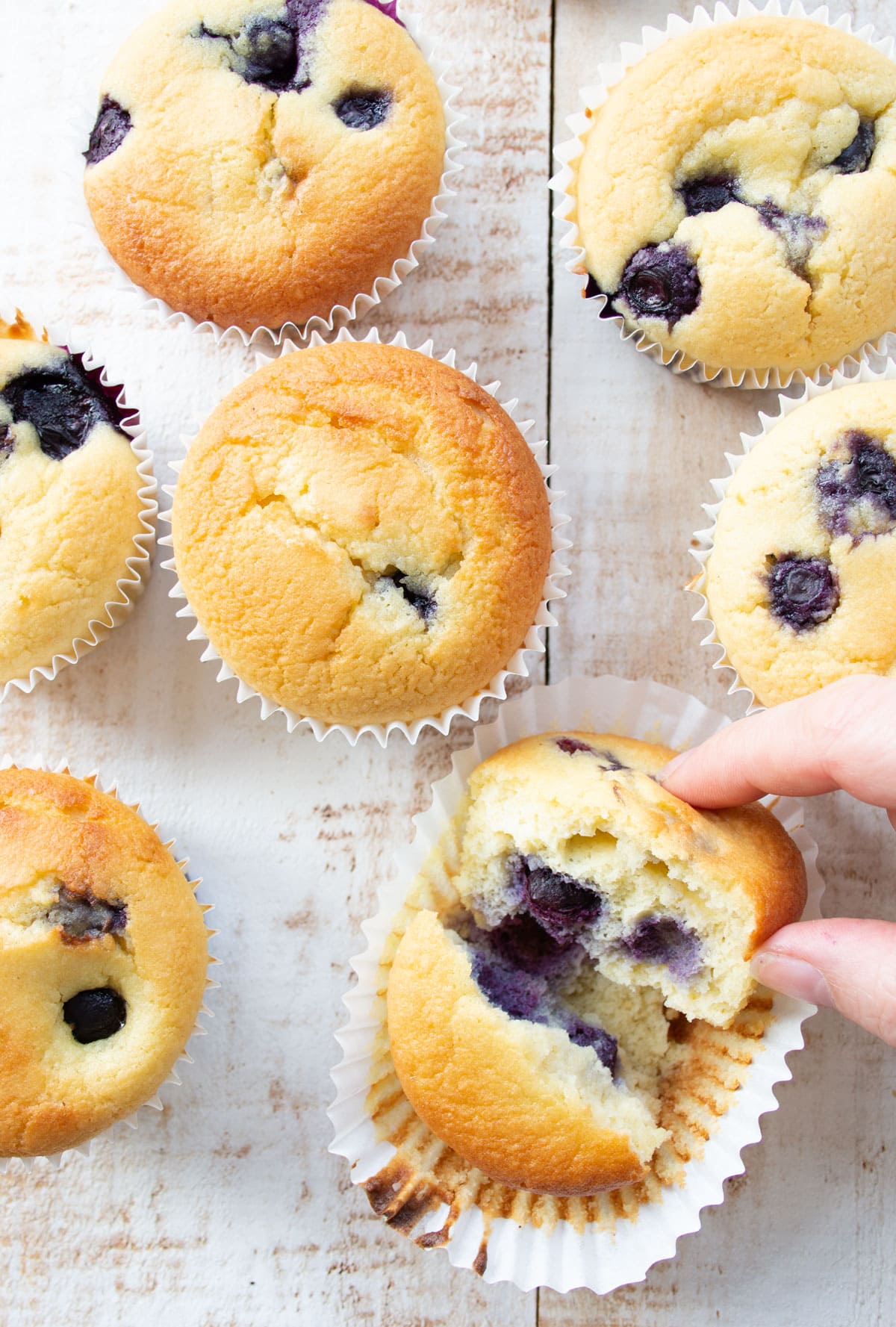 Serving Suggestion
Keto blueberry muffins are a lovely breakfast. I like mine gently warmed with a strong cup of coffee or an almond milk matcha latte.
They also taste delicious spread with blueberry cream cheese!
The great thing about muffins is that they are easily portable. My daughter often takes a snack to school with her to enjoy after lunch and these make a great breaktime treat.
Storage
Refrigerator: Wait until your muffins are fully cooled, then store them in an airtight container. They are fine at room temperature for a couple of days. Or, keep them in the fridge for up to 5 days.
Freezer: Almond flour muffins freeze well for up to 3 months. I like to make a double batch and take one out at a time when I want a treat!
To reheat: Defrost overnight. Then, reheat the muffins in the microwave for 20 seconds.
More Keto Muffin Recipes
More Keto Blueberry Recipes
Tried this recipe? Give it a star rating below!
★ STAY IN TOUCH on FACEBOOK, PINTEREST and INSTAGRAM for more great food and join my NEWSLETTER for the latest updates and a FREE EBOOK.★
Recipe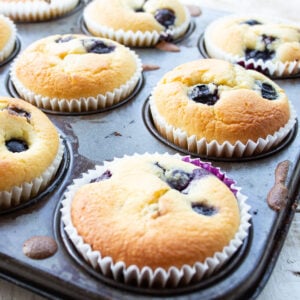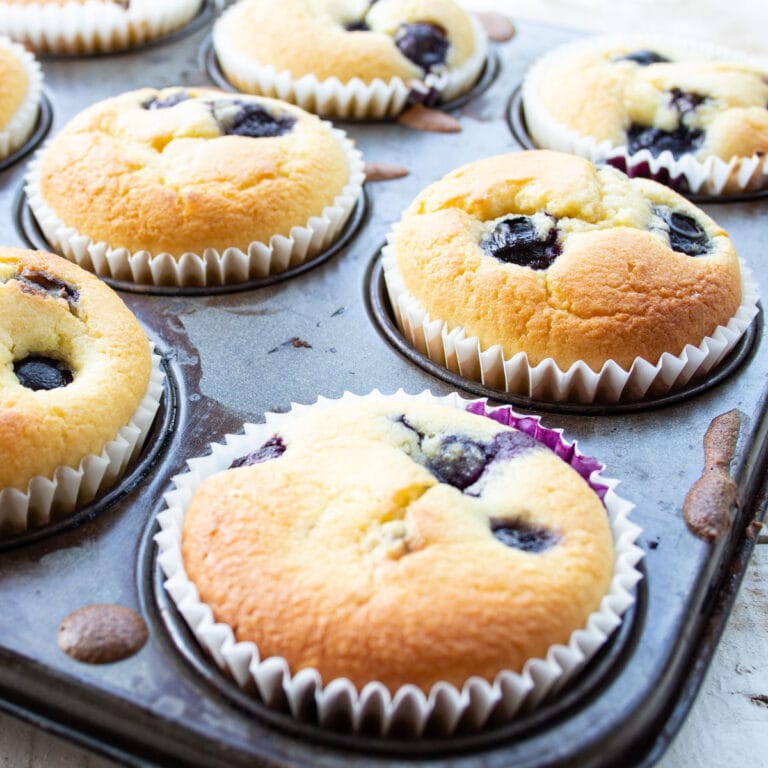 Keto Blueberry Muffins
from Sugar Free Londoner
This Keto blueberry muffins recipe is not only incredibly tasty - it's also super easy and on your table in 30 minutes flat. Expect a light yet moist crumb and fruity blueberry bursts. Tastes just as good as a regular blueberry muffin, only without the carb load.
Note: The servings slider only changes the first amount in each line and not any subsequent amounts. Please make your own calculations where necessary.
Ingredients
2

cup / 200g

almond flour

or ground almonds. Use 2 tablespoons less for super-fine almond flour

3

eggs

large, or 4 medium, room temperature

½

cup / 120g

sour cream

room temperature

⅓

cup / 60g

granulated erythritol

or to taste

1 ½

teaspoon

baking powder

1

tablespoon

lemon juice

lemon zest, grated

from 1 lemon

1

teaspoon

vanilla extract

½

cup / 70g

blueberries

fresh or frozen
Instructions
Preheat the oven to 180 Celsius / 350 Fahrenheit.

Blend the eggs for a few minutes until they are frothy and have increased in volume.

Add the wet ingredients - sour cream, lemon juice, zest and vanilla extract - and blend.

Then add the dry ingredients - almond flour, baking powder, erythritol or your low carb sweetener of choice - and blend until combined.

Fill the batter into 8 paper muffin cups (or use a silicone muffin tray) and add the blueberries. Push some inside the batter and leave some on top.

Bake for 25 minutes or until lightly browned.
Notes
Makes 8 muffins. Net carbs per muffin: 3.7g. 
Weight: 70g each. 
Roll frozen blueberries in almond flour first. This way, their juice does not bleed into the crumb.
Don't leave out the lemon zest - it takes the recipe to the next level. 
Store on the counter for up to 2 days, fridge for 5 days or freeze for up to 3 months. 
Nutrition
Serving:
70
g
Calories:
231
kcal
Total Carbohydrates:
5.8
g
Protein:
8.1
g
Fat:
18.5
g
Saturated Fat:
3.1
g
Fiber:
2.1
g
Sugar:
1.7
g