These light and fluffy Keto blueberry muffins are an all-rounder - they're great for breakfast, but also perfect as a nutritious low carb snack. These got the thumbs up from my entire family, including the carb-lovers!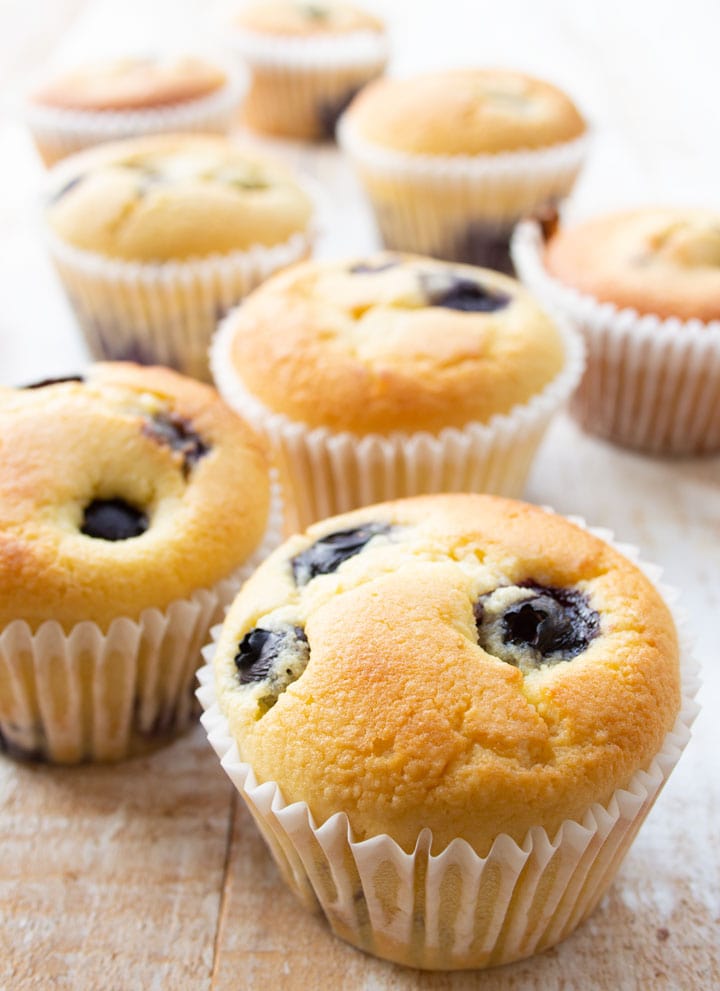 You guys, I'm SO pleased with how these muffins have turned out. They are unbelievably light and fluffy!
These muffins use almond flour instead of wheat flour, which makes them low in carbs. Plus, I'm using erythritol instead of sugar to achieve a pleasant but not overpowering sweetness.
The secret ingredient of this recipe? Sour cream. It's ever-so-slight tanginess makes these muffins taste super fresh - it works exceedingly well with the fruity berry bursts.
It took me 3 tries to finally get them to taste EXACTLY the way I wanted. The secret was to leave out an ingredient as opposed to adding another. Ever heard the wise words "less is more"? It's so true!
In my original recipe I had added butter. Butter is a wonderful thing, and we do eat a fair amount of it in this house. But it did make these low carb blueberry muffins just a bit heavy and cake-y. Leaving out the butter lightened the texture considerably.
My friends, we all thought these muffins taste just like the real thing - airy and scrumptious, with a delightfully moist crumb.
How to make fluffy Keto blueberry muffins
1.) Blend the eggs for a few minutes until they are frothy and have increased in volume. All the lovely air bubbles will make your muffins even lighter in texture! 
Then add the sour cream, vanilla extract, lemon zest and lemon juice and blend until smooth. Use unwaxed lemons so the peel is edible.
Last, add the dry ingredients - the almond flour, baking powder and erythritol. Continue blending until you have a smooth batter.
TIP: Taste and adjust the sweetener if necessary. I don't have much of a sweet tooth 🙂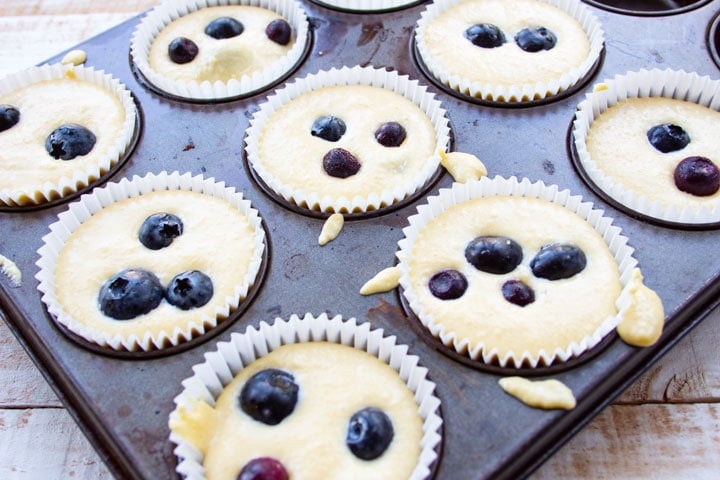 2.) Fill the batter into muffin cups - I used paper cups for ease, but you can also use a silicone mould.
Last, add the blueberries, pressing some inside the batter and leaving some on top (simply for looks!). I found this prevents too many blueberries ending up at the bottom of the muffins.
In my first attempt I mixed the blueberries directly into the batter before filling the cups, and they were distributed less evenly.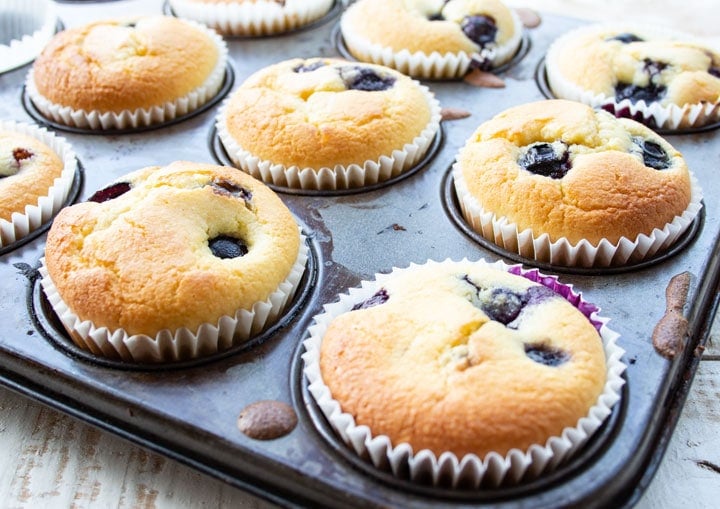 3.) And after around 25 minutes of baking your low carb blueberry muffins will look like this - lightly browned and totally scrumptious!
My mix made 8 large muffins, but you could stretch it to 9 muffins if you like (as in the image above).
Flavour variations
To add a fruity-zingy note, add 1 tablespoon of grated orange zest.
If you don't have blueberries, replace with any other berries you have available. Raspberries, cranberries and blackberries can be used whole. If you're using strawberries, cut them into smaller pieces first. You could even use dried berries!
Substitutions
You can substitute the sour cream for Greek yoghurt if you like. In this case, also add 2 tablespoon of butter to achieve a similar fat content.
I would not recommend substituting the sour cream with double cream / heavy cream. I think you would be adding too much fat to the recipe, changing the texture of your keto blueberry muffins.
For a dairy free version, sub the sour cream with coconut yoghurt. This is a better choice than coconut cream because it would retain the fresh and light taste. Swap the additional butter required for coconut oil.
I always get asked whether you can use coconut flour instead of almond flour in recipes. You generally can, but you need to reduce the amount to ⅓ - ½ because it absorbs more liquid.
BUT. Coconut flour baked goods tend to be more fragile than their almond flour counterparts and generally require more eggs.
As this recipe only uses 3 large eggs, I don't want you to try and end up with a muffin that falls apart. I have a very popular coconut flour blueberry muffin recipe that  works a treat!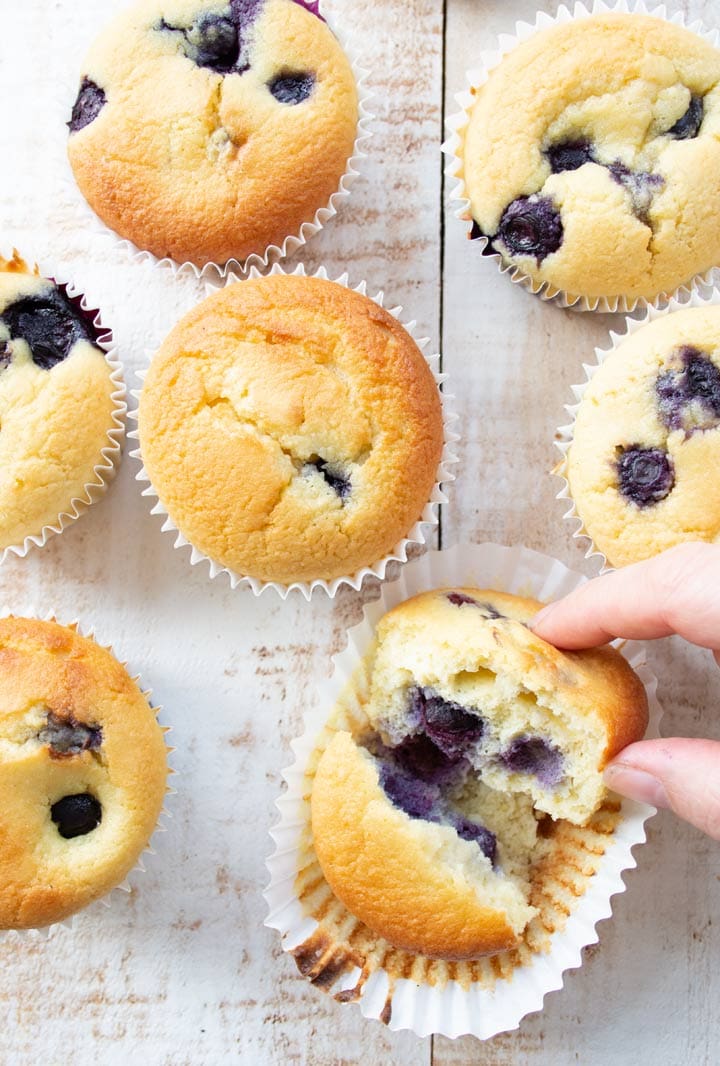 How to store Keto blueberry muffins
Wait until your muffins are fully cooled, then store them in a cake or muffin tin with a lid. They are fine on the counter for a couple of days. After that keep them in the fridge for up to 5 days.
Can you freeze them?
Absolutely! Almond flour muffins freeze well. I like to make a double batch and take one out at a time when I want a treat! Simply reheat in the microwave for 20-30 seconds or defrost at room temperature.
Don't miss my other low carb muffins: 
...and last but not least, check out my Keto Blueberry Bread for a more substantial sweet treat containing blueberries!
Tried this recipe? Give it a star rating below!
★ STAY IN TOUCH on FACEBOOK, PINTEREST and INSTAGRAM  for more great food and join my NEWSLETTER for the latest updates and a FREE EBOOK.★ 
Recipe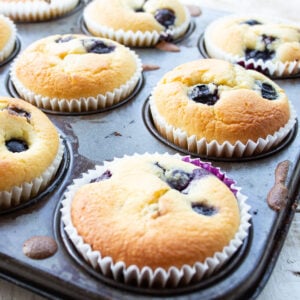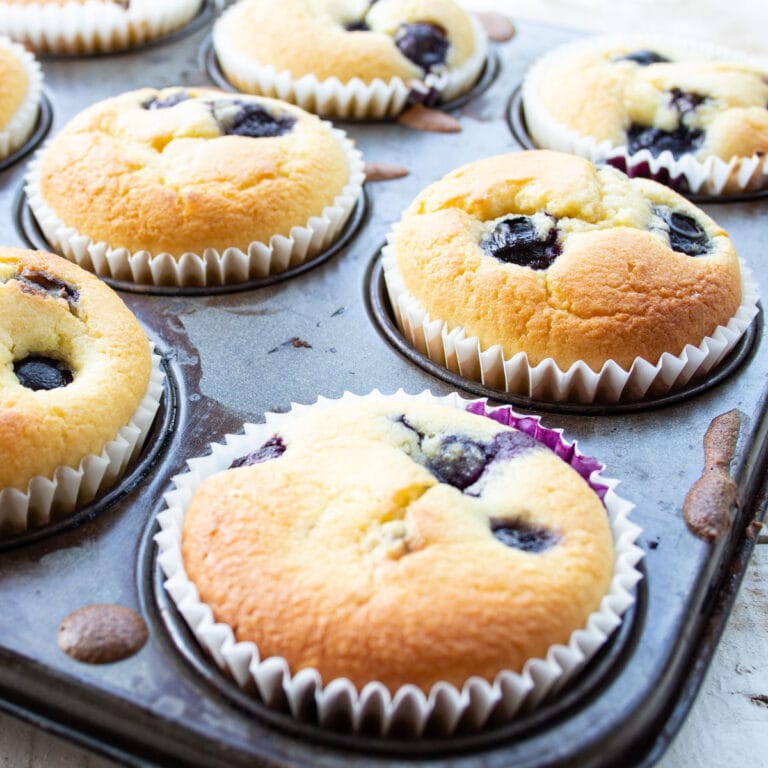 Keto Blueberry Muffins
from Sugar Free Londoner
This Keto blueberry muffins recipe is not only incredibly tasty - it's also super easy and on your table in 30 minutes flat. Expect a light yet moist crumb and fruity blueberry bursts. Tastes just as good as a regular blueberry muffin, only without the carb load.
Note: The servings slider only changes the first amount in each line and not any subsequent amounts. Please make your own calculations where necessary.
Ingredients
2

cup / 200g

almond flour

or ground almonds. NOT super-fine almond flour

3

eggs

large, or 4 medium

½

cup / 120g

sour cream

⅓

cup / 60g

granulated erythritol

or to taste

1 ½

teaspoon

baking powder

1

tablespoon

lemon juice

lemon zest, grated

from 1 lemon

1

teaspoon

vanilla extract

½

cup / 70g

blueberries

fresh or frozen
Instructions
Preheat the oven to 180 Celsius / 350 Fahrenheit

Blend the eggs for a few minutes until they are frothy and have increased in volume.

Add the wet ingredients - sour cream, lemon juice, zest and vanilla extract - and blend.

Then add the dry ingredients - almond flour, baking powder, erythritol or your low carb sweetener of choice - and blend until combined.

Fill the batter into 8 paper muffin cups (or use a silicone muffin tray) and add the blueberries. Push some inside the batter and leave some on top.

Bake for 25 minutes or until lightly browned.
Notes
Makes 8 muffins. Net carbs per muffin: 3.7g. 
Weight: circa 70g each. 
This recipe is designed for ground almonds or regular / coarser almond flour. If you want to use super-fine almond flour, reduce the amount by 2 tablespoon as it absorbs more liquid.
Don't leave out the lemon zest - it really takes the recipe to the next level. 
Store on the counter for up to 2 days, fridge for 5 days or freeze for up to 3 months. 
Nutrition
Serving:
70
g
Calories:
231
kcal
Total Carbohydrates:
5.8
g
Protein:
8.1
g
Fat:
18.5
g
Saturated Fat:
3.1
g
Fiber:
2.1
g
Sugar:
1.7
g
This post contains affiliate links. If you click on one of these links and purchase a product, I may earn a small commission, at no extra cost to you. Thank you for supporting Sugar Free Londoner.