This low carb granola has irresistible crunchy clusters. It is packed with nuts and seeds and high in protein. If you have a cereal craving, try this delicious keto granola recipe for breakfast! You can prep a big batch in only 10 minutes.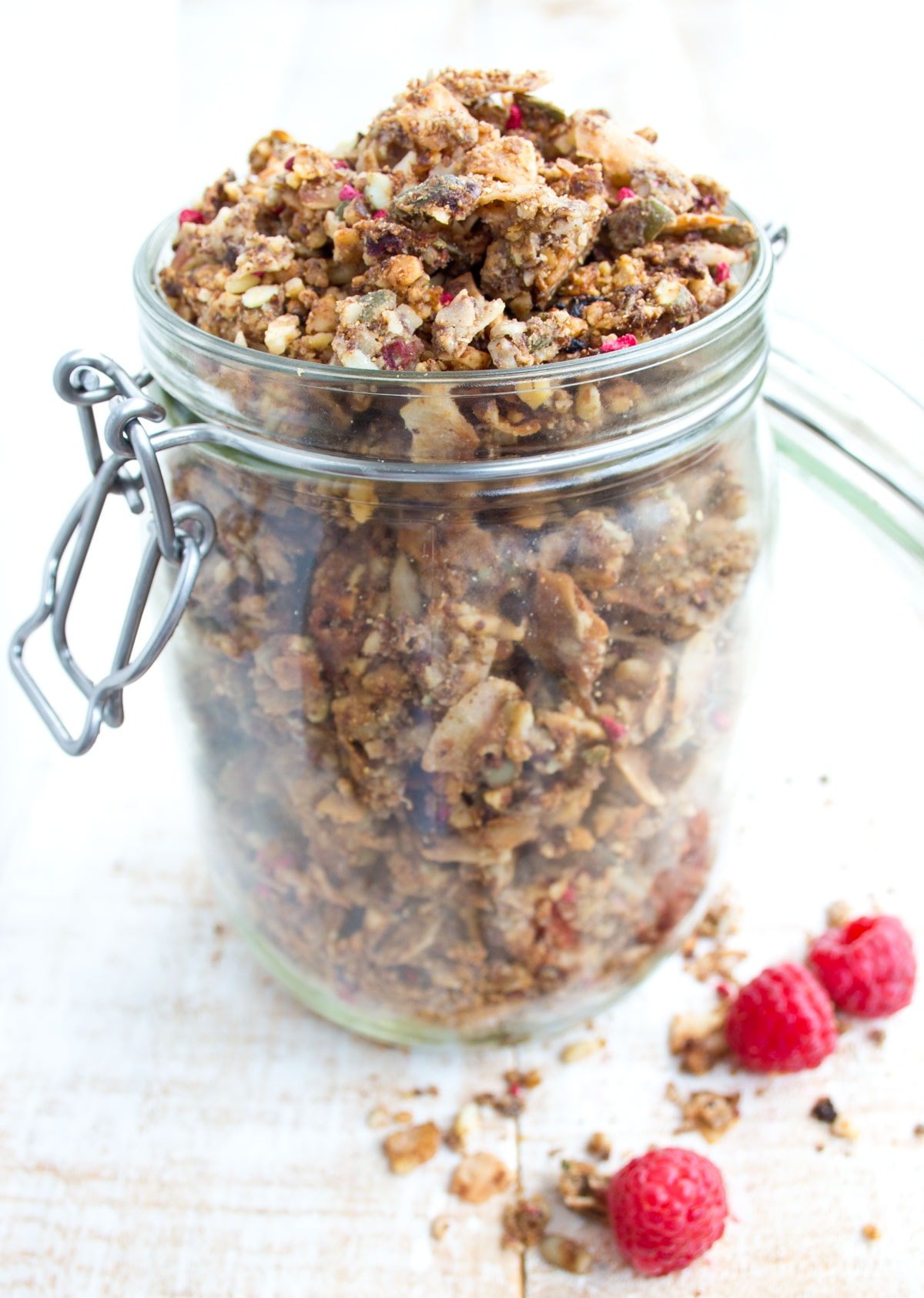 We've all heard about just how bad breakfast cereals and granolas are for you. They are high in carbs and full of sugar, no matter how wonderful the health claims on their cartons may sound.
A bowl of Kellogg's and Co will spike your insulin levels, give you a brief energy boost and dump you shortly after, leaving you hungry again for a mid-morning snack. Not a great way to start the day!
Jump to:
A keto granola recipe
Which brings us to the question - is granola a low carb food?
The answer is simple. Absolutely! If you make your own.
This keto granola recipe takes only 10 minutes to prepare. It is jam-packed with flavor and low carb, grain-free, sugar free, gluten-free goodness.
There's not a single grain in sight 🙂
Instead on loading up on carbs for breakfast, you'll be feasting on nutrient-dense nuts, seeds and coconut chips. The recipe is not only low in carbs, but also high in fiber due to a generous portion of flax. Even better, it's also high in protein thanks to a scoop of unflavoured whey protein powder.
Friends, this low carb granola will SUPERCHARGE you.
Ingredients
Here are the ingredients I used:
Nuts: almonds, walnuts, pecans
Seeds: Pumpkin seeds, sunflower seeds, flax meal
Coconut flakes
Whey protein powder
Almond butter
Freeze dried raspberries
Sweetener - this can be erythritol, monk fruit sweetener, allulose or Swerve
Vanilla extract
Instructions
This section contains step-by-step instructions and photos that show how to make this recipe. See the recipe card for full information on ingredients and quantities.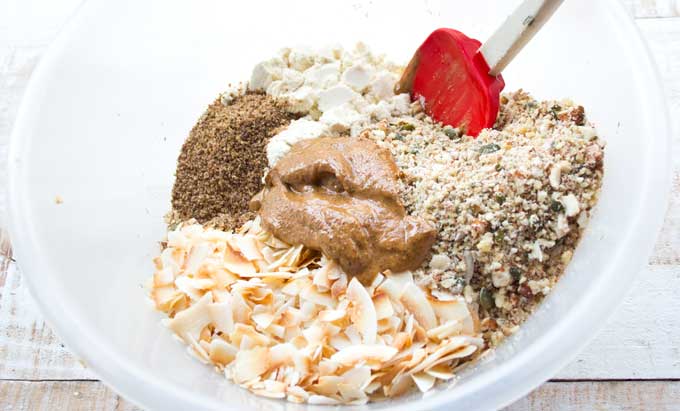 1.) Get all your ingredients ready. Then pulse the nuts in a food processor (or blend with a stick blender in a bowl) until you are left with smaller and larger pieces. After that, do the same the pumpkin and sunflower seeds.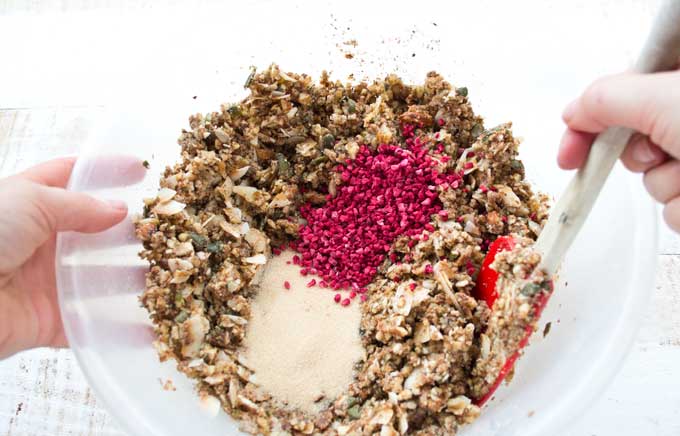 2.) Whisk your nuts and seeds, unsweetened coconut chips (I used pre-toasted chips), flaxseed, protein powder, smooth almond butter and some water in a large mixing bowl with a spatula.
3.) See how nice and moist the mixture looks? Now it's time to up the flavor. Stir in granulated sweetener, vanilla extract and freeze dried raspberries.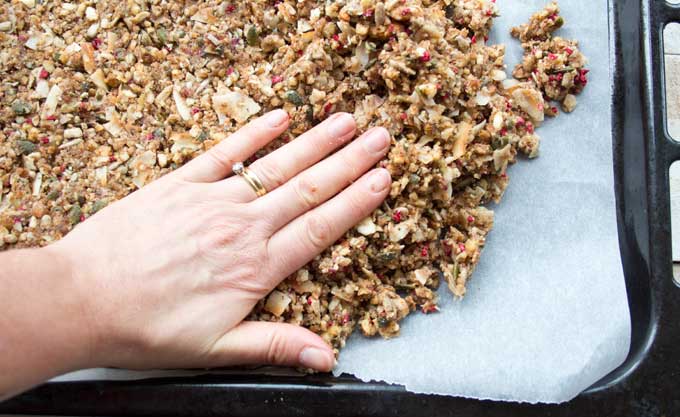 4.) Pour the low carb granola mix onto a parchment paper lined baking sheet and press it down into an even layer.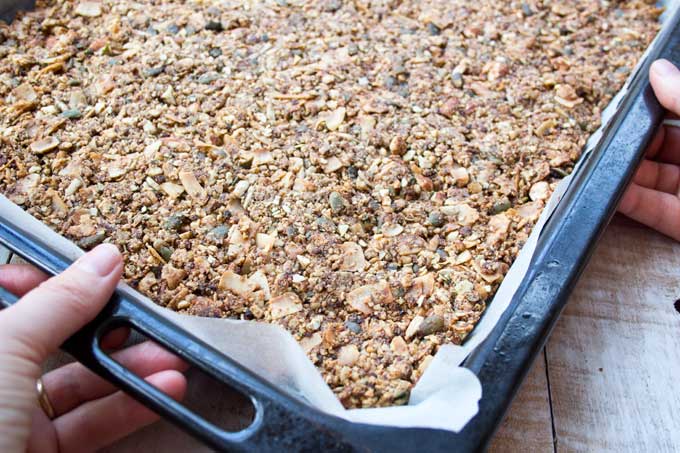 5.) This is how your uber healthy granola looks after you've baked it for 30 minutes!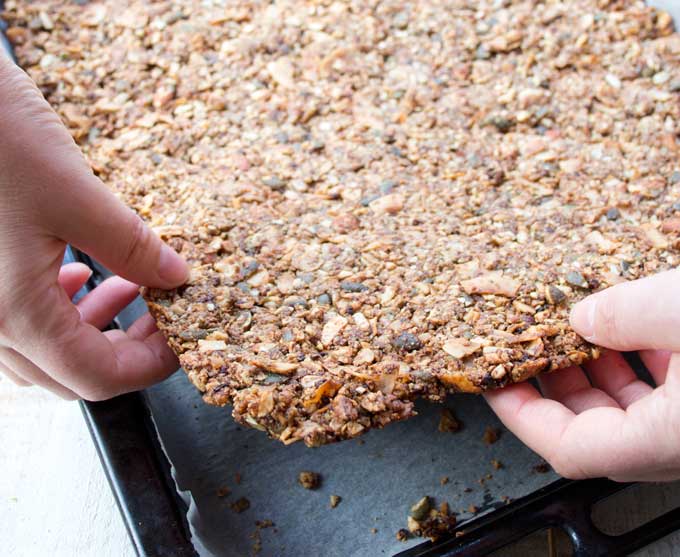 6.) See how firm it has become? Crunchy granola clusters coming up!!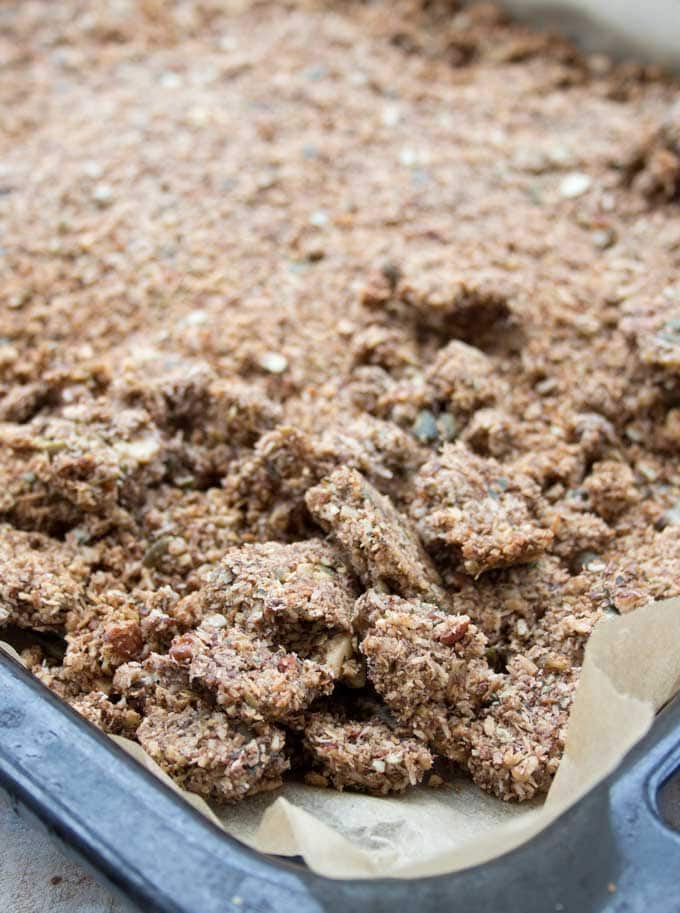 7.) Once the granola has cooled down, break it into larger and smaller clusters, however you like it most. Then add another 2 tablespoon of freeze dried raspberries for a burst of colour. There you go - you've got yourself a healthy, grain free breakfast "cereal"!
Recipe Notes 
Grain-free granola is filling! That's why I have kept the portion sizes fairly small (a heaped ⅓ cup or 50g). Trust me - it is nutrient-dense and wholesome and will keep you going until lunch.
Always check and adjust your sweetener. If you're just starting out on low carb, you may want to add a bit more. Once your taste buds adjust, a little sweetness goes a long way.
When you bake the freeze-dried raspberries in the oven, they lose their vibrant colour but not their taste. I like the berry burst within the clusters but wanted to add a few extra ones afterwards because you eat with your eyes, too 🙂
Check your granola after about 20 minutes of baking! You don't want the edges to burn, which can happen if they're too thinly spread. Turn the baking tray around if necessary (ovens are always hotter at the back) or even remove the outer edges of the granola.
If you feel that the granola at the centre of the baking tray is not browned enough after 30 minutes, place it back into the oven and bake it a bit longer.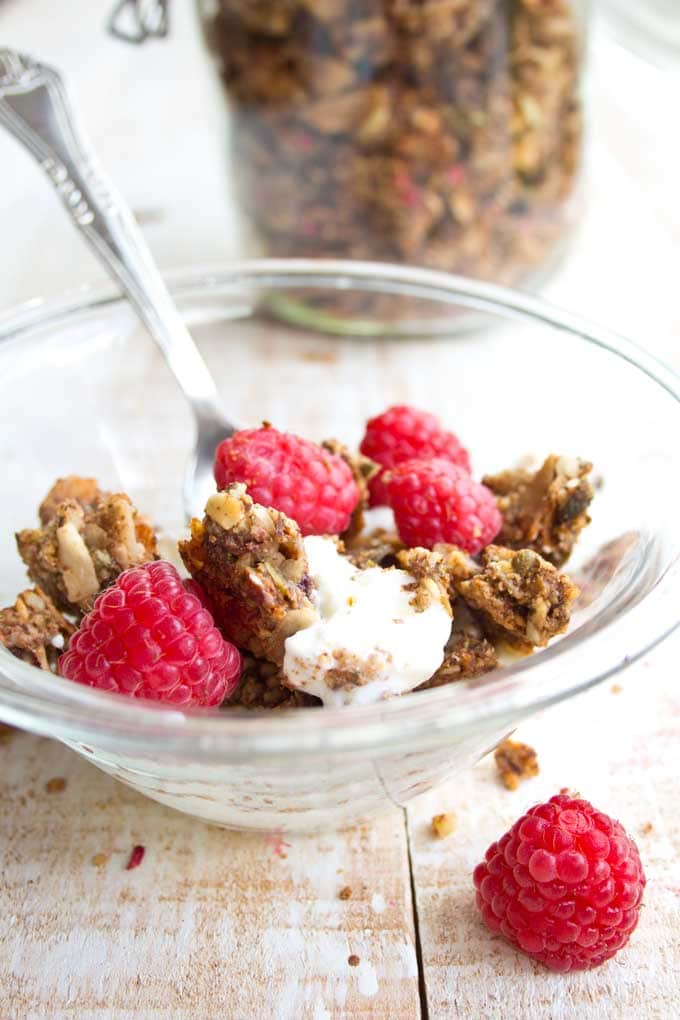 Recipe Variations
Change the flavor: If you can't get hold of freeze-dried raspberries (or strawberries), you can leave them out. If you do, I recommend you add a tablespoon of cinnamon and a dash of nutmeg or cardamom for extra flavour and an autumn/winter vibe.
Or how about adding sugar free chocolate chips instead? You could get Lily's chocolate chips or use my recipe for homemade keto chocolate chips.
Change the fat: Some low carb granola recipes use coconut oil as a fat. I have chosen the almond butter instead because I feel it adds so much more flavour. But, if you don't have almond butter, you could replace it with coconut oil. Use less though as it is a purer fat. 4 tablespoons should be plenty.
It's also possible to replace the almond butter with peanut butter or any other nut or seed butter!
Use different nuts and seeds: As long as the ratio of wet and dry ingredients stays the same, feel free to change up the nuts and seed to your preferences.
Change the "glue": Ground chia seeds works in place of the flaxseed. I do recommend to use one or the other, because they are the "glue" that helps form the clusters.
Another way to create crispy granola is to use egg white instead of the flax seeds. Depending on the size of the eggs, you'll need 1 to 2.
No whey protein: You can use a dairy-free protein powder or leave it out altogether.
How to serve
We like to eat our granola with unsweetened almond milk or other dairy free milk such as coconut milk or hazelnut milk. It is also delicious with natural Greek yogurt and berries.
You can even use your keto granola as a topping for low carb crumbles. And if you add fiber syrup to the mix, you could also make delicious low carb granola bars with this recipe!
I have calculated one serving size as ⅓ cup or 50 grams. Net carbs are 3.7g per serving. This does not include milk, yogurt or berries.
Storage
Once it is fully cooled, fill the granola into an airtight container or mason jar.
It will stay crunchy and fresh for several weeks. Although it probably will be munched up much sooner than that!
More keto cereal recipes
Tried this recipe? Give it a star rating below!
★ STAY IN TOUCH on FACEBOOK, PINTEREST and INSTAGRAM  for more great food and join my NEWSLETTER for the latest updates and a FREE EBOOK.★ 
Recipe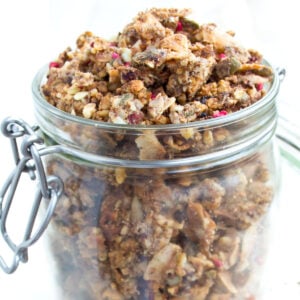 Low Carb Granola
from Sugar Free Londoner
A low carb granola that will satisfy any cereal craving! This sugar free, grain free granola is a nutrient-packed breakfast that will set you up for the day. Keto and gluten free!
Note: The servings slider only changes the first amount in each line and not any subsequent amounts. Please make your own calculations where necessary.
Instructions
Preheat the oven to 150 Celsius / 300 Fahrenheit

Pulse the almonds, walnuts and pecans in a food processor until you have a mixture of smaller and larger pieces.

Repeat the same with the pumpkin and sunflower seeds.

Empty the nuts and seeds into a bowl. Add the rest of the ingredients (only reserve 2 tablespoon of the raspberries for later) and mix with a spatula. The mixture should be sticky. If it's still dry, add another tablespoon of water.

Press firmly onto a baking sheet lined with parchment paper until you have a flat surface.

Bake for 25-30 minutes until browned. Turn the baking sheet after 20 minutes.

Remove from the oven and let cool. Then break into small pieces, mix the remaining 2 tablespoon of freeze dried raspberries and store in an airtight container.
Notes
The mix makes 15 portions of 50g / ⅓ cup each. 
If you can't source freeze dried raspberries, you can leave them out and season with 1 tablespoon of cinnamon instead. 
Nutrition is calculated for the granola only, not for the yoghurt or berries. 
Nutrition
Serving:
50
g
Calories:
270
kcal
Total Carbohydrates:
8.1
g
Protein:
8.8
g
Fat:
24.1
g
Fiber:
4.4
g
Sugar:
1.2
g