Here's a staple for your fridge: sugar free blueberry jam! Spread on low carb bread or use it as a fruity sauce with yoghurt, pancakes or waffles.
Find the recipe card with ingredients and instructions at the bottom of the page. Don't miss the extra tips in the post! 
If you ask me about the one thing in our freezer that we never run out, I'd say it's frozen blueberries.We add a few to top a bowl of yoghurt or coconut flour porridge, the kids like to use them in smoothies and they give lovely little bursts of flavour in these grab and go low carb muffins. My family can be relied upon finishing around one bag of blueberries a week, so I have added them to my repeat supermarket delivery order.
Blueberries are packed with vitamins, high in antioxidants and have a moderate amount of carbs. 100g of blueberries contain 12g of net carbs, which makes one handful of blueberries – a decent portion – an agreeable 4g net carbs. Here's a handy article by Diet Doctor if you'd like to find out more about the amount of carbs in fruit. On top of that, frozen blueberries are rather reasonable in price. And whilst you might want to decorate your showstopper cake with fresh berries, for a normal meal the frozen berries will do nicely.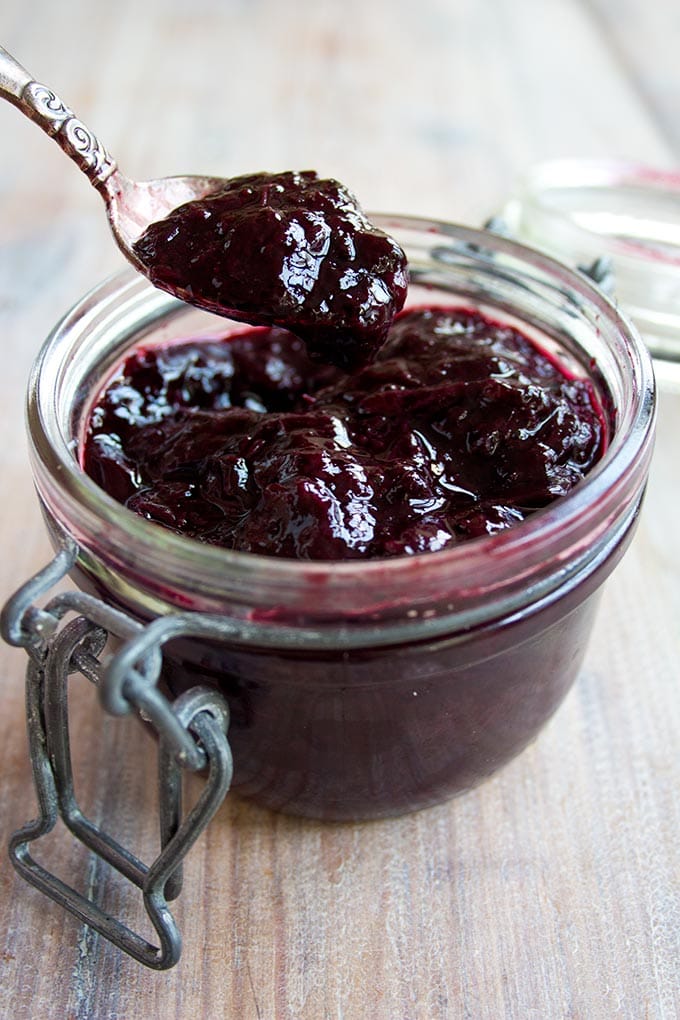 So. Jam. I stopped eating it when I went sugar free. And I missed it. That glistening dollop of fruity deliciousness on a slice of toast… history. Until I started making my raw raspberry chia jam, that is, and my favourite low carb rolls.
Here is a new addition to your low carb jam repertoire that is so ridiculously easy to make you could get your kids to do it for you: sugar free blueberry jam.
Blueberries are so sweet on their own that this jam does not even require extra sweetener. All you need to do is blueberries, lemon, some water and a couple of pinches of xanthan gum to thicken. That's it!
This jam tastes great on bread and works well as a fruity sauce on almond cream cheese pancakes or these almond butter waffles . I imagine it would also be delicious as a filling for low carb sponge cakes.
Enjoy!
Sugar Free Londoner
Yields 1 jar
Sugar Free Blueberry Jam
Here's a staple for your fridge: sugar free blueberry jam! It's delicious as a spread on low carb bread or as a fruity sauce with yoghurt, pancakes or waffles.
1 minPrep Time
20 minCook Time
21 minTotal Time
4.8 based on 4 review(s)
Ingredients
2 cups (300g) blueberries, frozen or fresh
2 tbsp water
juice of 1/2 lemon
2 pinches of xanthan gum
optional: 1 tsp vanilla extract
Instructions
Put the blueberries, water and lemon juice (and vanilla, if using) in a non stick pan, cover and bring to a boil.
Remove the lid and cook on a medium heat for ca 15 minutes, stirring regularly. The mixture will reduce by 1/3 and thicken. Smash the berries with a spoon while they cook.
You can blend the mixture if you wish to have a smooth consistency. I like it the way it is, with a few bits and pieces in it.
At the end, take a couple of pinches xanthan gum and sprinkle it evenly into the pot, stirring well afterwards. Xanthan gum is a brilliant thickening agent and is also used in gluten free baking, so it does come in handy. You only need a tiny amount - it's quite remarkable.
Pour the mixture into a clean jar and store in the fridge. This recipe fills a small (200ml) jar.
Notes
A this mixture makes 200g jam, I calculated 1 portion=14g=1tbsp.
7.6.6
317
https://sugarfreelondoner.com/sugar-free-blueberry-jam/