Do you want a quick low carb, gluten and sugar free breakfast that is perfect for busy weekday mornings? Say hello to these Grab & Go Low Carb Muffins.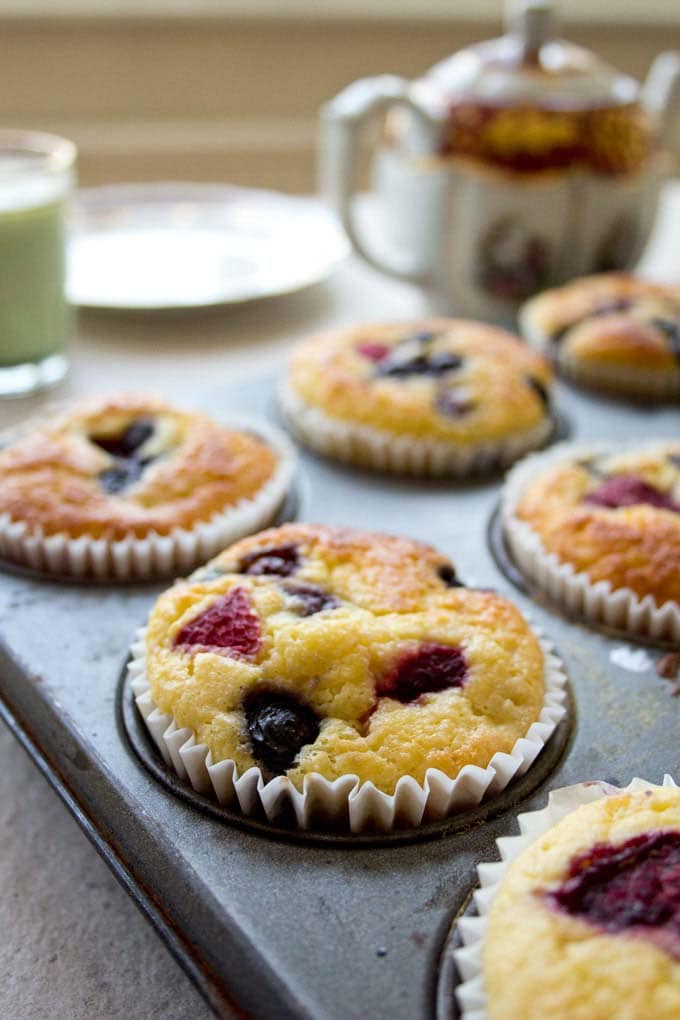 Don't get me wrong. Sitting down at the breakfast table for a lovingly prepared scrambled egg or (insert your favourite dish here), accompanied by a chat...or blissful silence... is a beautiful thing. I am all in. But we have to be realistic. And honest.
What happens most mornings? The bed is comfortable. You stretch, wake slowly, check your emails, try to remember that important thing you know you have to do today. . And suddenly you have all but 15 minutes left to shower, get dressed and eat breakfast.
I am very quick at making scrambled eggs. And very fast at eating them. But sometimes measures need to be more drastic.
Sometimes you need a Grab and Go breakfast.
I have been warming to the grab and go meal ever since a great friend gave me a "Grab cup" (brilliant marketing speak!) from our favourite cafe to remember the many hours we have spent there. This thermos cup with its handy sipping hole has become one of my most needed items.
Before I race the family out of the house and into London's traffic jam, I pour the rest of my coffee into it and take little sips of happiness in the car. So why not add to this moment of zen? Give you even more time to enjoy waking up in peace? Exactly. Have a grab & go low carb muffin.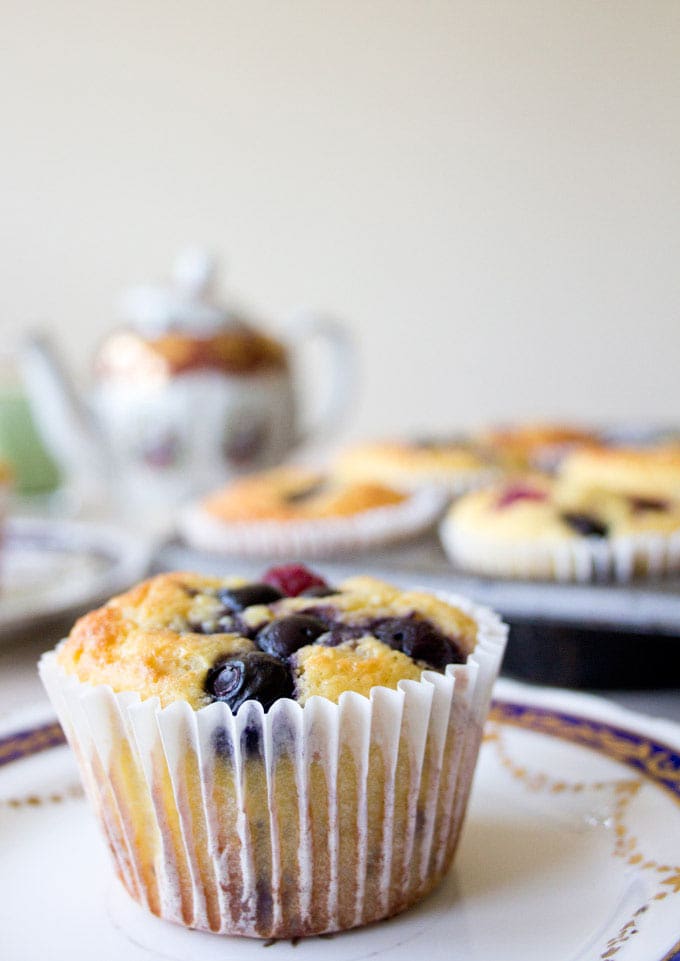 Regular muffins made with wheat flour are probably one of the worst breakfast choices you can make. And if you buy them in the supermarket, you'll not only get a serious blood sugar spike from all the white carbohydrates and sugars, but also load up on preservatives, stabilisers and e-numbers.
You'll consume a bunch of empty calories and will feel hungry again after a couple of hours. Sorry to burst anyone's bubble.
These muffins, friends, are not only pretty and very, very tasty, they will also keep you going until lunchtime.
Inspired by the grain free pancake muffins on the great low carb blog All Day I Dream About Food, they are made with almond flour, yoghurt, eggs, butter and berries and sweetened with a little xylitol - you could substitute this with erythritol or stevia to further lower the carb content.
If you make a big batch, you can keep them in the fridge or freezer and have one ready for those mornings.
They are a great alternative to savoury egg muffins such as the Chorizo Egg Muffins. The only downside I can think of is that you will need to prepare them in advance and then make sure they aren't eaten up immediately.
Obviously, grab & go low carb muffins taste delicious eaten from a plate as well.
How versatile is that.
★ STAY IN TOUCH on FACEBOOK, PINTEREST and INSTAGRAM for more great food and join my NEWSLETTER for the latest updates and a FREE EBOOK.★ 
Try my other low carb muffins recipes: 
Recipe
Grab & Go Low Carb Muffins
from Sugar Free Londoner
Do you want a quick low carb, gluten and sugar free breakfast that is perfect for busy weekday mornings? Say hello to these Grab & Go Low Carb Muffins.
Note: The servings slider only changes the first amount in each line and not any subsequent amounts. Please make your own calculations where necessary.
Ingredients
1 ¼

cup

plain yoghurt, full fat

(300g)

3 ½

cup

almond meal / coarse almond flour / ground almonds

(350g)

6

medium eggs

or 5 large eggs

4

tablespoon

butter

melted

2

teaspoon

baking powder

2

teaspoon

vanilla extract

½

cup

blueberries and/or raspberries

(100g)

3-4

tablespoon

granulated sweetener

depending on your sweet tooth
Instructions
Preheat the oven to 180 Celsius/356 Fahrenheit.

Line a muffin tin with paper cups or even better, use a

silicone mould

(you don't need paper cups then - just grease it well).

Mix your yoghurt, eggs, vanilla and butter well.

Then add all dry ingredients.

At the end, carefully fold in the berries, reserving some to place on top.

Bake for ca 25 minutes or until the tops are browned and a knife inserted in the centre comes out clean.
Notes
You can use frozen berries in this recipe. However, fresh berries are firmer and won't "bleed" into the muffin. 
Nutrition
Serving:
92
g
Calories:
261
kcal
Total Carbohydrates:
9.2
g
Protein:
10.9
g
Fat:
21.3
g
Saturated Fat:
4.6
g
Cholesterol:
105
mg
Sodium:
80
mg
Potassium:
320
mg
Fiber:
4.2
g
Sugar:
3.6
g