What's not to love about sugar free jam? This low carb raspberry jam is so quick to make, packed with flavour and there's no need to cook!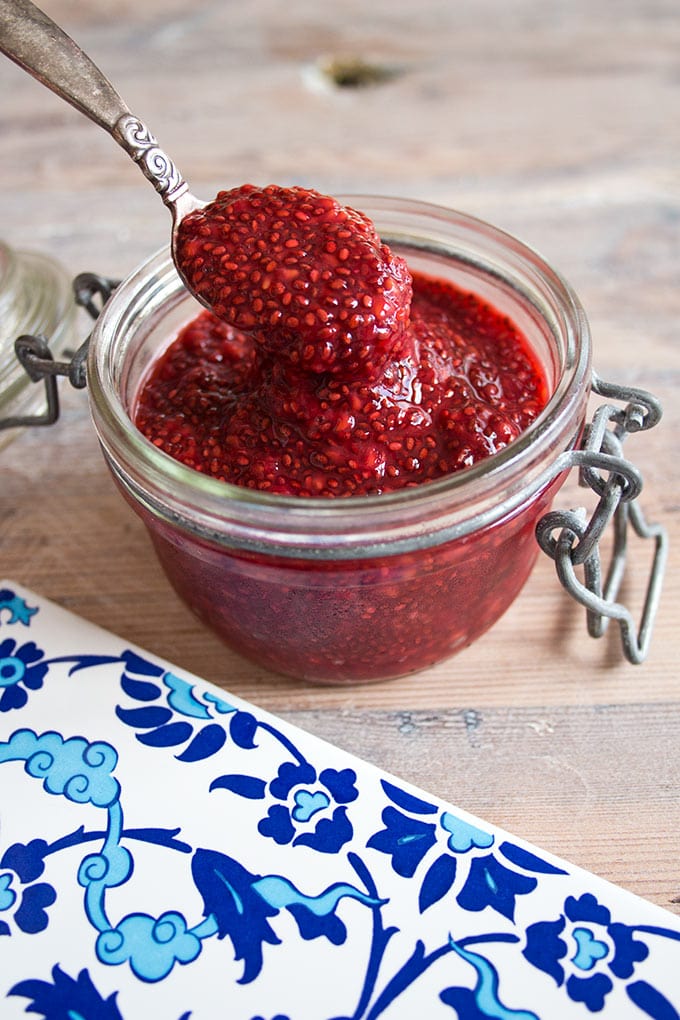 I am so excited. Jams are going to make a comeback in this household! Thank you, little lovely chia seeds, you have taken all the work out of jam-making.
Seriously, it has been ages since we've had jam on or table. Possibly a year. Actually, maybe 2. I can vaguely remember my father bringing one of his creations, something delicious and tart involving blackberries and rosemary. After that jar was empty, we just did not replace it. We eat cold cuts, cheeses, smoked salmon and a LOT of peanut butter. In yoghurt and on waffles (check out my low carb waffles here) we have fresh fruit.
I remember the first time I made strawberry jam with my daughter, using a recipe that required 50% sugar. After I had measured a truckload of white granules and poured it into the pot, I just felt deflated. Even after the sugar had dissolved and the jam looked like jam and tasted like jam, I couldn't really enjoy it.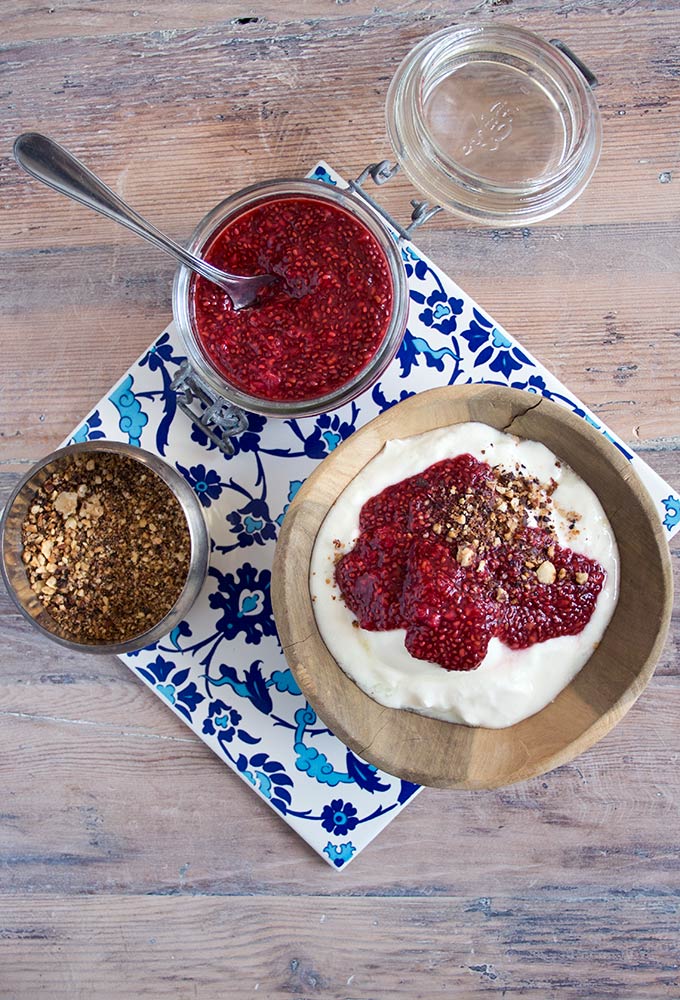 The "healthy" sugar free jams you can buy in the supermarket, normally sweetened with concentrated grape juice, deliver the same kind of sugar rush the regular varieties do. Don't be fooled by claims such as "no cane sugar" or "all natural" - they raise your blood sugar just the same. In terms of shop-bought jams, only the diabetic varieties do not play havoc with your body's insulin levels.
Friends. This raspberry jam is just the BEST. Let me explain:
It is RAW. Meaning, no cooking required, no stirring, no time spent at the stove. All those lovely nutrients? Still hanging in there!
RASPBERRIES. Soft, sweet and perfect jam making material. Can be mashed with a fork in less than a minute. No blending necessary, less washing up, more sofa time.
VANILLA. Gives any sweet dish that special je ne sais quois. A taste so beautiful and refined you'd think the French must have invented it. Oh-la-la.
CHIA. Little wonder seeds! Low in carbs, high in fibre, the world's richest plant source for omega-3 fatty acids and perfect for jams as they make things thicken and there's no need for pectin, which some people don't tolerate well.
It is SUGAR FREE JAM! I used one tablespoon of erythritol, which made it just the right side of sweet.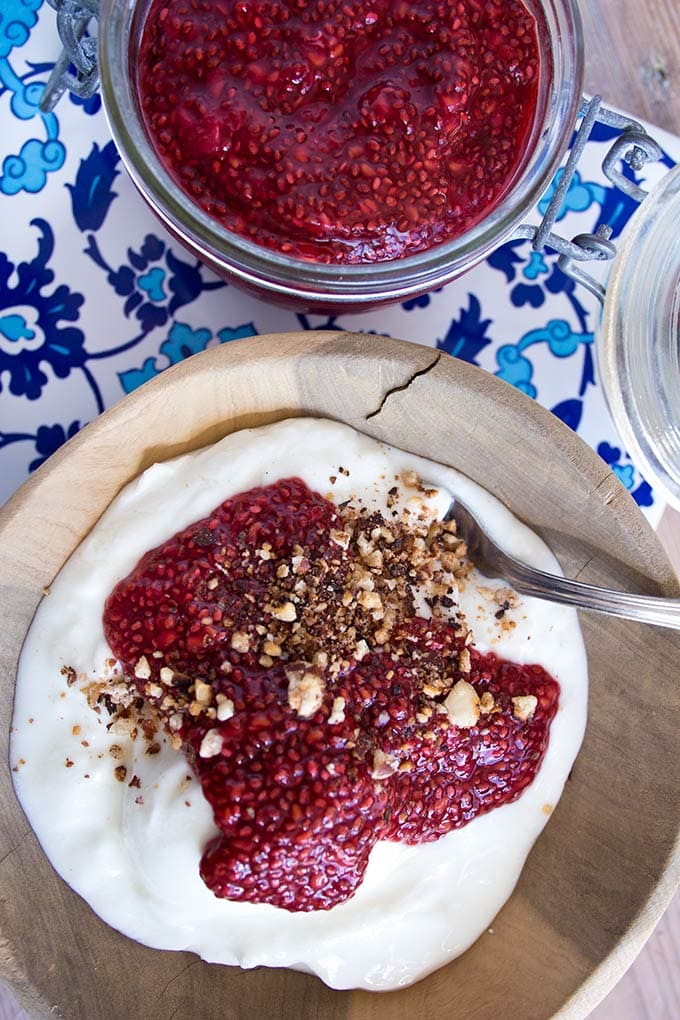 We had it with yoghurt and nuts for breakfast, but I am thinking jammy coconut flour pancakes for the weekend and also planning a grain free Victoria sponge with a raw raspberry vanilla chia jam layer. Oh my, I am salivating just thinking about it.
This sugar free jam, friends. You CANNOT get a healthier one.
Obviously, this recipe can be adapted and made with any soft fruit such as ripe peaches, strawberries, blueberries or blackberries. Knock yourself out and let me know which one is your favourite!
More Easy Jams And Breakfast Spreads
Tried this recipe? Give it a star rating below!
★ STAY IN TOUCH on FACEBOOK, PINTEREST and INSTAGRAM  for more great food and join my NEWSLETTER for the latest updates and a FREE EBOOK.★ 
Recipe
Easy No-Cook Low Carb Raspberry Jam (Sugar Free Recipe)
from Sugar Free Londoner
So quick to make, packed with flavour and sugar free: low carb raspberry jam.
Note: The servings slider only changes the first amount in each line and not any subsequent amounts. Please make your own calculations where necessary.
Ingredients
1

cup / 150g

raspberries, fresh (if using frozen, give time to defrost)

3

tbsp / 24g

chia seeds

1

teaspoon

vanilla paste or extract

⅓

cup / 80 ml

water

1

tsp / 4ml

lemon juice

1

tablespoon

powdered sweetener

or more if needed
Instructions
Mash the raspberries with a fork

Combine all ingredients in a jar or bowl and stir

Leave in the fridge overnight
Notes
0.8g net carbs per portion of 1 tbsp. Makes 10 servings. 
If you grind the chia seeds before using, your sugar free jam will have a smooth consistency.
Nutrition
Calories:
17
kcal
Total Carbohydrates:
2.1
g
Protein:
0.7
g
Fat:
0.8
g
Fiber:
1.3
g
Sugar:
0.6
g