It's so simple to make your own homemade sugar free nutella! All you need is 4 basic ingredients and a blender. This keto chocolate hazelnut spread is nutritious and seriously delicious. We love it on low carb bread for breakfast and use it in desserts - it's a decadent topping for ice cream or cupcakes.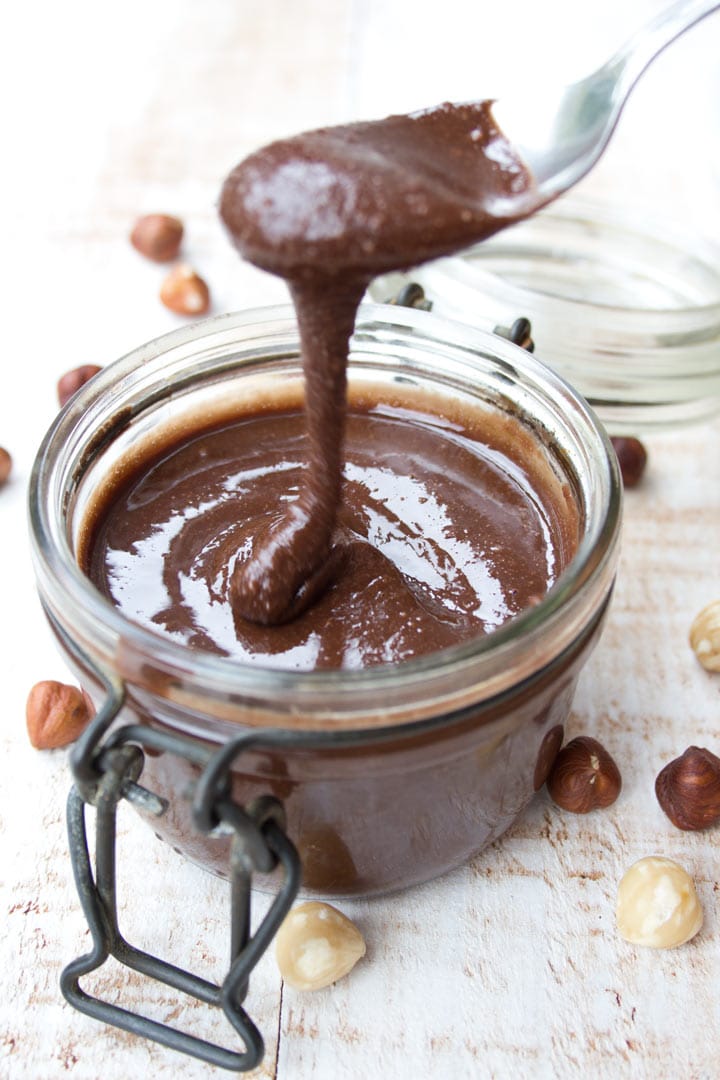 Did you know that "real" Nutella contains over 56 % of sugar per jar? If you eat two tablespoons, you are consuming 34 grams of sugar, which equates to eight-and-a-half sugar cubes.
If you look at it like this, Nutella is not a hazelnut spread, but simply spreadable sugar. In fact, it only contains a measly 13% hazelnuts. Its main two ingredients are sugar and palm oil. Which begs the question:
Can I have nutella on keto?
Absolutely - if you make your own keto nutella! You'll find that this homemade version is not only very easy to make, it also trumps the original in terms of taste BY MILES.
Plus, it's packed with healthy fats and fibre. And it will keep your insulin levels stable!
I love eating this "nut-ella" on my English Muffins or these Keto Breakfast Buns. You can use it as a decadent sauce on Sugar Free Vanilla Ice Cream or make these No Bake Keto Nutella Bars.
And today I simply mixed a spoonful into plain yoghurt. Delicious!
How to make sugar free nutella - step by step: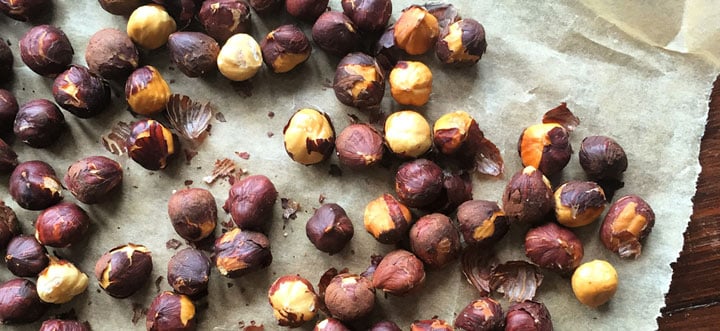 1.) Roast your hazelnuts for around 10 minutes until the skins start to peel off.
Let them cool, then put in a mason jar and shake. Alternatively, rub in a tea towel or with your hands until all skins are removed.
If you can get hold of blanched hazelnuts, you can save yourself time and skip this step.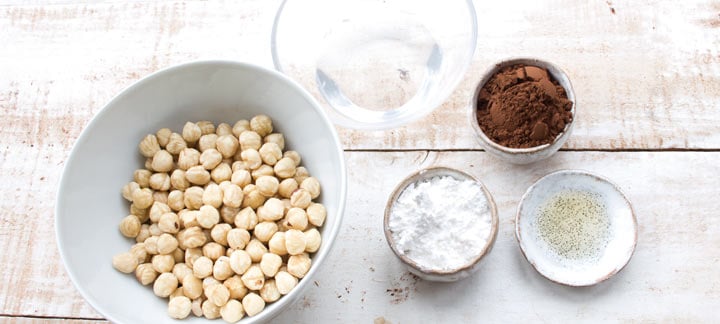 2.) Here are your ingredients: hazelnuts - skins removed, melted coconut oil, powdered sweetener, unsweetened cocoa powder and (optional) vanilla extract.
TIP: If you're buying your nuts without skins, option to dry-roast in a frying pan to gently brown them. This adds additional depth of flavour.
Place all ingredients into a high speed blender or food processor (a stick blender with attachment will also work) and start blending!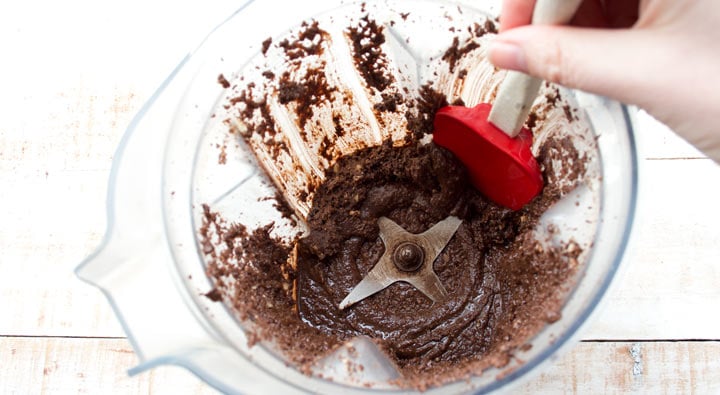 3.) After about 2 minutes your spread will look like this - still quite firm. Scrape down the sides and continue to blend. You may have to do this a couple of times.
4.) Continue to blend for another 3 minutes until your sugar free nutella is smooth, almost like a thick chocolate sauce.
Taste and adjust the sweetener if necessary.
Then fill into an airtight jar and store either at room temperature or in the fridge.
Which blender do you need to make Keto Nutella?
I've made this recipe in both a regular food processor and my Vitamix (affiliate links).
I use my regular food processor all the time for mixing dough because it's easier to clean. But it does not have the same power as the Vitamix or another high speed blender. The same counts for a stick blender with attachment.
In this recipe, you'll get a smoother spread if you use a high speed blender. In fact, if you wanted your sugar free nutella to be COMPLETELY smooth, simply continue blending for circa 12 minutes.
5 minutes of blending will yield a nutella that still has a few hazel-nutty bits in it.
Depending on the power of your blender, you may find that you need to add more liquid to the recipe.
Variations
You can add 1 additional tablespoon of coconut oil and, if your mix is too thick, up to 2 tablespoon of nut milk (such as almond or hazelnut milk).
The vanilla extract is optional, but does add a lovely warm note. If you want, you can also add a pinch of salt.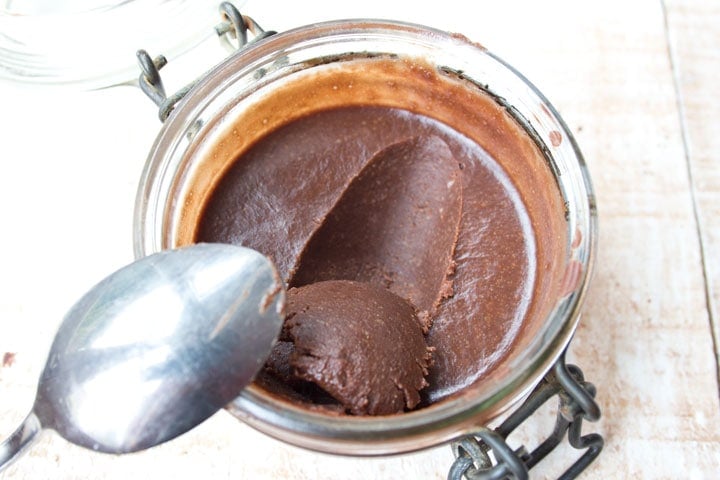 In this image you can see how firm homemade nutella is straight from the fridge. Because it doesn't contain emulsifiers, it takes on the texture of fudge.
If you let it sit at room temperature for around 10 minutes it's PERFECT and spreads easily.
If you love keto nutella, don't miss my Sugar Free Nutella Cookies!
Tried this recipe? Give it a star rating below!
★ STAY IN TOUCH on FACEBOOK, PINTEREST and INSTAGRAM for more great food and join my NEWSLETTER for the latest updates and a FREE EBOOK.★
Recipe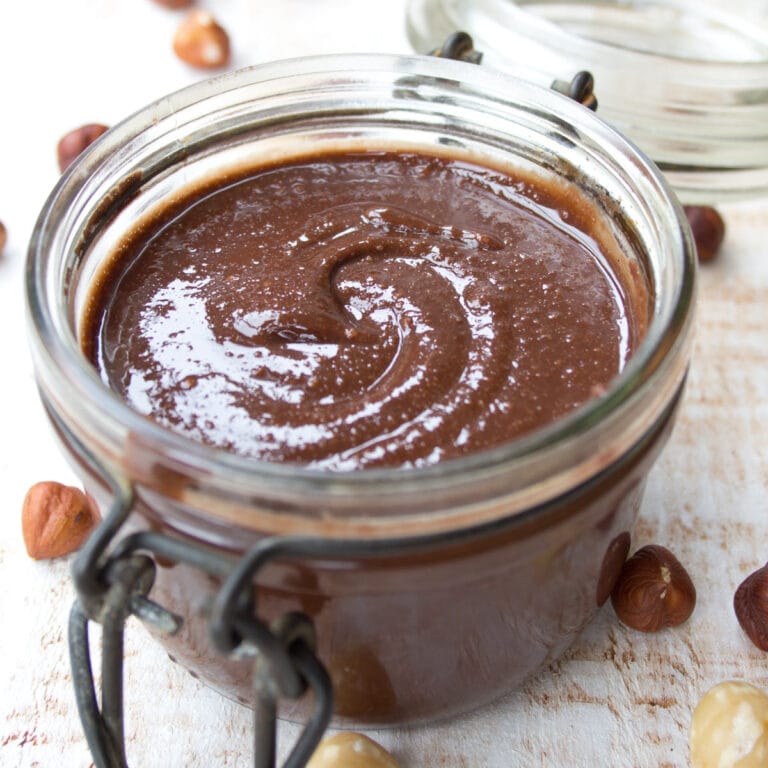 Simple Sugar Free Nutella
from Sugar Free Londoner
Learn how to make own sugar free nutella in 3 simple steps! This easy recipe requires only 4 ingredients and a blender. The taste? SO much better than the "real thing" and seriously nutritious - plus, it keeps your blood sugar levels stable.
Note: The servings slider only changes the first amount in each line and not any subsequent amounts. Please make your own calculations where necessary.
Equipment
high speed blender, food processor or stick blender with attachment
Instructions
If you're using nuts with the skins on: Roast your hazelnuts in a preheated oven at 180 Celsius / 350 F for 10 minutes or until the skins start to come off.

Once the nuts are cooled, rub them in a towel or between your palms to remove the skins.

Blend all ingredients in a high speed blender/food processor until smooth. This should take around 5 minutes, depending on the power of your appliance. In between, scrape down the sides of the blender.
Notes
NET CARBS: 1.2g net carbs per tablespoon
Storage: Store in an airtight container either at room temperature or in the fridge for up to 1 month 
I've made this recipe in both a regular food processor and my Vitamix. You can also use a stick blender with attachment. 
This sugar-free hazelnut spread is softer than "real" Nutella if kept at room temperature. For a firmer spread, store it in the fridge.
The vanilla extract is optional but does add a lovely warm note. If you want, you can also add a pinch of salt.  
Nutrition
Serving:
16
g
Calories:
102
kcal
Total Carbohydrates:
2.9
g
Protein:
2.2
g
Fat:
10
g
Fiber:
1.7
g
Sugar:
0.6
g
This post was first published in May 2016.
This post contains affiliate links. If you click on one of these links and purchase a product, I may earn a small commission, at no extra cost to you. Thank you for supporting Sugar Free Londoner.