A simple, quick and delicious breakfast! It takes just 90 seconds to make this easy Keto English muffin recipe in your microwave. They are gluten free and grain free.
There is absolutely no reason to miss bread when you're on a low carb diet. Thanks to the double miracle that is almond flour and coconut flour, you can make amazingly delicious grain free breads. Soft white rolls? Tick! Rustic, seeded buns? Tick!
I've been doing a fair amount of bread baking recently - rolls, loaves, buns, you name it. One of my all time favourites has got to be my Rustic Paleo Bread - but now I've got a new bread love: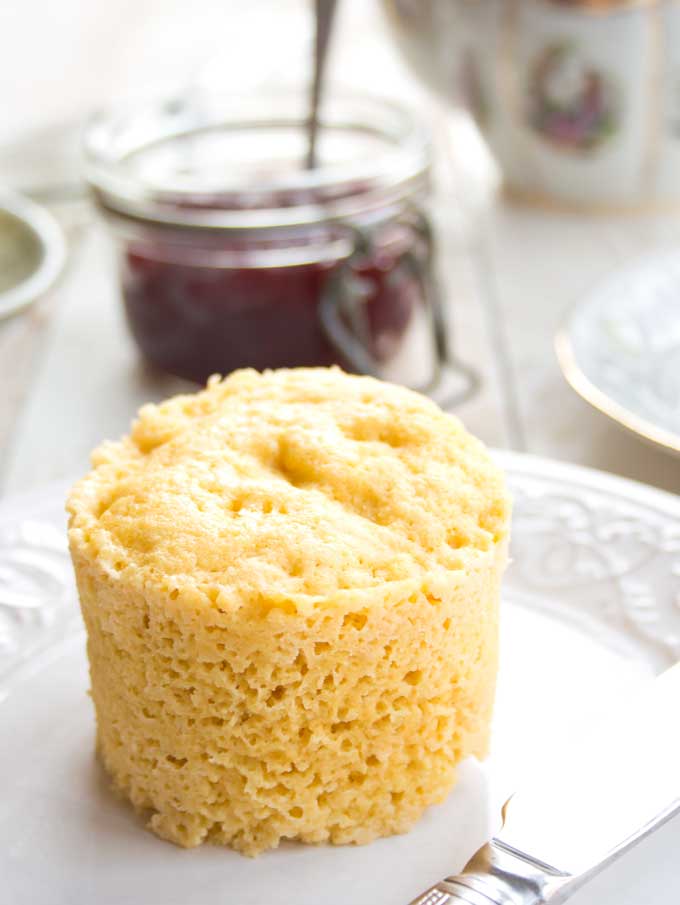 Keto English muffins!
The most awesome thing about these muffins (apart from the taste, naturally) is that you make them in the microwave. I think the microwave is a God-sent for busy people who like to sleep as long as possible in the mornings!
Keto English muffins require the same basic ingredients as my easy low carb rolls. I experimented a bit with quantities and ingredients - not a hardship when you have a finished product in front of you in a couple of minutes.
In the end, I came back to my original measurements, with the addition of some almond milk to produce a delightfully soft, pillowy and light texture.
Baker's Top Tips for PERFECT microwave muffins:
The one thing that's absolutely essential is to grease your ramekins/mug you bake your muffin in REALLY REALLY well. You don't want half of your muffin stubbornly cling to the ramekin, even though it would still taste great. This is not supposed to be a mug cake experience!
Keto English muffins should be sliced in half, toasted and eaten, in the most civilised British way, from a plate.
How to serve your low carb English muffins:
Writing this has made me positively hungry again. How fortunate these muffins are ready in no time at all! 🙂
Here are some of my other muffin recipes: 
Tried this recipe? Give it a star rating below!
★ STAY IN TOUCH on FACEBOOK, PINTEREST and INSTAGRAM  for more great food and join my NEWSLETTER for the latest updates and a FREE EBOOK.★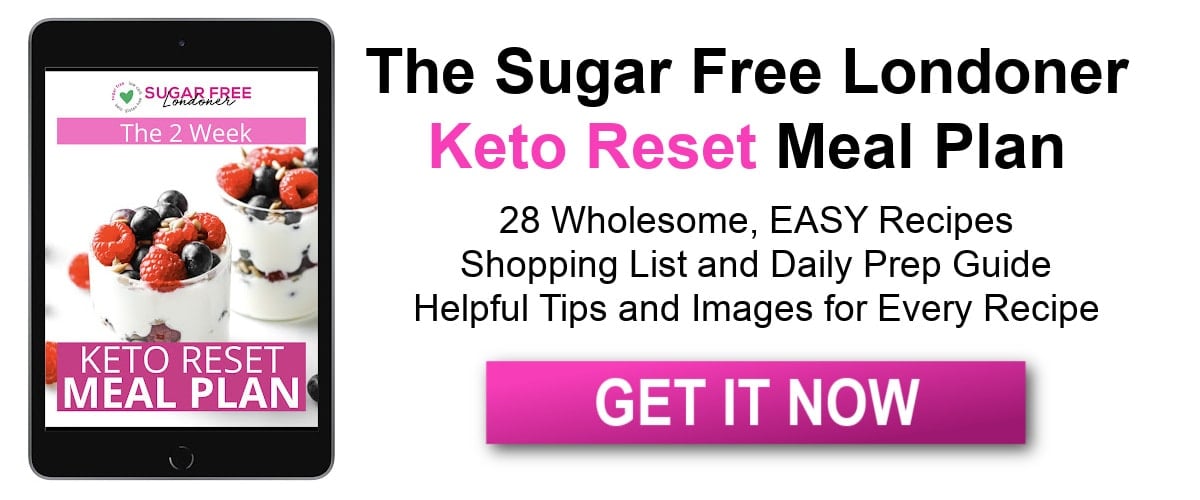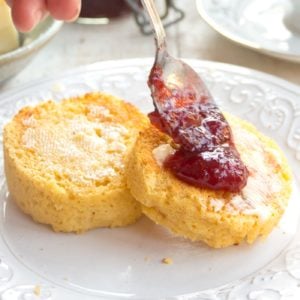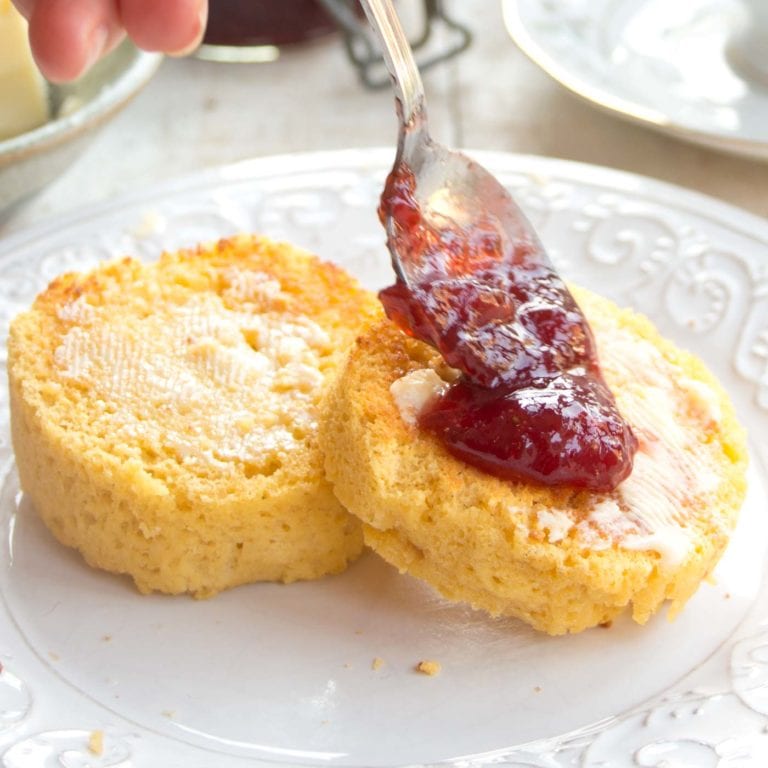 Keto English Muffins (Microwave Recipe)
from Sugar Free Londoner
A simple, quick and delicious breakfast! It takes just 90 seconds to make these easy low carb English muffins in your microwave. They are Keto, gluten free and grain free.
Note: The servings slider only changes the first amount in each line and not any subsequent amounts. Please make your own calculations where necessary. ***As an Amazon Associate I earn from qualifying purchases.
Instructions
Melt the butter in the microwave - this takes ca 30 seconds.

In a bowl, whisk your egg.

Add your melted butter and nut milk, then the almond flour, coconut flour and baking powder. Mix until smooth. If you wish, add a pinch of salt.

Fill into a WELL-BUTTERED ramekin or mug (equally well-buttered)

Microwave on high for 90 seconds.

If necessary, run a knife around the edges of your dish and turn muffins over onto a plate.

Cut in half and toast.
Notes
I made these low carb English muffins in a mug with a diameter of 7 cm. ****Update - I have since made them in classic ramekins like these with a 9 cm diameter which makes them a bit flatter but still tall/high enough to cut in half.
If you make 2 muffins at the same time, increase the microwave time to 2 minutes.
To make this recipe in an oven, try 180 C / 350 F for around 12 minutes (I have not yet done this myself, but that would be my starting point.) If you double, triple or quadruple the recipe  - to make it worth your while turning on the oven - , increase the baking time to 18-22 minutes. Check by inserting a knife that the middle is done!
Nutrition
Calories:
229
kcal
Total Carbohydrates:
6.6
g
Protein:
11.4
g
Fat:
17.4
g
Saturated Fat:
8.7
g
Polyunsaturated Fat:
1.3
g
Monounsaturated Fat:
4.9
g
Cholesterol:
195
mg
Sodium:
65.8
mg
Potassium:
70.4
mg
Fiber:
4.2
g
Sugar:
1.1
g
This recipe was first published in February 2018. It was updated in December 2019.
This post contains Amazon Affiliate links. If you click on one of these links, I may earn a small commission which helps me with the running costs of the site. Thank you for supporting Sugar Free Londoner.