The ultimate keto pizza sauce recipe is ready in just 15 minutes! Use this tasty low carb pizza sauce on homemade Fathead, almond flour or cauliflower crust pizzas. It also doubles up as a great sauce for keto pasta, low carb lasagnes, enchiladas or any recipe where you need a really tasty marinara sauce.
When I started eating a low carb diet, I was so relieved to find out that it's possible to eat pizza. Because I love it!
There are so many options for a low carb gluten free pizza crust - almond flour, coconut flour, the famous Fathead crust made with grated mozzarella cheese (I'm linking my recipe at the bottom of this post) and even cauliflower pizza.
All of these different crust recipes are using ingredients which are grain free and therefore low in carbs. But what about the tomato sauce?
Sugar in tomatoes
Tomatoes contain a fair amount of natural sugar - 2.6g in 100 grams (about 1 small tomato). Therefore, technically there is no such thing as a sugar free pizza sauce.
Is pizza sauce keto friendly?
It can be, if you make your own!
Store bought tomato sauces often include added sugars. This extends their shelf life and also enables the manufacturers to use low quality tomatoes. If you ever buy canned tomato sauce, read the labels!
This sauce contains 2.7g net carbs per ⅓ cup. This is enough for an entire keto pizza (which you'll probably share with 1 or 2 people because they are VERY filling).
Some keto recipes will simply use concentrated tomato paste as a low carb pizza sauce. This is totally possible, but just not as tasty as a homemade marinara sauce.
That's why I used a mixture of canned tomatoes and tomato paste. It only takes 15 minutes from start to finish to make I wanted this pizza sauce to be both quick and tasty.
I'm convinced it's the best keto pizza sauce you'll ever find. My whole family adores it, including my carb-loving teenagers.
How to make keto pizza sauce
Here are our ingredients. Personally, I think fresh basil, onion and garlic taste the best. But if you don't have it to hand, simply use it dried.
Also, the brand of canned tomatoes has a huge impact. I have discovered a brand called Mutti. I get it from Waitrose, but it's also available on Amazon. The taste is exceptional.
Note - use chopped, tinned tomatoes for ease over whole. You can also use fresh tomatoes if you prefer, but they will take 10 minutes longer to cook down.
Let's get started!
You begin by gently frying the chopped onion and then the chopped garlic in olive oil until they're softened - about 3 minutes. Then add the rest of the ingredients to the sauce pan, except for the fresh basil.
Bring your keto pizza sauce to the boil, then reduce to a simmer. Reduce it down to a concentrate for 10 minutes.
Tip: Make sure you use a lid, slightly ajar, when simmering the sauce as it will spit. This will save your tiles being covered in tomato sauce!
Last, stir in the basil and blitz the sauce with a hand blender. Or leave it chunky - however you prefer it!
Optional ingredients for a sweet and awesome lift: Add either 1 teaspoon balsamic vinegar, 1 teaspoon coconut aminos or 1 teaspoon powdered sweetener such as erythritol, allulose or Splenda.
If you like a bit of hear, consider adding a few red pepper flakes!
And last but not least, spread it liberally over your pizza crust!
Other uses for low carb pizza sauce
This easy keto pizza sauce is incredibly versatile. Here are a few ideas where you can use it apart from for low carb pizza.
Use it as a simple marinara sauce over low carb pasta. We like it with palmini noodles or sauteed spiralized zucchini.
spread over portobello mushrooms, add grated cheese and grill / broil
or make my husband's favourite snack, a 5 minute grilled cheese "pizza" sandwich using my 90 second keto bread.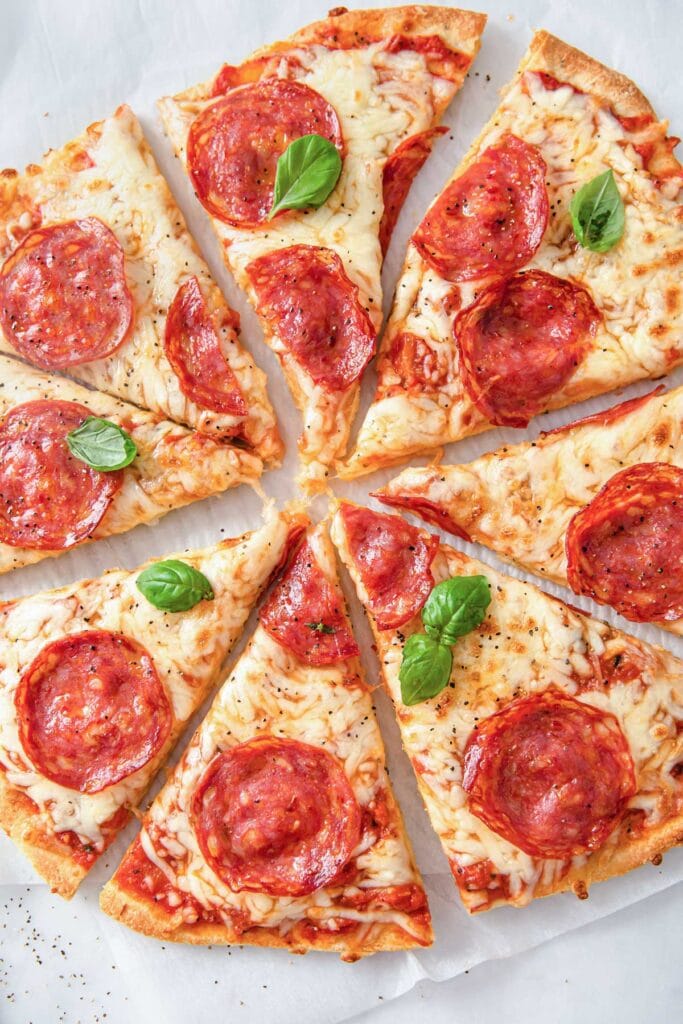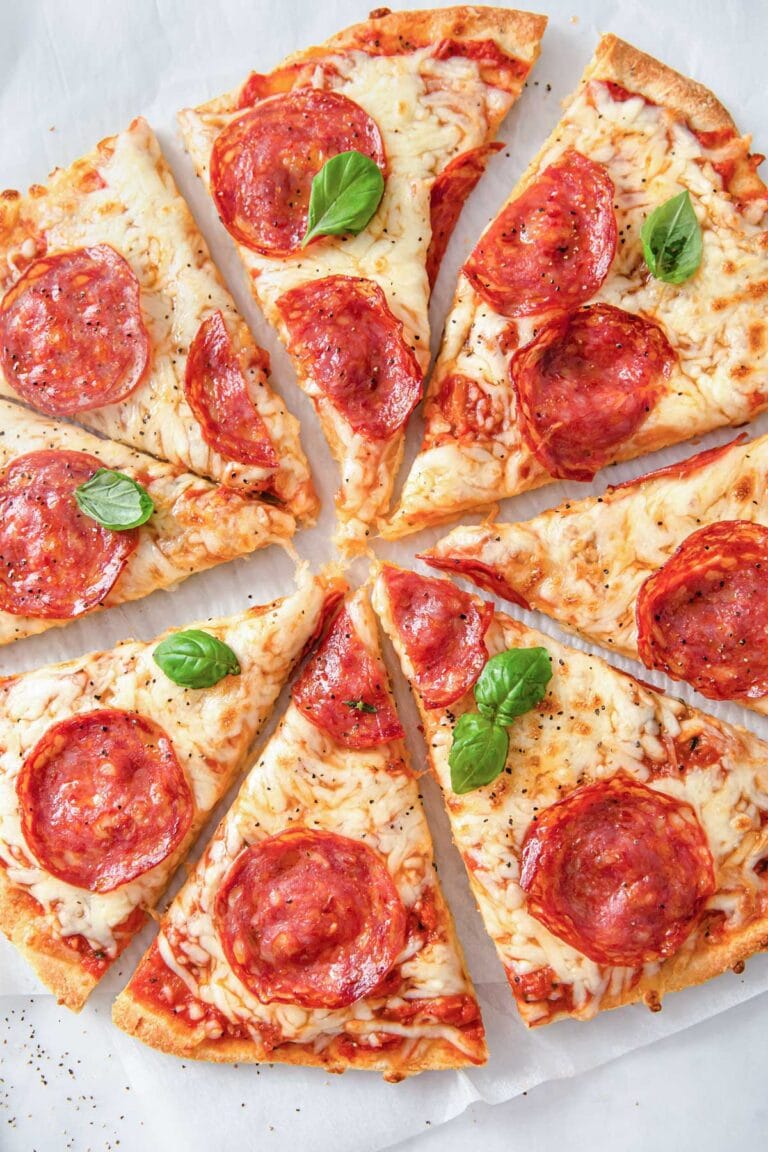 Storing marinara sauce
I always make a larger batch of this keto marinara sauce. We use it all the time and it also freezes well.
You can store it in a tupperware or in a glass jar in the fridge for up to 5 days.
If you freeze it, think about whether you'll be using the sauce in large or small portions. For smaller batches, freeze it in ice cube trays!
Keto pizza recipes
Tried this recipe? Give it a star rating below!
★ STAY IN TOUCH on FACEBOOK, PINTEREST and INSTAGRAM for more great food and join my NEWSLETTER for the latest updates and a FREE EBOOK.★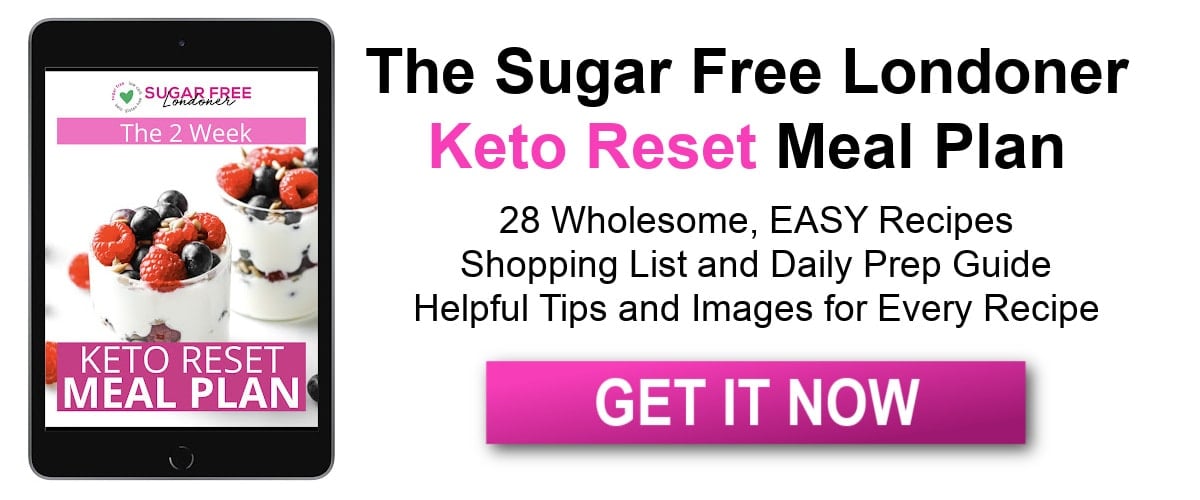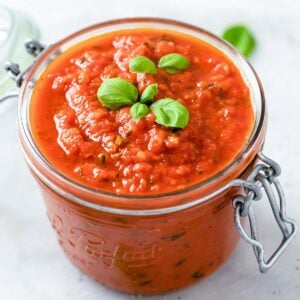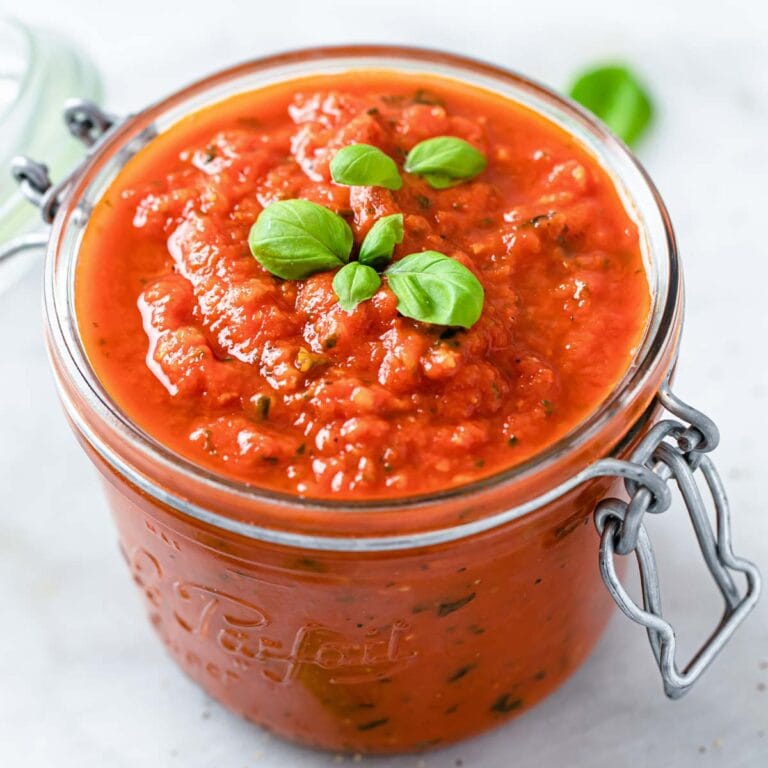 The ultimate keto pizza sauce
from Sugar Free Londoner
A quick and versatile keto marinara sauce to use on keto pizza and in any other recipe that requires tomato sauce! Extremely tasty and so simple to make. A low carb staple for your fridge!
Note: The servings slider only changes the first amount in each line and not any subsequent amounts. Please make your own calculations where necessary. ***As an Amazon Associate I earn from qualifying purchases.
Ingredients
2

tablespoon

olive oil

2

tins tomatoes

chopped (800g / 28 oz total)

¼

cup

tomato puree

50g

⅓

cup

chopped basil leaves

15g - or 1 tablespoon dried basil plus 1 tablespoon dried oregano

½

teaspoon

dried oregano

2

garlic cloves

minced or 1 teaspoon garlic powder

1

small onion

finely chopped (50g) or 1 teaspoon onion powder

½

teaspoon

salt

or to taste

½

pepper
Instructions
Sauté the onion in olive oil for 2 minutes on a medium heat. Add the garlic for 1 further minute. Add the tomatoes, tomato puree and dried herbs if using. If using fresh, add at the end. Season with salt and cracked black pepper.

Bring to the boil then reduce to a simmer. Reduce down to concentrate for 10 minutes with the lid ajar slightly to prevent splattering all over your kitchen. Stir through torn basil leaves if using fresh.

Blitz with a hand blender or leave chunky if you prefer.
Notes
Net carbs: 2.7g per ⅓ cup (about the amount needed per 1 pizza). Serves 8
Makes 650 ml / 2 and ¾ cups of sauce. 
Optional for a sweet and awesome lift:  add 1 teaspoon balsamic vinegar or coconut aminos or low carb sweetener. 
Note - use chopped, tinned tomatoes for ease over whole. You can also use fresh tomatoes if you prefer, but they will take 10 minutes longer to cook down.
Storage: Tupperware or glass jar for up to 5 days. This sauce can be frozen in either a tupperware or in ice cube trays for smaller batches. 
Nutrition
Serving:
0.3
cup
Calories:
53
kcal
Total Carbohydrates:
5
g
Protein:
1.1
g
Fat:
3.7
g
Fiber:
2.2
g
Sugar:
3.3
g
This post contains affiliate links. If you click on one of these links and purchase a product, I may earn a small commission, at no extra cost to you. Thank you for supporting Sugar Free Londoner.