This versatile sugar free teriyaki sauce recipe tastes so much better than the store-bought sugary original. It is salty, tangy, sticky, sweet and delicious. The recipe uses natural ingredients and comes together in only 10 minutes.
"Excellent flavour, far better than the 'original'. The chicken thighs that I marinated in the sauce were so tender and delicious, and teamed up with broccolini ..yum." (Colleen)
If you love Japanese cuisine, this keto teriyaki sauce is a must-make. It lends amazing flavor to anything from stir fries to chicken, beef, vegetables and salmon.
I have always adored Japanese food, especially anything with teriyaki sauce. But when I read the label of a teriyaki sauce bottle in the supermarket one day, I could not believe how much hidden sugar it contained.
It's like eating dessert without knowing it.
I decided to create this sugar free teriyaki sauce so we could enjoy a proper keto teriyaki chicken without sending our blood sugar levels sky-high.
This sauce has become a family favourite and we make it all the time.
Jump to:
Why This Recipe Works
Authentic Flavor: The sauce is umami, savoury, salty and sweet, just like a traditional teriyaki sauce. It tastes just like the sauce you'd be served in a Japanese restaurant.
Perfect Texture: It is thick, glossy and sticky. This texture means the sauce is great for glazing and superb as a marinade.
Healthy: Contrary to regular teriyaki, this recipe is super healthy. It is sugar free, gluten-free and keto friendly. One tablespoon of sauce contains only 1.2g net carbs.
Quick, Easy and Versatile: This is a very simple recipe and a great basic to have in the fridge. The sauce is ready in just 10 minutes. You can use it as a marinade on any protein. I marinate my fish or chicken in it for 20 minutes and then fry or grill. I also add it to mixed vegetable stir-fries, which I serve over a portion of cauliflower rice.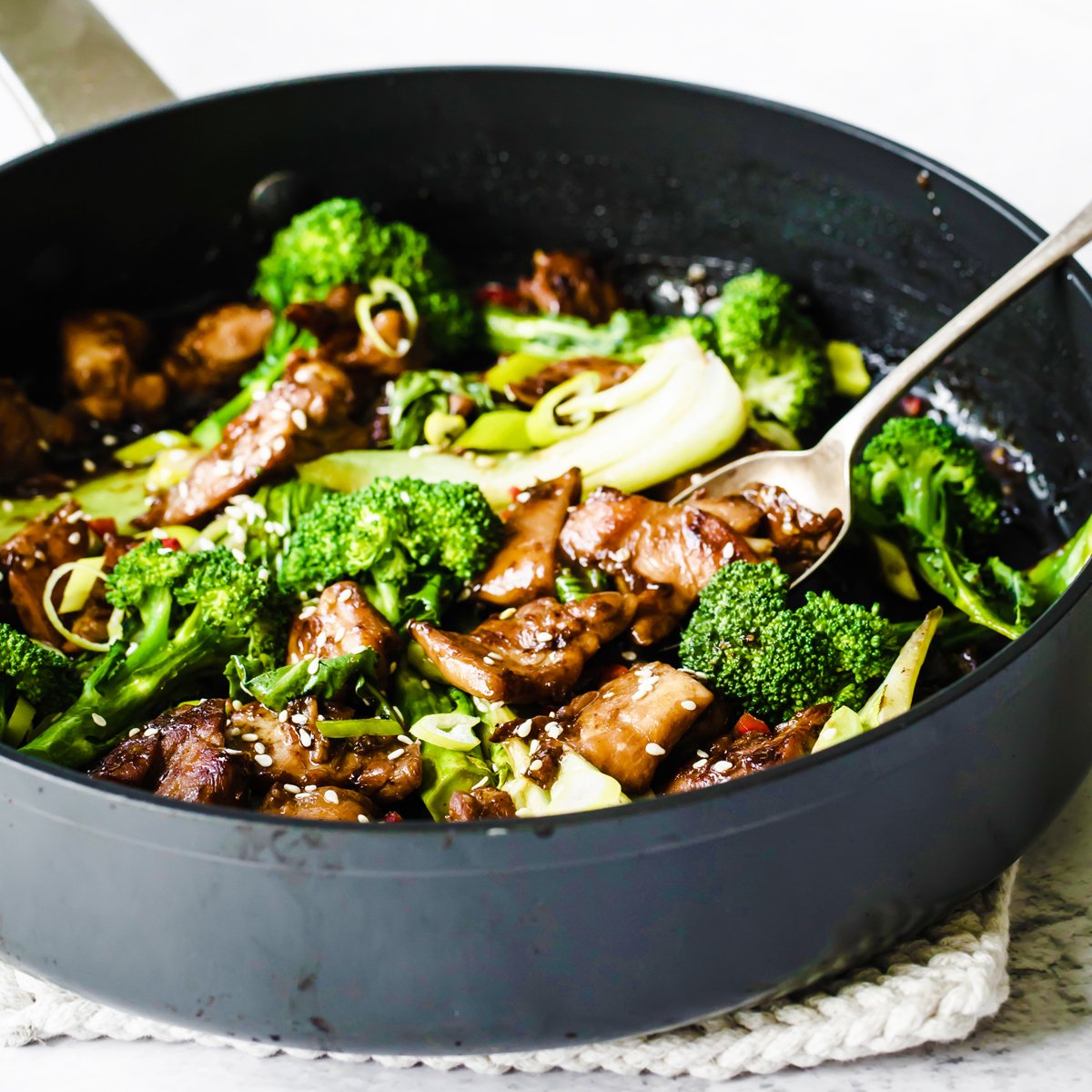 Ingredients
Here are the ingredients you will need for low carb teriyaki sauce:
Tamari - This is a gluten-free soy sauce alternative.
Coconut Aminos - A tasty, sweet seasoning sauce made from the fermented sap of coconut palm. Coconut Aminos are low in sugar due to the fermentation process (roughly 1 gram of sugar per teaspoon). It is also low in sodium and soy free.
Sweetener - Allulose works great here because it does not recrystallise. I also like brown sugar substitutes like Sukrin Gold or erythritol monk fruit sweeteners like Lakanto Golden because of their gentle caramel flavor.
Apple Cider Vinegar - A mild vinegar that replaces the flavor of mirin or sake.
Sesame oil - Adds smokey flavour.
Garlic and ginger - both elevate the taste. Fresh is best, however you can use garlic powder and powdered ginger instead.
Xanthan gum - A popular low carb thickener. Use sparingly. Sprinkle it in last and stir vigorously so it does not clump.
Instructions
This section contains step-by-step instructions and photos that show how to make this recipe. See the recipe card for full information on ingredients and quantities.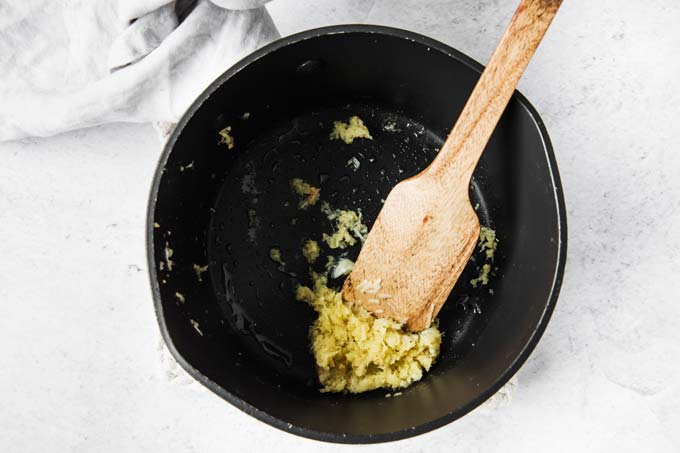 Step 1
In a small saucepan, fry the garlic and fresh ginger in sesame oil on a low heat until fragrant.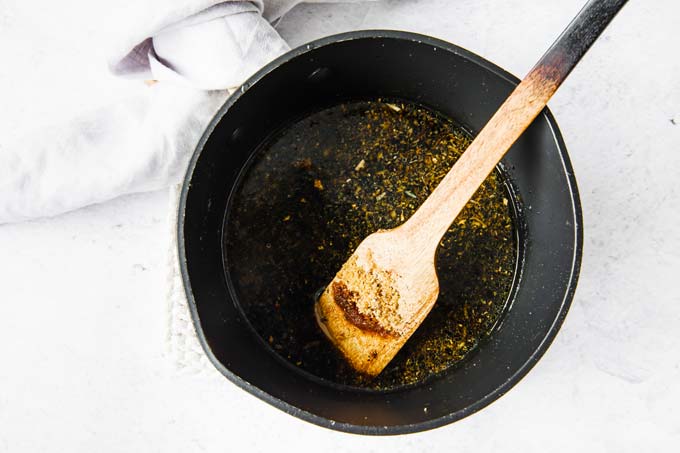 Step 2
Add the tamari sauce, coconut aminos, low carb sweetener, water, apple cider vinegar and spices. Bring to the boil, then simmer on a medium heat.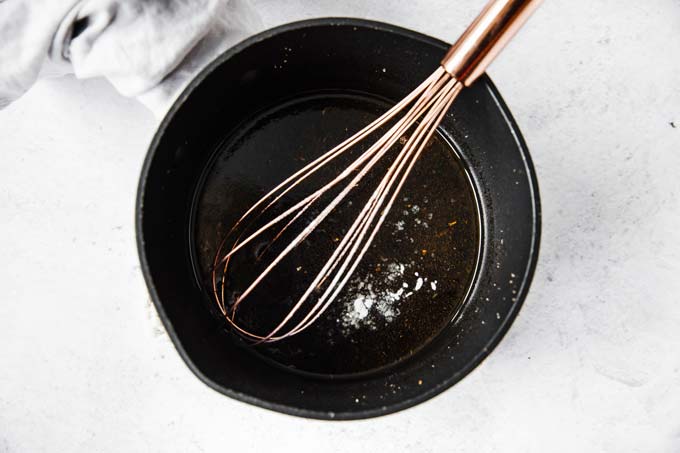 Step 3
Whisk in the xanthan gum and heat until it thickens and reaches your desired consistency. Mine took 4 minutes.
Step 4
Pour the sauce into a sterilised jar and allow it to fully cool. Sprinkle with sesame seeds before serving.
Expert Tip
The sauce will thicken further as it cools. Keep this in mind when you decide when to take it off the stove.
Recipe FAQs
What is teriyaki?
Teriyaki is actually a Japanese cooking style. The word is made up from two root words: teri means luster or shine and yaki means grill or broil.
Therefore, "teriyaki" refers to grilled, broiled or pan-fried meat, fish or vegetables that have a shiny glaze.
Of course, in the western world we think of teriyaki as a sauce.
Is teriyaki sauce keto?
Traditional teriyaki sauce is not keto. It has four main ingredients: soy sauce, sake (or mirin, if you don't want the alcohol), corn or potato starch and sugar.
Fortunately, it is easy to make a sugar-free teriyaki sauce by using keto approved sweeteners and other low carb, gluten-free ingredients.
What can I use in place of coconut aminos?
Use more tamari or soy sauce and a splash of fish sauce. Also, increase the sweetener to taste.
Variations 
Add sweetener to taste: This keto teriyaki sauce recipe is not overly sweet. I recommend that you sweeten this sauce to taste - simply add more sweetener if needed.
No Tamari: You can substitute it for all-out coconut aminos if you prefer and cut the sweetener down to about 1 tbsp. Coconut aminos is naturally sweeter than tamari so you could even get away without a sweetener if you don't like things too sweet.
Thickeners: As an alternative to xanthan gum, use 1 teaspoon of ground chia seeds or a pinch of grass-fed gelatin. You can also use arrowroot powder if you don't mind a little bit more carbs.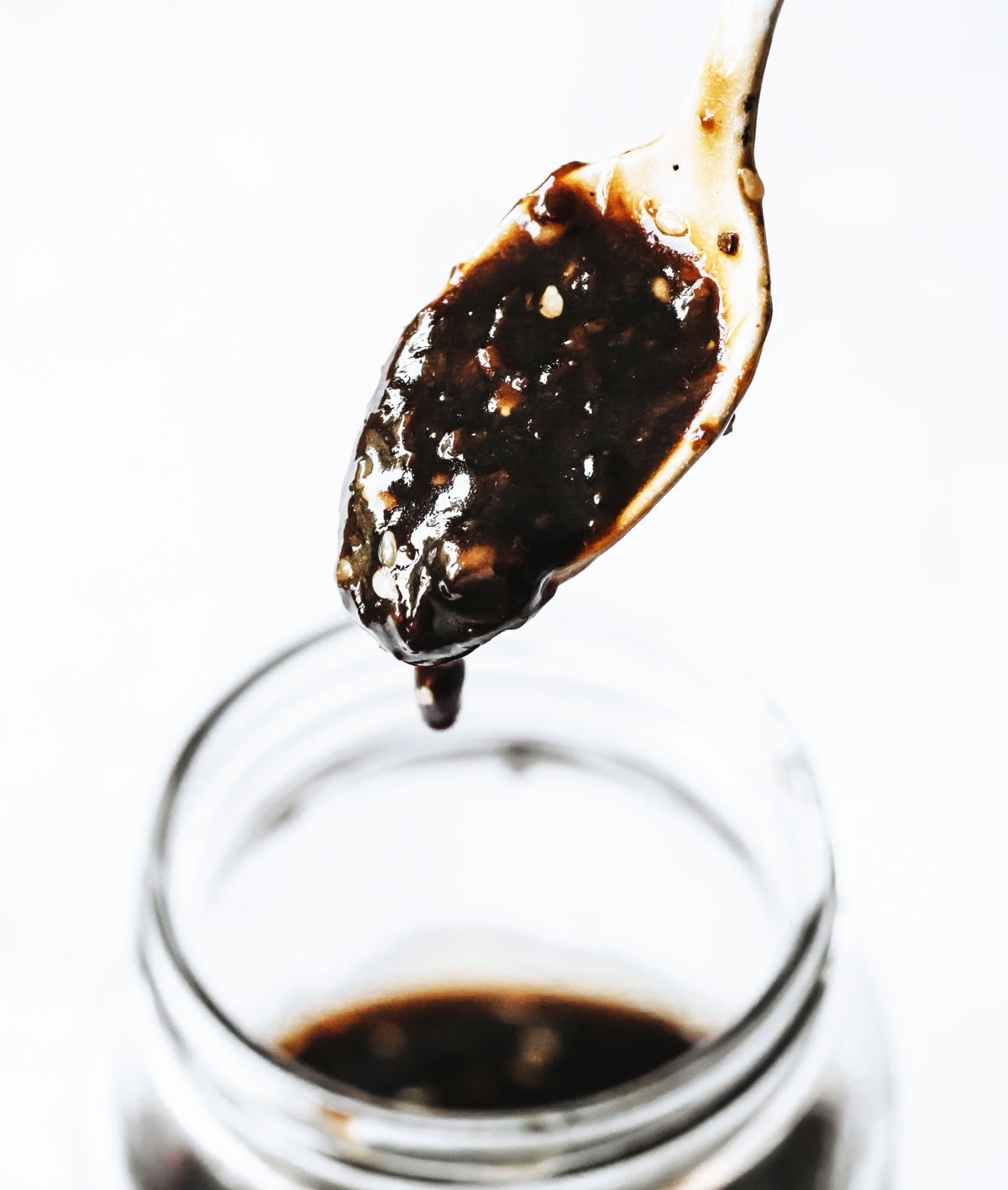 Where To Use
My whole family loves this sugar-free teriyaki sauce and we use it in many dishes. Here are a few ideas:
Stir Fries - One of our faves is this keto teriyaki chicken, but it would work well in vegetable stir-fries or any other stir-fry. Serve with shirataki noodles or cauliflower rice.
Drizzle: Spoon over my keto fried rice. Or stir into this Japanese-inspired keto ramen.
BBQ, grill or air fryer - Use it as a marinade on any protein: chicken, beef, shrimp skewers, pork or salmon. It's also delicious with vegetables including asparagus, broccoli, zucchini or eggplant.
Use as a dip - Serve next to keto sushi or with keto chicken wings.
Storage
Store in an airtight jar in the fridge for 2-3 weeks.
If you use a sterilised jar, the sauce probably lasts for several months. I don't recommend to freeze it.
You can reheat the sauce when you add it to food on the stove. Of course, it is also possible to gently reheat the sauce on its own in a saucepan or in the microwave.
More Sugar Free Sauce Recipes
Here are more keto sauce recipes to try:
Tried this recipe? Give it a star rating below!
★ STAY IN TOUCH on FACEBOOK, PINTEREST and INSTAGRAM  for more great food and join my NEWSLETTER for the latest updates and a FREE EBOOK.★ 
Recipe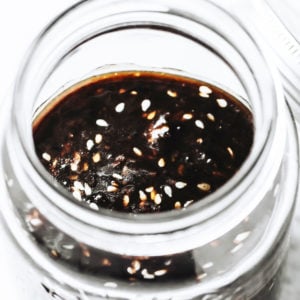 Sugar Free Keto Teriyaki Sauce
from Sugar Free Londoner
This sugar free teriyaki sauce contains all the wonderful flavour we love about this popular Japanese sauce, but none of the sugars and preservatives. Use it for marinating meat and fish or as a dipping sauce for appetisers!
Note: The servings slider only changes the first amount in each line and not any subsequent amounts. Please make your own calculations where necessary.
Instructions
Fry the garlic and ginger in sesame oil for about 30 seconds - 1 minute on a medium/ low heat until fragrant.

Add the Tamari, coconut aminos, low carb sweetener, water, apple cider vinegar and spices. Bring to the boil, then cook for 2 minutes on a low simmer.

Whisk in ¼ teaspoon xanthan gum and heat until it thickens and reaches your desired consistency. Mine took about 4 minutes.
Notes
1.2g net carbs per tablespoon of sauce. Makes ½ cup / 8 tablespoon of sauce.  
Store in a sealed glass jar in the fridge for 2-3 weeks.
Use as a sauce or a marinade. Simply marinate your meat or fish or chicken for about 20 minutes before grilling or frying. 
Nutrition
Serving:
1
tablespoon
Calories:
25
kcal
Total Carbohydrates:
1.4
g
Protein:
1.1
g
Fat:
1.8
g
Saturated Fat:
0.3
g
Sodium:
517
mg
Fiber:
0.2
g
Sugar:
0.3
g