These creamy, fruity individual low carb raspberry cheesecakes are a perfectly guilt free indulgence.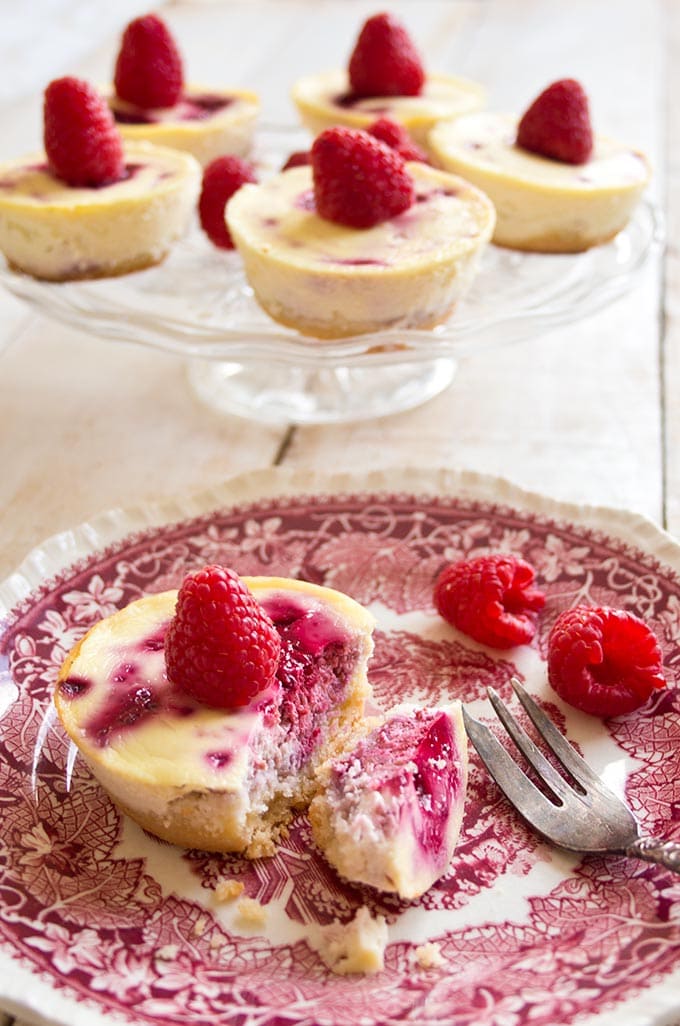 I'm going to make a rather large statement here. Small, my friends, is better than big.
Think about it.
There is a tipping point in almost all aspects of life where big becomes too much, too unmanageable, unfeasible.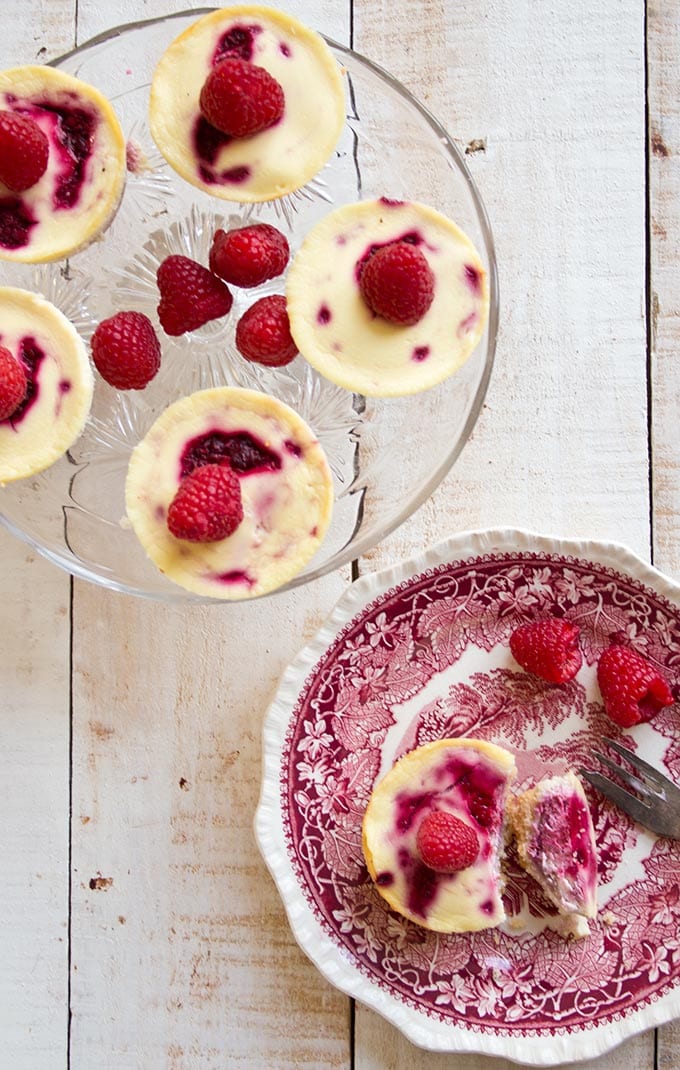 Do you know that feeling after a big meal? Not nice, walking around with stones in your stomach for hours. Your body will thank you for sticking to smaller, sensible portions. And if there is a large spread, small portions mean you can sample more flavours. Small food is fun, neat, grown-up in a good way and can be eaten with your fingers. Small food is almost too good to be true!
Here's the epitome of a perfectly formed small dessert: low carb raspberry cheesecake.
You all know I'm a big (oh dear - wrong word?!) fan of muffins. I've posted recipes for carrot cake muffins, low carb chocolate banana muffins, chocolate feast muffins and my most popular recipe, low carb muffins. I think they are the perfect size treat.
After making this (full sized) orange brandy cheesecake recently, I thought it was time to test my beloved silicone muffin pan with some mini raspberry cheesecakes.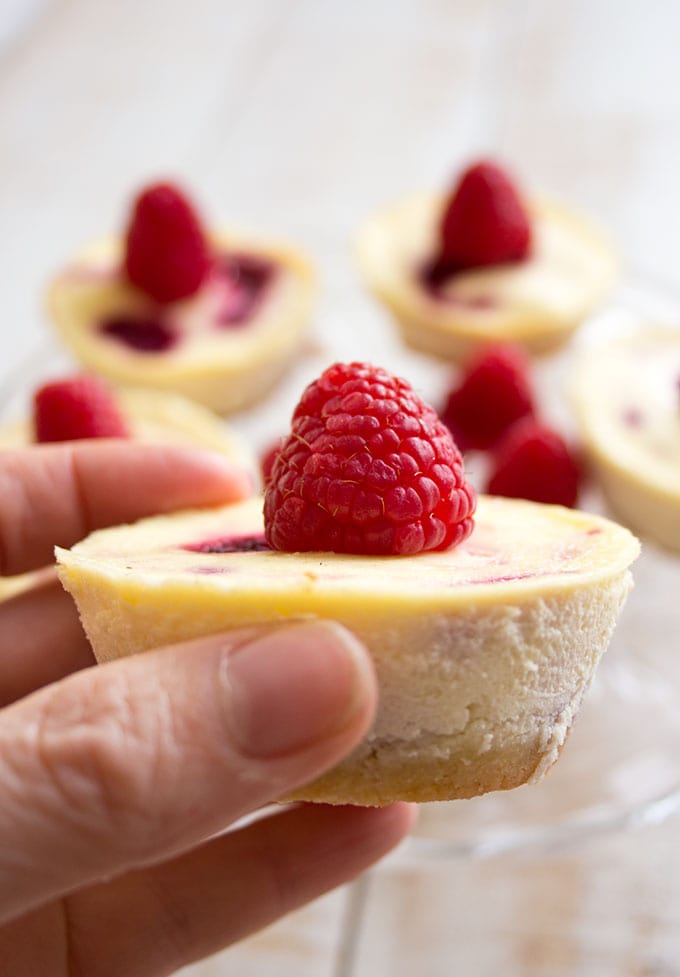 These supremely tasty, super-fruity cheesecakes are so easy to make, you could basically do it with your eyes closed.
I made a raspberry sauce with the very useful low carb thickener xanthan gum. If you are in a hurry, you could even skip this step and drop a few whole berries into the cheesecake mix instead. The one thing I do recommend is to use a silicone baking mould (pan). Unless you use paper cups, a silicone mould is the difference between getting your muffins or mini raspberry cheesecakes out in one piece or scraping tasty crumbs onto a plate.
Raspberries are one of my favourite low carb fruits.
They have 7.3 net carbs per half cup.
You can, of course, make this recipe as a cake (increase the oven time in this case to 1 hour and use a springform).
Because as we all know, exceptions prove the rule and when it comes to cheesecake, big can be (almost) as good as small.
★ Tried this recipe? Give it a star rating below!★
★ STAY IN TOUCH on FACEBOOK, PINTEREST and INSTAGRAM for more great food and join my NEWSLETTER for the latest updates and a FREE EBOOK.★
Recipe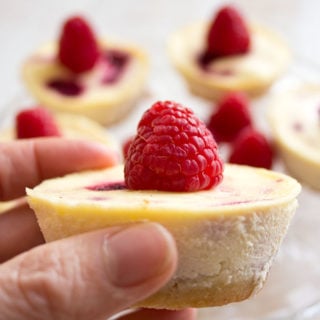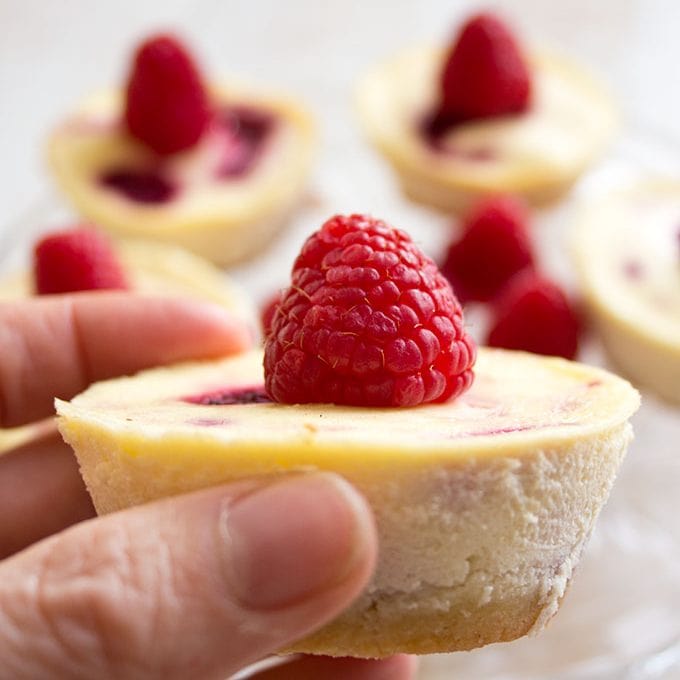 Mini Raspberry Cheesecakes (gluten free, low carb)
from Sugar Free Londoner
These creamy, fruity individual mini raspberry cheesecakes are a perfectly guilt free low carb indulgence.
Note: The servings slider only changes the first amount in each line and not any subsequent amounts. Please make your own calculations where necessary.
Instructions
Heat the oven to 160 Celsius.

Mix the ground almonds and coconut flour with 1 tablespoon Natvia, 1 teaspoon vanilla extract and the softened butter until you have a ball of dough. Set aside.

Mix the cream cheese with the eggs, the remaining 4 tablespoon of sweetener and the other 1 teaspoon of vanilla essence.

Heat the raspberries (you can use frozen or fresh) with 2 tablespoon water in a small pot and cook on a low heat for ca 5 minutes until you have a thick sauce. Take off the heat and stir in a pinch of xanthan gum. This is a thickener - so if you do not have xanthan gum, make sure you reduce the liquid in the raspberries by as much as possible (without burning them!)

Now you assemble the mini cakes: Form small disks in your hands and press them firmly into the bottom of the muffin pan.

Next, spoon the raspberry sauce on the dough base and then pour in the cheesecake mix.

Stir a little to get some of the sauce to the top, but be careful not to over-stir. It will still taste great, but not look as pretty. Dot any remnants of the raspberry sauce on the top.

Bake ca 45 minutes until the top of the cakes is firm. The center will still be jiggly.
Notes
Cool to room temperature, then put the muffin tin in the fridge and wait until the cakes are cold. Only then remove them from the mould.
Nutrition
Calories:
256
kcal
Total Carbohydrates:
7.3
g
Protein:
7.7
g
Fat:
23
g
Saturated Fat:
10.6
g
Polyunsaturated Fat:
0.9
g
Monounsaturated Fat:
4.8
g
Cholesterol:
84
mg
Potassium:
81
mg
Fiber:
3.2
g
Sugar:
1.9
g