Give the oven a break with this fruity and easy no-bake low carb strawberry cheesecake. It has an almond crust which also makes this cake gluten free.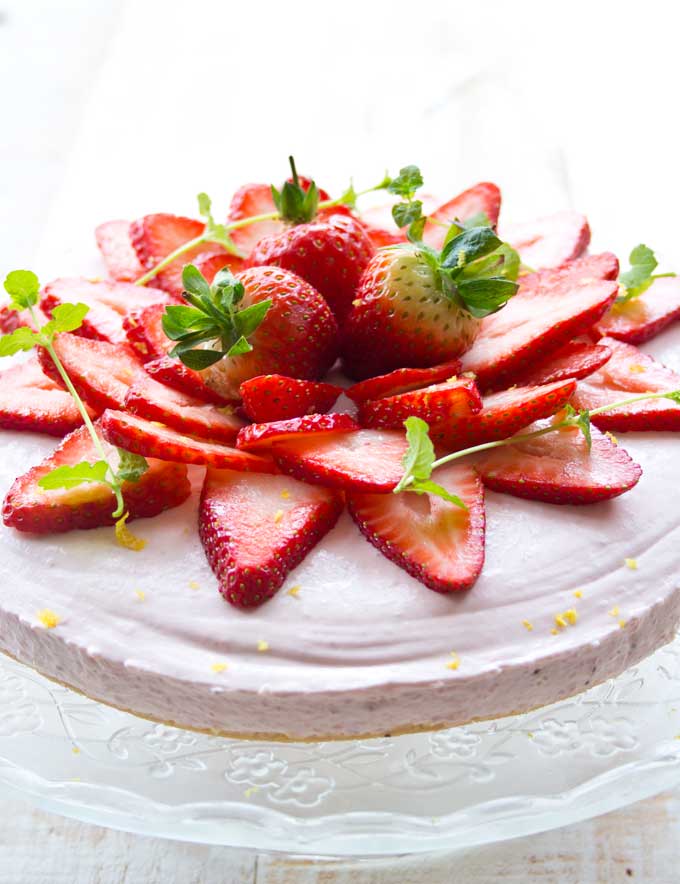 FIND THE RECIPE CARD WITH INGREDIENTS AND INSTRUCTIONS AT THE BOTTOM OF THE PAGE. DON'T MISS THE EXTRA TIPS IN THE POST! 
Who here loves summer?
For me, even thinking of summer is like a mini holiday. Which really perks up may day, because, as you know, I live in London. And London is great at doing grey & rainy in a unique eccentric-cool Brit-pop kinda way, but it's not great at doing summer. I was chatting to my lovely blogger friend Pip over at The Slimming Foodie the other day, and we both agreed that even in July you're better off heading out of the country if you want to be sure you're getting some.
Here is one of the mini-clips I like to play in my head when the rest of town is fighting with their umbrellas:
A lush, green English garden in the late afternoon. Bees are humming around wildflowers, the air is warm and filled with the scent of lavender. The sun has lost its intensity and is bathing the scene in a golden light. There is a contentedness, a stillness that is almost palpable.
Guys, just writing this is making me feel all peaceful and calm.
Now let's customise the setting.
You like cats? There's a cat stretched out on the warm flagstones, sleeping blissfully.
Or how about kids? They are playing in the back of the garden with a hose, their laughter ringing in the air like beautiful bells. There is no bickering between them. Remember, this is not about reality.
And how about a soundtrack. Cool chill-out music is wafting over from the open doors of the kitchen.
Let's get to the centrepiece of the scene. Under a grand old oak tree, shielded from the sun's rays, is a rustic wooden table, set for afternoon tea. There's some refreshing sugar free homemade ginger ale and a plate with grain free English scones, alongside a bowl with whipped cream and raw raspberry vanilla chia jam. Obviously, linen napkins and silverware. No paper or plastic on this table. Please, peeps. We're doing classy cool here!!  Oh, and of course, seated around the table are your very best friends.
And from now on everything happens in slow-motion. Because you enter the scene, the light cotton of your floral summer dress (quintessentially English vibe!!) caressing your slender legs (yesss!!)….
…and you are carrying…this no-bake low carb strawberry cheesecake!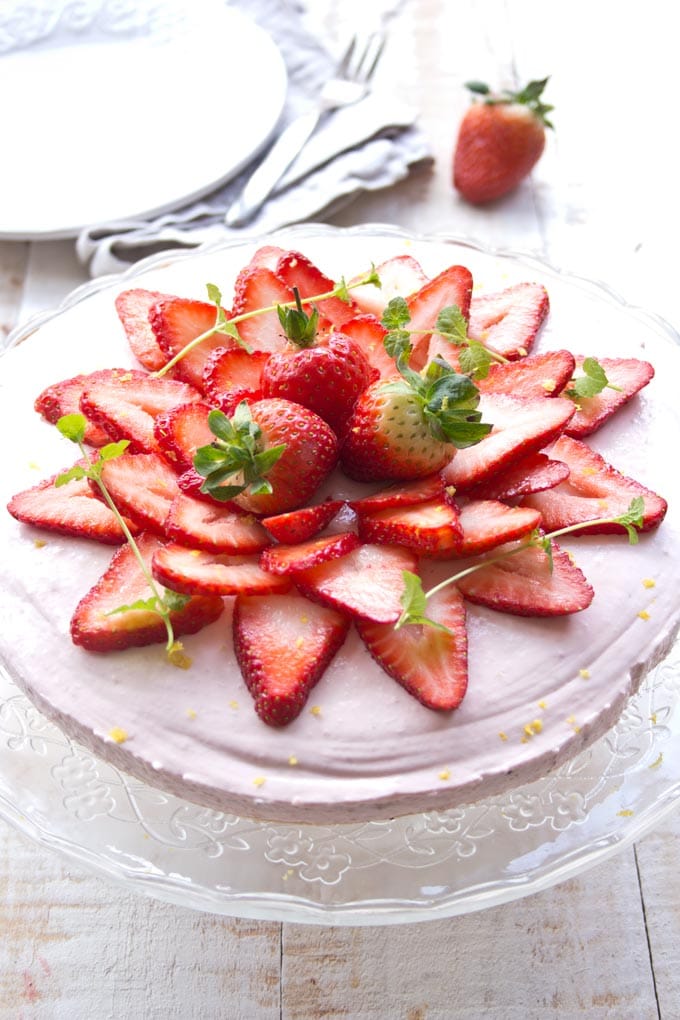 Let's do a deep-dive in cheesecake talk.
First of all, cheesecake is a brilliant dessert when you're on a low carb diet. I've posted this orange brandy cheesecake and these zingy mini raspberry cheesecakes already.
This fine specimen of a sugar free cheesecake has the benefit of not needing any oven time. It uses gelatin to help keep its shape. Some no-bake cheesecakes omit gelatine, but as this recipe contains blended strawberries, you really need it to bind the liquid.
I like my low carb strawberry cheesecake creamy-firm, but not as firm as jelly. If you think you'd like a strawberry cheesecake you can precision-cut like a Savile row suit, you could either add more gelatin (best is grass-fed!) or consider cooking the strawberries and thereby reducing the amount of liquid they contain. Then you'd let the strawberry mix cool down before adding the (dissolved) gelatine and then mixing it into the cream cheese and whipped cream.
I have used almond flour for the base, but again, if you wish to customise, feel free to do so. You can use any other ground nuts, or even add in some desiccated coconut, as long as you keep to the same basic ratio of nut flour and butter.
It is best to make this cheesecake the day before to give it plenty of cooling time in the fridge. I think it would be delicious semifreddo as well (basically, half-frozen), so if you want it to be ready double-quick, place it in the freezer. Just remember to decorate it afterwards so the strawberries on top look fresh and pretty. And don't miss out on the lemon zest (make sure you buy unwaxed lemons for this) – it really makes it taste even more of summer!
Have a great mini-holiday, guys – wherever you are.
★ Tried this recipe? Give it a star rating below!★
★ STAY IN TOUCH on FACEBOOK, PINTEREST and INSTAGRAM  for more great food and join my NEWSLETTER for the latest updates and a FREE EBOOK.★ 
No Bake Strawberry Cheesecake (Low Carb, Gluten Free)
Give the oven a break with this fruity and easy no-bake low carb strawberry cheesecake. It has an almond crust which also makes this cake gluten free.
Print
Pin
Rate
Total Time:
4
hours
20
minutes
As an Amazon Associate I earn from qualifying purchases.
Ingredients
For the Cheesecake Filling
16

ounces

full fat cream cheese

(450g)

1

cup

double/heavy whipping cream

(240g)

10

ounces

chopped strawberries

(300g/ca 2 cups)

1

sachet

gelatine

(12g) and 2 tbsp hot water

2

tbsp

lemon juice

grated zest of 1 lemon

6

tbsp

powdered sweetener

Optional: more strawberries and mint leaves

to decorate
Instructions
Line the base of a springform (20 cm diameter) with baking paper.

Make the base: Mix the ground almonds/almond flour with the softened butter, sweetener and vanilla.

Press into the springform with your hands.

Whip the cream until nice and firm. Set aside.

Blend the strawberries until smooth. Set aside.

Blend the cream cheese, lemon juice, zest and powdered sweetener until smooth.

Dissolve the gelatine according to your manufacturer's instructions. Mine dissolved in 2 tbsp hot water.

Pour liquid gelatine into strawberry mix and stir.

Add the strawberry mix to the cream cheese mix and blend until combined.

Then add the whisked double/heavy cream and briefly blend until just combined.

Pour the cheesecake filling into the springform, cover and chill at least 4 hours or, even better, overnight in the fridge.

Decorate your cake and enjoy!
Notes
If you want the cheesecake to be ready quickly, you could chill it in the freezer. 2 hours should do the trick (I did not try this, so the time is an estimate :).
Cheesecake freezes well, in case you have any leftovers.
You want to make sure your gelatine is 100% dissolved. If necessary, you can place the bowl with the gelatine into a larger bowl filled with boiling water.
I used a food processor, but you can make this recipe with a stick blender.
When the cheesecake is firm, run a sharp knife along the inside of the springform to release the cake before you open the springform.
I decorated my cake with strawberries, mint and some more lemon zest, but you could decorate with whipped cream, if you prefer.
The nutritional info given is per slice assuming 12 slices per cake without topping/decoration. 1 medium strawberry has 0.7 net carbs
Nutrition
Calories:
341
kcal
|
Carbohydrates:
7.9
g
|
Protein:
7.4
g
|
Fat:
33.2
g
|
Saturated Fat:
14.6
g
|
Polyunsaturated Fat:
1
g
|
Monounsaturated Fat:
6.4
g
|
Cholesterol:
77.5
mg
|
Sodium:
119.3
mg
|
Potassium:
110.2
mg
|
Fiber:
2.6
g
|
Sugar:
3.9
g
This post contains affiliate links. If you click on one of these links and purchase a product as a result, I may make a small commission, at no extra cost to you. This money helps with the running costs of my website. Thank you for supporting Sugar Free Londoner.