A fabulously healthy treat: These delicious Keto Banana Muffins are gluten-free, sugar free and seriously nutrient-dense. No fake banana extracts here - my low carb banana muffins contain a real banana!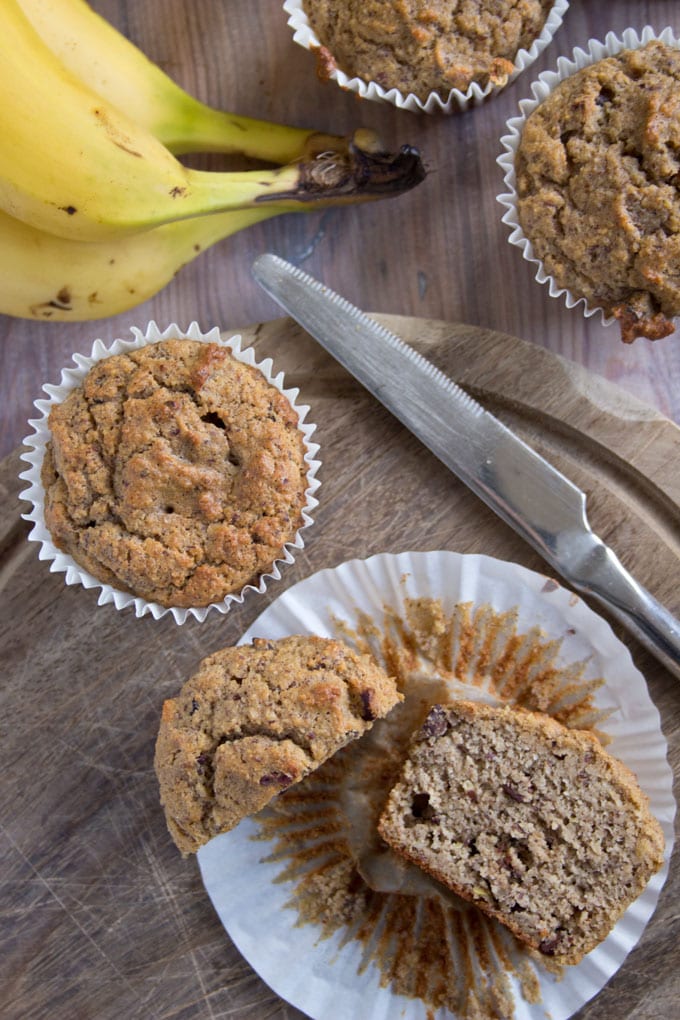 Jump to:
Do you want peaceful silence and smiley faces all round? Plus that fabulous feeling when you've served up a bunch of healthy ingredients and everyone thinks it's a real treat?
Make these Low Carb Banana Muffins and enjoy them for breakfast or at snack time. They are true grain-free baking magic.
Because this recipe uses almond flour and ground flax seed, the texture is more rustic than that of a wheat muffin. My keto banana muffins are packed with fiber and won't make you feel bloated the way a wheat muffin does.
The banana flavor is just lovely and you can taste it with every bite - just like in my super moist keto banana bread or these Healthy Banana Cookies!
🍌 Real banana versus banana extract
Because of their high carb count, bananas are generally avoided on a low carb diet.
That's why most keto banana muffin recipes have a so called secret ingredient: they use banana extract instead of a real banana. This obviously keeps the carb count really low.
But I think you'll never get close to the taste of proper banana flavor with extracts, not to mention the same wonderful moist texture.
Bananas have a very intense flavour. This keto banana muffins recipe contains ½ cup of mashed banana (1 medium banana). That is ⅛ of a banana - I'd say that is about 1 bite - and 5.4 grams of net carbs per muffin.
Perfectly keto friendly!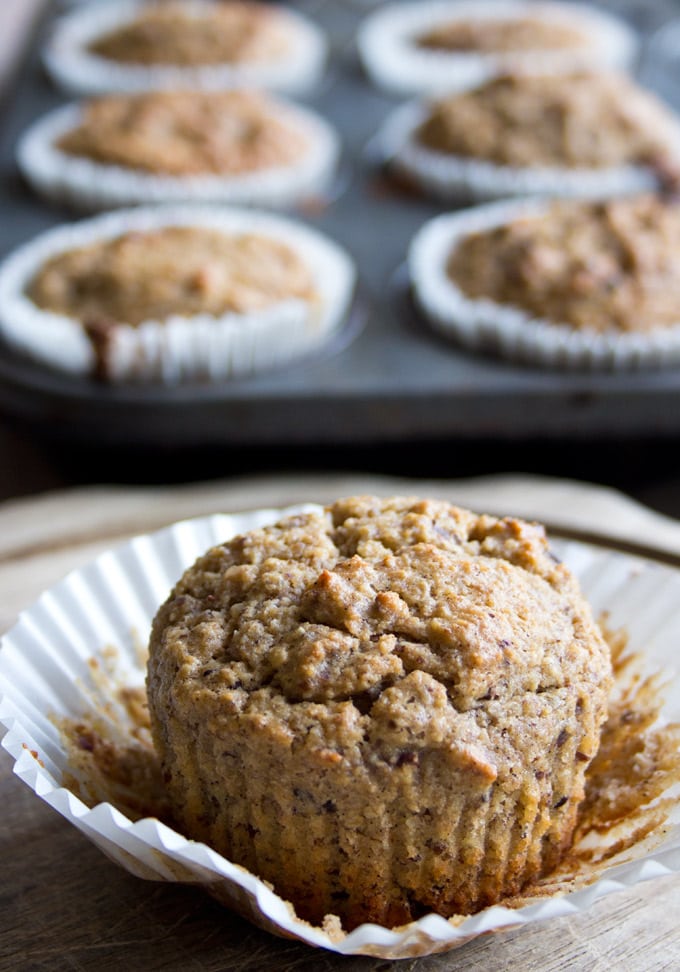 🛒 Ingredients
Here are the ingredients we need for this recipe:
Almond flour
Flax meal
Eggs - should be room temperature
Unsweetened almond milk
Coconut oil
Sweetener - I used an erythritol monk fruit sweetener blend, but allulose, xylitol, Splenda or Boacha Sweet would also work.
Baking powder
Vanilla extract and cinnamon
And a banana!
Top tip: Make sure the banana you use is VERY RIPE. The browner the peel the better. Ripe bananas have WAY more flavour than the ones with yellow or - God forbid - green peel.
👩‍🍳 Instructions
(This section contains step by step instructions and photos that show how to make this recipe. Find the recipe card with ingredient amounts and nutritional information at the bottom of the post.)
1.) Pre-heat the oven to 350 degrees Fahrenheit / 180 Celsius.
2.) Mix the wet ingredients - banana, eggs, almond milk, vanilla and oil in a food processor or with a blender using a large bowl. Take your time with this. About 2 minutes is perfect - by then you have plenty of air bubbles in the mix which makes the muffins lighter.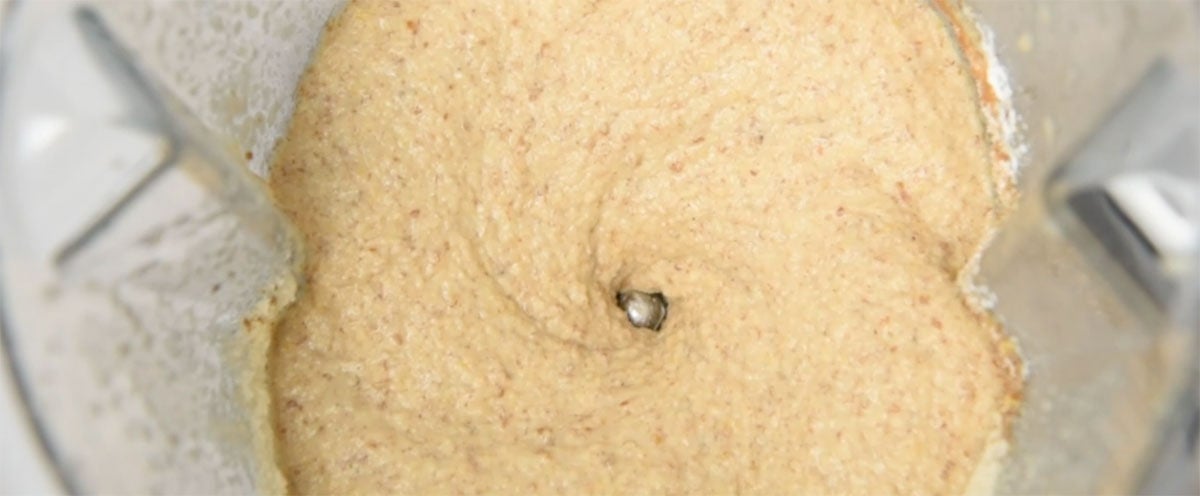 Tip: If you are using extra-fine almond flour, I recommend that you reduce the amount to 1 ¾ cups or 175 grams. Super-fine almond flour is more absorbent than regular almond flour or the ground almonds you can buy here in the UK.
3.) Add the dry ingredients: the ground almonds or almond flour, ground flaxseed, sweetener, baking powder and spices. Option to also add a pinch of salt. Blend until you have a smooth batter.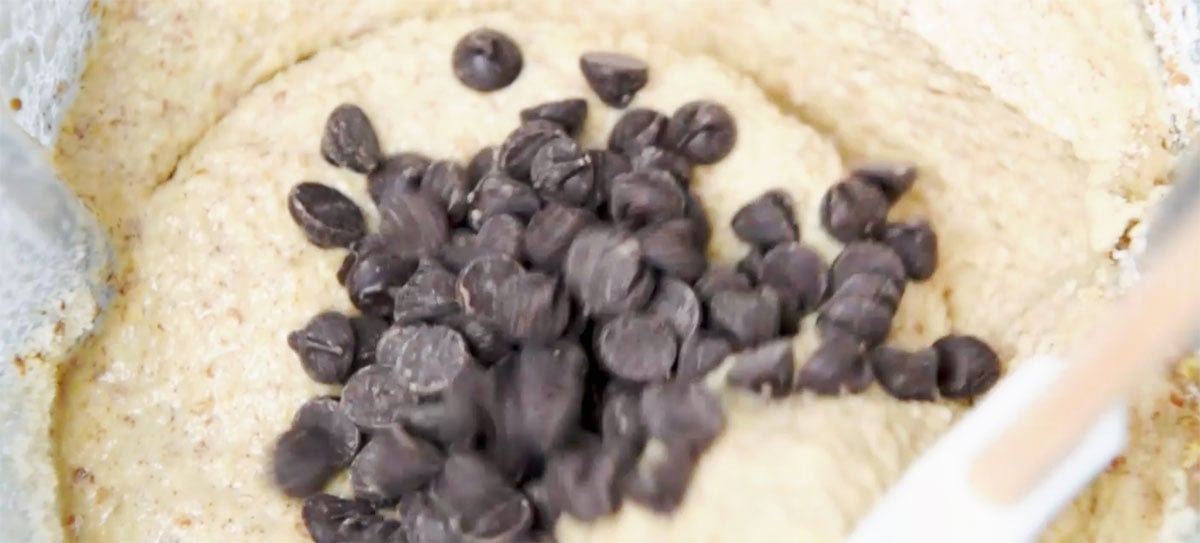 4.) Lastly, stir in the optional cacao nibs or dark chocolate chips. I would choose a variety that contains 85% or 90% cocoa solids. Lindt is one of my favourites, as is Montezuma's. Or go for sugar-free chocolate chips such as by Lily's.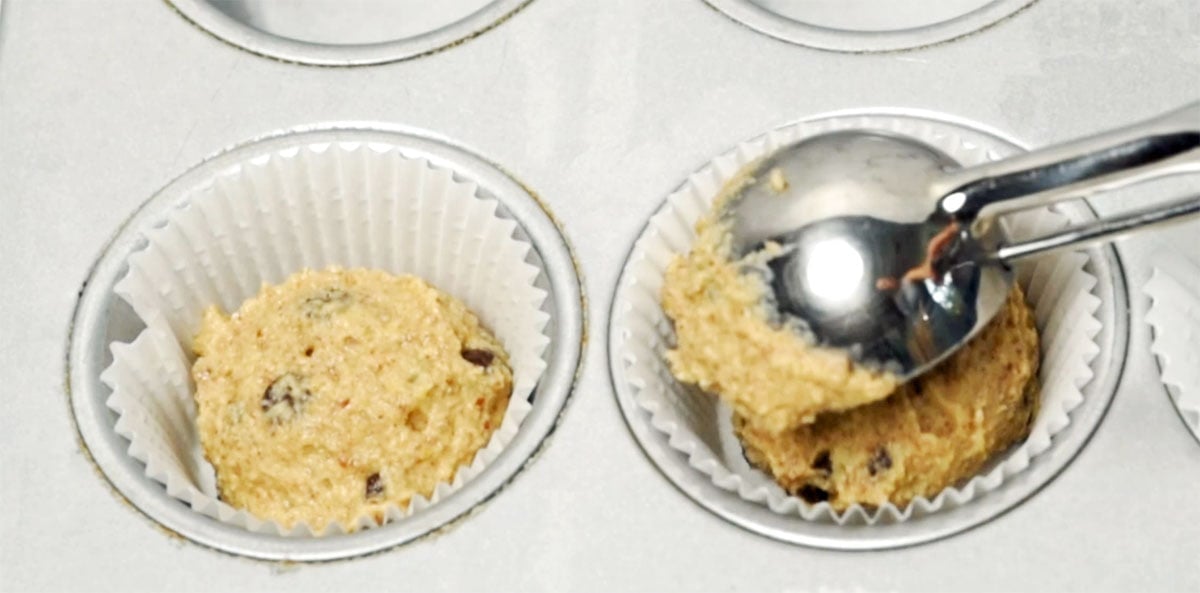 5.) Fill into a muffin pan with paper liners. If you don't have any muffin cups to hand, make sure to spray the muffin tin with cooking spray. You don't want them to stick! My mix made 8 muffins, but I did "try" the dough quite a few times. Yours might yield 9!
6.) Bake for about 25-30 minutes or until browned on top. You can also test with a toothpick. If there's no dough sticking to it, the muffins are done.
🔄 Substitutions
It's always possible to tweak recipes to make them suit your taste and the ingredients you've got in your larder.
First of all, you can replace the coconut oil with butter if you like. I wanted to keep my muffins dairy free, but butter would taste great here, too!
Also, any type of milk works. I prefer nut milks such as almond milk or hazelnut milk because they are lower in carbs than dairy milk. Coconut milk would be a good option, too.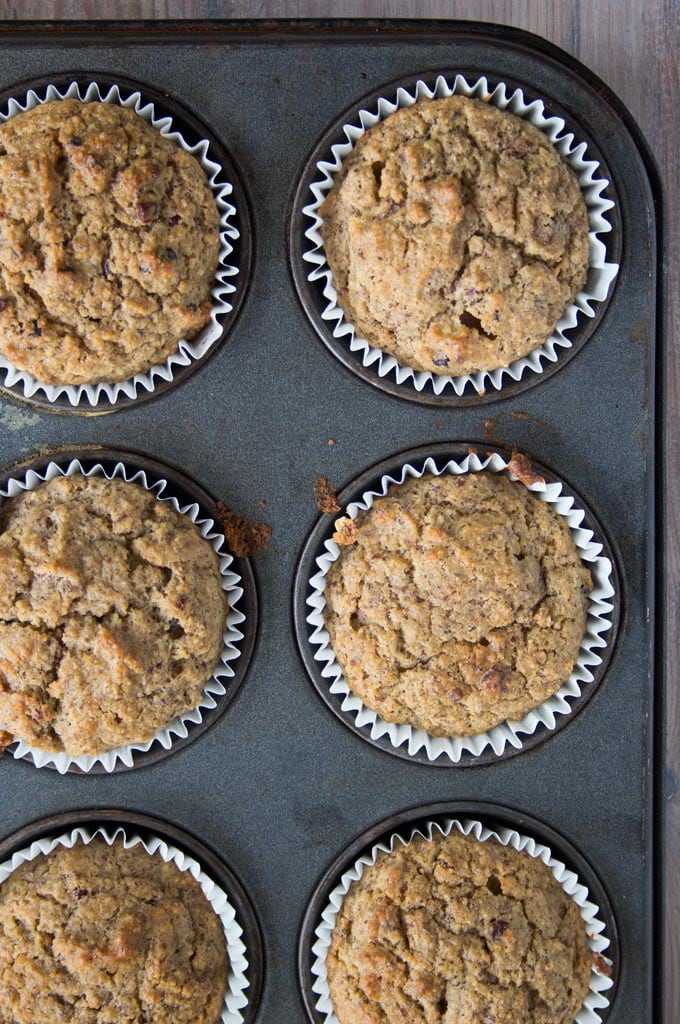 The flaxseed gives the recipe a rustic flavour. It is possible to use more almond flour instead. In this case though I recommend that you add another egg to the recipe. Flax helps to bind baked goods and without it your low carb banana muffins would be too brittle.
I don't recommend that you replace the almond flour with coconut flour. Coconut flour is a very different beast from any other grain free flours. You would have to use a lot less of it (I normally substitute with ⅓ the amount because it's much more absorbent). It is also more brittle and you would definitely need more eggs.
Keto banana nut muffins: Stir in a handful of chopped walnuts or pecans.
Storage
I always store my muffins in an airtight container on the kitchen counter for a couple of days. Normally they are all gone by then, but they would be absolutely fine in the fridge for about 5-6 days.
These muffins also freeze well, for up to 3 months. So, make a double batch and pack in a freezer bag. Simply defrost one in the microwave (30 seconds is perfect in mine) when you feel like a treat!
More muffin recipes
Tried this recipe? Give it a star rating below!
★ STAY IN TOUCH on FACEBOOK, PINTEREST and INSTAGRAM  for more great food and join my NEWSLETTER for the latest updates and a FREE EBOOK.★ 
Recipe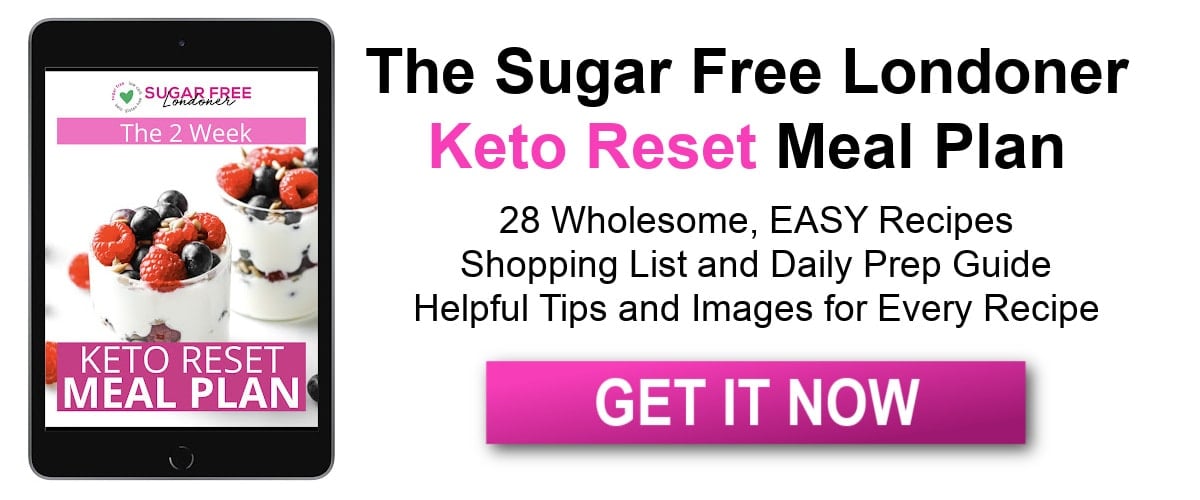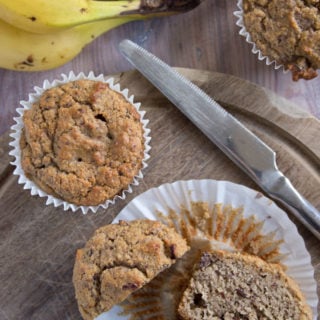 Low Carb Keto Banana Muffins
from Sugar Free Londoner
Keto Banana Muffins are one of our favourite treats. There's only one banana in the entire batch of muffins. That's how we can keep the carb content low but still enjoy the sweet, intense banana taste! It's a super easy recipe that gets the thumbs up by kids and adults alike.
Note: The servings slider only changes the first amount in each line and not any subsequent amounts. Please make your own calculations where necessary. ***As an Amazon Associate I earn from qualifying purchases.
Instructions
Preheat the oven to 180 degrees Celsius / 350 Fahrenheit.

Mix the banana, eggs, almond milk, vanilla and oil in a food processor or with a blender.

Add the dry ingredients: the ground almonds, ground flaxseed, erythritol, baking powder and spices. Blend until thoroughly combined

Lastly, stir in the cacao nibs (or chopped dark chocolate)

Fill into a muffin tin lined with paper cups. If you don't have any to hand, make sure the tin is really well greased. My mix made 8 muffins, but I did "try" the dough quite a few times. Yours might yield 9!

Bake at 180 degrees 25-30 minutes or until browned on top. You can also test with a cocktail stick or a knife - if they come out dry, the muffins are done.
Notes
5.4g net carbs per muffin. Makes 8 muffins. 
Nutrition does not include cacao nibs or sugar free chocolate chips. 
Optional: add a pinch of salt.
Nutrition
Calories:
268
kcal
Total Carbohydrates:
9.4
g
Protein:
7.8
g
Fat:
23.6
g
Saturated Fat:
7.7
g
Fiber:
3.9
g
Sugar:
3.1
g
This post contains affiliate links. If you click on one of these links and purchase a product, I may earn a small commission, at no extra cost to you. Thank you for supporting Sugar Free Londoner.