A fabulously healthy treat: These delicious Low Carb Chocolate Banana Muffins are grain free, sugar free and seriously nutrient-dense. This is feel-good snacking taken to the next level.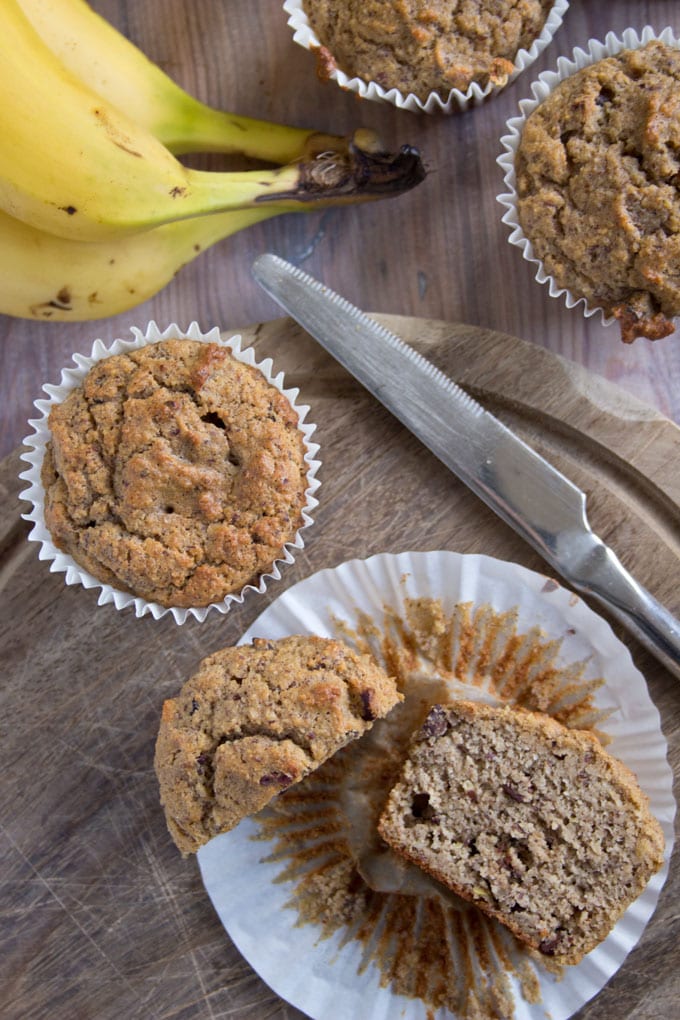 Do you have children? If you do, or if you are planning to have some in the future, I've got some great advice for you: Take someone else's (nice) child with you on holiday. In addition to your own, that is.
We've just returned from possibly the most relaxing holiday ever – if you don't count the holidays without children. My kids are 10 and 12 and, in my eyes, obviously the most wonderful, clever and perfectly formed offspring in the world (parents, you know what I'm talking about), but there are times when they get in each other's hair. Which really is a shame when you have made the effort to travel all the way to a beautiful island in the sun (yes! Ibiza!) where you spend lazy days on the beach, feast on long lunches, drink sun-downers and jump in the pool even though it's already midnight.
Do you want to see anyone with a long face in a setting like this? Exactly.
MY LATEST VIDEOS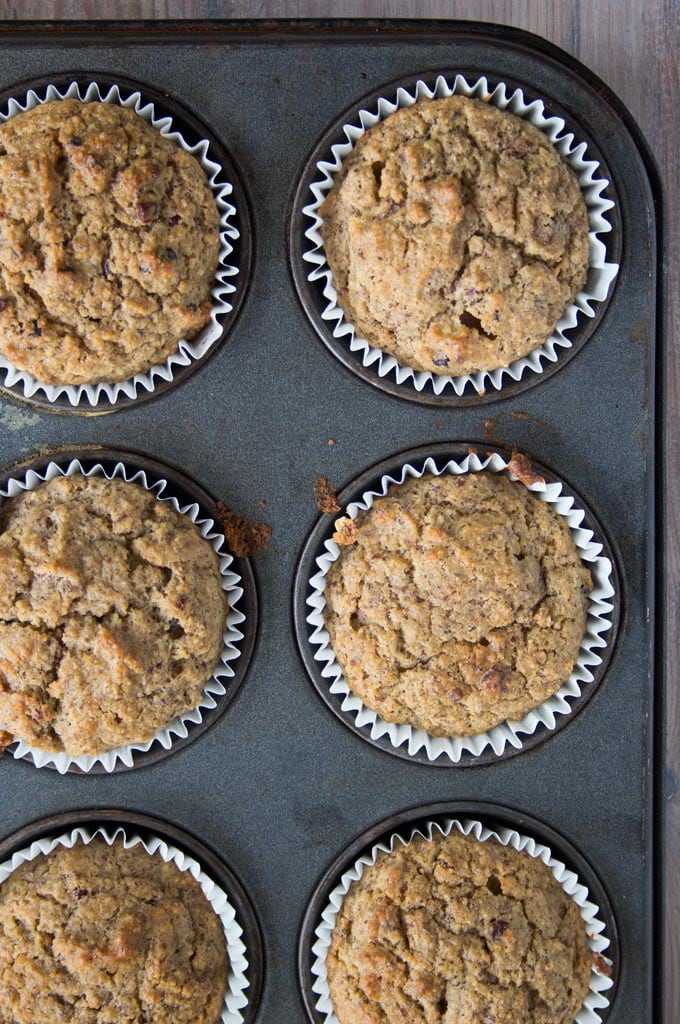 We took the daughter of close friends and she turned out to be our happy angel. Firstly, she miraculously made my children stop bickering. Instead of iPad marathons, there were all sorts of silly games in the garden and pool. Real old school playing, guys! With hands and feet, balls and rackets, noise and enthusiasm. As my daughter put it, "it's just so much better when it's not just….. us".
Apart from being thoroughly entertained, her good guest manners rubbed off on my own children. When the table was cleared and dishes were washed and clothes were neatly folded without me having to nag, I knew this girl was magic. And that was before I discovered that she LOVED chia seeds, knew that wheat is bad for us and ate roasted vegetables with the same enthusiasm as me. Next holiday, I'll be begging her to join us again.
Now, there was not a lot of baking going on in Ibiza. But back at home in London, without sun, pool and the secret happy power of a certain 12-year-old house guest, I knew I had to bring the big guns in. You want peaceful silence and smiley faces all round? Plus that fab feeling when you've served up a bunch of healthy ingredients and everyone thinks it's a real treat? Make these Low Carb Chocolate Banana Muffins. They are true sugar free baking magic.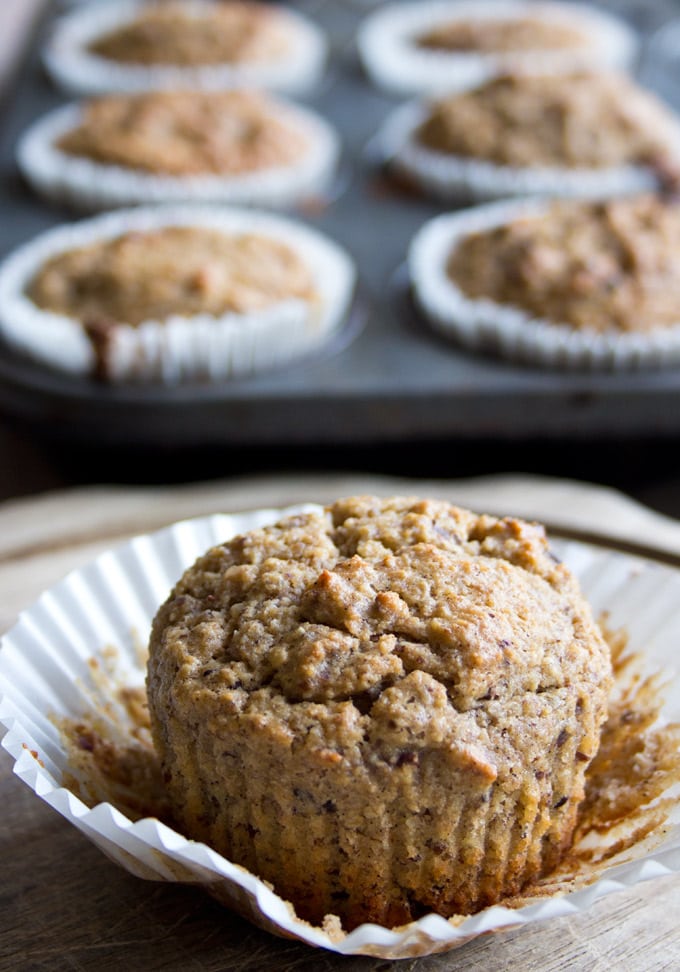 Because this recipe is wheat free, the texture is coarser than that of a wheat muffin. The taste makes more than up for it. These Low Carb Chocolate Banana Muffins have a very distinct banana taste, even though there is only one banana in the recipe. Banana has a high carbohydrate content and therefore not used much in low carb baking. However, as we distribute it here among 8 or 9 muffins, the carbohydrate content of each muffin is quite low.
If you are abroad, you might prefer a simple platter of watermelon or maybe an easy frozen treat such as my Matcha Pistachio Yoghurt Bark. In all other instances, Low Carb Chocolate Banana Muffins are definitely the way forward. Have them as a snack. Have them for breakfast. They are a brilliant nutrient-dense treat that won't make you feel bloated the way a wheat muffin does. Plus they are actually good for you. Now, that's what I call a win-win!
And don't forget to take that magic child on holiday with you. Best advice you'll ever get. Apart from this recipe, of course.
★ Tried this recipe? Give it a star rating below!★
★ STAY IN TOUCH on FACEBOOK, PINTEREST and INSTAGRAM for more great food and join my NEWSLETTER for the latest updates and a FREE EBOOK.★
Low Carb Chocolate Banana Muffins
A fabulously healthy treat: These delicious Low Carb Chocolate Banana Muffins are grain free, sugar free and seriously nutrient-dense. This is feel-good snacking taken to the next level.
Ingredients
200

g / 2 cups

almond flour

or ground almonds

30

g / 1/4 cup

flaxseed

ground

1

banana

very ripe

2

eggs

large

120

ml / 4 ounces

almond milk

60

ml / 2 ounces

coconut oil

3-4

tbsp

granulated sweetener

depending on your sweet tooth

1

tbsp

baking powder

40

g

cacao nibs

or chopped dark chocolate, 85-90% (1/3 cup)

1

tsp

vanilla paste or extract

1

tsp

cinnamon

optional: 1 tsp mixed spice
Instructions
Preheat the oven to 180 degrees.

Mix the banana, eggs, almond milk and oil in a food processor or with a blender.

Add the dry ingredients: the ground almonds, ground flaxseed, erythritol, baking powder and spices. Blend until thoroughly combined

Lastly, stir in the cacao nibs (or chopped dark chocolate)

Fill into a muffin tin lined with paper cups. If you don't have any to hand, make sure the tin is really well greased. My mix made 8 muffins, but I did "try" the dough quite a few times. Yours might yield 9!

Bake at 180 degrees 25-30 minutes or until browned on top. You can also test with a cocktail stick or a knife - if they come out dry, the muffins are done.
Recipe Notes
The nutrition information below is based on using cacao nibs, which have no added sugar at all. If you prefer to choose dark chocolate, the sugar content would increase depending on the cocoa content. The higher the cocoa content, the less sugar! Make sure you choose a chocolate with at least 85% cocoa.
Nutrition Facts
Low Carb Chocolate Banana Muffins
Amount Per Serving
Calories 306
Calories from Fat 232
% Daily Value*
Total Fat 25.8g 40%
Total Carbohydrates 7.6g 3%
Protein 9.3g 19%
* Percent Daily Values are based on a 2000 calorie diet.
This post contains affiliate links. If you click on one of these links and purchase a product, I may earn a small commission, at no extra cost to you. Thank you for supporting Sugar Free Londoner.