Pure indulgence: These chocolate feast muffins are sugar free, grain free and low carb.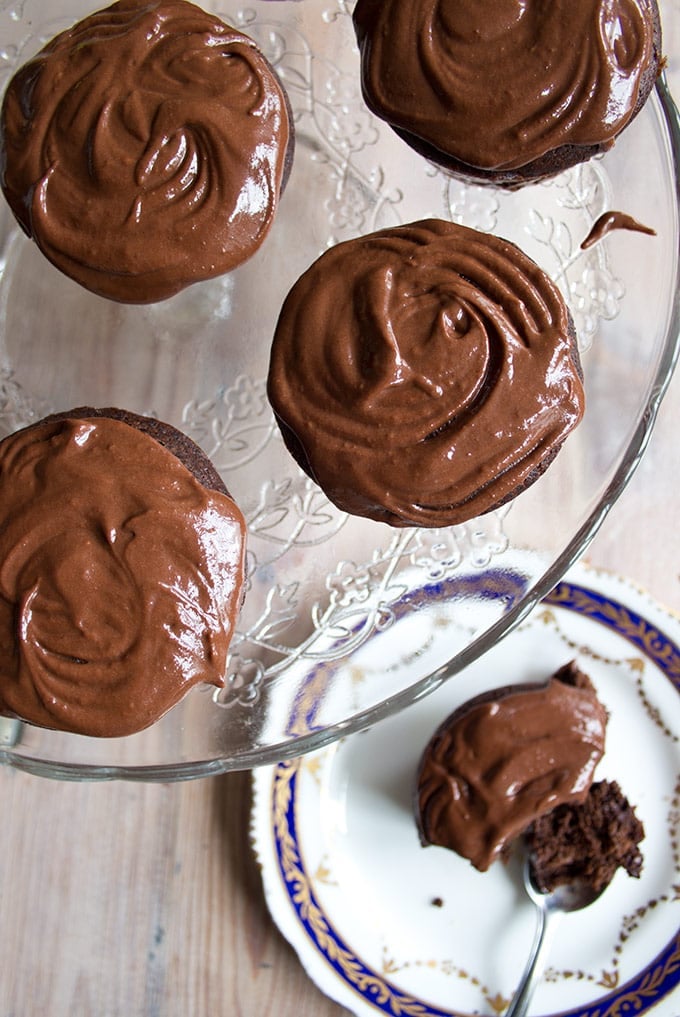 Chocolate. Who doesn't like it? Let me tell you, the percentage of the population that honestly dislike it is so tiny you could fit them into a one bedroom flat. There they would sit, miserably, not talking to each other. I would even go so far to say that chocolate haters are incapable of enjoying themselves if you'd let them out of that flat and put them up in a five star hotel. Do write me a comment if you disagree.
Chocolate is about enjoying life. It is happiness and indulgence rolled into one.
When I think of chocolate, my mouth starts watering. Sometimes I make a happy little sigh and my eyes look dreamily into the distance. For me, it's got to be dark, rich and creamy. 90% will do just fine.
If you are watching your sugar intake, you should stick with a variety that has 85% or more cocoa solids. The thing with chocolate is that whatever is not cocoa is normally sugar. Therefore, if you have a few pieces of milk chocolate (around 40%), your blood sugar will skyrocket immediately. On the other hand, a piece of 90 % dark chocolate has very little sugar and is so intense you'll feel perfectly satisfied afterwards. To keep it totally sugar free, you could even make your own – check out these pistachio chocolates that I recently made for a guest post on the blog All I dream about is Food.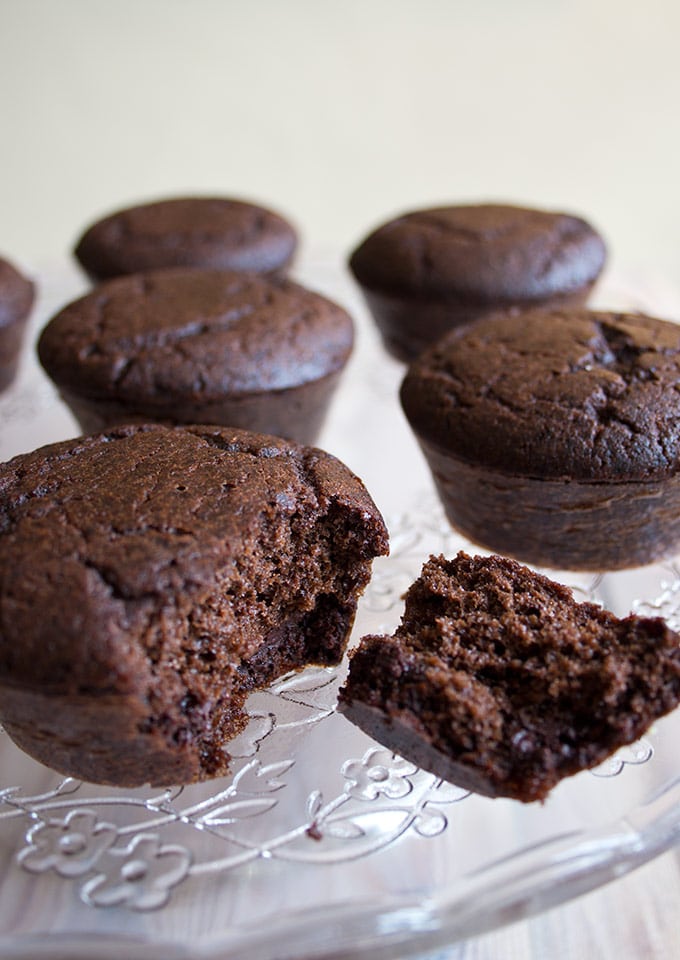 Now, there are those days that call for a bit more than one piece of chocolate. Days where you'd like to feast on it. Indulge. Turn it into an occasion and lick your fingers afterwards.
For those days, I have a solution: serve some chocolate feast muffins.
These muffins are made with coconut flour, which is grain free, full of fibre and impossibly good for you. I adore coconut flour and love baking with it – check out these low carb waffles, my coconut blondies, a family favourite, or these cheese thyme crackers which go very well with a glass of Chardonnay. Unlike wheat flour, which is essentially glucose and will spike your blood sugar, coconut flour is a versatile low carb baking alternative.
The icing on top of the muffins is entirely optional. Personally, I am not a big fan of icing; I'm all about a moist, satisfying cake with gooey chocolate chips. But this is not just about me! I realise that there are people out there that feel about icing just the way I feel about chocolate. Two of them live in my house. You icing fiends out there, this one is delicious. My children have vouched for it.
Wait for a rainy day and make some chocolate feast muffins. Or just make them tomorrow.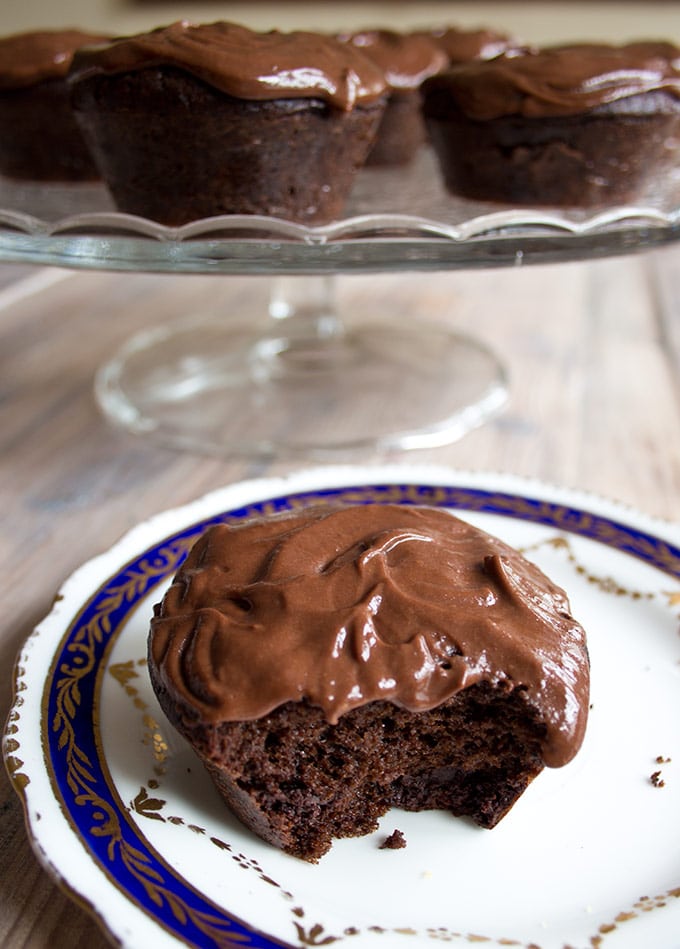 Sugar Free Londoner
Yields 8 muffins
Sugar Free Chocolate Feast Muffins (low carb)
Pure indulgence: These chocolate feast muffins are sugar free, grain free and low carb.
5 minPrep Time
20 minCook Time
25 minTotal Time
4.3 based on 3 review(s)
Ingredients
4 large or 5 medium eggs
25g (1/4 cup) coconut flour
60 ml (1/4 cup) coconut oil or butter (softened)
4 tbsp 100 % cocoa powder
1 tsp baking powder
1 tsp cinnamon
1 tsp vanilla extract
4 tbsp erythritol
1/2 bar (50 g) dark chocolate, chopped (I used a 90% variety)
For the icing
1/2 bar (50 g) dark chocolate, melted
3 tbsp double cream
1/4 cup powdered erythritol
2 tbsp (30 g) butter
Instructions
Heat your oven to 175 Celsius
Mix your wet ingredients - eggs and coconut oil/butter, then add your dry ingredients - cocoa powder, baking powder, coconut flour, vanilla extract and erythritol (or your sweetener of choice).
At the end, stir in your 50 g of chopped chocolate.
Bake in a silicone mould / very well-greased muffin tin. If you prefer, you could also use paper cups. I love my silicone moulds - grain free baking goods can be difficult to release from a regular pan and end up looking not as pretty as they could 🙂
Bake for ca 20 minutes. Check that they are done - they should feel spongy when you press on them. Remove from the oven and cool.
In the meantime, prepare your icing:
Melt the other half of the chocolate bar (50 g) in the microwave or in a pan. Stir in the double cream, butter and powdered sweetener and let it cool until it starts to thicken.
Spread over the muffins using a fork to make pretty patterns
7.6.6
273
https://sugarfreelondoner.com/sugar-free-chocolate-feast-muffins-low-carb/