These keto pancakes with almond flour are so easy to make! Fluffy, light and delicious, my keto cream cheese pancakes are gluten-free and require only 5 ingredients. They are the most popular low carb breakfast recipe on Sugar Free Londoner.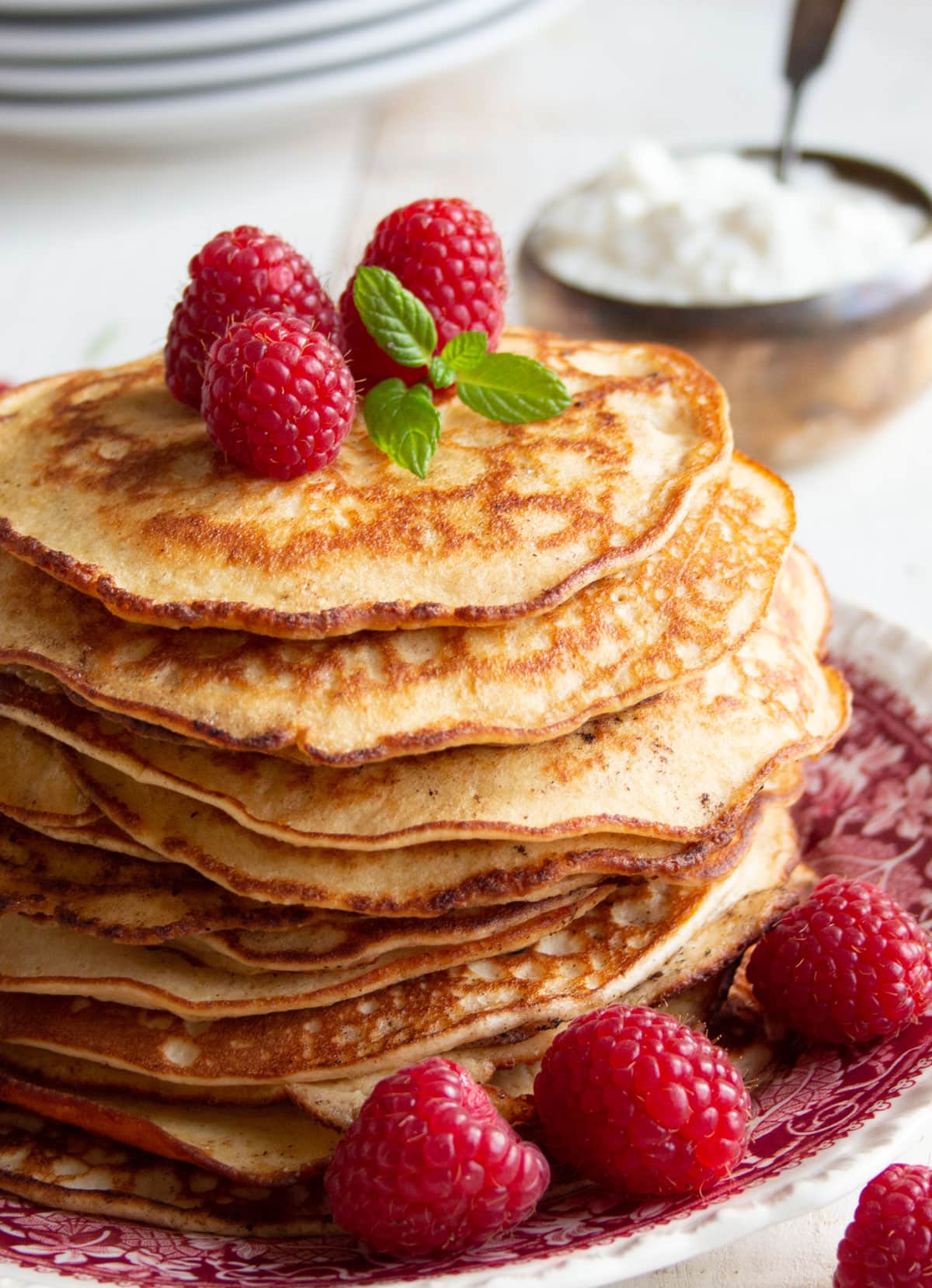 We all like pancakes in this house, and these gluten free wonders are my all-time favourite. Whilst my husband and I are on the keto diet, my kids aren't. I'm so happy that we ALL love this recipe. It's our weekend treat!
Jump to:
There are many variations of keto cream cheese pancakes. Some recipes contain only eggs and cream cheese, which works well, but tastes a little on the eggy side.
Other low carb recipes add in almond milk, cream or even mayonnaise. The flours range from coconut flour to almond flour (or a mix of both) to more unusual flours such as lupin, sesame or flax.
I've probably tried ALL low carb pancake versions known to man. And I can honestly say.... this one is the best!
My fluffy keto pancakes are not only delicious. They're also super quick to put together. You can almost do it while you're waiting for the kettle to boil.
And then enjoy a leisurely keto breakfast!
Ingredients
Here are the ingredients you'll need: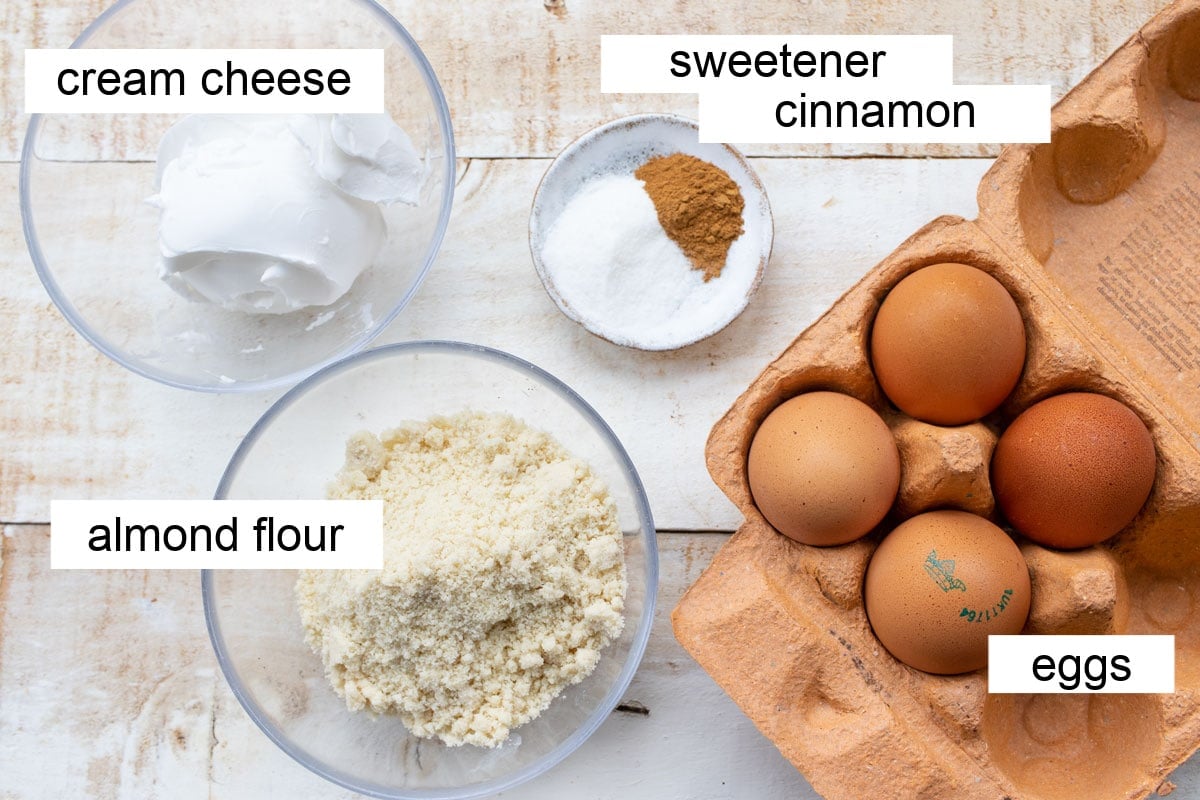 Almond flour - I used super-fine.
Eggs
Cream cheese - Full fat.
Sweetener - Can be granulated or powdered.
Cinnamon - Optional, but recommended.
Why almond flour?
Fine almond flour is a great alternative to wheat flour. It means your pancakes are nutrient dense and filling and still have the texture of "real" pancakes.
Research shows that low carb pancakes made with almond flour will provide you with a steady supply of energy and won't send you blood sugar sky-high. Read more about the benefits of almond flour here.
The almond flour I used is extra-fine and fat-reduced. It makes the pancakes light and fluffy. I thought they tasted just like wheat pancakes! Even so, regular almond flour that is not de-fatted will also work well.
Instructions
This section contains step-by-step instructions and photos that show how to make this recipe. See the recipe card for full information on ingredients and quantities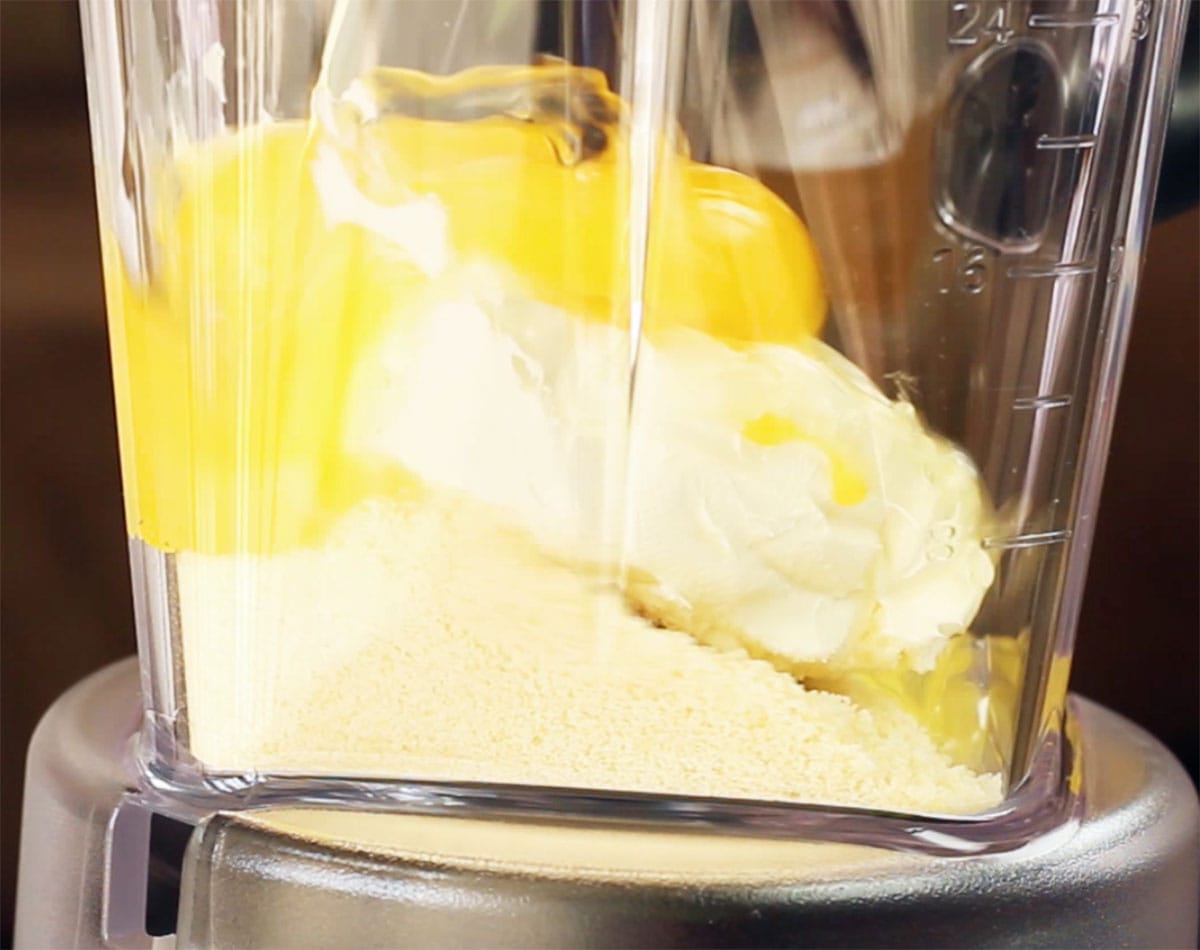 STEP 1
Mix the wet ingredients in a blender - large eggs and cream cheese. Then add the dry ingredients - almond flour, sweetener and cinnamon - and blend until a smooth batter forms.
If you like, also add a pinch of salt and / or ½ teaspoon baking powder for more fluffiness.
Note: If you don't have a blender, just use a bowl and a balloon whisk.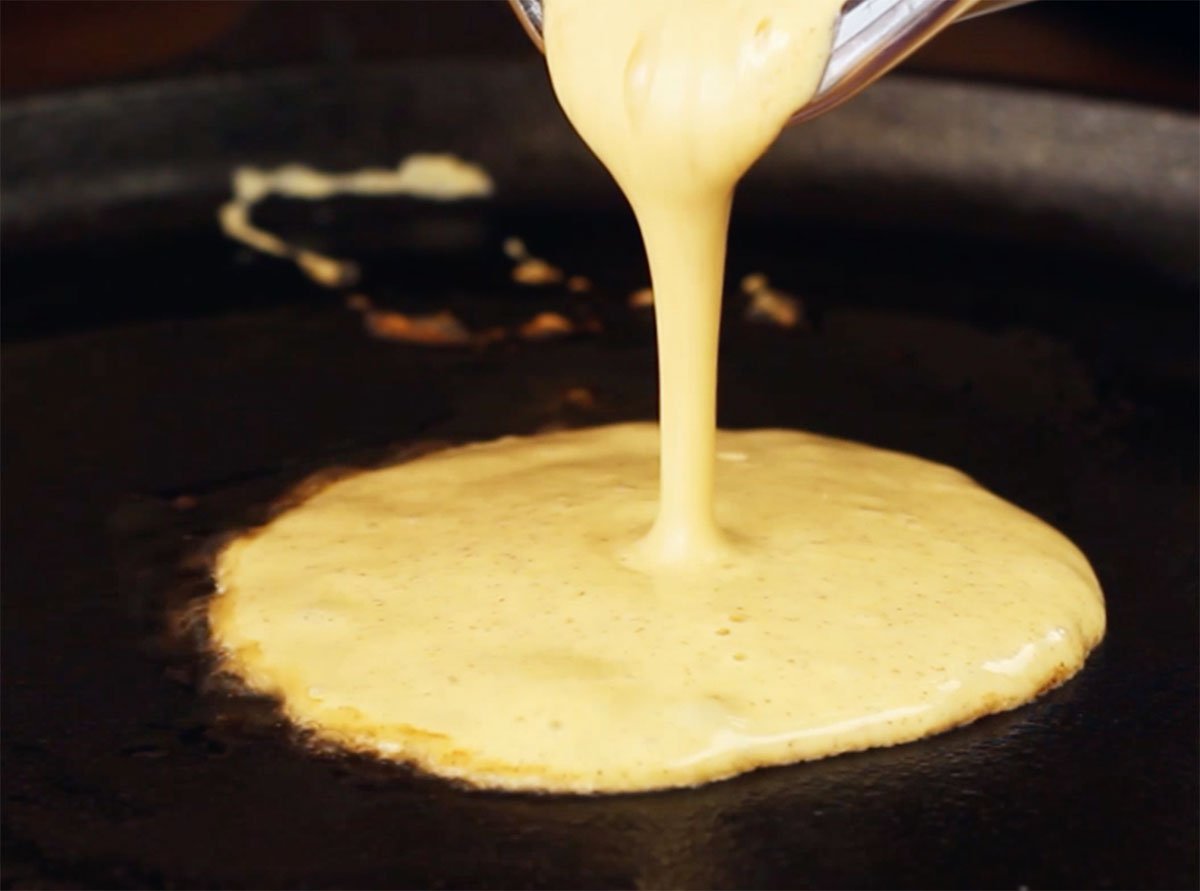 STEP 2
Fry the pancakes in melted butter or coconut oil over medium heat. Use a non-stick pan or a skillet. I made two pancakes per pan.
STEP 3
Flip the pancakes over once bubbles start forming in the centre.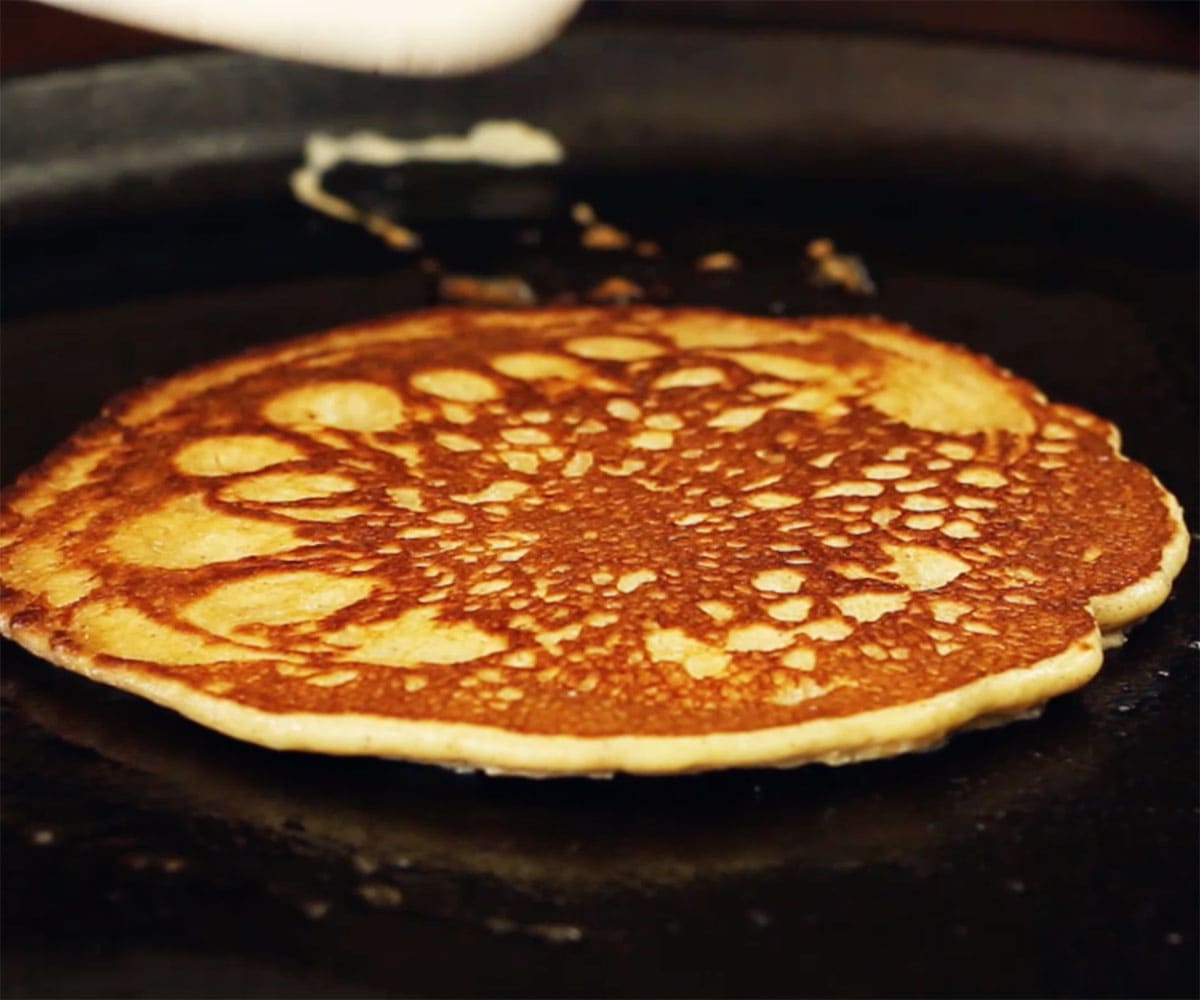 That's it!
Expert Tips
Keep them small. I recommend to keep the pancakes on the small side to avoid them falling apart. Why? Almond flour pancakes are more fragile than regular pancakes. This is because they don't contain gluten. 10-12 cm diameter is best.
Medium heat works best. If you heat the pan too much low carb pancakes will burn. You can use butter to fry, alternatively coconut or avocado oil will work too. Wait until bubbles form in the centre of the pancake. Then flip them.
The right equipment. It's worth-while to invest in a quality non-stick pan when you're cooking low carb, so your pancakes are easy to flip and cook without sticking. And, use a wide spatula so you can lift them easily.
Serving Size
This recipe makes a batch of 8 pancakes of approximately 10 centimetres or 4 inches in diameter. I calculated 2 pancakes per person.
This means you can feed a family of 4 in one go, or have extras for later in the week if you are cooking for less people.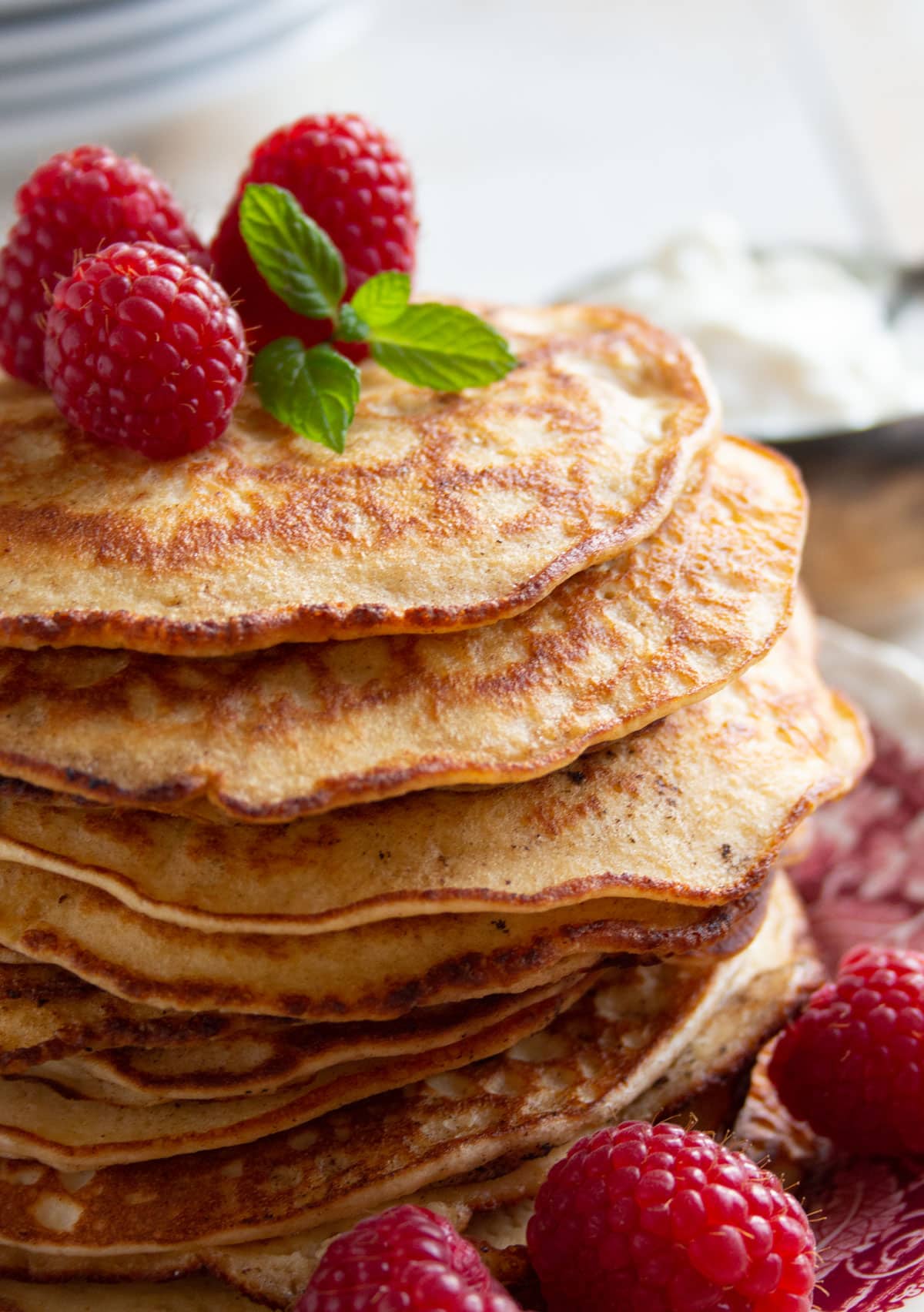 Toppings
This is an important decision: what do you want to top your keto pancakes with? Berries, nuts, sugar free syrup, a dollop of butter - or even chocolate chips? Here are a few ideas:.
Eat with yoghurt/ sour cream / whipped cream and blueberries or raspberries.
Sugar-free syrup!
Drizzle with my 2 ingredient sugar free caramel sauce.
Add a dollop of sugar free blueberry jam.
Spoon over this sugar free strawberry jam or my no-cook raspberry jam.
Top them with bacon! (sweet and salty – yes please!)
Make them savoury by omitting the sweetener and adding chives or chopped spinach and grated cheese.
Variations
Flavor: I love adding cinnamon to this recipe for a warm flavour. But 1 teaspoon of vanilla extract would also work a treat. Or, add a pinch of sea salt to enhance the flavor.
Dairy-free: For a no dairy version, replace the cream cheese with a dairy-free cream cheese or with coconut yogurt.
Blueberry: You can make keto blueberry pancakes with this recipe! Fold ¼ cup of fresh or frozen blueberries into the batter after blending.
Recipe FAQs
How do you make keto pancakes extra fluffy? 
This recipe makes perfectly light pancakes and I personally prefer them without additional baking powder. However, if you want to give them an extra lift you can add ½ teaspoon of baking powder.
Can I make them larger?
If you use ¼ teaspoon xanthan gum, you can make larger pancakes. It works as a binder and gives a stronger texture.
How can I make pancakes in the oven?
You could use a whoopie pie pan. Or fill the batter into a large muffin pan and bake the pancakes into perfect mini-circles. 180 Celsius / 350 Fahrenheit and around 7-8 minutes will do the trick.
Can I use coconut flour?
I don't recommend it. Coconut flour absorbs more liquid than almond flour, so you only need to use about ⅓ the amount. Check out my coconut flour pancakes instead.
Can the pancake batter be used in a waffle maker?
Absolutely! My kids alternate between loving pancakes and loving waffles. I've used this batter for keto waffles with great success.
Storage
Fridge: Store the pancakes in the fridge for up to 5 days in an airtight container.
Freezer: You can also keep them in the freezer for up to 3 months. To avoid the pancakes sticking together, stack them by placing pieces of parchment paper between each pancake.
Reheating: Warm the pancakes in the microwave for 30 seconds or gently reheat them in a non stick pan. If they were frozen, defrost them on the kitchen counter, in the microwave or even stick them in your toaster. See? This is where their smaller size really comes in handy.
More Low Carb Pancakes and Crepes
Tried this recipe? Give it a star rating below!
★ STAY IN TOUCH on FACEBOOK, PINTEREST and INSTAGRAM  for more great food and join my NEWSLETTER for the latest updates and a FREE EBOOK.★ 
Recipe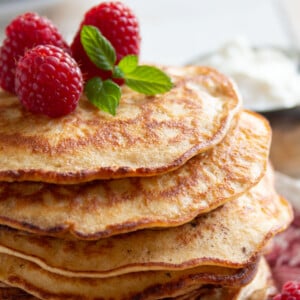 Almond Cream Cheese Keto Pancakes
from Sugar Free Londoner
These easy Keto pancakes are such a treat! Made with almond flour and cream cheese, they taste as close to the real thing as you can get. Only 2.3g net carbs per portion.
Note: The servings slider only changes the first amount in each line and not any subsequent amounts. Please make your own calculations where necessary.
Instructions
Mix all ingredients in a blender.

Fry pancakes in melted butter in a non-stick pan over a medium heat. Turn over once the centre begins to bubble. The pancakes should be smallish, ca 10-12 cm in diameter. About the right size to fit them in the toaster the next day should you be so lucky to have any leftovers.
Notes
You can add ½ teaspoon of baking powder if you want your Keto pancakes super-fluffy.
I have not added the butter to the nutritional info - how much butter you need will depend on the type of pan you use.
The mix makes 8 pancakes. The nutrition is calculated per 2 pancakes = 1 portion. 2.3 net carbs per portion. 
Nutrition
Calories:
203
kcal
Total Carbohydrates:
3.3
g
Protein:
15.9
g
Fat:
15
g
Saturated Fat:
7.1
g
Sodium:
162
mg
Potassium:
196
mg
Fiber:
1
g
Sugar:
2.1
g
First published January 2017. Updated with more details in August 2023.