What's better than low carb pancakes? Low carb cinnamon roll pancakes! These almond flour pancakes with a cinnamon swirl and a sugar free cream cheese frosting are sure to be a hit at the breakfast table. The recipe is Keto, gluten free and diabetic-friendly.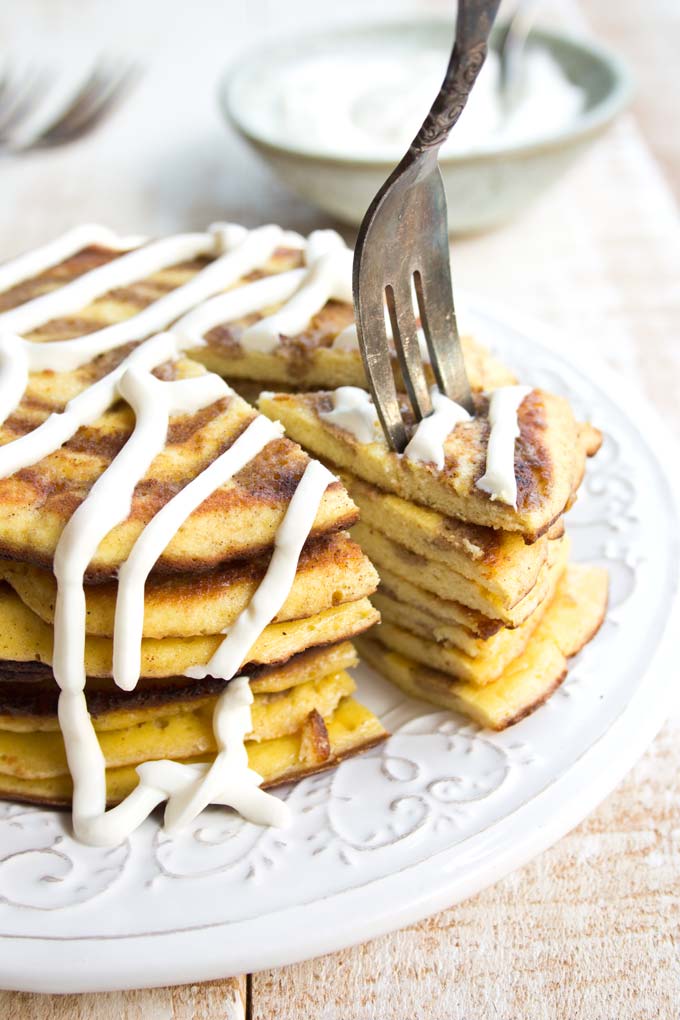 I'm a huge fan of pancakes, and I luuuurve cinnamon rolls. It was obvious - I had to combine the two in one wonderful dish!
This recipe uses my popular almond cream cheese Keto pancakes as a base. If you haven't tried them yet you're missing out! They have a LOT of fans 😉
I first tested a cinnamon swirl made just out of butter, sweetener and cinnamon. However, I did not like the way the pancakes looked - kind of messy and almost falling apart. By adding a few tablespoons of pancake batter to the cinnamon swirl mix, the problem was solved!
These cinnamon roll pancakes taste wonderful without the cream cheese frosting - you could serve them simply with some berries or a squeeze of sugar free syrup. But, naturally, the frosting takes it to the next level of decadence! If you don't have the patience to pipe it over your stack, simply spoon it over or us it as a filling between 2 pancakes, a bit like a giant whoopie pie!
A quick note on almond flour: Baking with almond flour is never an exact science because brands can vary greatly in texture. In this recipe I used this super-fine defatted almond flour. It absorbs liquid really well and looks almost like wheat flour. If your almond flour is coarser or you're using almond meal or ground almonds (widely available in UK supermarkets), I recommend that you increase the amount by about 2-3 tbsp. This ensures your pancakes aren't too fragile.
How to make low carb pancakes with a cinnamon swirl: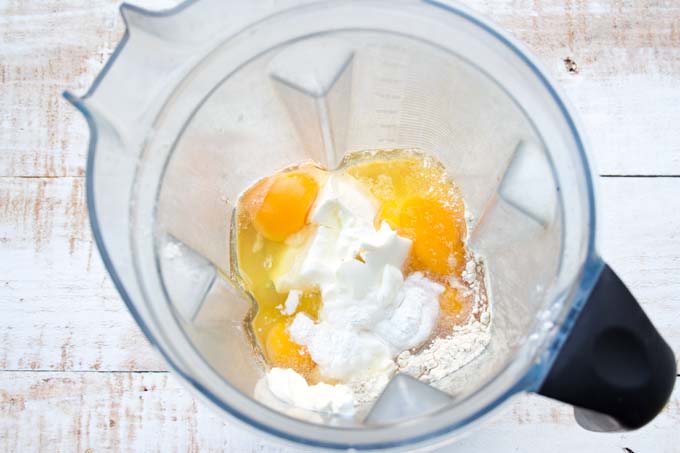 1.) Put almond flour, cream cheese, eggs and baking powder in a blender. You can also use a bowl and an electric mixer.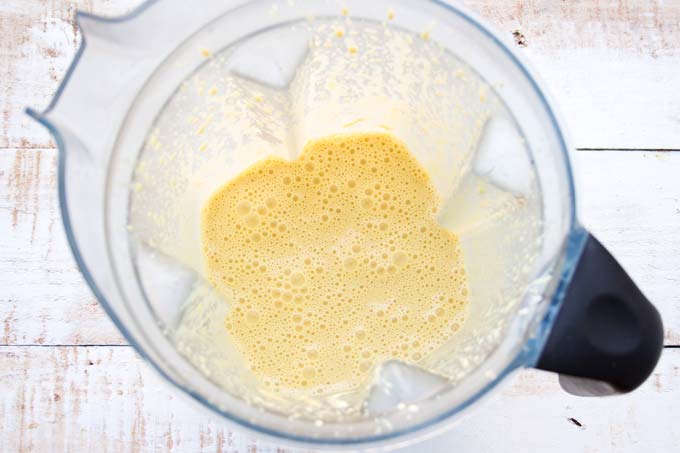 2.) Blend until smooth and frothy!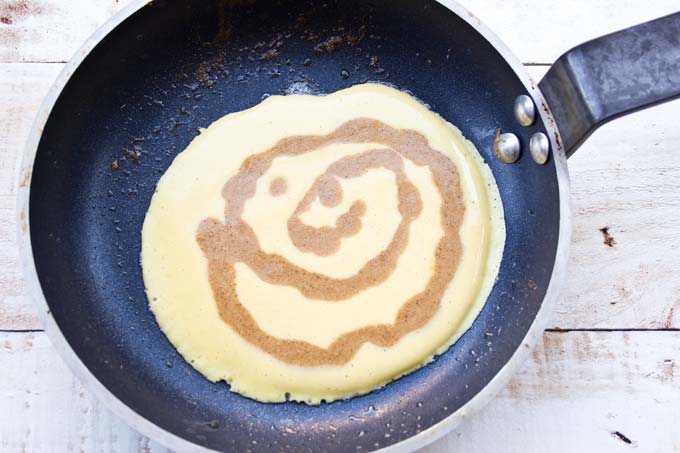 3.) After you stir together the cinnamon swirl mix (melted butter, cinnamon, powdered sweetener and 3 tablespoon of the pancake batter - just use a bowl and a fork), heat some butter or coconut oil in a pan over medium heat.
Once the butter is hot and begins to bubble, pour some of the pancake batter into the pan. Then add the cinnamon mix onto the pancake, making a swirl.
I used a SMALL pan and made one pancake at a time. The benefit is that the butter does not burn as the pancake covers most of the pan.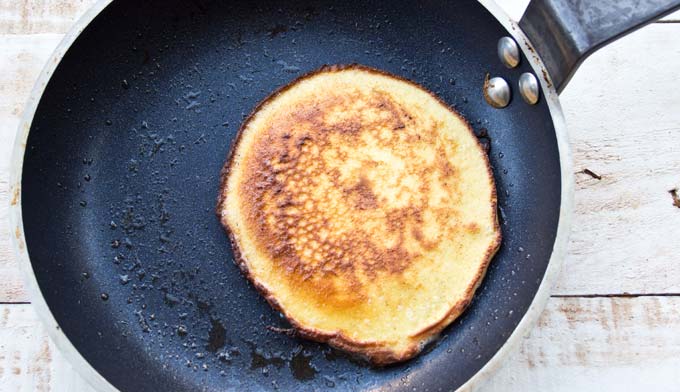 4.) Once the pancake top (and the swirl) is firm enough, turn over the pancake using a wide spatula. Low carb pancakes are more fragile than wheat flour pancakes because they contain no gluten and a wide spatula will ensure the pancake does not break.
(The image actually shows a different pancake than the one above - just in case you're wondering whether these pancakes shrink in size. They don't!)
Fry the cinnamon swirl side for around 30 seconds, then slide the pancake onto a plate or lift it out with a spatula.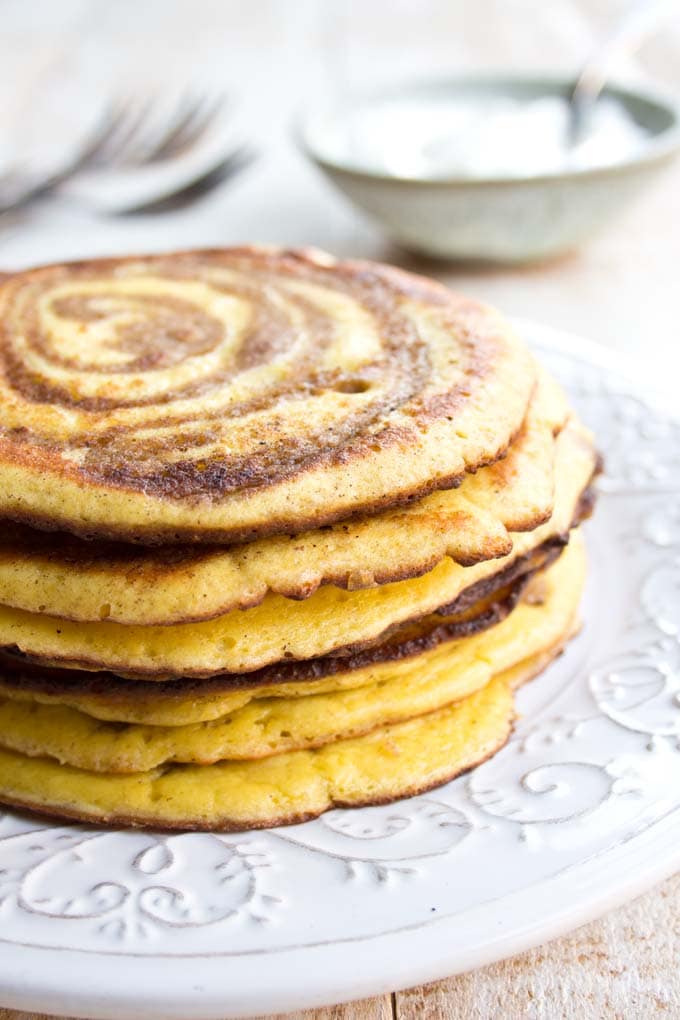 5.) Last, stir together your cream cheese frosting - I did this in a bowl with a fork. Depending on how cold or firm your cream cheese is, add 1 tablespoon of nut milk or more to achieve your desired consistency.
I made my own DIY piping bag by simply filling the cream cheese frosting into a small ziploc bag. Then I snipped off one of the corners. It's best to use a sturdy plastic bag for this. Of course, if you are not after a perfect finish, you can simply spoon the frosting over the pancakes.
Cinnamon roll low carb pancakes - Recipe tips and variations
Feel free to add a pinch of salt and 1 teaspoon of vanilla powder or vanilla extract to the pancake batter.
If you are after a sturdier pancake, you can also add ½ teaspoon of xanthan gum to the pancake batter. This improves the crumb structure in low carb baking.
Want to give the cinnamon swirl mix an autumn/winter vibe? Add ½ teaspoon of pumpkin spice mix (aka mixed spice in the UK)!
I know some of you cannot have almond flour pancakes. You can try to replace the almond flour with ¼ cup coconut flour (roughly half the amount). Or try my easy coconut flour pancakes - they are to die for!
If you are using a large frying pan, you can make 2 or 3 pancakes at a time. Just make sure you're sticking to a low to medium heat so your butter does not burn.
These low carb pancakes freeze well and can be reheated by either popping them in the microwave or even in the toaster.
You can store them in the fridge for up to 2 days.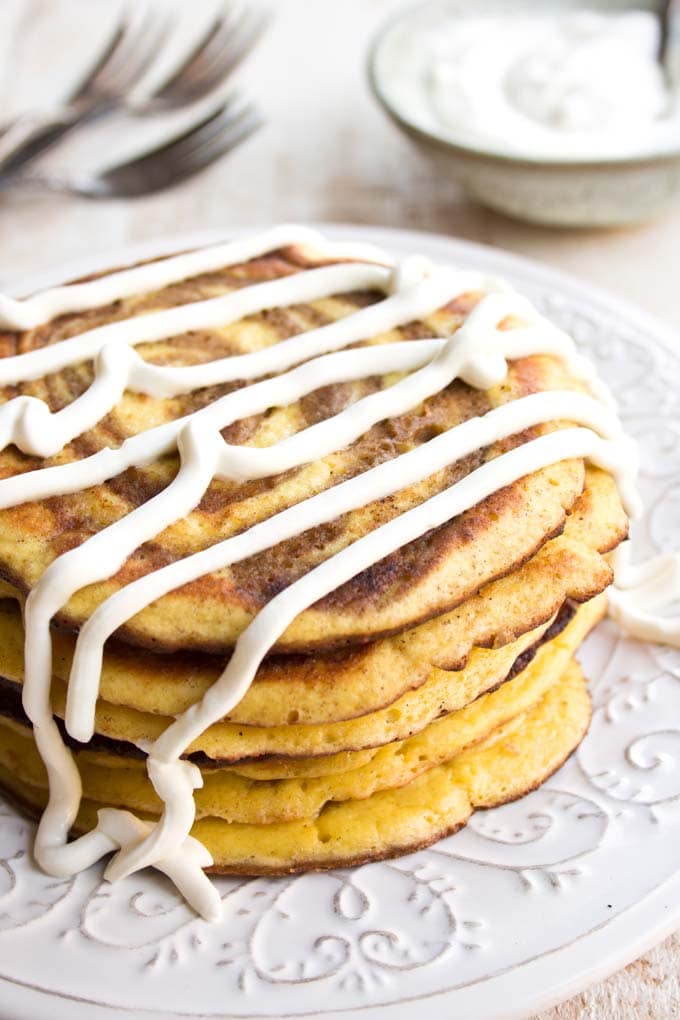 Don't miss these delicious low carb breakfast recipes:
Tried this recipe? Give it a star rating below!
★ STAY IN TOUCH on FACEBOOK, PINTEREST and INSTAGRAM for more great food and join my NEWSLETTER for the latest updates and a FREE EBOOK.★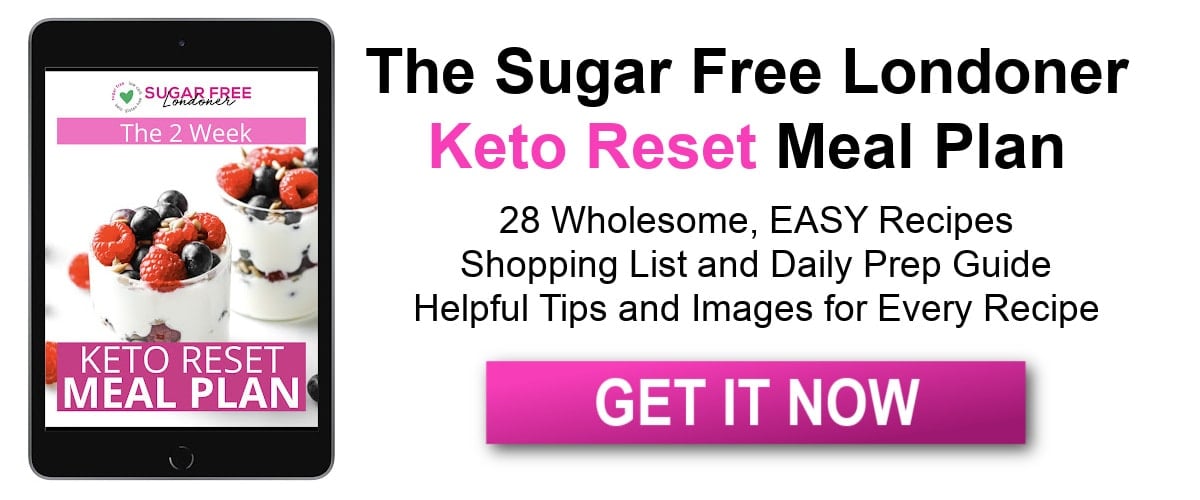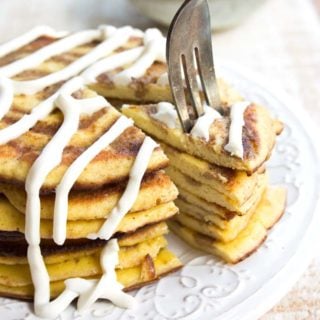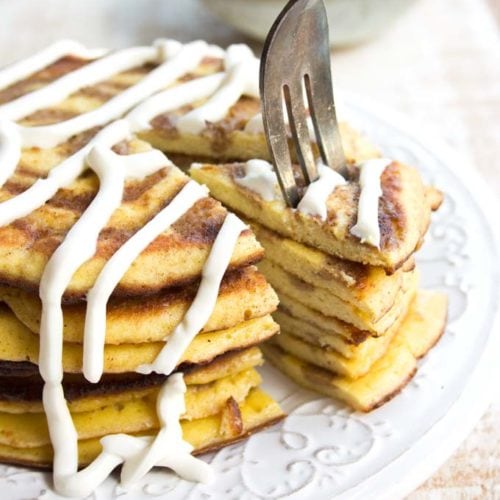 Low Carb Cinnamon Roll Pancakes
from Sugar Free Londoner
Pancakes and cinnamon rolls have got to be two of the most delicious breakfast treats. That's why I turned them into one twice-as-amazing dish! Even better, these cinnamon roll pancakes are sugar free, low carb and keto.
Note: The servings slider only changes the first amount in each line and not any subsequent amounts. Please make your own calculations where necessary. ***As an Amazon Associate I earn from qualifying purchases.
Ingredients
For the Cinnamon Swirl
¼

cup / 60g

butter

melted

1

teaspoon

cinnamon

1

tablespoon

powdered sweetener (So Nourished)

or more, if you have a sweet tooth 🙂

3

tablespoon

pancake batter

(from above)
For the Cream Cheese Frosting
Instructions
Mix all ingredients for the pancake batter in a blender.

Melt a knob of butter in a non-stick pan over medium heat. Pour in some of the pancake batter and add the cinnamon swirl. Place a lid over the pan. Turn the pancake over once the top starts to firm up (about 2 minutes). Fry the side with the swirl only briefly (about 30 seconds). Proceed until all batter has been used up.

To make the cream cheese frosting, mix together the cream cheese, sweetener and loosen with 1 tablespoon of almond milk. Fill into a piping bag and decorate the pancake stack.
Notes
The pancakes should be smallish, ca 10-12 cm in diameter. About the right size to fit them in the toaster the next day should you be so lucky to have any leftovers.
The mix makes 8 pancakes. The nutrition is calculated per 2 pancakes = 1 portion. 2.7 net carbs per portion. 
Nutrition
Calories:
342
kcal
Total Carbohydrates:
3.8
g
Protein:
17.1
g
Fat:
30.7
g
Saturated Fat:
17
g
Sodium:
208
mg
Potassium:
216
mg
Fiber:
1.1
g
Sugar:
2.6
g
This post contains affiliate links. If you click on one of these links and purchase a product, I may earn a small commission, at no extra cost to you. Thank you for supporting Sugar Free Londoner.